A great way to preserve your fresh peaches is by freezing them. Freezing peaches lets you have those fresh summer peaches anytime of the year.
Freezing peaches takes almost no time at all and they'll last in a deep freeze until peach season comes around again.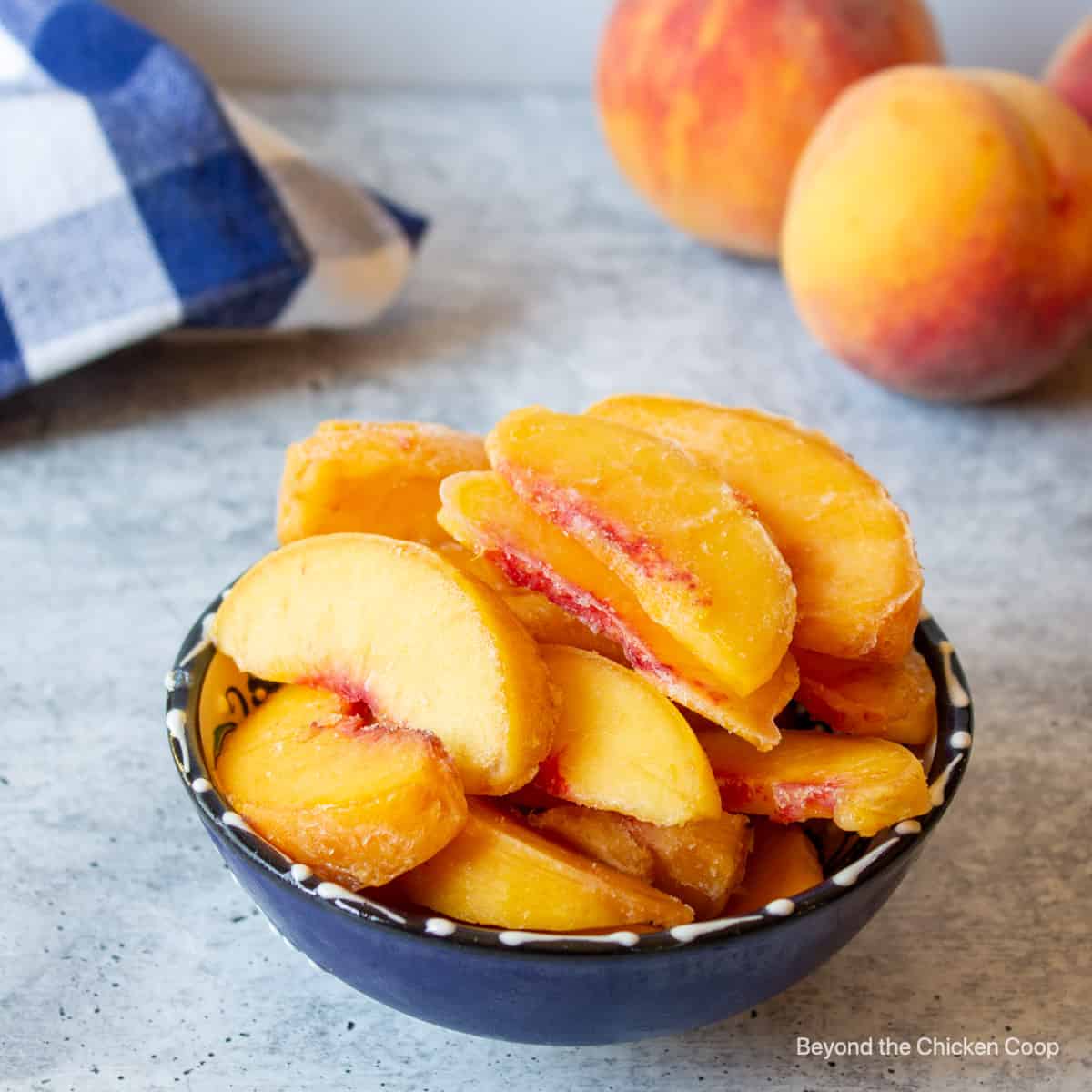 Why freeze peaches
When summertime gives you an abundance of delicious fresh peaches, you want them to last and last.
In order to make those peaches last, you'll want to preserve them. You can preserve by freezing the peaches or canning peaches.
We preserve peaches both ways every year. In order to freeze peaches, you need a deep freezer that doesn't have an auto-defrost. A deep freeze is usually a stand alone upright or chest freezer that is set at 0° F.
Peaches stored in a deep freeze will maintain good quality for one year. Use these frozen peaches in smoothies, peach muffins, peach bars, blackberry peach cobbler and just all by themselves as a snack.
Ingredients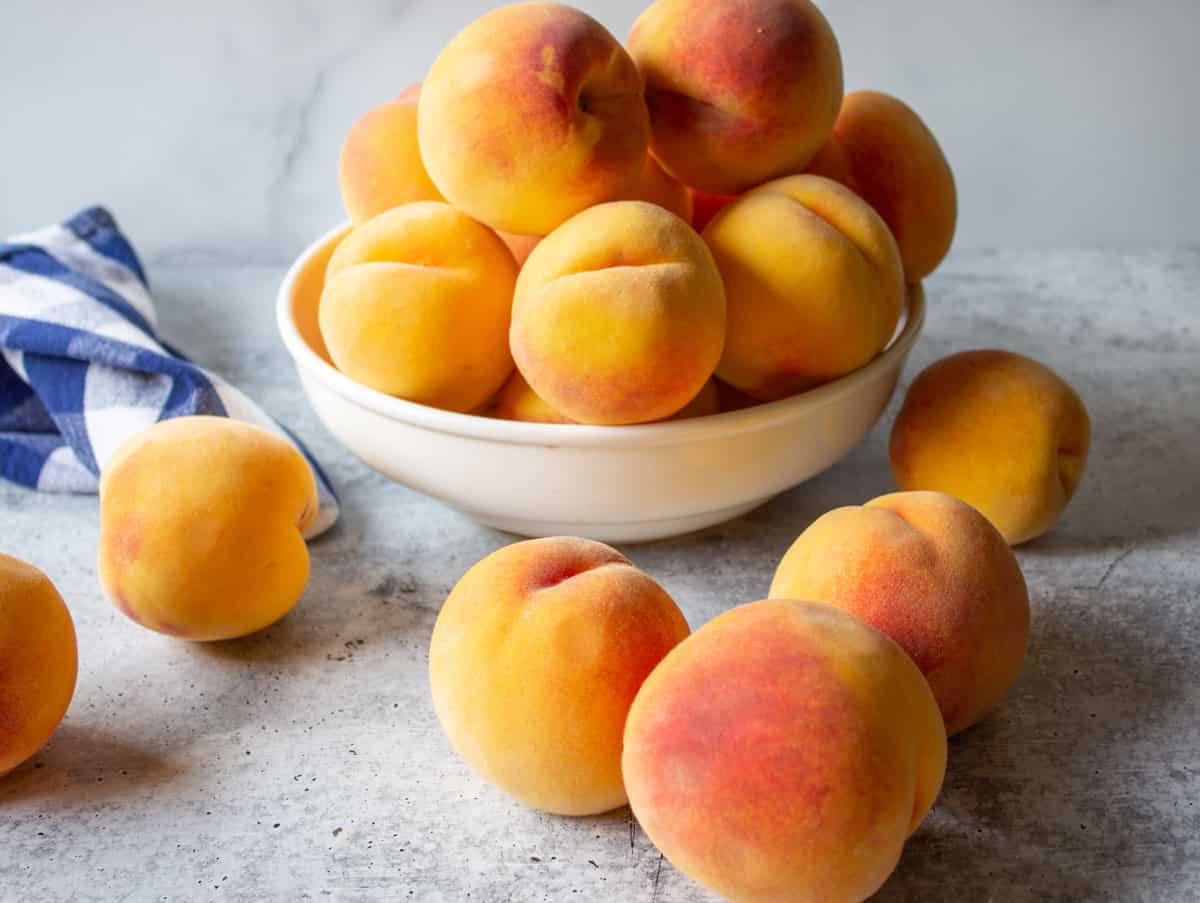 Peaches. That's it!!! Just peaches. I don't use lemon juice or citric acid on the peaches. I just don't think they need them. The peaches really don't discolor through this process.
Step by step directions
Peel the peaches
Place 3-4 peaches in a pot of boiling water for 30-60 seconds
Remove peaches and place in ice water
Slip peel off with your hands or a pairing knife
Slice the peaches
Slice each peach in half and remove the pit
Slice each half into wedges or dice into large chunks
Place peaches on a baking sheet lined with a silicone, baking sheet, parchment paper or waxed paper
Freeze and store
Place baking sheet lined with peaches in freezer
Leave until peaches are fully frozen
Remove peach slices from baking sheet and place in a freezer bag or container
Label and date bag and store in deep freezer
Recipe tips
Use ripe peaches free from blemishes and bruises
If the peel doesn't slip easily from the peach, place back in the boiling water for another 30 seconds
Freestone peaches are the easiest peach to remove the pit because the flesh doesn't stick to the pit
Work with as many peaches as you have available and as much freezer space as you have available
Recipe Faqs
How long will frozen peaches last?
When placed in a freezer safe bag in a deep freeze, peaches will maintain their quality for up to one year.
Do I have to peel the peaches before freezing?
I like to remove the skin from my peaches prior to freezing, but it is a personal preference.
More recipes with peaches
If you're looking for more recipes to use up all those delicious peaches, check these out -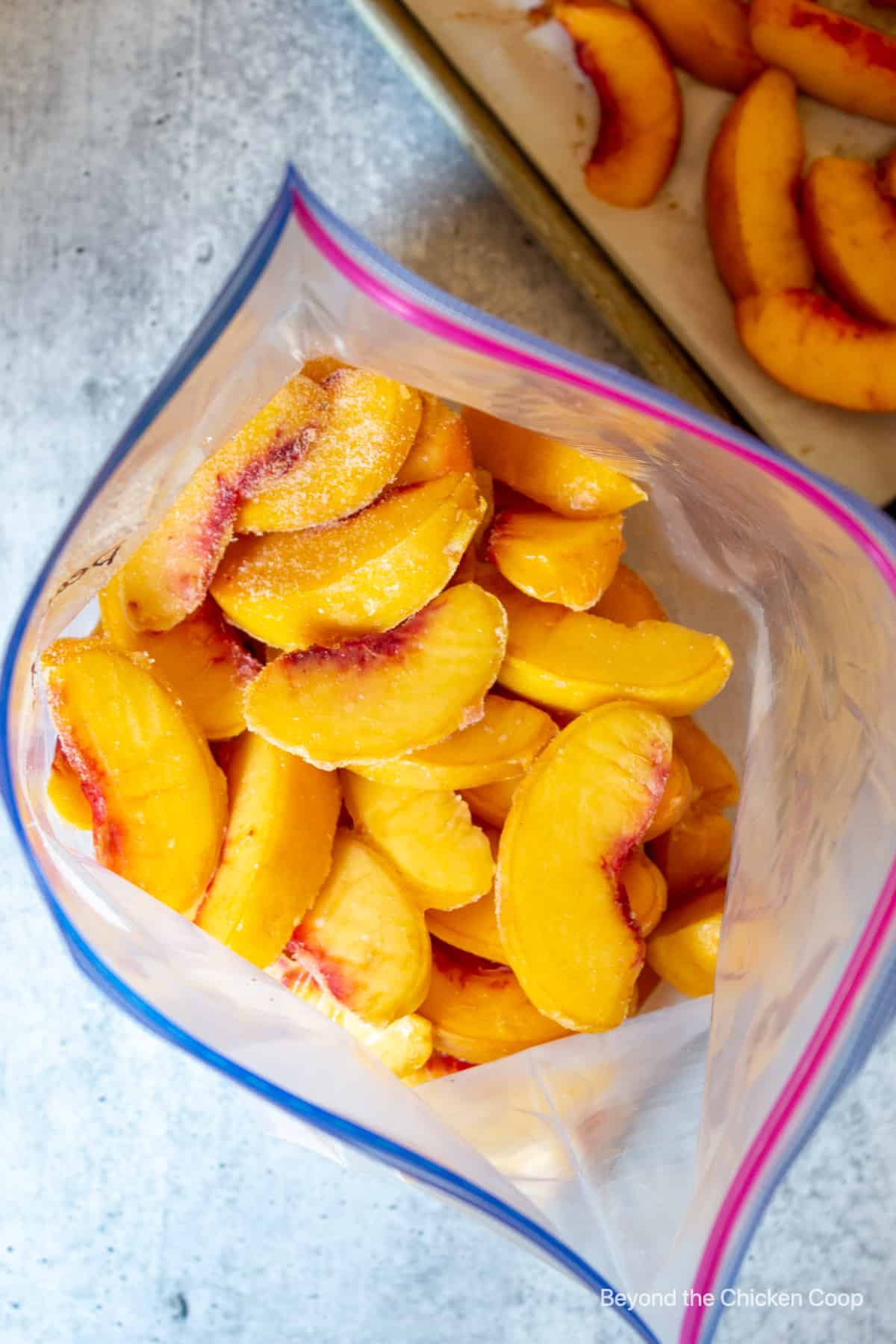 If you make this recipe, I'd love to hear about it! Leave a comment below and snap a picture and tag me on Instagram @beyondthechickencoop
Be certain to check out all my preserving food recipes!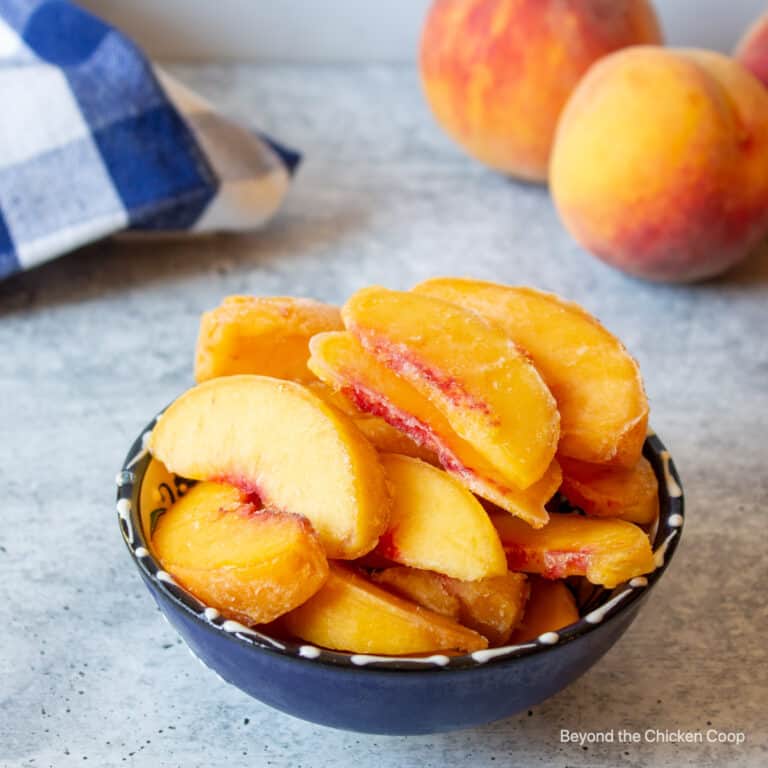 Freezing Peaches
Preserve your fresh peaches by freezing them.
Instructions
Place 3-4 peaches in a pot of boiling water for 30-60 seconds

Remove peaches and place in ice water

Slip peel off with your hands or a pairing knife

Slice each peach in half and remove the pit

Slice each half into wedges or dice into large chunks

Place peaches on a baking sheet lined with a silicone, baking sheet, parchment paper or waxed paper

Place baking sheet lined with peaches in freezer

Leave until peaches are fully frozen

Remove peach slices from baking sheet and place in a freezer bag or containerLabel and date bag and store in deep freezer
Notes
Use ripe peaches free from blemishes and bruises
If the peel doesn't slip easily from the peach, place back in the boiling water for another 30 seconds
Freestone peaches are the easiest peach to remove the pit because the flesh doesn't stick to the pit
Work with as many peaches as you have available and as much freezer space as you have available
Nutrition
Serving:
1
peach
Calories:
59
kcal
Carbohydrates:
14
g
Protein:
1
g
Fat:
1
g
Saturated Fat:
1
g
Polyunsaturated Fat:
1
g
Monounsaturated Fat:
1
g
Potassium:
285
mg
Fiber:
2
g
Sugar:
13
g
Vitamin A:
489
IU
Vitamin C:
10
mg
Calcium:
9
mg
Iron:
1
mg