Super easy and delicious marinated grilled chicken. These chicken thighs are marinated in a homemade Italian dressing and then grilled.
Perfect for an easy weeknight dinner!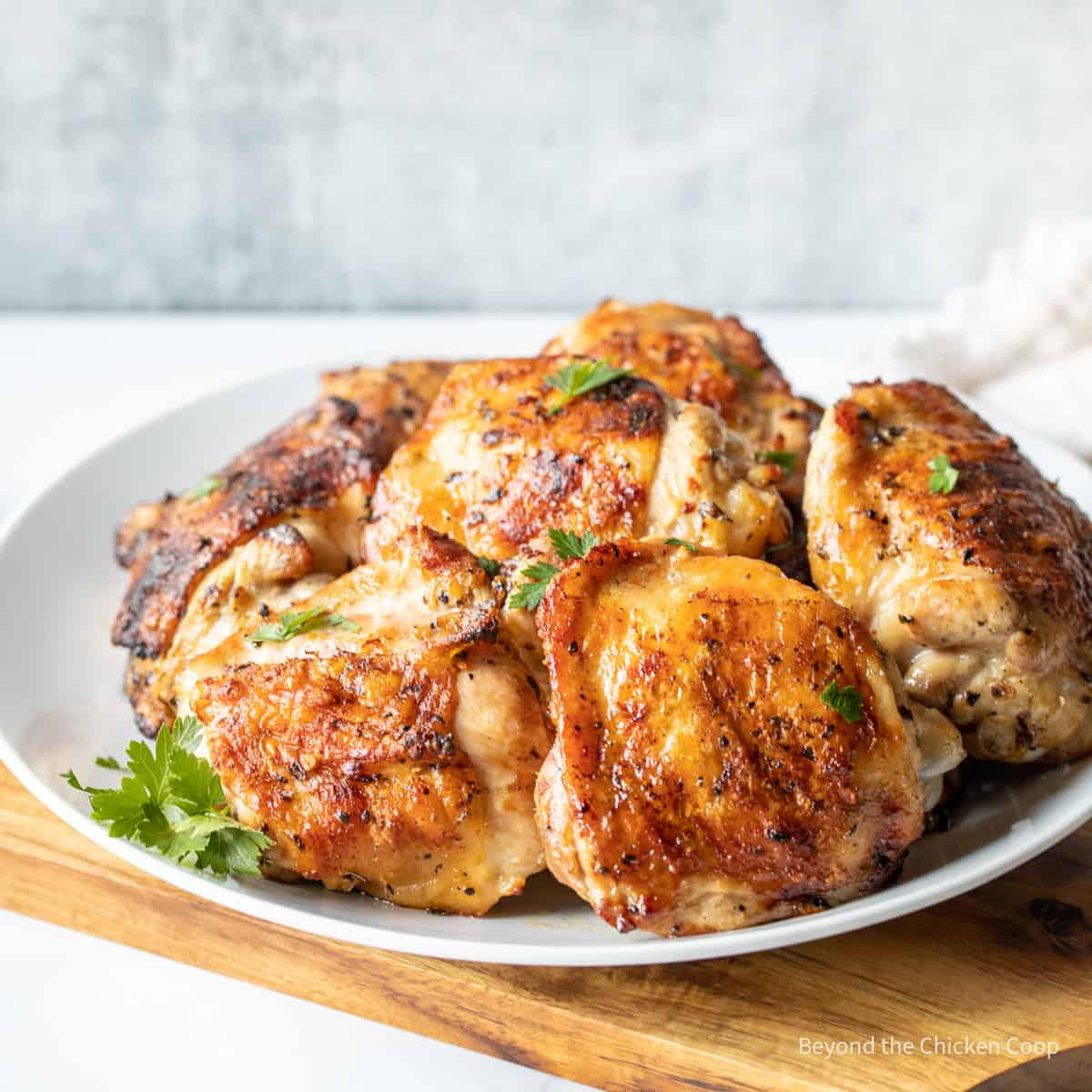 Marinated chicken
This Italian dressing chicken has so much flavor! I've made a quick, homemade Italian dressing for the marinade.
Of course, you could also buy a bottle of your favorite Italian dressing. Sometimes we need easy peasy!
This chicken needs at least 30 minutes to marinate, but a longer marinade gives more flavor. This is perfect for throwing the chicken and dressing in a bag in the morning and then pulling it out when you're ready to cook dinner.
I've used chicken thighs in this recipe, but any cut of chicken will work. I like thighs because they have a lot of flavor and they tend to stay juicier than other cuts.
Key ingredients
Chicken thighs - Bone in and skin on
Italian dressing - store bought or homemade

Homemade dressing - olive oil, lemon juice, garlic, dijon, dried herbs
Step by step directions
Marinate the chicken
Make the dressing - place all ingredients in a glass jar and cover with a lid. Shake vigorously until well mixed. (If using store bought dressing, you'll skip this step!)
Place chicken in a zip top bag
Pour dressing over the top
Seal bag and rotate to distribute dressing
Refrigerate for at least 30 minutes and up to 12 hours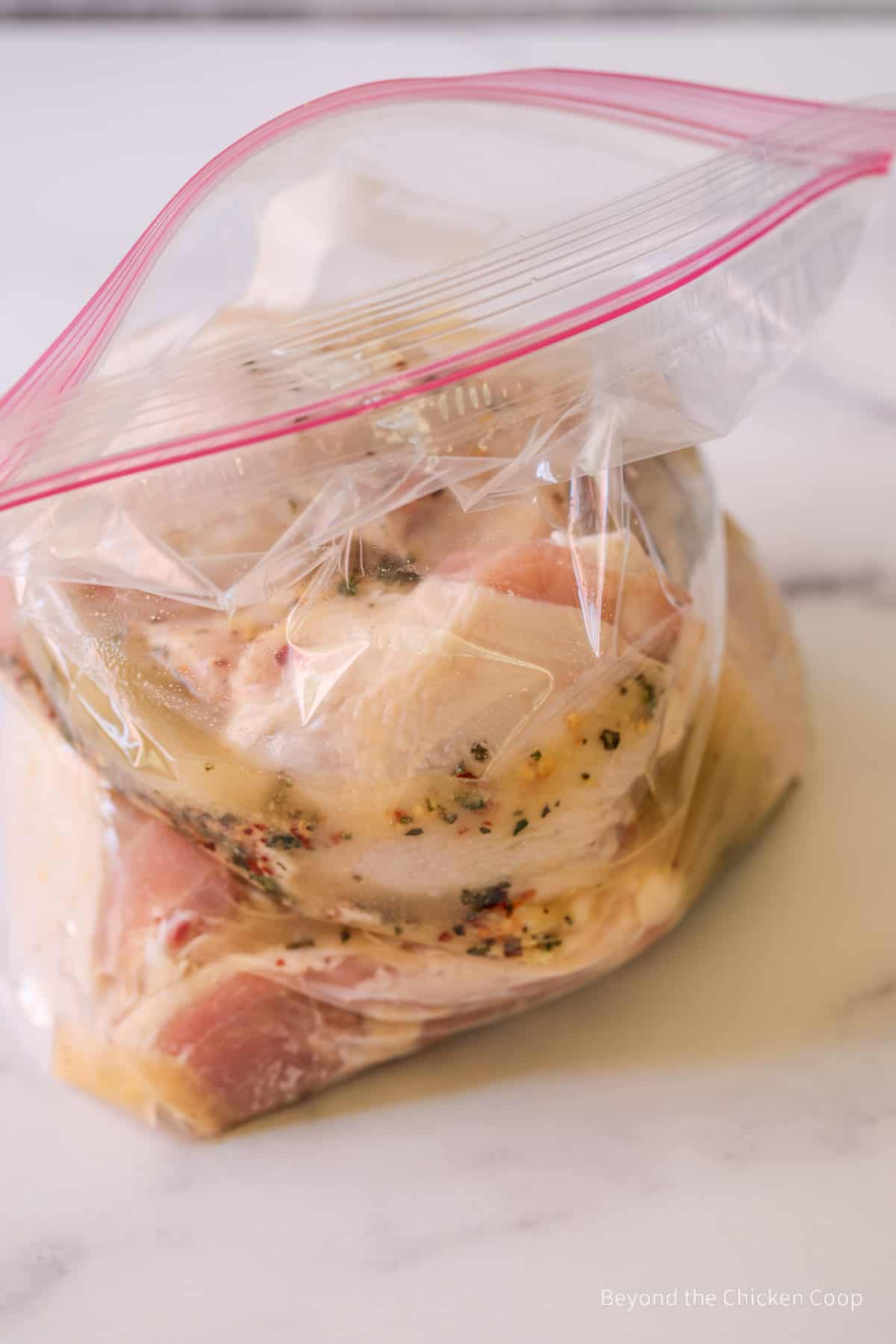 Grill the chicken
Preheat grill for 5-10 minutes so the grates are hot
Remove chicken from marinade, sprinkle with salt and pepper and place skin side down on grill
Discard any remaining marinade
Cook for about 30-35 minutes rotating chicken every 5-7 minutes until chicken is cooked through
Remove from grill and serve hot
Recipe tips
Use any cut of chicken you prefer - cooking time will vary with different cuts
Place bag of marinating chicken on a cooking sheet or in a large bowl when placing in the refrigerator. This will catch any drips if your bag isn't fully sealed)
Make certain the grill is hot before adding the chicken
Scrape and clean your grates before adding chicken
Turn the chicken about every 5 minutes. On the first turn, if the skin is stuck to the grate, wait a few more minutes before turning. If it's sticking, it's not ready to be turned.
Watch for flare ups! Chicken is fatty and will often cause flare ups. When a flare up occurs, move your chicken to a new location to avoid burning. If needed, turn off one burner for a few minutes until flames are under control.
Chicken should be cooked until fully cooked or 165°F when tested with a thermometer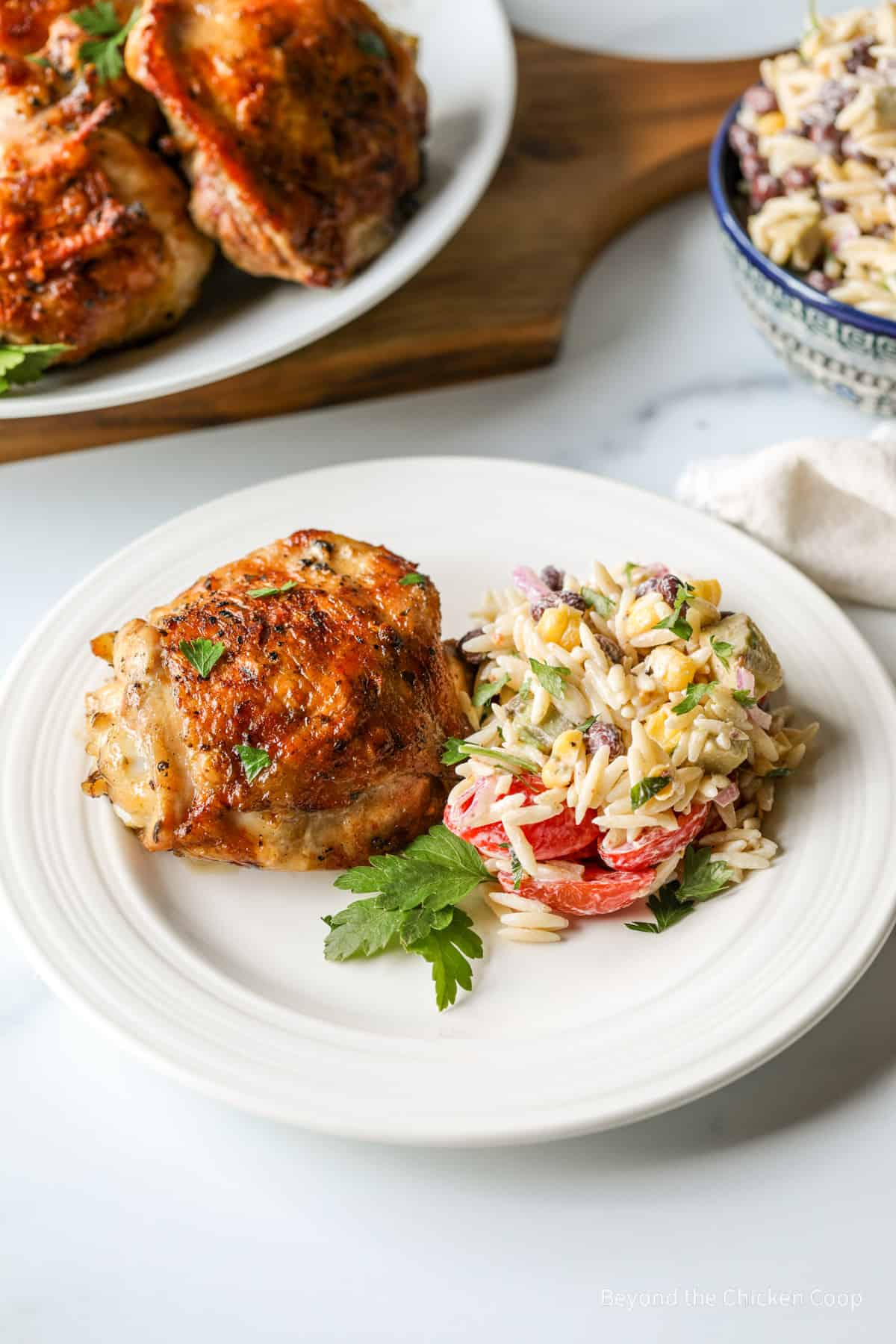 Frequently asked questions
How do I know when my chicken is fully cooked?
The best way to test chicken is with an instant read thermometer. Insert the thermometer into the thickest piece, avoiding touching the bone. The thermometer should read at least 165°F.
How long can I marinate the chicken?
Marinate for at least 30 minutes and up to 12 hours.
Serving suggestions
Serve with your favorite side dishes. Some suggestions include: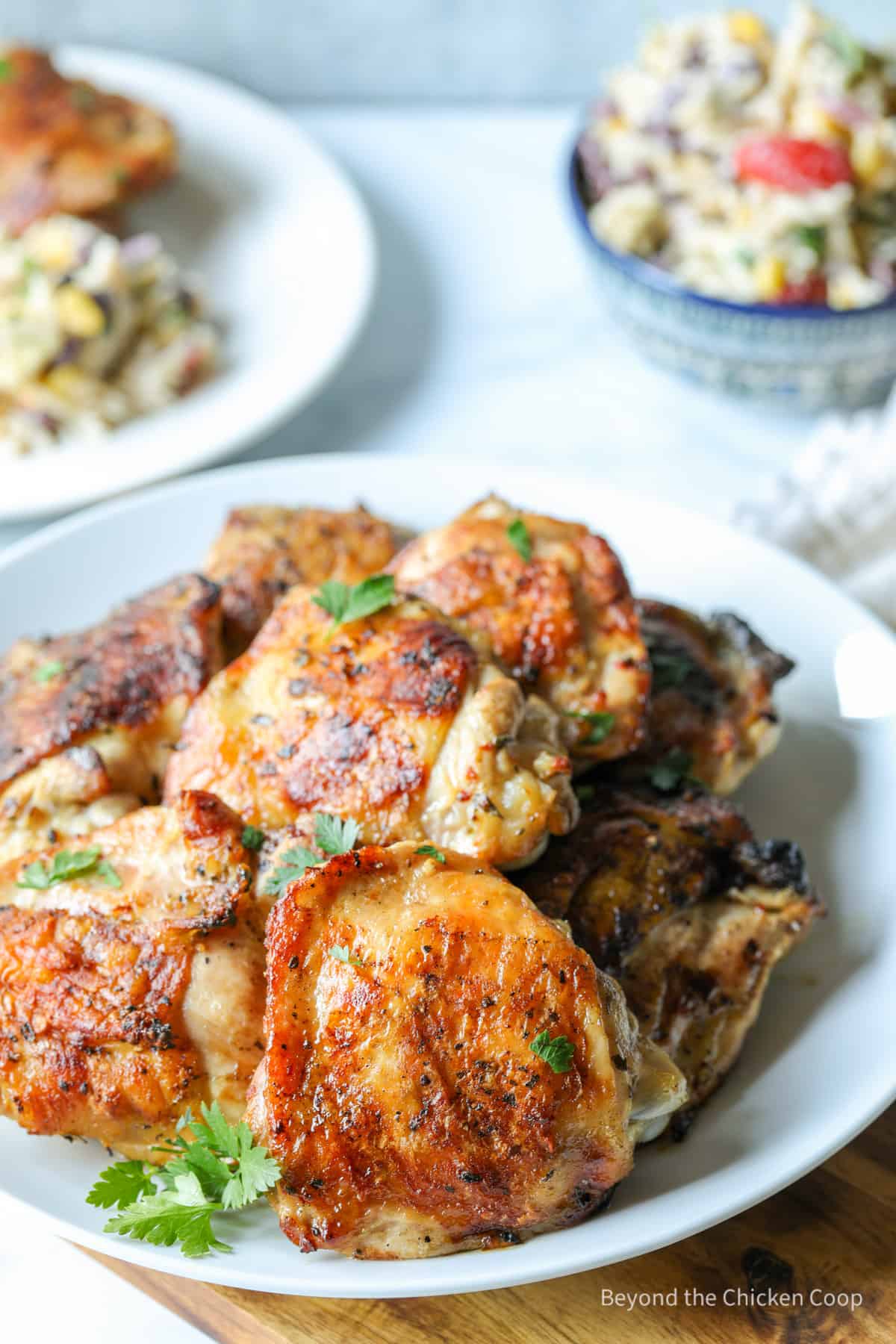 If you make this recipe, I'd love to hear about it! Leave a comment below and snap a picture and tag me on Instagram @beyondthechickencoop
Be certain to check out all my main dish recipes!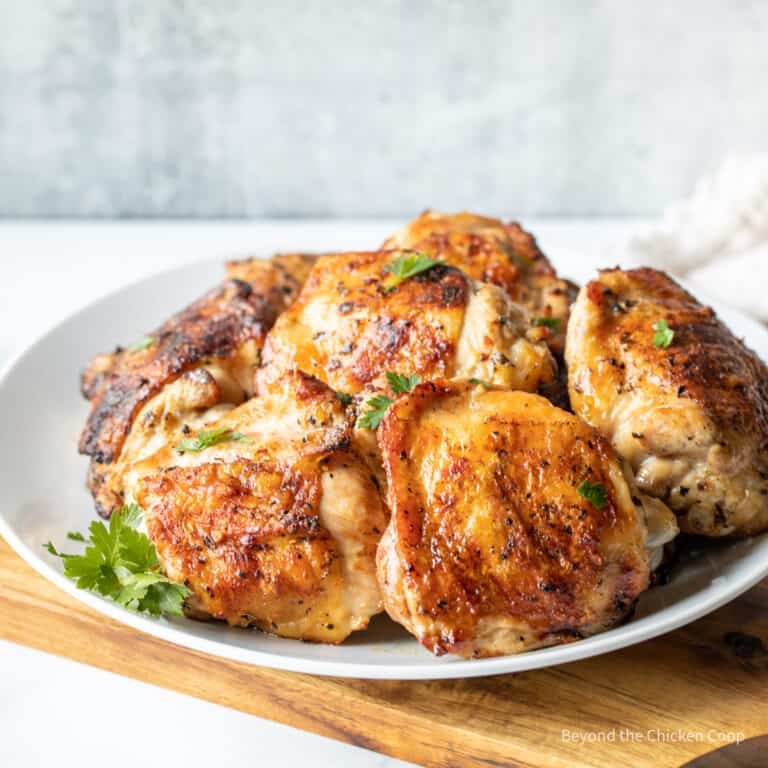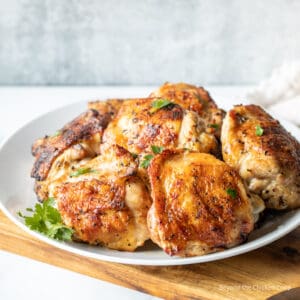 Italian Dressing Chicken
Grilled chicken marinated in a homemade Italian dressing.
Ingredients
Homemade Italian Dressing
¾

cup

olive oil

¼

cup

white wine vinegar

1

teaspoon

garlic powder

1

teaspoon

onion powder

1

teaspoon

dried oregano

1

teaspoon

dried basil

1

teaspoon

dijon mustard

1

teaspoon

sugar or honey

½

teaspoon

red pepper flakes

½

teaspoon

salt
Chicken
6

chicken thighs

1

cup

Italian dressing

(store bought or homemade)

salt

pepper
Instructions
Homemade Italian Dressing
Make the dressing - place all ingredients in a glass jar and cover with a lid. Shake vigorously until well mixed. (If using store bought dressing, you'll skip this step!)

¾ cup olive oil,

¼ cup white wine vinegar,

1 teaspoon garlic powder,

1 teaspoon onion powder,

1 teaspoon dried oregano,

1 teaspoon dried basil,

1 teaspoon dijon mustard,

1 teaspoon sugar or honey,

½ teaspoon red pepper flakes,

½ teaspoon salt
Chicken
Place chicken in a zip top bag

Pour dressing over the top (use homemade dressing or 1 cup of Italian dressing)

Seal bag and rotate to distribute dressing

Refrigerate for at least 30 minutes and up to 12 hours
Grill the Chicken
Preheat grill for 5-10 minutes so the grates are hot

Remove chicken from marinade and place chicken on a baking sheet

Sprinkle chicken with salt and pepper

Discard any remaining marinade

Place chicken skin side down on hot grill

Cook for about 30-35 minutes rotating chicken every 5-7 minutes (or as needed to avoid burning) until chicken is cooked through

Remove from grill and serve hot
Notes
Use any cut of chicken you prefer - cooking time will vary with different cuts
Place bag of marinating chicken on a cooking sheet or in a large bowl when placing in the refrigerator. This will catch any drips if your bag isn't fully sealed)
Make certain the grill is hot before adding the chicken
Scrape and clean your grates before adding chicken
Turn the chicken about every 5 minutes. On the first turn, if the skin is stuck to the grate, wait a few more minutes before turning. If it's sticking, it's not ready to be turned.
Watch for flare ups! Chicken is fatty and will often cause flare ups. When a flare up occurs, move your chicken to a new location to avoid burning. If needed, turn off one burner for a few minutes until flames are under control.
Chicken should be cooked until fully cooked or 165°F when tested with a thermometer
Nutrition
Serving:
1
thigh
Calories:
294
kcal
Carbohydrates:
3
g
Protein:
18
g
Fat:
23
g
Saturated Fat:
6
g
Polyunsaturated Fat:
6
g
Monounsaturated Fat:
9
g
Trans Fat:
0.1
g
Cholesterol:
111
mg
Sodium:
281
mg
Potassium:
248
mg
Sugar:
2
g
Vitamin A:
95
IU
Vitamin C:
0.1
mg
Calcium:
12
mg
Iron:
1
mg