Take advantage of fresh peaches while they are in season. This Old Fashioned Peach Ice Cream captures perfect peach flavor.
This is a creamy, rich tasting ice cream with bits of peaches throughout.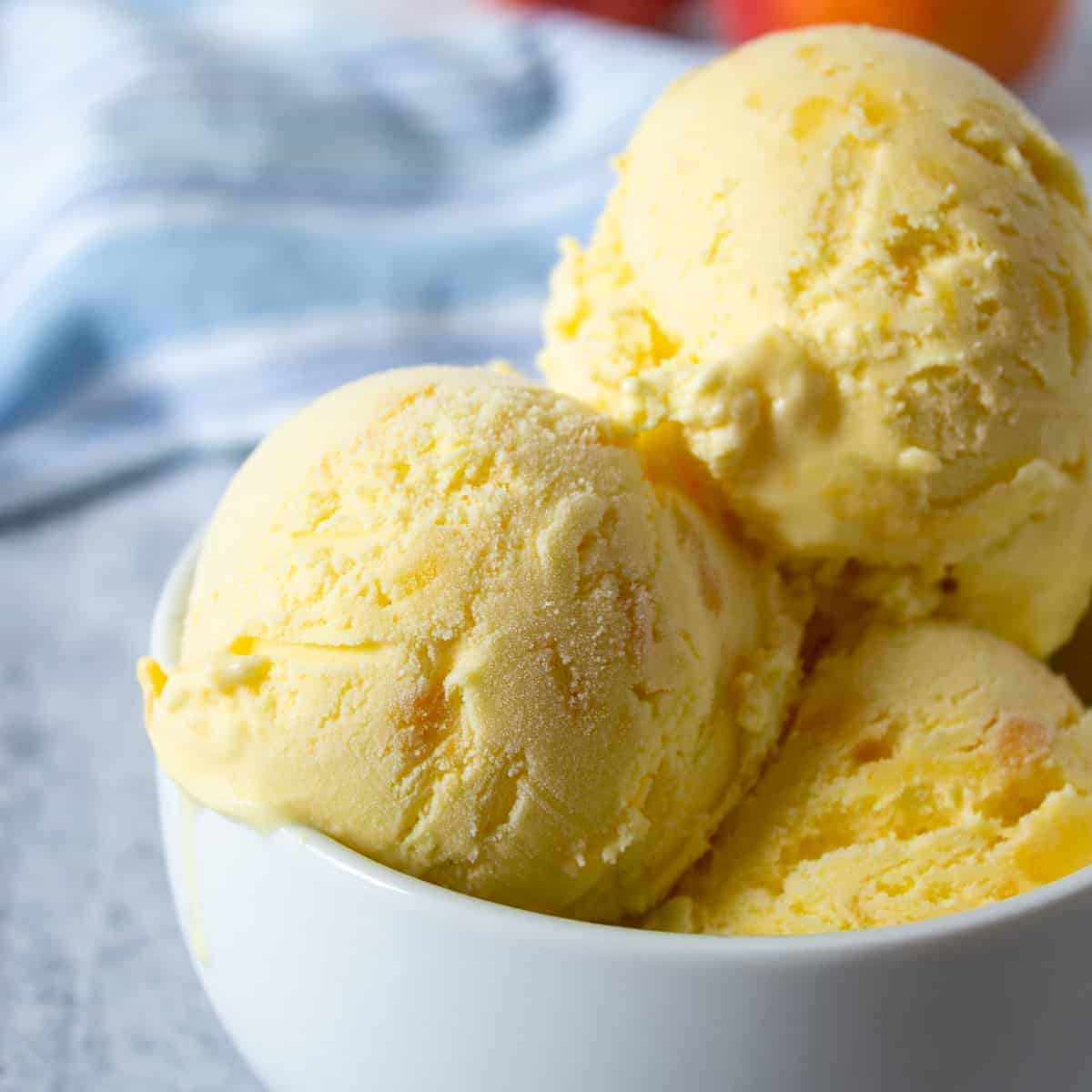 Why make homemade ice cream
In the midst of summer, there's nothing better than homemade ice cream. This peach ice cream is a favorite we keep coming back to.
Growing up we always made homemade ice cream around the summer holidays when we had large family gatherings. Back then we didn't have an electric ice cream maker. Nope, we had the hand churned kind.
Churning always became the highlight of the gathering. The ice cream maker was brought out with the custard in a covered container that was placed in the center of the ice cream maker. Then ice was poured in and rock salt was always added to get the ice to melt slightly and make the ice cream colder.
Then we churned, and churned and churned. Everyone had to have a turn or they didn't get any ice cream. It was hard work and the churning became more difficult the longer it churned. I think I know why we only made ice cream when we had a large gathering. You needed all those people to get the job done!
Luckily today, I have an electric ice cream maker that does all the churning for me. Although one of these days, I might need to drag out the old ice cream maker just for some fun!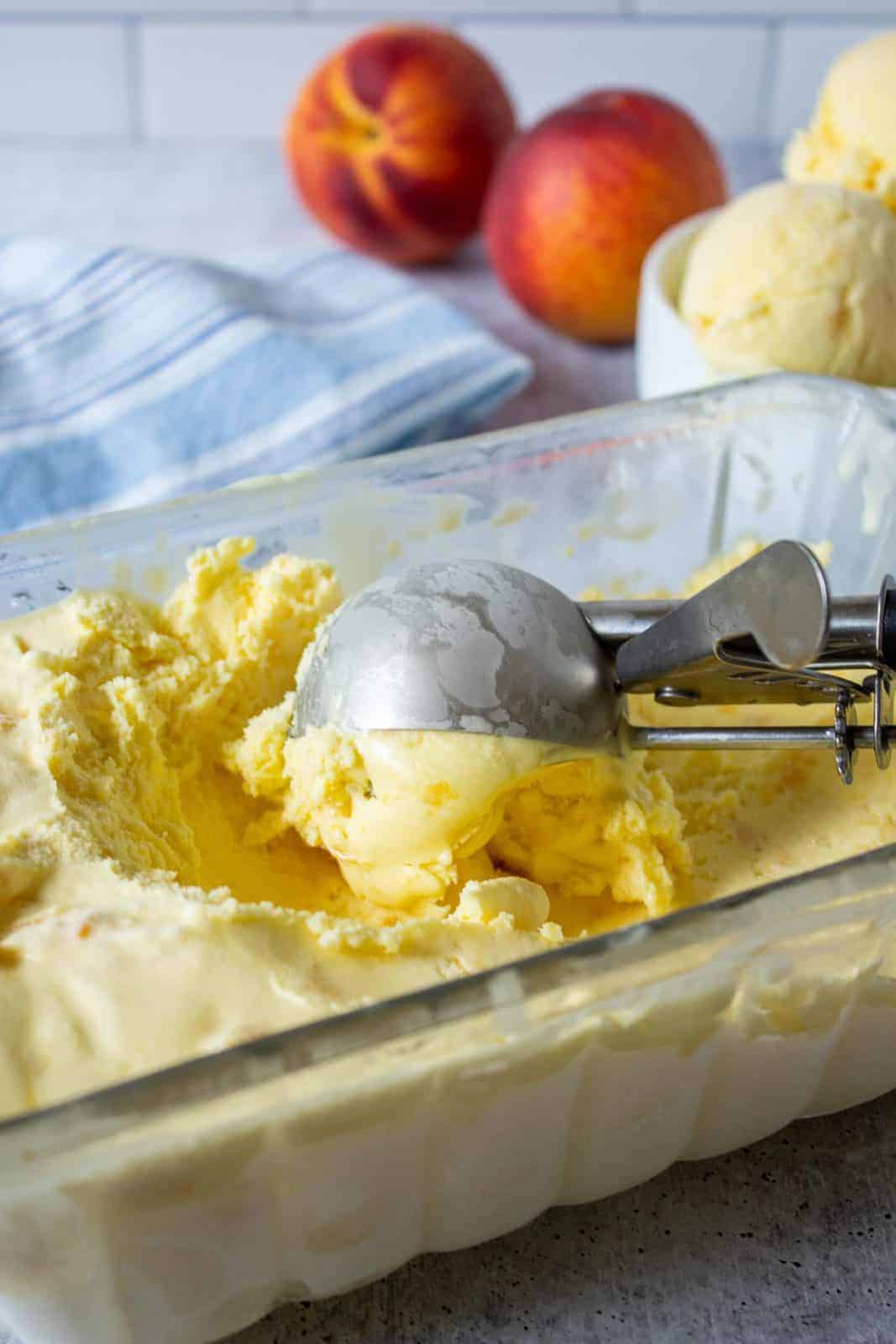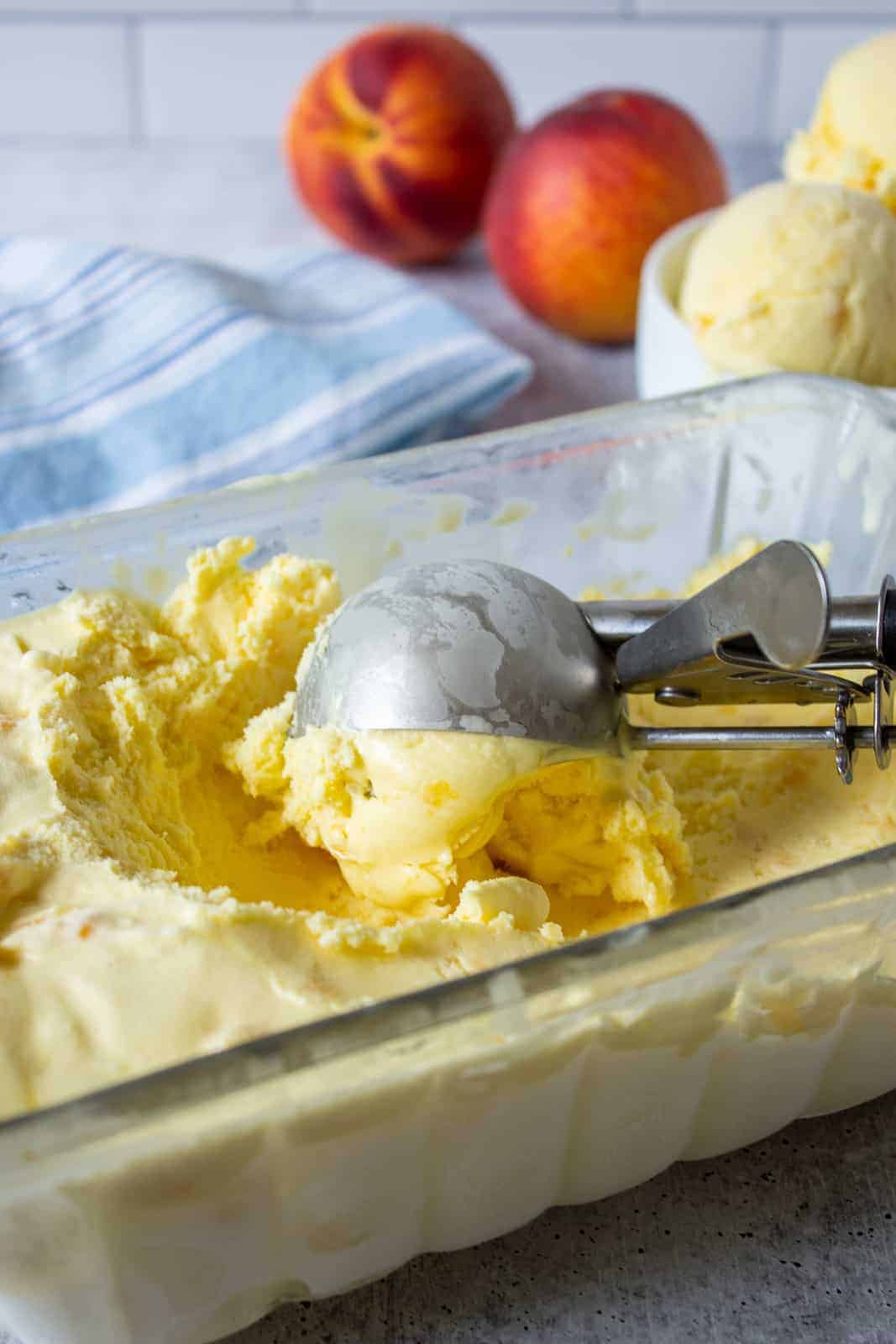 Making the custard
This delicious homemade ice cream starts by making a custard. This isn't difficult, but you do need to follow a few steps so your custard turns out. The entire recipe with ingredients is listed at the bottom of this post.
Heat cream, milk, sugar and salt over medium heat
In a separate bowl, beat egg yolks until they are smooth and lightened in color. This can be done with a wire whisk or an electric beater
Once cream mixture is hot, but not boiling. Turn off heat and remove ½ cup of liquid.
Slowly pour hot cream mixture into egg yolks while whisking. This helps temper the egg yolks so they don't cook or curdle when adding to the hot cream mixture
Add egg mixture into pot with remaining cream. Pour in slowly while whisking
Turn heat back on to medium heat until mixture begins to thicken and mixture reaches 185 degrees
Remove from heat and pour through a fine strainer to remove any bits from the egg
Add peaches and juices
Cover and refrigerate until fully chilled, at least 4 hours
Recipe tips
Use the best fresh peaches you can find, or if not available, use frozen peaches
Make certain your custard is fully chilled (at least 4 hours) before churning
Your churning bowl should be completely frozen before churning (at least 12 hours)
Harden ice cream in freezer after churning for at least 2 hours
If ice cream becomes too hard, just let set at room temperature for 10 minutes before scooping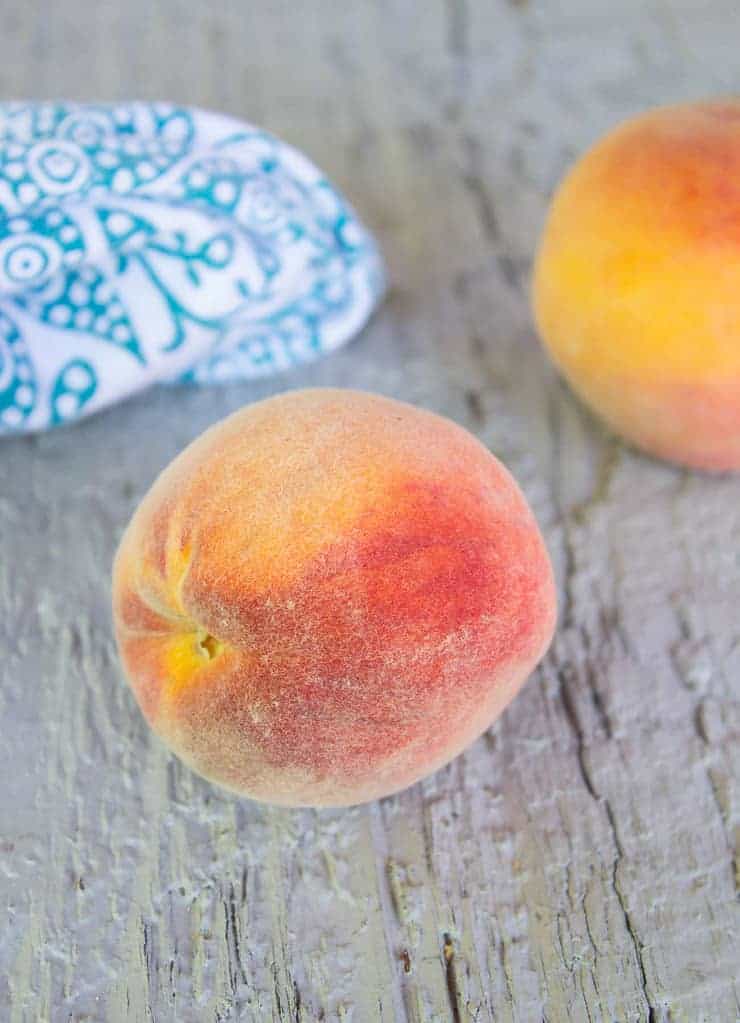 Fresh peaches
I have played around with making perfect peach ice cream for awhile and I've finally nailed it. The secret is all in the fruit and extracting as much peach flavor from the peaches as possible.
My method is to peel and cut up all the peaches into small cubes. Then put them into a bowl with a bit of sugar and let them sit and macerate. The sugar helped release a lot of the juices from the peaches. This peach liquid is added to the custard mixture which brings beautiful peach flavor.
Once the peaches have released a lot of their juices, I pop them into a food processor and pulse just 3-4 times. This is just enough to break down the peaches a bit more, but still leaves a few pieces.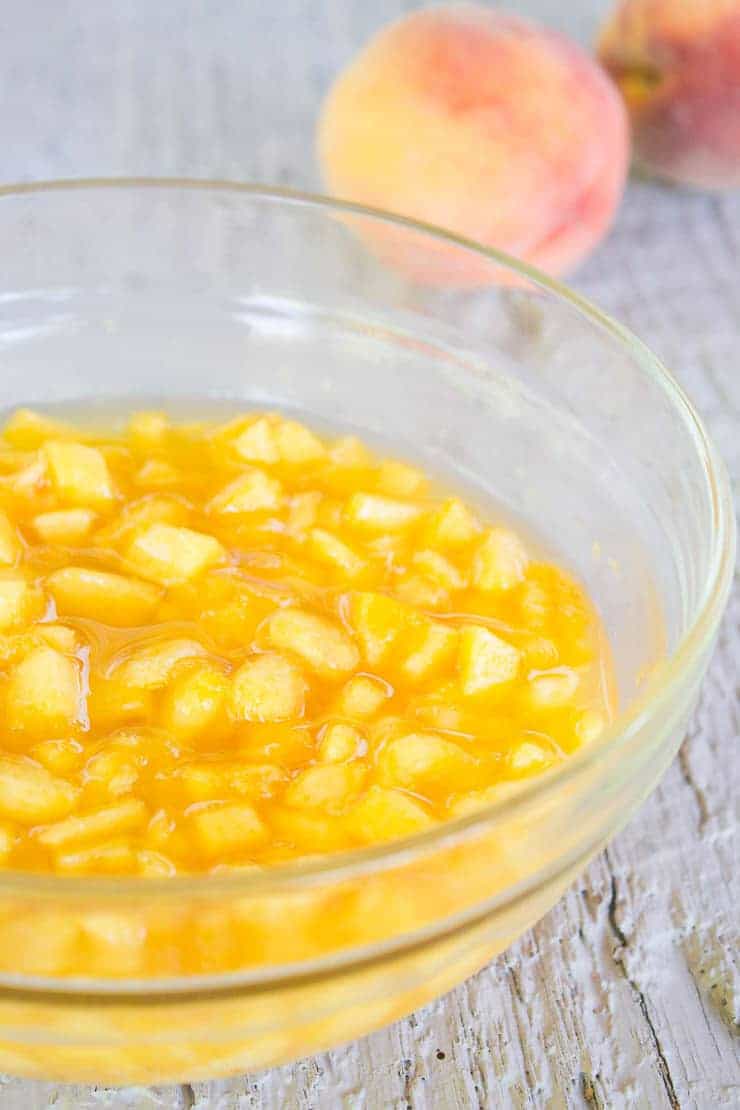 Just look at all that liquid! That's liquid gold! It's nothing but the juices from fresh peaches and a bit of sugar. So much yummy flavor and all that liquid and the peaches go into the ice cream.
Frozen peaches
For years, I have only made this with fresh peaches and they really do make the best peach ice cream. If you have fresh peaches available, use them. However, there are times of the year when fresh peaches aren't available and you just have to have some peach ice cream. I have discovered that you can use frozen peaches. Make certain you buy unsweetened peaches. You just want the peaches and not any sweeteners or anything else added.
Allow the peaches to thaw and cut them up into small cubes. Add the sugar and let the peaches rest for a few hours. I find you don't extract as much juice from the peaches as you do when you use fresh, but it still works. Now we can have peach ice cream all year long!
Ice cream maker
I used an electric automatic ice cream maker to churn this ice cream. Any type of ice cream maker will work fine, just make certain your bowl will hold 1 ½ quarts of churned ice cream. Feel free to use a hand churned maker too!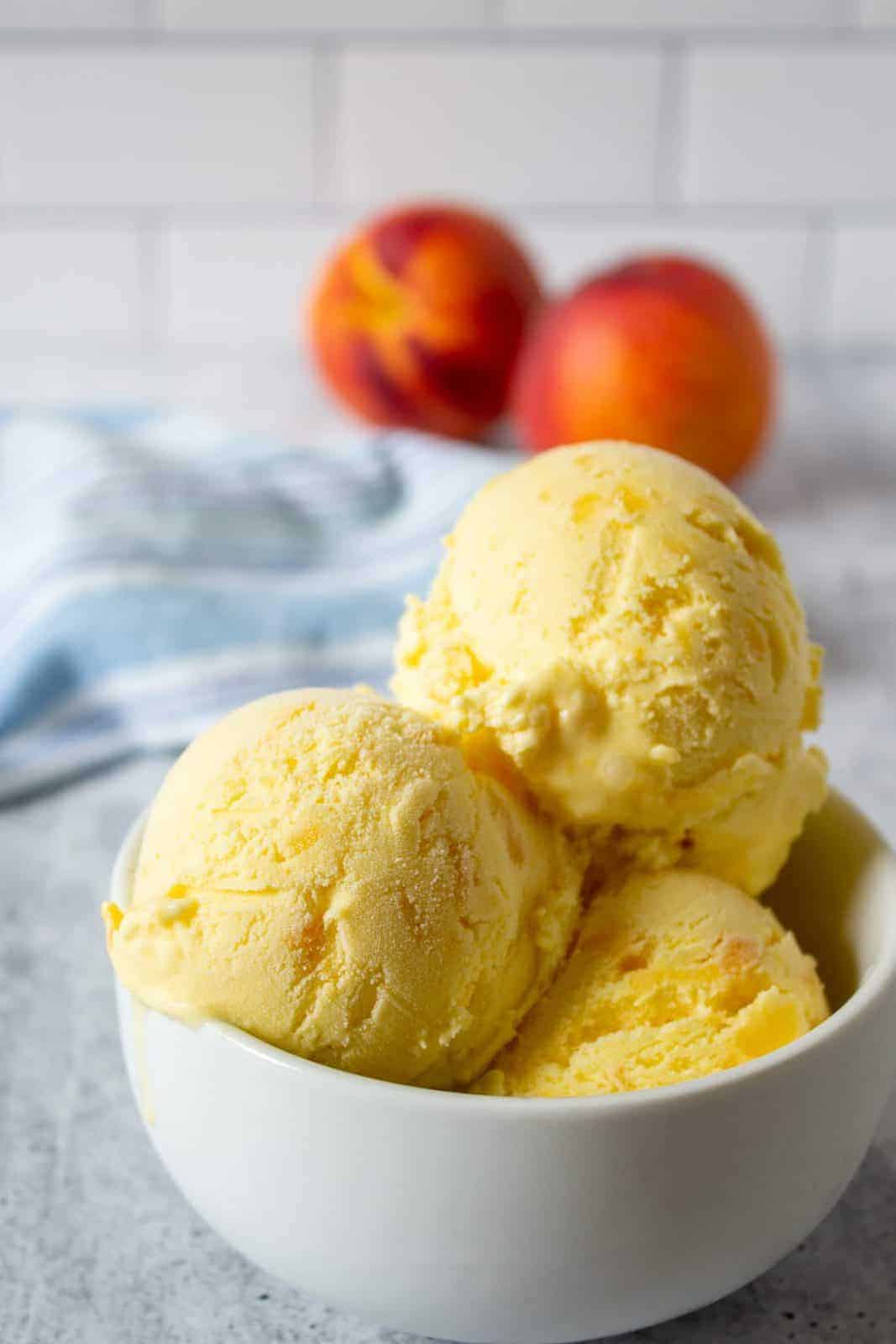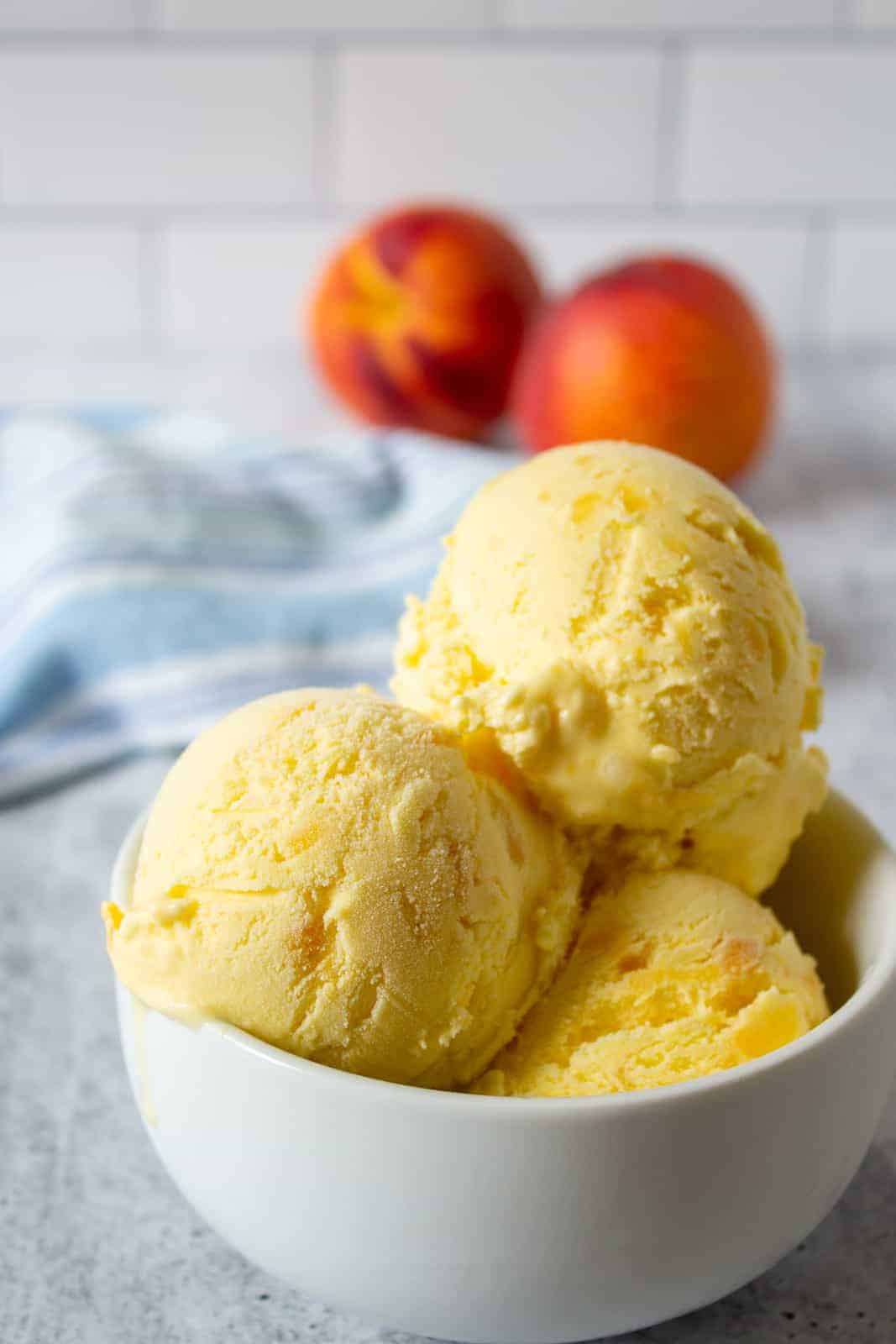 Recipe Faqs
Why churn ice cream?
Ice cream is churned for two main reasons. The first is to help incorporate air into the mixture which helps make a light texture. The second is to stop large ice crystals from forming. The churning keeps everything moving and helps create the smooth texture.
Why do I need to harden my ice cream?
The ice cream maker will churn and freeze the ice cream for you. However, it will still be very soft.
Once the churning has stopped, remove your ice cream from the bowl and place in a freezer safe container. Immediately place in the freezer for at least 2 hours. If you have a deep freeze (0 degrees or lower) place your ice cream there. Otherwise, plan on additional time for your ice cream to harden.
More delicious frozen treats
More recipes using peaches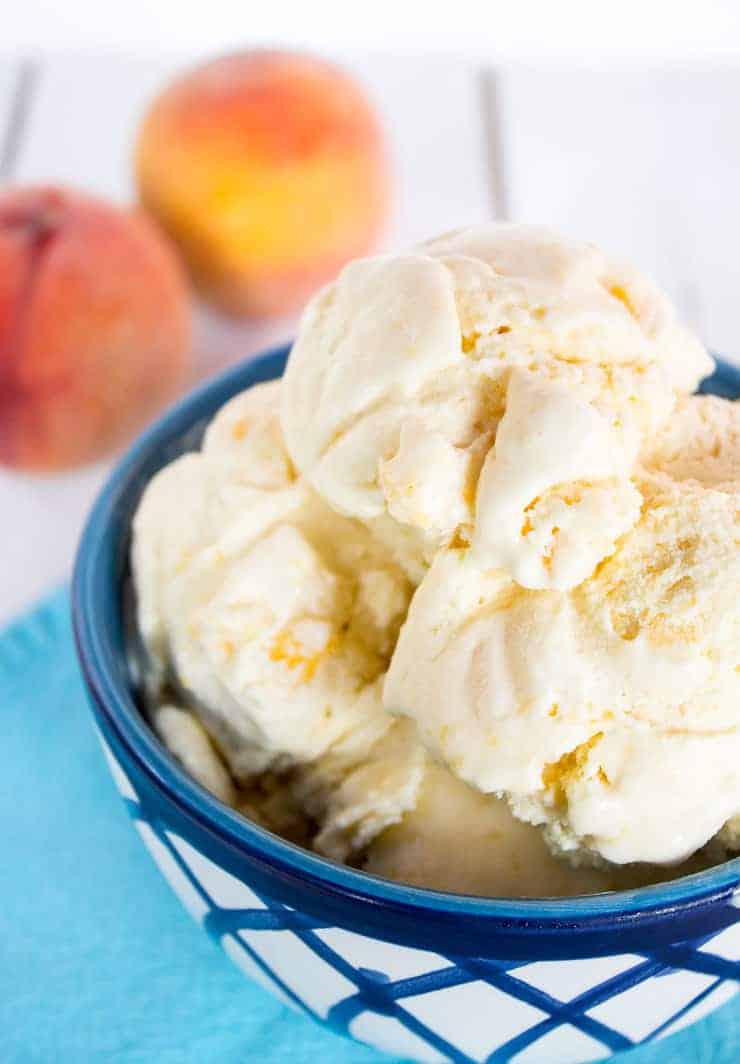 If you make this recipe, I'd love to hear about it! Leave a comment below and snap a picture and tag me on Instagram @beyondthechickencoop
Please check out all my delicious desserts!
Old Fashioned Peach Ice Cream
Fresh peach ice cream made from a custard and slow churned
Ingredients
Peaches
3

medium sized fresh peaches

(peeled, pitted and chopped - approximately 2 cups)

¼

cup

sugar
Custard
2

cups

heavy cream

1

cup

milk

¾

cups

sugar

¼

teaspoon

salt

4

egg yolks

1

teaspoon

pure vanilla extract
Instructions
Peaches
Place chopped peaches in a bowl. Add ¼ cup sugar and stir. Cove and let sit for at least 1 hour.

Once peaches have released a lot of juice, place peaches and juice in a food processor. Pulse 3-4 times just until peaches are broken up into small pieces.
Custard
In a saucepan, heat heavy cream, milk and ¾ cup sugar and salt. Warm over medium heat, stirring often until the sugar has dissolved, 3 to 4 minutes.

In a separate bowl, beat egg yolks with a wire whisk or an electric mixer. Egg yolks should become smooth and lighter in color (see pictures in post)

Take ½ cup of heated cream mixture and pour slowly into egg yolks. Whisk steadily while pouring in mixture.

Pour egg mixture back into remaining cream mixture. Reheat over medium heat for 5 to 8 minutes stirring often. You do not want this mixture to boil. Mixture will begin to thicken just slightly. You want it to be thick enough to coat the back of a spoon. An instant read thermometer should read 175-185 F.

Place a fine strainer over the top of a bowl. Pour custard mixture into strainer to strain off any small bits of egg or lumps.

Stir in vanilla and peaches with juices

Cover and refrigerate until completely cooled, at least 4 hours or overnight.

Place custard into an automatic ice cream maker and churn for 20-25 minutes

Remove ice cream and place in freezer for 2 hours before serving.
Notes
Additional picture details available above the recipe card in the post.
Tips for making peach ice cream
Use the best fresh peaches you can find, or if not available, use frozen peaches
Make certain your custard is fully chilled (at least 4 hours) before churning
Your churning bowl should be completely frozen before churning (at least 12 hours)
Harden ice cream in freezer after churning for at least 2 hours
If ice cream becomes too hard, just let set at room temperature for 10 minutes before scooping
The color of your ice cream may vary depending on the color of your egg yolks.
Nutritional Disclaimer:
Nutritional information is provided as a courtesy and should only be construed as an estimate rather than a guarantee. To obtain the most precise nutritional information in a provided recipe, you should calculate the nutritional information with the exact ingredients you are using when preparing the recipe using your preferred nutrition calculator.
Nutrition
Serving:
1
cup
Calories:
497
kcal
Carbohydrates:
45
g
Protein:
5
g
Fat:
34
g
Saturated Fat:
20
g
Cholesterol:
243
mg
Sodium:
151
mg
Potassium:
269
mg
Fiber:
1
g
Sugar:
42
g
Vitamin A:
1650
IU
Vitamin C:
5
mg
Calcium:
118
mg
Iron:
1
mg
This recipe was originally posted in July 2016. Over the years, I have made some slight adjustments to the recipe. I have update the recipe and instructions to show these changes.