Step by step directions on how to perfectly fry over medium eggs. These eggs are perfect for breakfast or brunch or anytime you want a fried egg.
There's no need to go out to a restaurant for breakfast when you can cook your own eggs perfectly right at home in just a few quick minutes.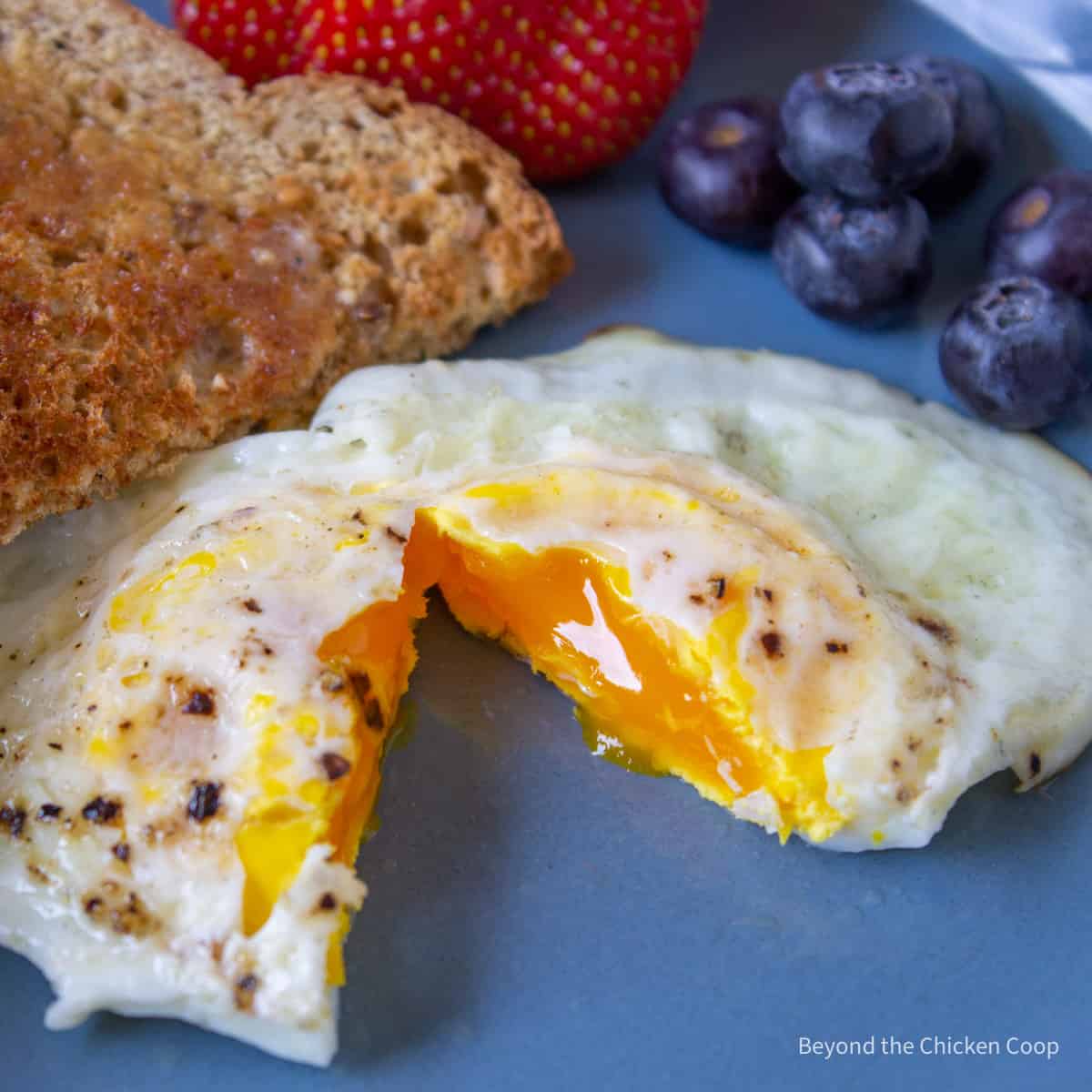 Fried Eggs
There's just nothing easier or more perfect than a fried egg. But knowing exactly how to fry an egg to your liking can sometimes be a bit tricky.
There are four main types of fried eggs; sunny side up, over easy, over medium and over hard. Everyone seems to have their favorite type of fried egg.
A sunny side up egg is an egg that isn't flipped. It's only cooked from the bottom side up. The top looks like a beautiful little sun that's facing upward!
Over easy is my favorite way to eat fried eggs! They are flipped part way through the cooking process. The white is fully cooked, but the yolk is nice and runny.
Over medium is cooked the same way as over easy eggs, but they are cooked a bit longer. The yolk is partially cooked through, but is still a bit runny in the center.
There's a range on how cooked the yolk should be on an over medium egg - from cooked on the sides with a runny, jammy custardy center all the way to just a slight amount of runny yolk.
Over hard eggs means there is no runny yolk. You can still have a bit of just slightly undercooked yolk or you can make certain every bit of the yolk is fully cooked through.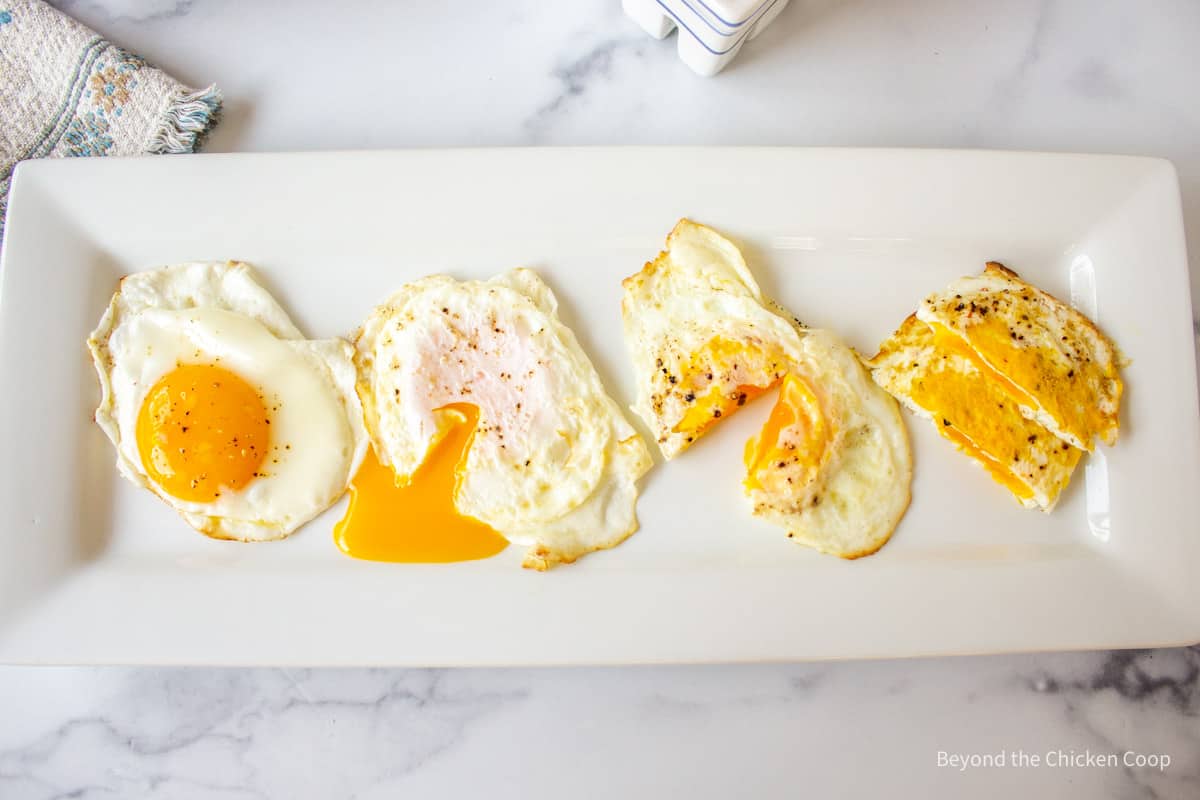 Type of Pan
In order to cook really good fried eggs, you do want a good pan. The best is a well seasoned cast iron skillet or a non-stick skillet.
Stainless steel pans will work as long as you keep the heat low. Sometimes stainless steel pans will cause the egg to stick to the pan.
No matter the pan, fried eggs are best cooked over low heat.
Eggs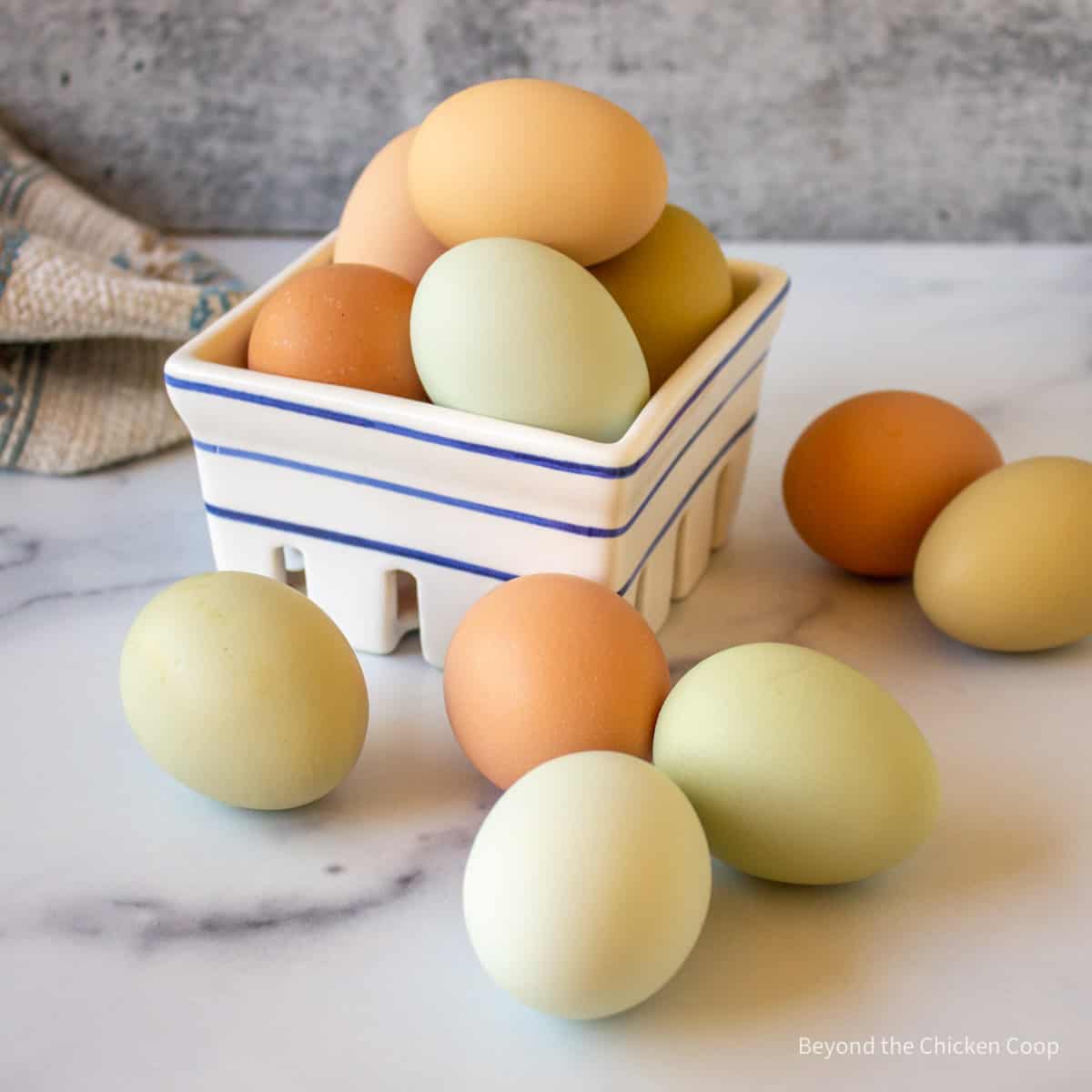 Fresh eggs are the best eggs to use for fried eggs. The egg is taking center stage here, so the better the egg, the better the fried egg!
I use my farm fresh eggs from my chickens. Purchased eggs are fine too, just try to find the freshest ones possible.
Step by step directions
Heat a pan over low heat
When pan is warm, add a ½ tablespoon of butter. Allow butter to melt and get bubbly.
Crack egg into pan over melted butter
Sprinkle with a bit of salt and pepper
Cook over low heat until most of the white has set
Carefully flip egg over and cook for 1-2 minutes
Flip egg back to original side up and continue cooking for 1-2 minutes more
Remove egg from pan and place on plate
Fried egg tips
Heat pan over low heat. This creates a more even heat in the pan.
Use butter or olive oil or rendered bacon grease
Cook over low heat. If the heat is too high, the white of the egg will overcook before the yolk has a chance to cook.
Use a thin spatula to slide under the egg
Cook just one or two eggs at a time. Don't overcrowd the pan.
Wipe out pan between each batch of eggs if cooking multiple batches
Frequently asked questions
How do I know if the yolk is cooked enough?
Once the egg has been flipped back over to its original side, cook the egg for another 1-2 minutes. You can gently press the center of the egg with your finger to test how done the yolk is.

If it feels too wiggly, cook for another minute.
What's the difference between over easy, over medium and over hard?
All three are fried eggs. The difference is how runny the yolk is in each egg. Over easy is the runniest, over hard is cooked through and over medium falls between over easy and over hard cooked.
Serving suggestions
Round out your breakfast by serving your over medium eggs with
Or serve on avocado toast or on an English muffin sandwich.
More egg dishes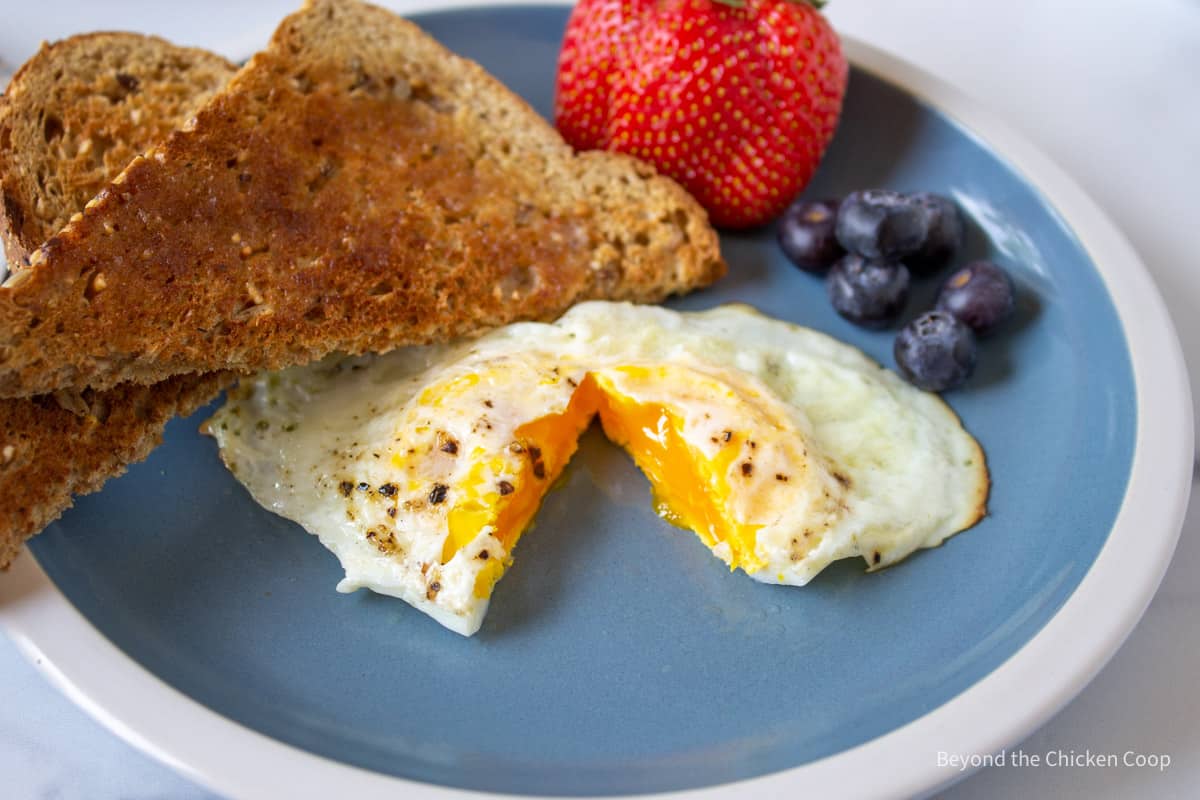 If you make this recipe, I'd love to hear about it! Leave a comment below and snap a picture and tag me on Instagram @beyondthechickencoop
Be certain to check out all my breakfast recipes!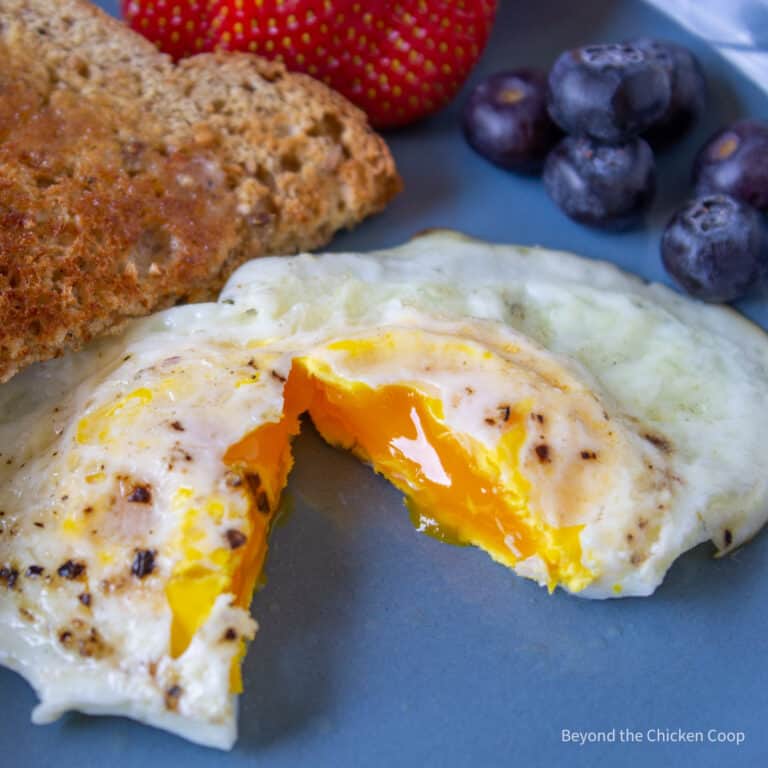 Over Medium Eggs
How to fry an egg over medium so the yolk is just partly runny.
Ingredients
½

tablespoon

butter

1

egg

salt

pepper
Instructions
Heat a pan over low heat

When pan is warm, add a ½ tablespoon of butter. Allow butter to melt and get bubbly.

Crack egg into pan over melted butter

Sprinkle with a bit of salt and pepper

Cook over low heat until most of the white has set

Carefully flip egg over and cook for 1-2 minutes

Flip egg back to original side up and continue cooking for 1-2 minutes more

Remove egg from pan and place on plate
Notes
Heat pan over low heat. This creates a more even heat in the pan.
Use butter or olive oil or rendered bacon grease
Cook over low heat. If the heat is too high, the white of the egg will overcook before the yolk has a chance to cook.
Use a thin spatula to slide under the egg
Cook just one or two eggs at a time. Don't overcrowd the pan.
Wipe out pan between each batch of eggs if cooking multiple batches
Nutrition
Serving:
1
egg
Calories:
113
kcal
Carbohydrates:
1
g
Protein:
6
g
Fat:
10
g
Saturated Fat:
5
g
Polyunsaturated Fat:
1
g
Monounsaturated Fat:
3
g
Trans Fat:
1
g
Cholesterol:
179
mg
Sodium:
107
mg
Potassium:
62
mg
Sugar:
1
g
Vitamin A:
413
IU
Calcium:
26
mg
Iron:
1
mg