The best way to BBQ a whole chicken, Beer Can Chicken on the grill! This chicken is moist and super delicious and the entire chicken is cooked over a can of beer.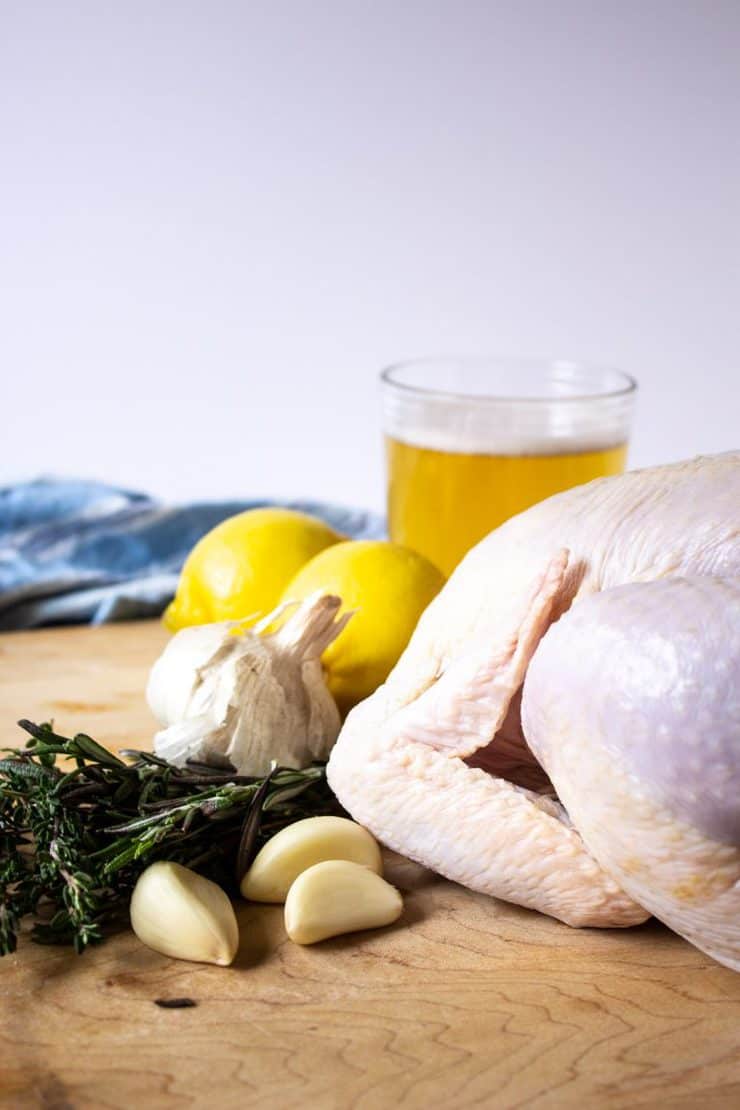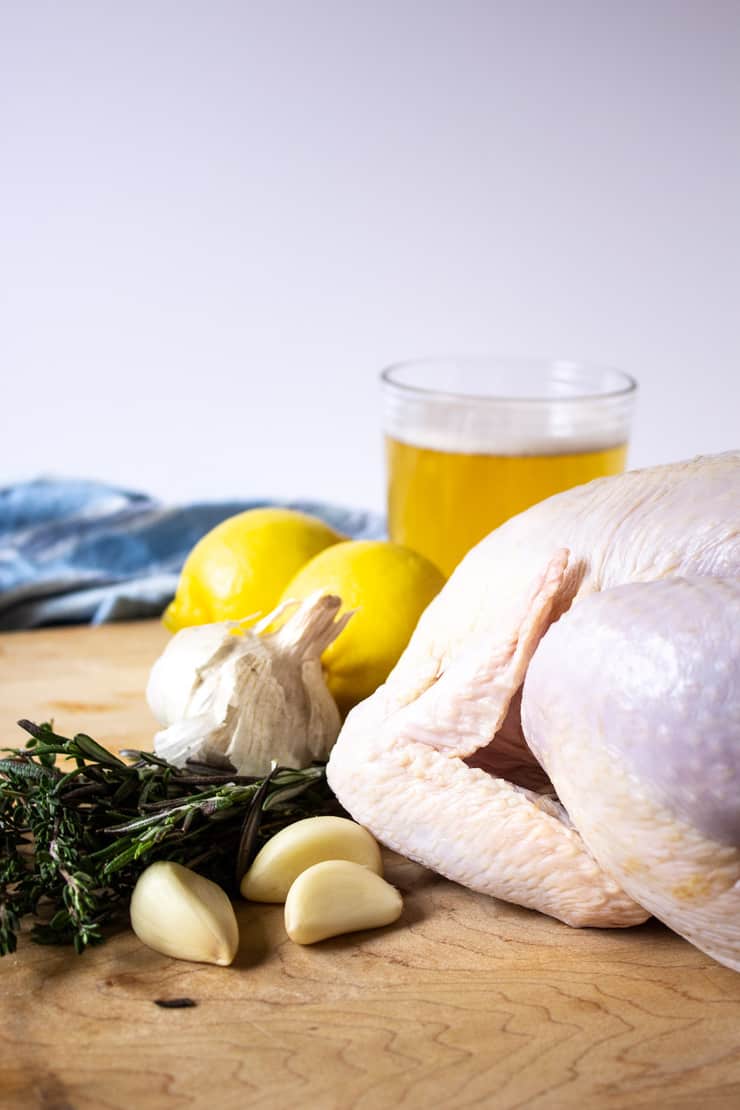 My grilling trend continues. This time with a whole chicken and a can of beer - Beer Can Chicken!  We raise our own chickens and do all the butchering. We leave most of the birds whole, simply because it is easier.
Cooking a whole chicken isn't a bad thing though. I get a super moist and delicious chicken with just a little work. We usually have leftovers so I get more than one meal!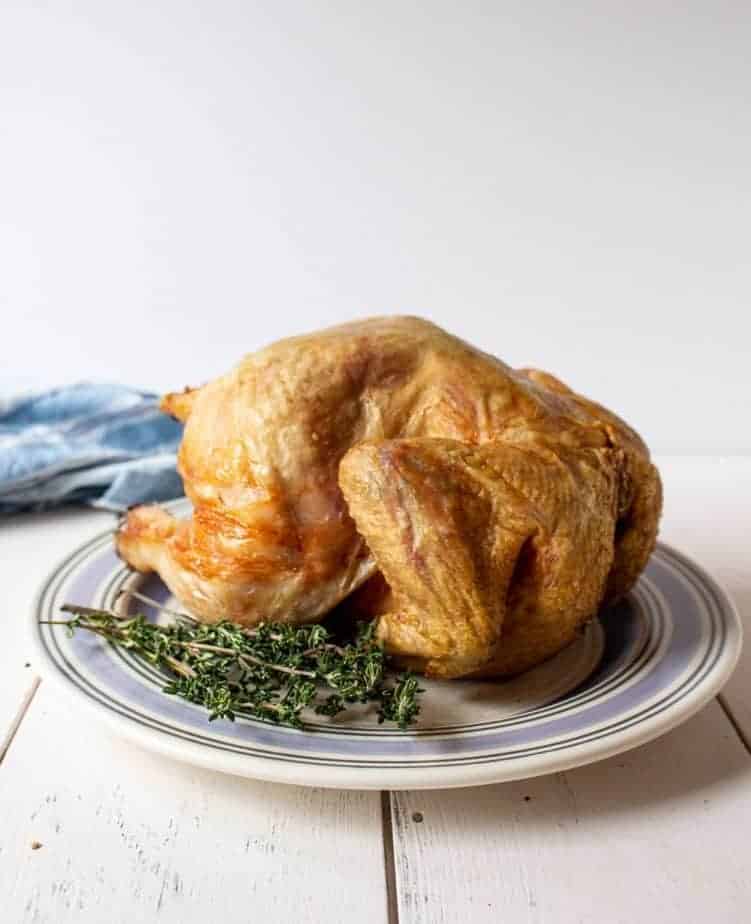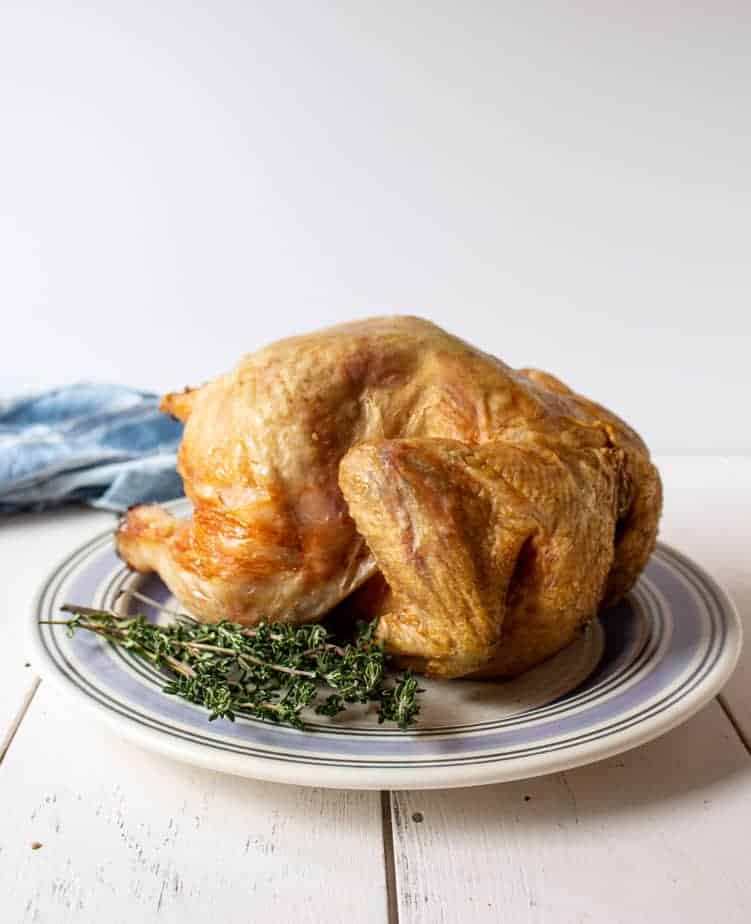 I have a nifty stand that I use that fits a beer can. The chicken then fits over the top of the can. I've done this before without the stand and have been  successful, but you do risk having your chicken fall over while cooking.
The stand helps balance the chicken. If you don't have a stand, you need to carefully balance the bird. You don't want it tipping over while it's cooking. These stands can be bought just about anyplace that sells BBQ supplies.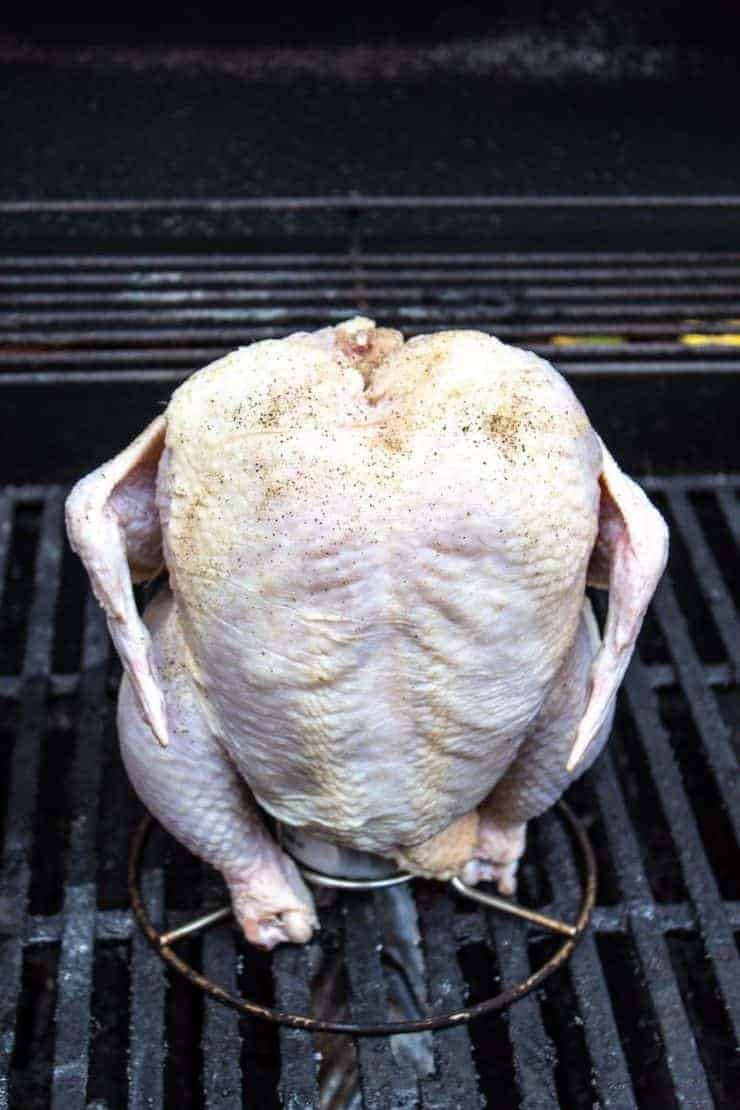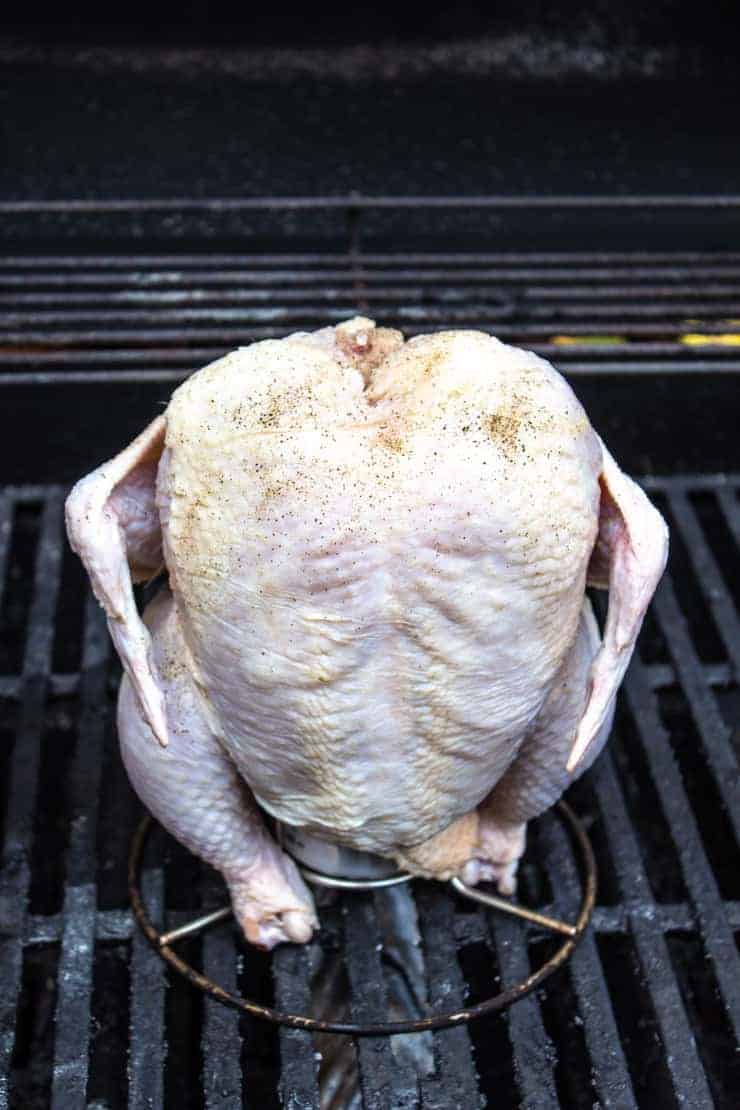 What can I substitute for beer in beer can chicken?
I have also made this chicken without beer. Sounds crazy since its name is beer can chicken. What you need is a clean aluminum can filled half way with a liquid.
I have used  white wine, and even water. The liquid helps keep the chicken moist! It does add a bit of flavor too, but if you are using water, the flavor can be added with herbs and, lemons, garlic and onions!
There are so many options! Just make your own favorite version.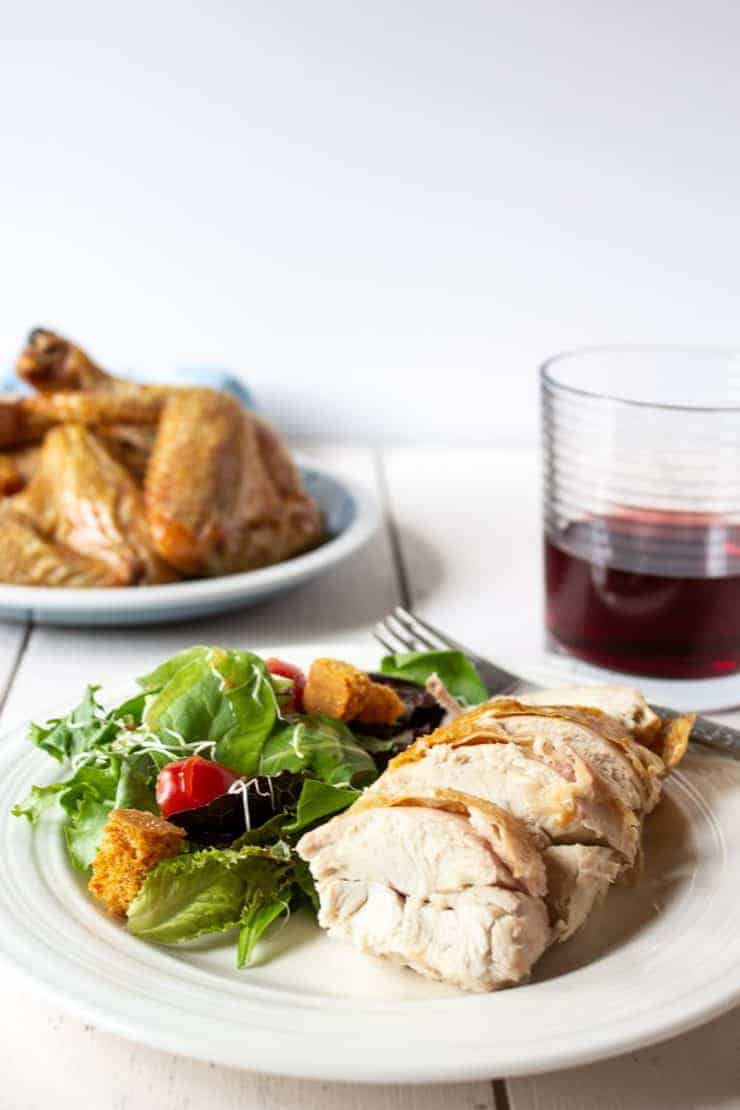 How do I make beer can chicken?
The method is simple. Salt and pepper the inside of your chicken.  Take a beer can and empty it half way.  Add two cloves of garlic, 3-4 sprigs of fresh thyme, or herbs of your choice. I like the taste of fresh lemon so I put half a lemon inside the cavity of the chicken.
Then place the chicken over the beer can. The can simply slides into the cavity of the bird. Salt and pepper outside of chicken and put the whole thing on the grill for about an 1 ½ hours!
The most difficult part of making this chicken is knowing when it is done. I have an old propane grill with three burners running the length of the grill.
I preheat my grill so it is hot and then once my chicken is on, I turn off the middle burner and turn the other two burners to medium. You want an indirect heat. Depending on your grill, turn off at least one burner and move the chicken so it isn't directly over a flame. That will help avoid flare-ups.
How long do I cook a whole chicken on the grill?
Cooking time is usually 1 ½ hours.
I look for three things when I think my bird is done. First, I wiggle a leg....a chicken leg that is! A done chicken has a lot of give to it. It feels like I could just pop the leg right off.
Second, I use a thermometer. This method is by far the most reliable. However, I don't want to keep poking my chicken a bunch of times until it is close to being done. That's why I do the leg wiggle first.
You want at least 165 degrees Fahrenheit. If I get that, I slip the chicken onto a plate or a baking sheet. Your chicken needs to rest for at least 10 minutes. I loosely wrap foil over the chicken to help keep the temperature.
My final test is looking at the drippings coming off the chicken. You will have drippings, but if there is any pink in the drippings, your bird needs to go back on the grill.
Variations to Beer Can Chicken
I like to vary my flavors. Some options include:
Garlic
Onion
Lemon
Orange
Thyme
Rosemary
Beer or White Wine
Jalapenos or other chili peppers
Serving Suggestions
If you aren't using a whole chicken, you might like this BBQ Chicken Recipe.
Any leftover chicken can be used in this chicken pasta bake, chicken wraps or chicken salad.
If you make this recipe, I'd love to hear about it! Leave a comment below or snap a picture and tag me on Instagram @beyondthechickencoop
If you loved this recipe you'll LOVE all the others in this category. Check out all my main dish recipes here!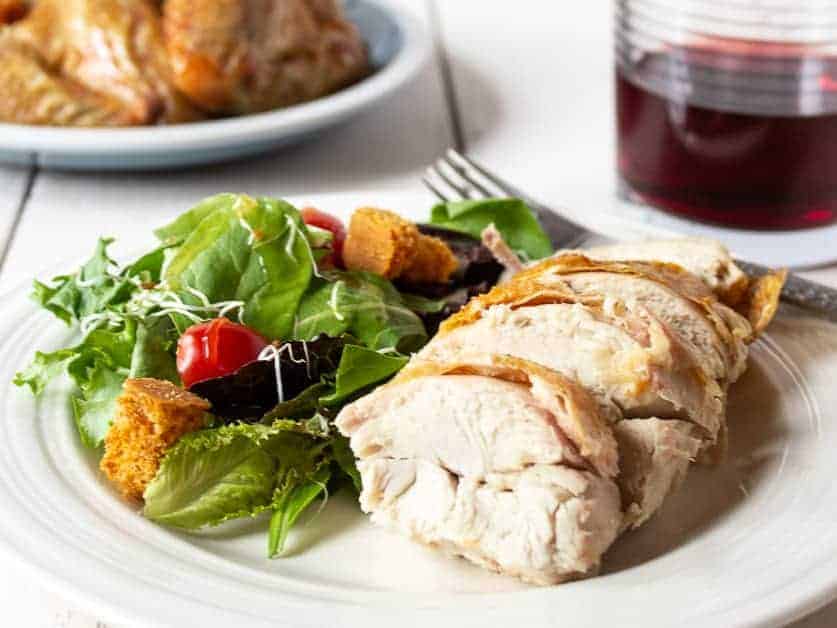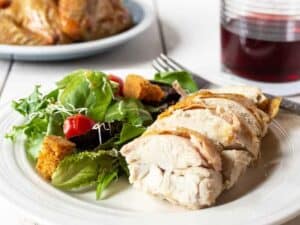 Beer Can Chicken
Whole chicken cooked on the BBQ over a can of beer.
Ingredients
1

whole chicken

½

can of beer

2

clove

garlic

½

lemon

4

sprigs fresh thyme

salt

pepper
Instructions
sprinkle salt and pepper inside bird cavity.

Open and empty the beer can half way.

Put garlic cloves inside can. If cloves are too large, they can be cut to fit inside can.

Add fresh thyme inside can.

Place can in a beer can chicken stand.

Place lemon half inside cavity of chicken.

Slide chicken cavity over beer can.

Place on a preheated gas grill on indirect heat. I turn off the middle burner on my grill and leave the two side burners on medium heat. Close lid to grill.

Check and rotate every 30 minutes.

Cook for about 1 ½ hours until an internal meat thermometer registers 165 degrees.

Remove from heat and let rest for 10 minutes. I cover mine loosely with aluminum foil to help keep the chicken warm.

Slice and serve.
Notes
Substitute thyme for your favorite herbs.
Nutrition
Calories:
277
kcal
Carbohydrates:
1
g
Protein:
23
g
Fat:
19
g
Saturated Fat:
5
g
Cholesterol:
95
mg
Sodium:
89
mg
Potassium:
252
mg
Vitamin A:
210
IU
Vitamin C:
8.2
mg
Calcium:
21
mg
Iron:
1.3
mg