Homemade pickled peppers using red and green jalapeno peppers. These pickled peppers are perfect for adding to nachos, enchiladas or sandwiches.
Recipe includes step by step directions for canning the peppers using a water bath canner.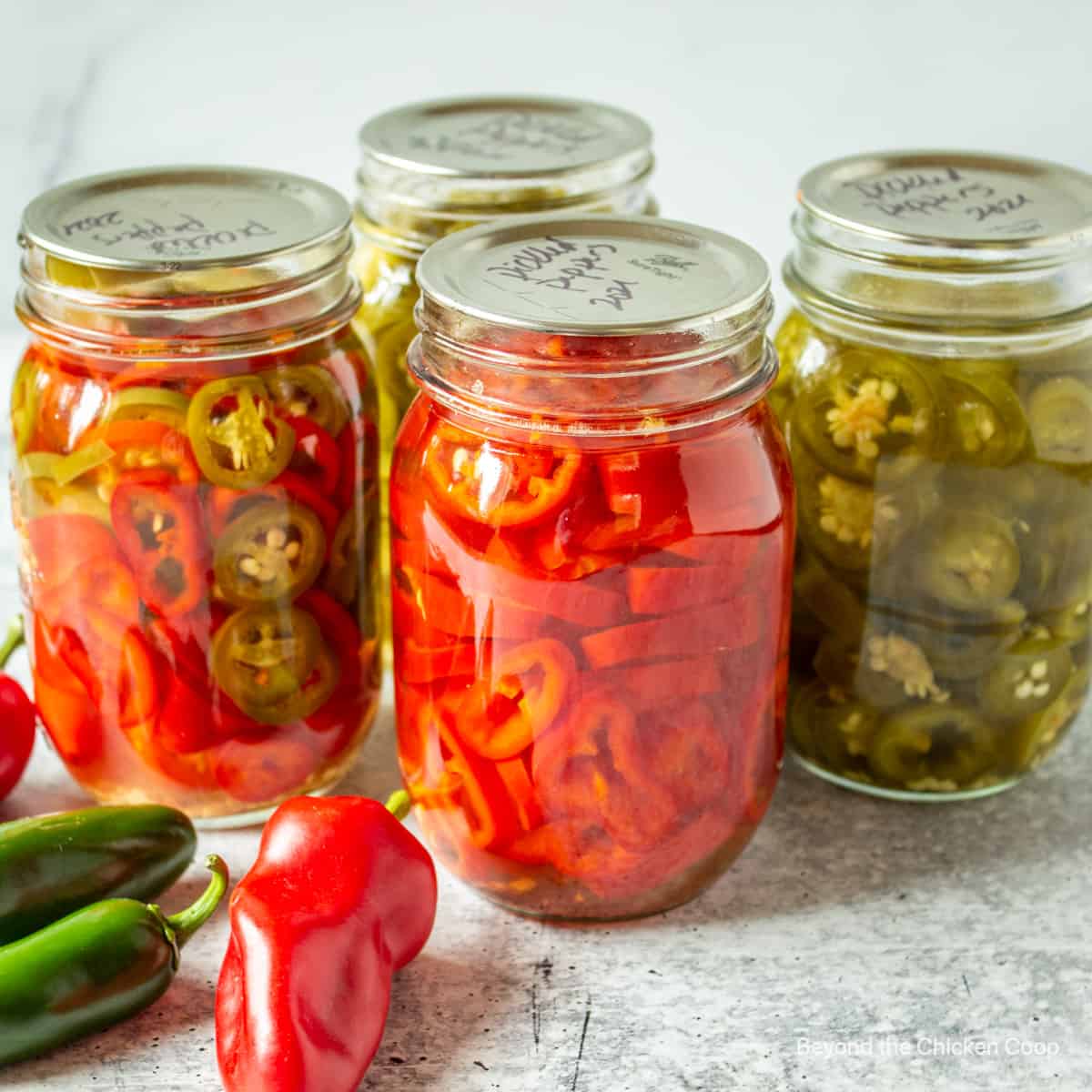 Pickled jalapeno peppers
Sometimes our garden produces an abundance of produce. This year we ended up with lot of hot chile peppers including jalapenos. We also received extra peppers from our neighbors!
Having so much fresh produce is a great thing, but finding ways to use it up can be challenging. We roast and freeze peppers, and this year I also decided to can pickled peppers.
Pickling peppers isn't difficult and if you process them using a water bath canner, the peppers are shelf stable and can be stored at room temperature.
Just imagine pulling out a jar of homemade pickled peppers in the middle of the winter!
These pickled jalapenos are perfect on nachos, tacos, and burritos. Add to a sandwich or in some guacamole or use when making shredded chicken.
If you are new to canning, you'll want to read How to Water Bath Can before you begin!
Key ingredients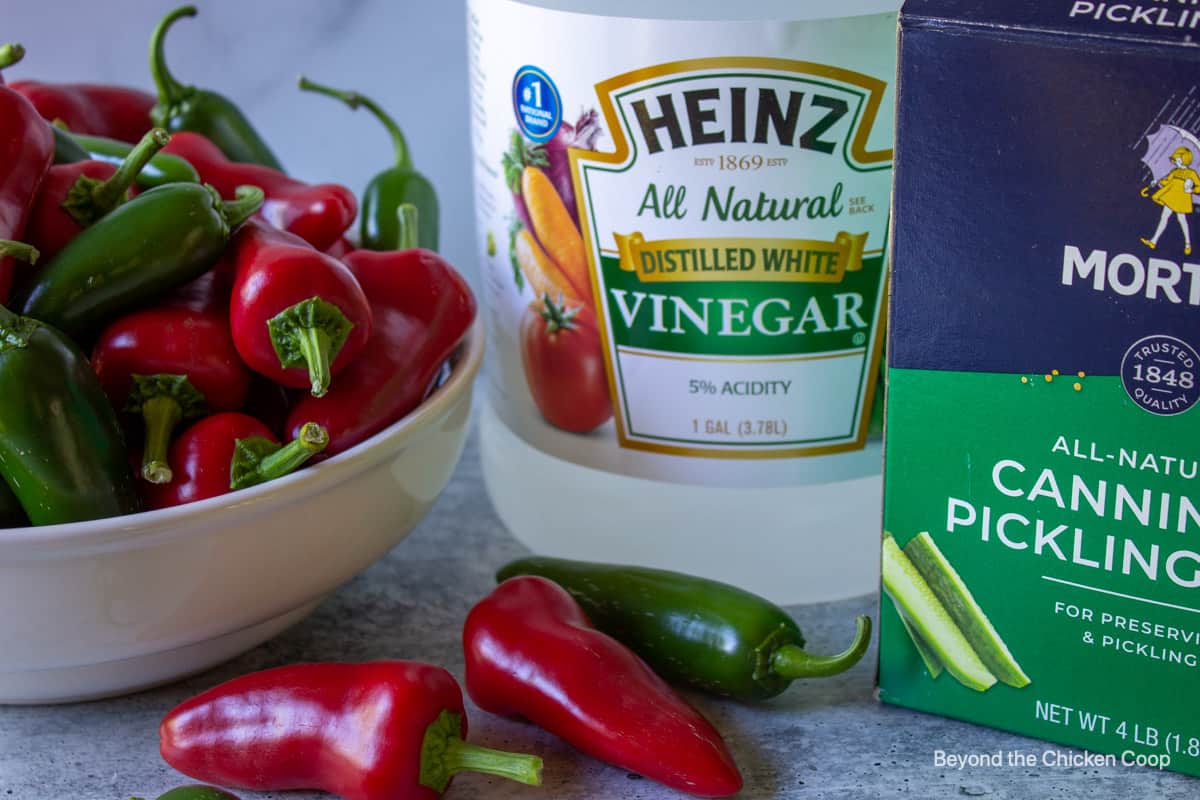 Peppers - I used green jalapenos and red fresno peppers. You can use any type of hot chile pepper.
Vinegar - Plain distilled vinegar. You want at least 5% acidity to make these safe for canning
Pickling salt - or any salt without iodine or anti-caking ingredients. Canning salt or kosher salt are good options
Step by step directions
Wash canning jars and canning lids in hot soapy water. Rinse well and let air dry.
Wash peppers in cool water
Slice peppers into evenly sized pieces
Place peppers in prepared jars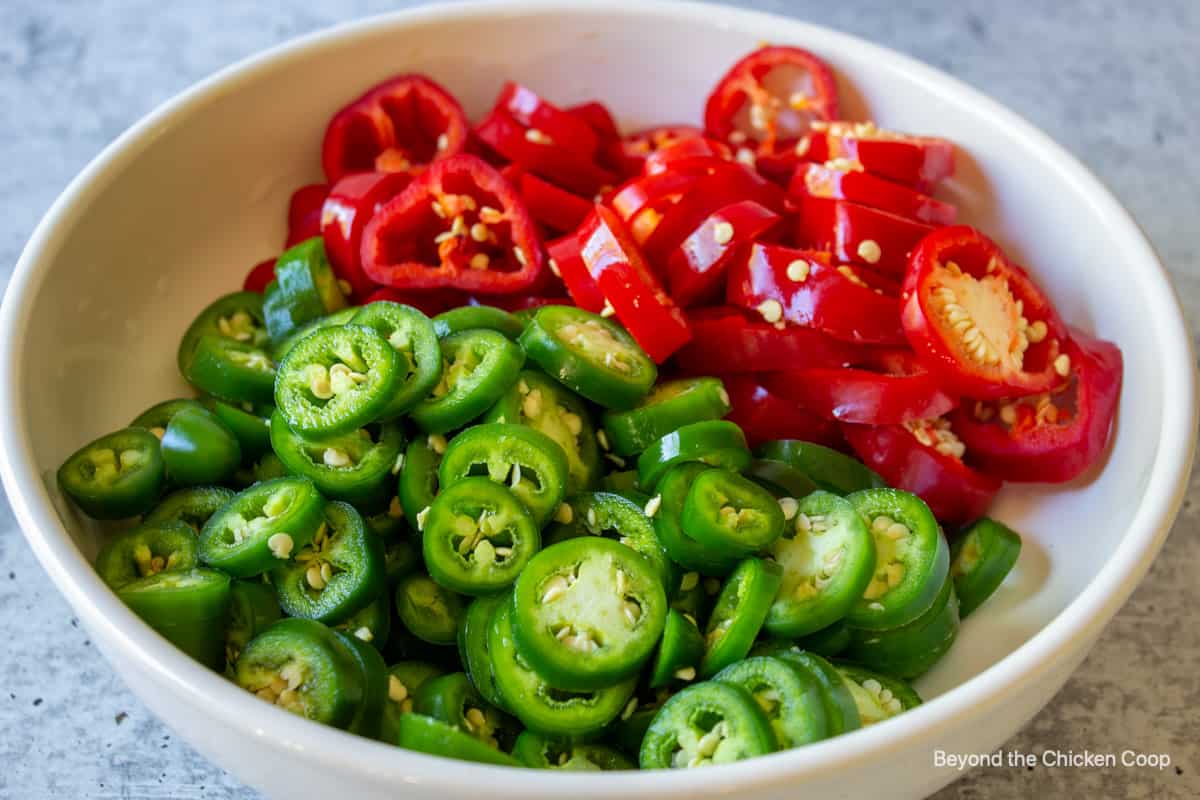 Bring water, vinegar and salt to a boil
Pour hot vinegar mixture over jalapenos, leaving ½ inch head space from the top of the jar
Remove bubbles from jar. I lightly tap my jar and use a plastic knife around the sides of the jar to help remove the bubbles.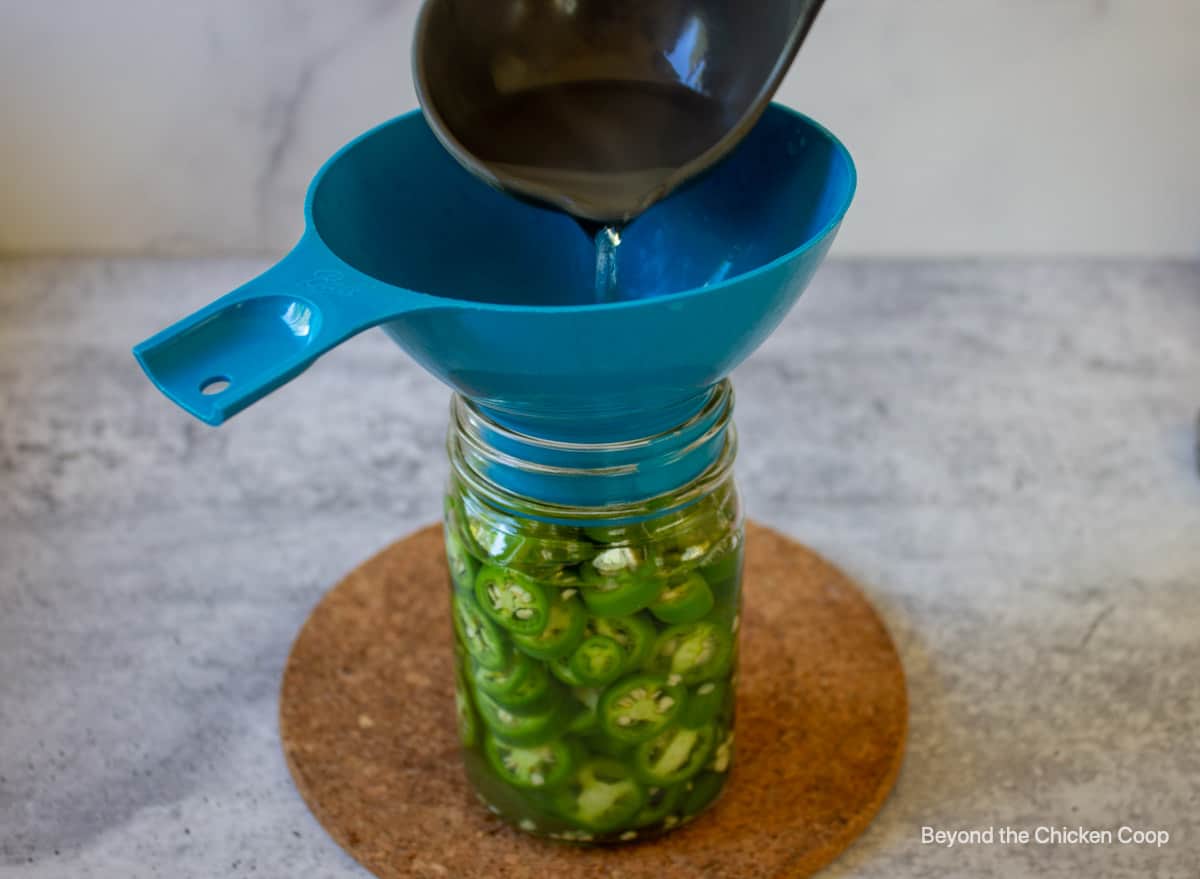 Wipe down rim of jar with a clean cloth
Add lid and ring band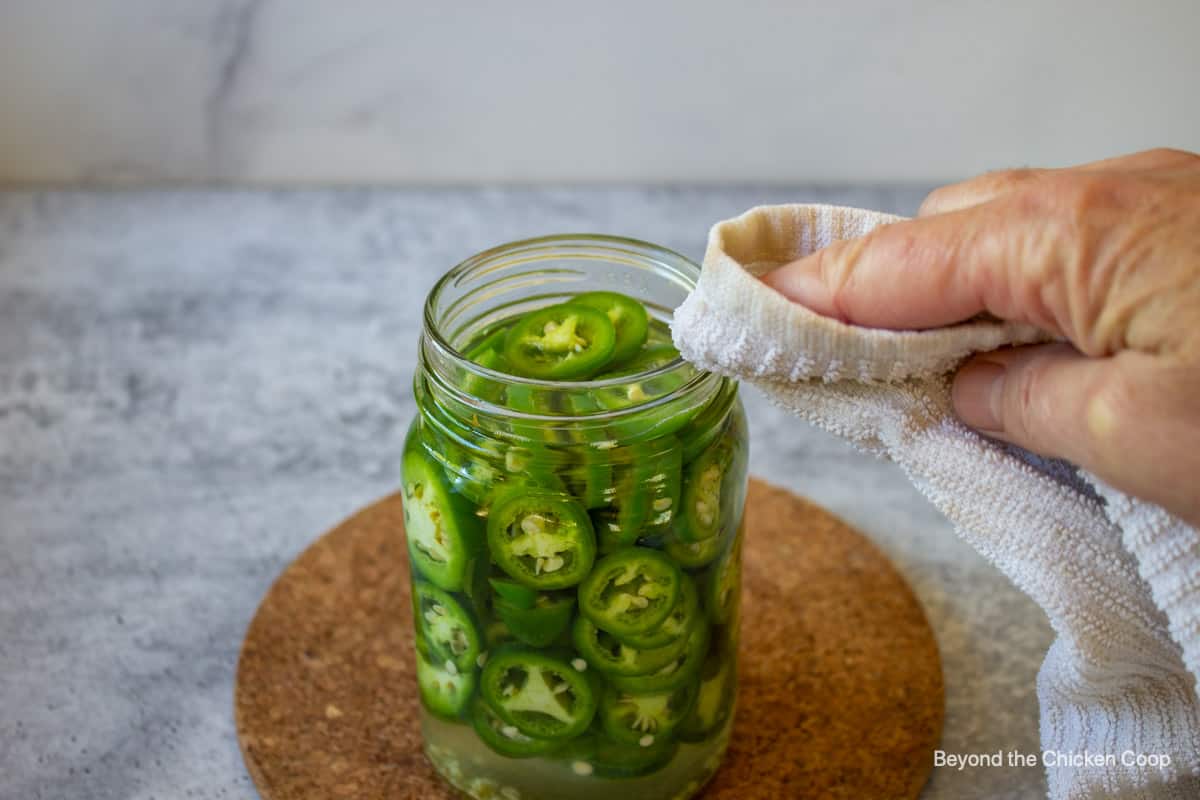 Place jars in a water bath canner. The canner should be filled with hot water that covers the top of the jars by 1 inch.
Cover canner and bring to a boil
Boil pint jars for at least 10 minutes making certain you are adding additional time for your elevation (see chart below)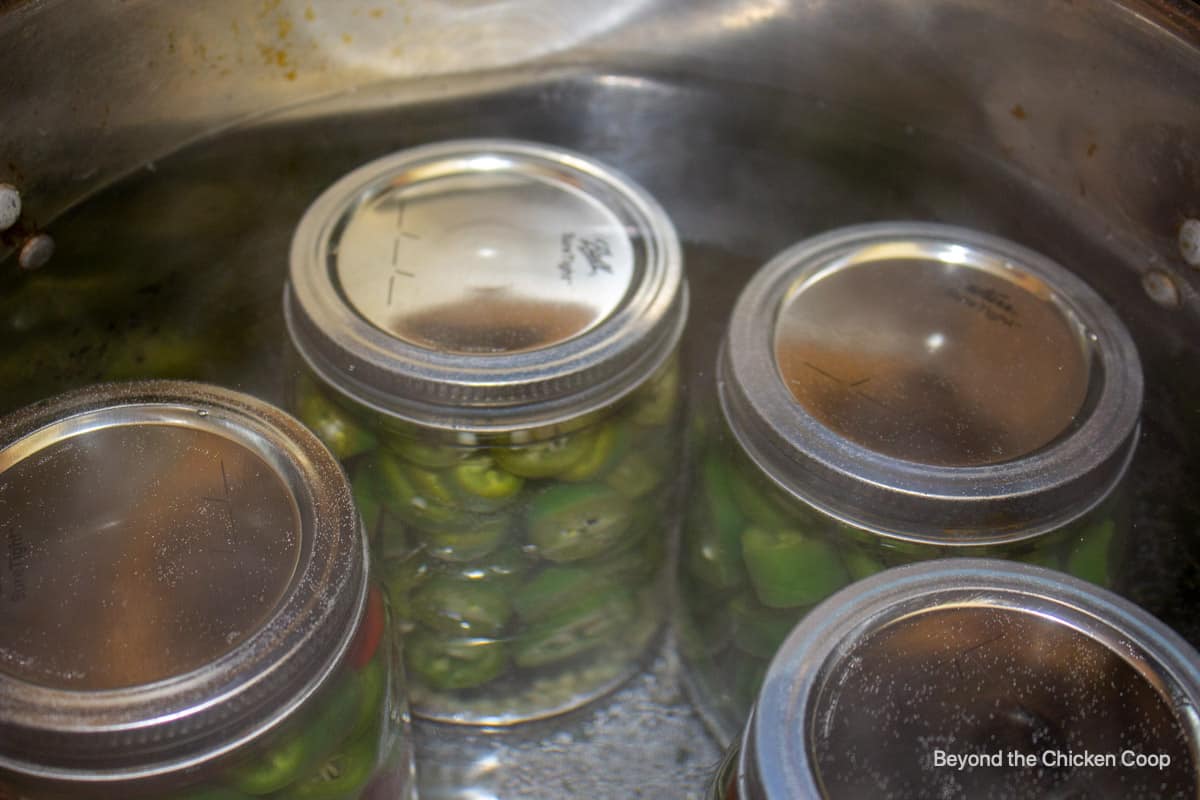 Elevation adjustment
You must adjust your processing time according to your elevation. If you are located anywhere above 1000 feet above sea level, please add the following time to your total processing time.
Altitude Feet
Increase Processing Time
1,001- 3,000
3,001- 6,000
6,001- 8,000
8,001-10,000
5 minutes
10 minutes
15 minutes
20 minutes
Recipe tips
Wear gloves when handling the peppers. Peppers are hot and the oil from the peppers can sting your hands and if you touch other areas, like your eyes, that area will burn too.
Use fresh, high quality peppers
You can pickle one jar or ten jars depending on the amount of peppers on hand, the size of your water bath canner and the amount of storage space available to store the canned jar
When pouring the hot brine onto the peppers, be cautious when breathing the steam as it comes off the peppers. The heat from the peppers mixes with the steam and is difficult to breath in.
Select pint sized jars or half-pint sized jars depending on your needs
Once opened, store pickled peppers along with the brine in the refrigerator for 2-3 months
Recipe Faqs
How long will pickled peppers last?
Once opened, store the pickled peppers with their brine in the refrigerator for 2-3 months.

Unopened jars that have been processed in a hot water bath will maintain their quality for up to one year.
How long will it take for the peppers to pickle?
You can eat the pickled peppers right away, but they will be best if you can wait at least 3 weeks before eating. This will allow enough time for the peppers to fully be pickled.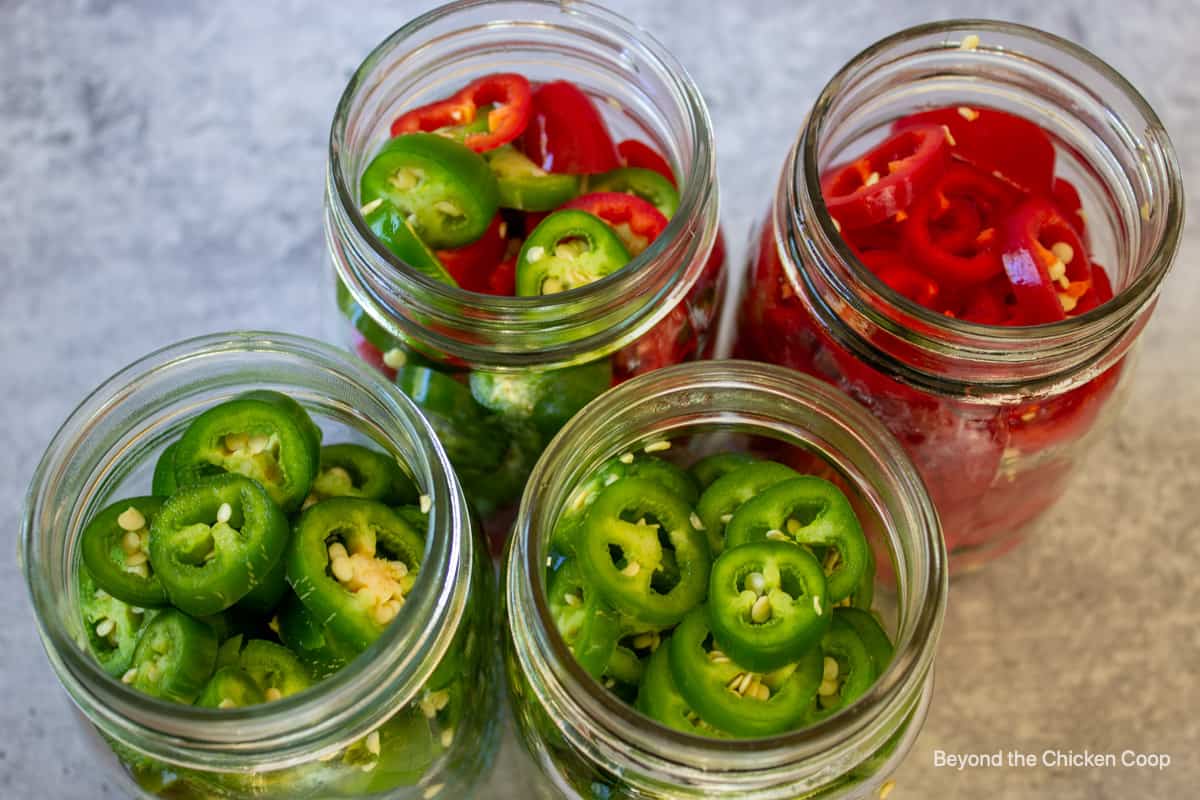 Safe canned food
Improperly home canned food can carry the risk of causing botulism. If eaten, this can cause a serious form of food poisoning that can lead to paralysis or death. Please follow safety procedures and inspect your food before consuming.
Always inspect your home canned food before eating
If in doubt, throw it out!!! The FDA recommends throwing out the food and the jar.
Do not taste if in doubt!
Throw it out if -

the can is bulging, leaking or swollen
the container looks damaged or abnormal
the container spurts liquid or foam when opened
the food is moldy, discolored or smells bad
the seal is no longer intact when you examine the food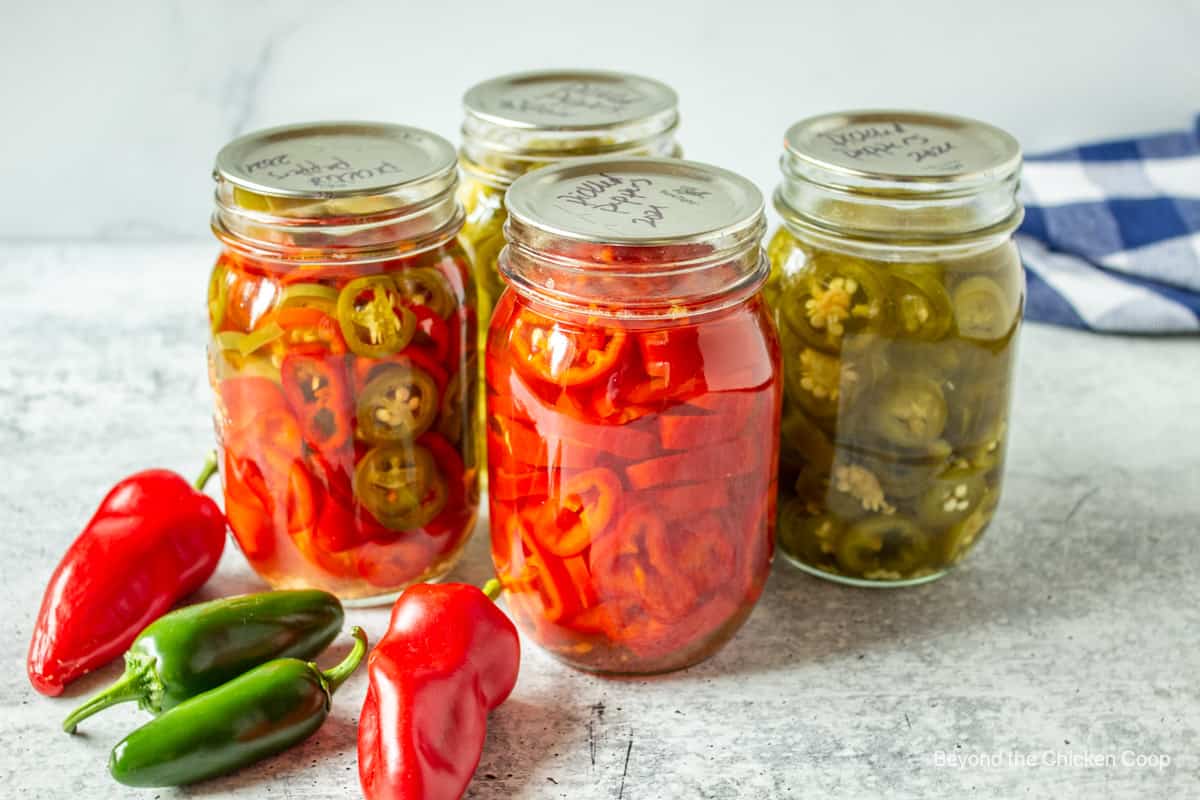 If you make this recipe, I'd love to hear about it! Leave a comment below and snap a picture and tag me on Instagram @beyondthechickencoop
Be certain to check out all my home canning recipes!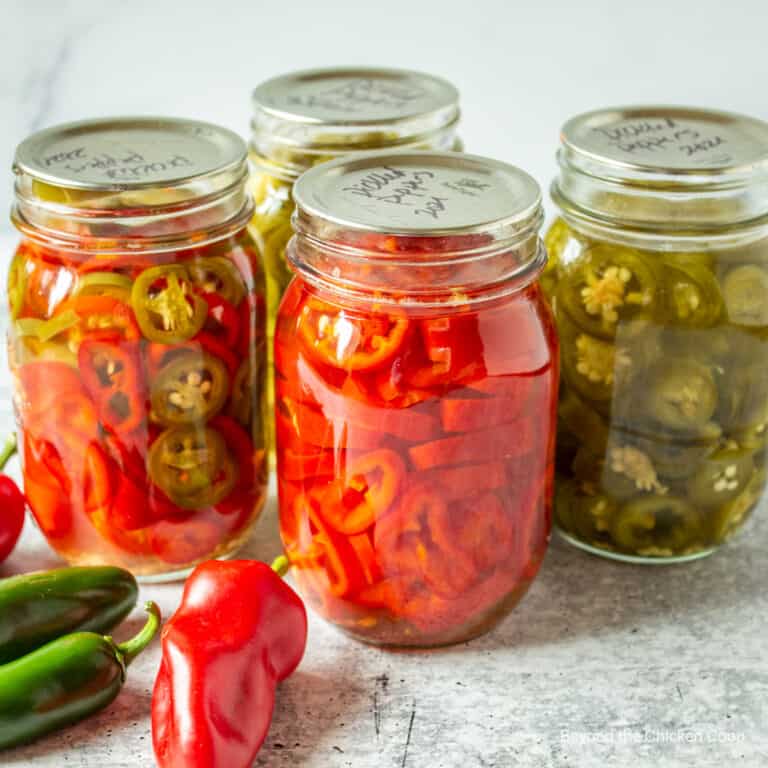 Pickled Peppers
Recipe for making and canning pickled peppers, including jalapeno peppers
Ingredients
3

pounds

peppers

(jalapenos or other hot peppers)

6

cups

white distilled vinegar

(at least 5% acidity)

2

cups

water

4

teaspoons

canning salt
Instructions
Wash canning jars and canning lids in hot soapy water. Rinse well and let air dry.

Wash peppers in cool water

Slice peppers into evenly sized pieces

Place peppers in prepared jars

Bring water, vinegar and salt to a boil

Pour hot vinegar mixture over jalapenos, leaving ½ inch head space from the top of the jar

6 cups white distilled vinegar,

2 cups water,

4 teaspoons canning salt

Remove bubbles from jar. I lightly tap my jar and use a plastic knife around the sides of the jar to help remove the bubbles.

Place jars in a water bath canner. The canner should be filled with hot water that covers the top of the jars by 1 inch.Cover canner and bring to a boil

Boil pint jars for at least 10 minutes making certain you are adding additional time for your elevation (see chart below)
Notes
Wear gloves when handling the peppers. Peppers are hot and the oil from the peppers can sting your hands and if you touch other areas, like your eyes, that area will burn too.
Use fresh, high quality peppers
You can pickle one jar or ten jars depending on the amount of peppers on hand, the size of your water bath canner and the amount of storage space available to store the canned jars
When pouring the hot brine onto the peppers, be cautious when breathing the steam as it comes off the peppers. The heat from the peppers mixes with the steam and is difficult to breath in.
Select pint sized jars or half-pint sized jars depending on your needs
Once opened, store pickled peppers along with the brine in the refrigerator for 2-3 months
Elevation Adjustments - Increase processing time by recommended amounts
1,001- 3,000 ft. - add 5 minutes
3,001- 6,000 ft. - add 10 minutes
6,001- 8,000 ft. - add 15 minutes
8,001-10,000 ft. - add 20 minutes
Nutrition
Serving:
10
slices
Calories:
7
kcal
Carbohydrates:
1.6
g
Protein:
0.3
g
Sodium:
486
mg
Fiber:
5
g