This Peach Liqueur has subtle peach flavor with a hint of cinnamon. Perfect served as an aperitif or an after dinner drink.
This flavored liqueur makes a perfect gift to give during the holidays!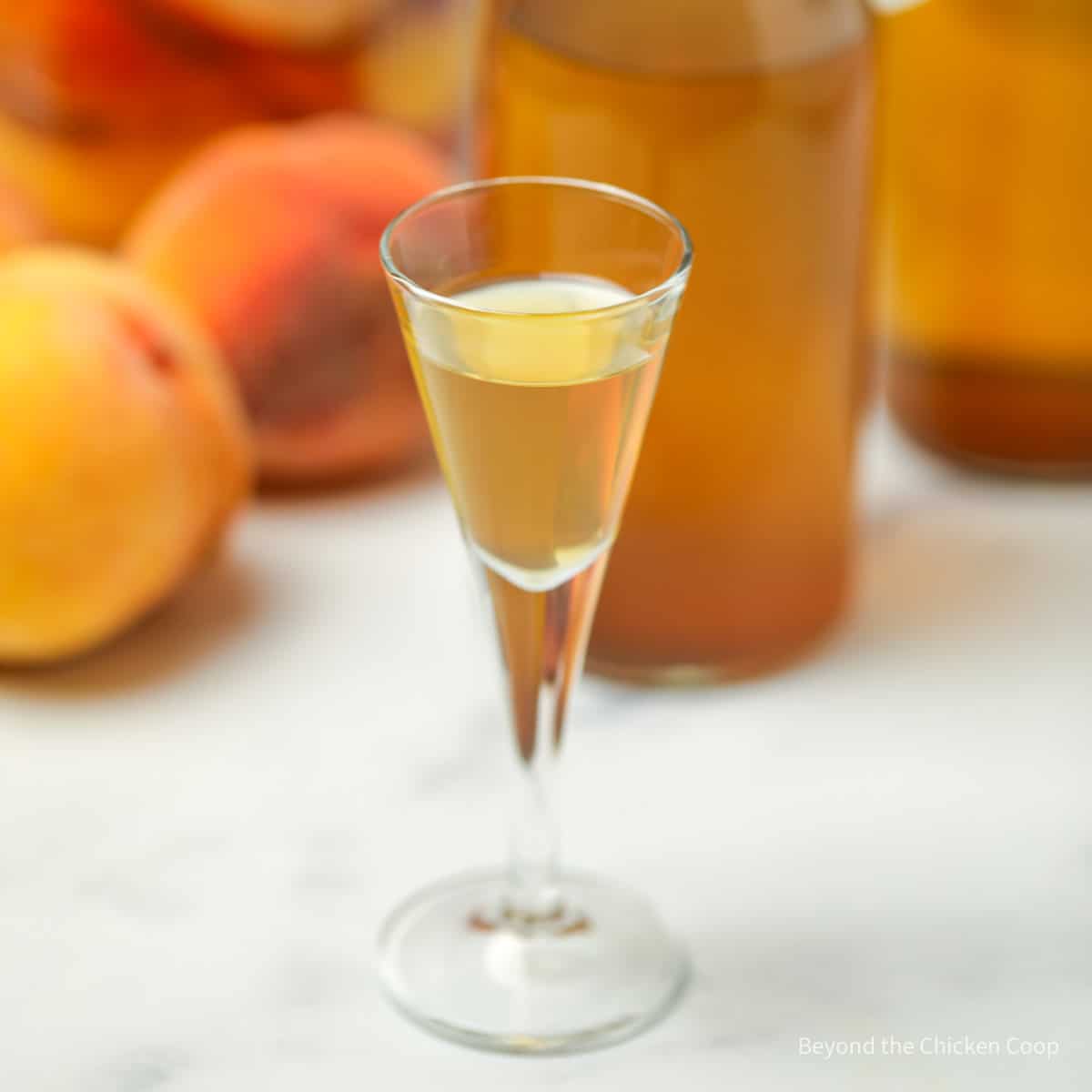 Peach infused alcohol
This peach liqueur couldn't be any easier to make. It's made with fresh peaches, a cinnamon stick a bit of sugar and two different types of alcohol.
When fresh peaches are in season, we whip up a couple of batches and store them in our basement for a few months.
Then we strain off all the fruit and place in cute little bottles. We love to give these as hostess gifts or add to holiday gift baskets.
This peach liqueur has a lot of room for flexibility or maybe I should say room for creativity! You can really add different ingredients.
We sometimes throw in a couple of handfuls of blackberries along with the peaches. We have also made this completely with red plums instead of the peaches.
Key ingredients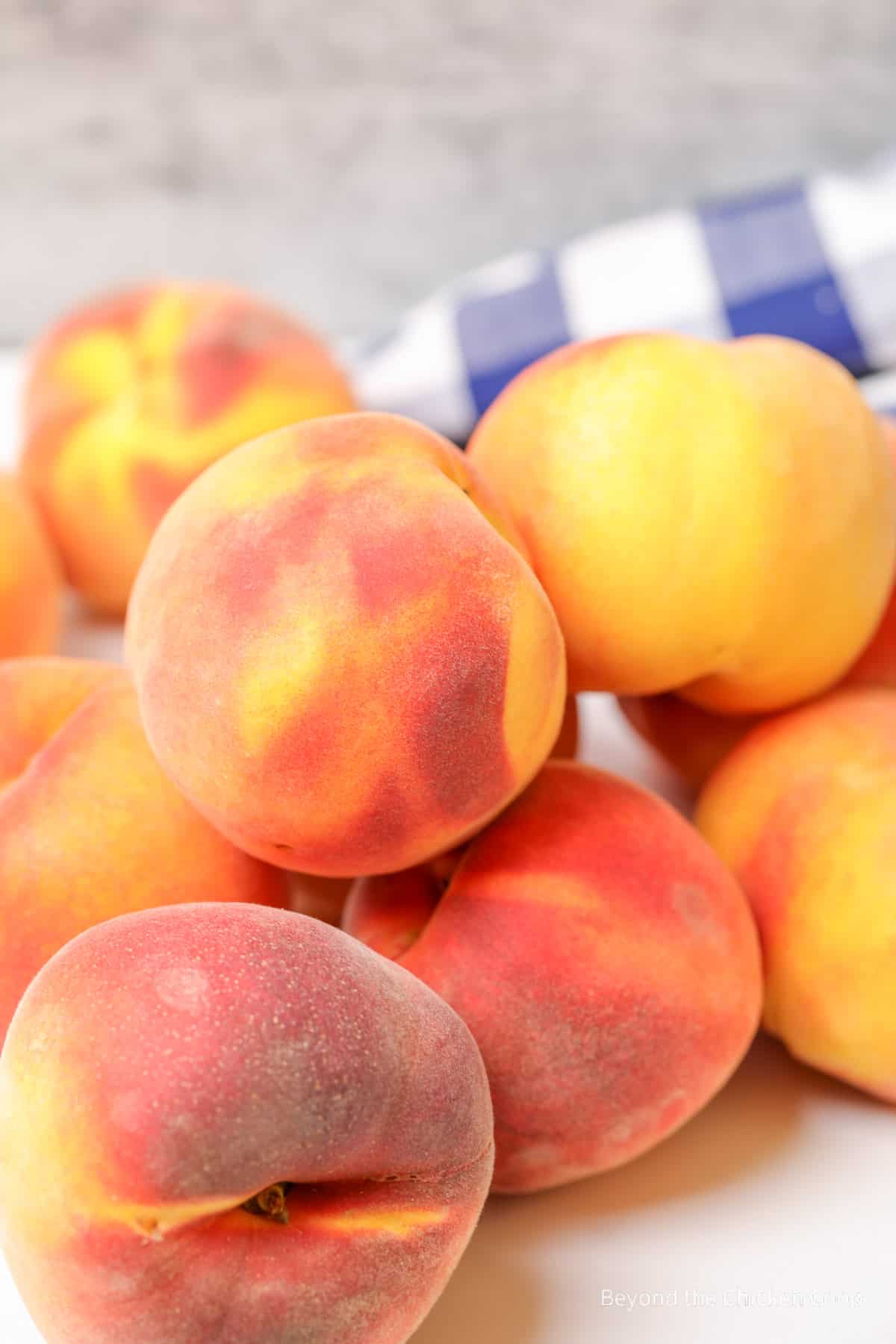 Peaches - Fresh, ripe peaches. No need to peel the peaches, but give them a good rinse and rub off any fuzz on the peach. Any type of peach works in this recipe, as long as it a delicious peach to eat!
Alcohol - We use a mixture of vodka and dark rum. You could just use one, if you'd prefer. Other options include using gin or tequila.
Sugar - We've used granulated sugar. We have also used brown sugar in the past. It adds a slightly richer flavor and provides a darker color. Honey is also an option. If using honey, mix the honey with a cup of the alcohol in a separate container prior to adding to the peaches.
Spices - Our favorite is just a cinnamon stick. You could also add a couple of star anise.
Step by step directions
Wash and pit peaches. Cut into halves or quarters.
Place peaches in a large glass container
Add cinnamon stick and pour sugar over peaches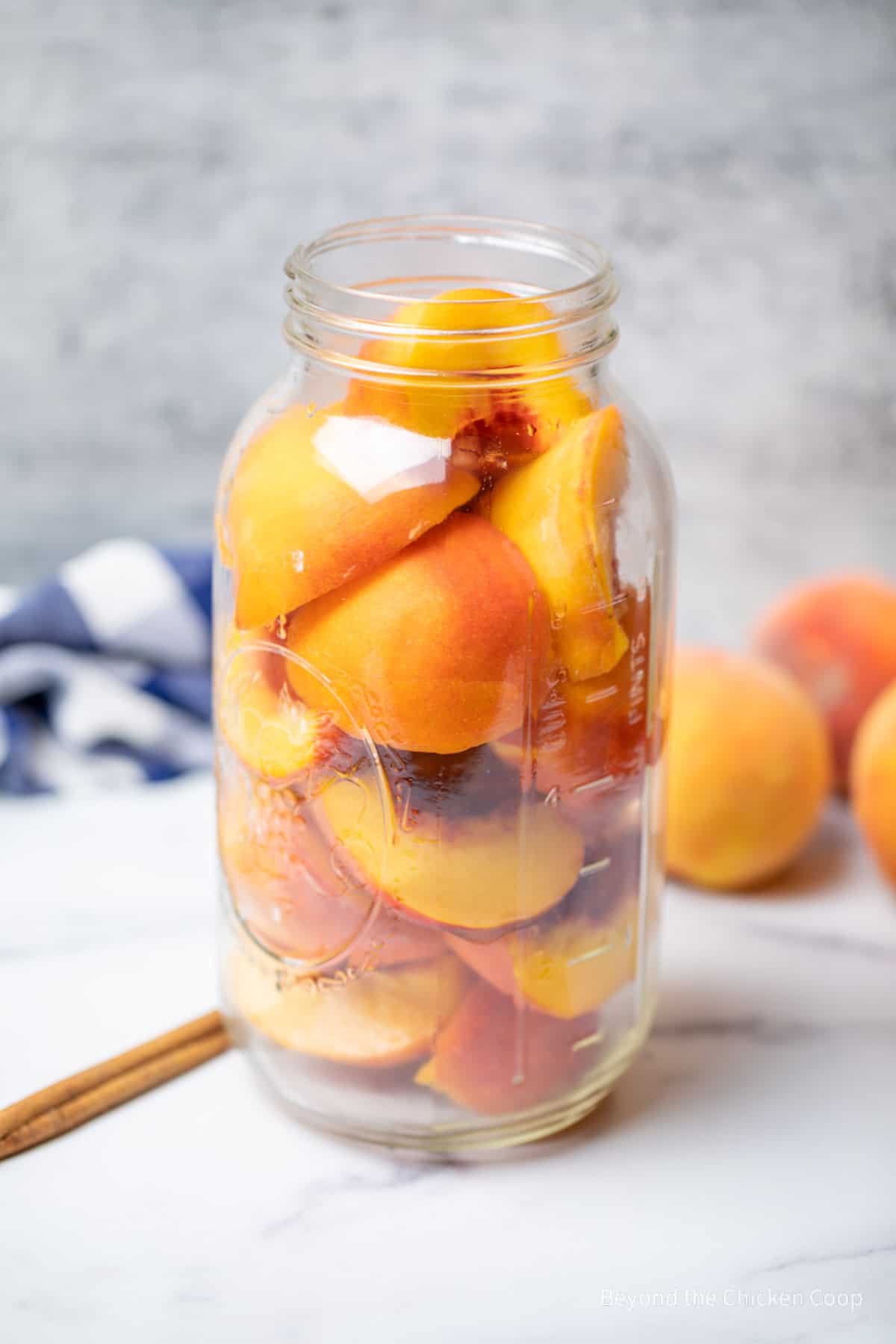 Pour liquor over peaches so peaches are fully covered
Place lid on container and gently rotate container to mix the sugar. Sometimes the sugar will stick on the bottom. Just rotate the container a few times a day until the sugar is fully dissolved.
Place container in a cool, dark location and let steep for 2-6 months. The liqueur is ready whenever you like the flavor.
Strain off peaches and remove cinnamon stick. Place in glass containers.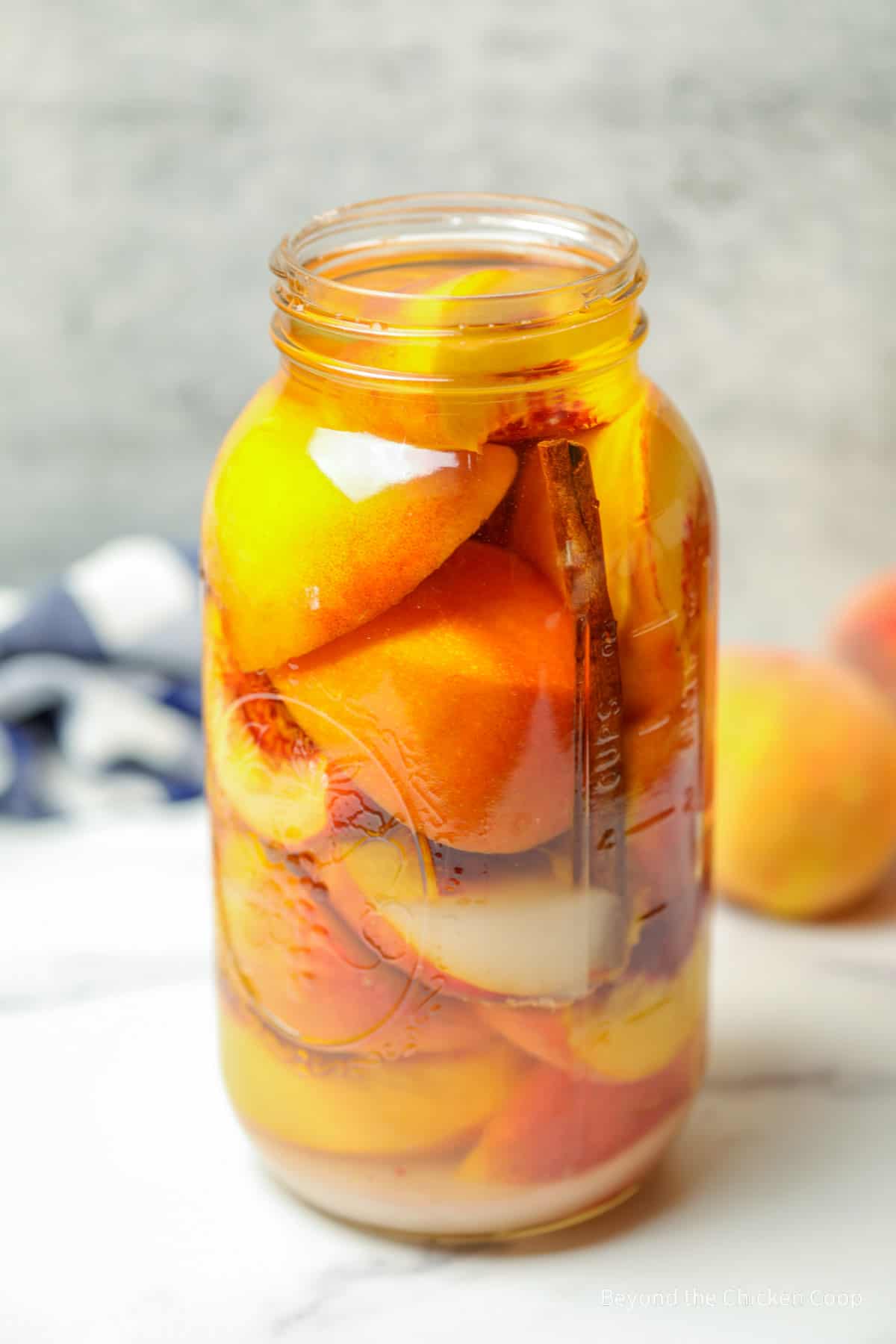 Recipe tips
Use any sized jar you have available and for the amount of liqueur you want to make. We used a ½ gallon sized jar. A full gallon or a quart jar will also work.
The ingredient portions are suggestions. You can adjust the amount of peaches, the amount of sugar and the amount of liquor added.
We do not use top shelf liquors when making this peach liqueur. We buy the cheapest bottles we can find because the flavor really becomes the peaches.
Many liqueur recipes only have you steep the peaches for 1-2 weeks. Try your liqueur and see if it's to your liking. Strain off the peaches whenever you think your liqueur has the perfect flavor.
We have also forgotten our liqueur for several months before we've strained off the peaches. The results are still delicious!
Put in cute flip top bottles for gift giving
Frequently asked questions
Can I refrigerate my peach liqueur?
Yes, if you prefer it chilled, feel free to refrigerate. The liqueur may also be stored at room temperature.
How long will peach liqueur last?
The liqueur will last for several years. However, it may begin to lose it's coloring after the first year.
Serving suggestions
Serve in small glasses before or after dinner.
Add a small amount to a glass along with a sparkling wine to make a peach bellini.
Make a peach daiquiri with frozen peaches, rum and peach liqueur.
Experiment to find your favorite combination!
More peach recipes
If you have a crop of ripe peaches ready to be used, you may also want to check out these delicious recipes.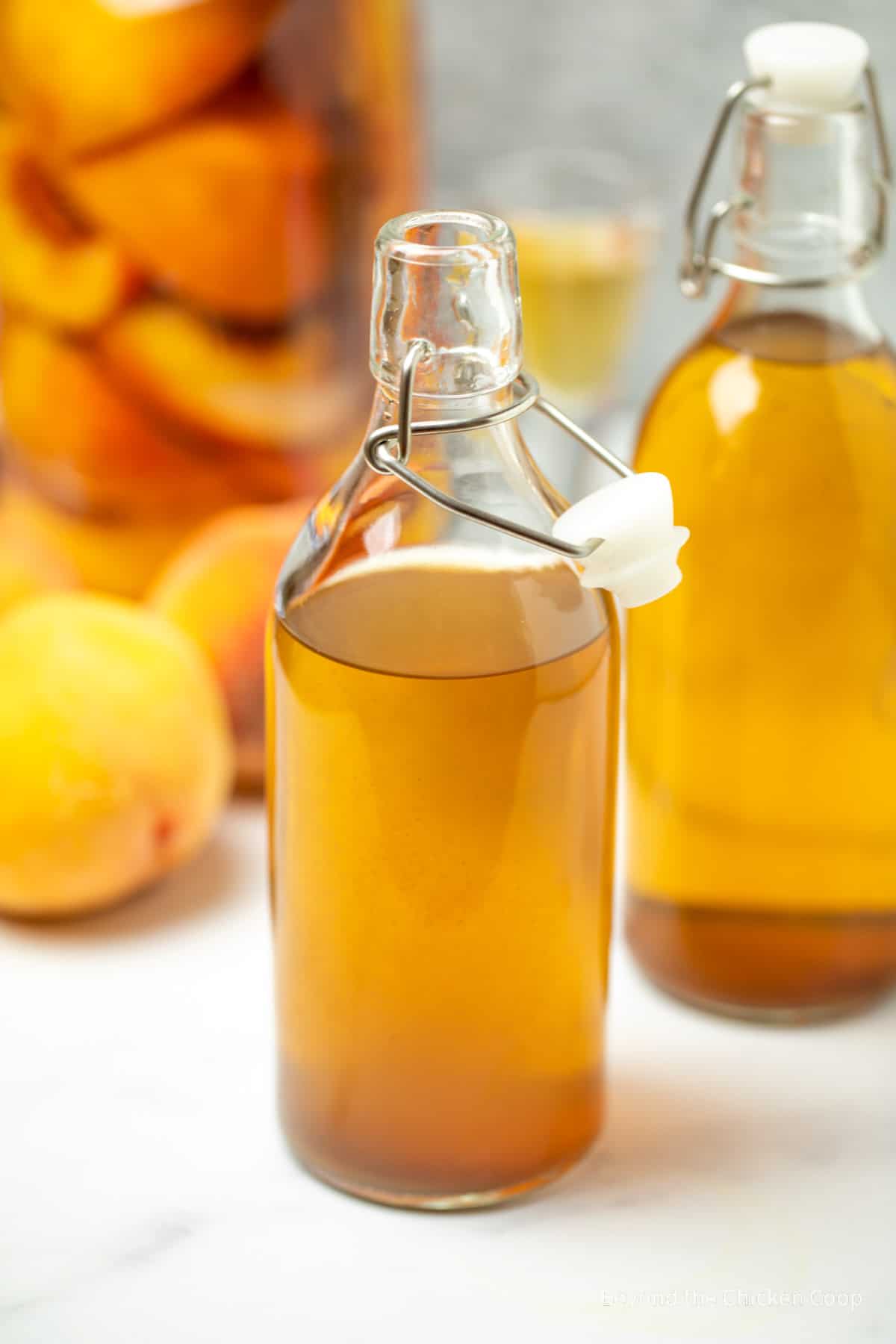 If you make this recipe, I'd love to hear about it! Leave a comment below and snap a picture and tag me on Instagram @beyondthechickencoop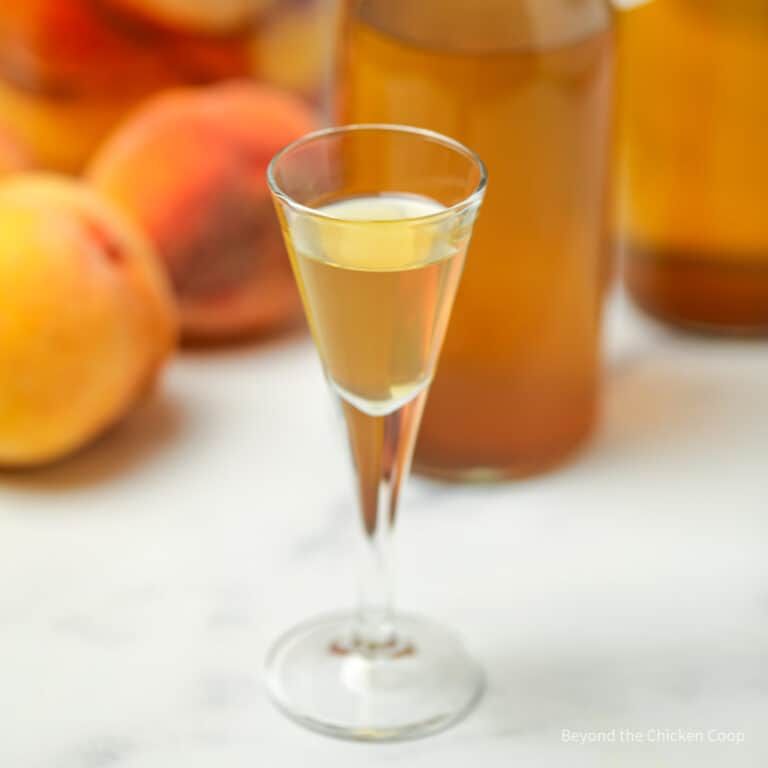 Peach Liqueur
An infused liqueur with peaches and cinnamon.
Ingredients
4-6

peaches

(fresh)

½

cup

sugar

1

cinnamon stick

2

cups

vodka

2

cups

dark rum
Instructions
Wash and pit peaches. Cut into halves or quarters.

Place peaches in a large ½ gallon glass container

Add cinnamon stick and pour sugar over peaches

½ cup sugar,

1 cinnamon stick

Pour vodka and rum over top of peaches. Add a bit more of either liquor if need to completely cover the peaches.

2 cups vodka,

2 cups dark rum

Place lid on container and rotate container to mix the sugar. If the sugar is stuck to the bottom of the jar, just rotate jar a couple of times a day until sugar is fully dissolved.
Notes
Use any sized jar you have available and for the amount of liqueur you want to make. We used a ½ gallon sized jar. A full gallon or a quart jar will also work.
The ingredient portions are suggestions. You can adjust the amount of peaches, the amount of sugar and the amount of liquor added.
We do not use top shelf liquors when making this peach liqueur. We buy the cheapest bottles we can find because the flavor really becomes the peaches.
Many liqueur recipes only have you steep the peaches for 1-2 weeks. Try your liqueur and see if it's to your liking. Strain off the peaches whenever you think your liqueur has the perfect flavor.
We have also forgotten our liqueur for several months before we've strained off the peaches. The results are still delicious!
Put in cute flip top bottles for gift giving
*calories are an estimate 
Nutrition
Serving:
0.25
cup
Calories:
80
kcal