Roasting and Freezing Chili Peppers - How to roast and preserve peppers to last year round. Step by step directions on how to roast chili peppers on a gas grill and how to freeze roasted peppers.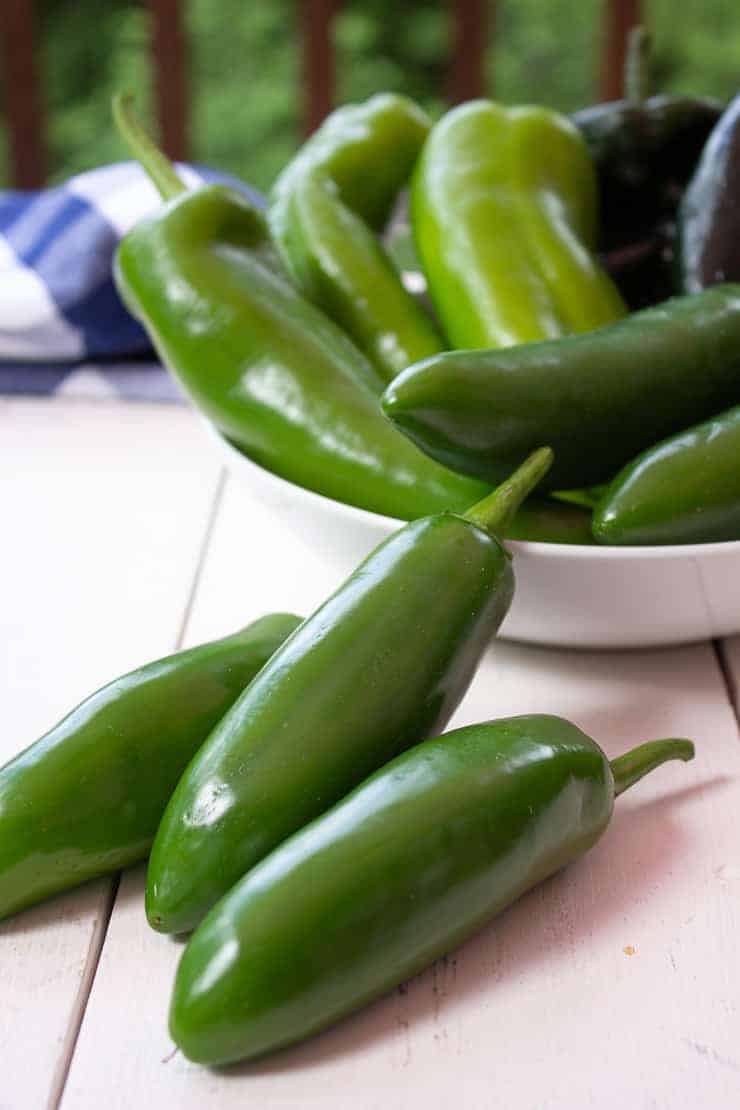 Harvest season is a busy time of year for us. Everything seems to ripen at the same time.
We are busily trying to get everything picked, cleaned, canned, dried or frozen. This week I picked the last of our peppers; jalapenos, anaheims and poblanos. Since we can't possibly eat all of these peppers fresh, I roast and freeze them to last throughout the year. I often use the poblano peppers when making this Chili Relleno Casserole.
Another great recipe for using up the peppers is making pickled peppers!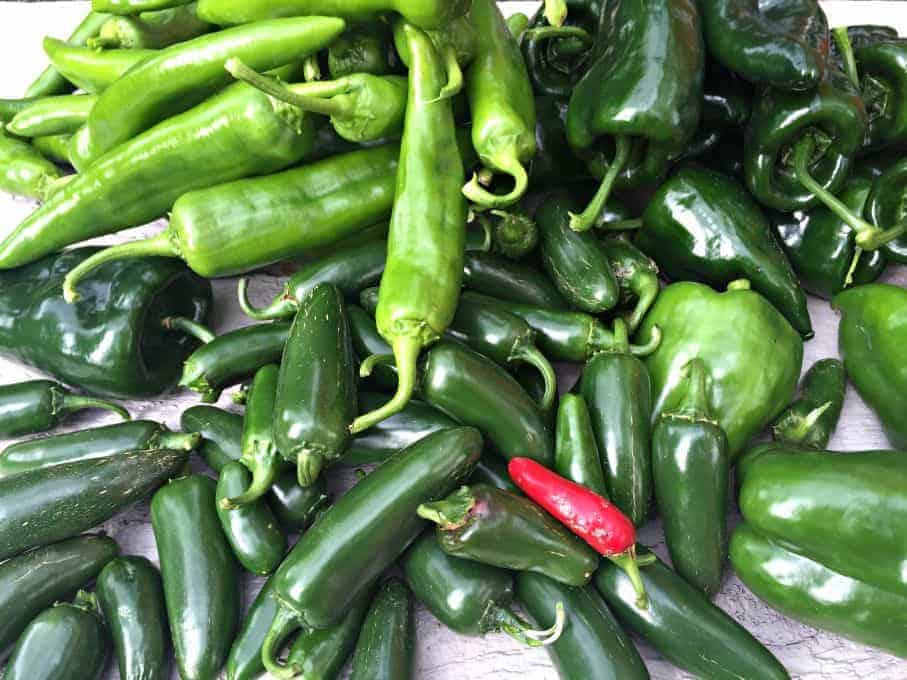 Why roast chili peppers?
Roasting peppers brings out an amazing flavor of the pepper. It also makes it easy to remove the outer layer or skin of the pepper so you are just left with the meaty part of the pepper.
If you've ever been to a farmer's market in the southwest you may have seen and smelled roasting peppers. New Mexico is famous for their Hatch green chilies. They are roasted in a huge caged drum over a hot fire. The drum rotates slowly so that all the peppers are evenly roasted.
The smell of these chilies roasting is amazing. Since I don't have such a contraption, I've had to improvise. I use my gas grill, but I can achieve delicious results.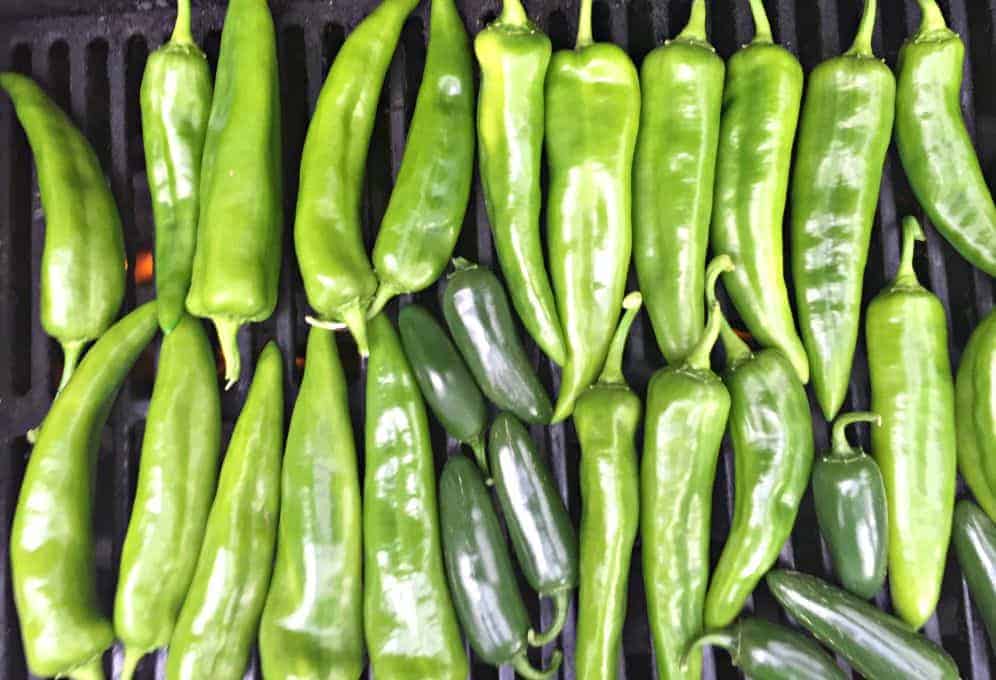 What type of peppers can I roast and freeze?
You can roast just about any type of pepper. Make certain the pepper isn't too small or there may not be enough meat on the pepper.
Some of my favorites include:
Jalapenos
Pablanos
Anaheim peppers
Sweet bell peppers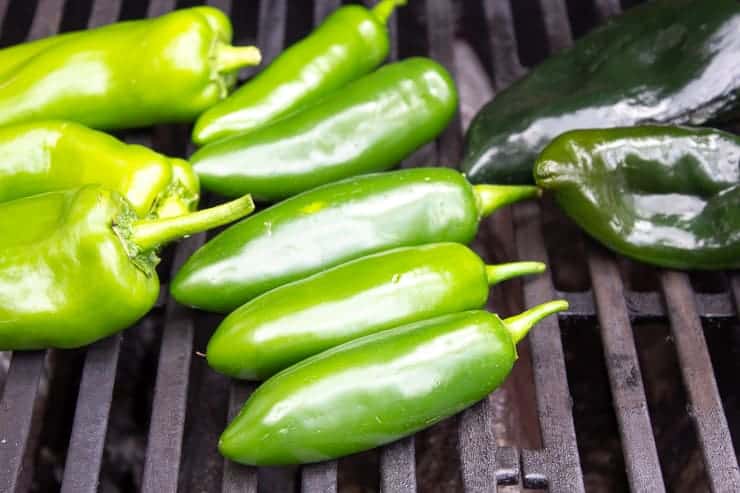 Roast on a gas grill
Turn all burners to high
Allow grates to heat up for at least 5 minutes
Place chilies on grate
Turn every 3-5 minutes
Continue rotating until peppers are charred on all sides
To use right away
To use fresh, roast the chilies. When they are done, place them directly into a paper bag (lunch bag size) and fold bag closed.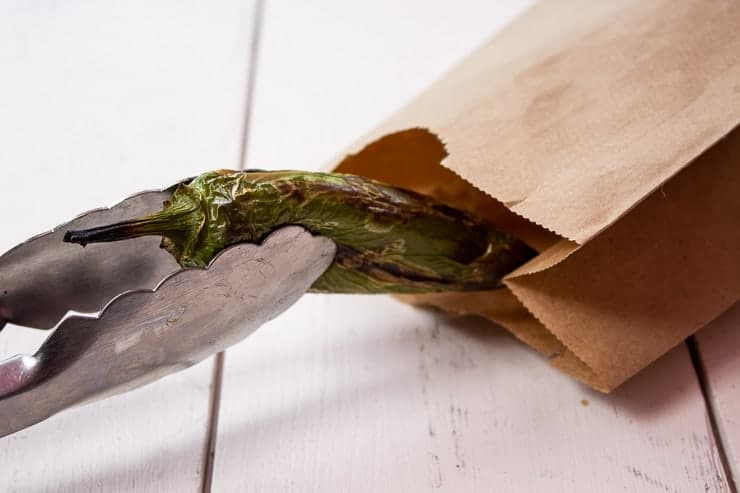 Leave peppers in bag for about 10 minutes. This allows the chilies to sweat which makes the skins easier to remove.
To remove skins place a roasted pepper on a cutting board, cut off the top and slice the pepper open lengthwise. Scrape off all the seeds. Then peel off the skins with your fingers or a small knife. It's okay to leave a bit of skin on the pepper.
How do I freeze roasted chili peppers?
To freeze, leave peppers whole and freeze on a lined baking sheet.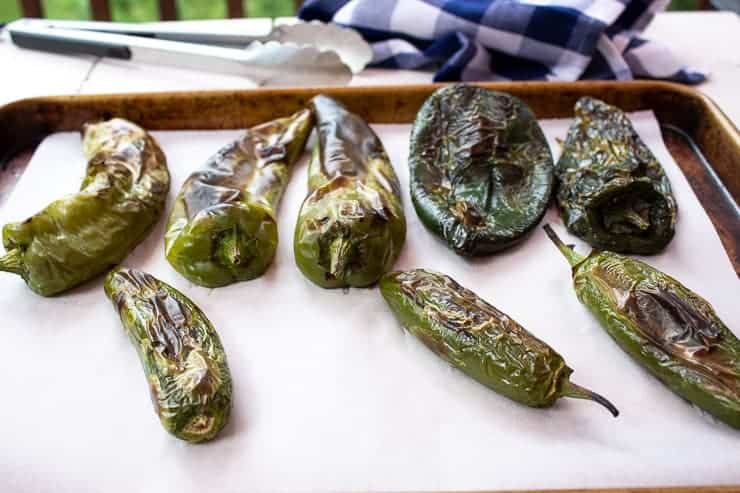 Place the entire tray in a freezer for at least 1 hour until frozen solid.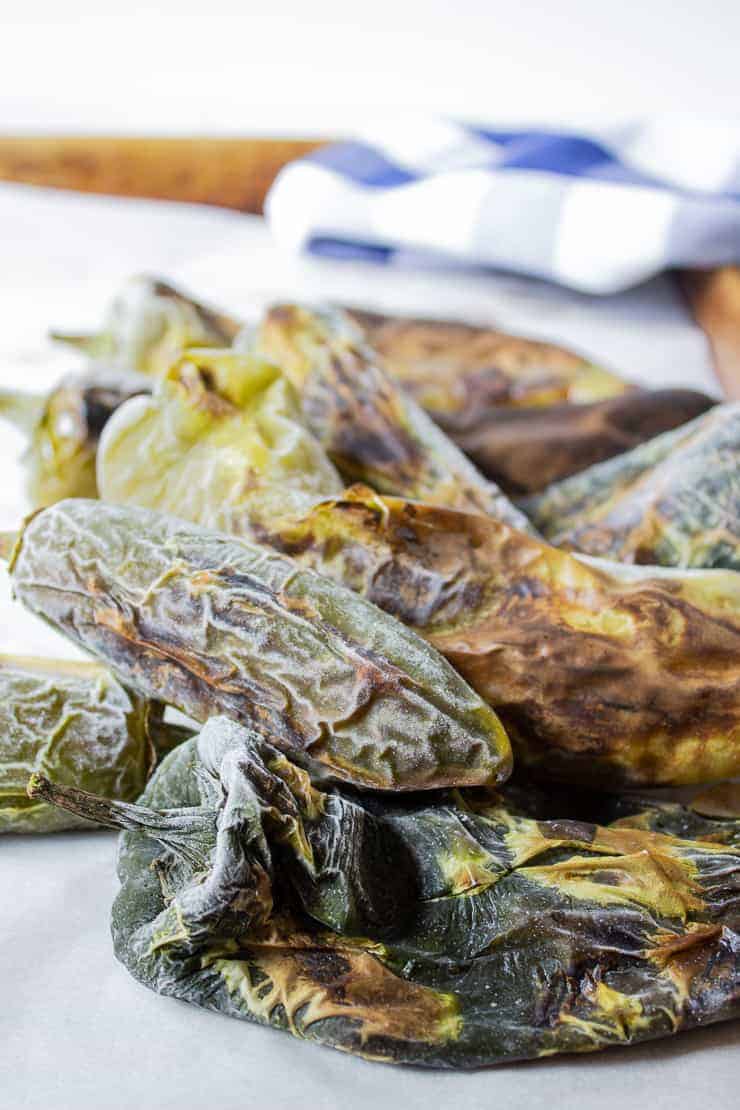 Then move the peppers to a freezer bag.
How do I use frozen peppers?
When you need a pepper, just take the amount you need out of the freezer and run each pepper under warm water.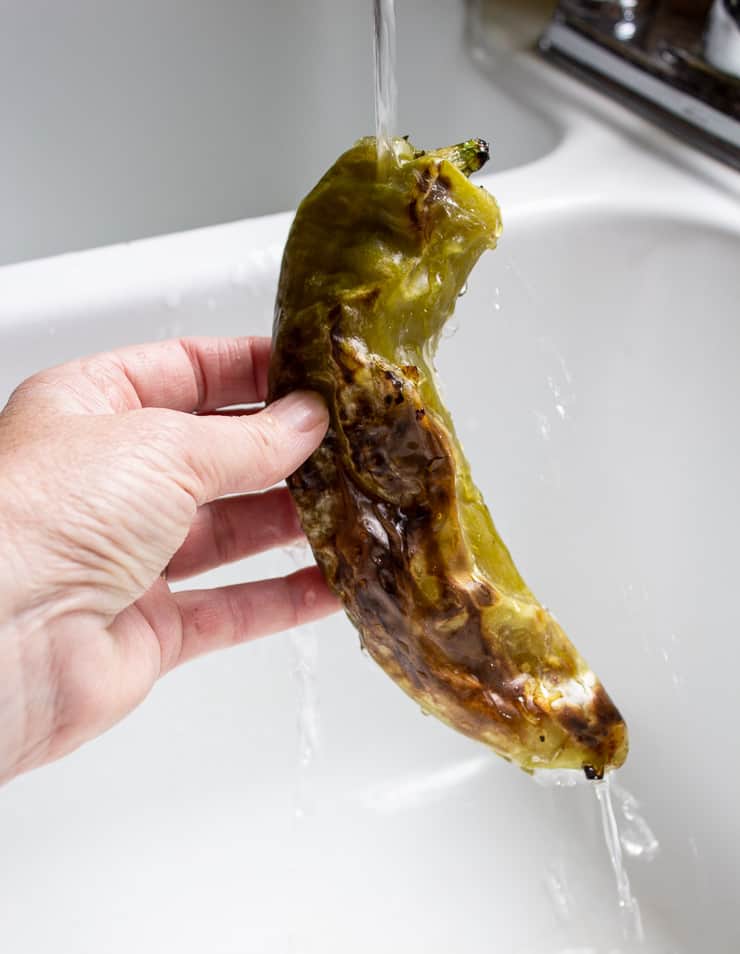 The skin just slips away and you're left with just the meat of the pepper. Pull off the top of your pepper and slice the pepper open (often you can do this with your fingers and you don't need a knife.) Continue rinsing until the seeds are removed.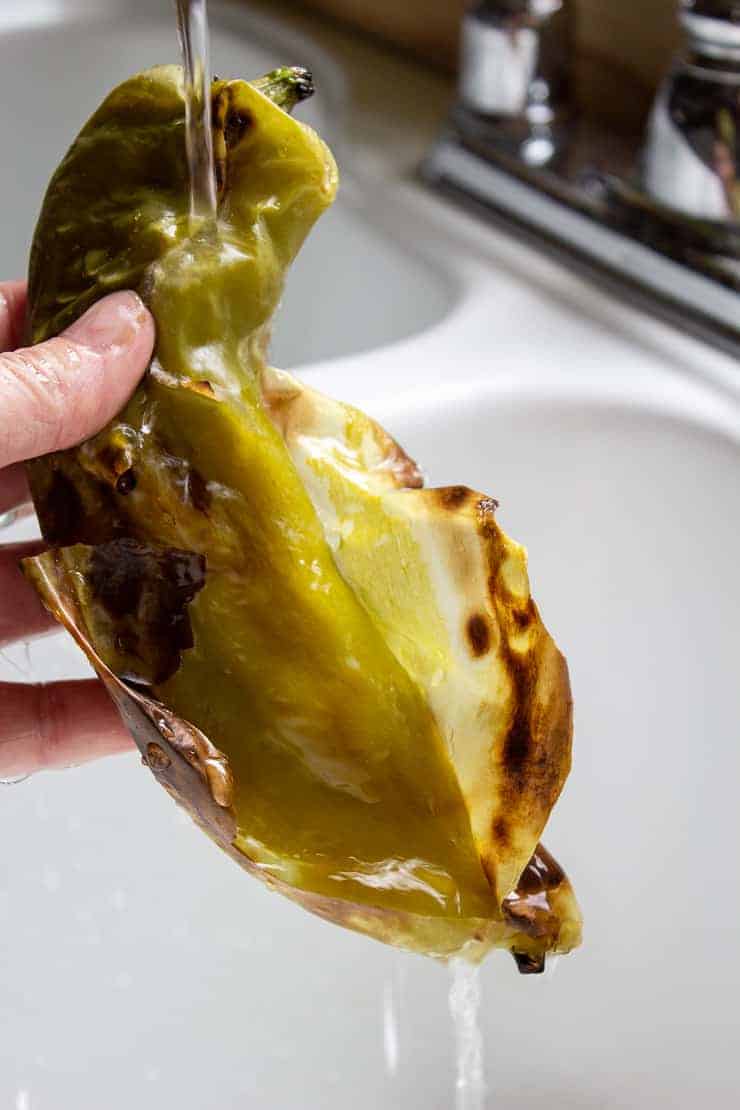 Recipes with roasted peppers
Some of my favorite recipes include Tortilla Pinwheels, Enchilada Bake, Green Chili Sauce and White Chicken Chili.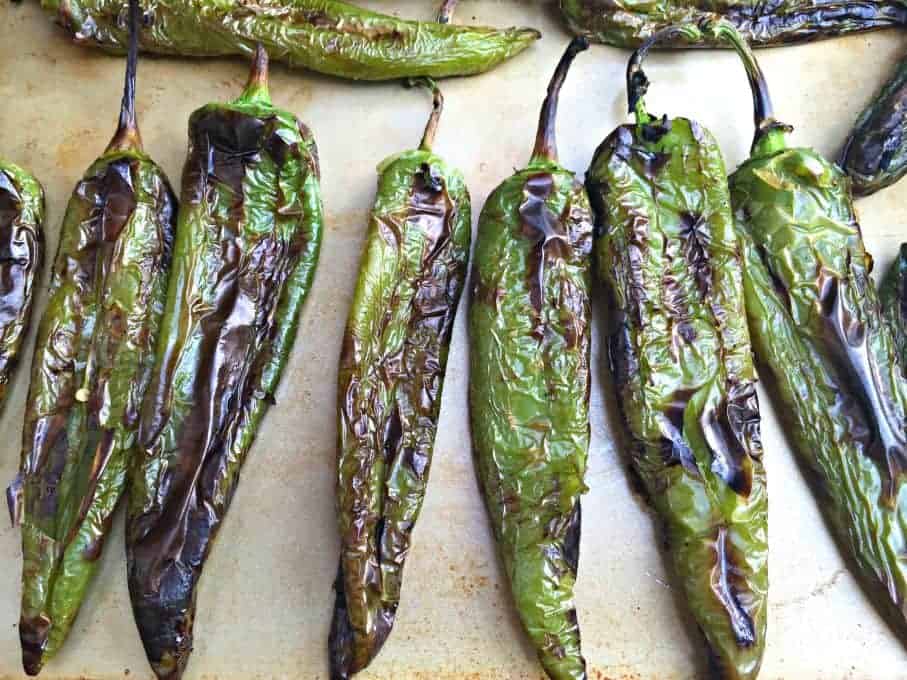 More recipes preserving food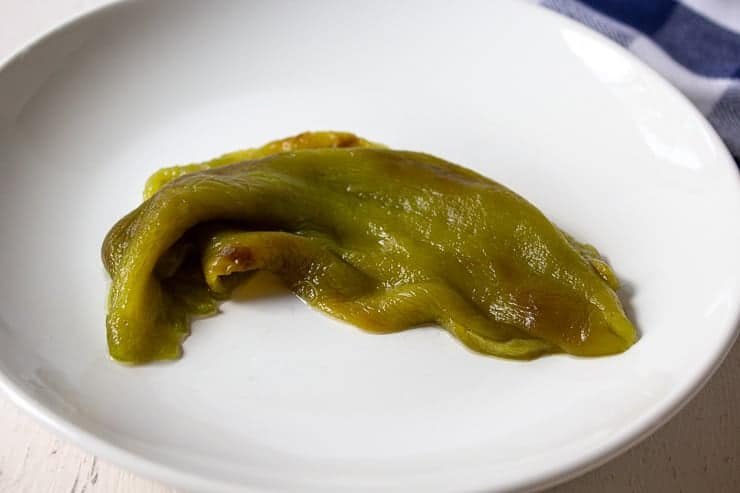 If you make this recipe, I'd love to hear about it! Leave a comment below and snap a picture and tag me on Instagram @beyondthechickencoop
Check out all my delicious recipes!
Listen to the recipe
You can listen to all the steps on how to roast peppers on the podcast Preserving the Pantry! Just click on the play button below to listen now!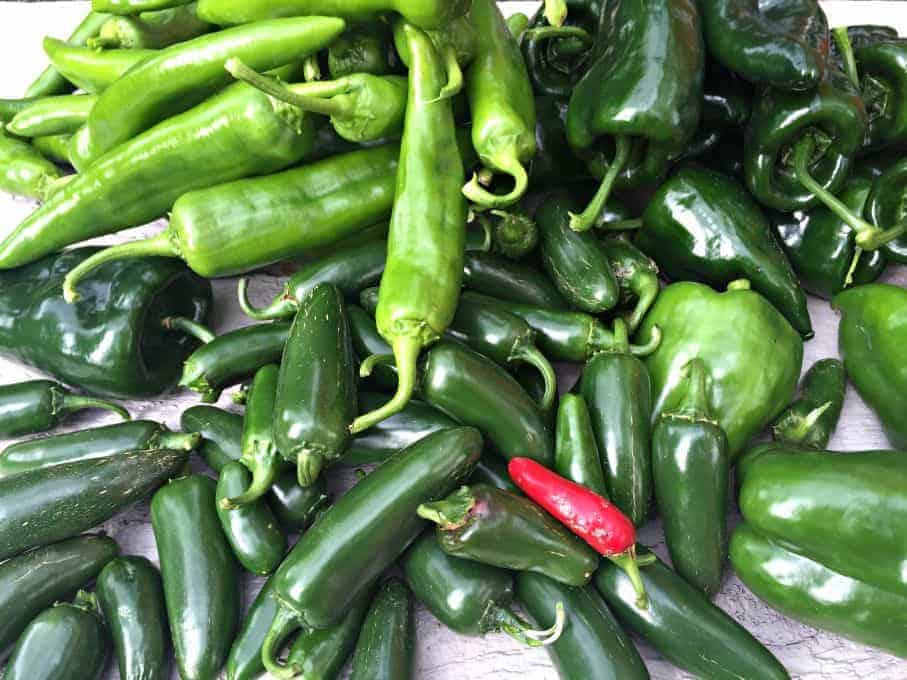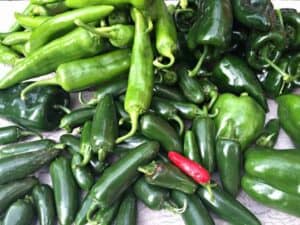 Roasting and Freezing Peppers
Tips on roasting and freezing fresh chili peppers
Ingredients
5-10

whole

Chili Peppers

(you can use any amount of peppers you have on hand.)
Instructions
Place whole peppers on a hot gas grill over high heat.

Rotate peppers every couple of minutes so you achieve a char, but not a burn. You want to achieve a char on all sides.

Place on a baking sheet lined with parchment paper and place baking sheet directly in the freezer for 1-2 hours until peppers are frozen,

Remove frozen peppers from baking sheet and place in a freezer bag.

To use, remove desired amount of peppers from freezer.

Place under warm running water. The skins will slip right off and the seeds will rinse out.

Cut off the top and use the meaty part of the pepper.
Notes
You can use any kinds of chili pepper. Roast the amount you have on hand.
Nutritional Disclaimer:
Nutritional information is provided as a courtesy and should only be construed as an estimate rather than a guarantee. To obtain the most precise nutritional information in a provided recipe, you should calculate the nutritional information with the exact ingredients you are using when preparing the recipe using your preferred nutrition calculator.
Nutrition
Serving:
0.25
cup
Calories:
16
kcal
Carbohydrates:
3
g
Protein:
1
g
Fat:
1
g
Saturated Fat:
1
g
Sodium:
5
mg
Potassium:
94
mg
Fiber:
1
g
Sugar:
2
g
Vitamin A:
1325
IU
Vitamin C:
1.6
mg
Iron:
0.3
mg
Update Notes: This post was originally published in September 2015. The post and pictures have been updated.