This post may contain affiliate links, see my Privacy Policy.
Fresh pears dehydrated into delicious pear chips! This healthy snack is a perfect way to preserve your pear harvest.

We have two pear trees and we get enough pears to eat from them. My neighbor has two pear trees as well. Her trees are beautiful mature trees that produce more pears than she knows what to do with.
We have been invited to pick as many pears as we want. You wouldn't believe how many pears I have sitting in my kitchen right now!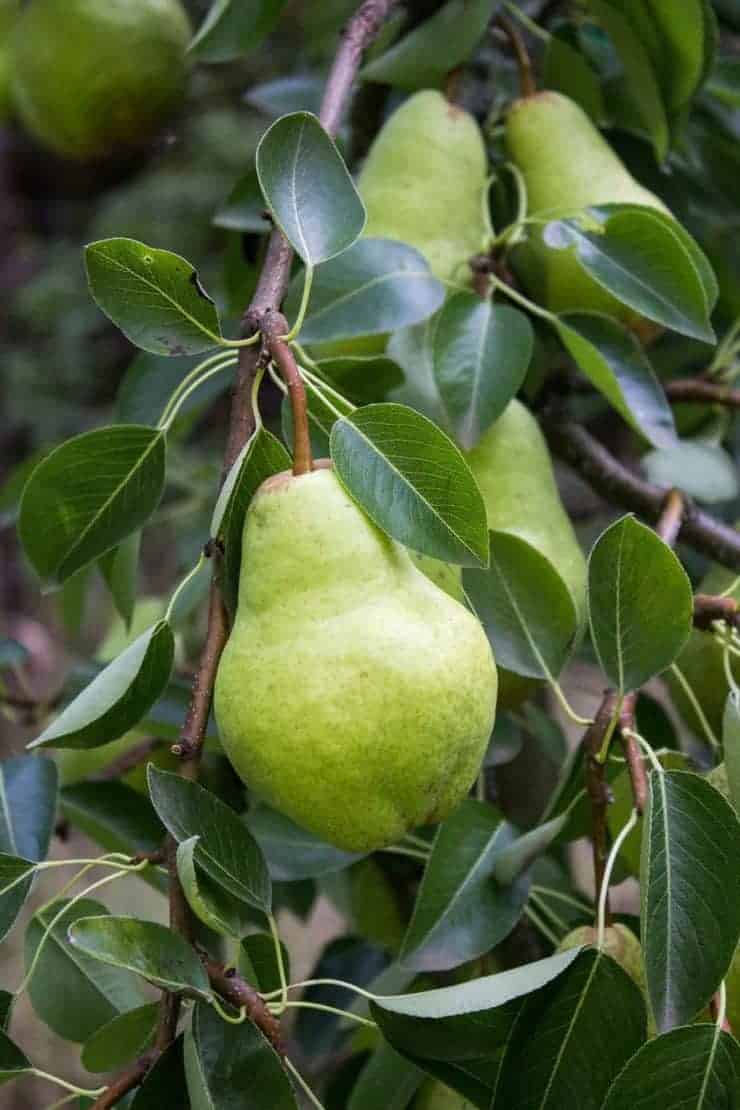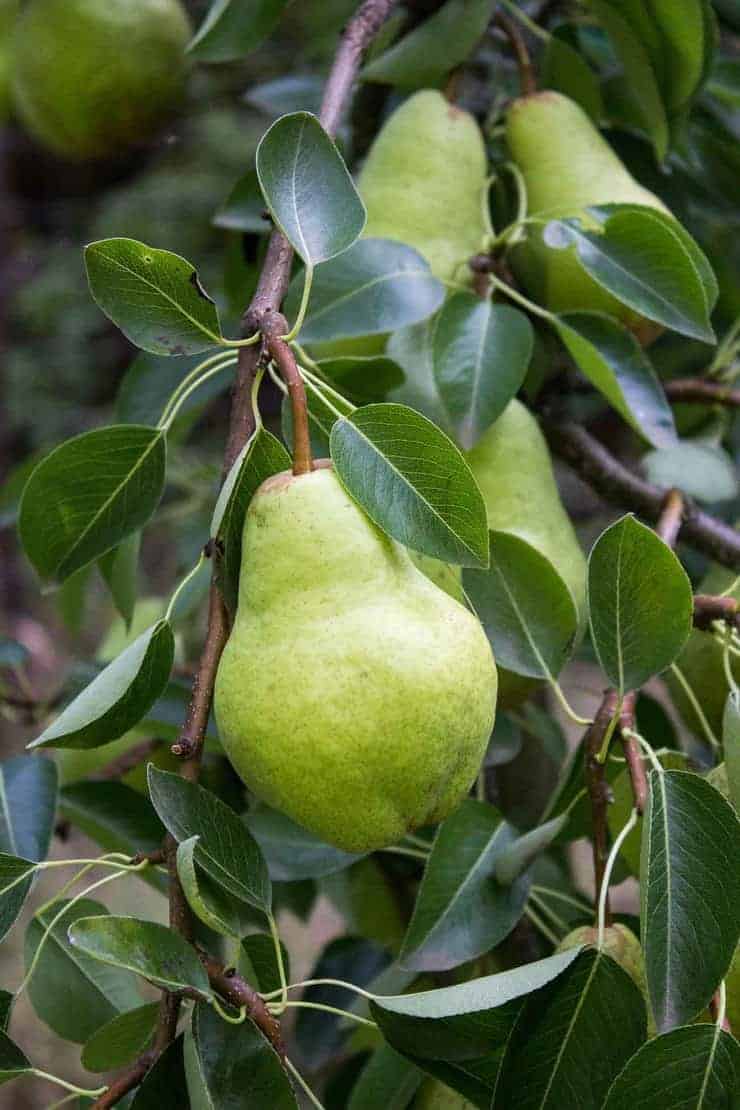 When you pick pears, you don't wait until they are at the peak of ripeness….unless you are just wanting to pick one to eat right at the moment. Usually you pick pears while they are still slightly green.
You don't want to pick them too early, but if you wait too long, the pears bruise with every touch and they also start to fall from the trees with any movement. To test for the perfect pear picking time, you gently grab a pear in your hand and bend it up.
If the stem snaps, they are ready to pick. They aren't ready to eat yet, but they are ready to be picked.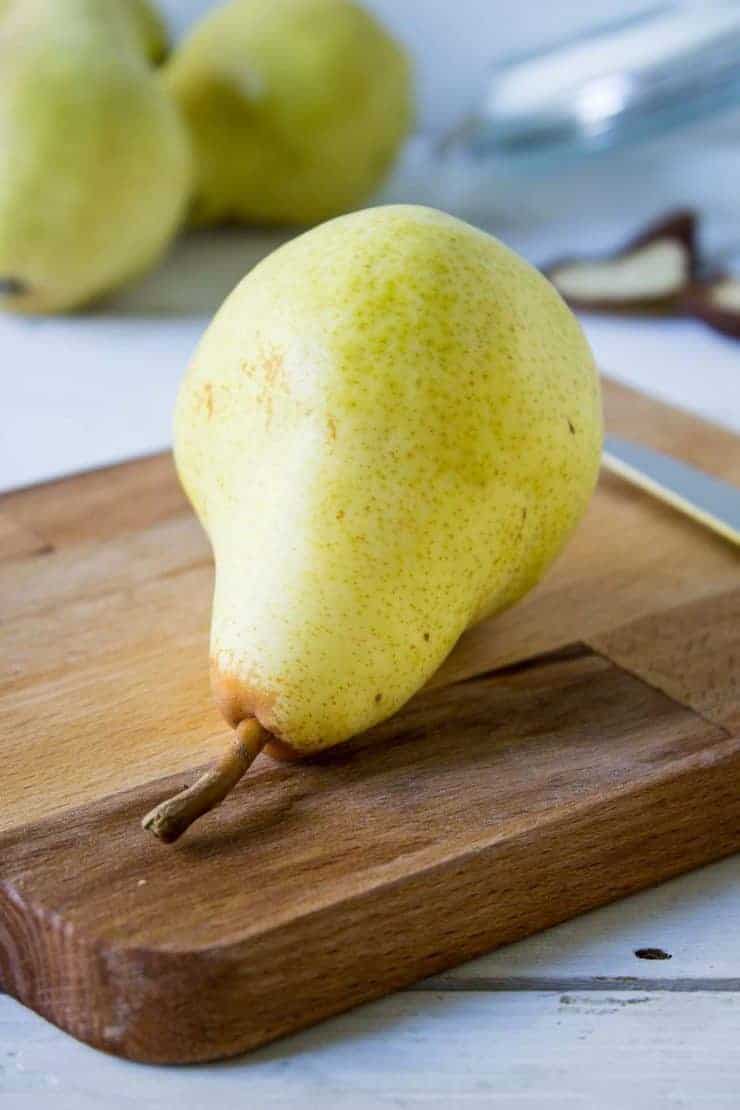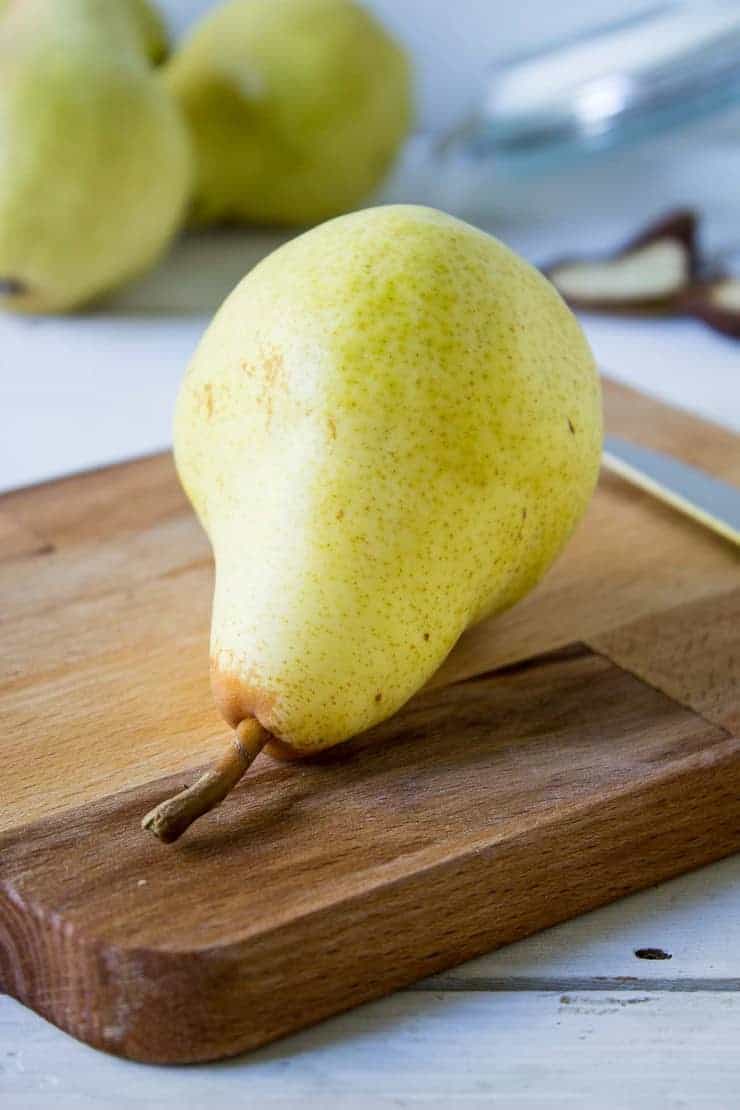 I picked 5 huge laundry baskets full of pears. I know what you're thinking! Laundry Baskets???? Really???? Yep! They are quite handy for picking, carrying and storing.
They are sturdy, they have air holes which is great while they are ripening and they usually have great handles which makes it easy for carrying.
My kids are complaining because I took all the laundry baskets, but hey, they'll get them back in a week or so!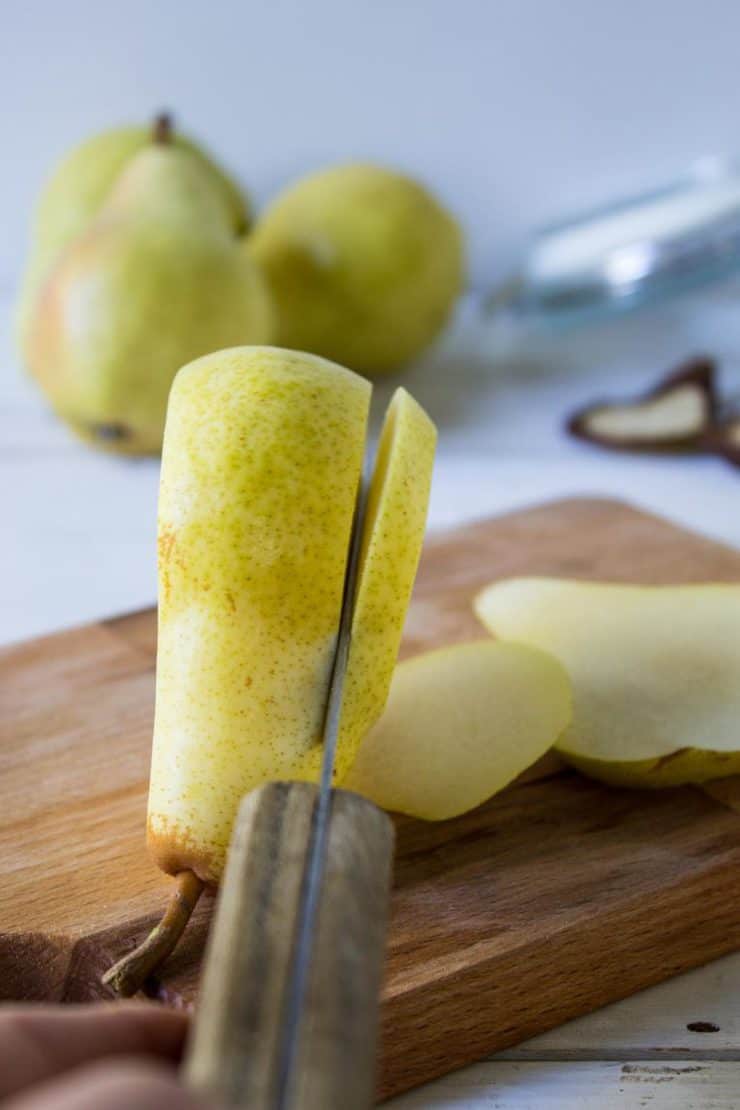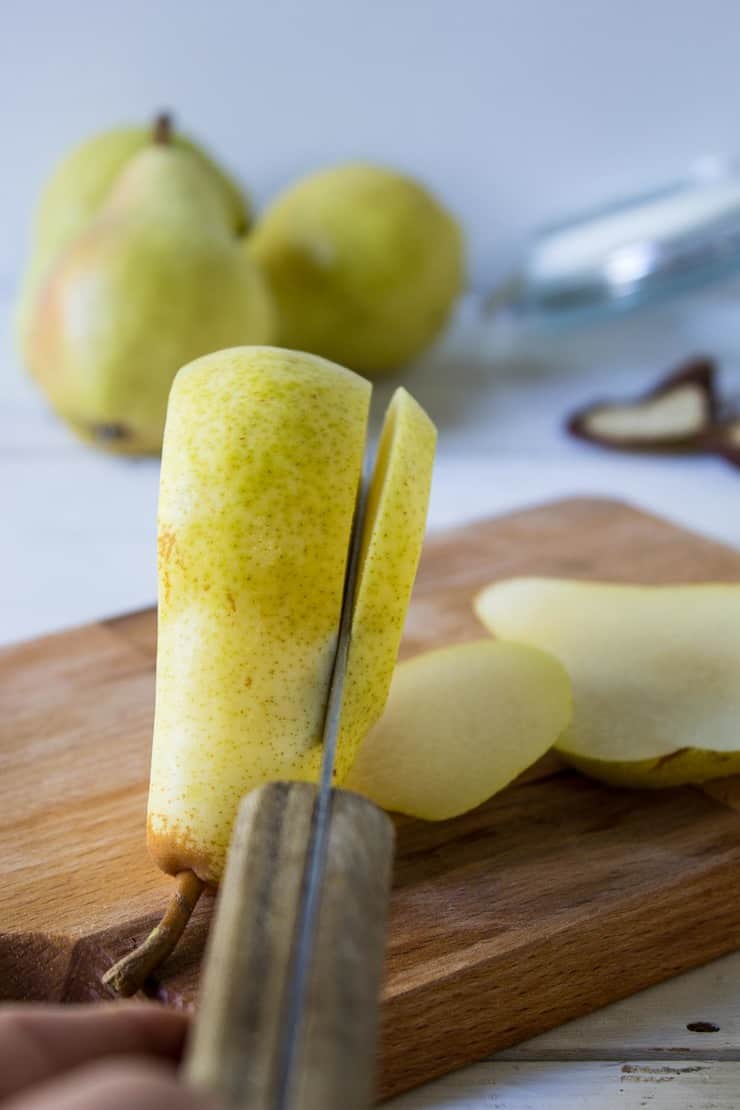 Why so many pears? We eat pears, can pears, and dehydrate pears into pear chips and I just have a hard time not getting as many as possible! Although, I left a lot behind. Even with all that I picked, my neighbors trees are still loaded.
I am waiting for the pears to ripen for canning. In the meanwhile, I am using several while they are still green. The green ones are just perfect for turning into Pear Chips! In fact, they are easier to use while slightly green than waiting for them to ripen.
They are so easy to cut when they aren't ripe. I just slice them up with the skins still on and plop them onto the dehydrating trays. Right now my dehydrator is going 24/7. I can hardly keep up with the way the kids eat these things! They love 'em!!!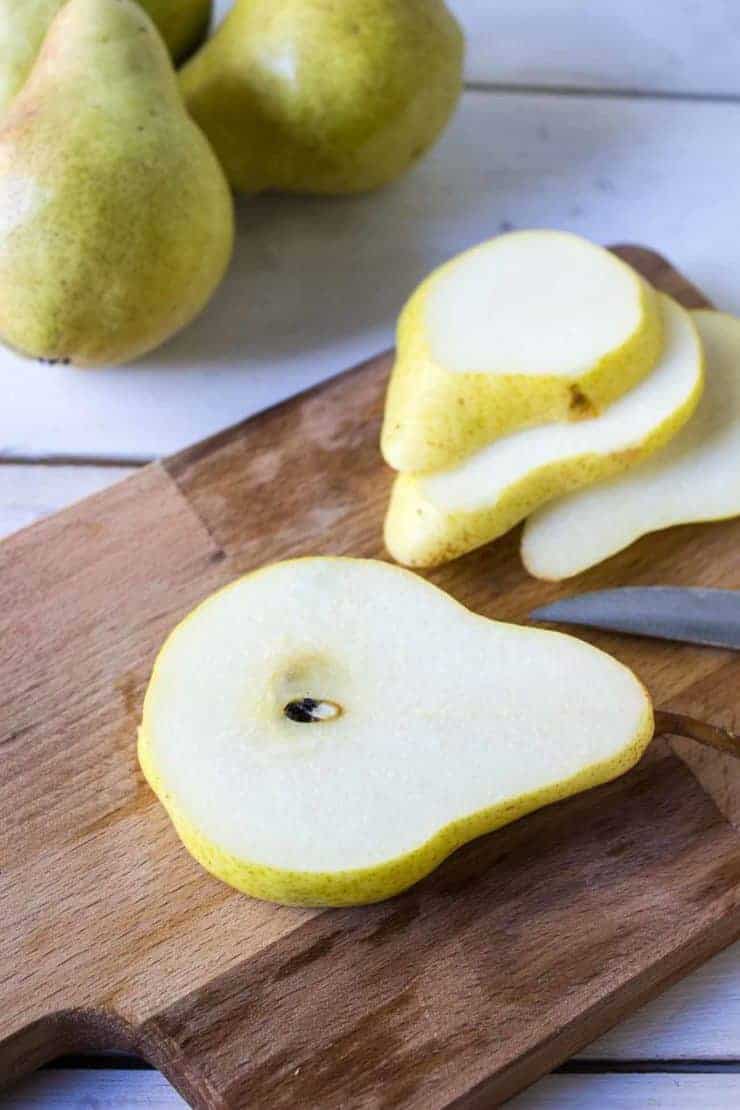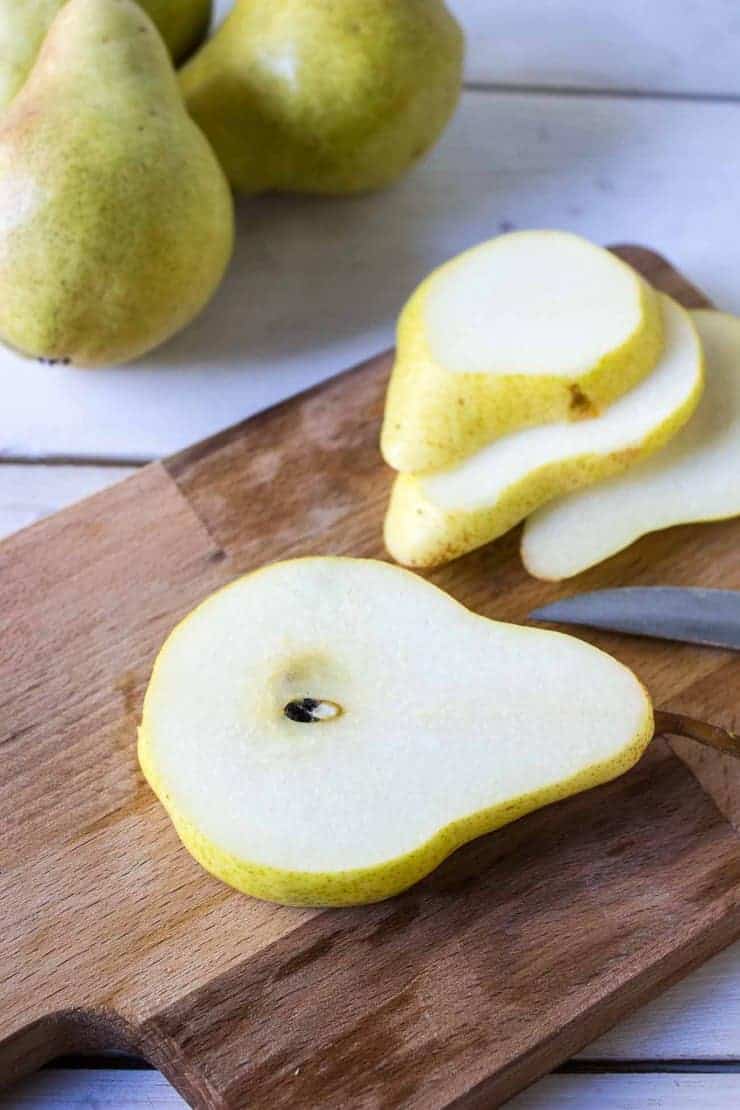 There are a lot of ways to make these dried pears, but I love them best with nothing but pear….no lemon juice, no spices……just plain pear! Of course, you could always add a sprinkling of cinnamon if you really wanted.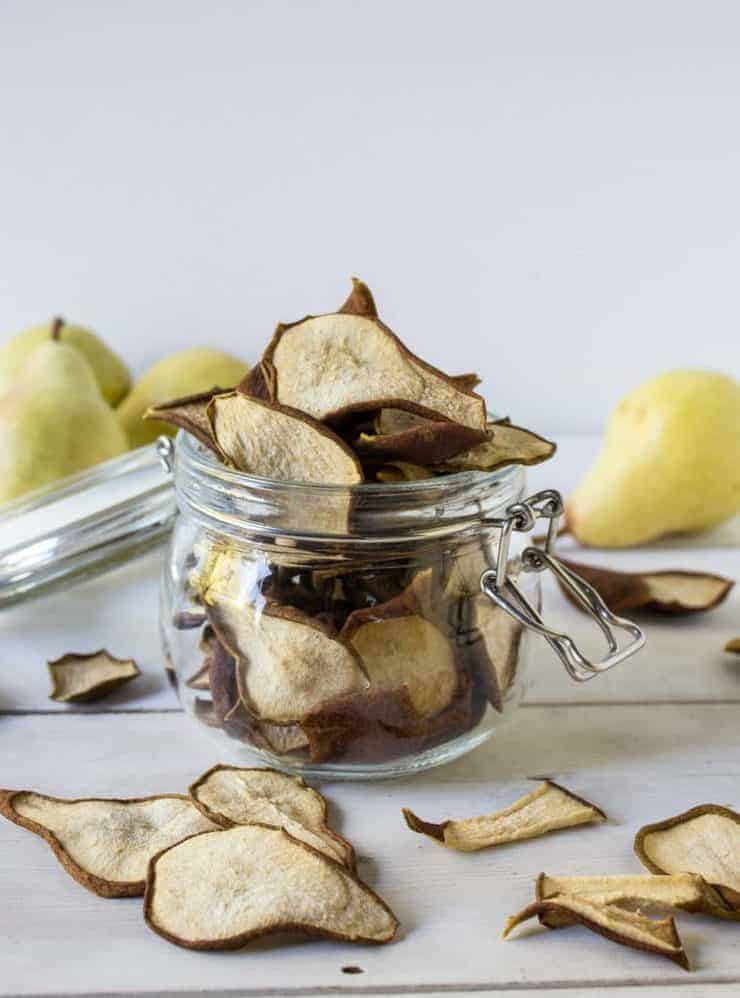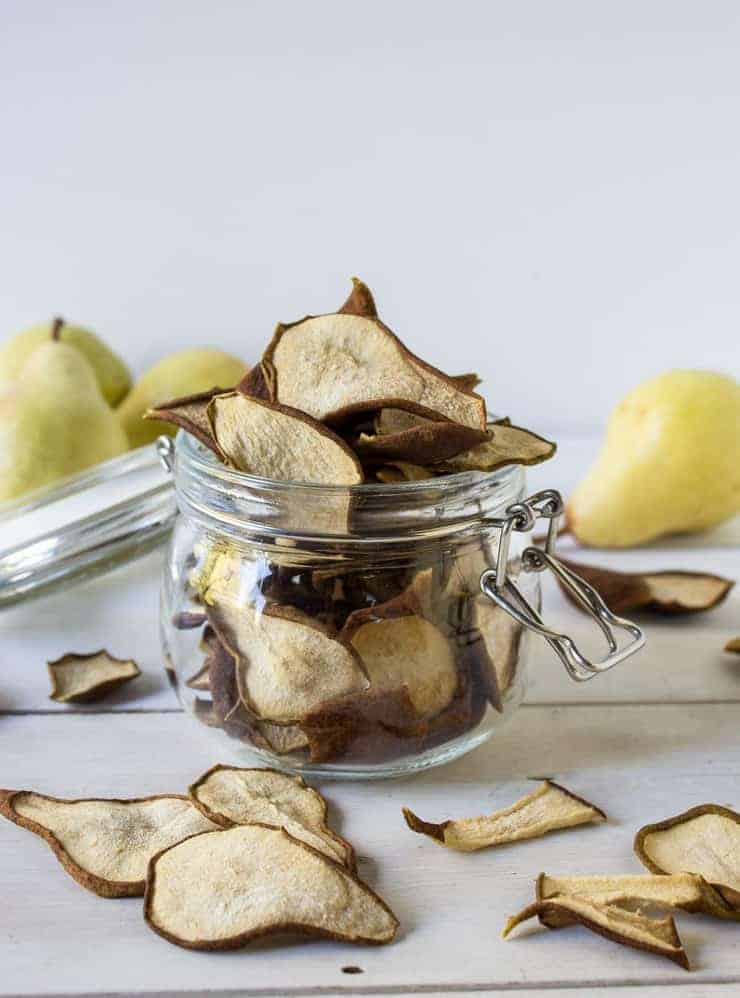 Additional ways to preserve food
Don't forget to PIN for later!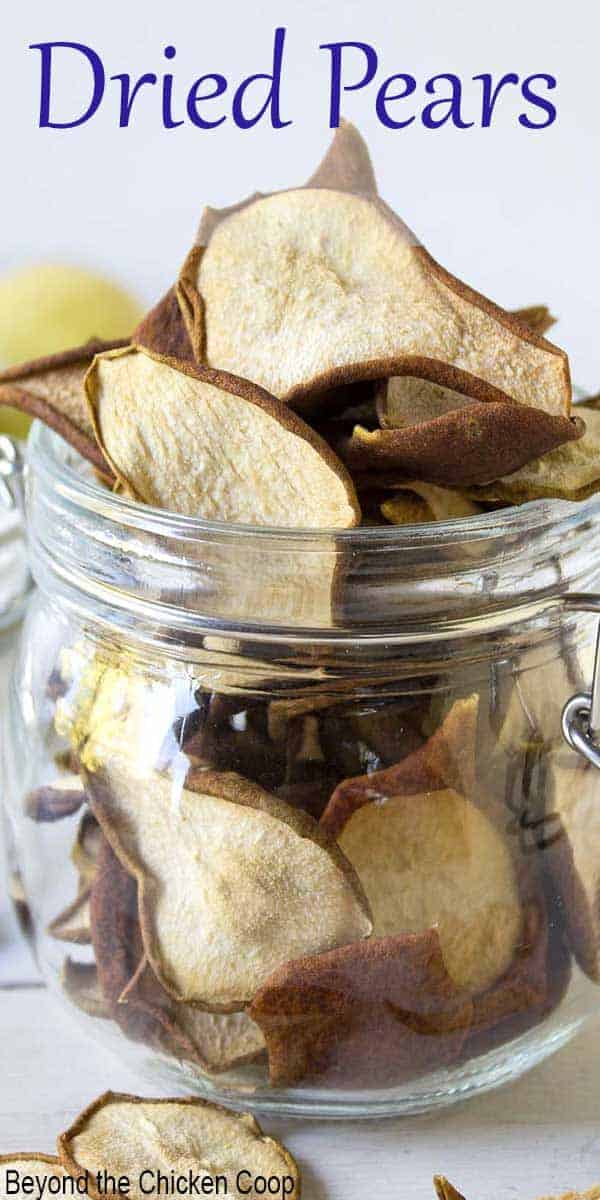 Did you make this recipe? I'd love to hear about it! Leave a comment below and snap a picture and tag me on Instagram @beyondthechickencoop
If you are looking for a great recipes to snack on, or to pack a lunch box, browse one of these snack recipes. Pure deliciousness!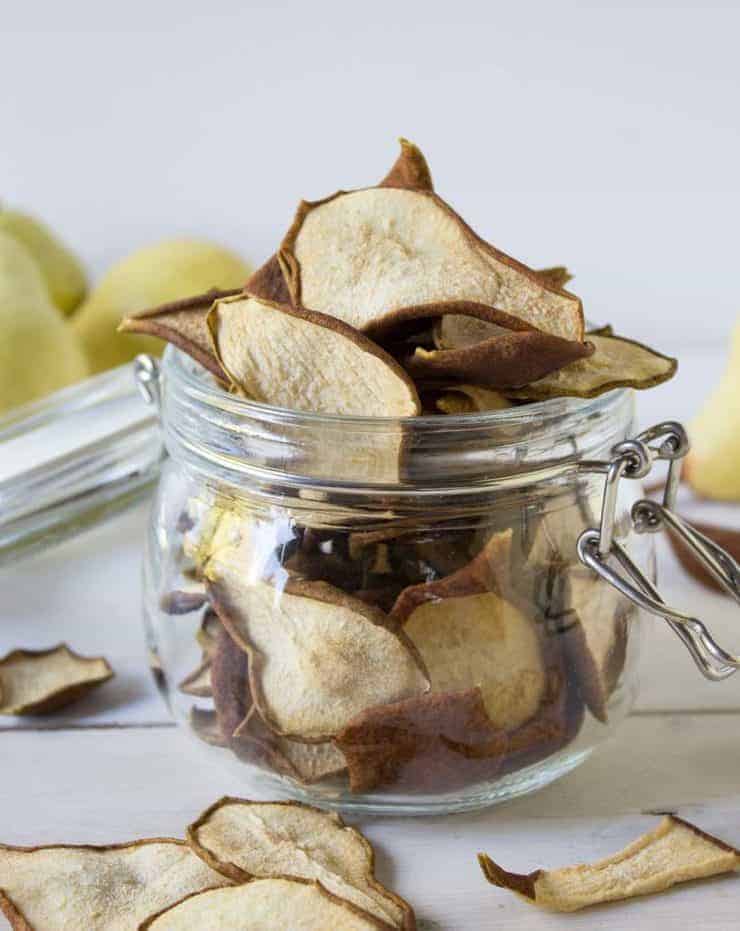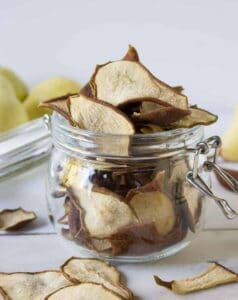 Pear Chips
Ingredients
10

Pears

(still slightly green.)
Instructions
Slice pears with skins still on, discard core.

Place on dehydrator trays so the slices are not overlapping.

Dry for 8- 12 hours, depending on your dehydrator.

Store in a food safe container.
Notes
Any amount of pears works. You are only limited to the amount of drying space you have on your dehydrator.
It is best to use pears while they are still slightly green.
Drying times vary, depending on your dehydrator, amount of pears drying, thickness of slices and ripeness of pears.
Nutrition
Serving:
3
slices
Calories:
101
kcal
Carbohydrates:
27
g
Protein:
1
g
Fat:
1
g
Saturated Fat:
1
g
Sodium:
2
mg
Potassium:
206
mg
Fiber:
6
g
Sugar:
17
g
Vitamin A:
45
IU
Vitamin C:
8
mg
Calcium:
16
mg
Iron:
1
mg