This post may contain affiliate links, see my Privacy Policy.
Fresh Blackberries and Sugar are the only two ingredients needed to make this delicious jam! No added pectin is needed as wild blackberries are naturally high in pectin. This seedless blackberry jam is perfect for using on toast or in sandwiches.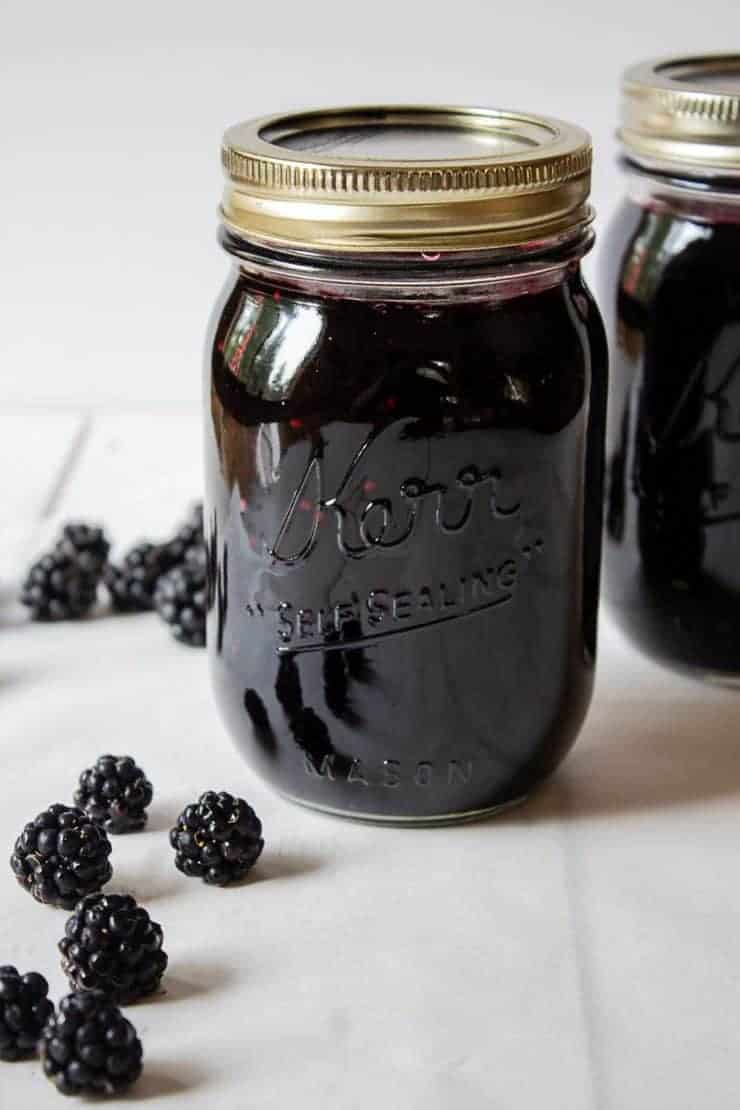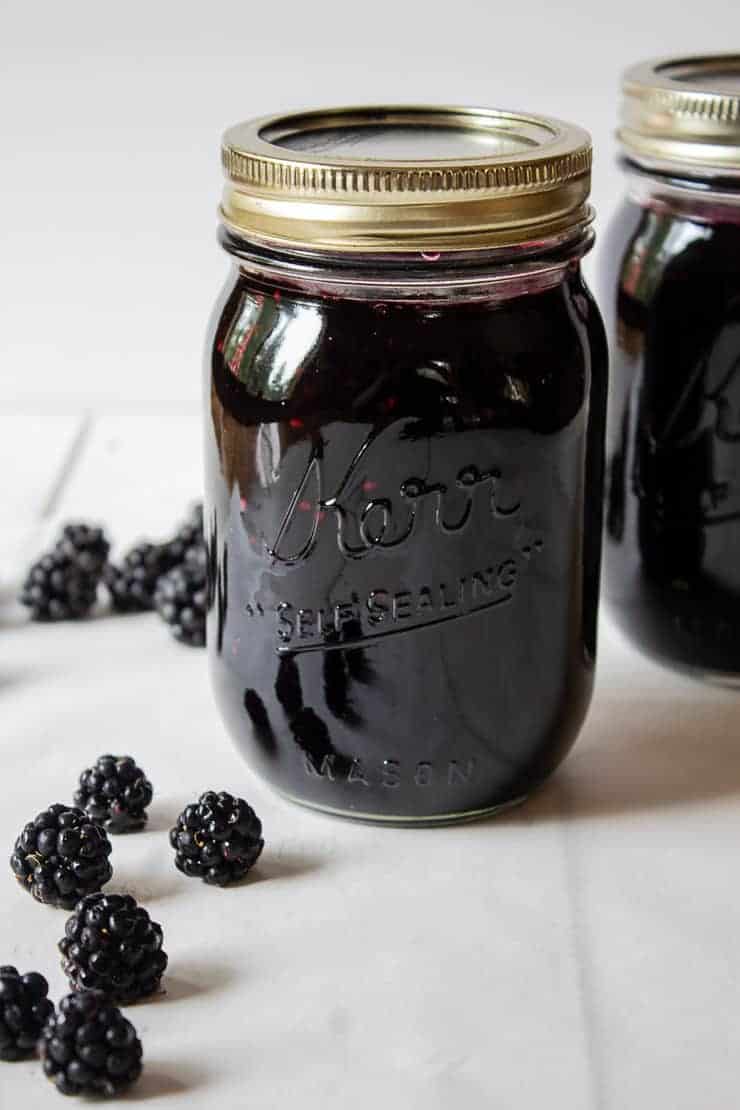 We have been picking wild blackberries like crazy. Rod told me we have over 8 gallons in the freezer! I've also been making Blackberry Muffins and Seedless Blackberry Jam. Another favorite is Blackberry Pie Bars.
Several years ago I made blackberry jam, but left the seeds in. The jam was delicious, but the seeds seemed really large. I actually thought the jam was hard to eat. Making this jam seedless took an extra step, but was well worth it!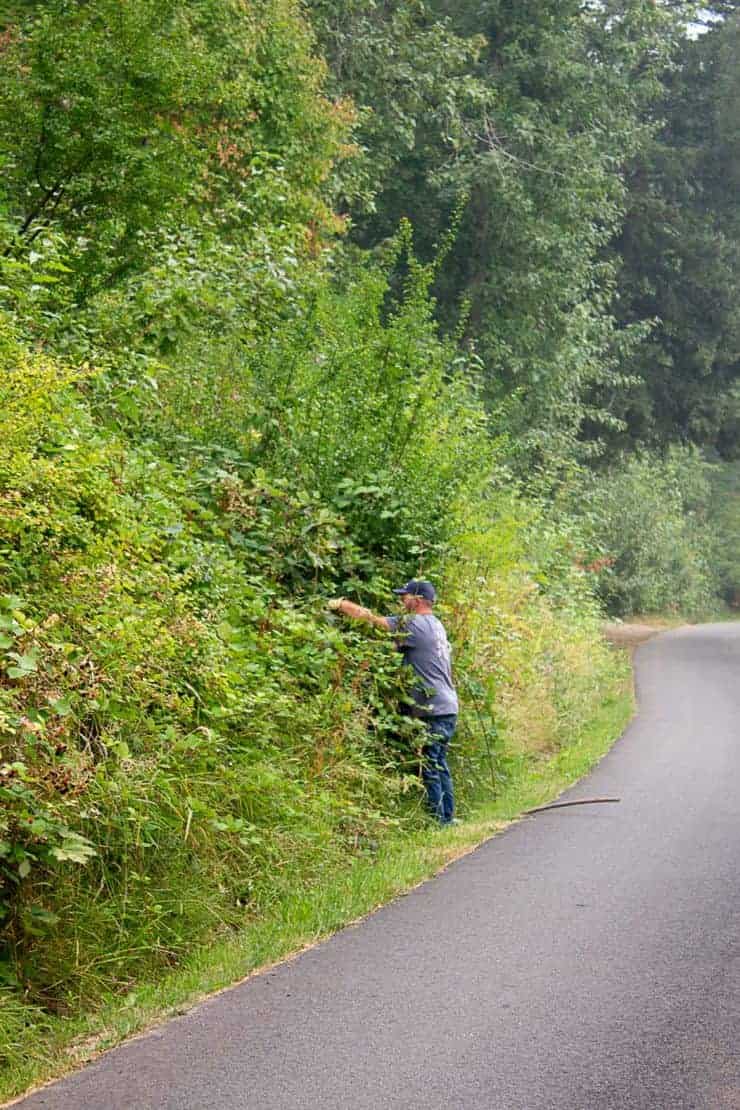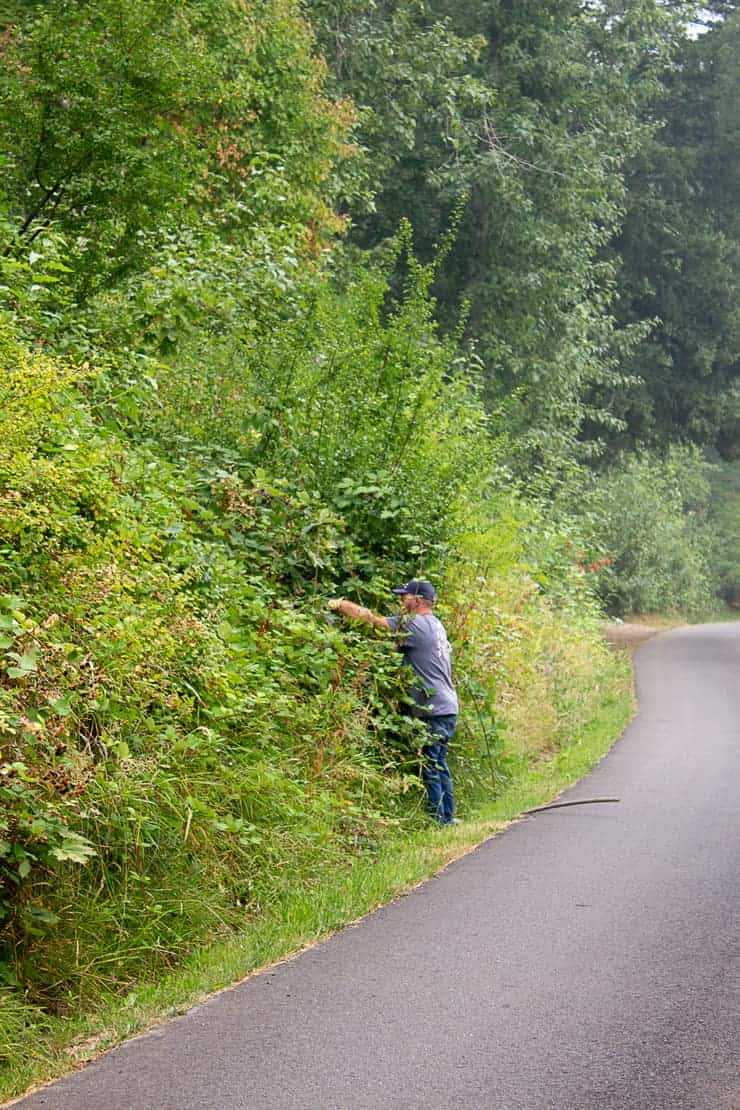 Tips for making seedless blackberry jam:
The first step to making this jam is picking the berries! Okay, that's pretty obvious. You could also buy the berries if that worked better for you, but you need blackberries! I threw the fresh blackberries into a Chinois Strainer or a food press and mushed up the berries.
All the seeds stayed inside the strainer and the juices and most of the pulp fell through the holes and into the bowl.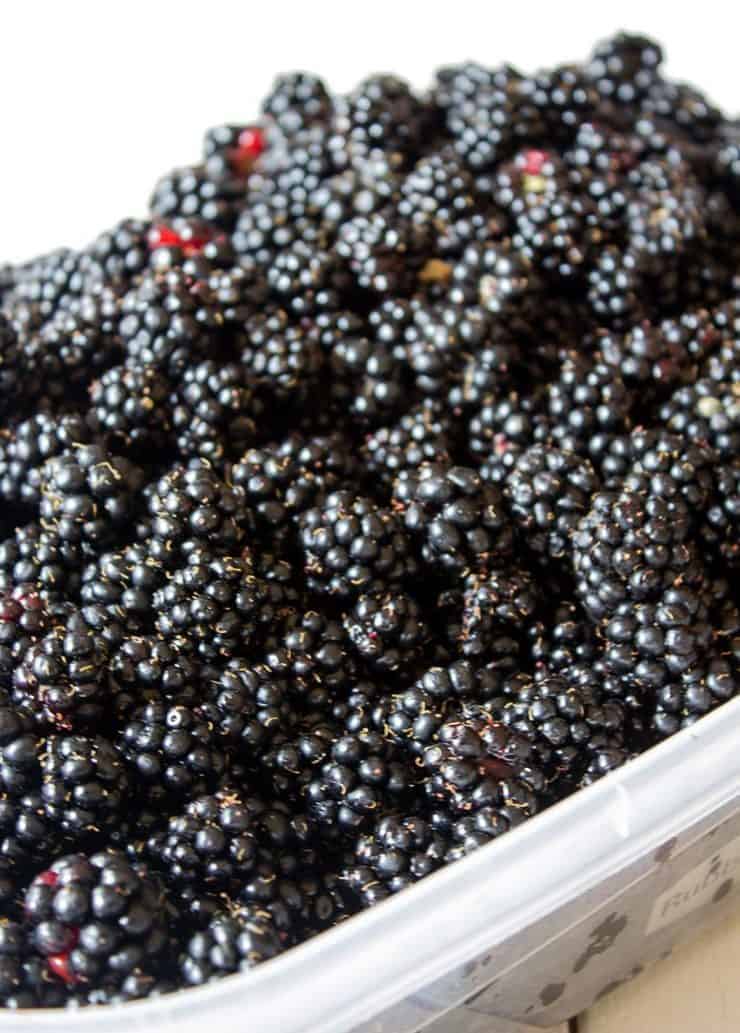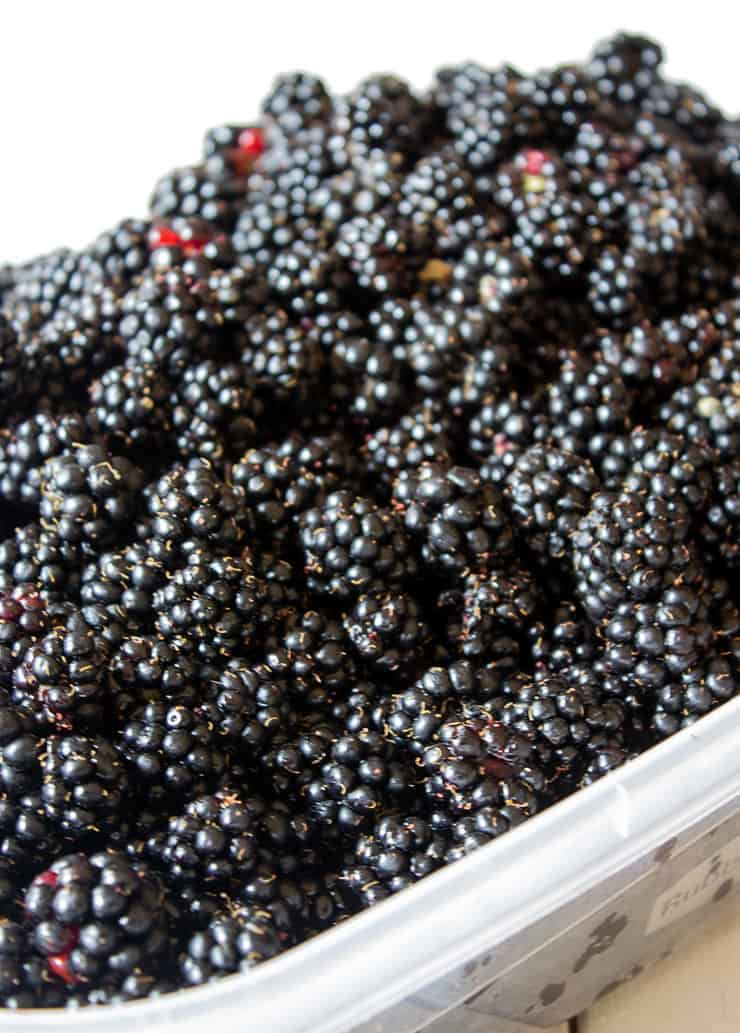 What is pectin?
Pectin is a naturally found substance in many berries and fruits. It is also produced commercially to aide in setting jams and jellies. Commercial pectin requires an exact amount of fruit and a high amount of sugar in order for the jam or jelly to set.
Are blackberries high in pectin?
Blackberries are naturally high in pectin so no added pectin is needed. I always add a few reddish blackberries into the mix because they have even more pectin than the riper black ones.
Because this recipe doesn't use a commercially added pectin, the amount of sugar added is all up to you! I added 4 cups of sugar to 8 cups of strained fruit. Most jam recipes call for equal amounts of sugar to fruit!
I think blackberries are naturally sweet and don't need all that extra sugar.
How do I know when my jam is done?
When cooking without pectin you need to rely on a spoon test, a plate test or check the temperature. Learn to Preserve offers some great tips on checking your jam.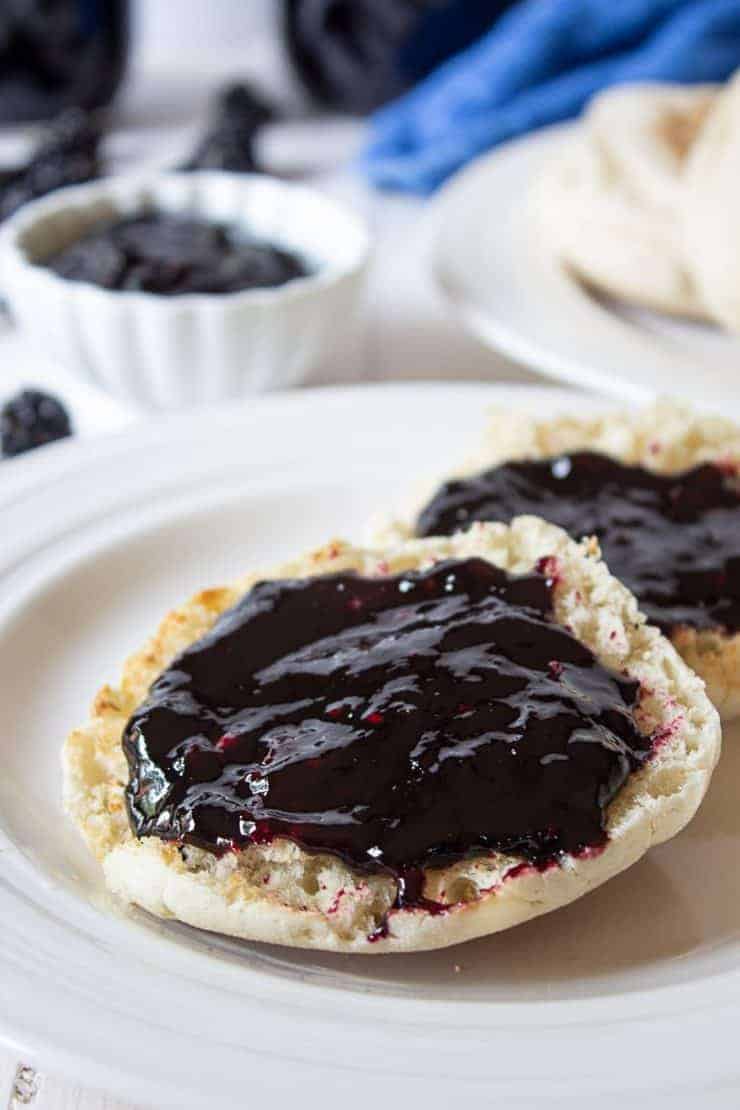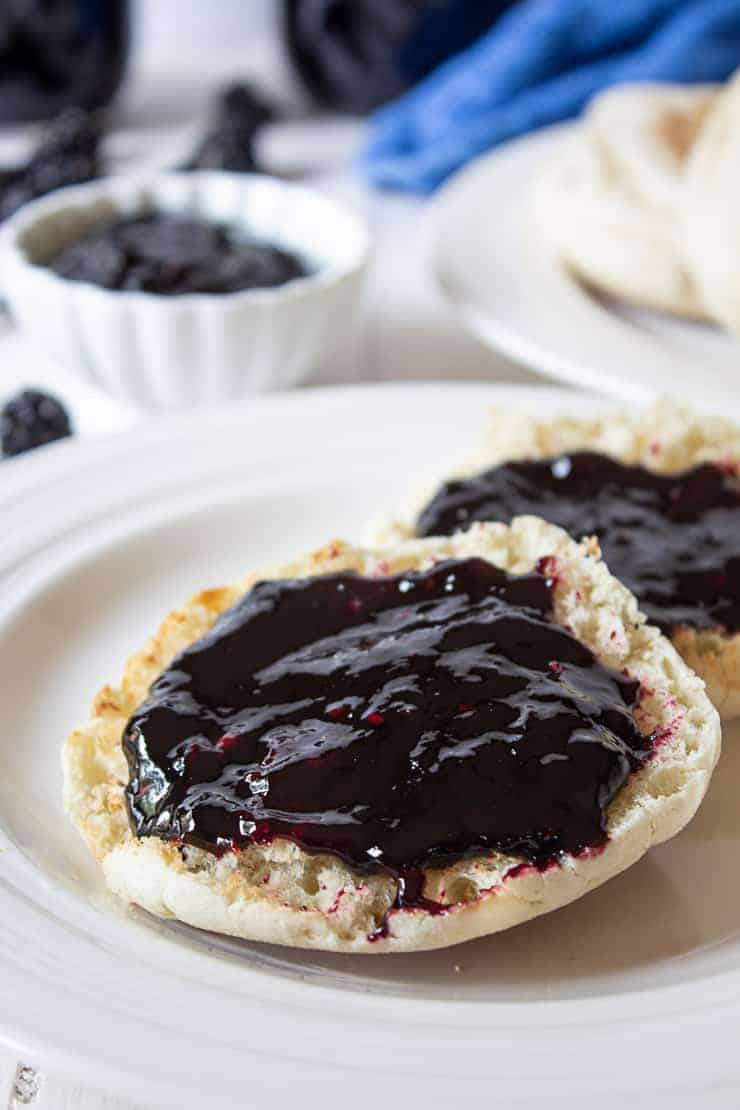 This jam is preserved in canning jars and hot water bathed.
A few tips when canning jam:
Make certain you always clean and sterilize your jars prior to using.
Use new canning lids that have been washed.
Hot water bath your jars according to the size of your jars and always adjust for your elevation.
Once jars are sealed and cooled for 12 hours, remove rings and wash jars. Replace rings if desired.
Label and date jars.
Canning Supplies
A few supplies you may need to make this jam include Canning Utensil Set, Food Press, Large Pot, Thermometer and Canning Jars.
If you'd like to freeze excess blackberries, follow these steps for freezing raspberries.
Some additional jam recipes for you to try include Apricot Jam, Strawberry Jam and Plum Jam.
Don't forget to PIN for later!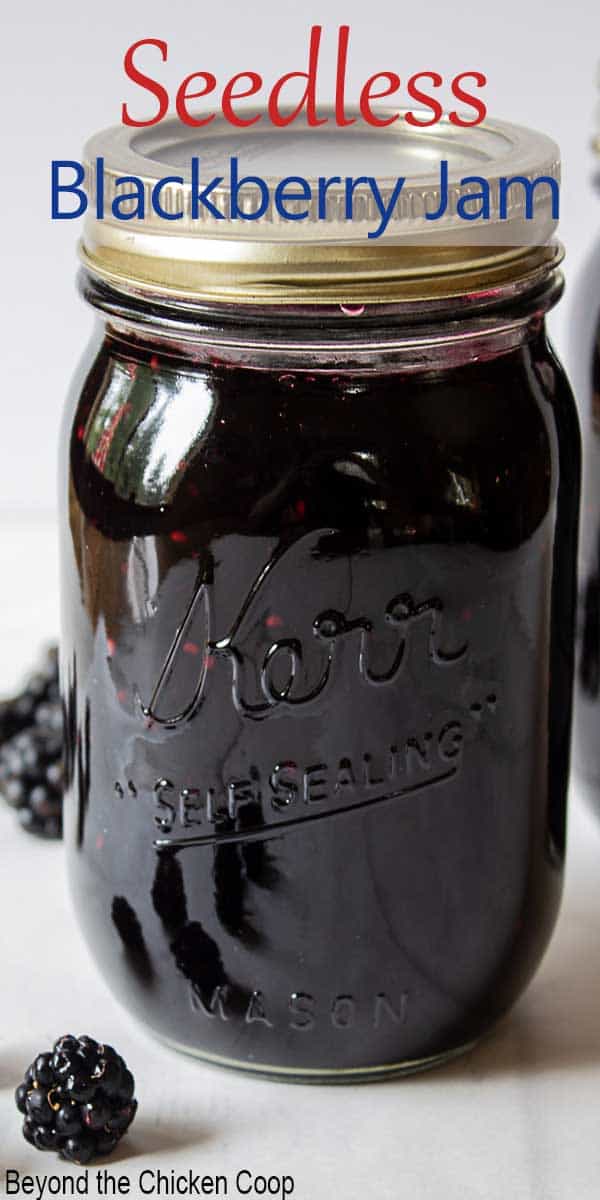 If you make this recipe, I'd love to hear about it! Leave a comment below and snap a picture and tag me on Instagram @beyondthechickencoop
Check out all my Canning Recipes.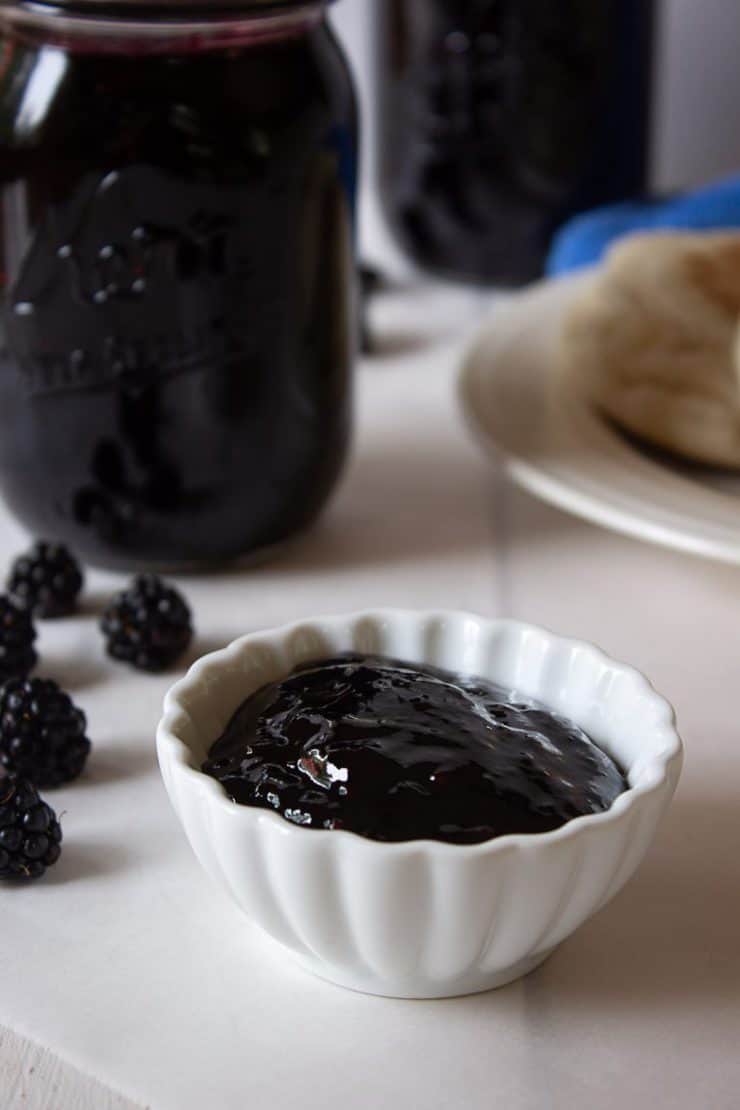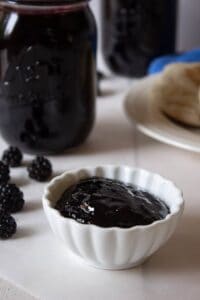 Seedless Blackberry Jam
Homemade blackberry jam without the seeds.
Ingredients
12

cups

blackberries

4

cups

sugar
Instructions
Mash and strain seeds from blackberries. Measure out 8 cups of strained fruit for jam.

Put 8 cups of fruit and sugar in a heavy stockpot over medium heat.

Stir until sugar is dissolved. Continue cooking over medium heat until mixture comes to a boil. Stir every few minutes to prevent scorching.

Boil for approximately 20 minutes until jam is set (220 degrees). Stir often to prevent scorching. Remove from heat. Ladle into clean, sterilized jars. 

Wipe down rims and add canning lids and rings. Place in a hot water bath and boil jars for 10 minutes (adjust time according to elevation)
Notes
Cooking time will vary depending on your elevation and your stove.
Jam will thicken slightly as it cools. 
You can test with a candy thermometer and cook until jam reaches 220 degrees F. 
I used pint sized jars (2 cups.) You can also use 1/2 pint size jars. 
Nutritional value is determined at 1 Tablespoon portions. 
Nutrition
Calories:
39
kcal
Carbohydrates:
10
g
Potassium:
29
mg
Sugar:
9
g
Vitamin A:
40
IU
Vitamin C:
3.8
mg
Calcium:
5
mg
Iron:
0.1
mg