Fresh blackberries, sugar and lemon juice are the ingredients needed to make this delicious jam! No added pectin is needed as wild blackberries are naturally high in pectin.
This seedless blackberry jam is perfect for spreading on toast or in sandwiches.
This recipe has been updated to reflect additional information and now includes lemon juice. The lemon juice helps the jam set. I have had success with and without the lemon juice, but this can vary depending on your blackberries. I recommend adding the lemon juice to help ensure your jam sets up.
Why make this jam
We have been picking wild blackberries like crazy. Rod told me we have over 8 gallons in the freezer!
Homemade jam is just one way to fully enjoy these amazing berries.
I've also been making Blackberry Muffins and Seedless Blackberry Jam. Another favorite is Blackberry Pie Bars and Blackberry French Toast
Several years ago I made blackberry jam but left the seeds in. The jam was delicious, but the seeds seemed really large. I actually thought the jam was hard to eat. Making this jam seedless took an extra step, but was well worth it! 
You have several options once you make homemade jam. You can refrigerate and eat it within one month. You can freeze it in smaller portions and pull it out when you're ready to eat or you can it in canning jars and preserve it in a hot water bath and keep on your selves in your pantry for up to a year!
I've included instructions for making the jam and for canning the jam!
If you are new to canning, you'll want to read How to Water Bath Can before you begin!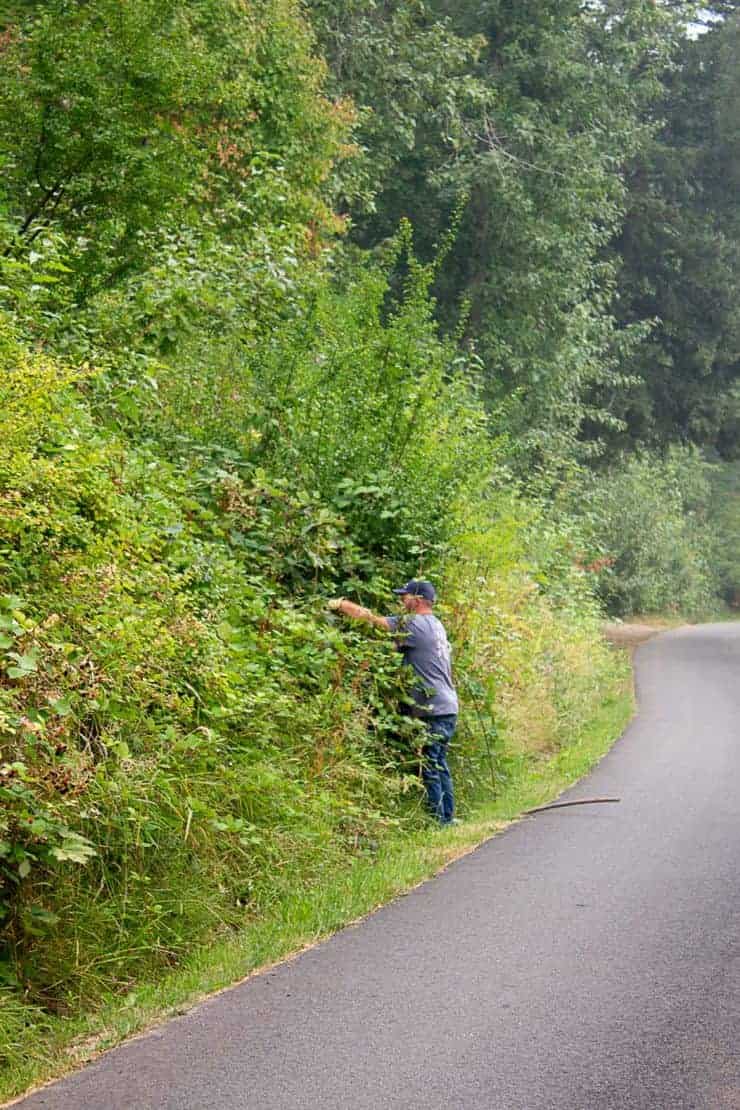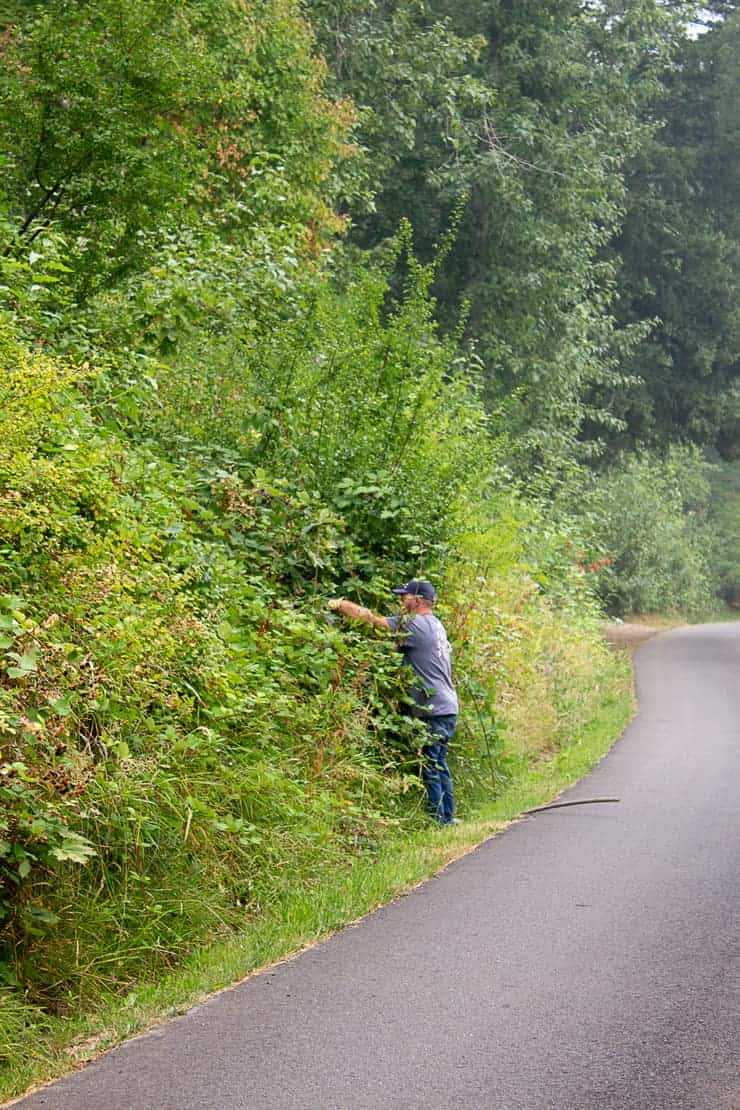 Key ingredients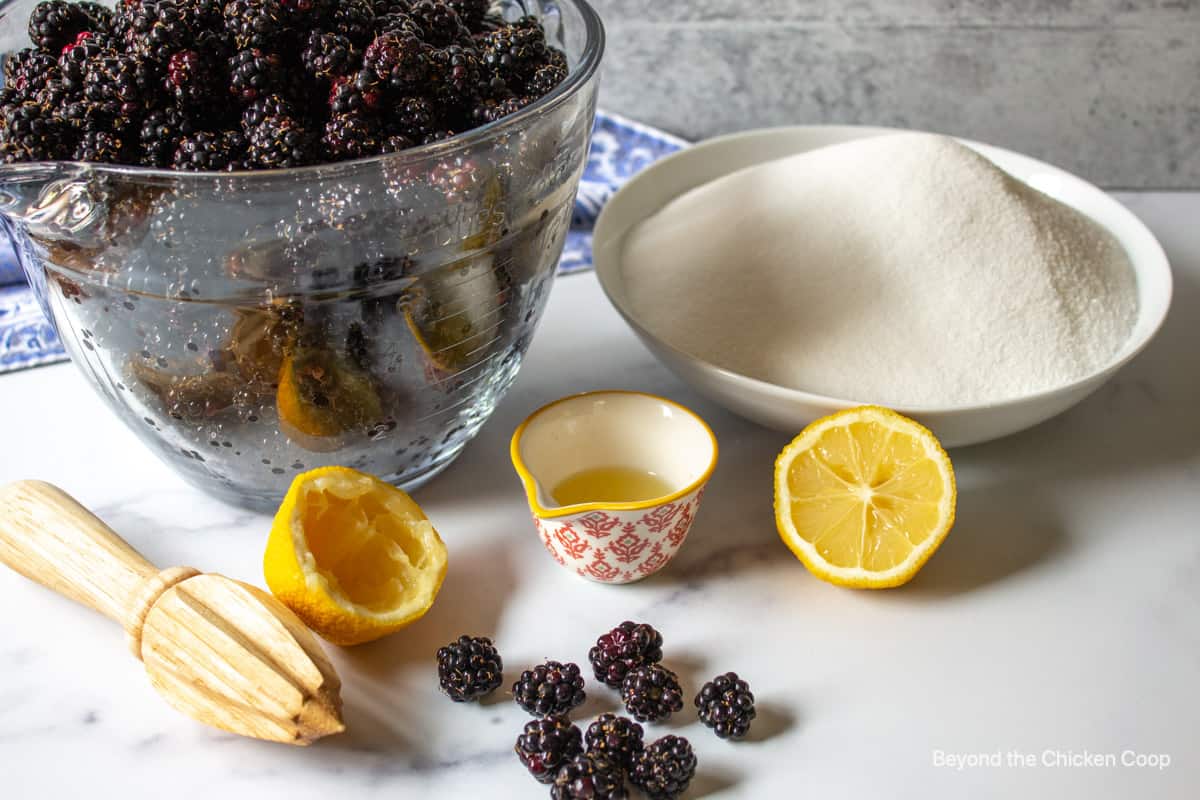 Ingredients
This section reviews the best ingredients and substitutions for this recipe. For an exact list of ingredients and quantities, check the recipe card below.
Blackberries - fresh or frozen. If using frozen, allow berries to thaw first. Be certain to keep all the juice that is released as the berries thaw.
Sugar
Lemon juice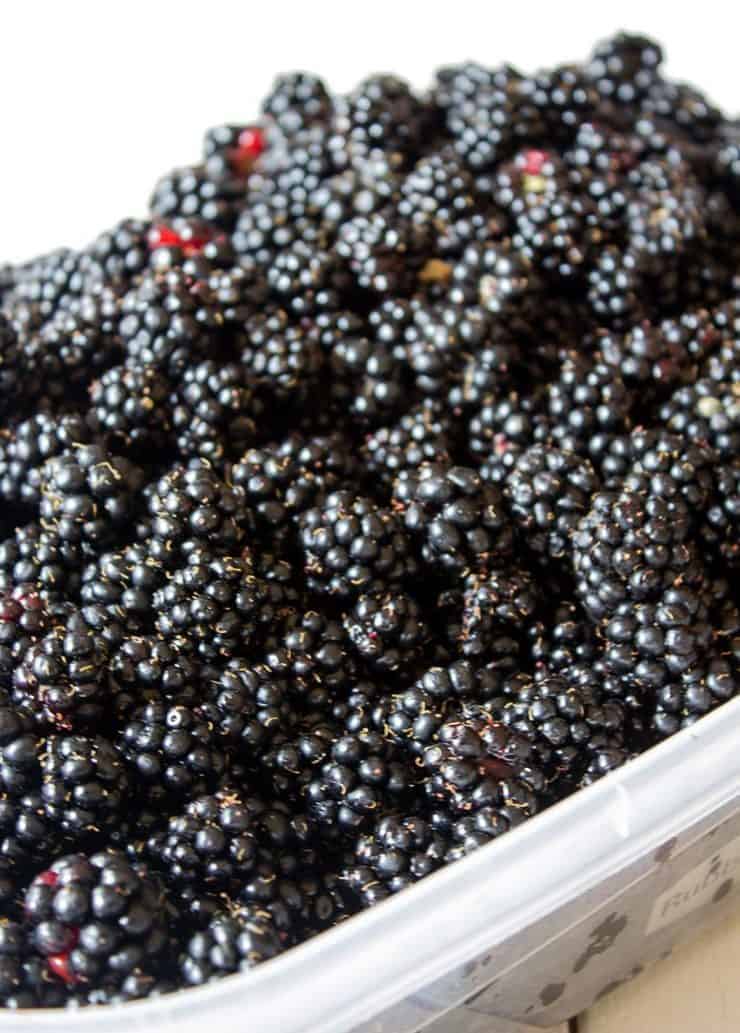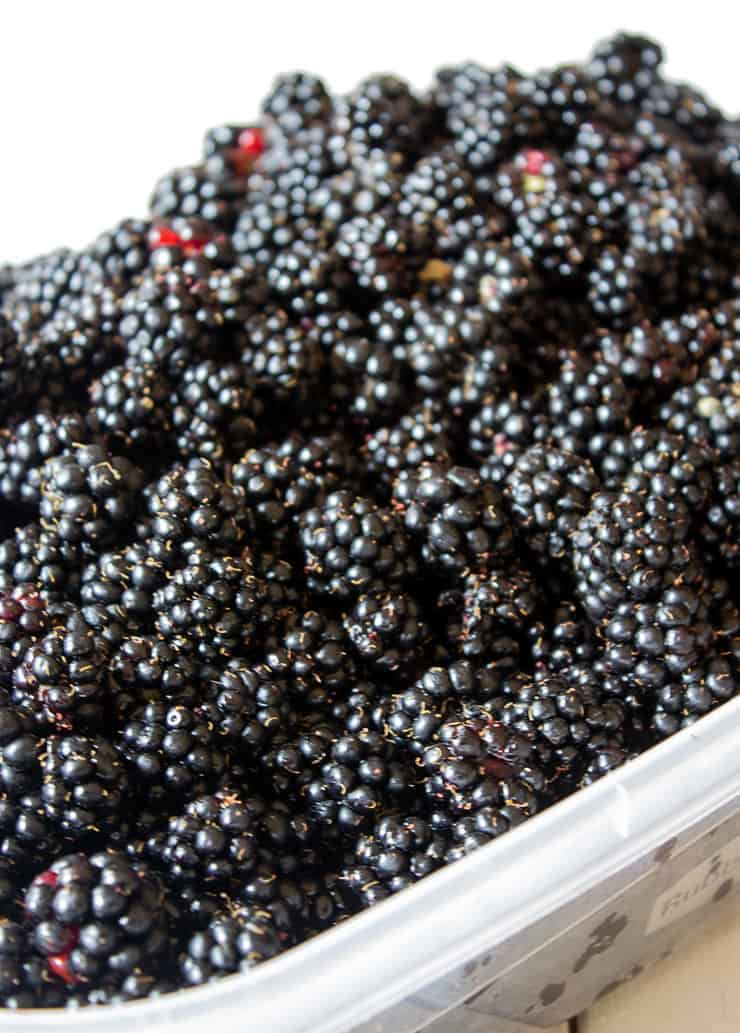 Pectin
Pectin is a naturally found substance in many berries and fruits. It is also produced commercially to aid in setting jams and jellies. Commercial pectin requires an exact amount of fruit and a high amount of sugar in order for the jam or jelly to set.
Lemon juice and sugar is added to help activate the natural pectin
Blackberries are naturally high in pectin so no added pectin is needed. I always add a few reddish blackberries into the mix because they have even more pectin than the riper black ones.
Because this recipe doesn't use a commercially added pectin, the amount of sugar added is all up to you! I added 4 cups of sugar to 8 cups of strained fruit. Most jam recipes call for equal amounts of sugar to fruit!
Feel free to adjust the sugar to your liking.
Step by step directions
How to make it
In this section, I share step-by-step photos, cooking methods, techniques, and a general overview. For detailed instructions, temperatures, and timing, check the printable recipe card below.
Mash berries and strain seeds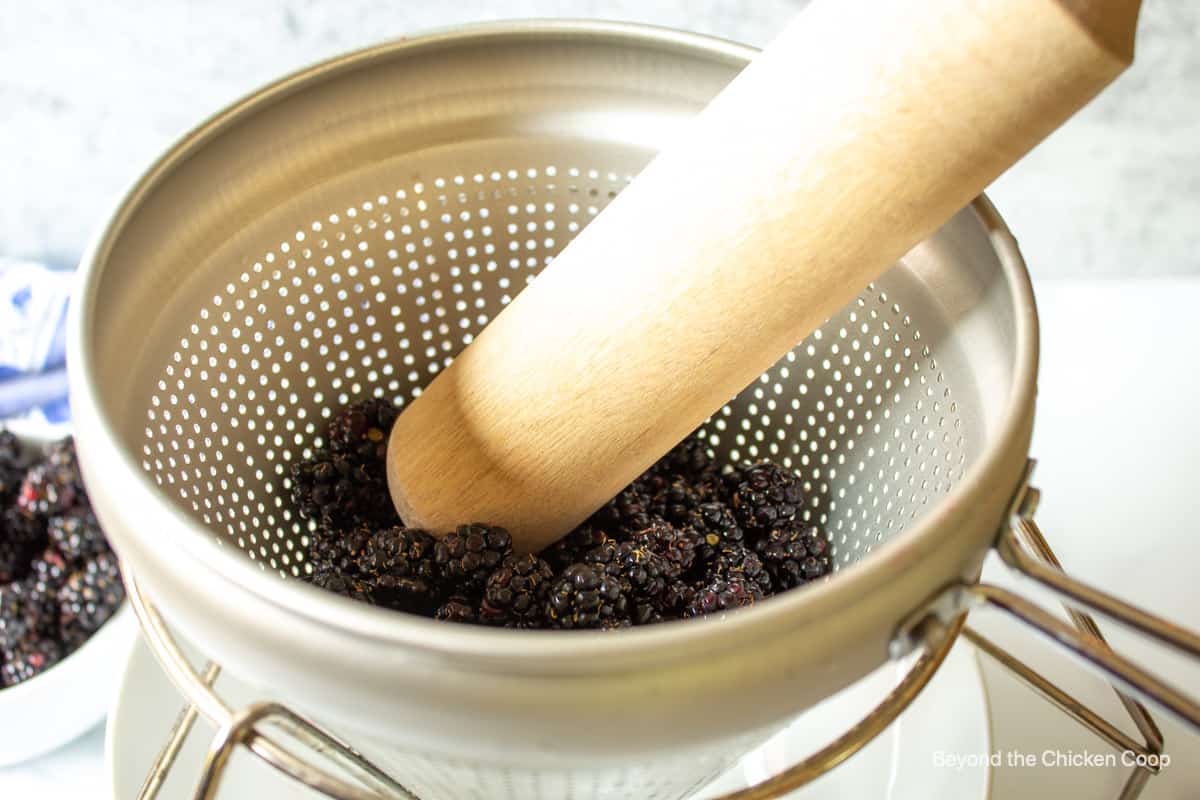 Place strained berries, sugar and lemon juice in a pot over medium-high heat
Stir often to avoid scorching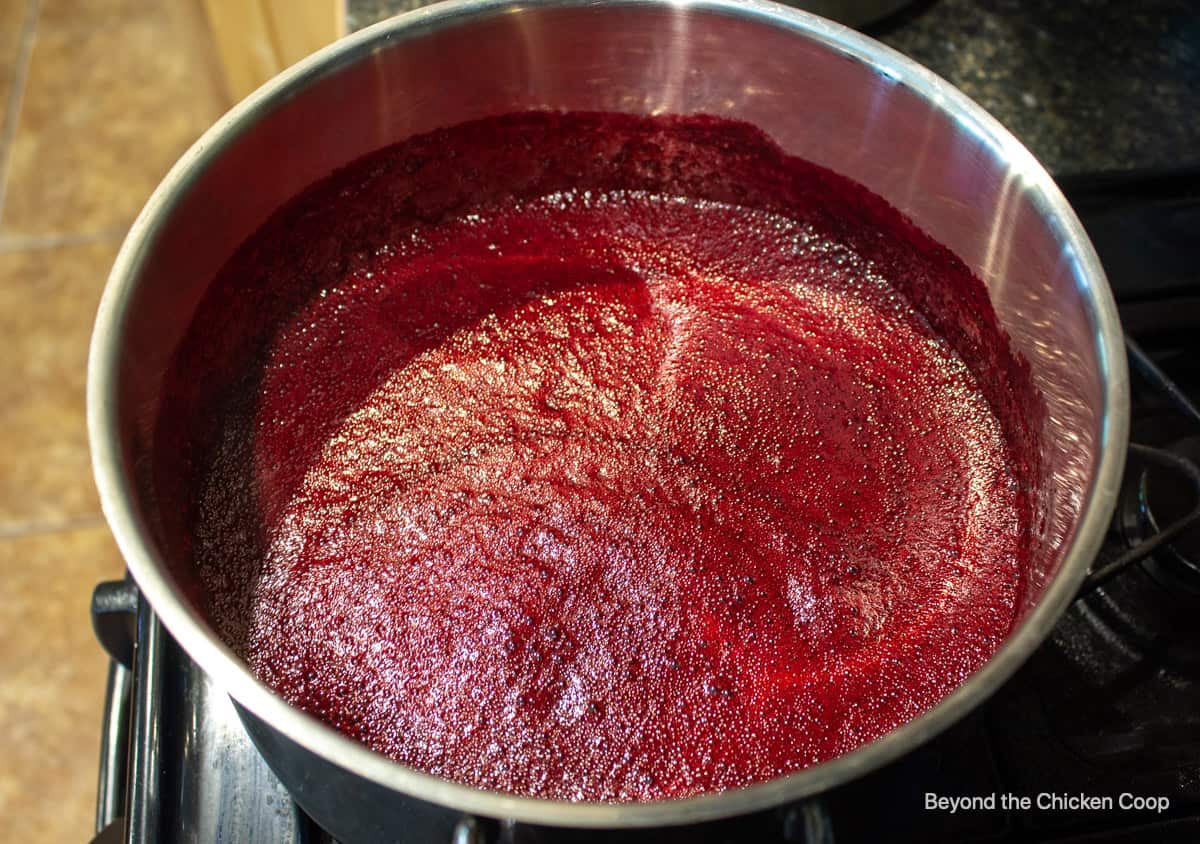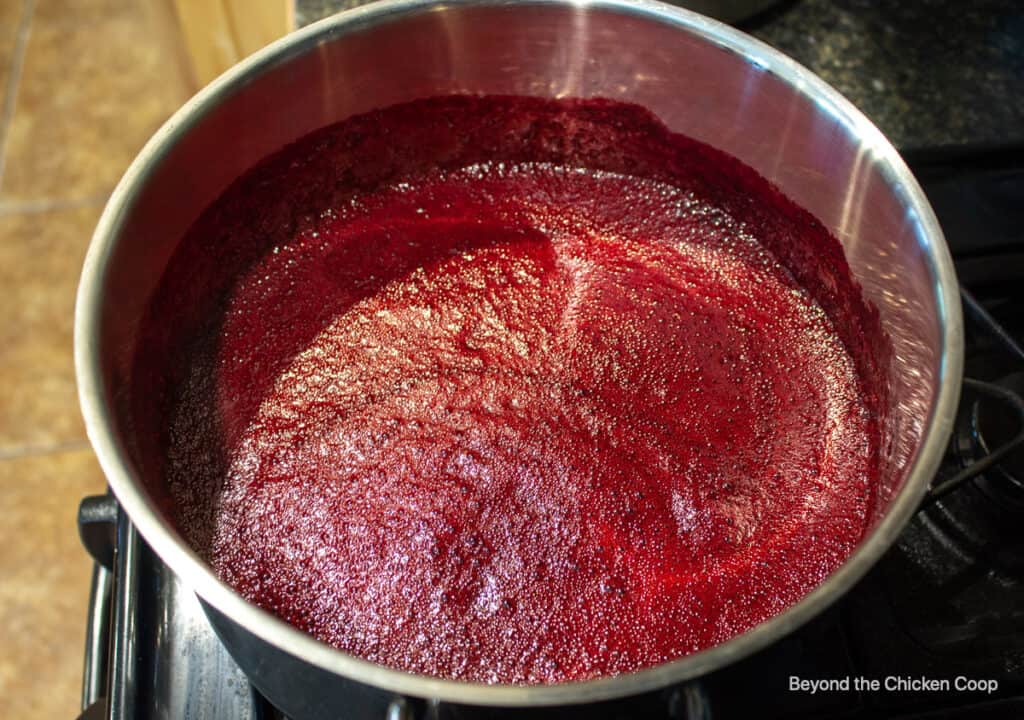 Heat until jam reaches the gel stage
If canning, place jam in clean and sterilized jars
Wipe rim clean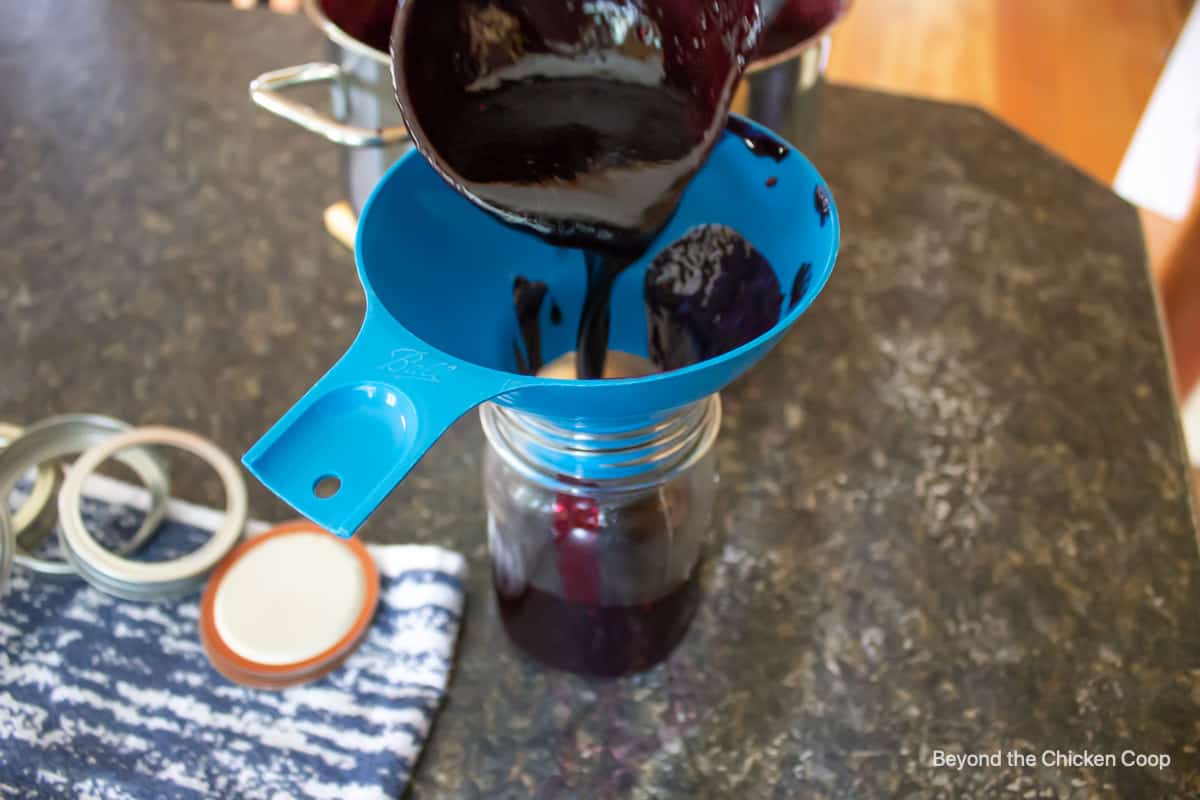 Add lid and screw cap and process in a hot water bath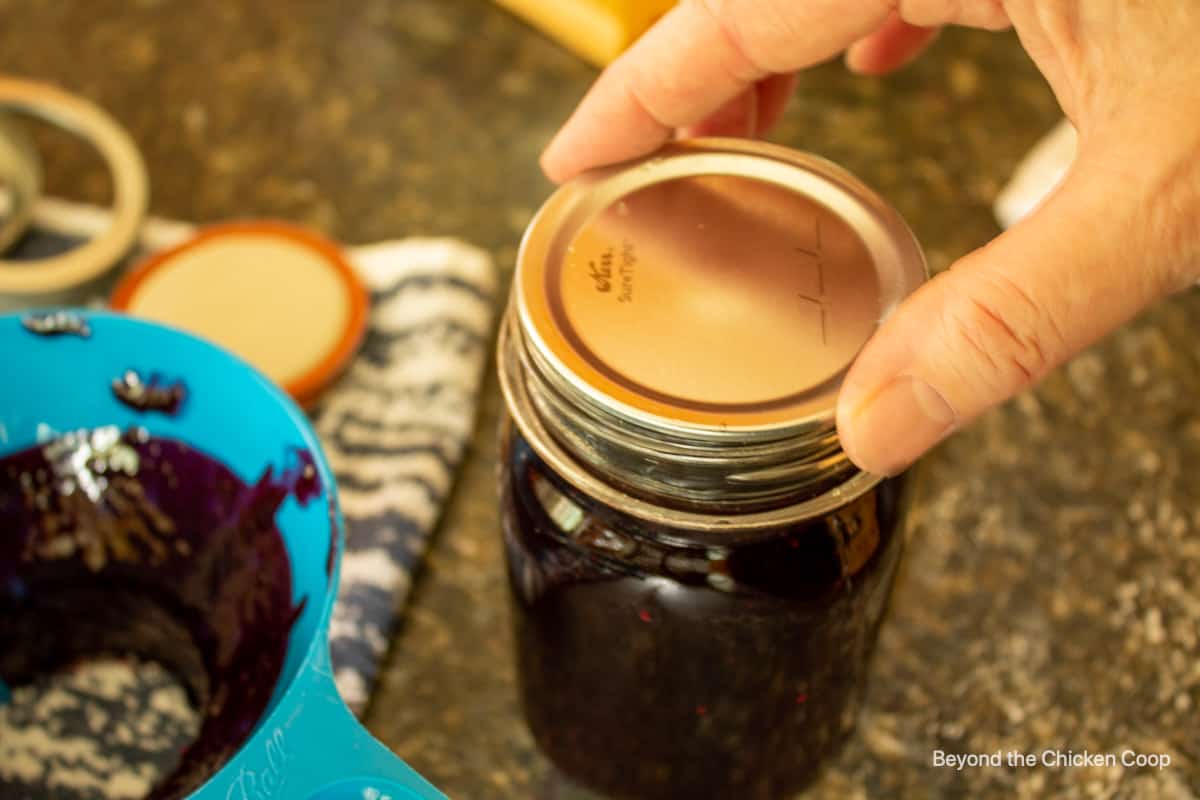 How do I know when my jam is done?
Knowing when your jam is set, or done is the hardest part of making jam.
When cooking without commercial pectin you need to rely on a spoon test, a plate test or check the temperature. I like to use at least two methods, and often all three methods when making jam.
Spoon test
The spoon test relies on watching the sheeting or drops as they come off the spoon while it is cooking. When the jam first starts boiling it comes off in drops or thin steams.
When the jam has set, the jam will come off the spoon in more of a sheet. This takes some time to learn what this looks like and even though I've been making jam for years, I always rely on a second method.
Plate test
Have a small plate chilling in the refrigerator. When you think the jam has set, place a spoonful of hot jam on the cold plate. Wait one minute and draw a line through the center of the jam. If the line holds its shape and doesn't run, the jam is set.
Temperature test
The temperature test is the most reliable. However the exact temperature will vary, depending on your altitude. You will deduct 2° for every thousand feet above sea level. Jam sets at 220° at sea level. I'm at about 2000 feet above sea level and my jam sets between 216° - 218°
I usually watch my jam with a thermometer and when it starts getting close to 215° I begin doing a sheeting test and then the plate test. I don't like to rely on just one method.
Tips for making jam
Blackberries are very messy and the juice will stain. Wipe up spills and drips quickly and wear something you don't mind if a few stains remain.
Use a pot that is at least double the size of the ingredients. When you boil jam it will really swell up in the pot.
Keep a close eye on your jam. You don't want it to burn or boil over. The pictures below show my jam boiling all the way to the very top of a large pot. If this happens, turn down the heat, blow gently on the top of the jam and carefully stir the jam. You don't want it to boil over and lose all that jam and have a burnt sticky mess to clean up.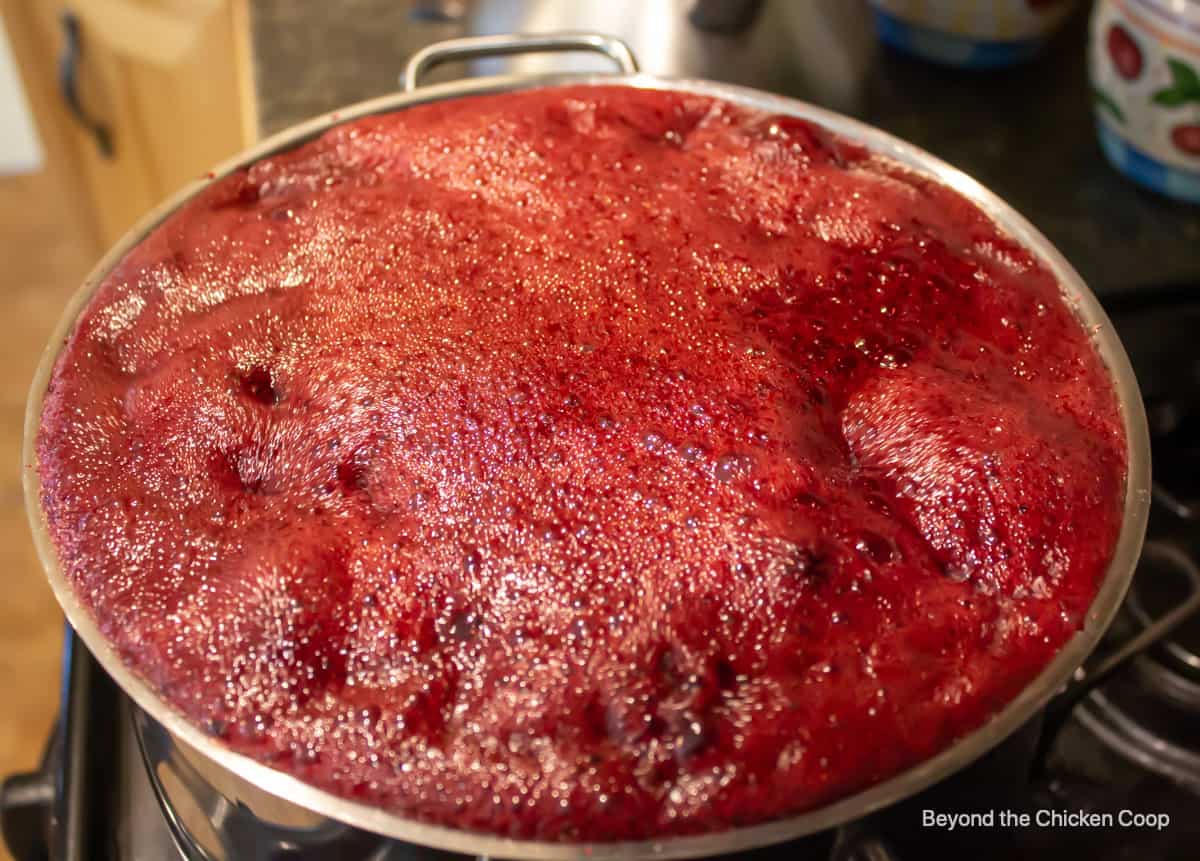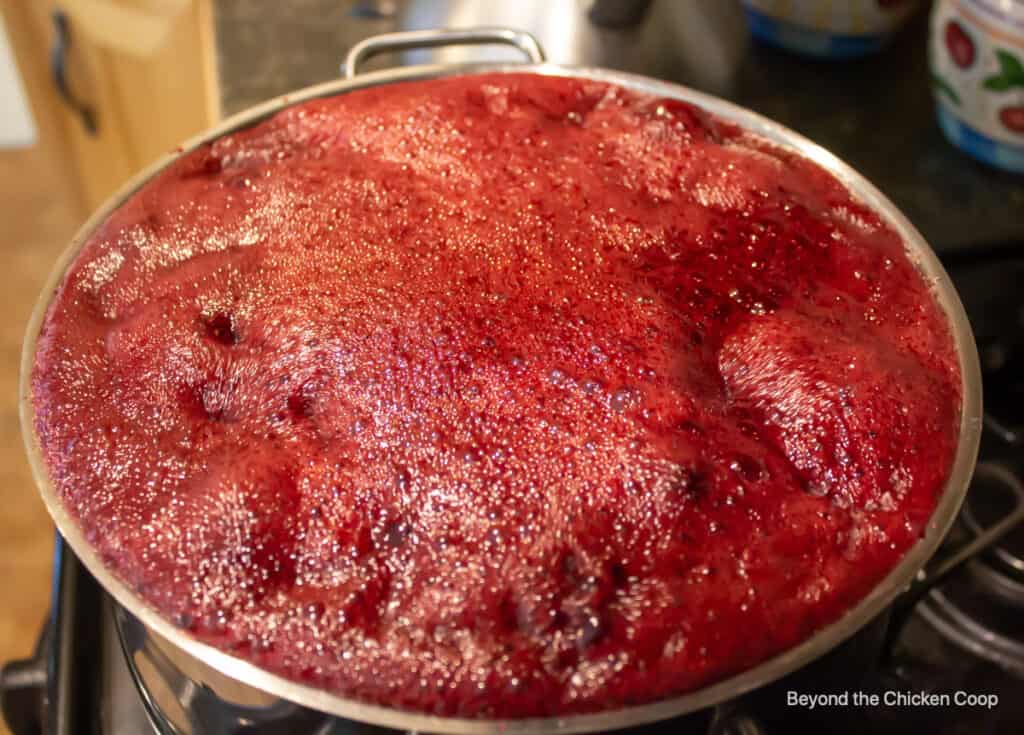 Jam will often create foam when boiling. I just ignore the foam. It usually disappears once the jam is set. If you still have foam on top of the jam, you can skim off before canning your jam.
A few tips when canning jam:
Make certain you always clean your jars prior to using.
Use new canning lids that have been washed.
Fill jars leaving a ¼ inch headspace.
Hot water bath your jars for 10 minutes for half pint (8 ounces) or pint jars (16 ounces) and always adjust for your elevation (see chart below).
Once jars are sealed and cooled for 12 hours, remove rings and wash the outside of jars. Replace rings if desired.
Label and date jars.
Altitude Feet
Increase Processing Time
1,001- 3,000
3,001- 6,000
6,001- 8,000
8,001-10,000
5 minutes
10 minutes
15 minutes
20 minutes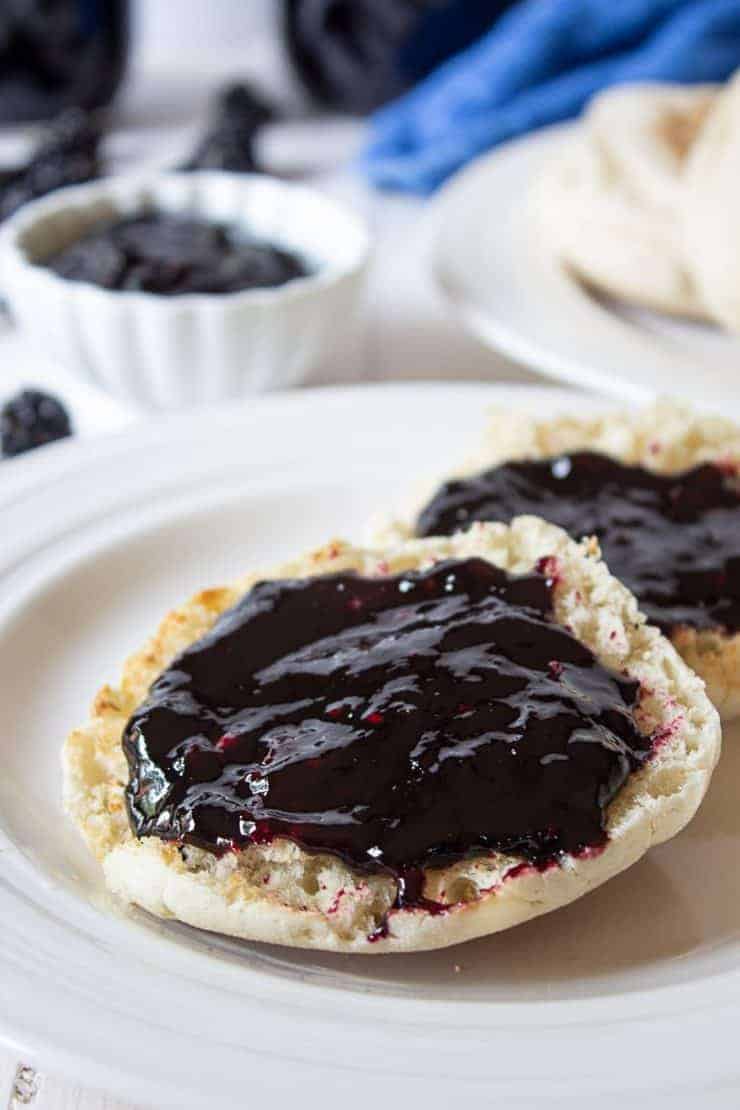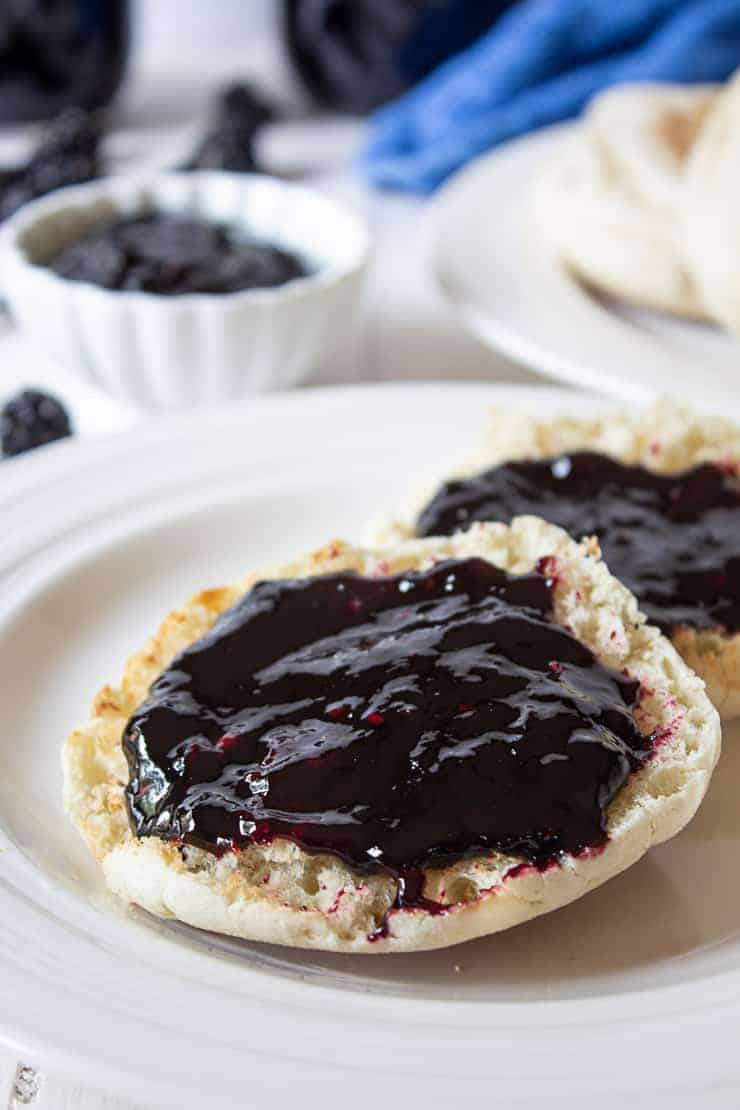 If you make this recipe, I'd love to hear about it! Leave a comment below and snap a picture and tag me on Instagram @beyondthechickencoop
Check out all my Canning Recipes.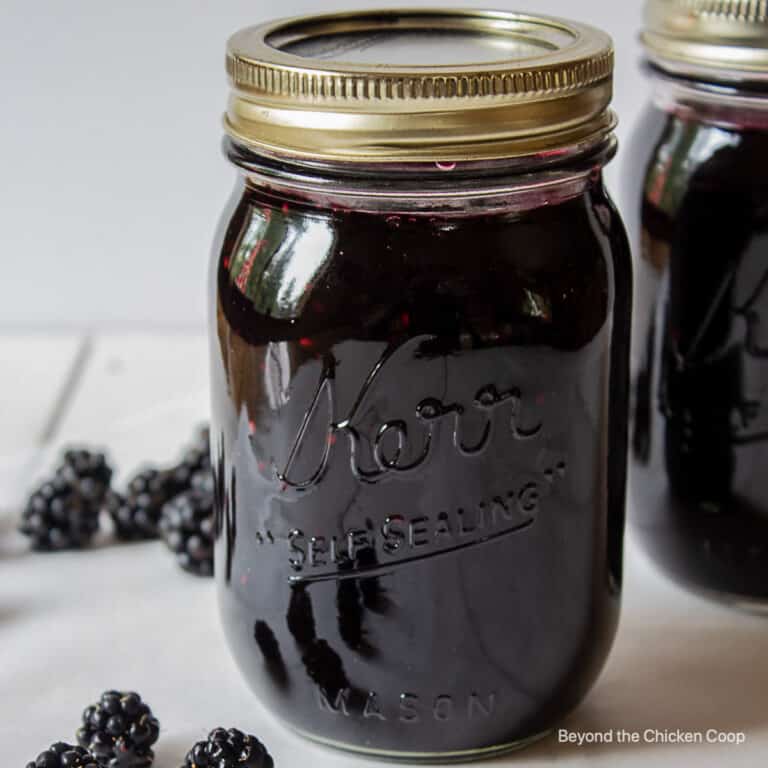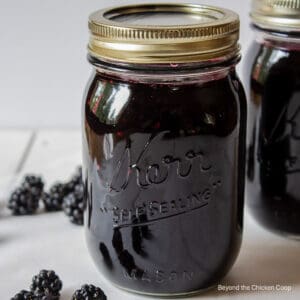 Seedless Blackberry Jam
Homemade blackberry jam without the seeds.
Ingredients
12 - 14

cups

blackberries

(ripe berries and a few unripe berries)

4

cups

sugar

2

tablespoons

lemon juice
Instructions
Mash and strain seeds from blackberries using a chinois. Measure out 8 cups of strained fruit for jam.

12 - 14 cups blackberries

Put 8 cups of fruit, sugar and lemon juice in a heavy stockpot over medium heat. 

12 - 14 cups blackberries,

4 cups sugar,

2 tablespoons lemon juice

Stir until sugar is dissolved. Continue cooking over medium heat until mixture comes to a boil. Stir every few minutes to prevent scorching.

Boil until jam is set (220 degrees at sea level and -2 degrees for every 1000 feet above sea level.. 1000 feet 218°). Jam needs to reach temperature in order to thicken. Stir often to prevent scorching. Remove from heat. Ladle into clean, sterilized jars leaving a ¼ inch headspace.

Wipe down rims and add canning lids and rings. Place in a hot water bath and boil jars for 10 minutes (adjust time according to elevation - see notes below)
Notes
Be certain to add some unripened, or reddish berries as well as the ripe blackberries. The unripe berries have higher levels of pectin.
Cooking time will vary depending on your elevation and your stove.
I used pint-sized jars (2 cups.) You can also use ½  pint size jars. Processing time will remain the same.
Be certain to adjust water bath times according to your elevation.
Altitude Adjustments for Canning above 1000 feet in elevation:
1,001-3,000 – increase 5 minutes
3,001-6,000 – increase 10 minutes
6,001-8,000 – increase 15 minutes
8,001-10,000 – increase 20 minutes
Please read added notes in post (above recipe card) for methods on testing jam.
This recipe has been updated to reflect additional information and now includes lemon juice. The lemon juice helps the jam set. I have had success with and without the lemon juice, but this can vary depending on your blackberries. I recommend adding the lemon juice to help ensure your jam sets up. 8/3/21
Nutritional Disclaimer:
Nutritional information is provided as a courtesy and should only be construed as an estimate rather than a guarantee. To obtain the most precise nutritional information in a provided recipe, you should calculate the nutritional information with the exact ingredients you are using when preparing the recipe using your preferred nutrition calculator.
Nutrition
Serving:
1
Tablespoon
Calories:
39
kcal
Carbohydrates:
10
g
Potassium:
29
mg
Sugar:
9
g
Vitamin A:
40
IU
Vitamin C:
3.8
mg
Calcium:
5
mg
Iron:
0.1
mg