This post may contain affiliate links, see my Privacy Policy.
Freezing Rhubarb – Steps on how to harvest and freeze your rhubarb. Extend your rhubarb harvest by freezing it so you can use your rhubarb year round.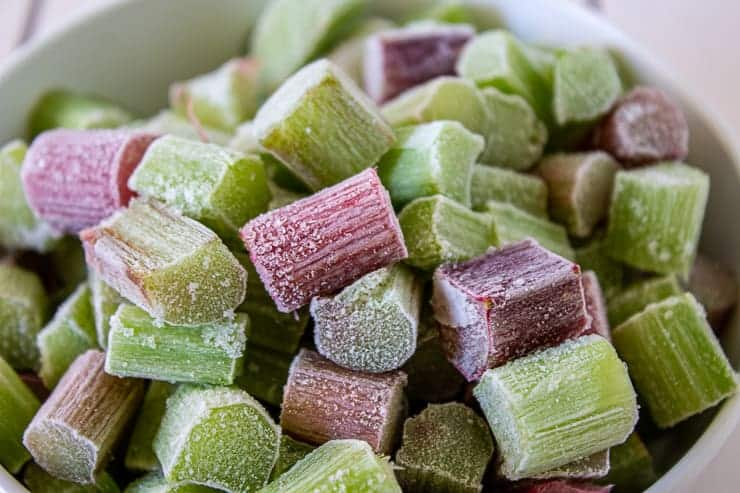 If you grow rhubarb then you'll want to know how to preserve it so you can use it all year long. Freezing it is a great way to preserve it.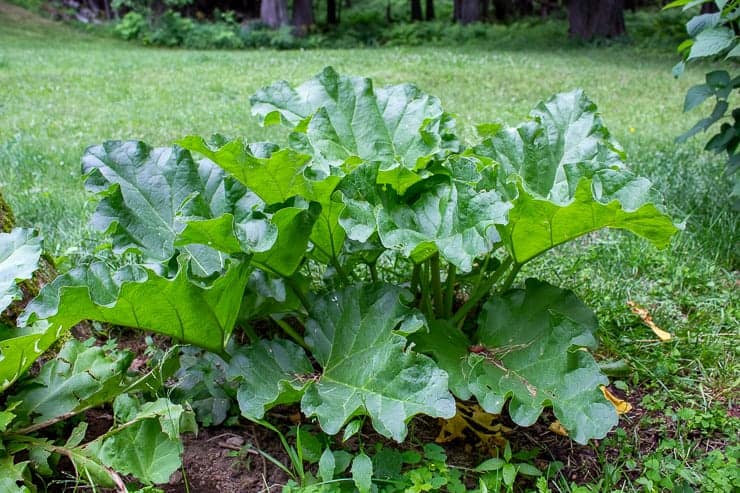 What is rhubarb?
Rhubarb is a perennial plant that grows from rhizomes. The stalks of rhubarb are edible and are often red or green. Rhubarb stalks resemble celery in looks but taste entirely different. They have a very sour taste. The leaves contain high levels of oxalic acid and are inedible.
How do I harvest rhubarb?
I select a few stalks from each rhubarb plant to remove. I never take more than 1/4 of the plant at a time. You want your plant to continue producing and taking too many stalks may cause it to die.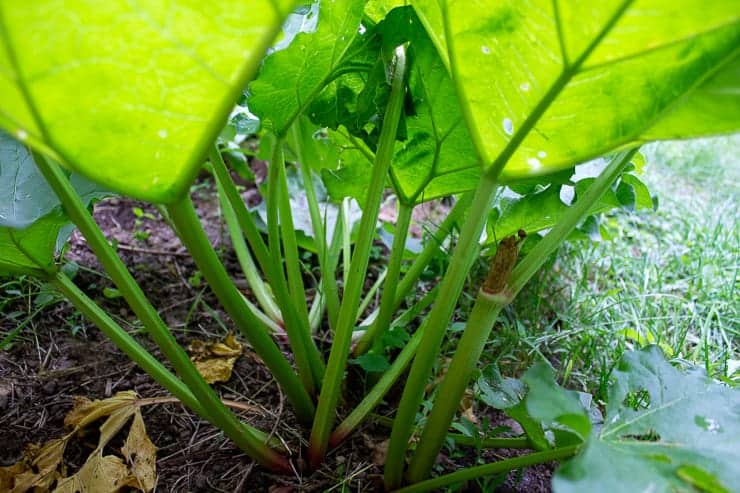 Use a small knife and cut the stalk near the base of the plant.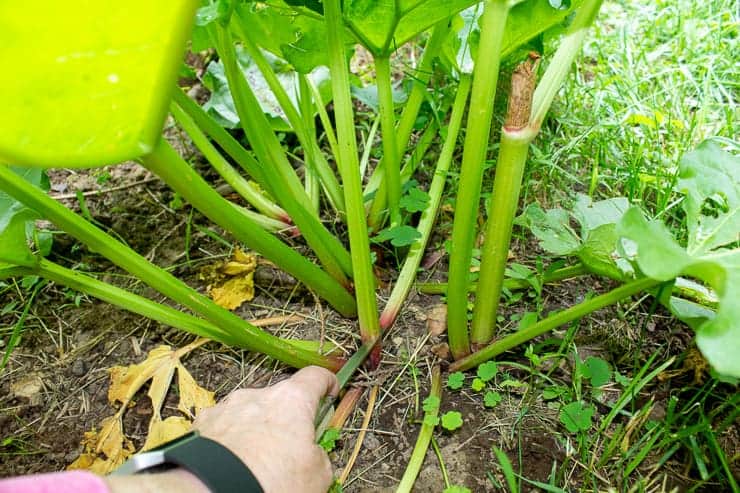 Remove leaves and discard.
How do I prepare rhubarb for freezing?
Rinse rhubarb
Remove any loose strings
Chop into 1/2″ chunks
Place in a freezer safe bag and place in freezer
How do I use frozen rhubarb?
I use frozen rhubarb in any recipe calling for rhubarb. Many times I will add it frozen and increase the cooking time by 5-10 minutes. You can use frozen rhubarb in rhubarb muffins, rhubarb bread, rhubarb sauce and this delicious rhubarb crisp. It can also be used in a savory BBQ dish from House of Nash Eats.
Tips for freezing rhubarb
Always label your freezer bag and add the date.
Cut rhubarb to the size you will need for a recipe.
Freeze in a freezer that does not have an automatic defrost.
Use rhubarb within one year.
If rhubarb freezes together, just gently break apart while still in bag.
Freeze the amount you have on hand. Sometimes I have just a few cups to freeze and other times I may have several dozen cups.
Don't forget to PIN for later!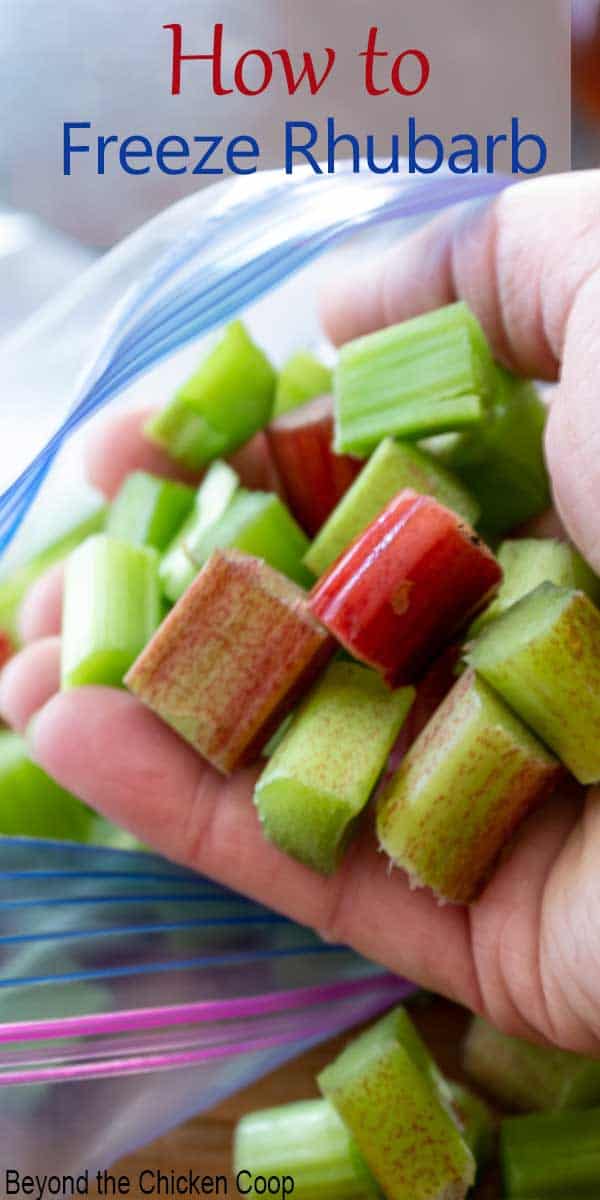 If you make this recipe, I'd love to hear about it! Leave a comment below and snap a picture and tag me on Instagram @beyondthechickencoop
Check out all my homesteading posts, including recipes and gardening tips.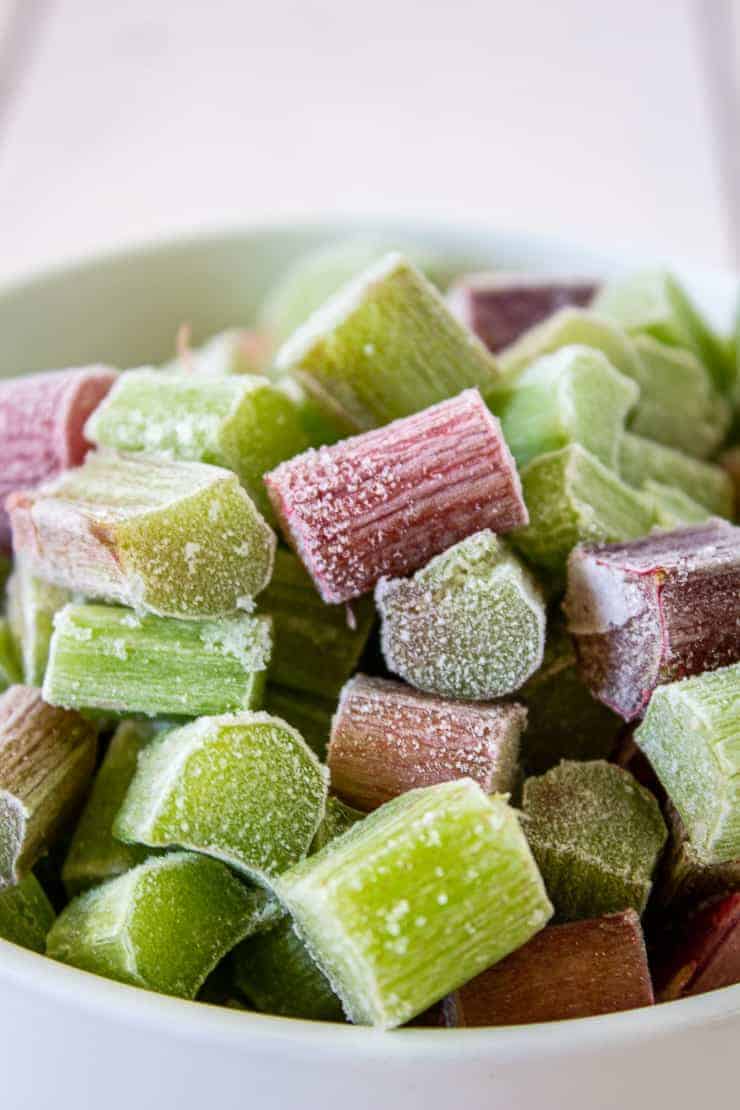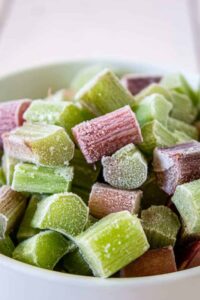 Freezing Rhubarb
Steps on how to freeze rhubarb
Instructions
Rinse and dry rhubarb stalks

Place in a freezer safe bag
Notes
Do not use the leaves of the rhubarb plant. They are toxic.
Rhubarb can be kept frozen for up to one year.
Nutrition
Serving:
0.5
cup
Calories:
16
kcal
Carbohydrates:
3
g
Protein:
1
g
Fat:
1
g
Saturated Fat:
1
g
Sodium:
3
mg
Potassium:
218
mg
Fiber:
1
g
Sugar:
1
g
Vitamin A:
75
IU
Vitamin C:
6
mg
Calcium:
65
mg
Iron:
0.2
mg