Homemade bagels just can't be beat. This bagel recipe is absolutely delicious and produces wonderful chewy bagels with the toppings of your choice. Don't be intimidated by making bagels at home, these are easy to make with delicious results.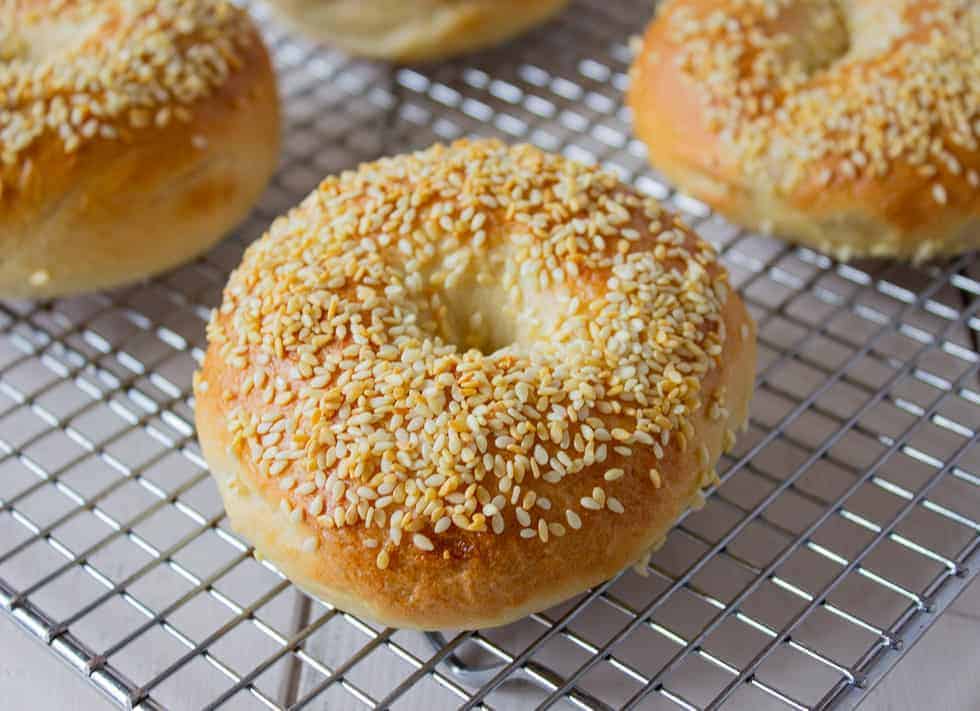 I have been wanting to make bagels for years. For some reason, they kept getting pushed to the bottom of my list. I finally dove into to the bagel making a few weekends ago, and I must say homemade bagels are delicious!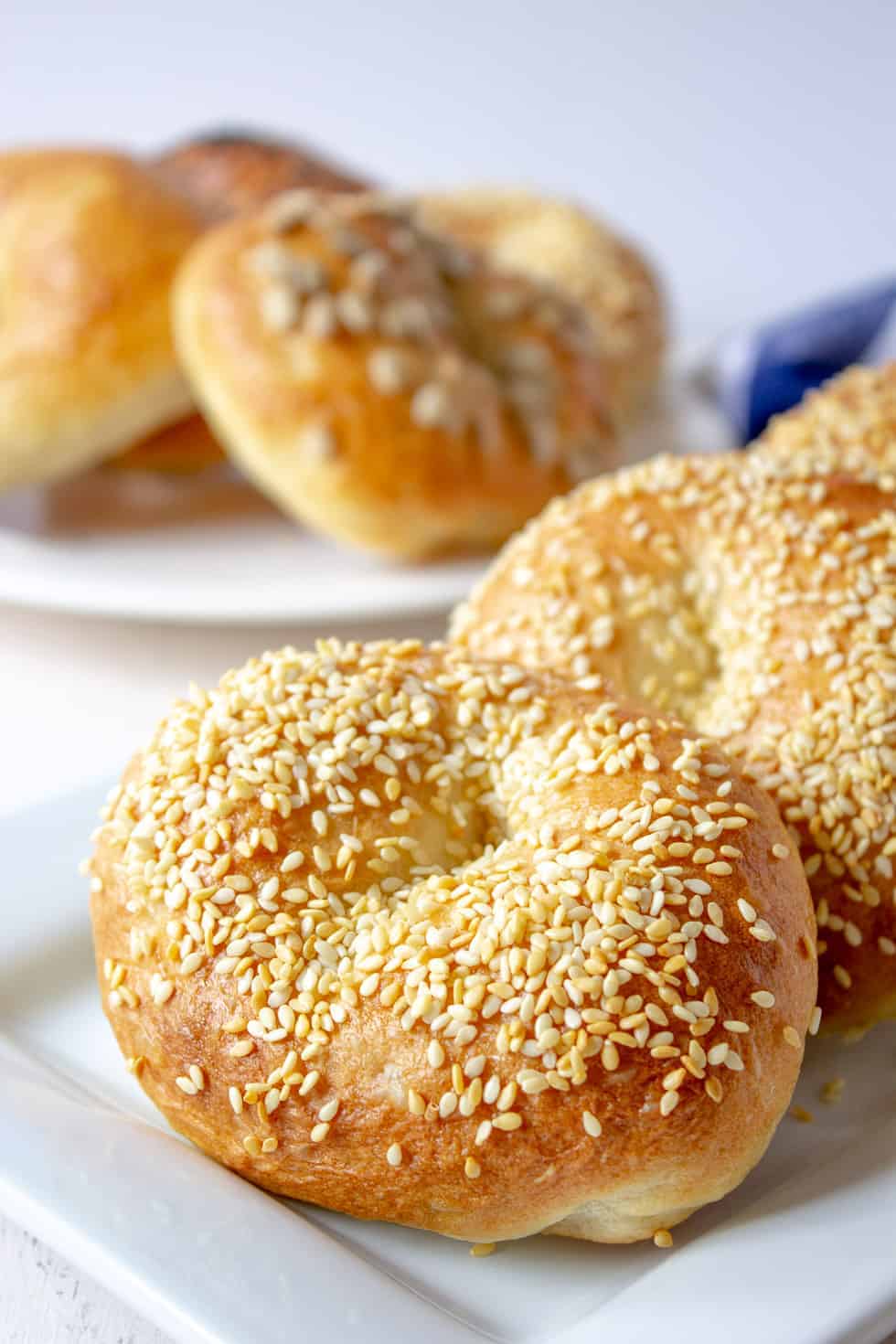 Bagels
There are so many bagel recipes out there.  I'm not kidding. I started looking up recipes and every single one was different. There were egg bagels and New York bagels and bagels with milk in the recipe and recipes without milk. The different types went on and on...
One thing all bagel recipes have in common is the bagels are boiled and then baked. I dove in with a combination of several recipes and made my own version of homemade bagels.  The results were delicious.
My kids eat a lot of bagels. Their favorite way is to toast them and then spread cream cheese on each bagel. I also love to use bagels for sandwiches. I love the chewiness of the bagels and I also love that a bagel doesn't squish easily in a lunch box.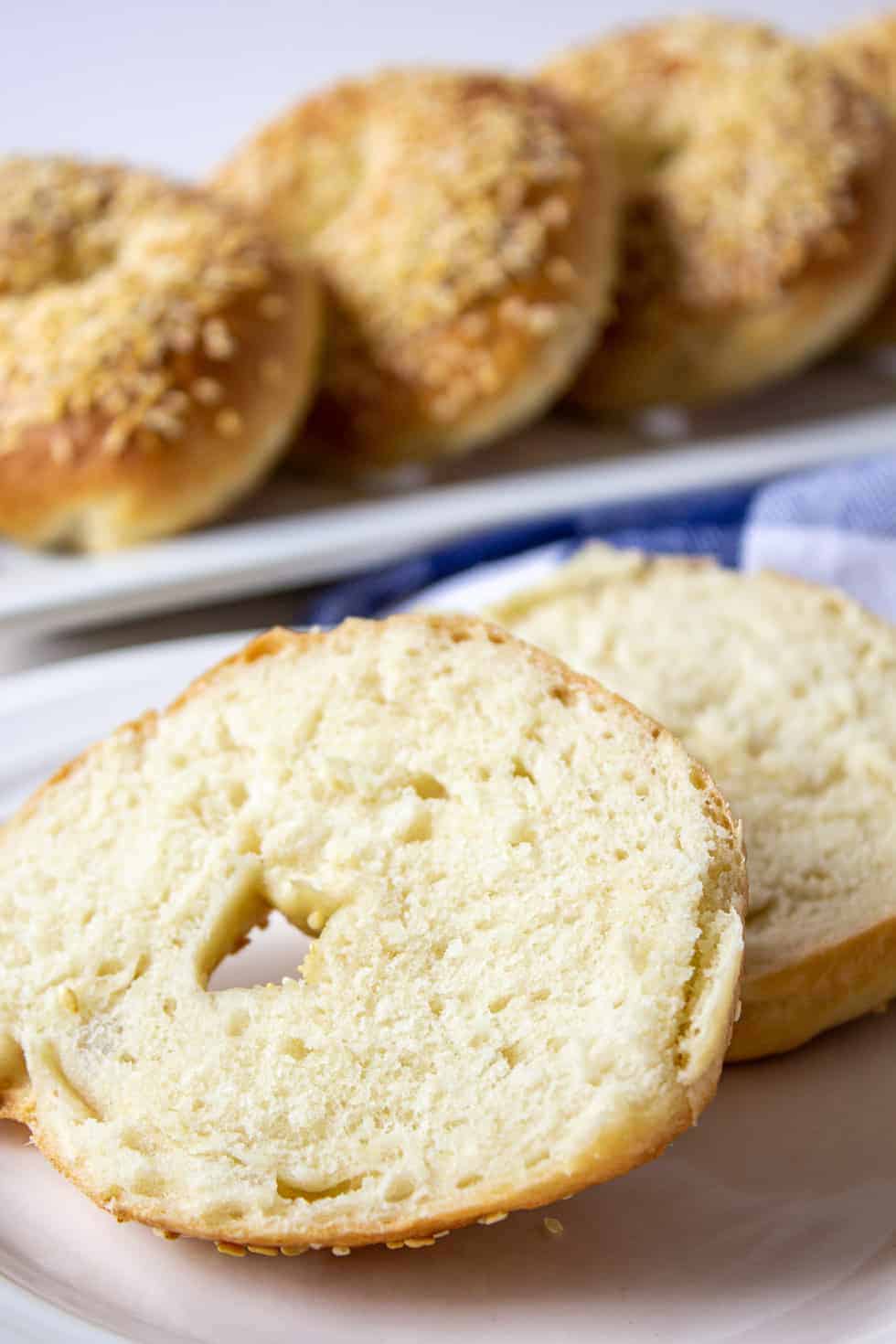 How do you make bagels?
Bagels start with a basic yeast dough
Let dough rise until doubled
Cut into 12 equal pieces
Roll each piece into a rough round shape
Poke a hole in the center of the round
Using two fingers, roll dough around your fingers creating a larger hole
Place dough on a baking sheet lined with parchment paper. Allow dough to rest for 30 minutes
Gently drop 3-4 bagels in a pot full of boiling water for 1 minute per side.
Remove from boiling water and place back on parchment paper.
Brush with egg was and sprinkle with seeds if desired
Bake in a 425 degree oven for 20-22 minutes
Allow bagels to cool before eating
Why do I boil the bagels before baking them?
Boiling the bagels creates the texture bagels are known for. If you didn't boil them first, they would taste just like a dinner roll.
Boiling adds a slight skin to the bagels that adds to the chewiness that is desired in a bagel. Do not skip the boiling step.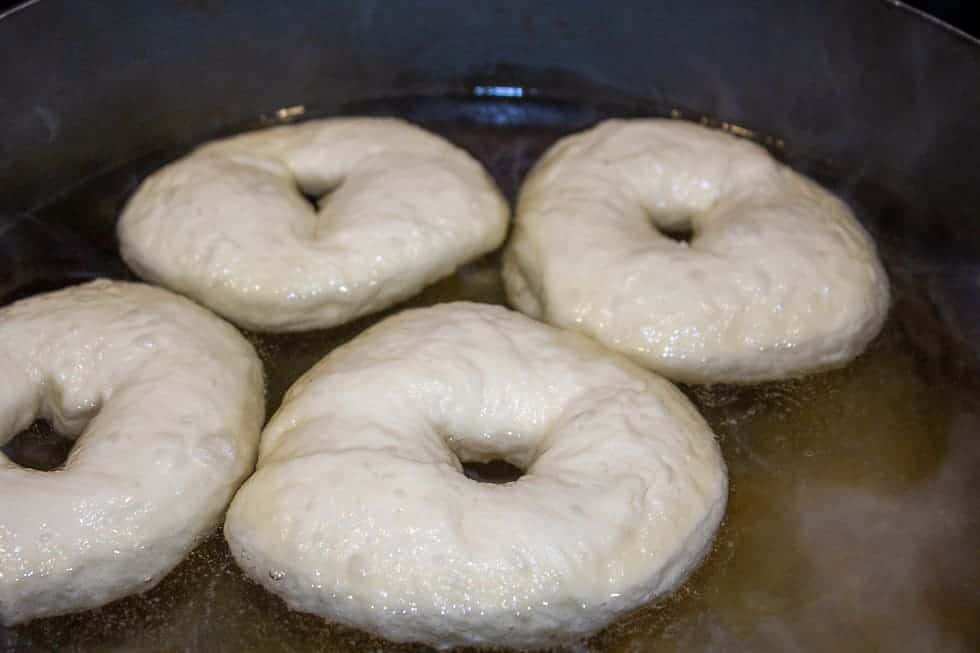 What type of topping can I add to bagels?
Choose your favorite toppings or leave them plain.
Coarse Salt
Asiago Cheese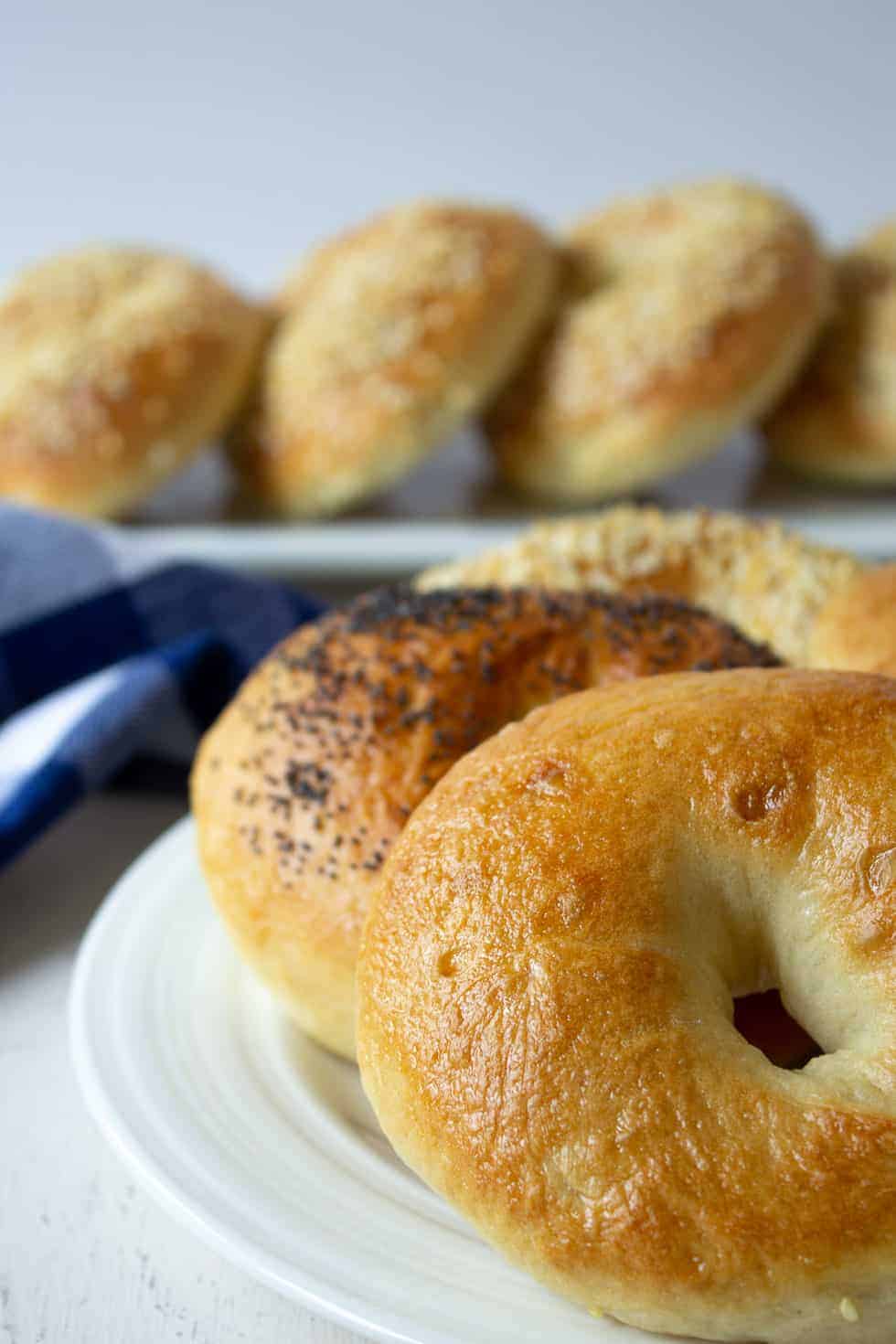 Egg Wash
I used an egg wash on all my bagels. If you are adding a topping, the egg wash provides the glue to help the topping stick. For a plain bagel, the egg wash provides a beautiful sheen and helps provide a golden color.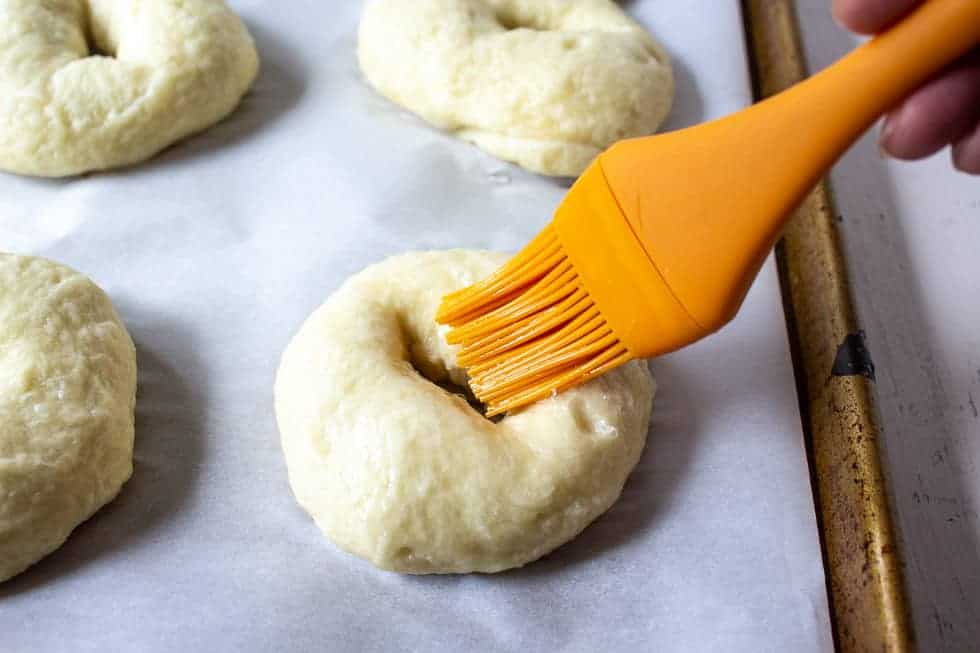 Can bagels be frozen?
Yes, these bagels can be frozen. Homemade bagels only stay fresh for a few days so freezing  helps extend the shelf life. To freeze bagels, allow bagels to fully cool and then place in a freezer safe container.
I like to slice my bagels before freezing. I find it easier when I want to pull just one bagel out of the freezer. If I pull one out frozen, I don' t have to wait for a bagel to fully thaw before popping it in the toaster if I've split the bagels before freezing them.
Tips for making homemade bagels
Use a mixture of all purpose flour and vital wheat gluten. Bagels need the extra protein to help form the chewiness bagels are known for. You may use bread flour in place of the all purpose and vital gluten.
Allow first rise to double in size
When forming bagels, make the hole larger than anticipate. The dough will rise and the hole becomes smaller
Allow bagels to rest 25-30 minutes. Cover lightly with plastic wrap sprayed with a nonstick spray to help prevent sticking
Make certain water is boiling before adding bagels
Do not overcrowd pot.
Carefully remove bagels from boiling water with a flat skimmer or a spoon. Do not use tongs or you will flatten the bagel
Brush lightly with an egg wash before adding seeds or toppings
Bake in a preheated 425 degree oven for 20-22 minutes
Other homemade bread recipes
If you love making your own bread, you may also want to check out these recipes:
If you make this recipe, I'd love to hear about it! Leave a comment below and snap a picture and tag me on Instagram @beyondthechickencoop
Check out all my bread recipes!
Resources for this recipe include Fine Cooking and King Arthur Flour.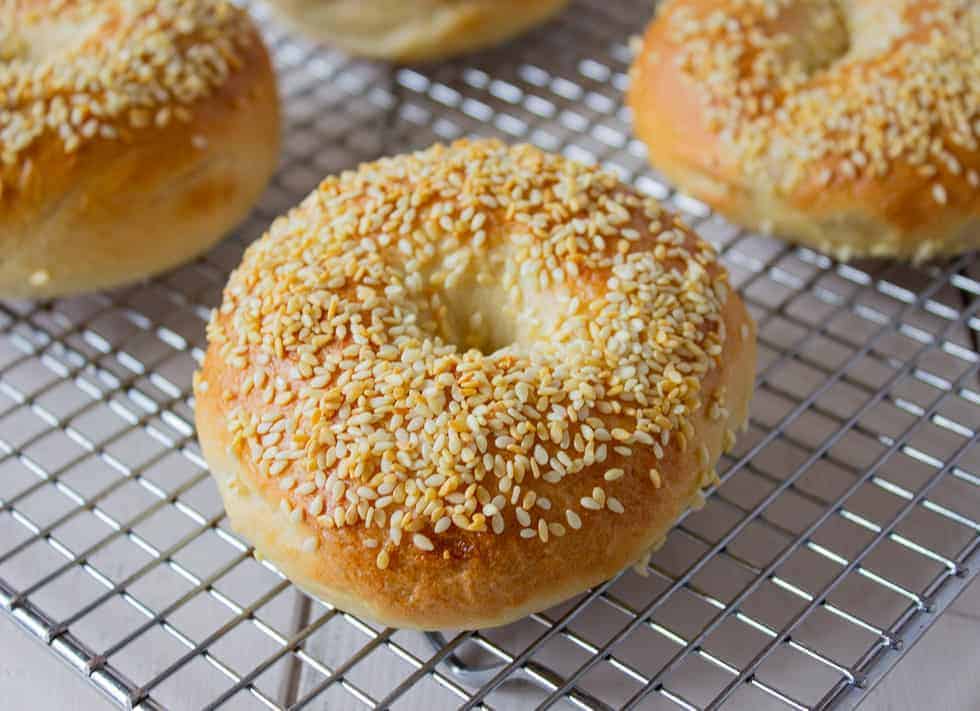 Homemade Bagels
Homemade bagels is a delicious recipe for making your own bagels at home.
Ingredients
Topping
1

egg white

1

Tablespoon

water

¼

cup

sesame seeds
Instructions
Dough
Place water, yeast and honey in the bowl of a stand mixer. Mix lightly and let rest for 5 minutes until mixture is bubbly.

2 cups water,

2 Tablespoons honey,

2 ¼ teaspoons active dry yeast

Mix in 1 cup of flour, vital wheat gluten and salt.

3 ½ - 4 ½ cups all purpose flour,

2 Tablespoons vital wheat gluten,

1 teaspoon salt

Continue adding flour until dough comes together and forms a ball. You might not use all the flour.

Knead in mixer for 10 minutes.

Place dough in a separate bowl that has been lightly greased. Cover and let sit until doubled (1 ½ - 2 hours)
Shaping the Bagels
Remove dough and lightly deflate. Cut dough in half. Working with one half at a time, cut each half into six equal pieces.

Shape pieces into rounds.

Poke your finger through the center of the round. Enlarge the hole by placing one finger from each hand in the hole and rotate your hands in a circular motion. The hole should be larger than you desire for your final product. The dough will rise and the hole will shrink.

Place shaped dough on a baking sheet lined with parchment paper. Cover bagels with plastic wrap lightly sprayed with a nonstick spray. Allow dough to rest for 25-30 minutes.
Cooking the Bagels
Bring a large pot full of water to a full boil. Gently drop 3-4 bagels into the pot. Cook for one minute and flip bagels to other side. Cook for another full minute.

Gently remove bagels from boiling water using a flat skimmer. Allow excess water to drain from bagels. Place back on baking sheet.

Brush bagels with egg wash (egg white and water mixed together)

1 egg white,

1 Tablespoon water

Apply seeds or topping if desired

Bake in a preheated 425 degree oven for 20-22 minutes until golden brown.

Move bagels to a baking rack to cool.

Repeat with 2nd half of dough.
Notes
Tips for making homemade bagels
Use a mixture of all purpose flour and vital wheat gluten. Bagels need the extra protein to help form the chewiness bagels are known for. You may use bread flour in place of the all purpose and vital gluten.
Allow first rise to double in size
When forming bagels, make the hole larger than anticipate. The dough will rise and the hole becomes smaller
Allow bagels to rest 25-30 minutes. Cover lightly with plastic wrap sprayed with a nonstick spray to help prevent sticking
Make certain water is boiling before adding bagels
Do not overcrowd pot. 
Carefully remove bagels from boiling water with a flat skimmer or a spoon. Do not use tongs or you will flatten the bagel
Brush lightly with an egg wash before adding seeds or toppings
Bake in a preheated 425 degree oven for 20-22 minutes
Nutrition
Serving:
1
Bagel
Calories:
327
kcal
Carbohydrates:
64
g
Protein:
11
g
Fat:
3
g
Saturated Fat:
1
g
Sodium:
204
mg
Potassium:
124
mg
Fiber:
3
g
Sugar:
3
g
Calcium:
46
mg
Iron:
4
mg