Homemade bakery style pretzel buns can easily be made at home. These buns are perfect for burgers, sandwiches or just eating plain.
This recipe makes 12 regular sized buns or 18 mini sized buns.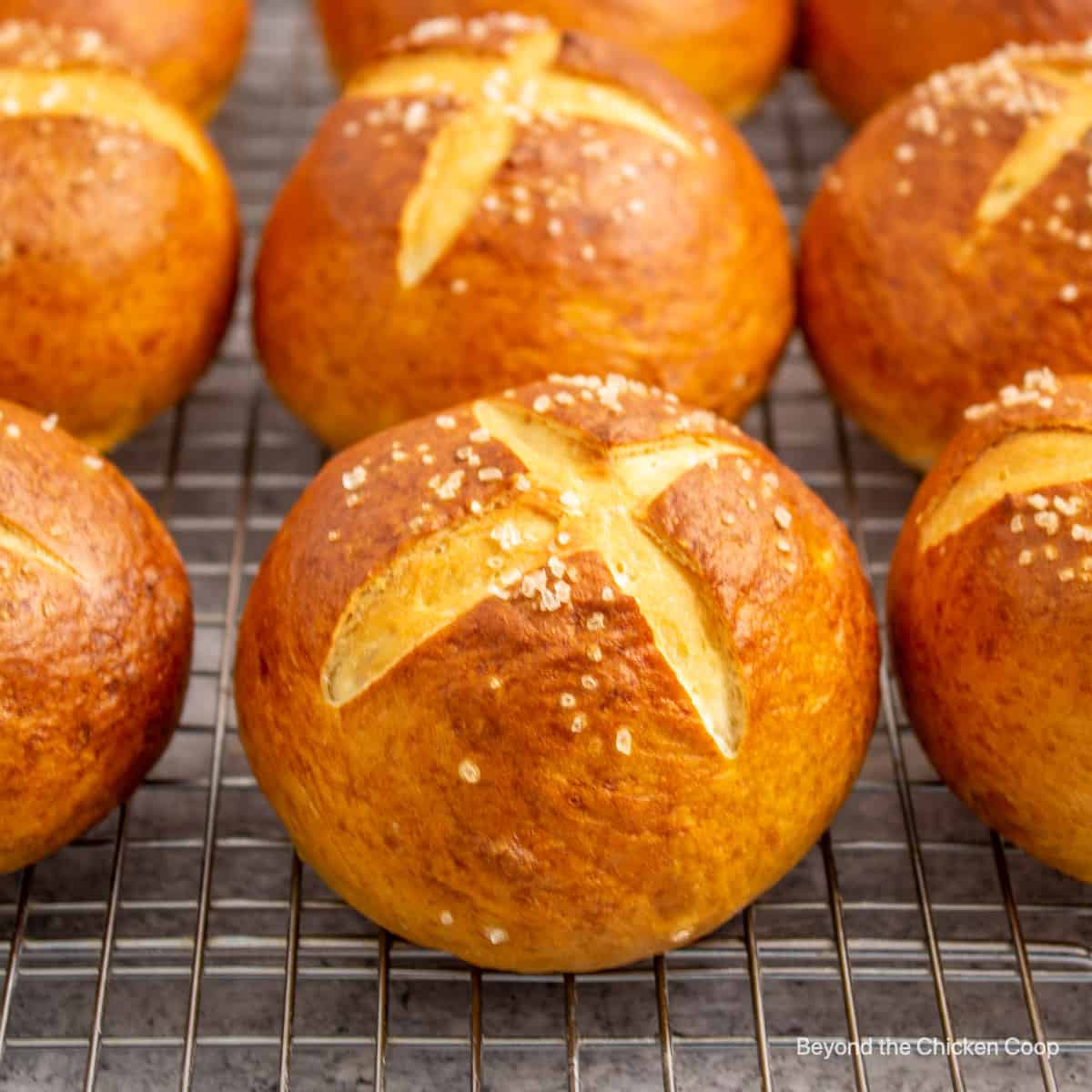 Baking bread is such a rewarding task and making these homemade pretzel buns is not only rewarding but makes you feel like a professional baker!
These buns have a really nice bite and chewy pretzel texture, similar to a freshly baked pretzel, but the inside is soft and delicious. I love eating them just by themselves, without butter or anything, but they are just as delicious sliced in half and filled with sandwich fixings or your favorite burger.
The secret to making really delicious pretzel rolls is boiling the rolls before baking them. This is the same process you use when you make bagels, but the difference is the addition of baking soda to the boiling water.
The baking soda mimics the lye that is used in professional bakeries, but without all the hassle.
If you enjoy baking bread at home, you'll definitely want to make these pretzel rolls.
Key ingredients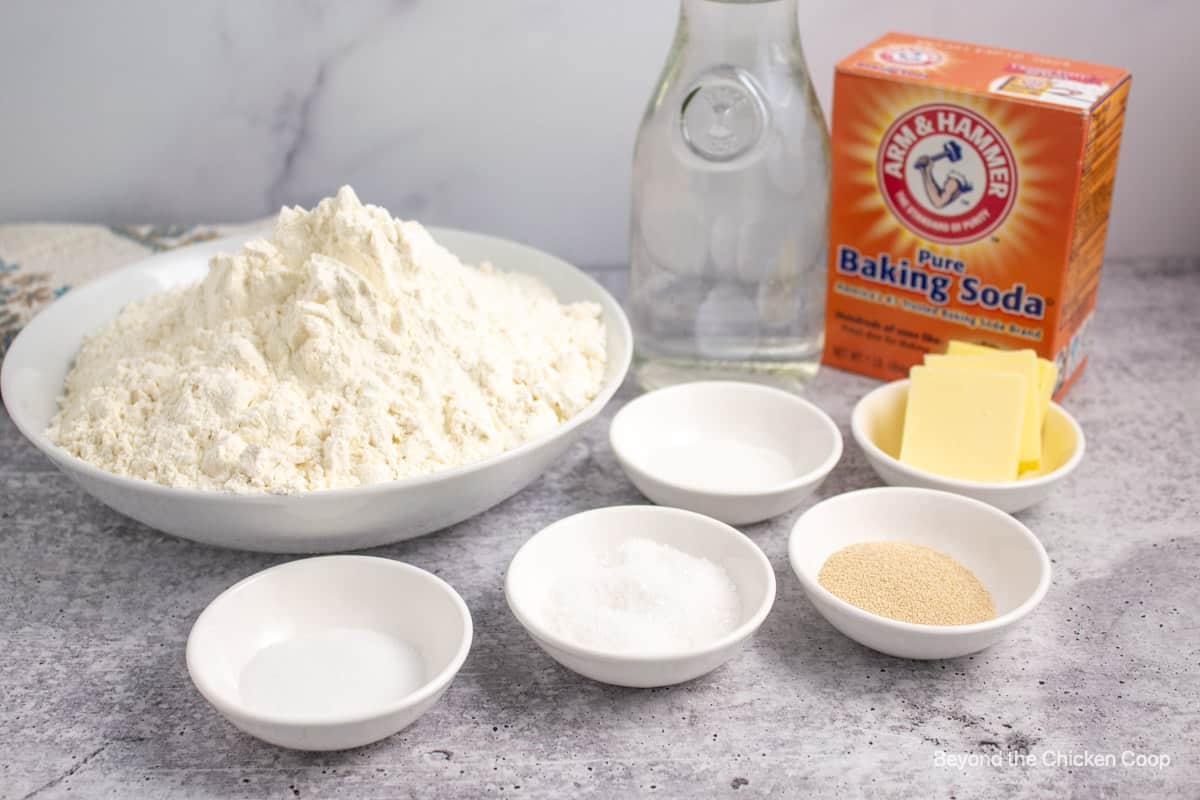 All-purpose flour
Water
Butter
Active dry yeast
Sugar
Salt
Baking soda - for adding to the boiling water
Coarse salt - sprinkling on the rolls
Step by step directions
Place warm water in a mixing bowl
Sprinkle yeast and sugar on top. Stir just lightly so the yeast is mixed in.
Allow mixture to sit for 5 minutes, until it is bubbly
Mix in two cups of the flour, melted butter and salt
Continue stirring in flour until dough comes together to form a ball
Knead dough for 8-10 minutes until dough is soft and supple
Form dough into a ball and place in a lightly greased bowl
Cover and let rise until doubled - about 1 - 1 ½ hours
Divide dough into 12 equal sized pieces and form into rounds. To form rolls, cup your hand over the dough and rotate quickly in a circular motion.
Place on a lightly greased piece of parchment paper
Cover with a clean towel and let rest for 30 minutes
While the rolls are resting, preheat oven to 415°F and set water with baking soda on a burner and bring to a boil
Gently place 2-4 rolls in boiling water. Boil for 30 seconds on each side.
Remove with a strainer or large slotted spoon and place back on baking sheet
Using a razor blade or a very sharp knife, slice the top of each roll with an X or with two parallel lines
Repeat with remaining rolls
Sprinkle with coarse salt, if desired
Bake in preheated oven for 18-20 minutes
Remove from baking sheet and continue cooling a rack
Recipe tips
Don't skip the baking soda bath! - This is what creates the pretzel like exterior on these buns.
Do not overcrowd your pot when boiling the buns. Just boil a few at a time.
Watch a clock when boiling. Just 30 seconds per side!
Score the rolls! After you remove the rolls, make your mark! It needs to go deep enough to score through the skin that was formed from boiling. A razor blade works best, but a very sharp knife will work too. When using a knife, I usually make two parallel lines instead of crossed lines. The knife tends to catch when making the second cut, pulling the cross or X apart.
The buns will look dimpled and slightly deflated after boiling. This is normal.
Adding the coarse salt is optional. If adding, sprinkle on just before placing in the oven.

If freezing or saving the buns to use for later, do not add the salt on top of the buns. The salt dissolves over time and causes the surface of the buns to become wet.

When making mini sized buns, reduce cooking time to 12-15 minutes
Recipe Faqs
Can pretzel buns be frozen?
Yes, these buns can be frozen. Do not add the coarse salt on top of the buns. Once the buns are fully cool, place in a single layer in a freezer zip top bag and freeze.

Buns are best used within 30 days.
How long do pretzel buns last?
The buns will last for 3-4 days when stored in an airtight container or bag at room temperature.

Serving suggestions
Slice in half and slather with a spicy mustard and layer with ham and cheese
Use a basil mayonnaise and add bacon, lettuce and tomato
Use as a hamburger bun and fill with your favorite burger
Eat plain with a bit of butter or honey butter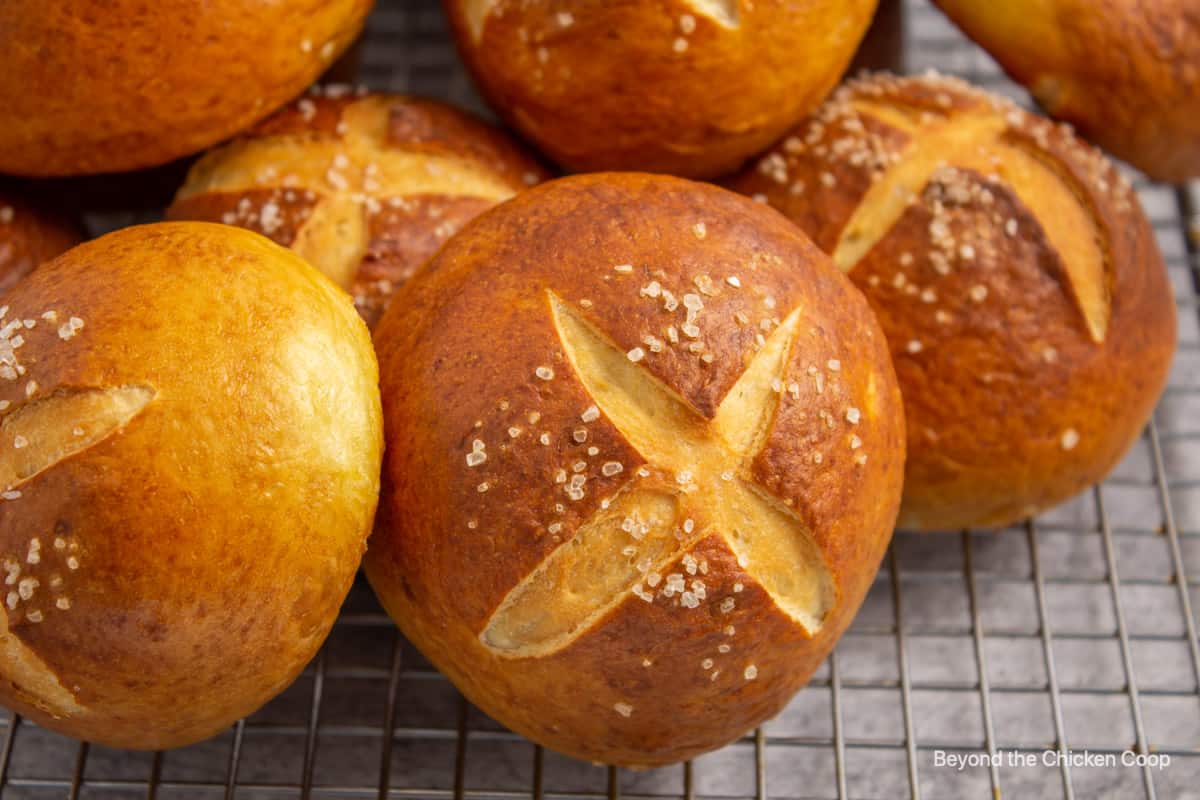 If you make this recipe, I'd love to hear about it! Leave a comment below and snap a picture and tag me on Instagram @beyondthechickencoop
Be certain to check out all my homemade bread recipes!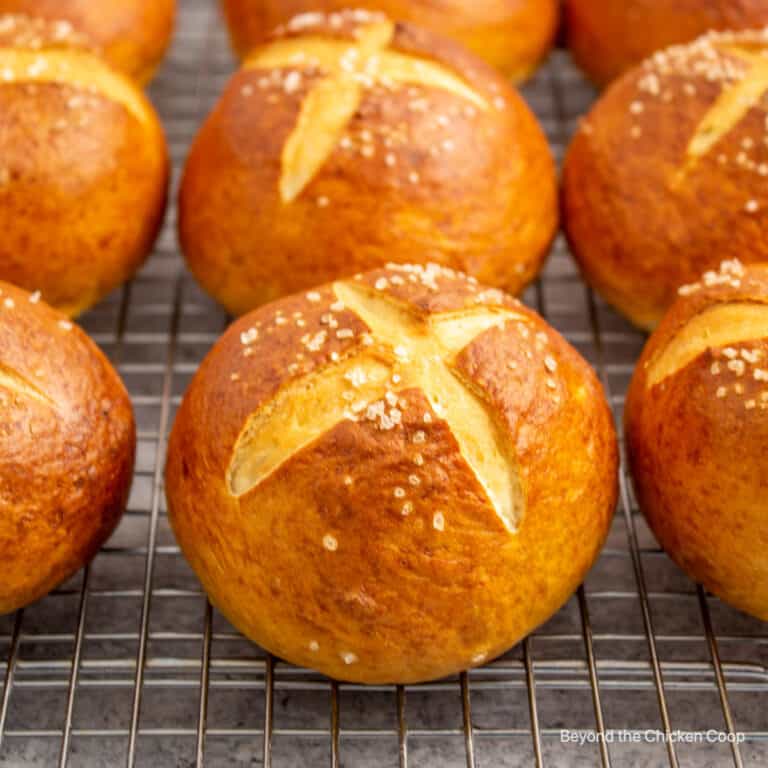 Pretzel Buns
Delicious homemade rolls with a pretzel like crust.
Ingredients
Dough
1¾

cups

water

(warm)

2¼

teaspoons

active dry yeast

1

teaspoon

sugar

4 - 4¼

cups

flour

3

tablespoons

butter

(melted and cooled)

1

teaspoon

salt
Water Bath
2

quarts

water

¼

cup

baking soda
Instructions
Place warm water in a mixing bowl

Sprinkle yeast and sugar on top. Stir just lightly so the yeast is mixed in. Allow mixture to sit for 5 minutes, until it is bubbly

2¼ teaspoons active dry yeast,

1 teaspoon sugar

Mix in two cups of the flour, melted butter and salt

4 - 4¼ cups flour,

3 tablespoons butter,

1 teaspoon salt

Continue stirring in flour until dough comes together to form a ball. You might not need all the flour.

Knead dough for 8-10 minutes until dough is soft and supple

Form dough into a large ball and place in a lightly greased bowl. Cover and let rise until doubled - 1 - 1 ½ hours.

Gently deflate dough and divide into 12 equal pieces

Form each piece into a smooth ball and place on a baking sheet lined with parchment paper that has been lightly sprayed with a nonstick spray

Cover with a clean dish towel and allow rolls to rise for 20-30 minutes

While rolls are rising, preheat oven to 425°F and set up a pot with water and baking soda. You want the water at a rolling boil when the rolls have risen.

2 quarts water,

¼ cup baking soda

Place 2-4 rolls in the boiling water. Boil for 30 seconds on each side. Remove with a slotted spoon and place back on parchment lined baking sheet.

Slice each roll with cross marks with a razor or very sharp knife

Continue with remaining rolls

Sprinkle with coarse salt just before baking, optional

Bake in preheated 425°F oven for 18-20 minutes

Remove rolls from oven and transfer to a baking rack

Once buns are completely cool, place in an airtight container and store at room temperature
Notes
Don't skip the baking soda bath! - This is what creates the pretzel like exterior on these buns.
Do not overcrowd your pot when boiling the buns. Just boil a few at a time.
Watch a clock when boiling. Just 30 seconds per side!
Score the rolls! After you remove the rolls, make your mark! It needs to go deep enough to score through the skin that was formed from boiling. A razor blade works best, but a very sharp knife will work too. When using a knife, I usually make two parallel lines instead of crossed lines. The knife tends to catch when making the second cut, pulling the cross or X apart.
After boiling, the buns will look dimpled and slightly deflated. This is normal.
Adding the coarse salt is optional. If adding, sprinkle on just before placing in the oven.

If freezing or saving the buns to use for later, do not add the salt on top of the buns. The salt dissolves over time and causes the surface of the buns to become wet.

When making mini sized buns, reduce cooking time to 12-15 minutes
Nutrition
Serving:
1
Bun
Calories:
185
kcal
Carbohydrates:
33
g
Protein:
5
g
Fat:
3
g
Saturated Fat:
2
g
Polyunsaturated Fat:
1
g
Monounsaturated Fat:
1
g
Trans Fat:
1
g
Cholesterol:
8
mg
Sodium:
424
mg
Potassium:
67
mg
Fiber:
2
g
Sugar:
1
g
Vitamin A:
87
IU
Vitamin C:
1
mg
Calcium:
14
mg
Iron:
2
mg