Homemade Pita Bread is perfect for filling or wrapping.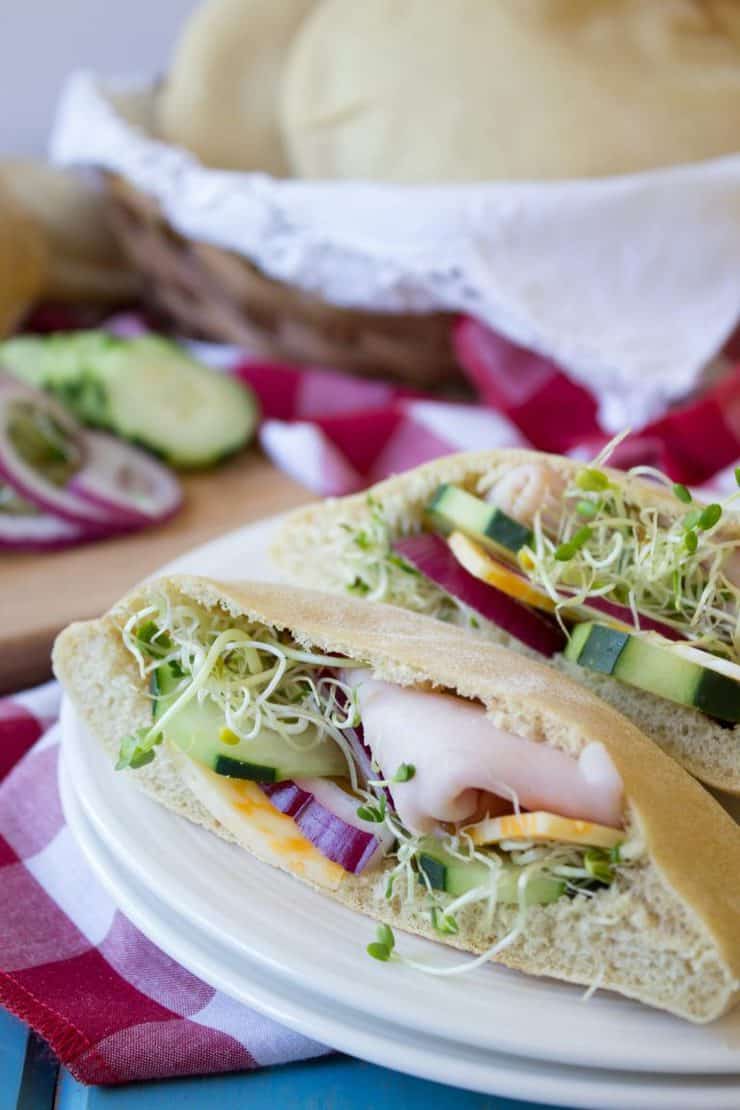 These homemade pitas were really fun to make! I love making bread of almost any kind. There's just something about working with the dough, watching it rise and then there's that amazing smell while it's baking! What's not to love?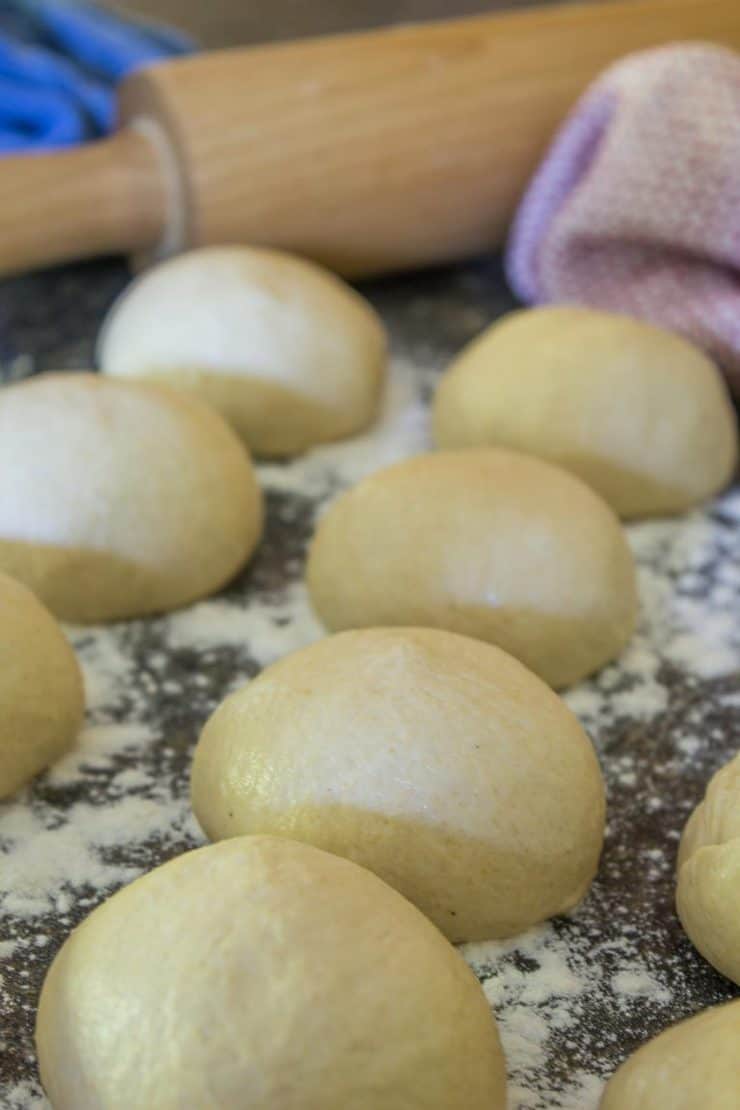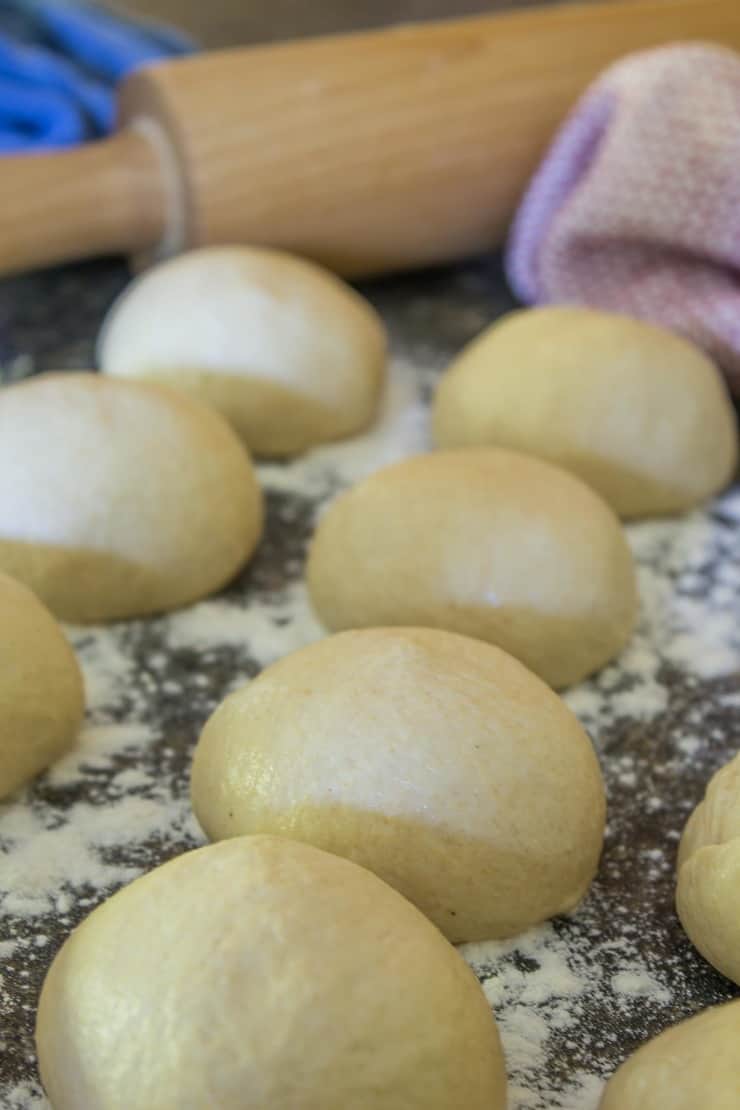 What is Pita Bread?
Pita bread is a round, flat, yeast bread that is common in the Mediterranean and the Middle East. Pitas often form a pocket inside when they are baking.
This pita recipe is made with whole wheat and regular white flour. When I use whole wheat flour, I usually use a white whole wheat flour. White whole wheat flour is different than traditional whole wheat flour. It is made from a different type of wheat.
It's milled from a white spring wheat rather than the traditional red spring wheat. It has a lighter flavor. You can use either type of whole wheat flour.
I like to use the white whole wheat in my baking since it has such a mild flavor.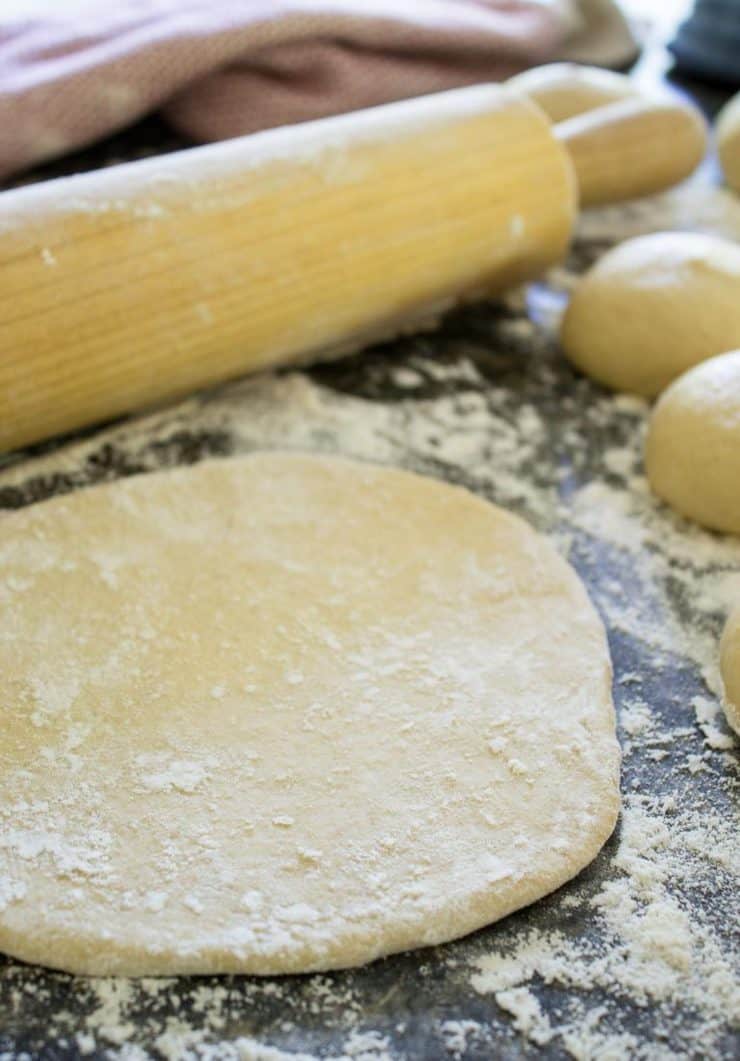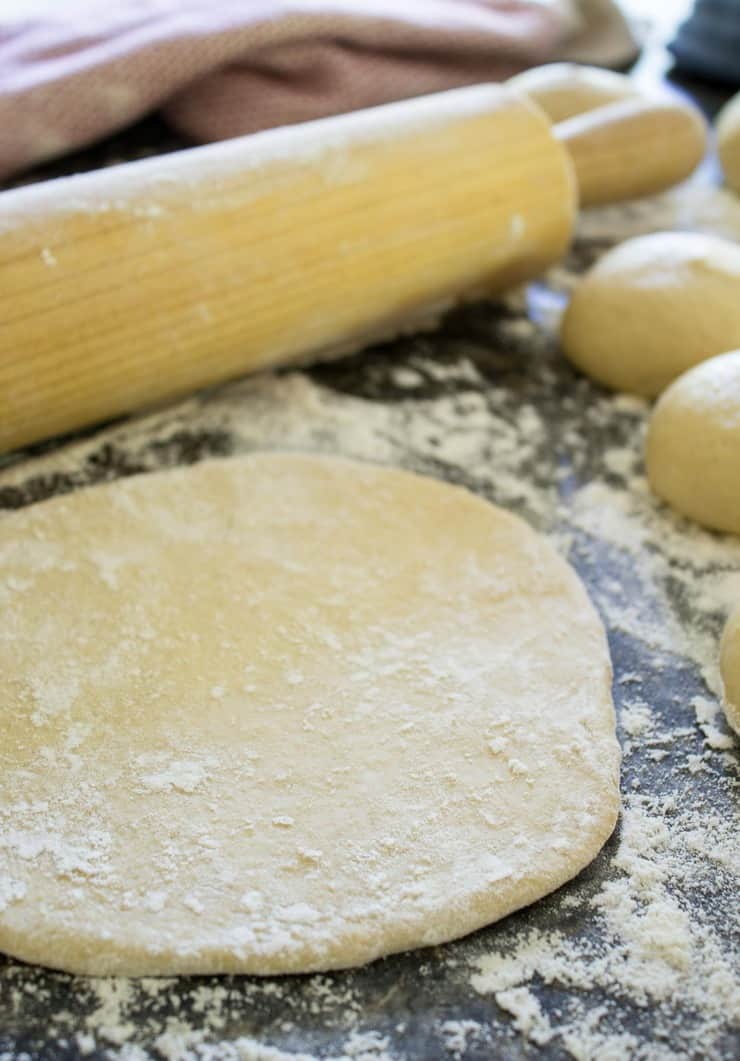 You do need a bit of counter space when making these pitas. The space is for all the rolled out pitas. Once you roll them out, they need a place to rise. Plan for 12, six inch rounds all on the counter.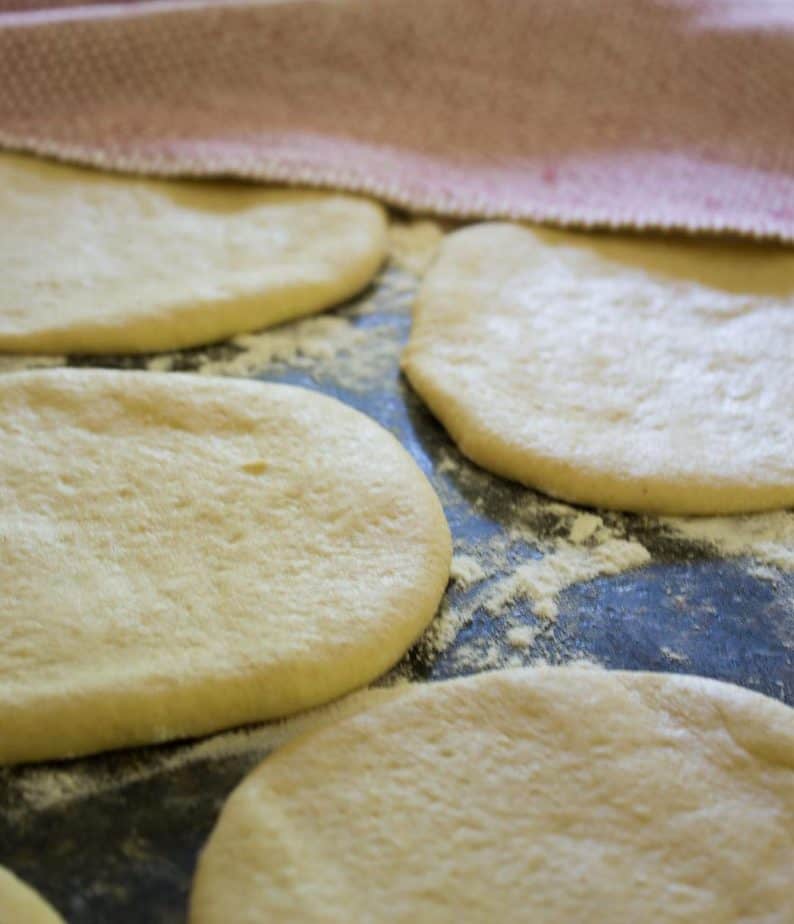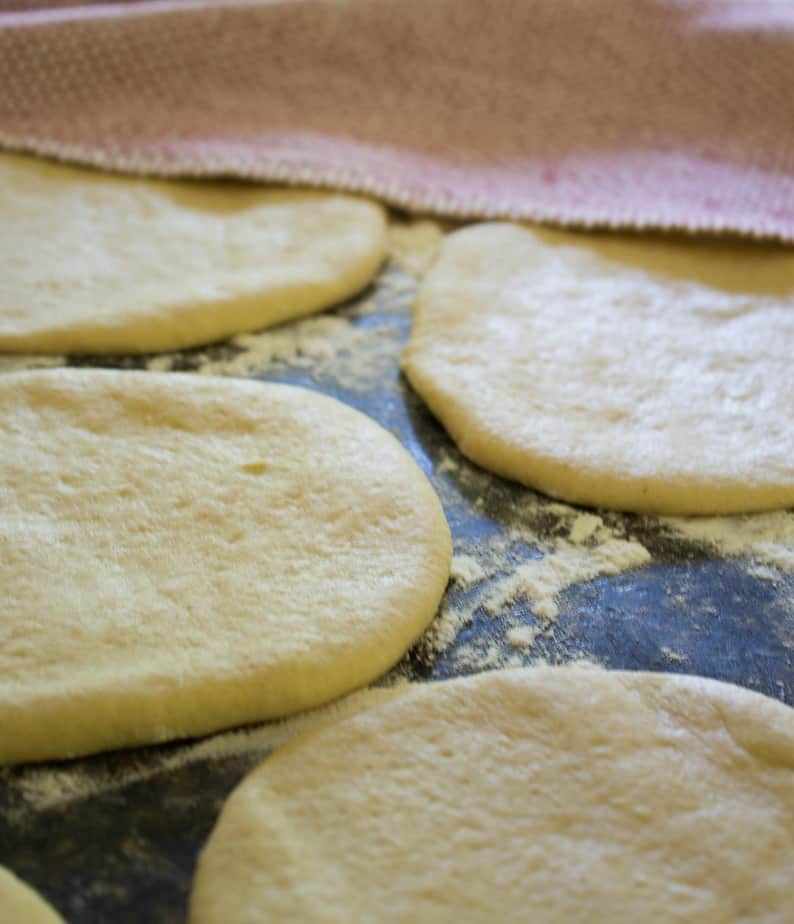 These pitas poof up when they bake, creating a pocket. I have to be totally honest, not all my pitas created a pocket. I actually had four that decided to stay flat! They were still great to eat. There just wasn't a pocket inside.
I adapted this recipe from Fine Cooking. In the article, the author also states not all the pitas create a pocket. That made me feel a bit better!
How to Make Certain Your Pitas Form a Pocket
Allow the rounds enough time to rest.
Handle the rounds as gently as possible when moving to a baking sheet.
Don't overcrowd the baking sheet.
What is the difference between Pita Bread and Naan Bread?
Pita bread and naan bread has some similarities. They are both a round flatbread. Naan is usually made with additional ingredients including yogurt, milk, eggs, and butter.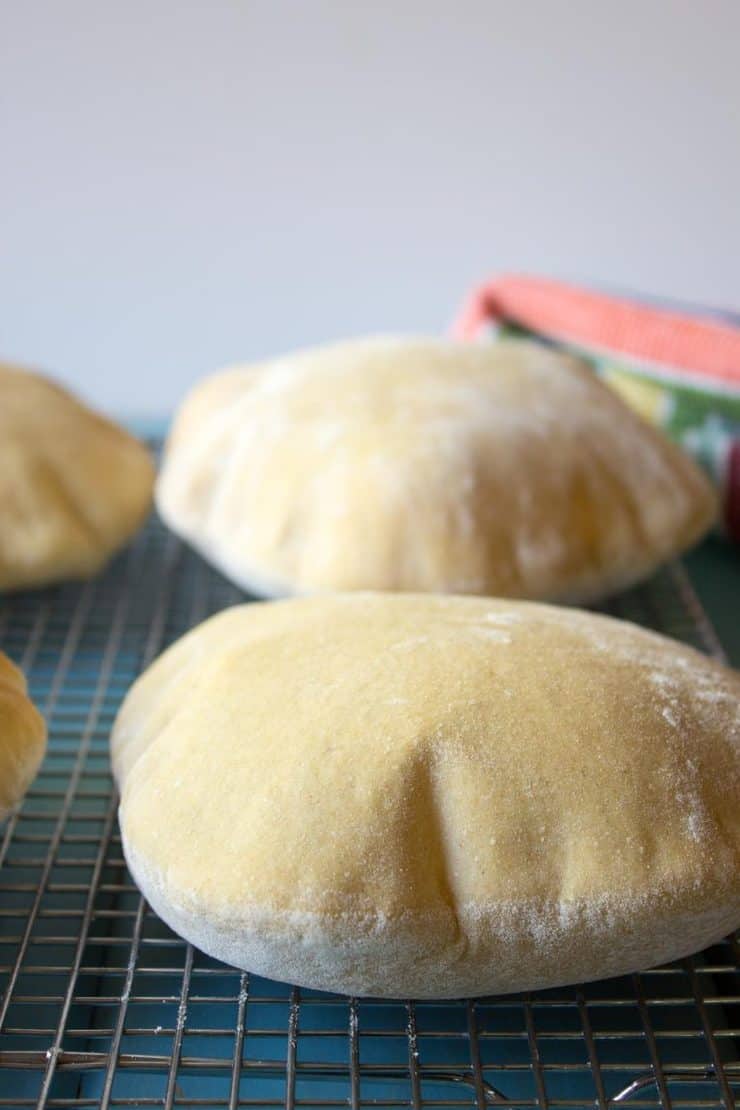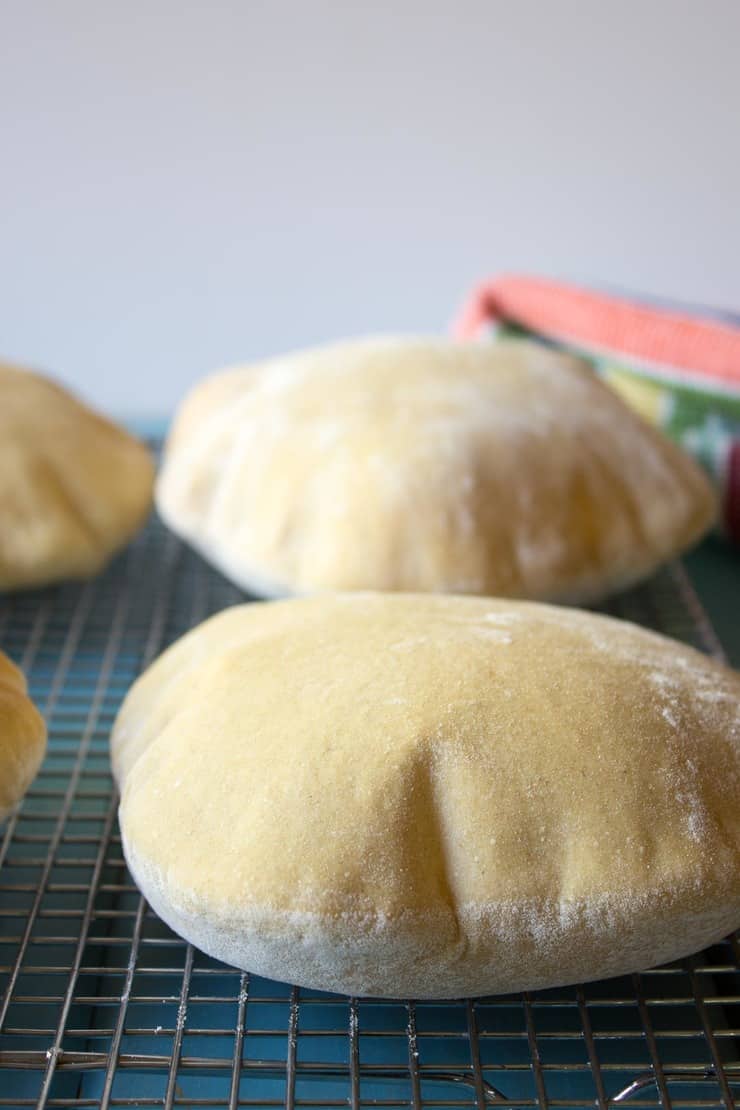 Once the pitas have cooled, slice in half and fill with your favorite lunch fixings or slice the pitas and dip into your favorite hummus.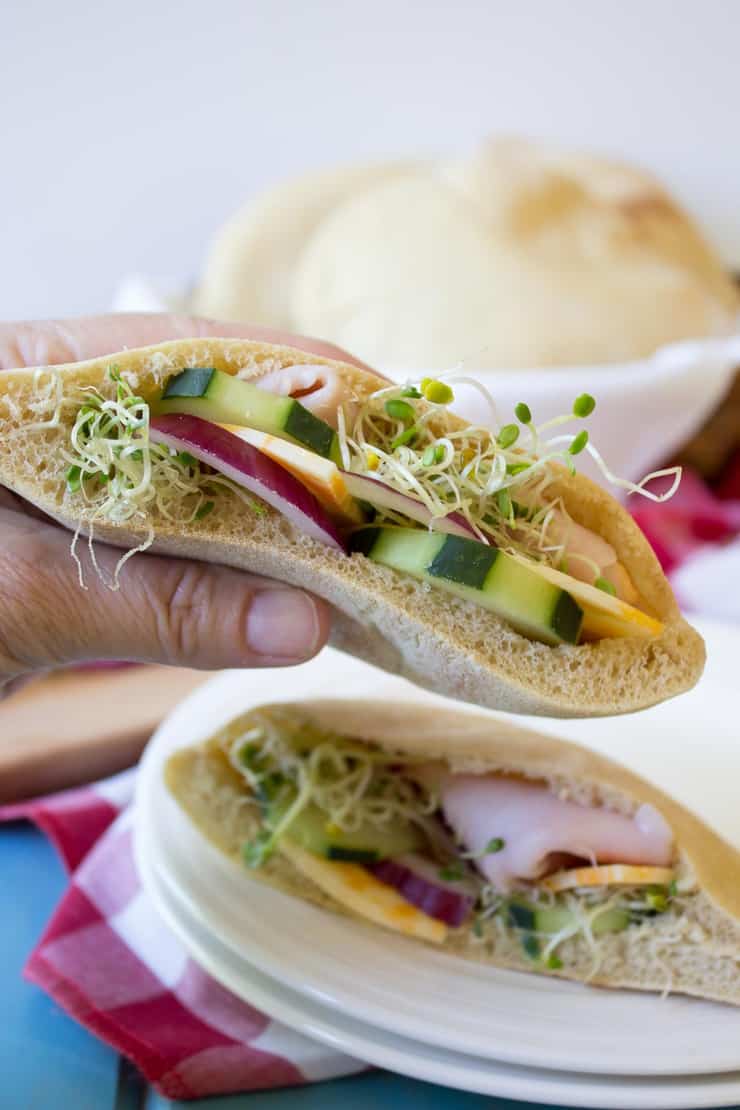 You can use these pitas to make Baked Pita Chips.
Homemade Bread Recipes: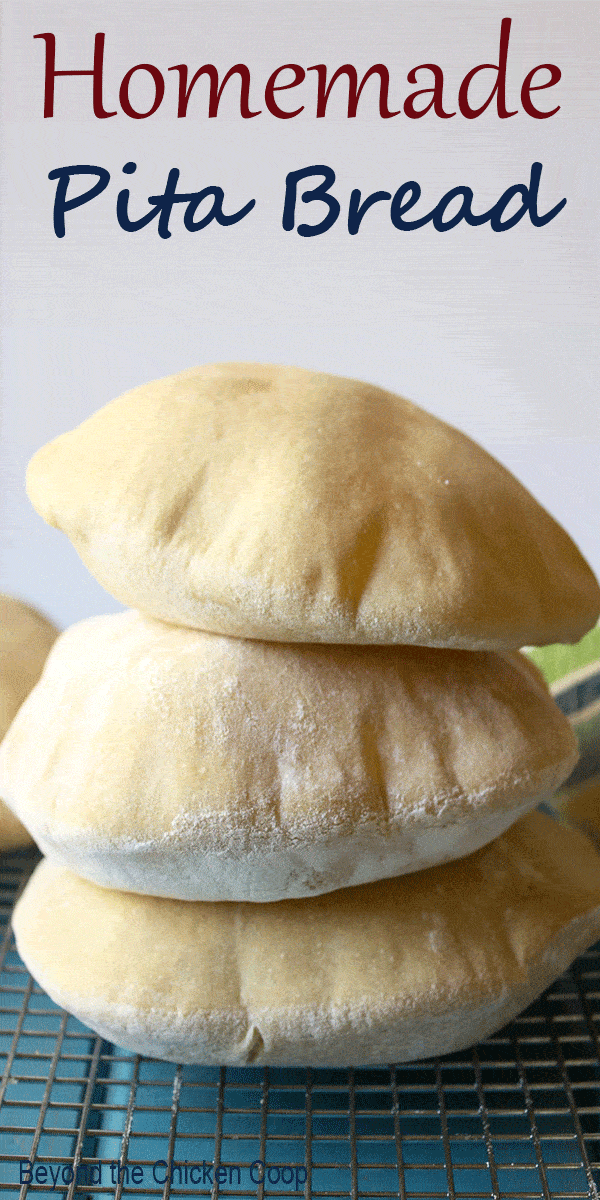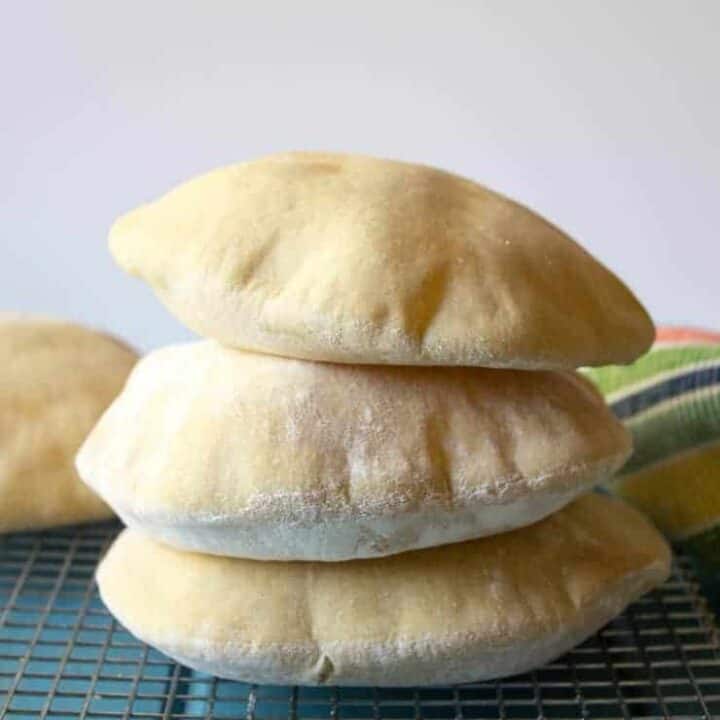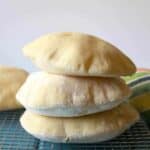 Homemade Pita Bread
Cuisine:
American, Mediterranean
Keyword:
flat bread recipe, homemade bread, homemade pita bread, how to make pita bread, pita bread recipe, whole wheat pita bread
Ingredients
2

Cups

Warm Water

2 1/4

teaspoons

Yeast

1

Tablespoon

Honey

1/4

Cup

Olive Oil

1

teaspoon

salt

3

Cups

All-Purpose Flour

2 1/2

Cups

White Whole Wheat Flour
Instructions
In a large mixing bowl for a stand mixer, add water, yeast and honey. Let sit until bubbly.

Add olive oil, salt and 2 cups of flour. Mix on low speed.

Continue adding flour one cup at a time until all flour is incorporated.

Knead in stand mixer for 5 minutes or by hand for 10 minutes.

Shape dough into a round and place in a bowl greased with olive oil. Rotate the dough so all sides get coated with the oil. Cover bowl with plastic wrap or a clean dish towel. Let set for 1 hour or until dough has doubled in size.

Gently deflate the dough. Place dough on a lightly floured surface. Divide dough into fourths. Divide each fourth into three equal parts. You want 12 equally divided pieces of dough.

Shape each piece into a smooth ball. Place one piece of dough on the counter. Cup your hand over the dough. Rotate the dough in a circular motion with your hand until it becomes a smooth ball. Set aside and cover with a clean towel. Repeat with remaining pieces.

Roll out each piece of dough on a lightly floured surface to approximately 6 inches. Place each round on a lightly floured surface. Cover with a clean towel. Repeat with remaining dough.

Let dough rest for one hour. The dough will not rise very much during this time.

Preheat oven to 500 degrees Fahrenheit. Place a baking sheet on the bottom rack of the oven. This sheet will not be used for baking but helps create a barrier for the bottom of the bread so it doesn't become too brown.

Place four rounds of dough onto an ungreased baking sheet. Do not overlap dough. Bake for 5-6 minutes until lightly browned. Remove pitas to a baking rack and repeat with remaining dough.
Recipe Notes
Not all pitas will create a pocket. Handle rolled out rounds carefully when moving to baking sheet.
Regular whole wheat flour can be used in place of the white whole wheat flour.
2 1/4 teaspoons of yeast equals one packet of yeast.
Recipe adapted from Fine Cooking. 
Nutrition Facts
Homemade Pita Bread
Amount Per Serving
Calories 249
Calories from Fat 45
% Daily Value*
Total Fat 5g 8%
Sodium 195mg 8%
Potassium 82mg 2%
Total Carbohydrates 43g 14%
Protein 7g 14%
* Percent Daily Values are based on a 2000 calorie diet.