This post may contain affiliate links, see my Privacy Policy.
Homemade English Muffins made with sourdough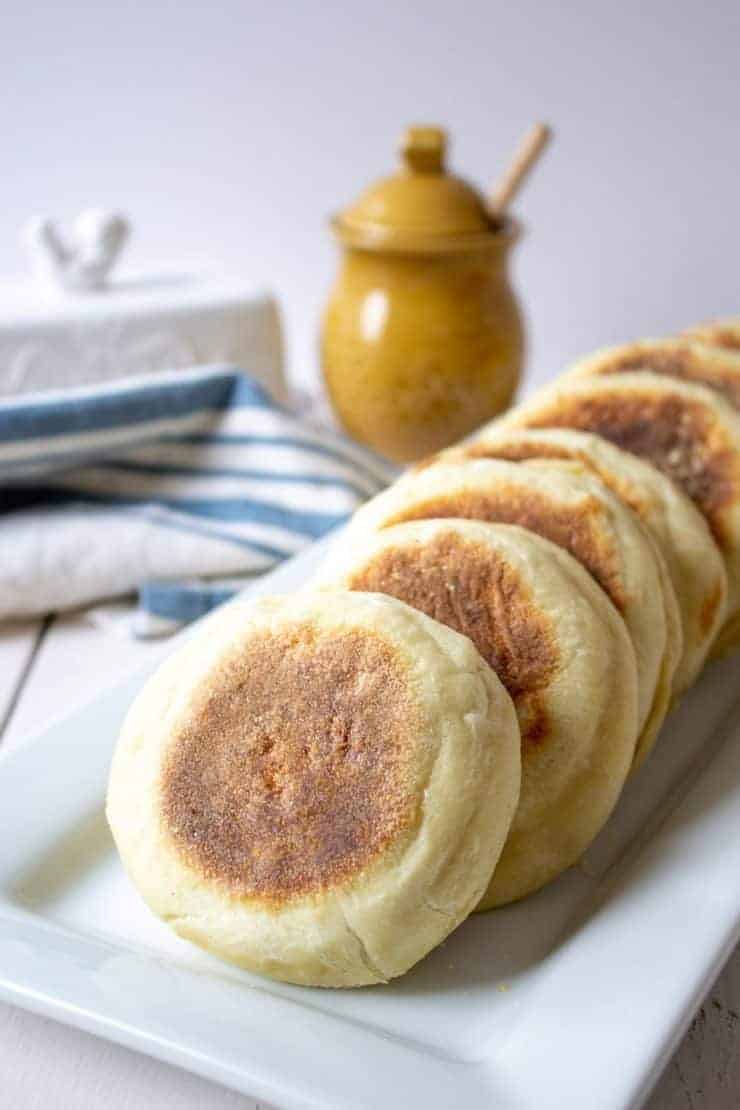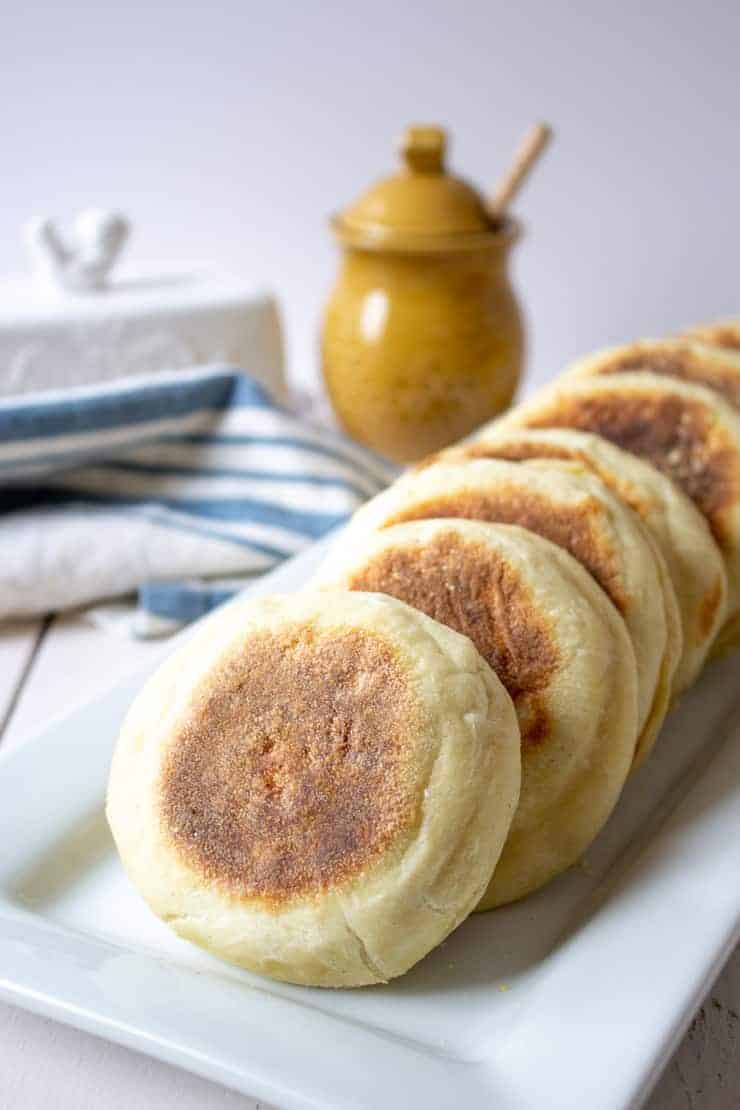 Homemade sourdough English muffins take a little bit of time to make, but are worth every minute! I made English muffins before, but this time I wanted to mix it up a bit and used sourdough.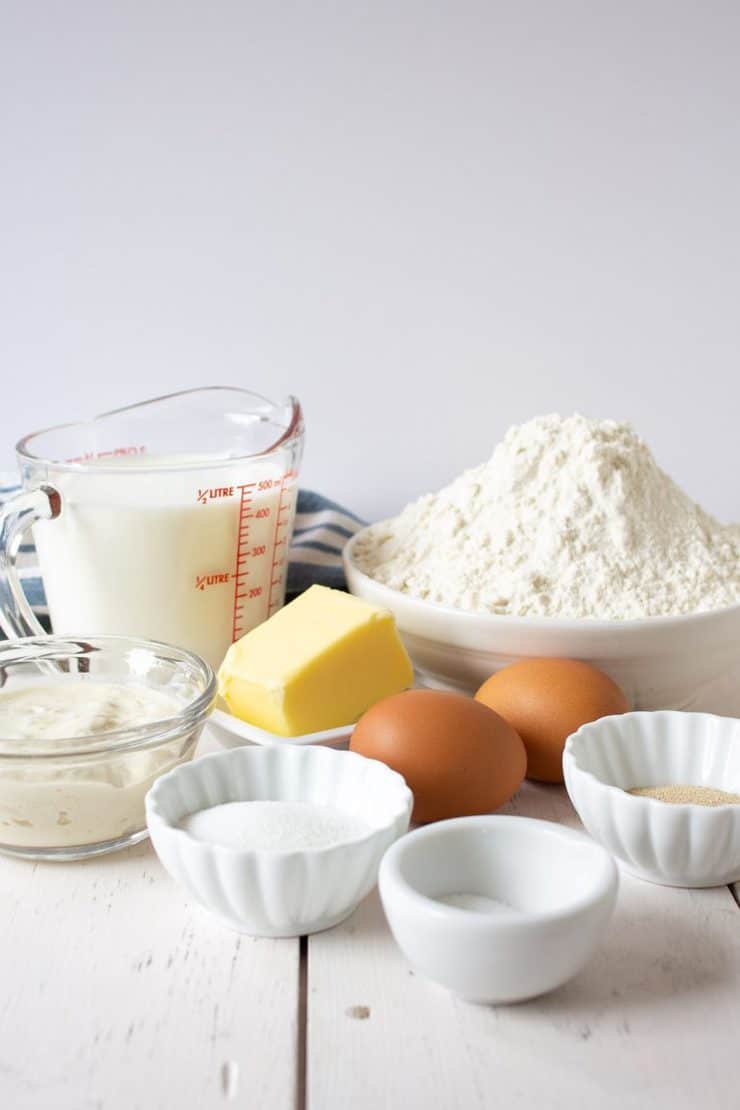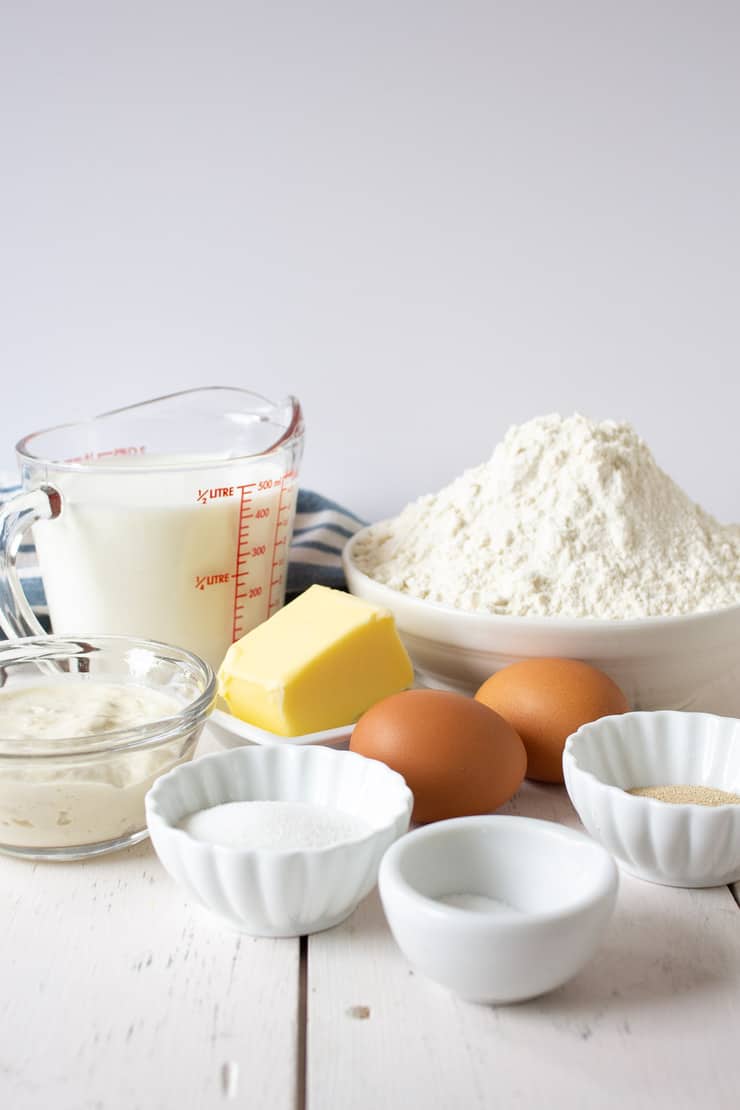 To make these English muffins, you need to first start by making a sourdough starter. If you already have a starter on hand, use that.
Otherwise plan at least one extra day for the sourdough starter. If you can make the starter 2-3 days ahead of time, your starter will have more flavor.
To Make Sourdough Starter
Combine equal parts of flour and water
Whisk together until smooth
Place in an uncovered glass jar and set aside at room temperature
Let starter sit for 1-3 days
The longer it sits, the more sour the taste
If sourdough separates, just whisk back together before using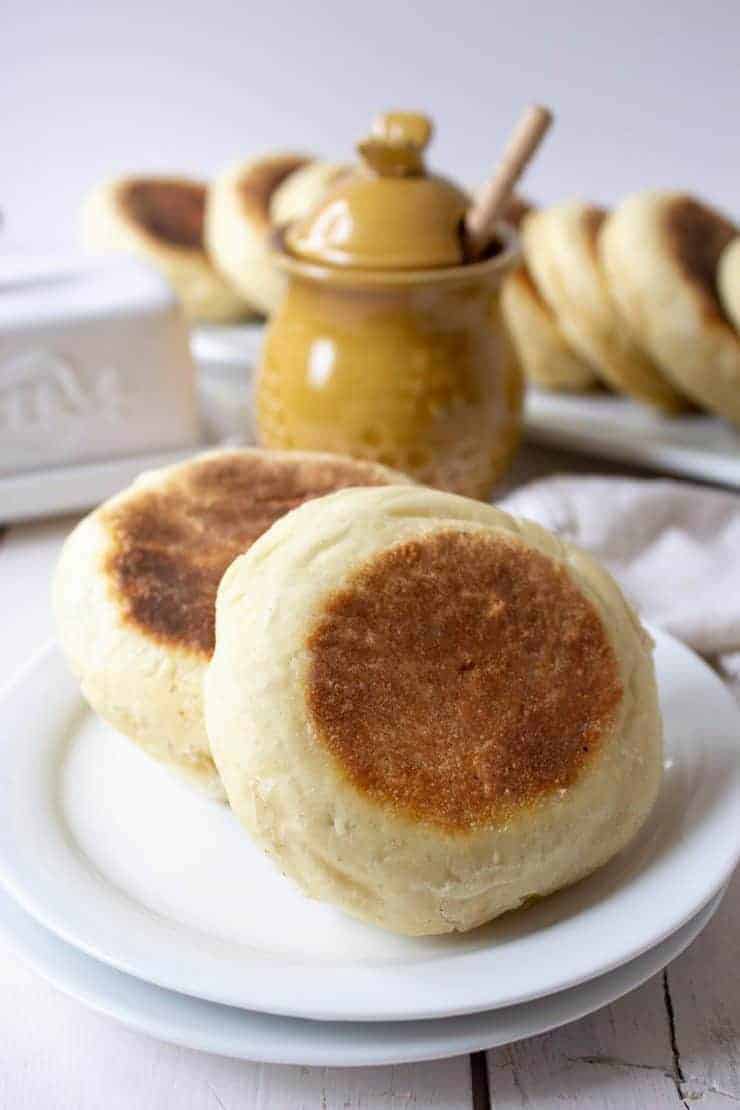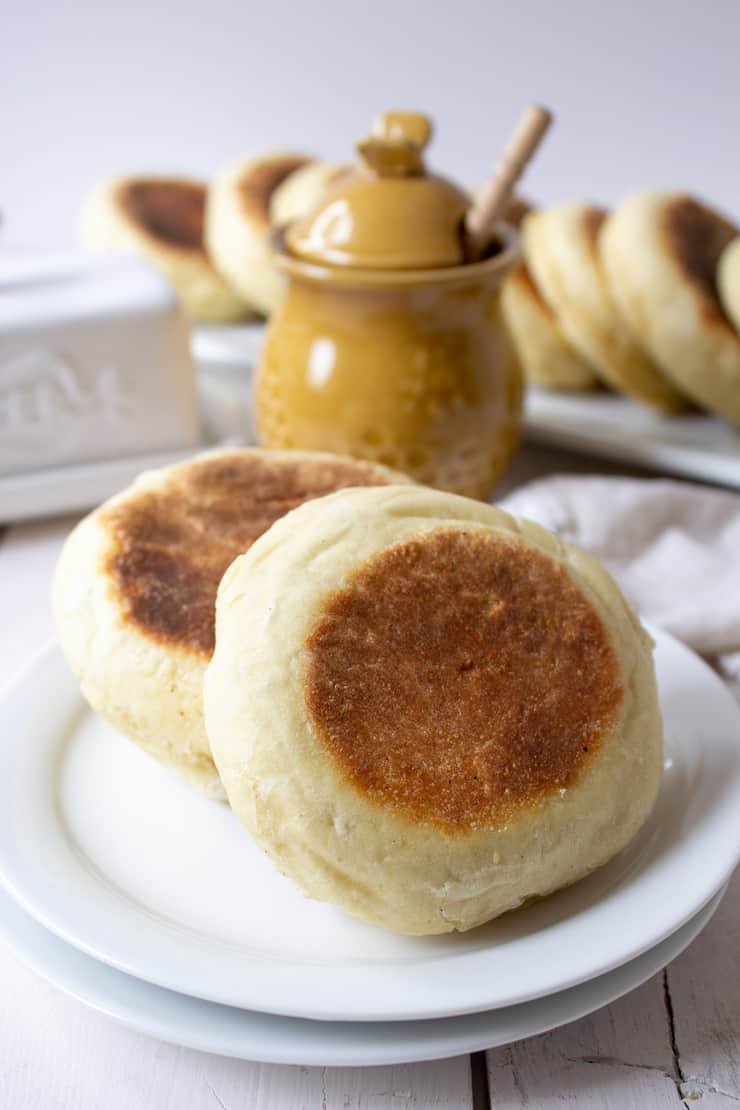 English muffins are made with a yeast dough, but unlike most breads made with yeast, these are not baked. They are pan fried.
You make the dough just like a traditional bread dough. You let the dough rise, punch it down and form into the muffins and let rise again.
After the second rise, they are cooked on an ungreased hot skillet. I like to use a cast iron skillet. Cook for 3 minutes on each side and then flip. I do this twice per English muffin so teach takes about 12 minutes to cook. It takes a bit of time to get the pan just right. I cook these over a medium low heat. If the pan feels too hot, just lower the temperature.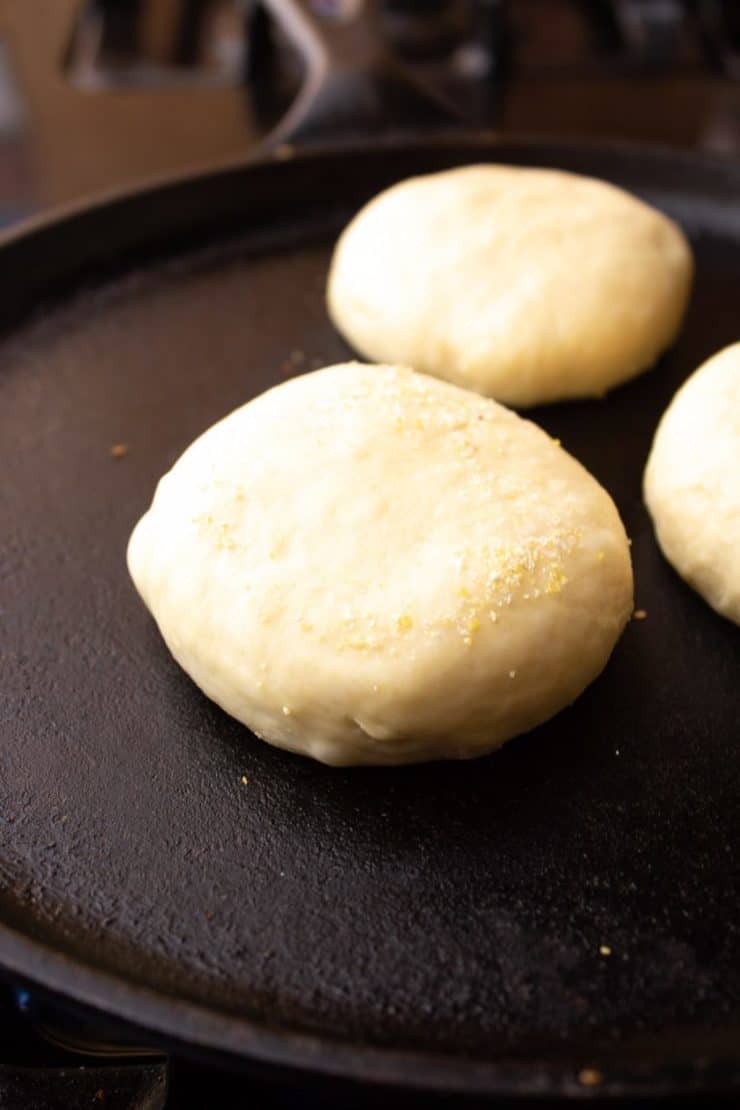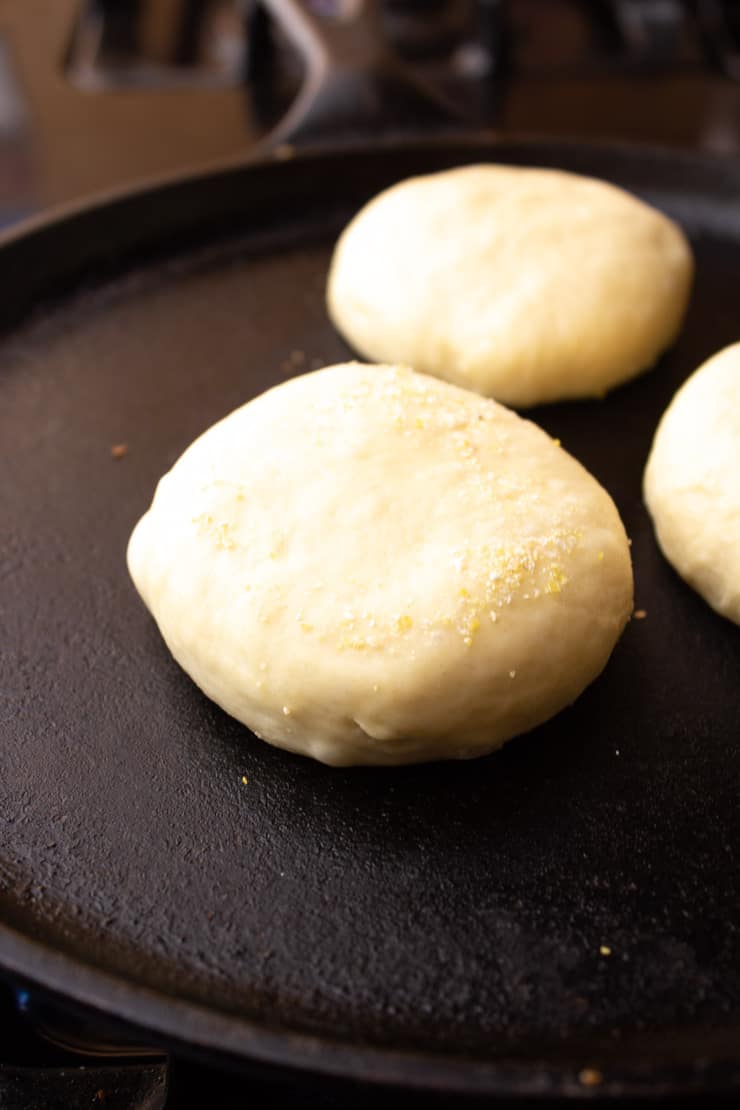 After your muffins are cooked, allow muffins to fully cool. Then your muffins are ready to eat.
Split your muffins in half and pop in the toaster for a nicely toasted treat. To split your muffins, use a fork. Just poke the tines of the fork through the middle of the muffins. Continue all the way around the muffin and then pry open with fork.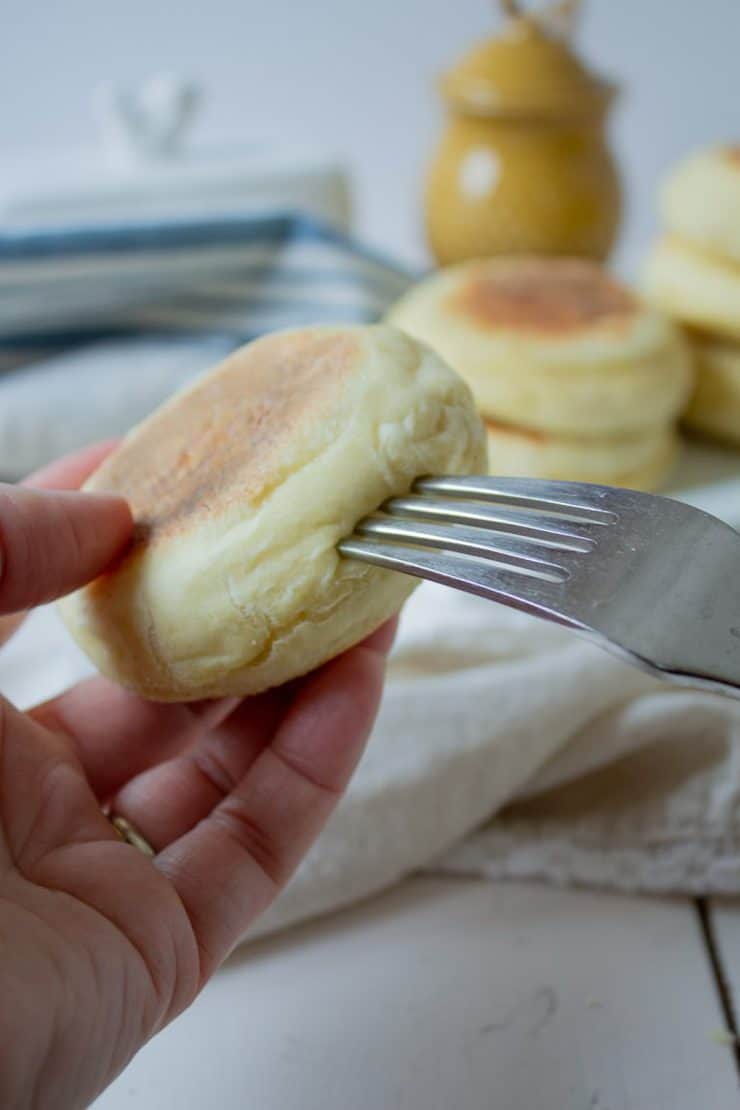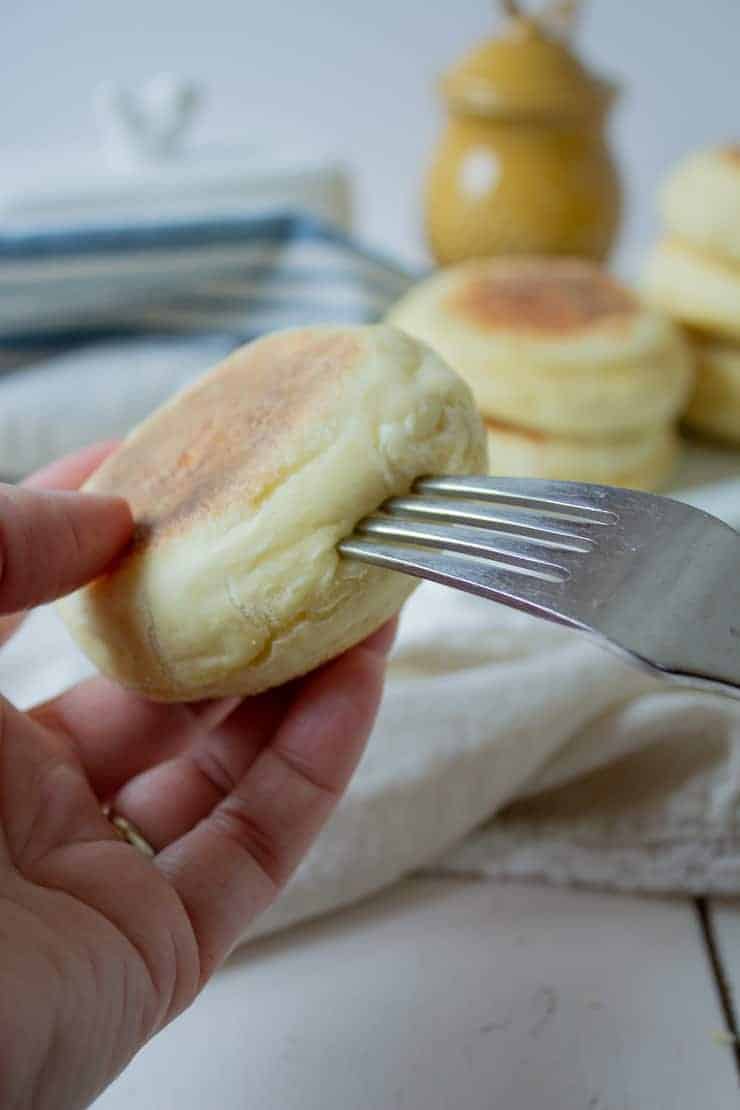 Why Fork Split English Muffins?
Fork splitting leaves a craggy surface on the interior of the muffin
The nooks and crannies created by fork split are perfect for butter or jam
The uneven surfaces toast up with brown bits, adding extra flavor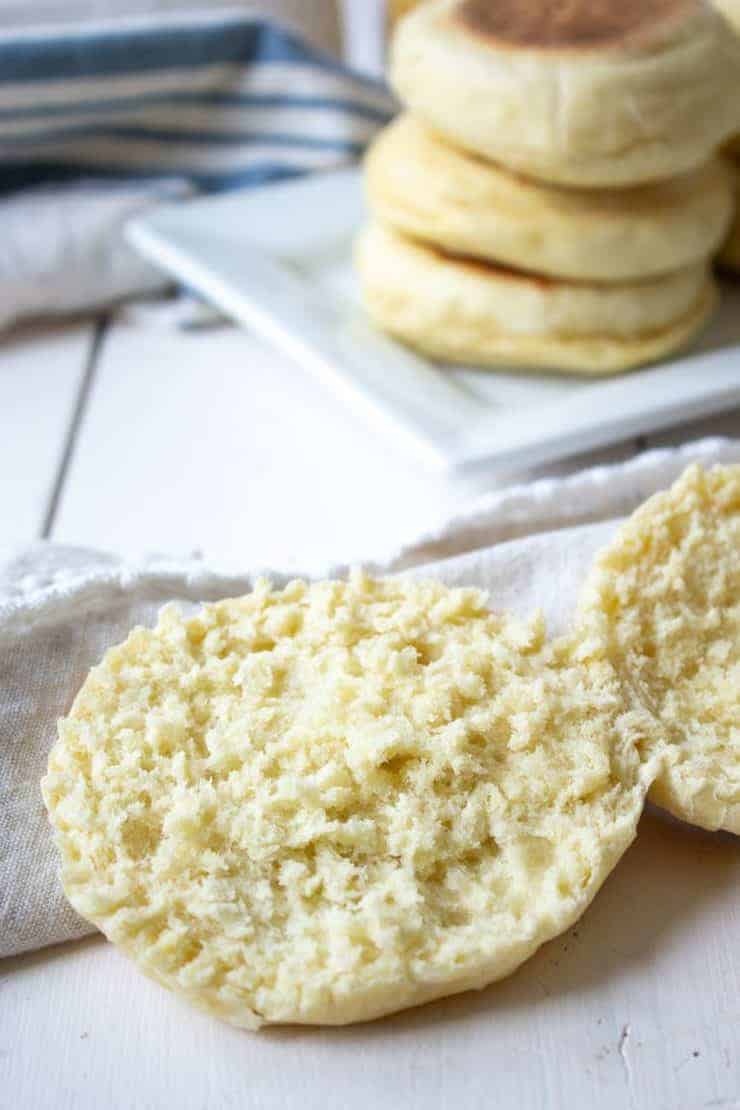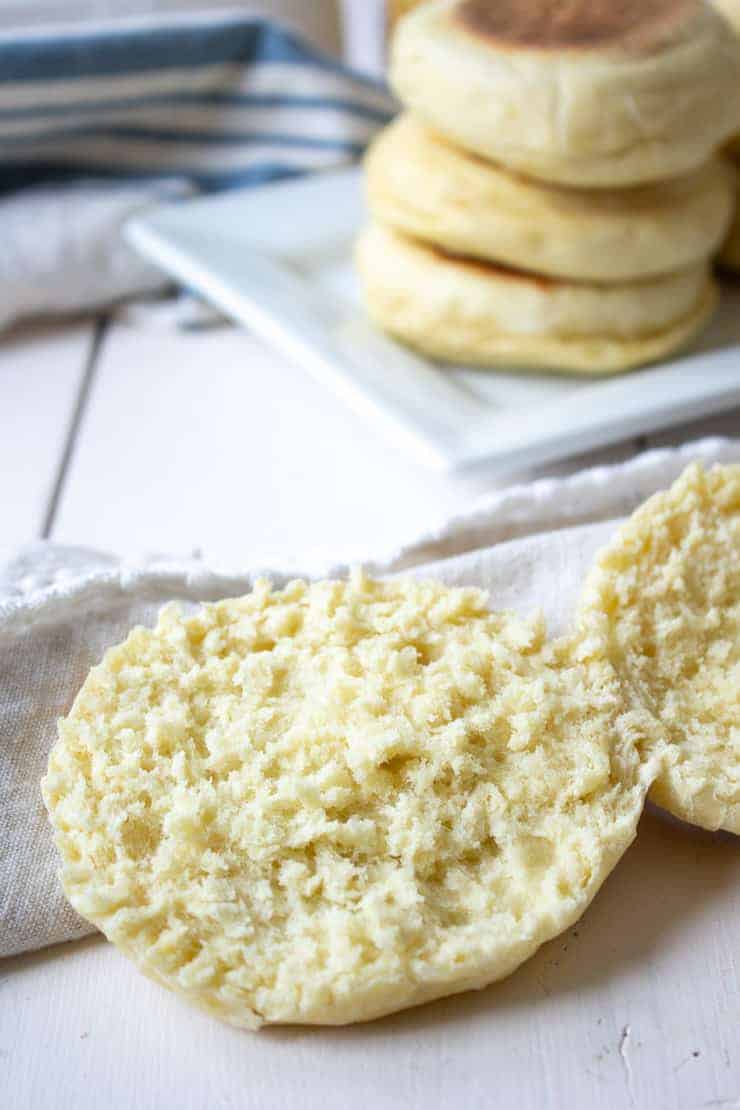 You can always split your muffins with a knife too, but you do lose that uneven surface. In the photo below, the knife cut muffin is in front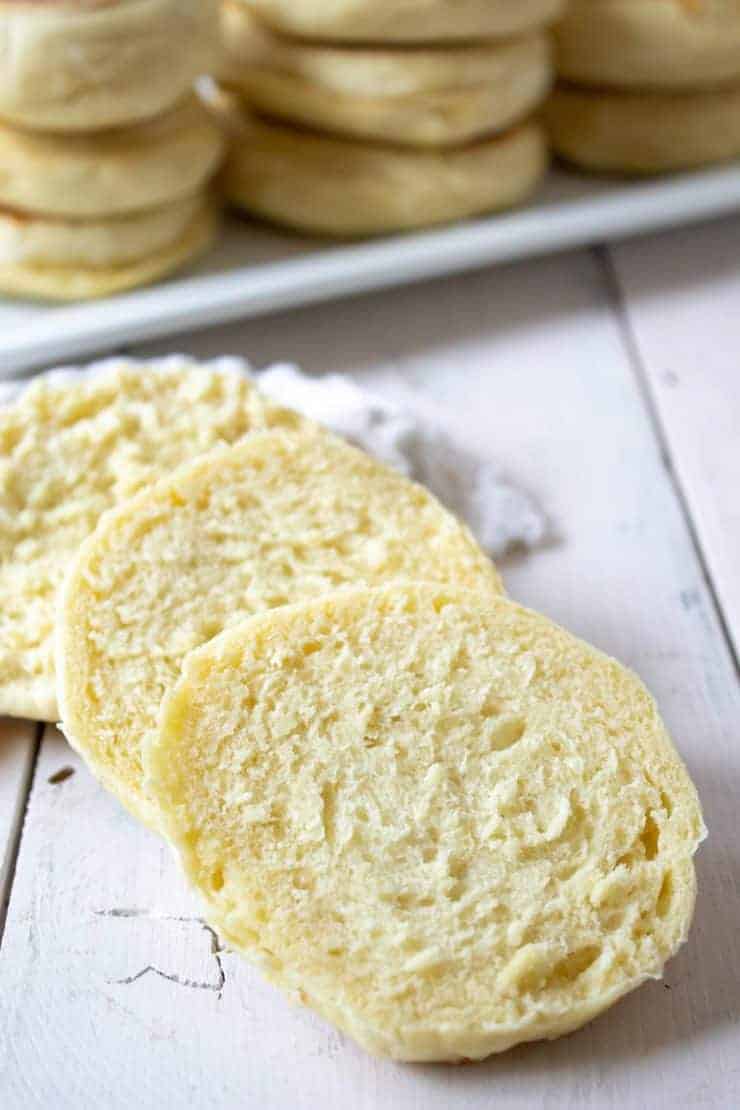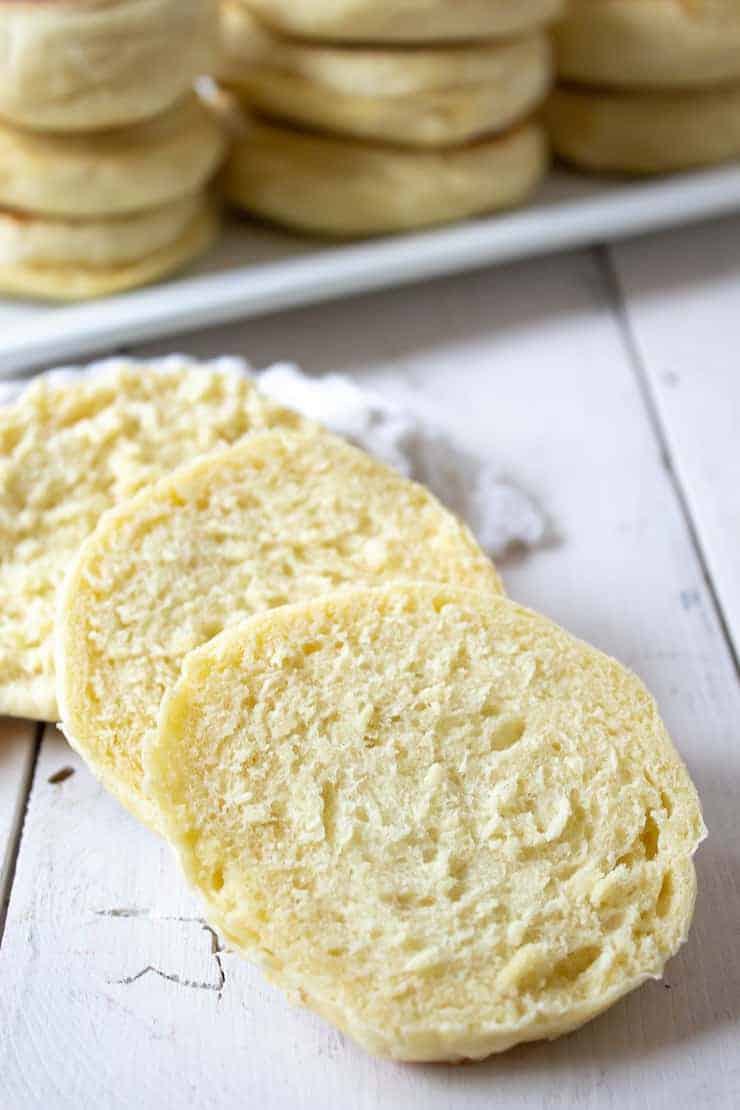 This recipe makes 24 English Muffins. These only stay fresh tasting for a few days so I usually freeze at least half the batch.
To Freeze English Muffins
Allow muffins to fully cool
Fork split or leave whole
Place in a single layer in a freezer safe container or bag
To use, remove from freezer and let thaw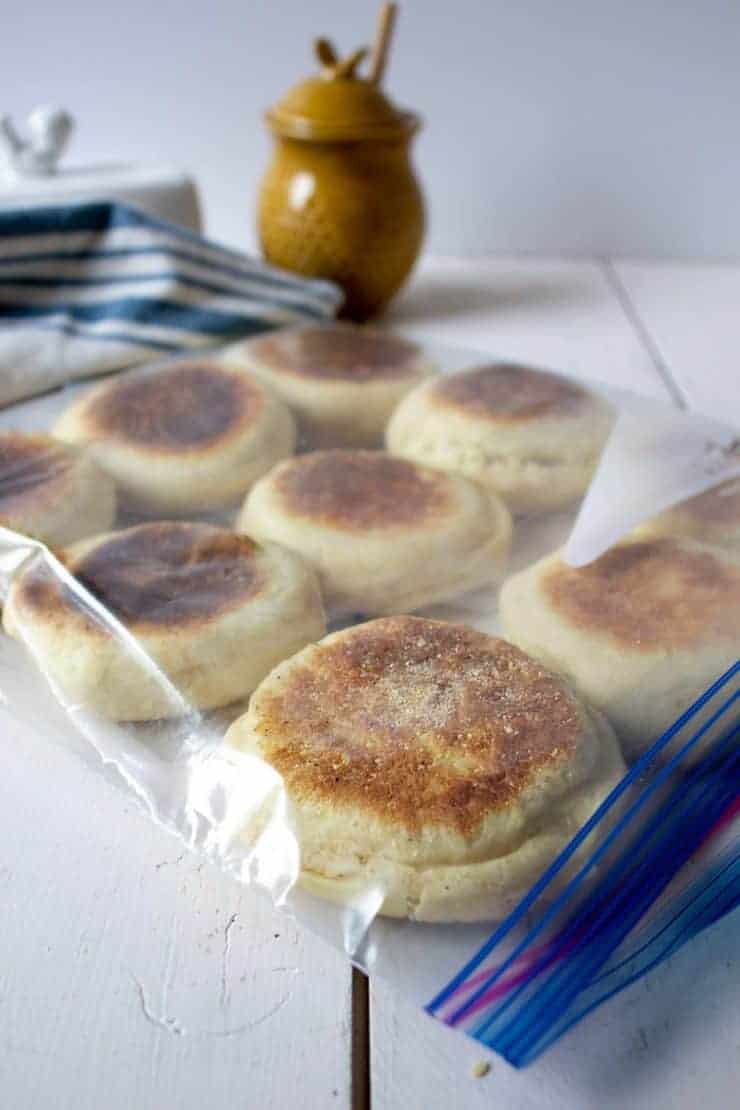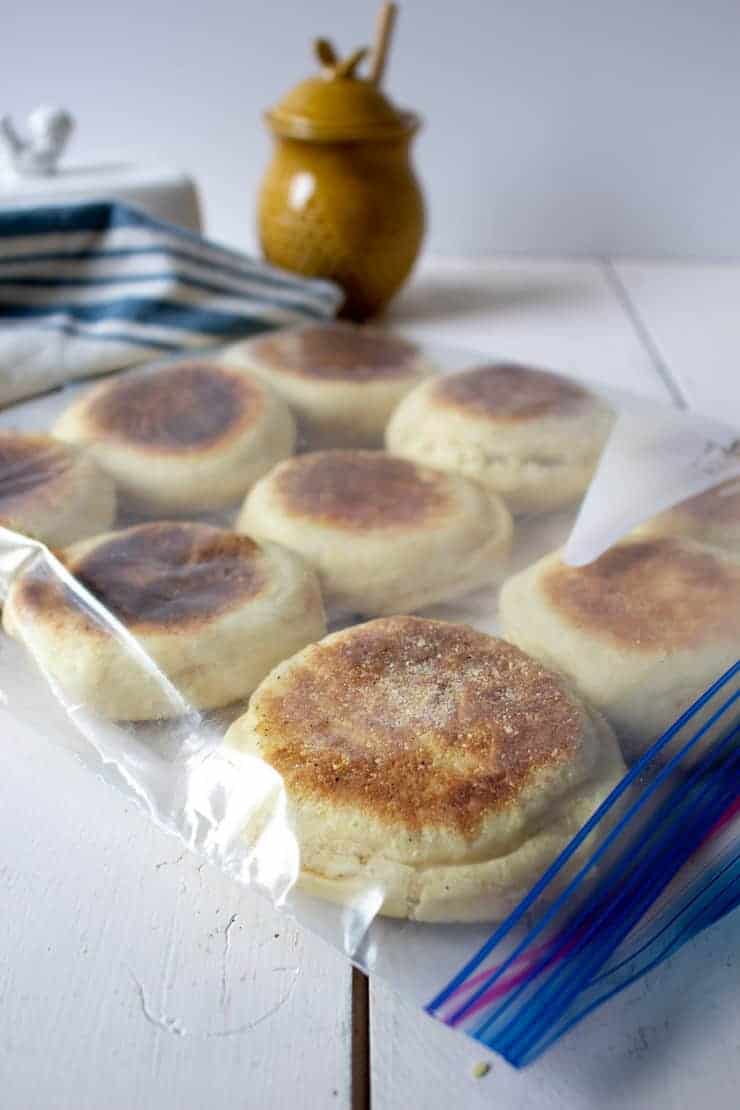 These muffins are perfect for making Breakfast Sandwiches with a scrambled egg and breakfast sausage. They are also perfect with a bit of homemade strawberry jam!
Don't Forget to Pin for later!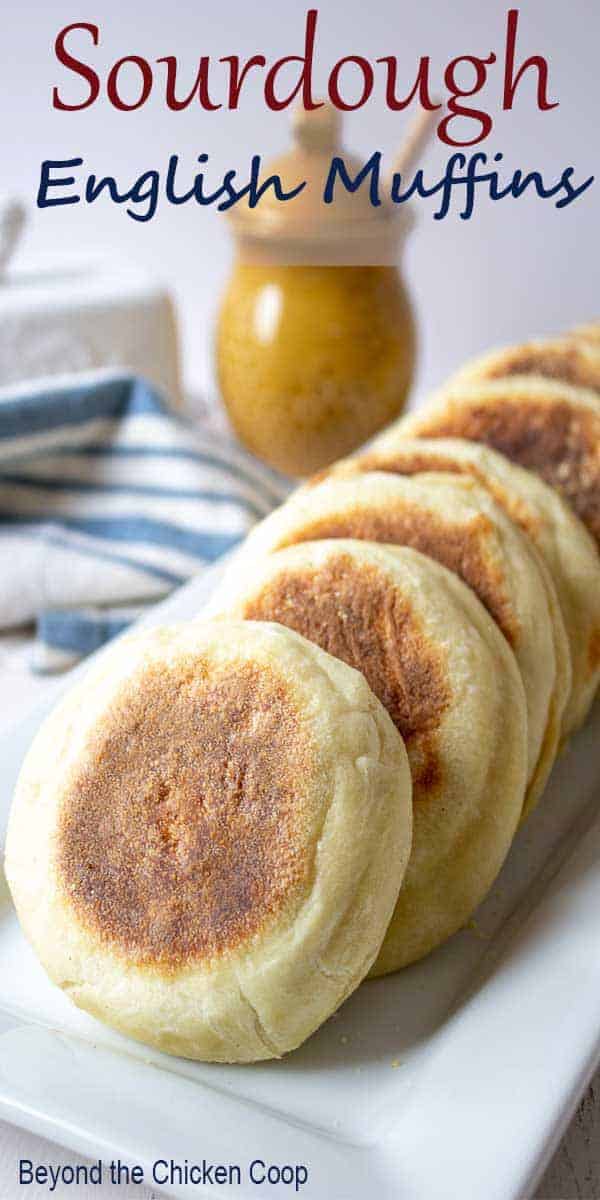 If you make this recipe, I'd love to hear about it! Leave a comment below or snap a picture and tag me on Instagram #beyondthechickencoop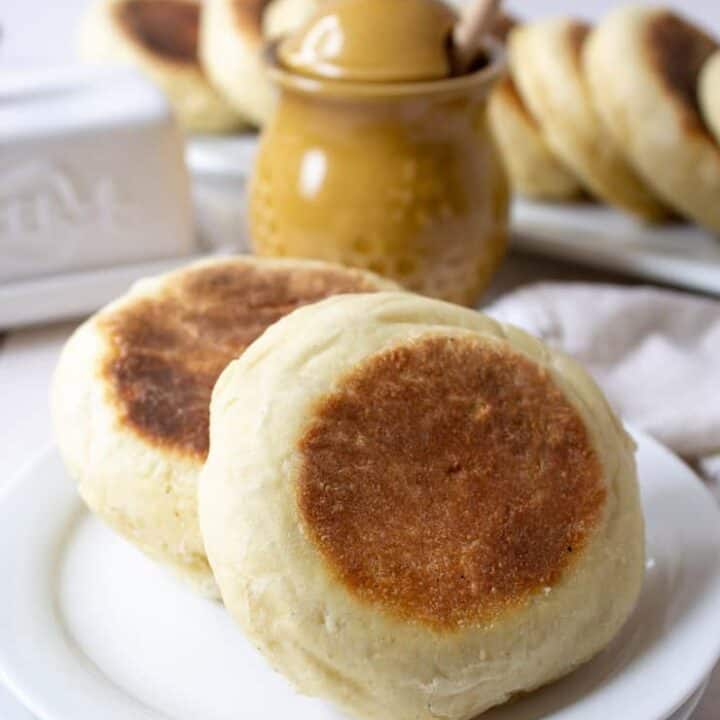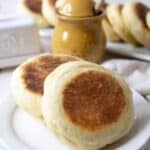 Sourdough English Muffins
Homemade Sourdough English Muffins
Keyword:
English Muffins, Homemade English Muffins, Sourdough English Muffins
Ingredients
Sourdough Starter
1/2

cup

flour

1/2

cup

water
English Muffins
2

cups

milk

warmed

2 1/4

teaspoons

active dry yeast

2

tablespoons

sugar

1/2

cup

sourdough starter

1/4

cup

butter

2

eggs

1

teaspoon

salt

6 - 6 1/2

cups

flour
Instructions
Sourdough Starter
Combine flour and water together in a glass jar

Set jar aside at room temperature for 1-3 days. The longer it sits, the more sour the taste
Make Dough
Coming milk yeast and sugar together in a mixing bowl. Let sit for 5 minutes until bubbly.

Add sourdough, butter, eggs, salt and 2 cups of flour. Continue adding flour 1/2 cup at a time until dough comes together and forms a ball. You may not use all the flour.

Put dough in a greased bowl and cover with plastic wrap. Set aside until doubled in size, approximately 1 hour.

When dough has doubled, gently punch down and form into another ball. Divide dough in half and then in half again.

Divide each quarter into 6 equal pieces.

Form each piece into a ball. Gently flatten dough so it forms a 4 inch disc. Place dough on a surface covered with corn meal to help avoid sticking to surface.
Cooking Muffins
Just before cooking, flatten again so muffin has a flat surface.

Preheat a cast iron skillet or other skillet over medium low heat. Place muffins on hot surface so muffins are not touching.

Cook for 3 minutes per side and flip. Cook again for 3 minutes and flip again. Repeat one more time. Total cooking time is 24 minutes per muffin.

If muffins burn before 3 minutes, lower heat.

Cool muffins on a baking rack until fully cooled.

Slice muffins in half with a fork.
Nutrition Facts
Sourdough English Muffins
Amount Per Serving (1 Muffin)
Calories 56
Calories from Fat 27
% Daily Value*
Fat 3g5%
Cholesterol 20mg7%
Sodium 128mg6%
Potassium 45mg1%
Carbohydrates 5g2%
Protein 1g2%
Vitamin A 110IU2%
Calcium 26mg3%
Iron 0.2mg1%
* Percent Daily Values are based on a 2000 calorie diet.