Party Sized Meatballs with a light apricot barbecue sauce glaze. These cocktail meatballs are perfect for serving at an elegant party or serve in a crockpot at a more casual gathering.
Easy to make ahead of time!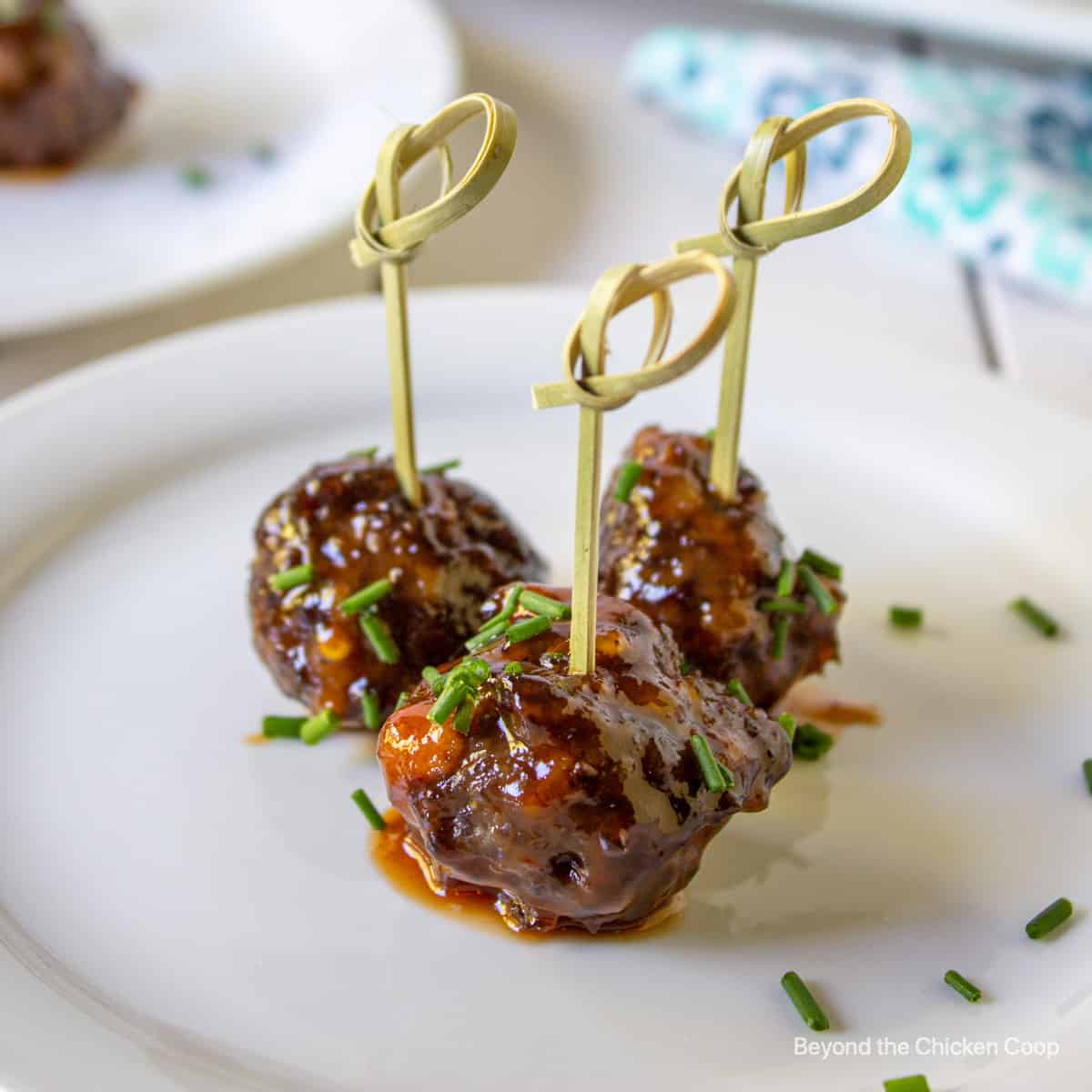 Why make this recipe
We are about to enter into the official party season! Sometimes it feels like nonstop parties and get-togethers from now until New Years! All these parties mean great party food! Are you ready? Don't worry, I've got you covered!
These cocktail meatballs are perfect for a formal gathering or an impromptu get-together. They are a bite sized meatball covered with an apricot bbq sauce.
These cocktail meatballs can be made ahead of time which makes them even more perfect for the holidays!
If you are a regular reader of Beyond the Chicken Coop you know that I live in a house full of hunters (hubby and all three kids.) Which means I have freezers full of wild game. Many of my recipes are made with elk meat. These Italian Meatballs are one of our favorites.
I made these meatballs with ground elk meat. Now don't let that scare you away! You can use lean ground beef and your meatballs will be amazing too!
The sauce is just a combination of apricot jam, barbecue sauce and red pepper flakes.
These cocktail meatballs are perfect for a holiday party or anytime you want a delicious appetizer.
Step by step directions
Mix the ground meat with dried bread crumbs and milk
Add all seasonings and combine
Scoop into small balls and place on a greased baking sheet
Bake in a preheated 400° oven for 10-12 minutes
Make the sauce by combining bbq sauce, apricot jam and red pepper flakes
Add the meatballs and coat well with sauce
Serve on a serving dish with a cocktail toothpick
Crockpot directions
Bake meatballs as directed
Make the sauce in the crockpot and add cooked meatballs
Heat over high heat for 1-2 hours or over low heat for 2-4 hours
Serve in the crockpot
Recipe tips
To save time, use a scoop to shape the meatballs! When making these meatballs I used the smallest scoop I had, because I wanted small meatballs.
My meatballs were about 1 tablespoon of meat. If yours are larger, increase baking time.
Test to see if meatballs are cooked through by removing one meatball and slicing in half.
Glazed meatballs can be kept warm in a 200°F oven until ready to serve
Recipe Faqs
Can I make ahead of time?
Yes, you can make these ahead of time.  To make ahead of time you mix and shape the meatballs, cover and refrigerate.  You could also bake, cool cover and freeze. You can add the sauce when you are ready to serve.

How do I freeze meatballs?
I find it best to freeze the meatballs prior to adding the sauce. Bake meatballs and allow meatballs to cool. Place in a freezer safe container and freeze for up to 3 months.
More delicious appetizers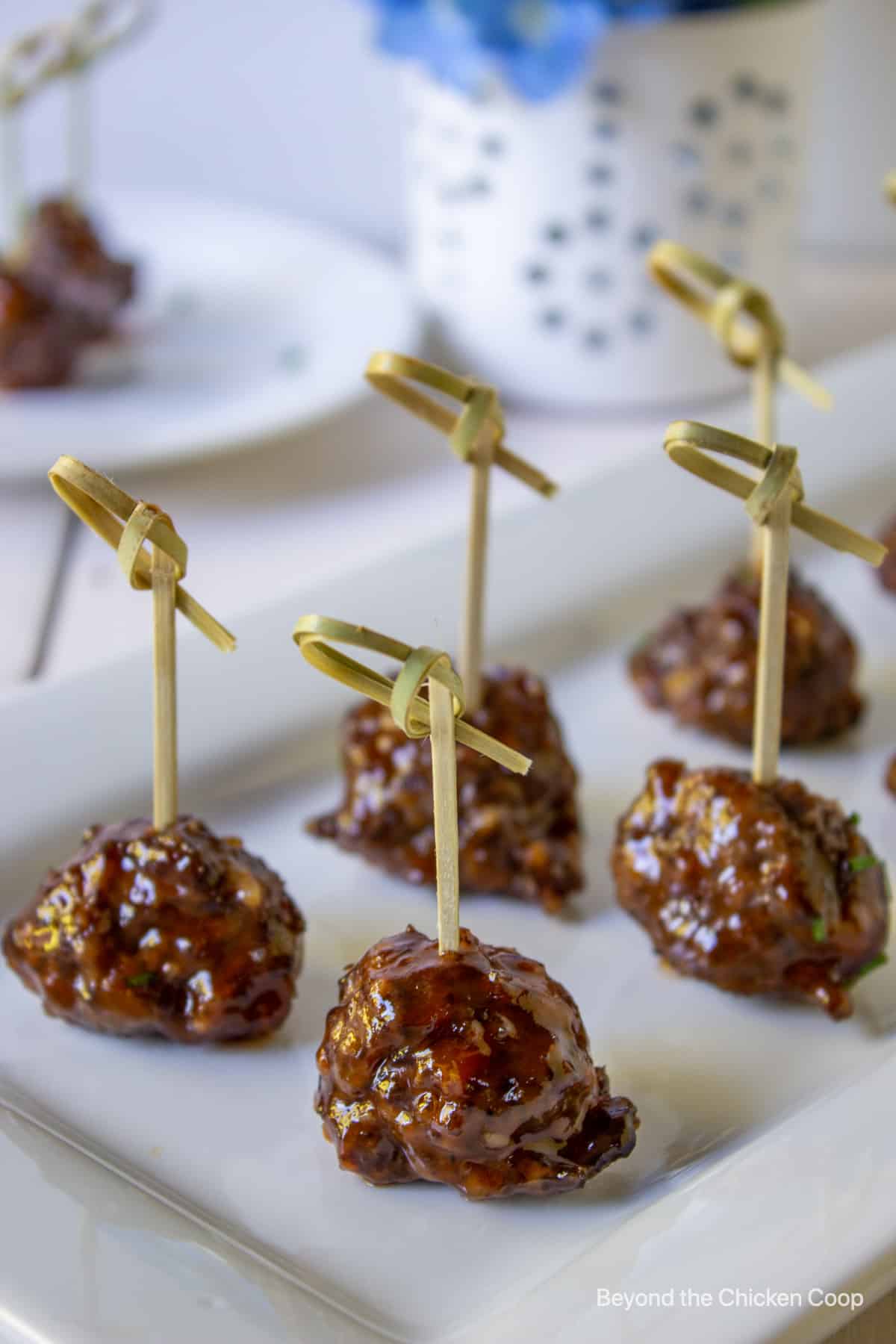 If you make this recipe, I'd love to hear about it! Leave a comment below and snap a picture and tag me on Instagram @beyondthechickencoop
Be certain to check out all my delicious appetizer recipes!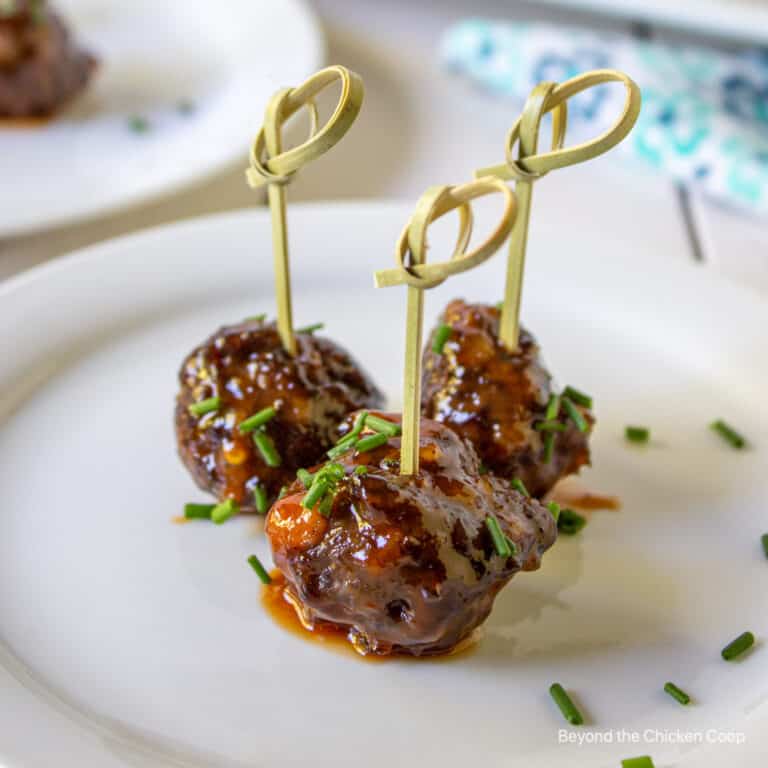 Cocktail Meatballs
Meatballs with apricot barbecue glaze
Instructions
Meatballs
Place meat, bread crumbs and milk into a large bowl. Combine together using your hands or a large spoon.

1 ½ pounds ground burger,

2 cups dried bread crumbs,

½ cup milk

Add remaining ingredients and mix well. Let mixture set for 5 minutes and mix again.

2 cloves garlic,

1 ½ teaspoons salt,

1 teaspoon pepper,

1 teaspoon onion powder,

1 teaspoon red pepper flakes

Use a small scoop to create meatballs. Place meatballs on a lightly greased baking sheet.

Bake in a preheated 400 degree oven for 10-12 minutes.

Allow meatballs to cool. Remove from pan. Use right away, cover and refrigerate or place in freezer safe containers and freeze.
Sauce
Add barbecue sauce, apricot jam and red pepper flakes to a saucepan. Heat over medium low heat, stirring often.

1 cup barbecue sauce,

1 cup apricot jam,

½ teaspoon red pepper flakes

Simmer sauce until warm. Add a portion of the meatballs at a time. Heat until meatballs are heated through. 

Remove meatballs from sauce letting excess sauce fall off. Add a cocktail toothpick and place on serving tray.

Repeat with remaining meatballs.

Serve warm and garnish with chopped chives or parsley.
Notes
Crockpot directions
Bake meatballs as directed
Make the sauce in the crockpot and add cooked meatballs
Heat over high heat for 1-2 hours or over low heat for 2-4 hours
Serve in the crockpot
Tips
To save time,  use a scoop to shape the meatballs! When making these meatballs I used the smallest scoop I had, because I wanted small meatballs.
My meatballs were about 1 tablespoon of meat. If yours are larger, increase baking time.
Test to see if meatballs are cooked through by removing one meatball and slicing in half.
Glazed meatballs can be kept warm in a 200°F oven until ready to serve
Nutrition
Serving:
3
meatballs
Calories:
163
kcal
Carbohydrates:
19
g
Protein:
7
g
Fat:
7
g
Saturated Fat:
2
g
Polyunsaturated Fat:
1
g
Monounsaturated Fat:
3
g
Trans Fat:
1
g
Cholesterol:
22
mg
Sodium:
377
mg
Potassium:
148
mg
Fiber:
1
g
Sugar:
9
g
Vitamin A:
97
IU
Vitamin C:
1
mg
Calcium:
36
mg
Iron:
1
mg