Homemade Apricot Jam made with only fresh apricots, lemon juice and sugar.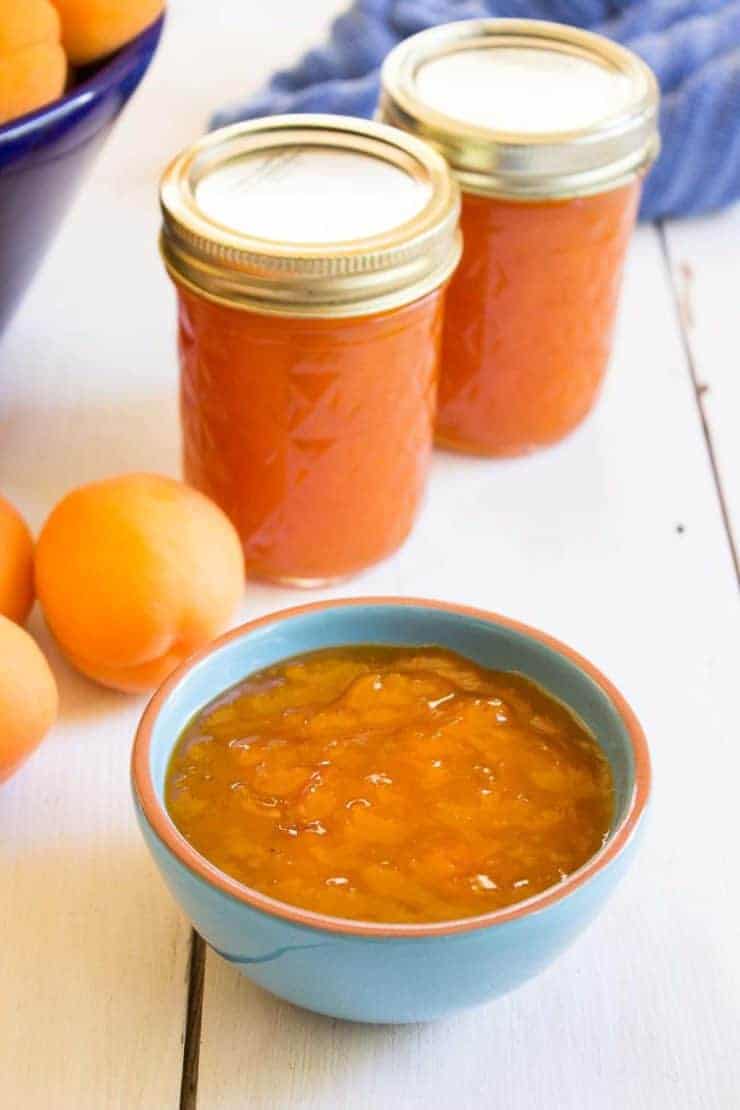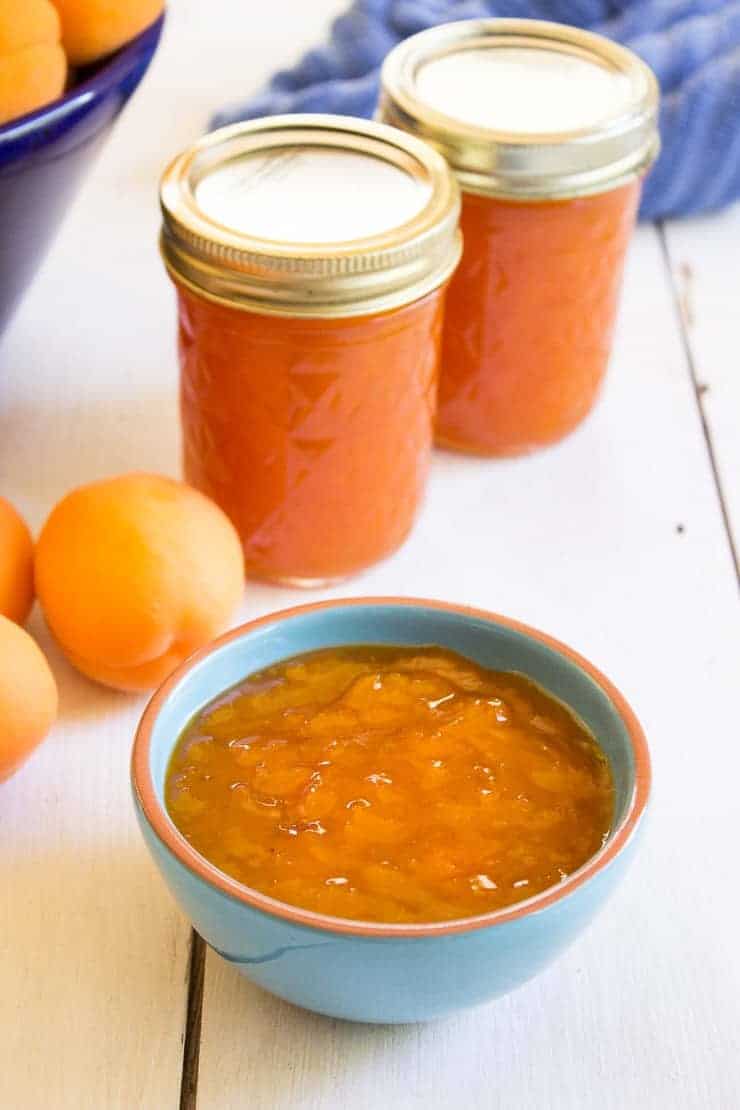 I visited the Peach Man again. Remember when I brought home peaches and made Old Fashioned Peach Ice Cream? This time I brought home a box of apricots.
Do you know how many apricots are in a box of apricots? 892 apricots! I'm kidding….  I have no idea how many are in a box, but there are a ton of apricots inside one box. The Peach Man's words to me as he handed me the box was, these apricots are ripe, use them up quickly!
How do you eat a whole box in just a couple of days?  You don't! You quickly get to work and make apricot dishes! Apricot jam is one of our favorites so I made several batches of apricot jam.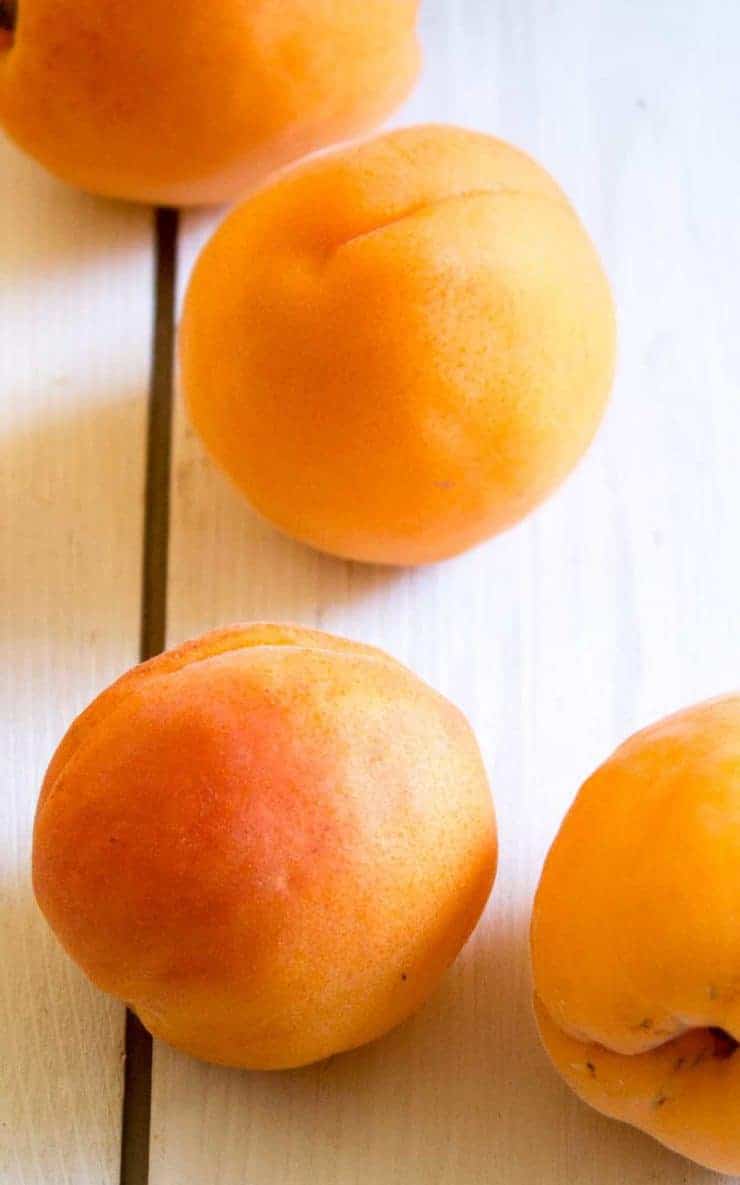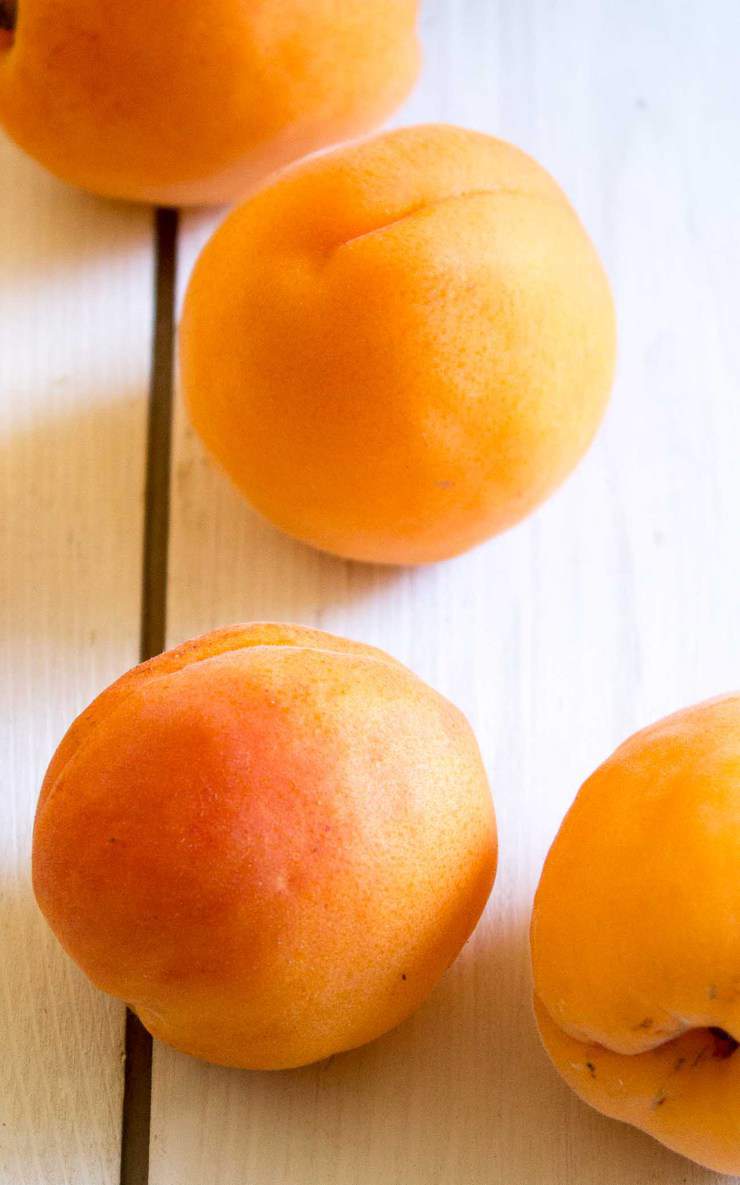 I make and can a lot of different kinds of jams. When possible, I often make jam without added pectin. There's nothing wrong with commercial pectin, but you have to use an exact amount of sugar in order for your jam to setup.  It's usually a huge amount of sugar. I often want to use less sugar so I make jam without added pectin.
There are a few drawbacks: You have to cook the jam longer than with added pectin • It's a bit more difficult to make certain your jam sets up just right • Some fruits lose their vibrant color with the extra cooking time.
My Tips for Making Jam:
Always use fresh, quality fruit. Discard soft, bruised or blemished fruit. If it's a small blemish, I just cut off that part and use the rest.
Always wash and sterilize jars before using.
Stir often to avoid scorching.
Test your jam by using a candy thermometer or by using the sheeting test. 
Process all jam jars in a hot water bath for the recommended amount of time and adjust processing time for your altitude.
After processing, let jars cool undisturbed. Don't be tempted to test the seals yet!
After 24 hours, remove rings, wash and dry jars (they will often be sticky) and check seals.
Label type of jam and date.
Store in a dark pantry.
Enjoy!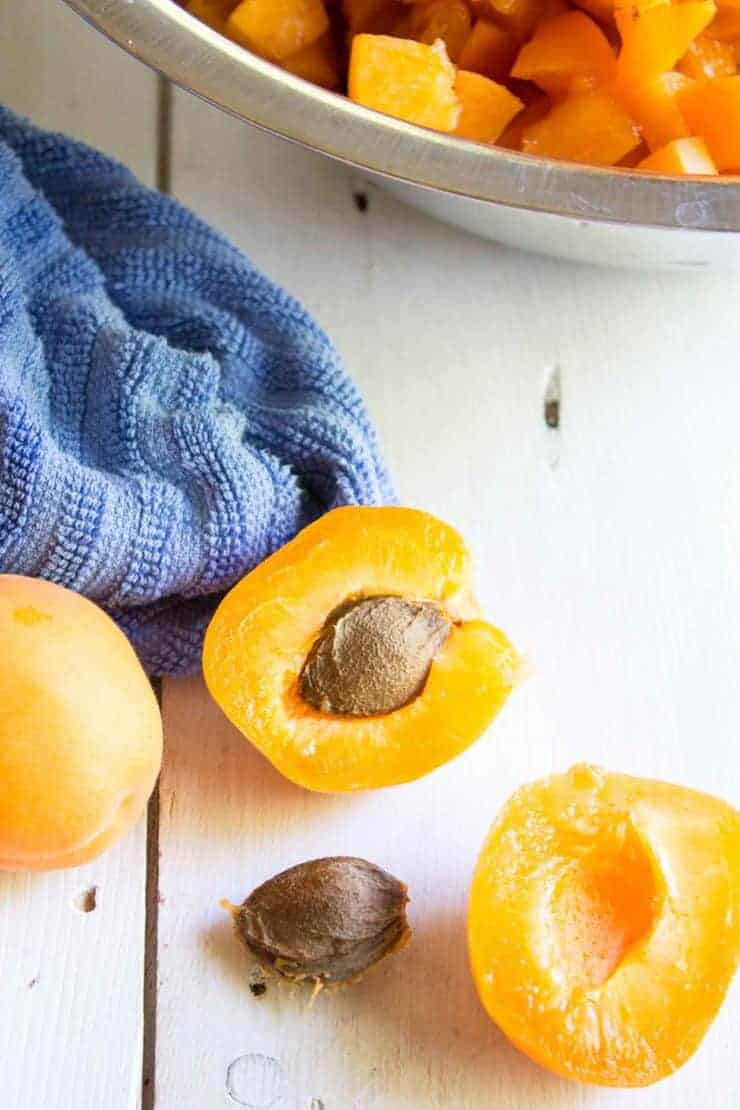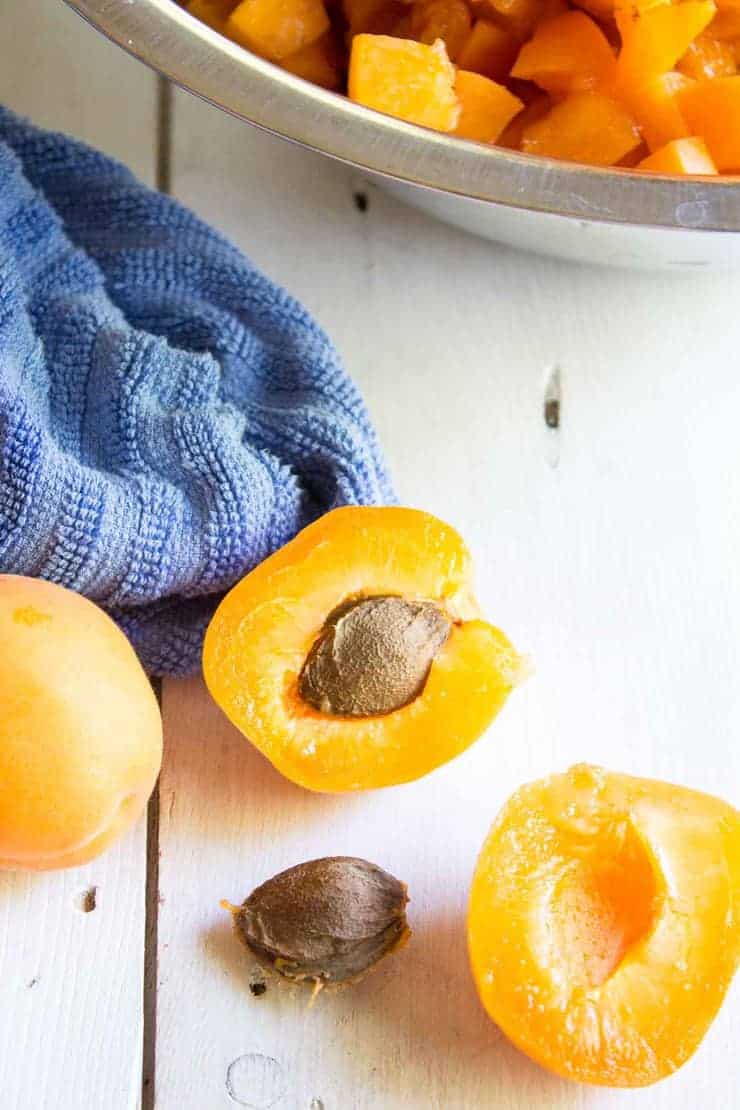 A few other jam recipes I make are Strawberry Jam, Blackberry Jam and Plum Jam.
A great way to use jam is in this Oatmeal Bar Recipe.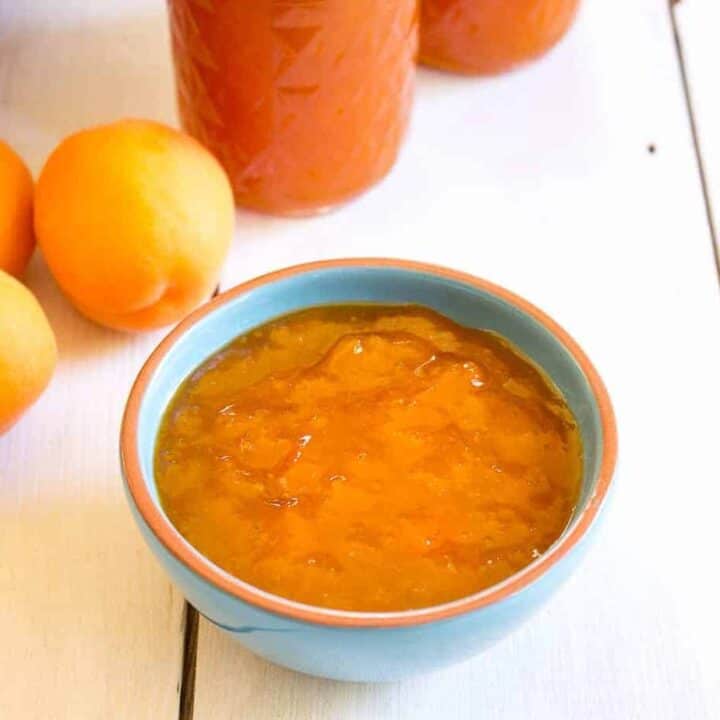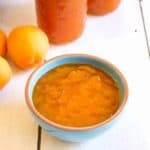 Apricot Jam
Keyword:
apricot jam, apricot jam no pectin added, apricot jam recipes, apricot preserves, how to make jam, jam
Ingredients
8

cups

pitted and chopped apricots

1/2

cup

fresh lemon juice

5 1/2

cups

sugar
Instructions
Place apricots, lemon juice and sugar in a large pot.

Turn over medium high heat. Stir often at the beginning until the mixture becomes really liquidy.

Continue cooking until mixture comes to a rapid boil (keeps boiling even when stirring)

Continue boiling for approximately 25 minutes.

Cook until jam reaches 220 Degrees F
Recipe Notes
If you don't have a candy thermometer, test jam by doing the sheeting test (see description in blog)
Nutrition Facts
Apricot Jam
Amount Per Serving
Calories 38
% Daily Value*
Potassium 26mg1%
Carbohydrates 9g3%
Vitamin A 185IU4%
Vitamin C 1.3mg2%
Calcium 1mg0%
* Percent Daily Values are based on a 2000 calorie diet.
Other Great Recipes to Try