Classic French Toast with an extra dose of cinnamon to add some extra flavor. This Cinnamon French Toast is perfect for breakfast any day of the week.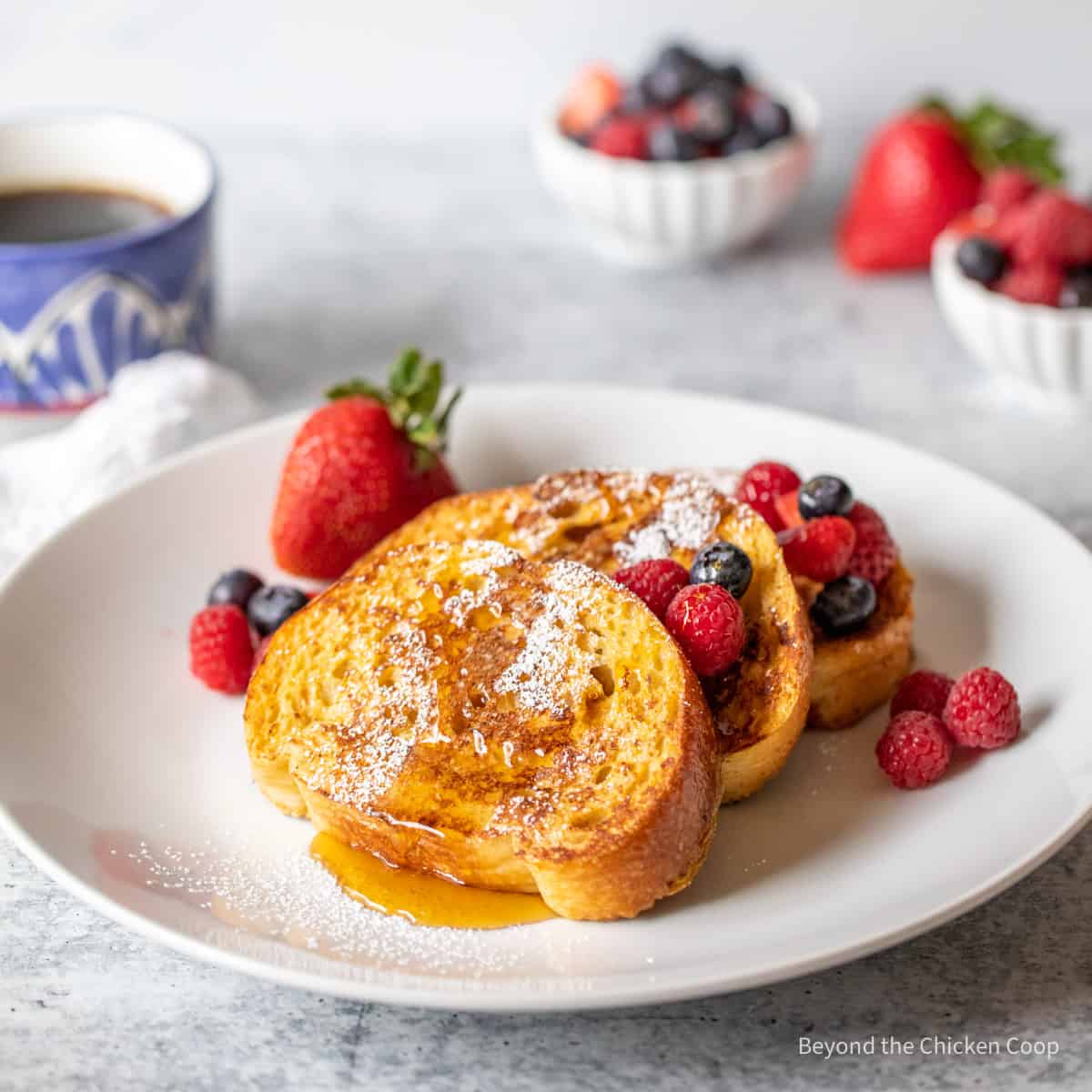 French toast
Cinnamon French Toast for breakfast is so perfect for weekends and special occasions.
Making french toast doesn't take long to make, so it could be made for weekday breakfast too, but this is the type of breakfast I like to linger over, making it perfect for the weekends for me.
Cinnamon french toast has just the right amount of cinnamon and a touch of vanilla making this french toast have a perfect balance of flavors.
We like to top our french toast with sprinkled powdered sugar, maple syrup and fresh fruit. When we want an even more decadent breakfast, we drizzle a bit of raspberry sauce over the top!
Key ingredients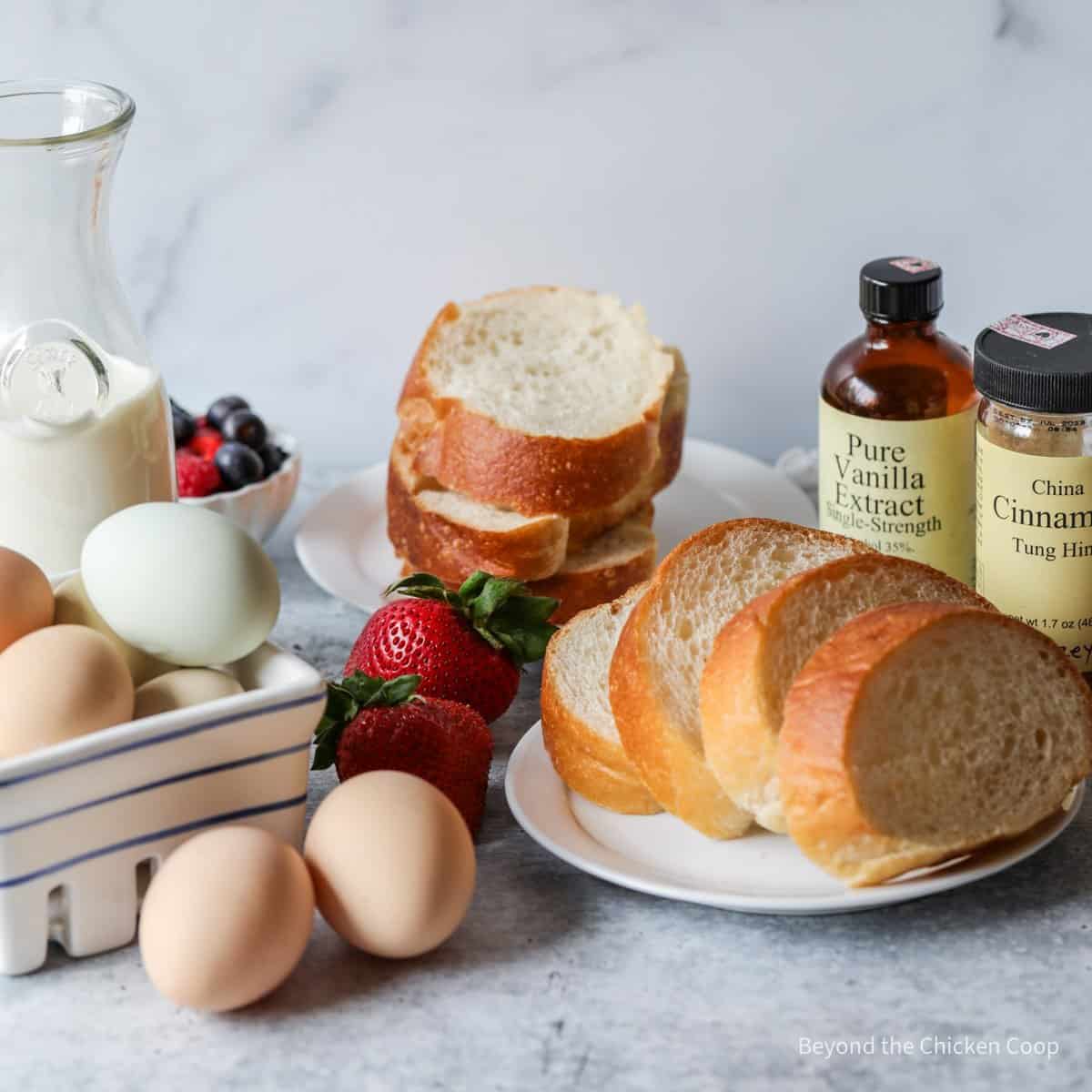 Sliced bread - almost any bread will work. My favorite is a loaf of French bread cut into thick slices. Day old or just slightly stale works best.
Eggs
Cream or milk - Use half-n-half cream or whole milk
Ground cinnamon
Pure vanilla
Step by step directions
Slice your bread into one inch pieces. If the bread is really fresh, leave the slices out to dry just a bit. You don't want it hard, just slightly stale feeling.
Mix the cinnamon with a bit of cream in a bowl. Premixing the cinnamon prevents the cinnamon from just floating on the top of the custard mixture.
Mix in eggs and remaining cream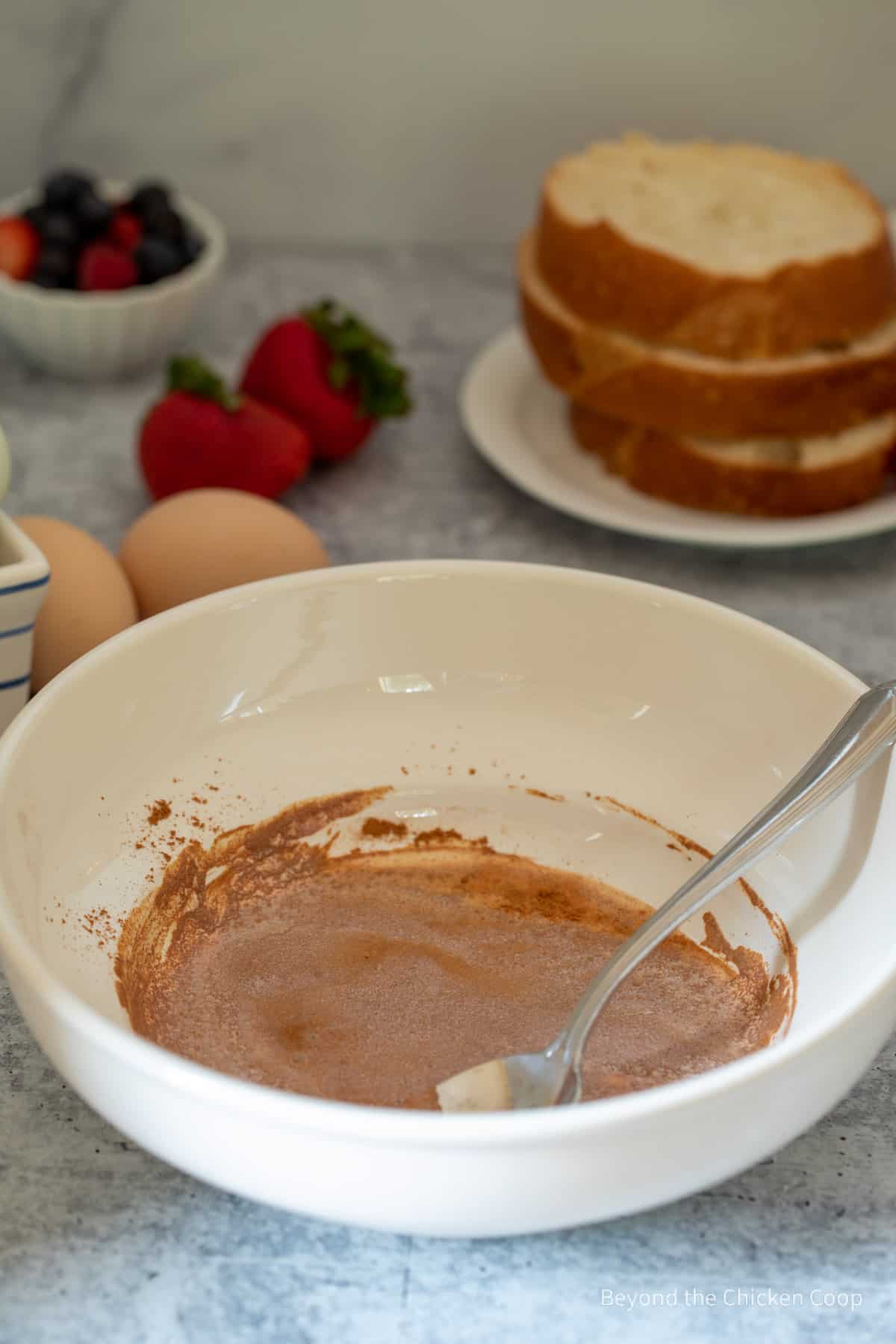 Heat griddle and grease lightly
Dip one piece of bread at a time into the custard mixture
Flip bread over then place on heated griddle
Cook just a few pieces of french toast at a time, depending on the size of your griddle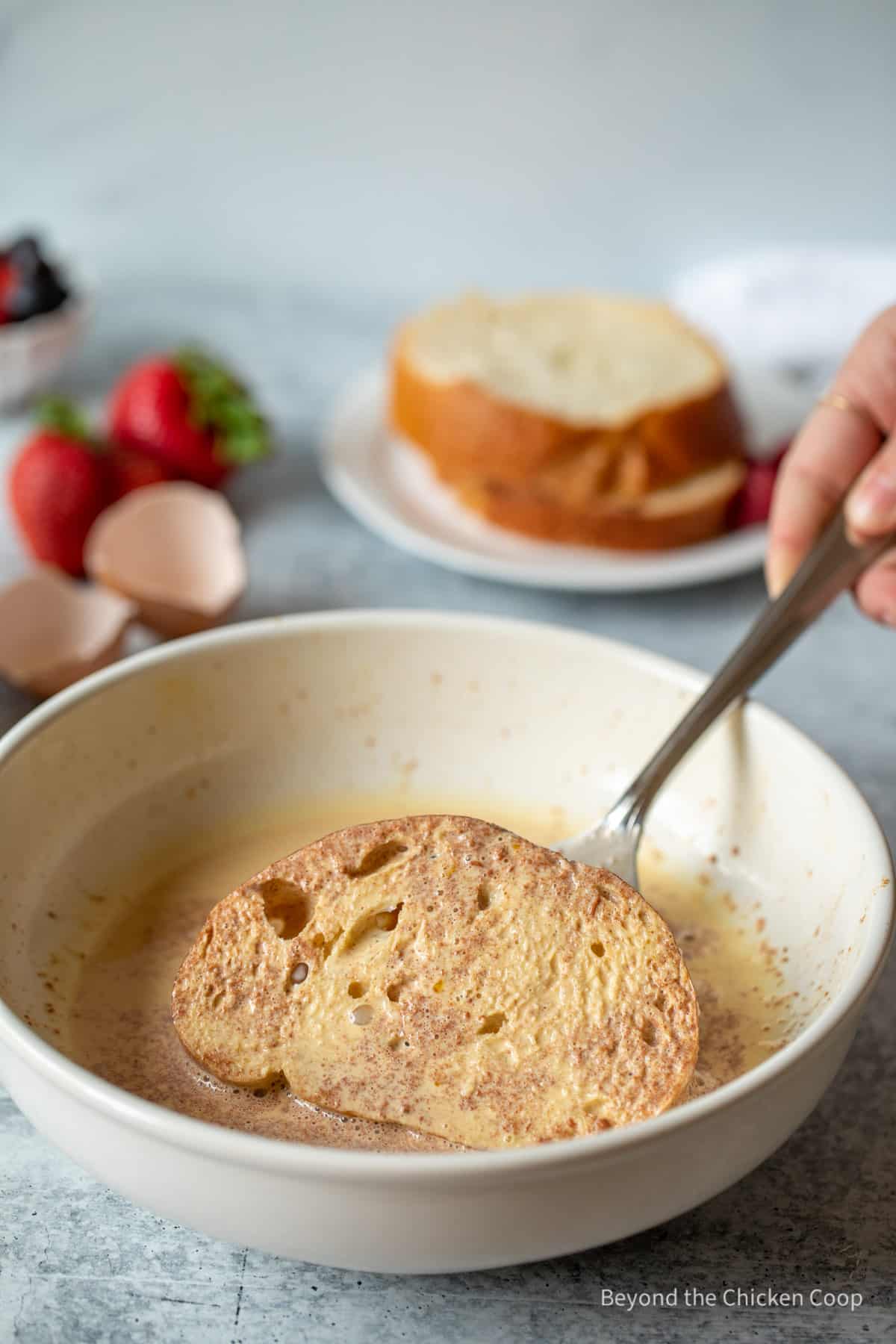 When the bottom of the bread is nicely browned, flip and continue cooking on 2nd side
If needed, flip over one additional time until center of french toast is cooked through. Test by pressing lightly in the center of the french toast with your finger. If it feels soggy, cook a bit longer.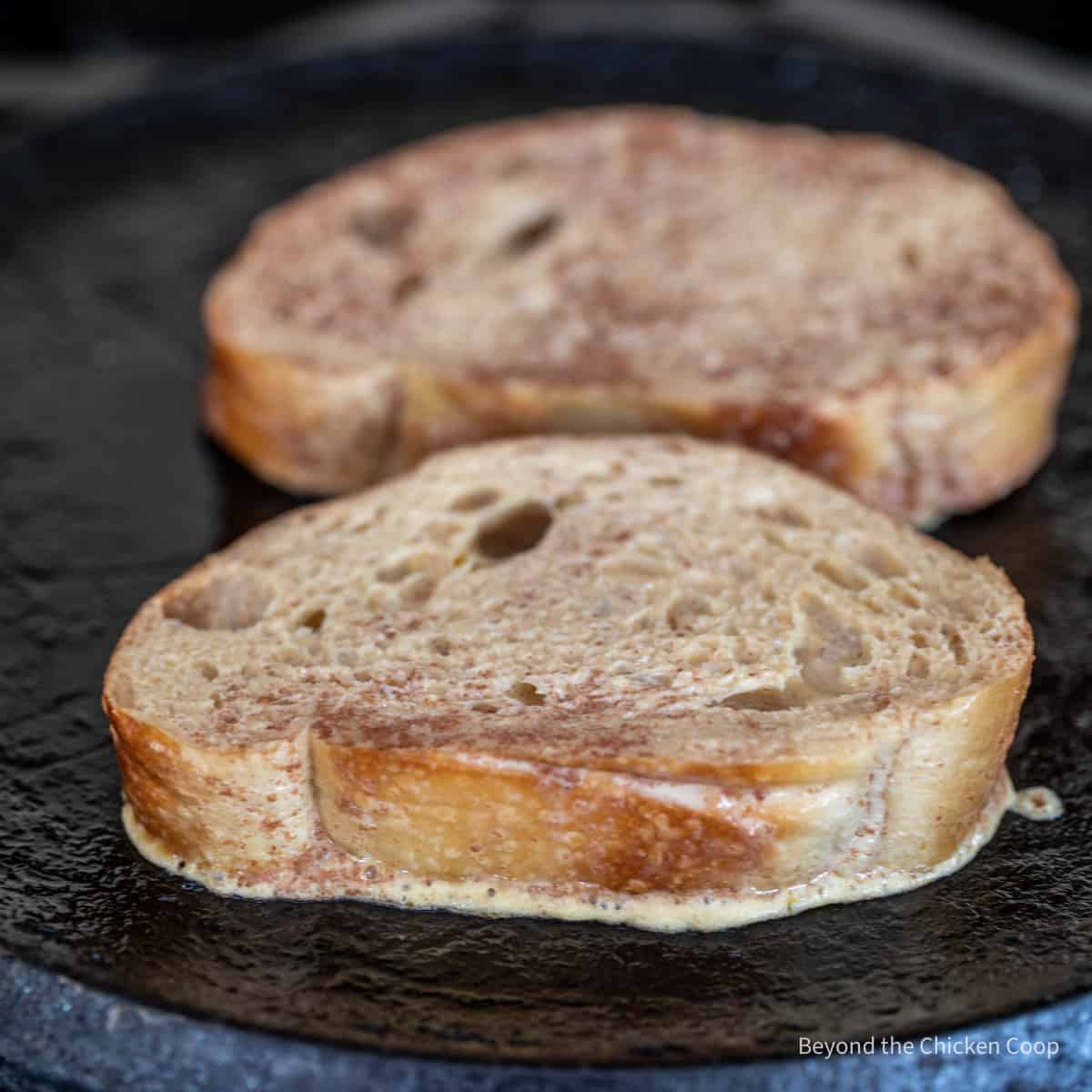 Once toast is cooked, remove from griddle and serve hot
Top with sifted powdered sugar, fresh berries and maple syrup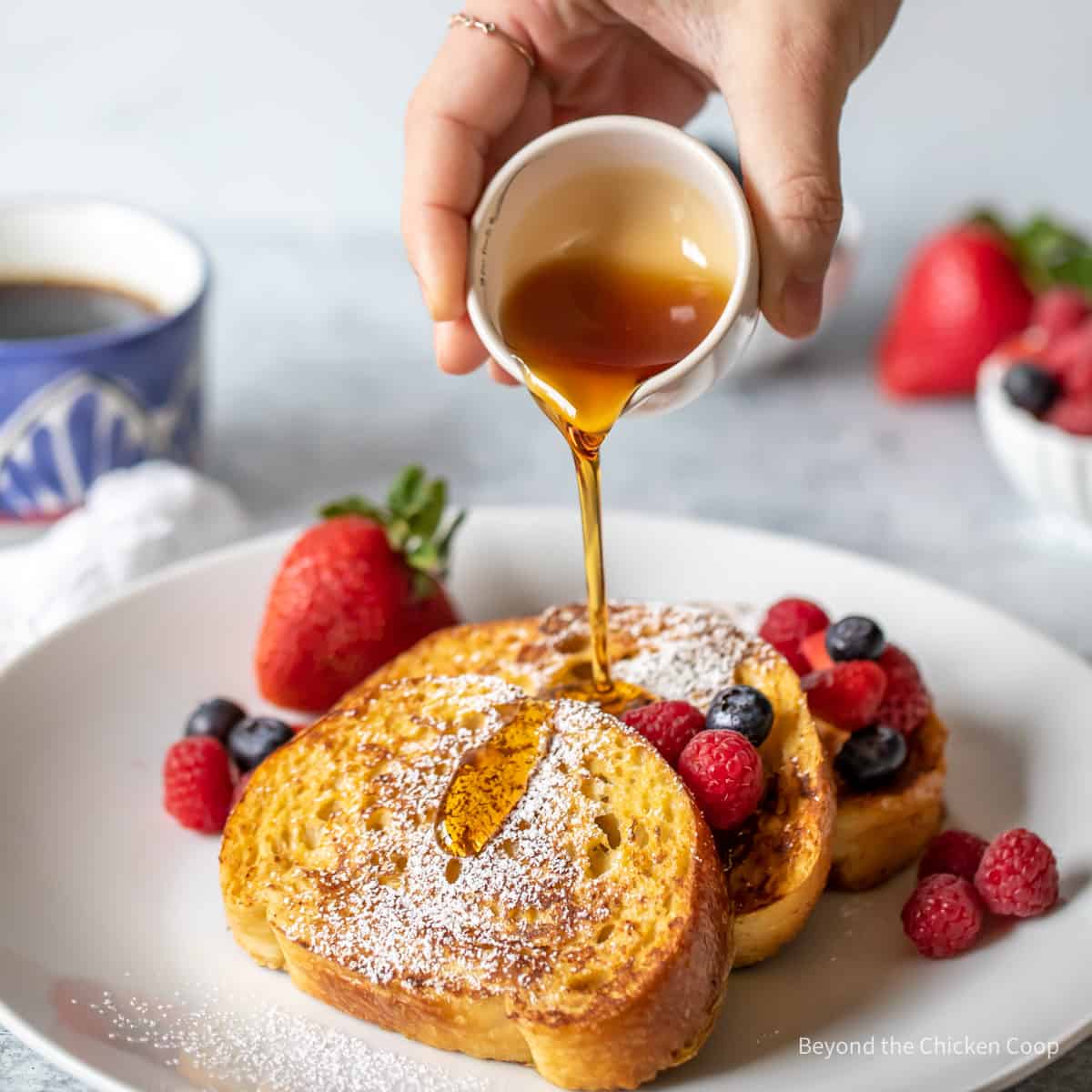 Recipe tips
Use stale bread for making french toast. If you don't have any stale bread, slice a loaf and let sit out for 30-60 minutes so the bread dries out just slightly.
Mixing the cinnamon with a bit of cream at the beginning helps prevent the cinnamon from floating on the top.
Give the egg custard mixture a quick stir before dipping each piece of bread to help redistribute the cinnamon
Dip bread into the egg custard mixture very quickly. You just want the bread to get wet, but not soaked
Heat your griddle slowly over low - medium low heat
Cook french toast over medium low heat until the bread is golden and not soggy in the center
Don't overcrowd griddle. Leave a bit of space between each piece of bread
Serve while still hot
Frequently asked questions
How many pieces of french toast can I cook at one time?
The number of pieces you can cook at one time depends on your stove and your griddle. You want you griddle evenly heated and enough space so you don't over crowd the pan.
Can I save leftover french toast?
Yes! Cover and refrigerate any leftover french toast. To eat, eat cold or heat in a toaster or warm in a microwave.
Serving suggestions
Cinnamon french toast is delicious just with a bit of syrup and fruit, but it's also delicious with any of the follow;
More delicious breakfast recipes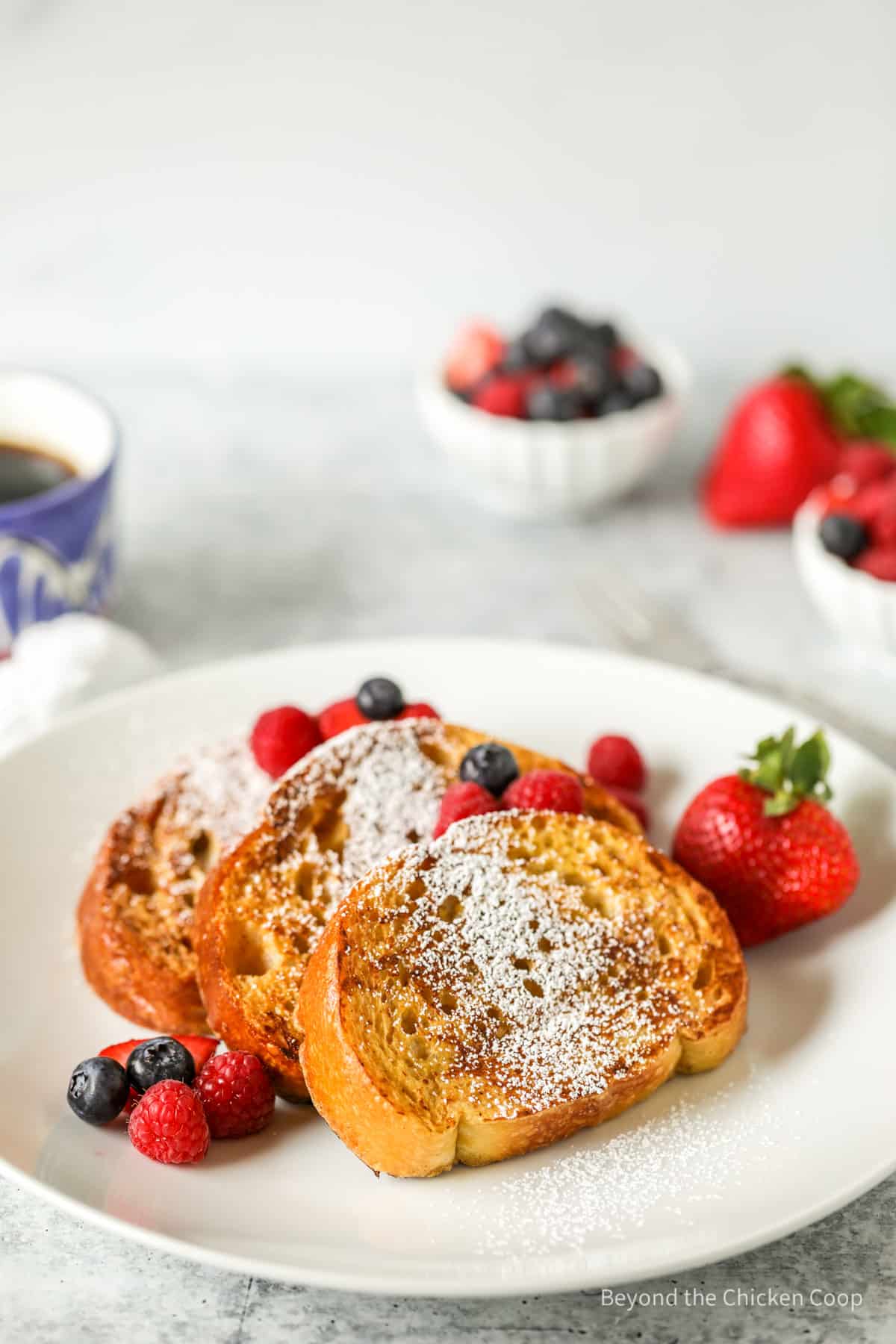 If you make this recipe, I'd love to hear about it! Leave a comment below and snap a picture and tag me on Instagram @beyondthechickencoop
Be certain to check out all my delicious breakfast recipes!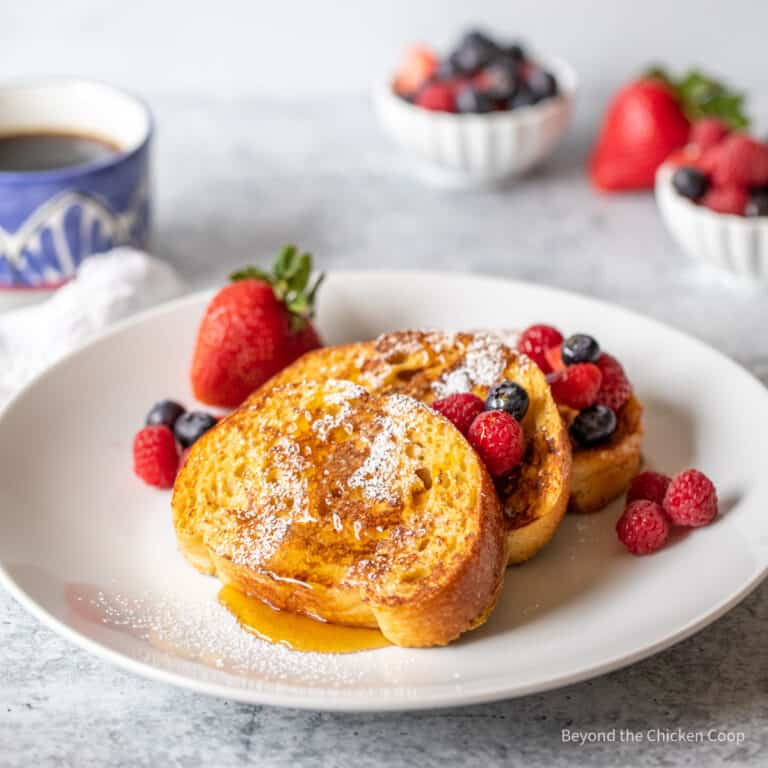 Cinnamon French Toast
Delicious thick slices of bread coated in a cinnamon custard mixture and then cooked on a griddle.
Ingredients
½

loaf

french bread

2

teaspoons

ground cinnamon

1

cup

half-n-half

(or whole milk)

3

eggs

½

teaspoon

vanilla
Instructions
Slice French bread into eight, one inch slices

Place cinnamon in a bowl. Add 1-2 tablespoons of milk and mix well so the cinnamon is completely moistened.

2 teaspoons ground cinnamon

Add remaining milk, eggs and vanilla. Mix well with a whisk or fork.

1 cup half-n-half,

3 eggs,

½ teaspoon vanilla

Heat a griddle or heavy duty pan over medium low heat. When pan is hot, spray with a nonstick spray.

Working with one piece of bread at a time, quickly dip the bread into the custard mixture. Fliip over and then remove letting any excess drip off the bread. Place on preheated griddle.

Cook 2-4 pieces at a time, depending on the size of your griddle

Cook until nicely browned and then flip over (2-3 minutes). Continue cooking until the center of the bread is no longer soggy (gently press with your finger)

Serve hot with powdered sugar, syrup and fresh berries
Notes
Use stale bread for making french toast. If you don't have any stale bread, slice a loaf and let sit out for 30-60 minutes so the bread dries out just slightly.
Mixing the cinnamon with a bit of cream at the beginning helps prevent the cinnamon from floating on the top.
Give the egg custard mixture a quick stir before dipping each piece of bread to help redistribute the cinnamon
Dip bread into the egg custard mixture very quickly. You just want the bread to get wet, but not soaked
Heat your griddle slowly over low - medium low heat
Cook french toast over medium low heat until the bread is golden and not soggy in the center
Don't overcrowd griddle. Leave a bit of space between each piece of bread
Serve while still hot
Nutrition
Serving:
3
Slices
Calories:
422
kcal
Carbohydrates:
57
g
Protein:
18
g
Fat:
14
g
Saturated Fat:
6
g
Polyunsaturated Fat:
2
g
Monounsaturated Fat:
4
g
Trans Fat:
1
g
Cholesterol:
185
mg
Sodium:
702
mg
Potassium:
268
mg
Fiber:
3
g
Sugar:
7
g
Vitamin A:
458
IU
Vitamin C:
1
mg
Calcium:
162
mg
Iron:
5
mg