Cinnamon Sugar Cake Doughnuts are a delicious treat for breakfast or anytime of the day! These classic cake doughnuts do not use yeast and no rise time is needed. These delicious doughnuts can be ready to eat in less than one hour!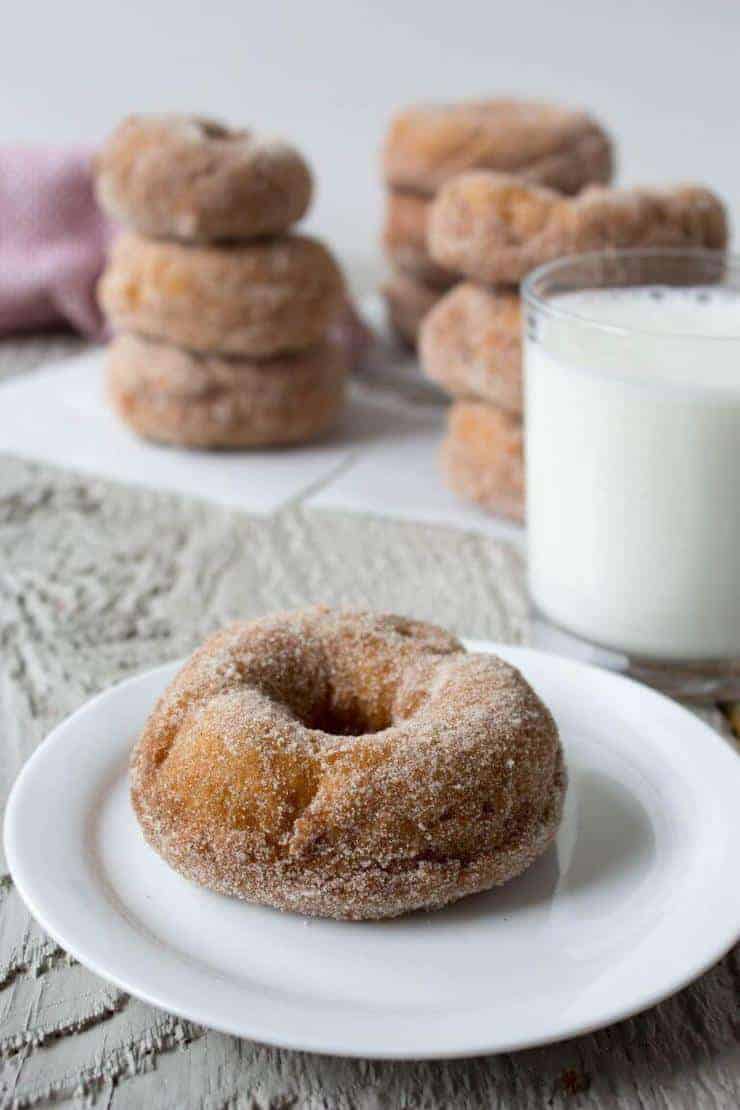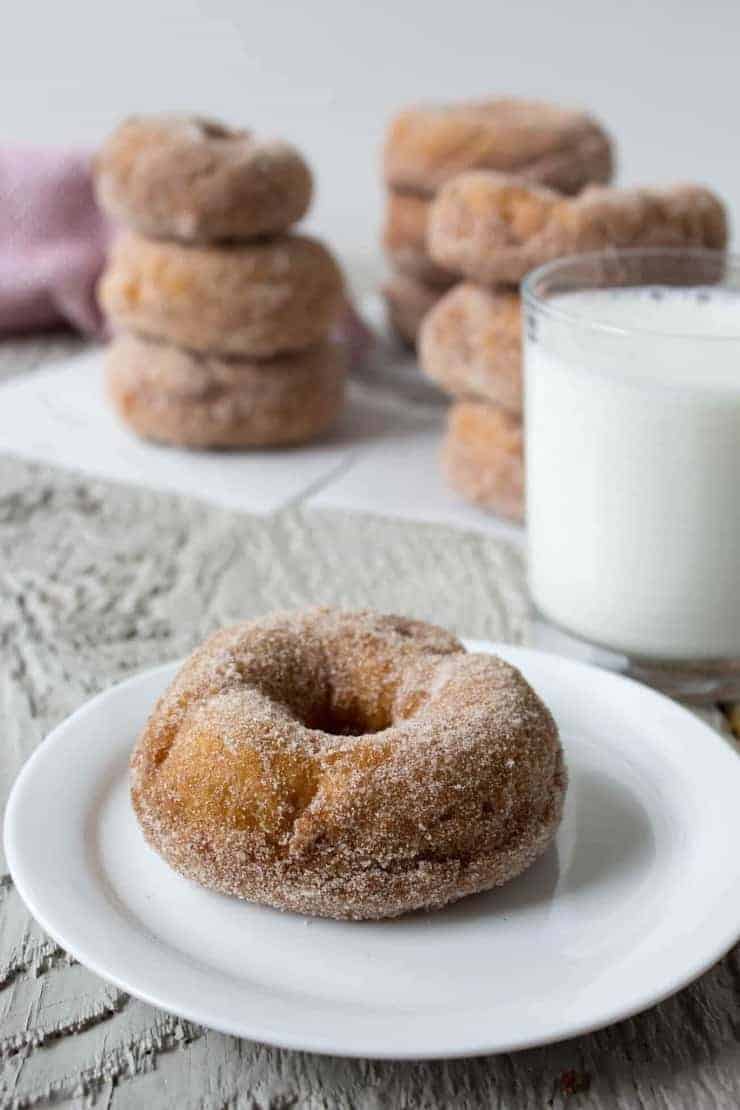 This past week we had two snow days....that's two days with school closed due to weather. The first was on Monday and then again on Thursday. Tons of snow and then the temperatures warmed up and we had freezing rain and then pouring rain.
Everything is a big, sloppy mess. We are now in a flood warning! Goodness Gracious!!!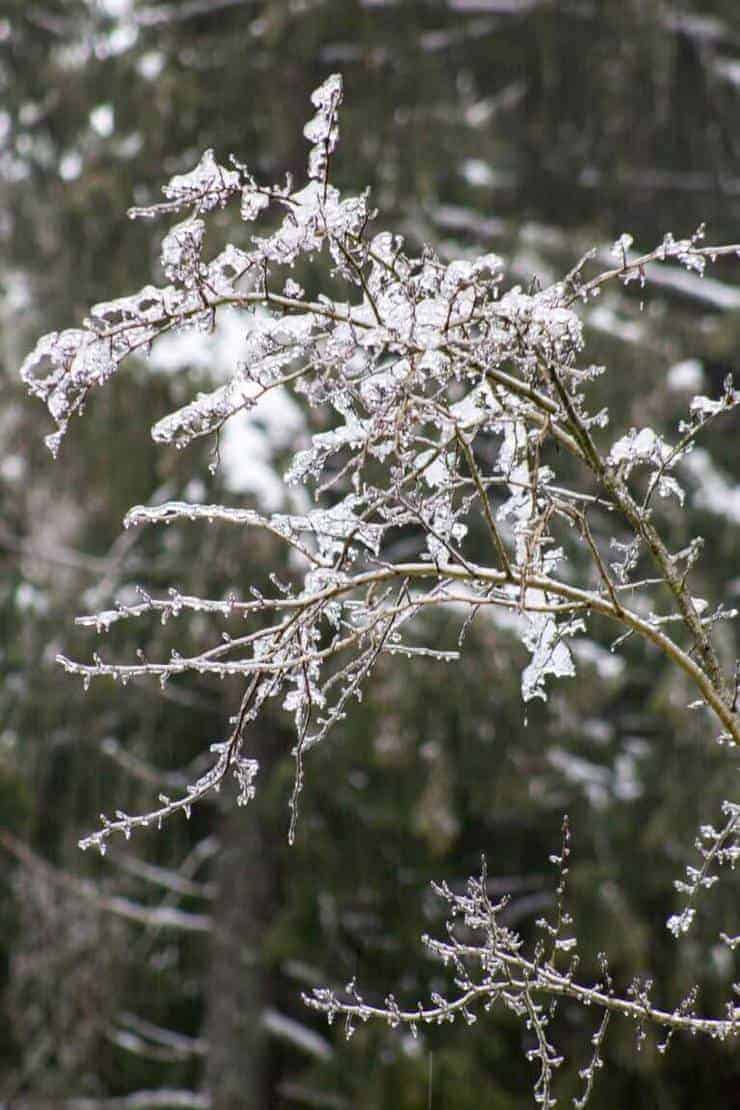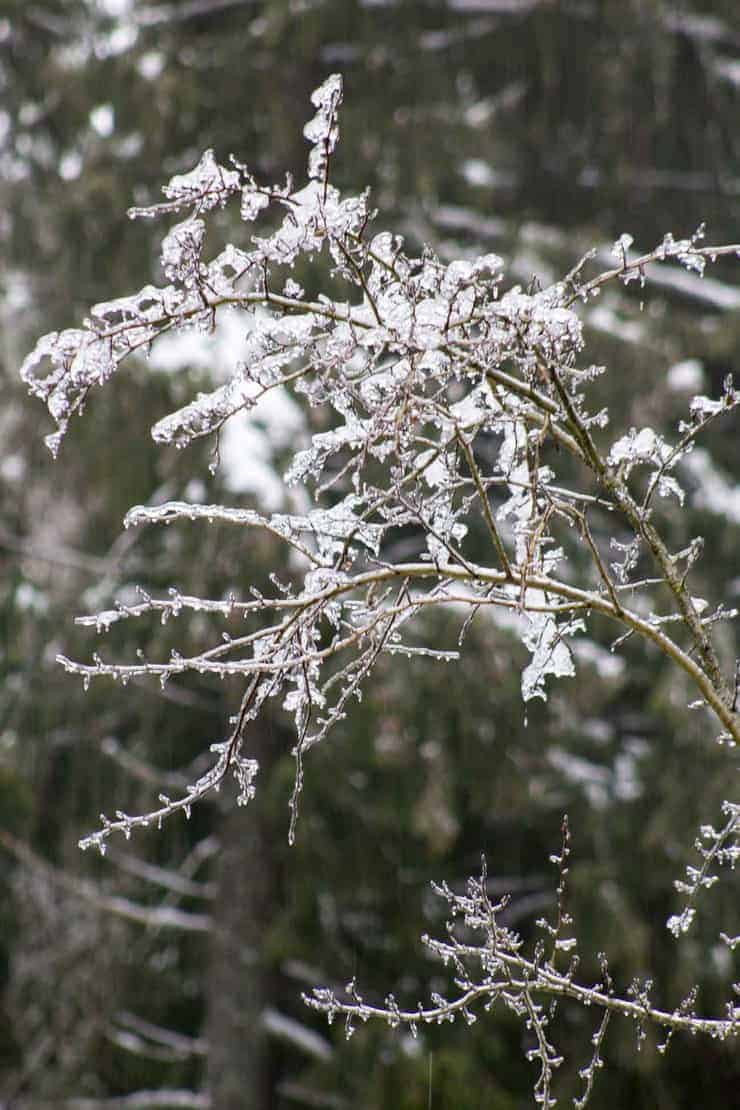 To me a snow day is a bonus baking day! I asked the kids what I should make during one of our snow days. They wanted doughnuts. My mom is the doughnut queen! When I was a kid she made the most amazing maple bars.
The only problem was she would make them on a day that she also made my least favorite dish! If I wanted a maple bar, I had to eat liver and onions! Or spinach....or....it really didn't matter what it was. If it wasn't tacos or spaghetti I really didn't like it. I was such a picky eater! Sorry Mom! 🙂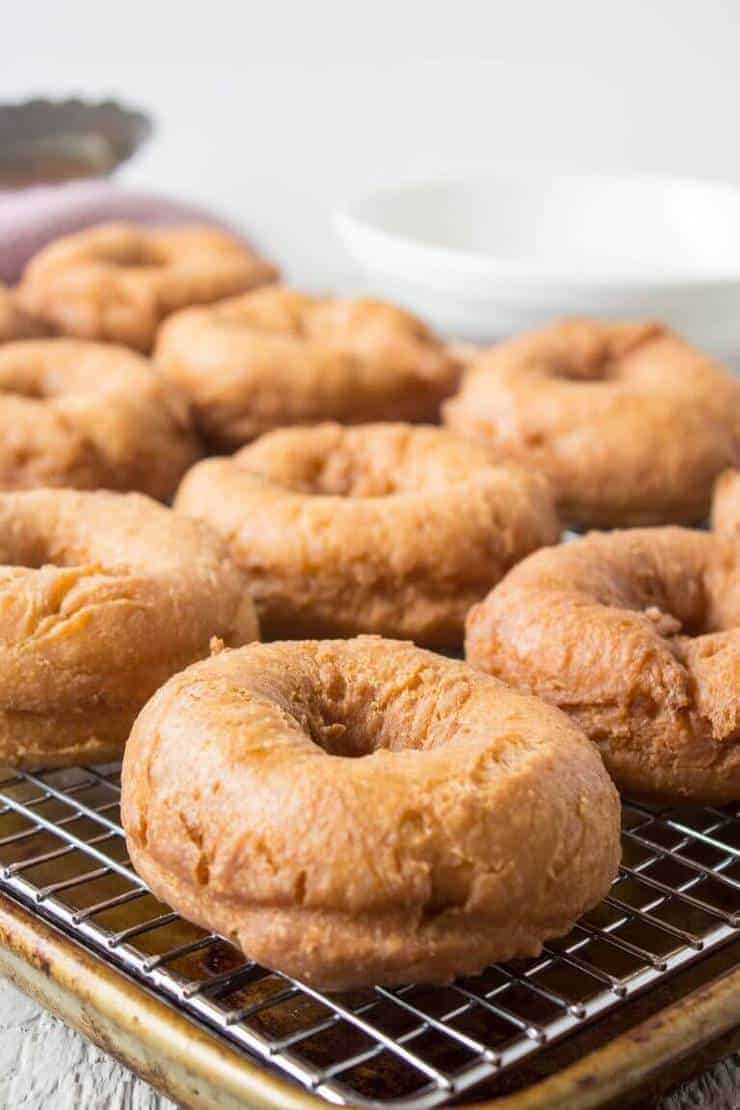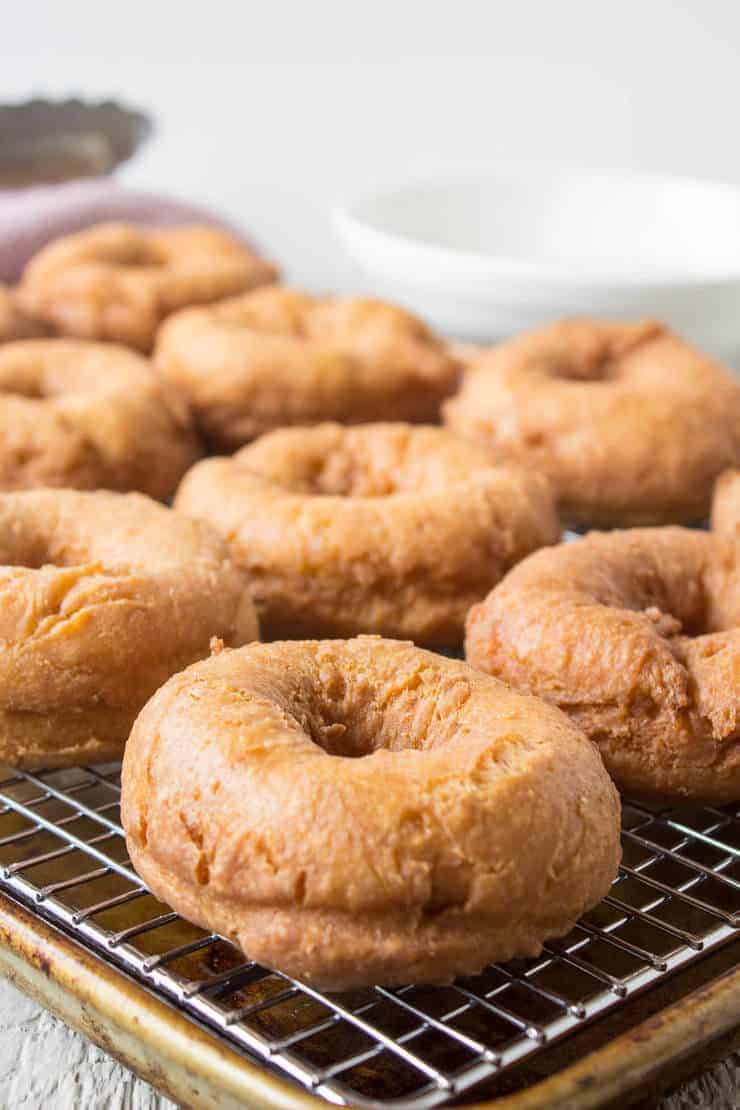 My mom's recipe is a yeast dough. I wanted something that was a bit quicker this time so I made a cake doughnut.
What is a cake doughnut?
A cake doughnut is made without yeast. It is leavened with baking powder and baking soda. Most doughnuts are made with a dough that is leavened with yeast.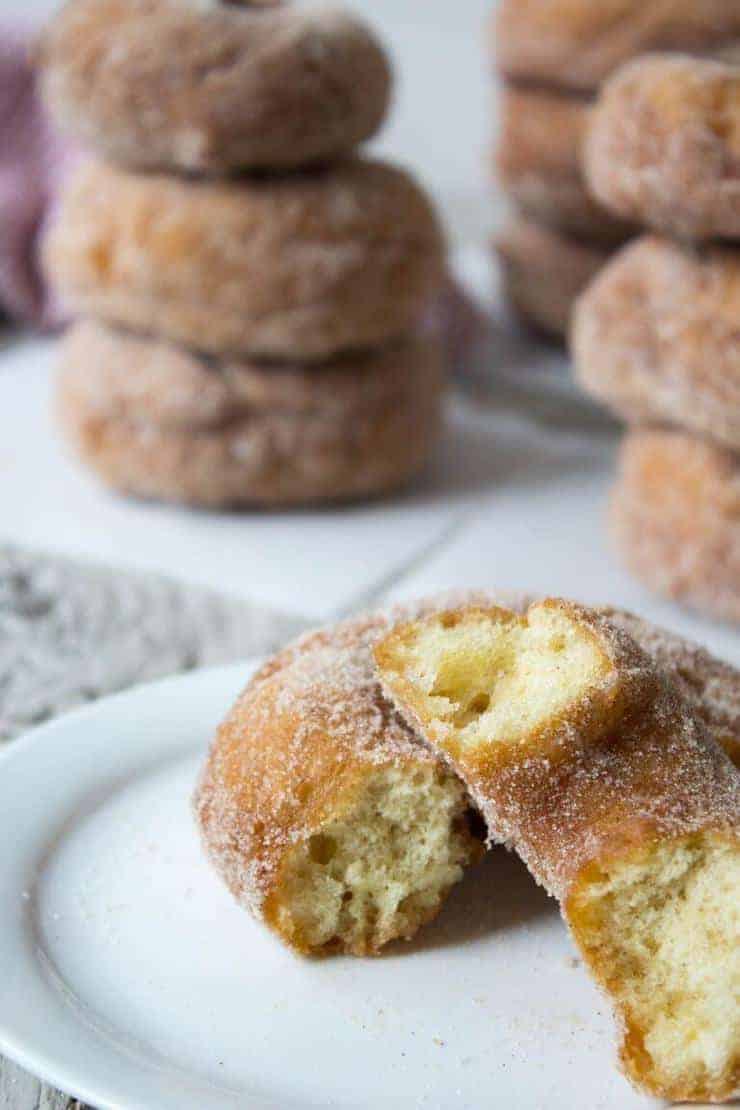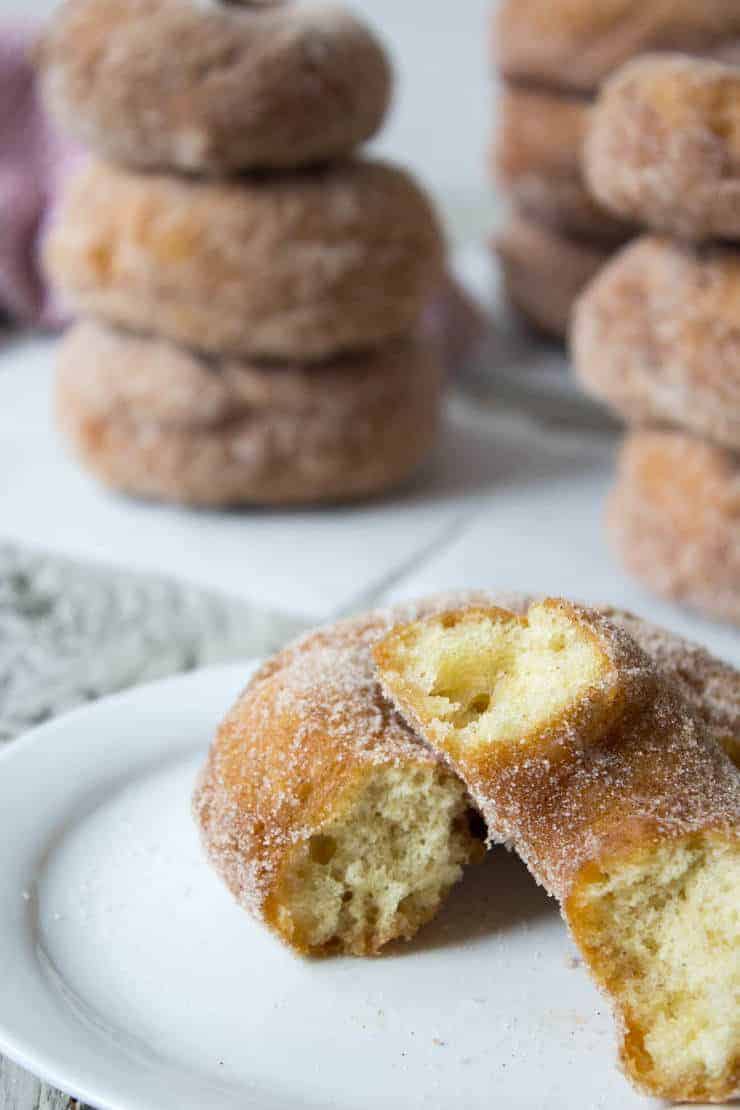 Cake doughnuts can be left plain or rolled in cinnamon and sugar, powdered sugar or given a quick chocolate glaze.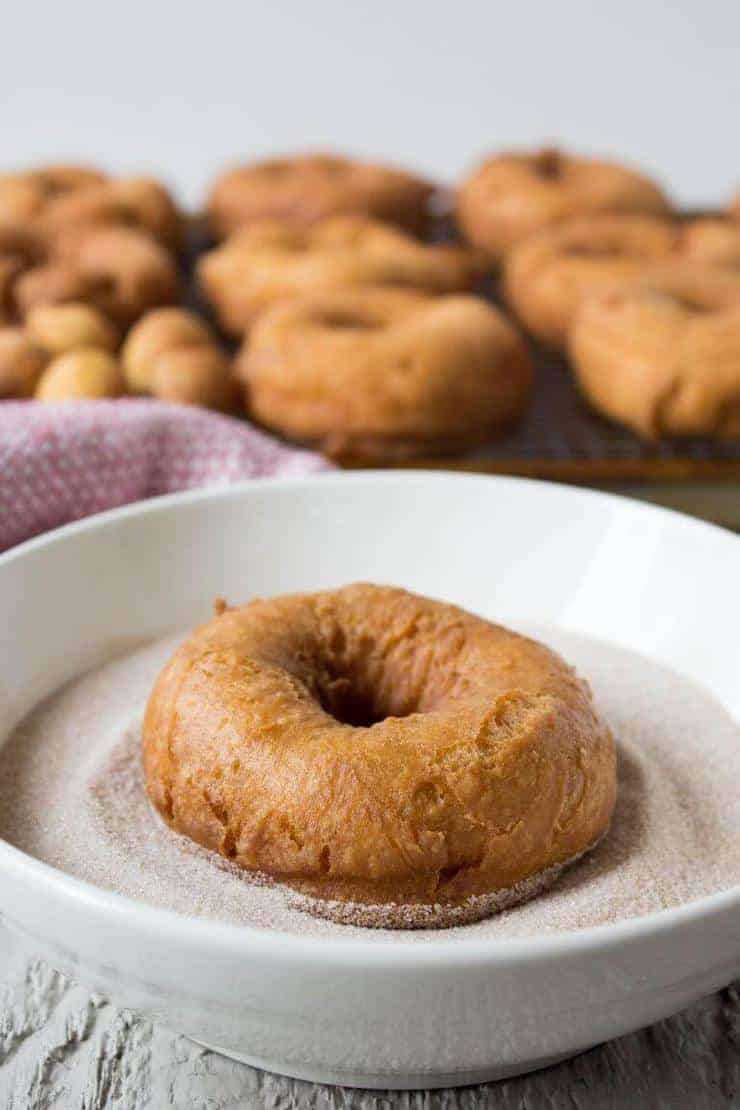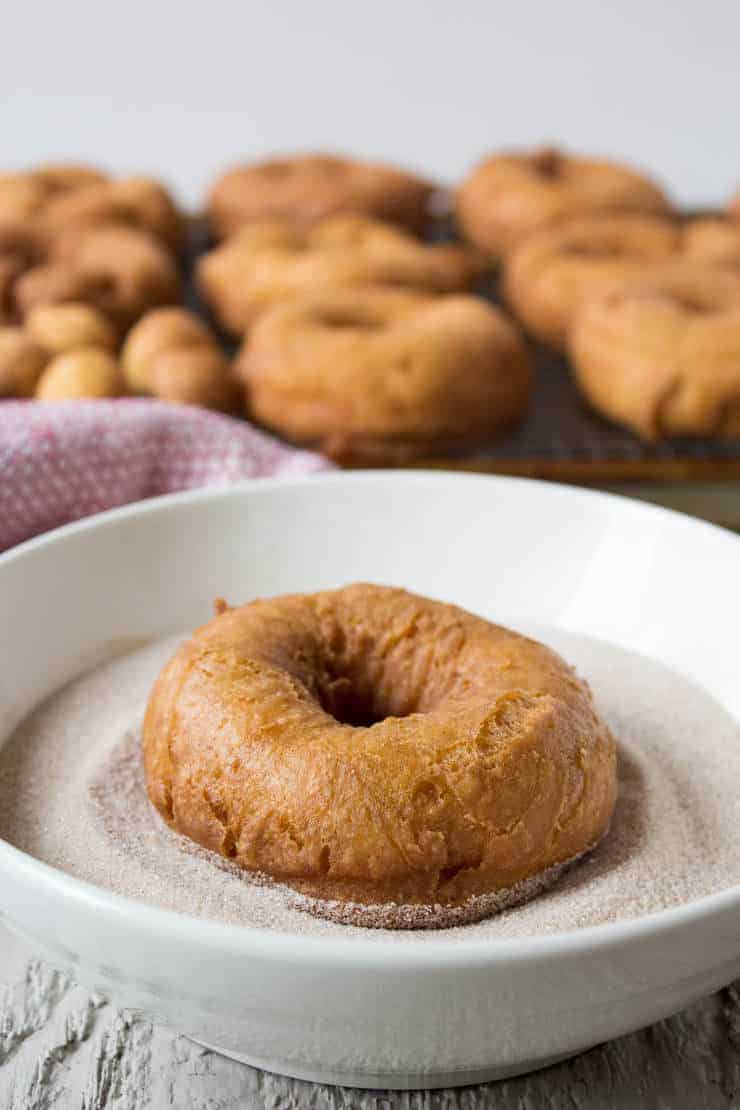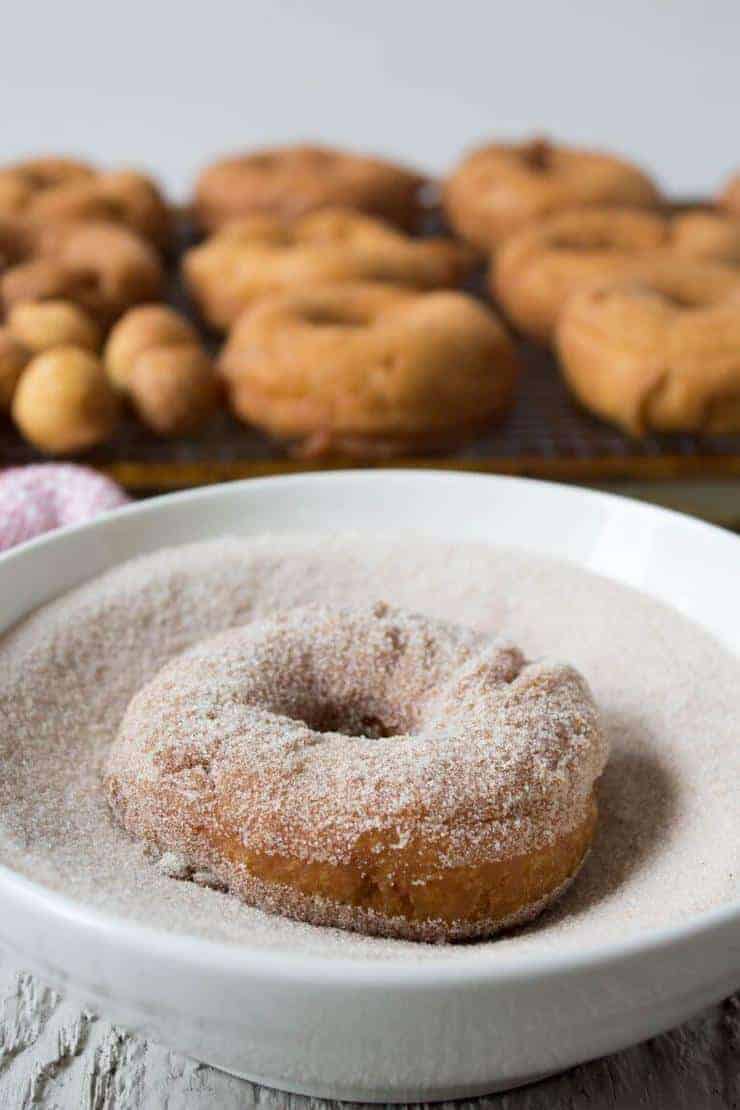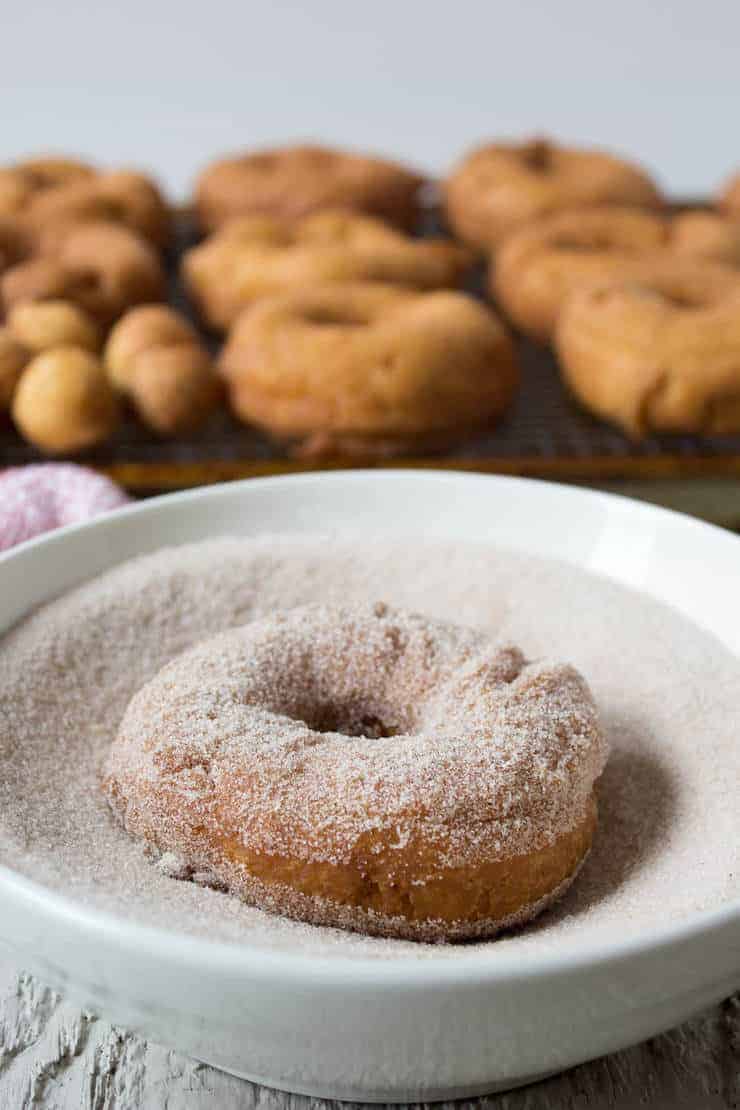 You will be amazed how much these doughnuts puff up when cooked. They start out relatively flat and poof, they just puff right up once dropped into the oil.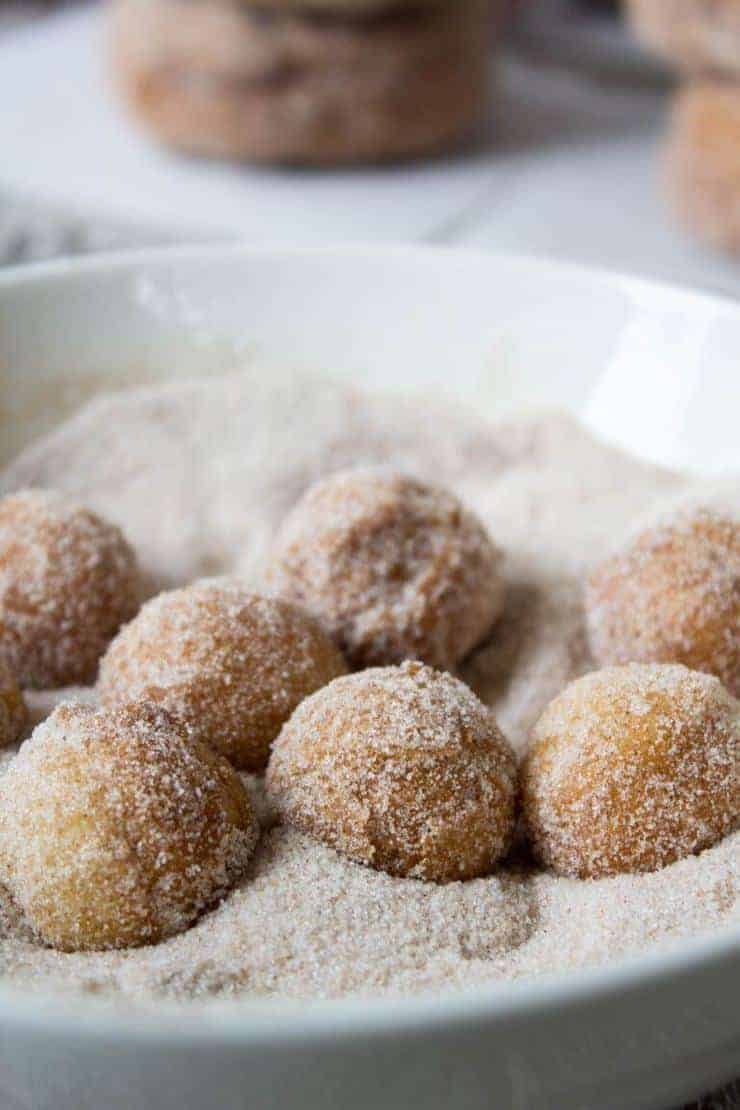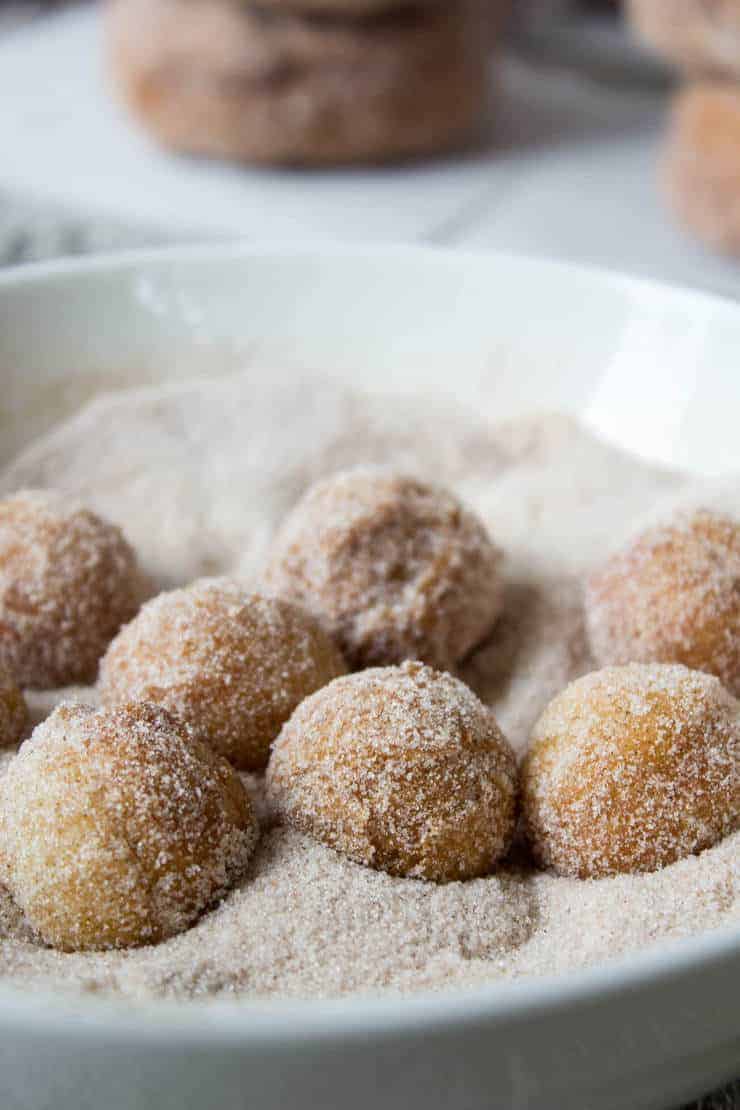 Don't forget to cook the doughnut holes! I think the doughnut holes are my favorite part.
Tools needed for making doughnuts
A couple of items you could use to make doughnut making successful: Doughnut Cutter, and a Thermometer. You need something to cut out a perfectly shaped doughnut and the key to cooking them is the accurate temperature. You don't want to guess if your oil is hot enough.
This post contains affiliate links. We receive a commission on purchases made via these links. The price you pay is not affected by using them.
Other doughnut recipes
If you are looking for other types of doughnuts, I have a recipe for baked mini doughnuts , maple bars, baked chocolate donuts and one for apple fritters. You might also want to try these delicious buttermilk bars!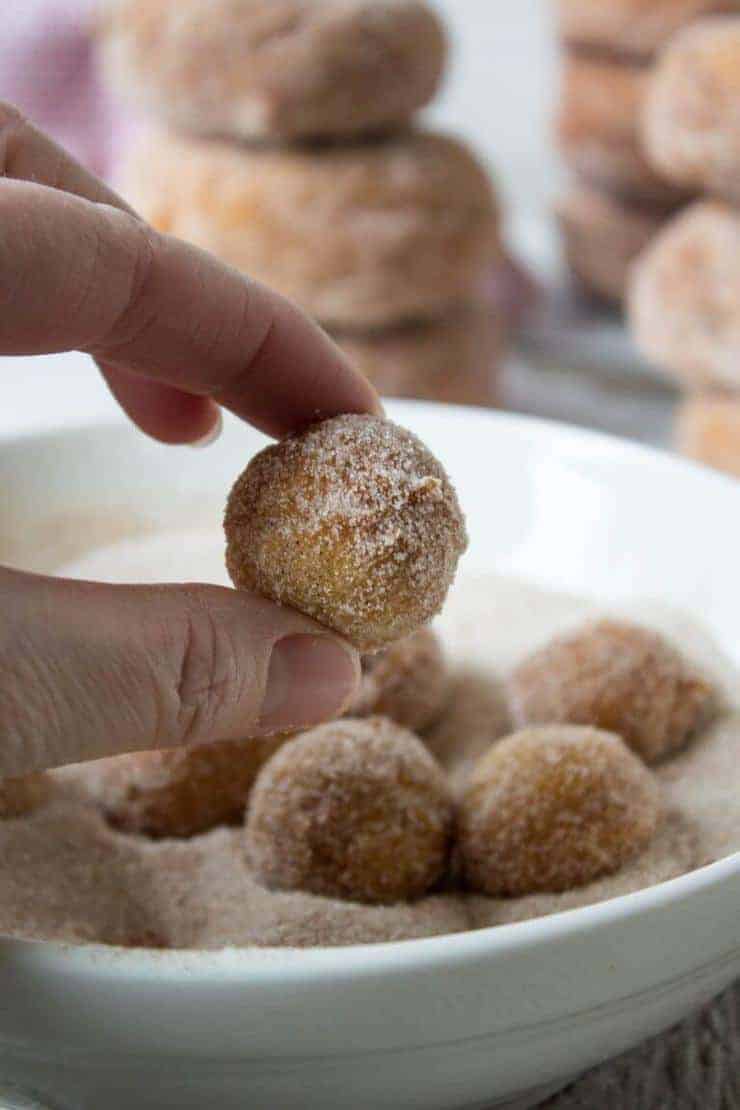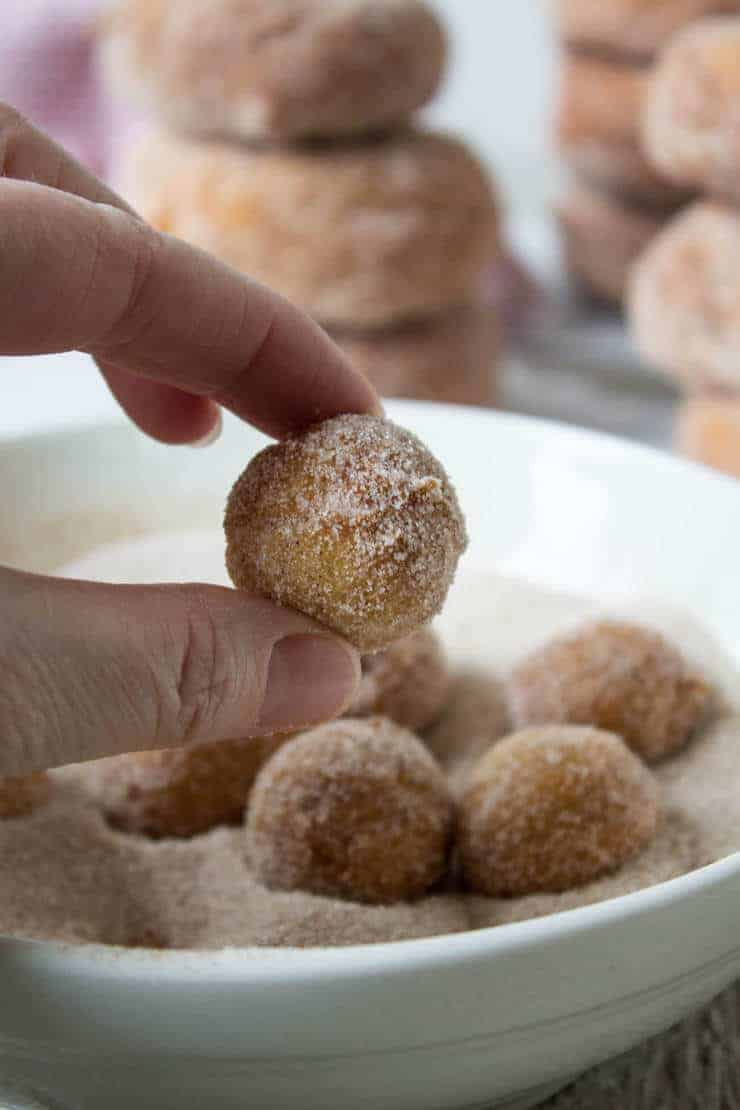 Tips for Making Cake Doughnuts
Combine all ingredients to make a dough
Place dough on plastic wrap and refrigerate for 2-4 hours
Shape dough into a large rectangle
Cut with round cutter
Fry doughnuts in a preheated 375 degree oil
Only fry 2-3 at a time so oil is not overcrowded
Place cooked doughnuts on a baking rack so excess oil can drain
Don't forget to PIN for later!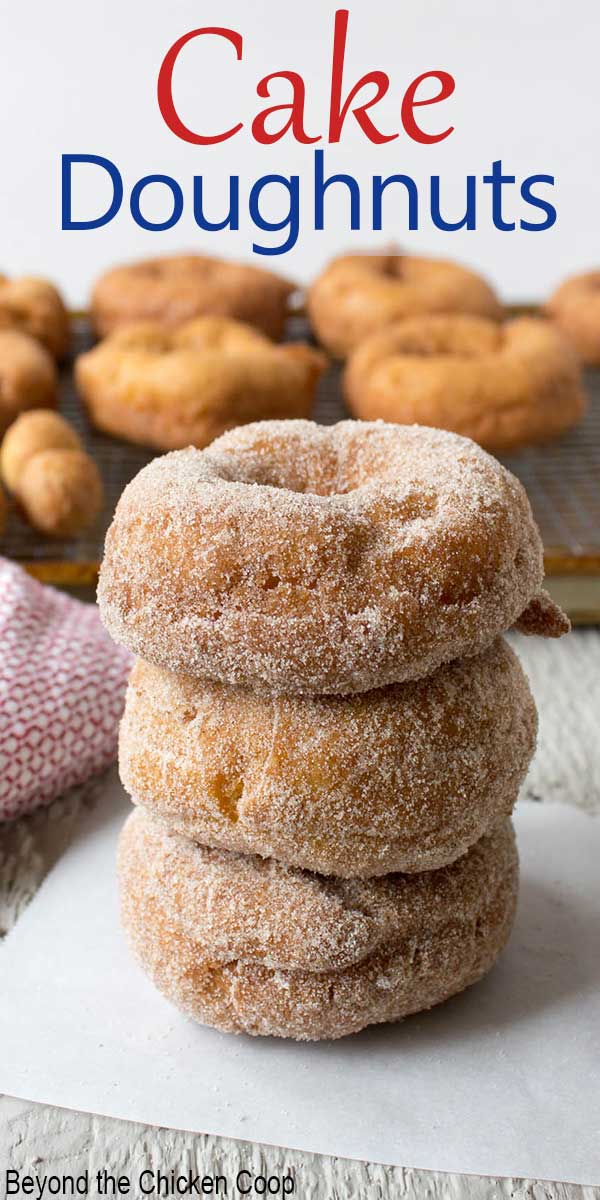 If you make this recipe, I'd love to hear about it! Leave a comment below and snap a picture and tag me on Instagram @beyondthechickencoop
Check out all my delicious baking recipes!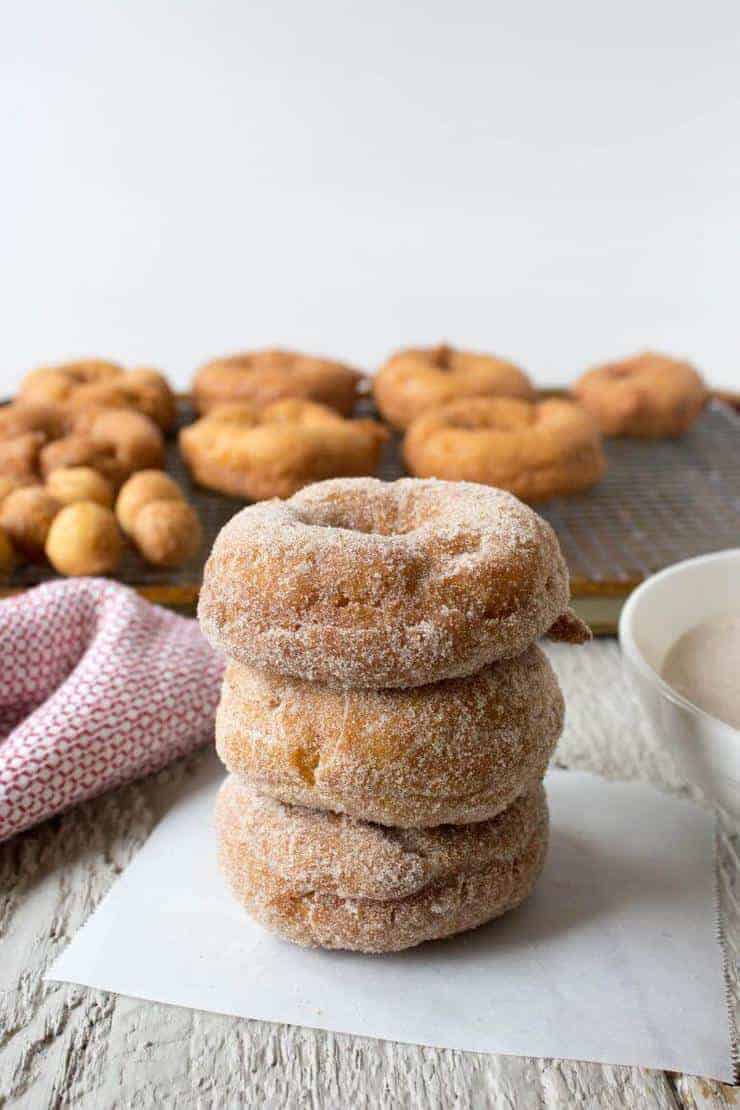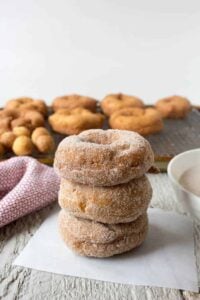 Cinnamon and Sugar Doughnuts
Cinnamon and sugar cake doughnuts
Ingredients
Doughnuts
2

cups

flour

2 ½

teaspoons

baking powder

½

teaspoon

baking soda

½

teaspoon

salt

½

teaspoon

ground cinnamon

pinch

ground nutmeg

2

large

eggs

½

cup

sugar

½

cup

sour cream

½

teaspoon

vanilla
Cinnamon Sugar
⅔

cup

sugar

2

teaspoons

ground cinnamon
Instructions
For the dough
Combine flour, baking powder, baking soda, salt and cinnamon together in a bowl. Set aside.

In a mixer beat eggs until light and fluffy.

Add sour cream and vanilla. Stir until combined.

With mixer running, add flour mixture. Mix just until ingredients combined.

Use a spatula to scrape bottom and sides and fold in any unincorporated ingredients. Dough will be sticky and wet.

Place dough on a piece of plastic wrap. Wrap up sides, form dough into a disc and place in fridge for 1-2 hours.
Forming Doughnuts
Remove dough from fridge. It will not be firm and will still be sticky.

Place dough on a well floured surface. Sprinkle with more flour on top. Knead dough once or twice to incorporate the flour into the dough.

Add a bit more surface and to the top of the dough. Gently press dough down with fingertips into a rectangular shape. Dough should be approximately ½" thick.

Using a doughnut cutter dipped into flour, cut out shapes. Dip doughnut cutter into flour before each cut.

Fill fryer or pot with at least 2 inches of oil. Heat to 375 degrees.

Add 2-3 doughnuts at a time. Cook 2-3 minutes per side until golden brown. Remove from oil onto a baking rack.

Repeat until all doughnuts are cooked, reheating to 375 degrees between each batch.
Cinnamon and Sugar
Mix cinnamon and sugar together in a bowl.

When doughnuts are almost cooled dip each doughnut into mixed cinnamon and sugar.
Notes
Tips for Making Cake Doughnuts
Combine all ingredients to make a dough
Place dough on plastic wrap and refrigerate for 2-4 hours
Shape dough into a large rectangle 
Cut with round cutter
Fry doughnuts in a preheated 375 degree oil
Only fry 2-3 at a time so oil is not overcrowded
Place cooked doughnuts on a baking rack so excess oil can drain
Nutrition
Serving:
1
Doughnut
Calories:
183
kcal
Carbohydrates:
36
g
Protein:
3
g
Fat:
2
g
Saturated Fat:
1
g
Cholesterol:
35
mg
Sodium:
163
mg
Potassium:
131
mg
Sugar:
19
g
Vitamin A:
105
IU
Vitamin C:
0.1
mg
Calcium:
58
mg
Iron:
1.2
mg