Homemade Bacon - How to cure and smoke bacon. This step by step guide shows you how to cure and smoke bacon in your own smoker.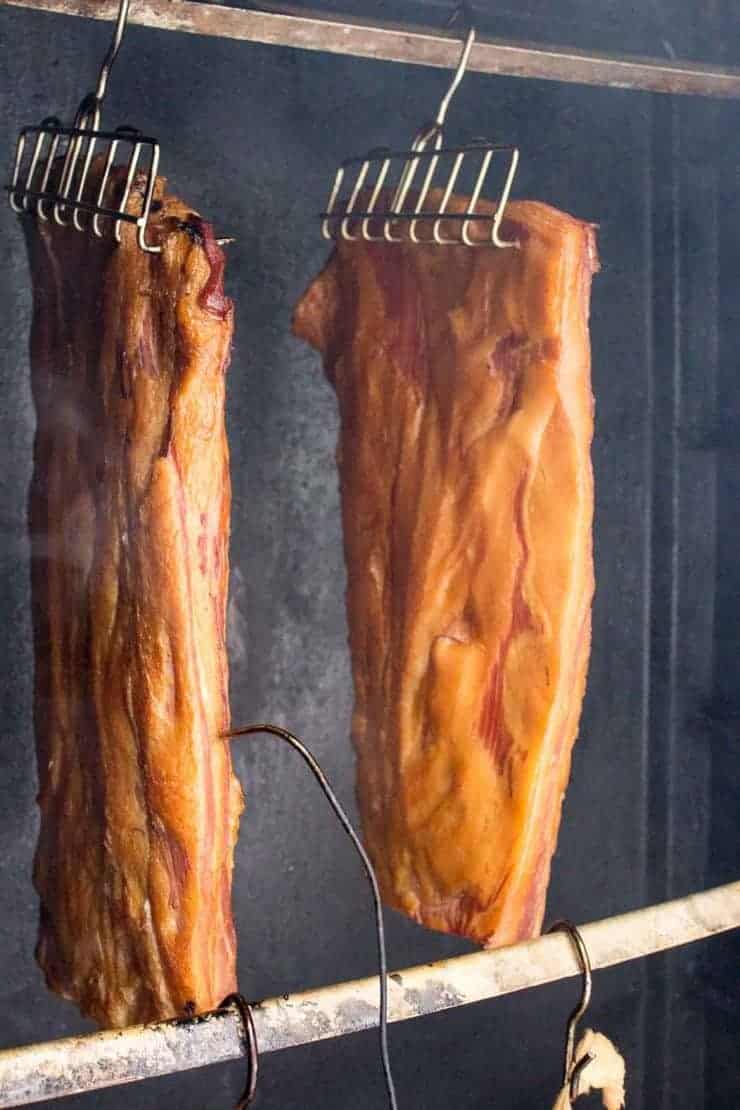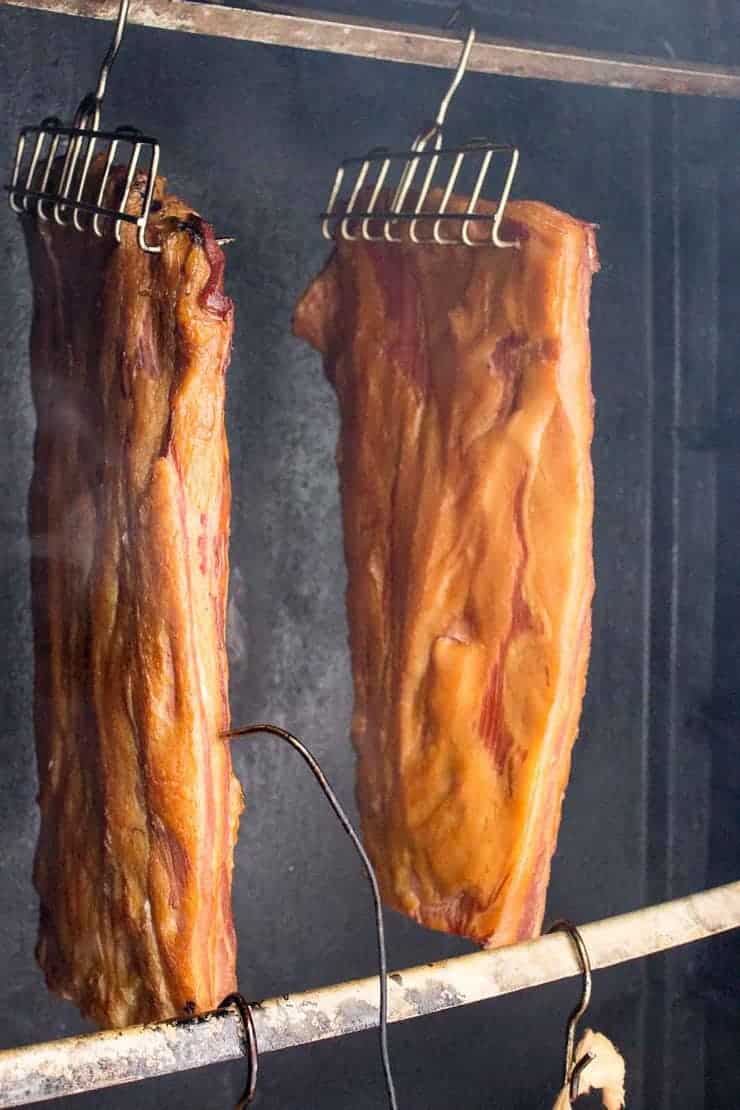 Are you ready to make some bacon? Have you wondered how to cure bacon at home?
I'm not just talking about cooking up some slices of bacon. Nope, I'm talking about homemade bacon that starts with a slab of meat that is rubbed with a cure, smoked, sliced and then cooked.
Rod has been making homemade bacon for years. We raise our own pigs and he does all the butchering each fall.  That time of year is usually crazy busy for us and there's no time to cure and smoke bacon or ham or make homemade sausage.
Rod usually cuts, grinds and wraps up the meat and freezes it until the end of winter or beginning of spring when he has time to create his masterpieces!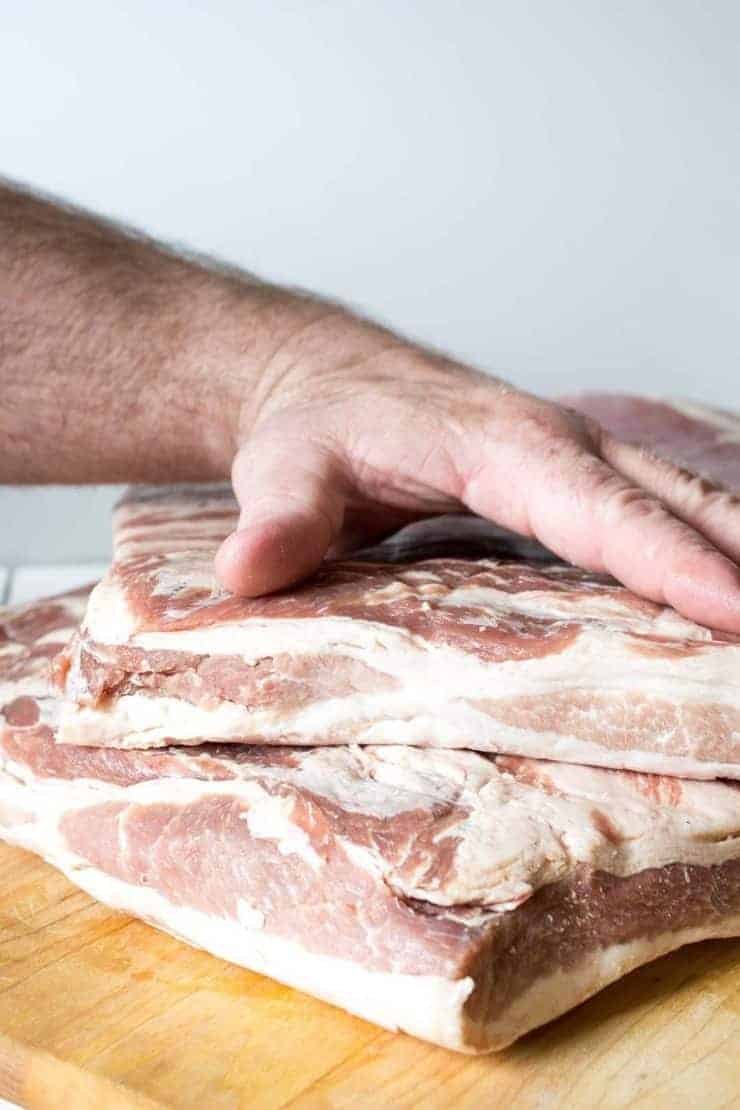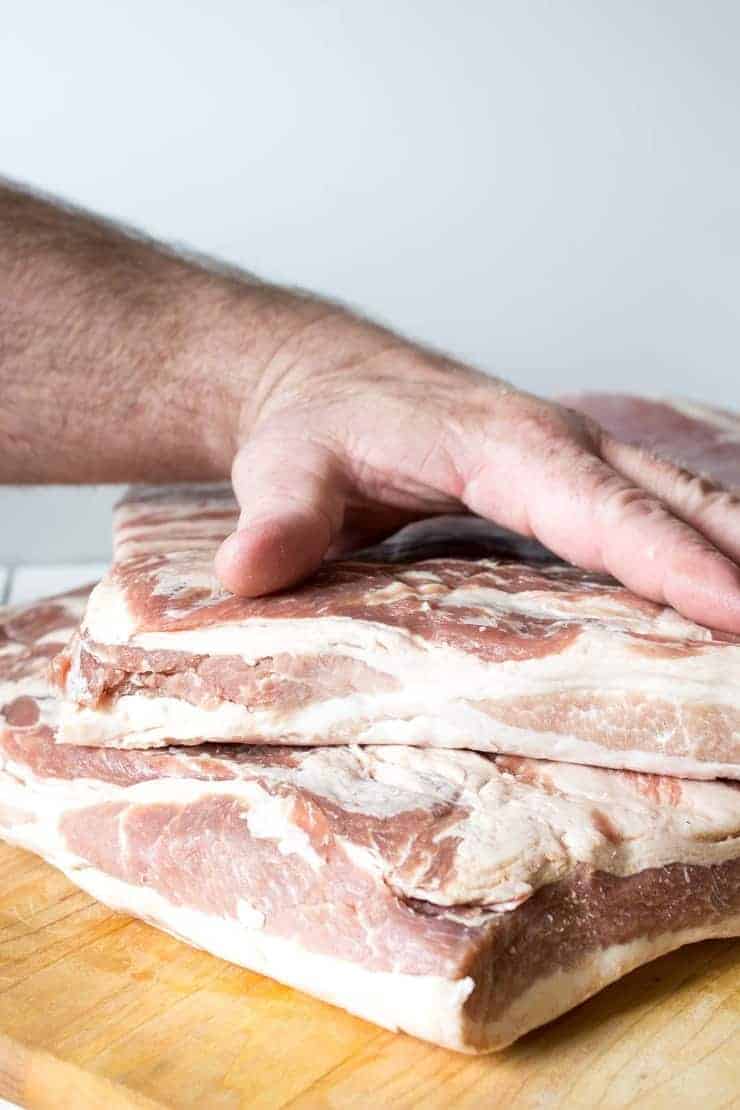 How long does it take to make your own bacon?
This process takes several days, but in the end we have enough bacon to last us several months.
You don't have to raise your own pigs to make your own bacon. You can buy meat from your local butcher. You want a bacon cut or belly from the pig.  It probably won't be in the display case, but most butchers can get it for you - just ask!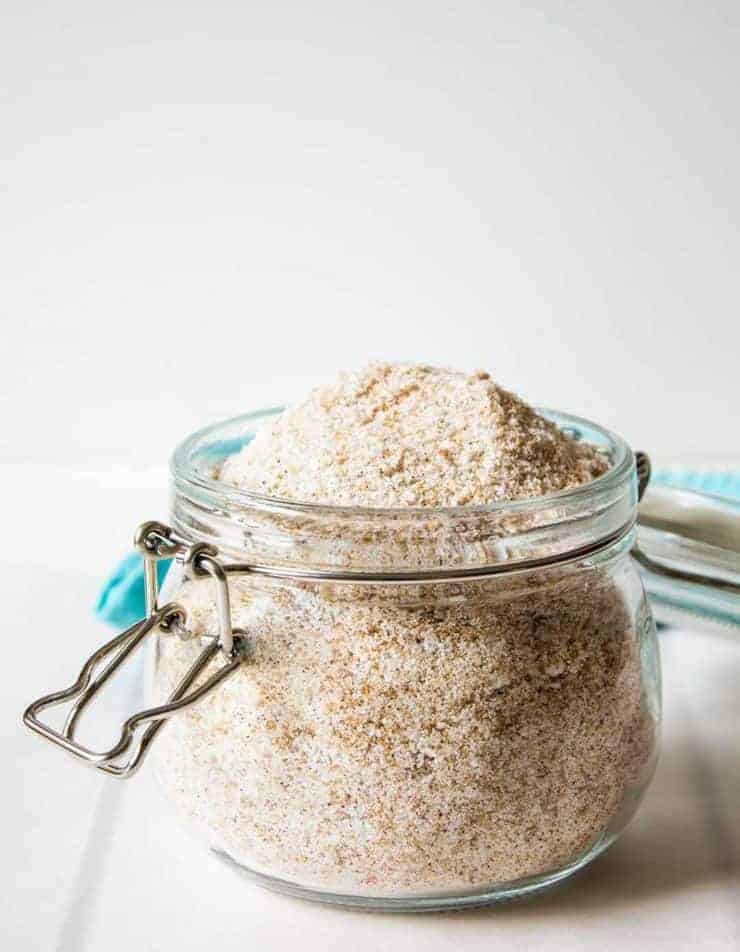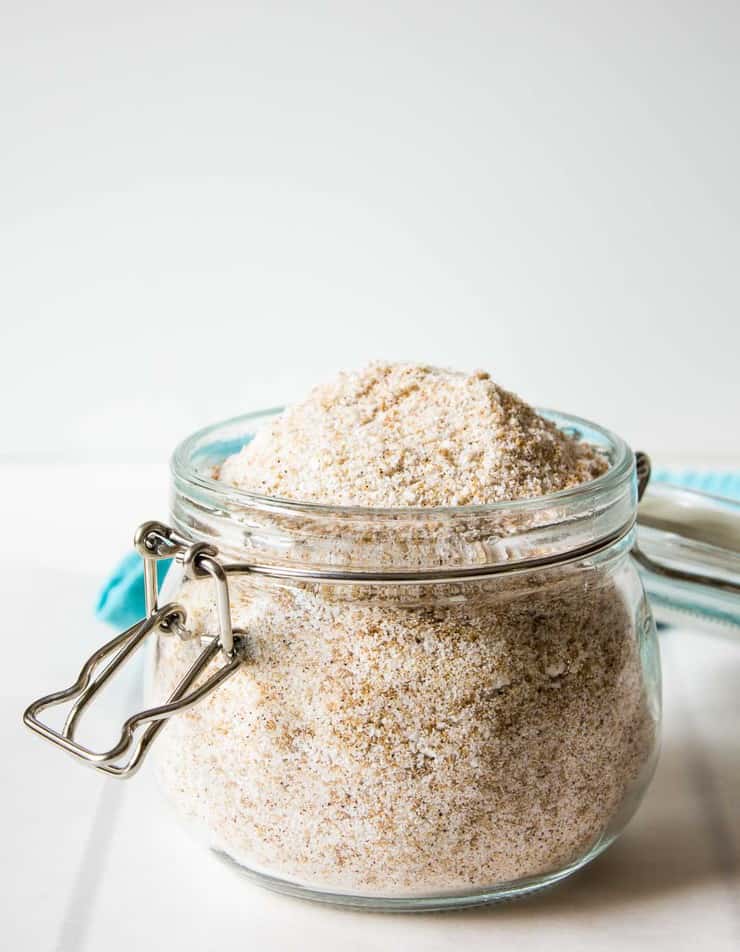 How do you make homemade bacon?
Step One: Make the Rub
First step is to make the rub. This is a mixture of salt, seasonings, sugar and cure.
The rub is sprinkled over the meat and massaged into the meat. This dry rub marinates the bacon for 4 -6 days.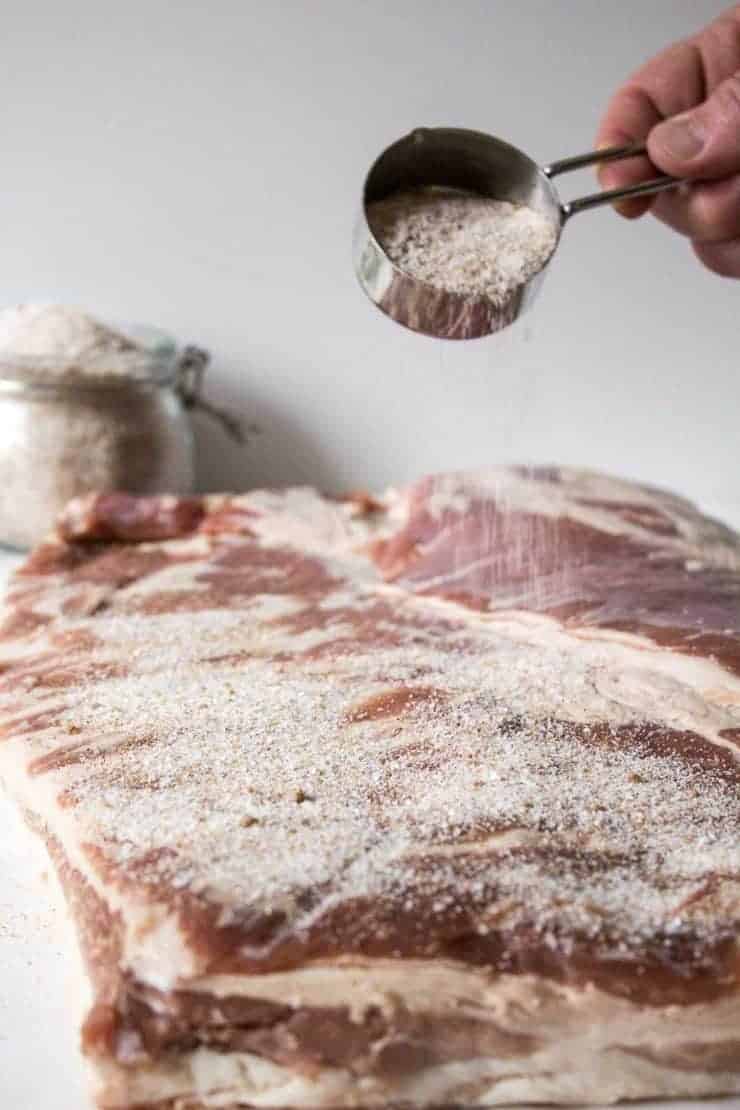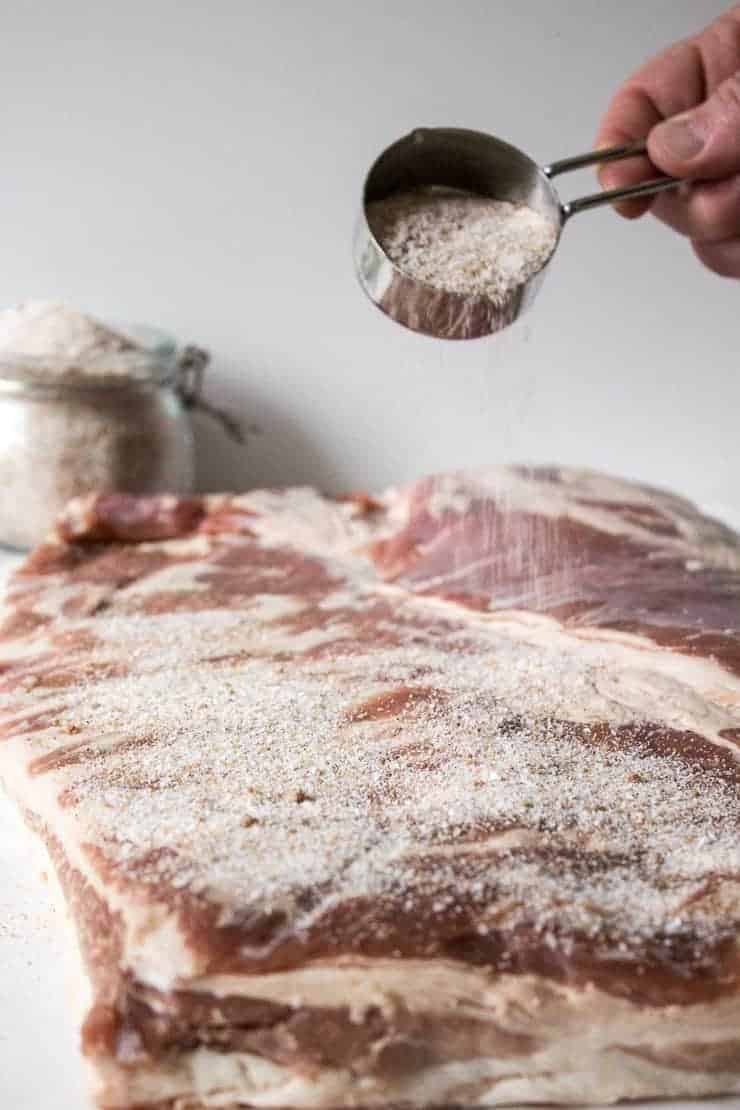 Step Two: Rinse the Meat
The meat is rinsed and then soaked in water for 2-4 hours. The soak helps remove the excess salt. After 2 hours, Rod slices off a bit of the bacon, fries it up and tastes it to determine the saltiness.
Keep in mind there isn't any smoke yet. If the bacon still seems too salty, soak for another 1-2 hours in a fresh batch of water.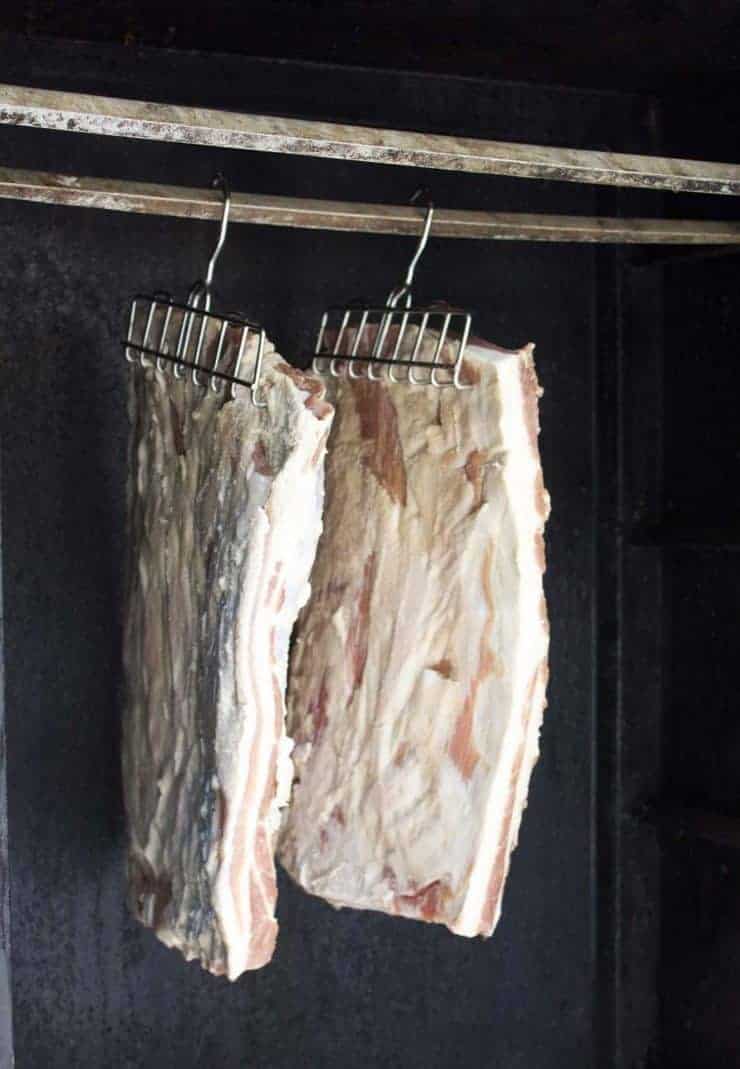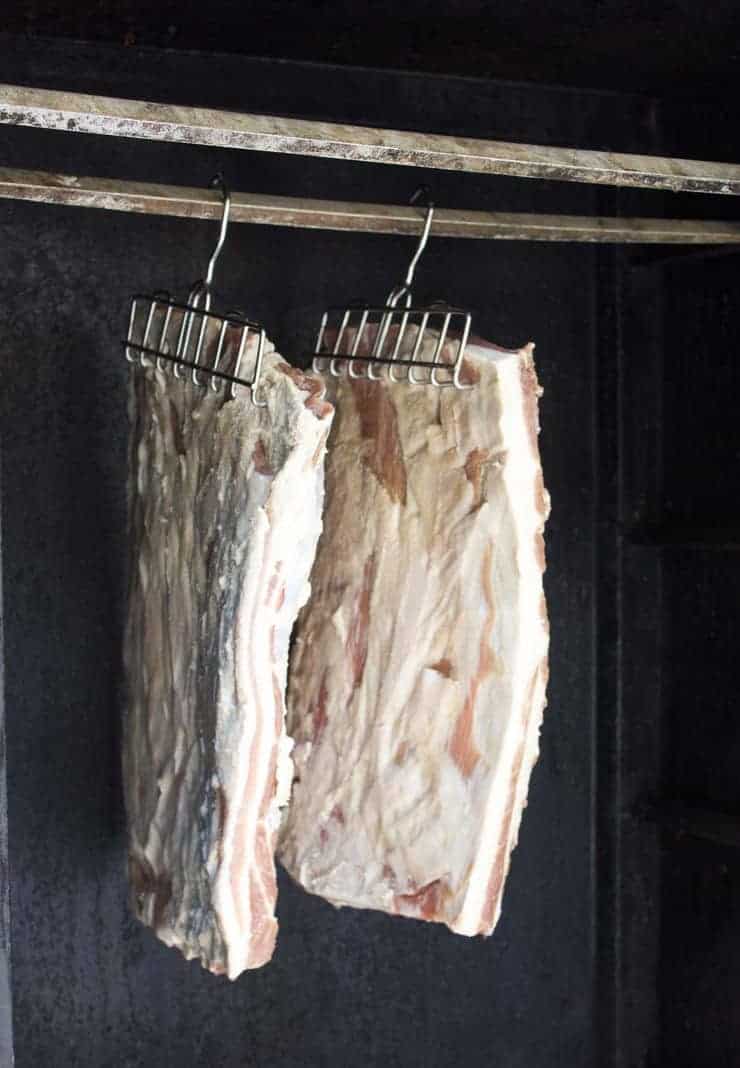 Step Three: Smoke the Meat
Next comes the smoking. Rod uses a homemade smoker that he built, but you can use almost any type of smoker. He hangs the bacon with bacon hangers.  If your smoker doesn't have space for hanging, you could lay your bacon flat.
Preheat your smoker to 180-220 degrees prior to hanging bacon. Rod doesn't add smoke right away. He hangs with just heat until the internal temperature of the meat is 80-90 degrees.  He then begins adding smoke. Rod usually makes applewood bacon.
How is applewood bacon made?
The type of wood used flavors the meat and creates a unique flavor. Rod usually uses applewood for smoking bacon.
What type of wood can be used for smoking bacon?
Beside applewood, there are several types of wood you could use including hickory, maple, mesquite and alder.
Rod smokes the meat until the meat becomes lightly browned. He then stops the smoke, but keeps the bacon in the smoker with just heat until they reach an internal temperature of 135 degrees.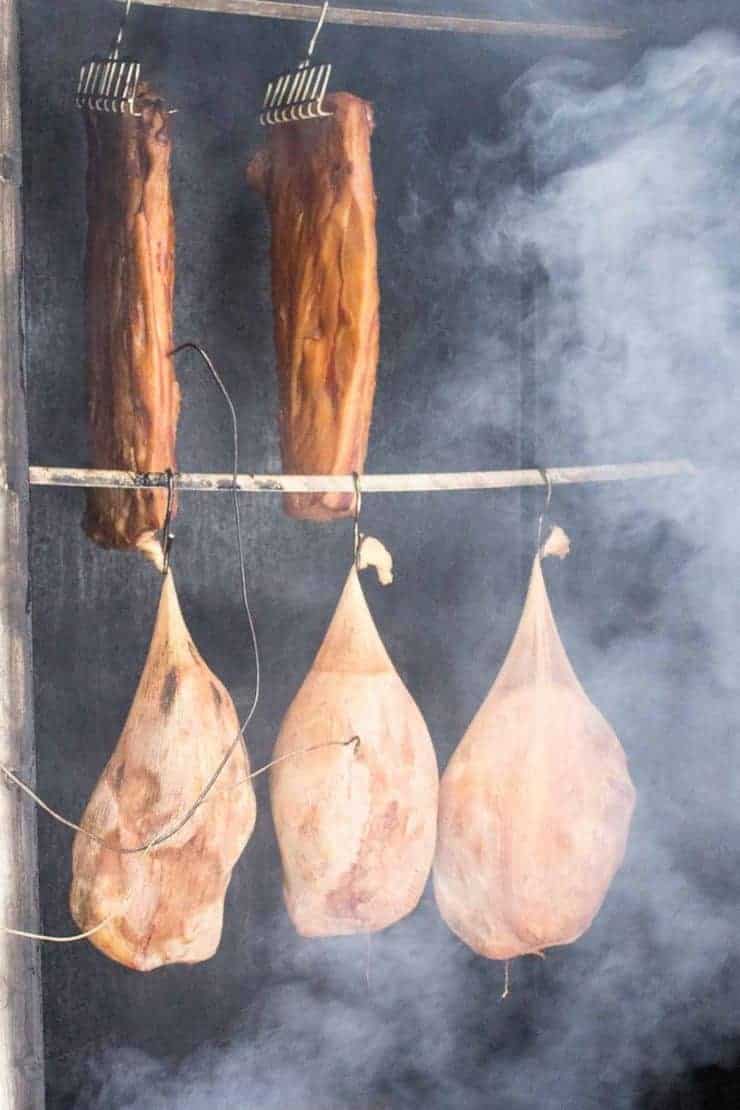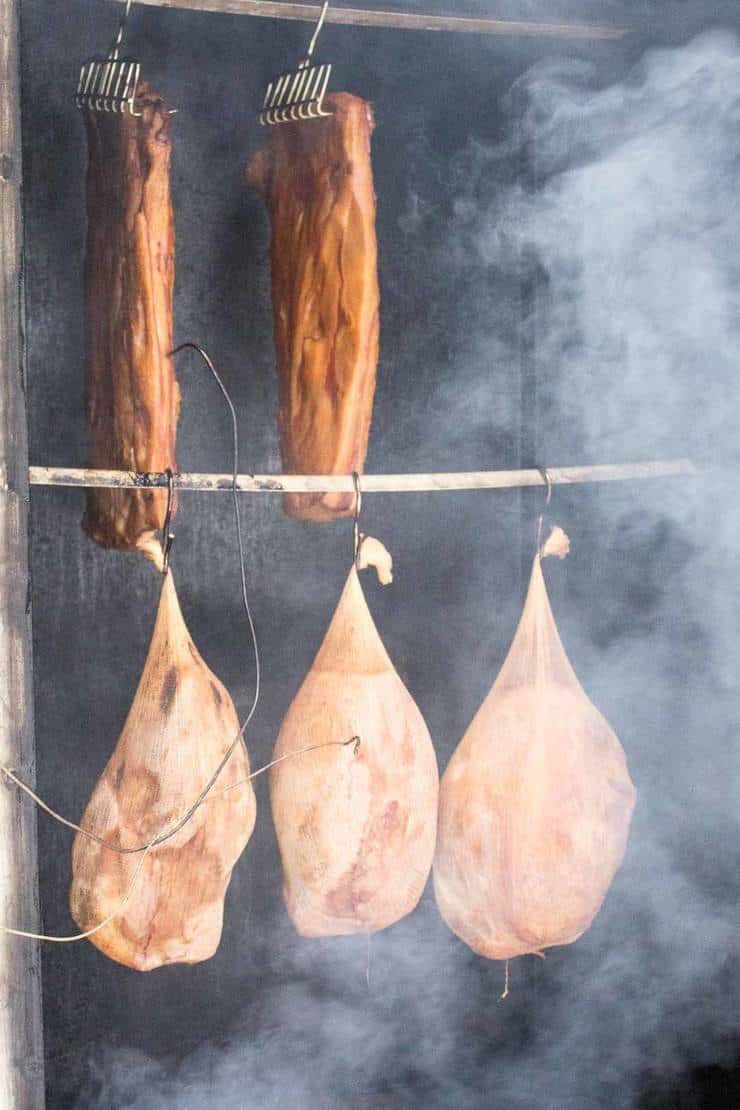 We typically will make our bacon and ham at the same time. Rod actually uses the exact same salt rub on the hams as the bacon. I never even knew that until I wanted information for this blog post!
Making ham is very similar to making bacon, although the hams do go through a brining process prior to the rub. The timing and temperatures are different. I'll share how to make homemade ham sometime in the future.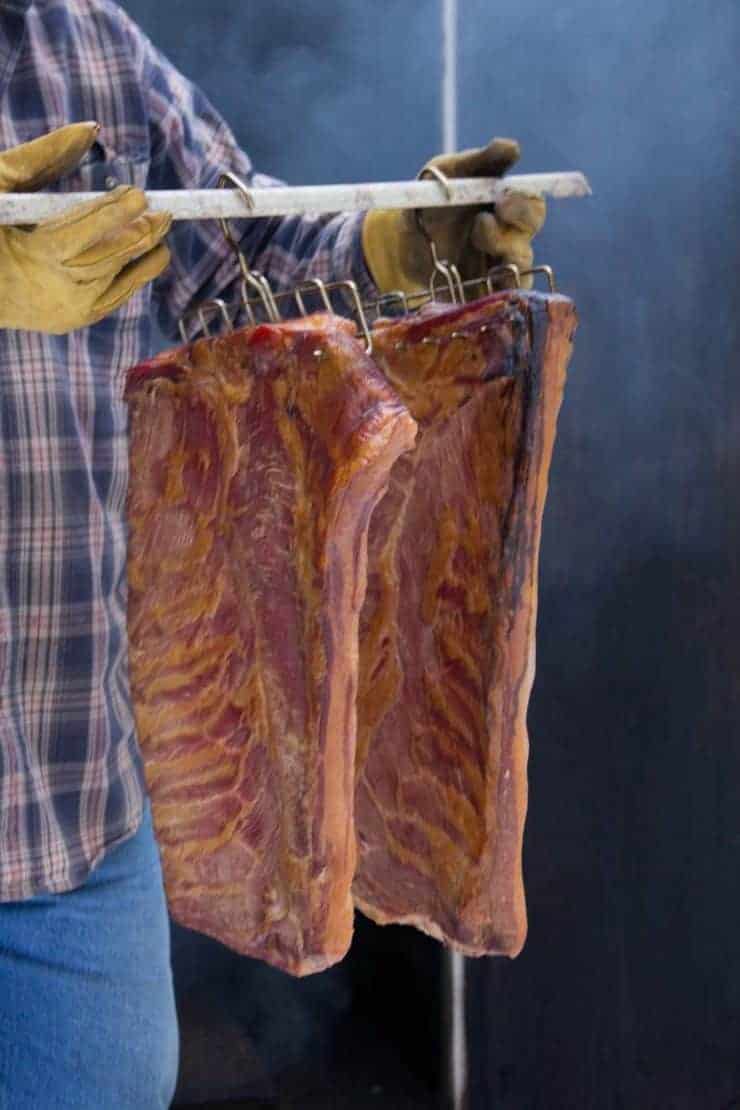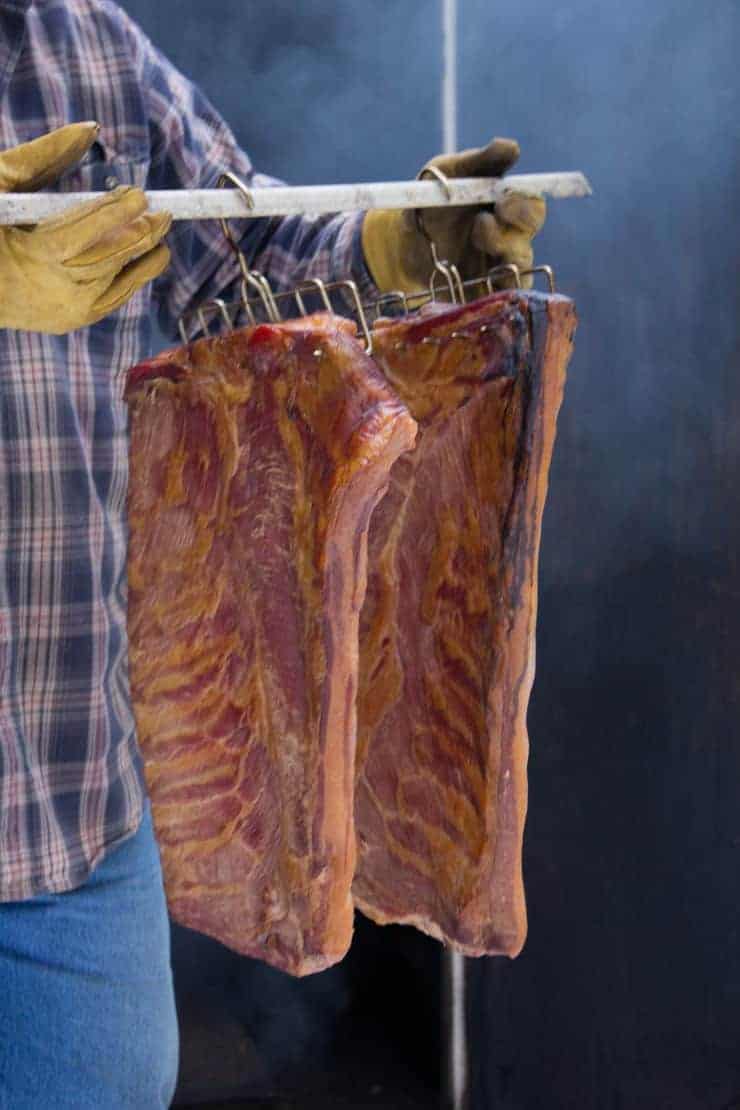 What temperature do you heat bacon to in the smoker?
When the bacon reaches 130 degrees, they are removed from the smoker. Rod hangs them in our unheated shop (when it's cold)  until they are cooled. You want to hang your meat in a refrigerator or cool area that is at least 40 degrees at all times.
Our shop stays about 30 degrees during the winter and early spring. You could also refrigerate them, which we've had to do from time to time.
The last thing to do is slice it all up! We package our sliced bacon and freeze it until we are ready to use it.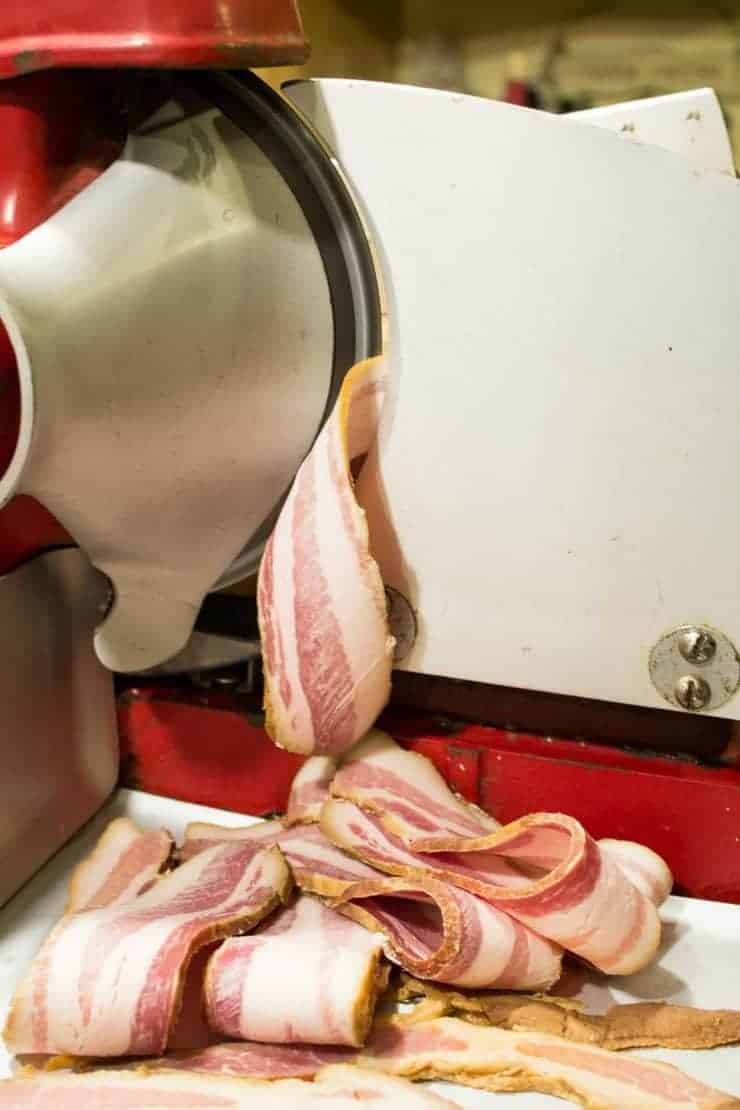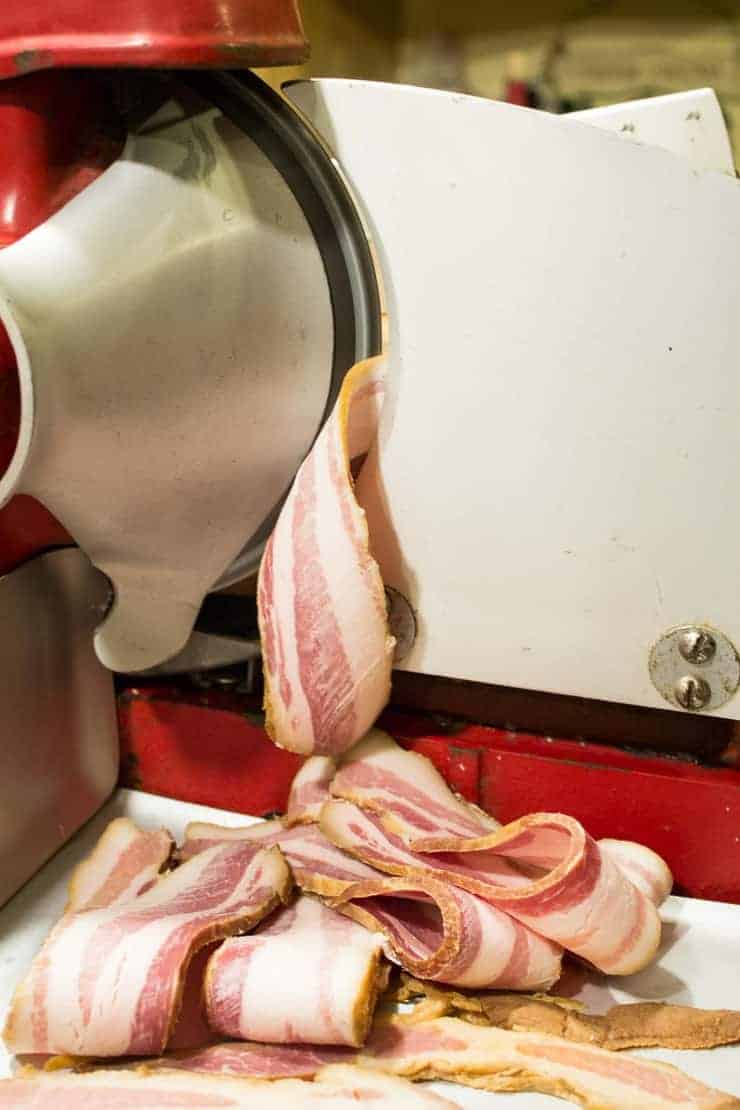 Notes on Making Homemade Bacon
Use a 7-10 pound slab of bacon. We do two at a time. If your smoker isn't big enough, just do one bacon.
Bacon slabs can be cut in half if size is too large for your smoker or refrigerator.
Ingredients are listed by weight, not volume. It is important to have exact measures and weight will be more precise than volume.
Prague powder #1 is a basic cure used when smoking meats. Do not confuse with Prague powder #2! Each has a different use.
Dextrose is used as a sweetener and as a cure.
Use Kosher Salt. Kosher salt is pure with no additives. Not all salt is pure.
Rod uses a small amount of Ham Base Seasoning for additional flavoring.
We use large meat lugs. They are handy, but do take up a lot of space in a refrigerator. Two gallon zip top bags are also a good option. Remember you can cut your bacon slabs in half so they fit into your bags.
A good thermometer is key to monitoring temperature.
Don't be intimidated by the list of ingredients. Once you have everything on hand, the bacon making process is that much easier the next time around!
How to Freeze Bacon
Slice bacon
Portion slices into the amount you would like. We often package 20 pieces of bacon in one package.
Seal bacon slices in vacuum sealed bags or freezer paper
Label packages
Freeze
Recipes Using Bacon
Another great homemade recipe is this venison pastrami.
If you make this recipe, I'd love to hear about it! Leave a comment below and snap a picture and tag me on Instagram @beyondthechickencoop
Be sure to check out all my delicious recipes!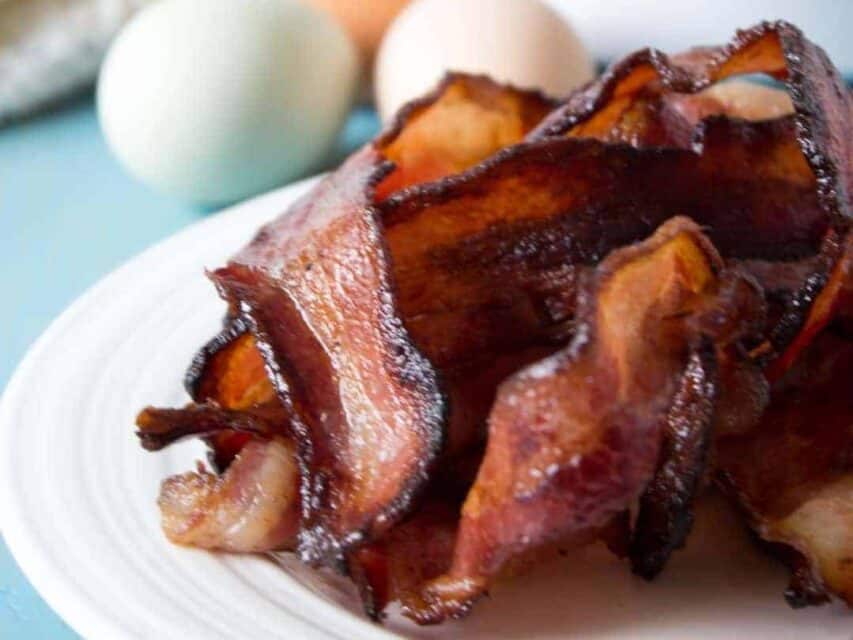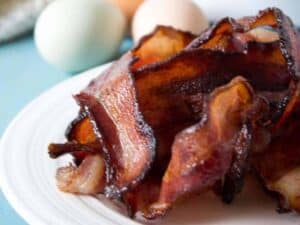 Homemade Bacon
How to cure and smoke bacon
Ingredients
Rub
2

oz

Pargue Powder #1

4

oz

Dextrose

4

oz

brown sugar

2

Tablespoons

ham base seasoning

1

pound

kosher salt

½

oz

garlic powder

½

oz

ground chili powder
Instructions
Mix all rub ingredients together. Set aside in a sealed container until ready to use.

2 oz Pargue Powder #1,

4 oz Dextrose,

4 oz brown sugar,

2 Tablespoons ham base seasoning,

1 pound kosher salt,

½ oz garlic powder,

½ oz ground chili powder

Rub a generous amount of mixture onto meat. Rub onto all areas.


Place bacon slabs in a non-reactive container in a refrigerator for 4-6 days. Place a large piece of meat wrapper paper on top of meat as a cover. A large 2 gallon zip top plastic bag can also be used.

There will be a salty liquid that is released from the meat during the curing process. Keep meat in contact with this liquid during the curing time.

After 4 days, check the thickest part of the meat for firmness. If the meat is firm, it is fully cured. If the meat is soft, cure for another two days.

Rinse bacon slabs with fresh water. Soak bacon in fresh water for one hour. Drain water. Cut a small piece of bacon off and fry it up. Taste for saltiness. If too salty, soak for another hour.
Smoking
Preheat smoker to 180 - 220 degrees. Hang bacon in smoker or lay meat on a rack.

When internal temperature reaches 80 degrees.

Add wood chips or wood pellets to smoker. Smoke for 1-2 hours. Check meat. You are looking for the color of the meat. The amount of smoke added varies by personal taste. We like the meat to turn lightly brown from the smoke. Once this occurs we don't add any additional smoke.

Continue cooking in the smoker at 180-220 degrees until internal temperature of meat reaches 130.

Remove meat from smoker. Cool in a refrigerated area until completely cooled.

Slice bacon to desired thickness.

Package and freeze any bacon you aren't going to use immediately.
Nutritional Disclaimer:
Nutritional information is provided as a courtesy and should only be construed as an estimate rather than a guarantee. To obtain the most precise nutritional information in a provided recipe, you should calculate the nutritional information with the exact ingredients you are using when preparing the recipe using your preferred nutrition calculator.
Nutrition
Calories:
43
kcal
Carbohydrates:
1
g
Protein:
3
g
Fat:
3.3
g
Saturated Fat:
1.1
g
Polyunsaturated Fat:
0.4
g
Monounsaturated Fat:
1.5
g
Cholesterol:
9
mg
Sodium:
137
mg
Potassium:
45
mg
Vitamin A:
35
IU
Calcium:
2
mg