A delicious quiche filled with ham, fresh spinach and gouda cheese. This ham and spinach quiche is perfect for breakfast or dinner!
Leftover quiche is just as delicious as the day it's prepared and is perfect reheated for lunch.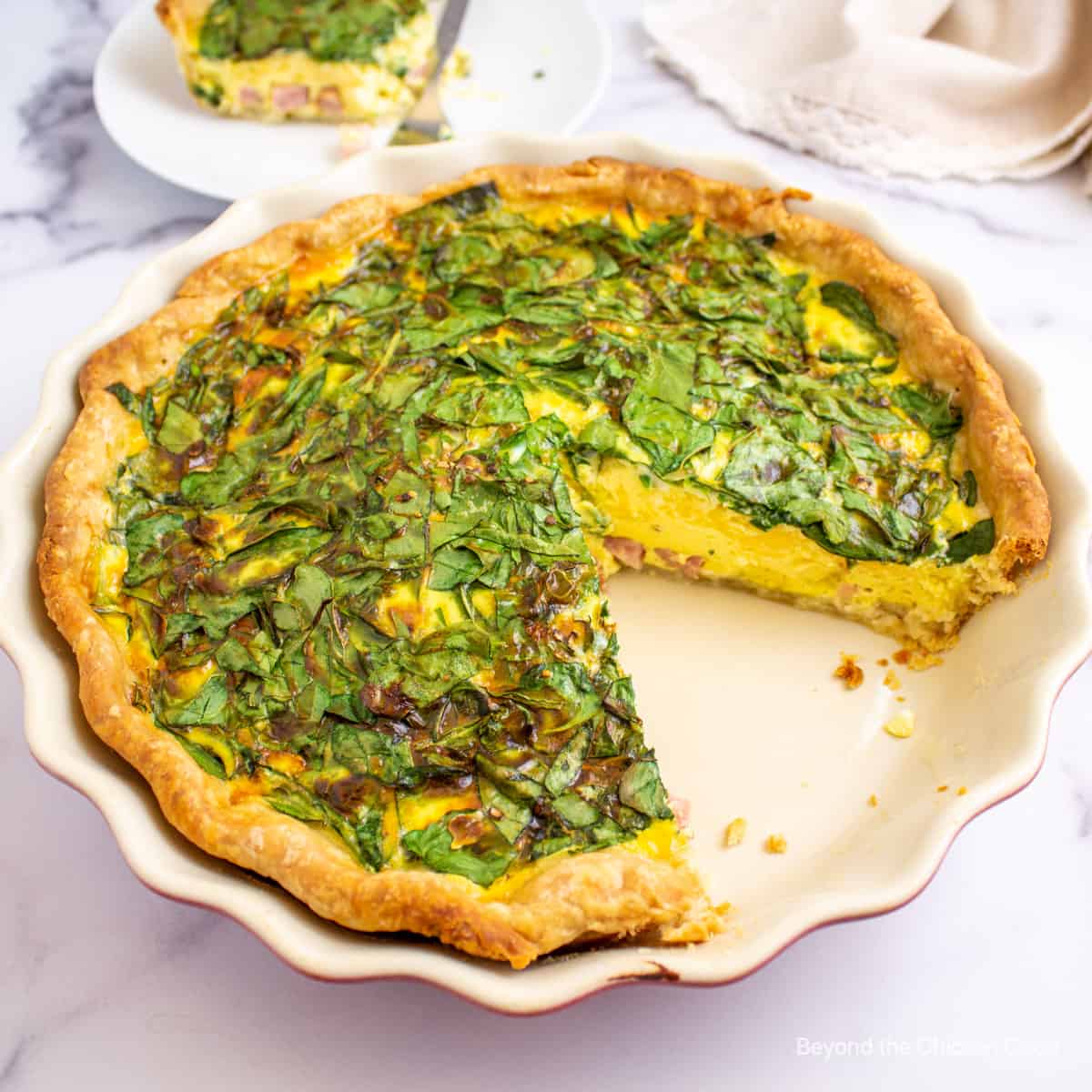 Quiche
This is a quiche done my way! In every sense of the word, this is a quiche, but I've changed things up just a bit!
What really makes this my own is the ratio of eggs I've used. Many quiche recipes just call for 3-4 eggs per 1 ½ cups of cream, but I used 6 eggs! Partially to fill this pie dish, but also because we always have a refrigerator full of our fresh eggs.
Using up the eggs means I'm using what we have! That's just all part of raising chickens - you always have an excess of eggs. But to tell you the truth, I like that this quiche has a bit more substance to it!
This ham and spinach quiche is loaded with fresh spinach and delicious little bites of ham. Then there's the cheese - gouda! It adds such a creaminess.
Quiche is one of those foods that can be eaten for any meal. Nobody will even think twice if you serve it for breakfast, brunch, lunch or dinner. How many foods can say that about?
This ham and spinach quiche can also be served for almost any occasion - holidays, baby shower, wedding shower, afternoon tea party, business meeting, family gathering, potluck buffet and it's perfect to take on a picnic.
Leftover quiche is also just as delicious as when it's first served. In fact, I believe my kids actually prefer it reheated the next day. Just think of the envious stares you'll receive when you take out a slice of homemade quiche at work!
Key ingredients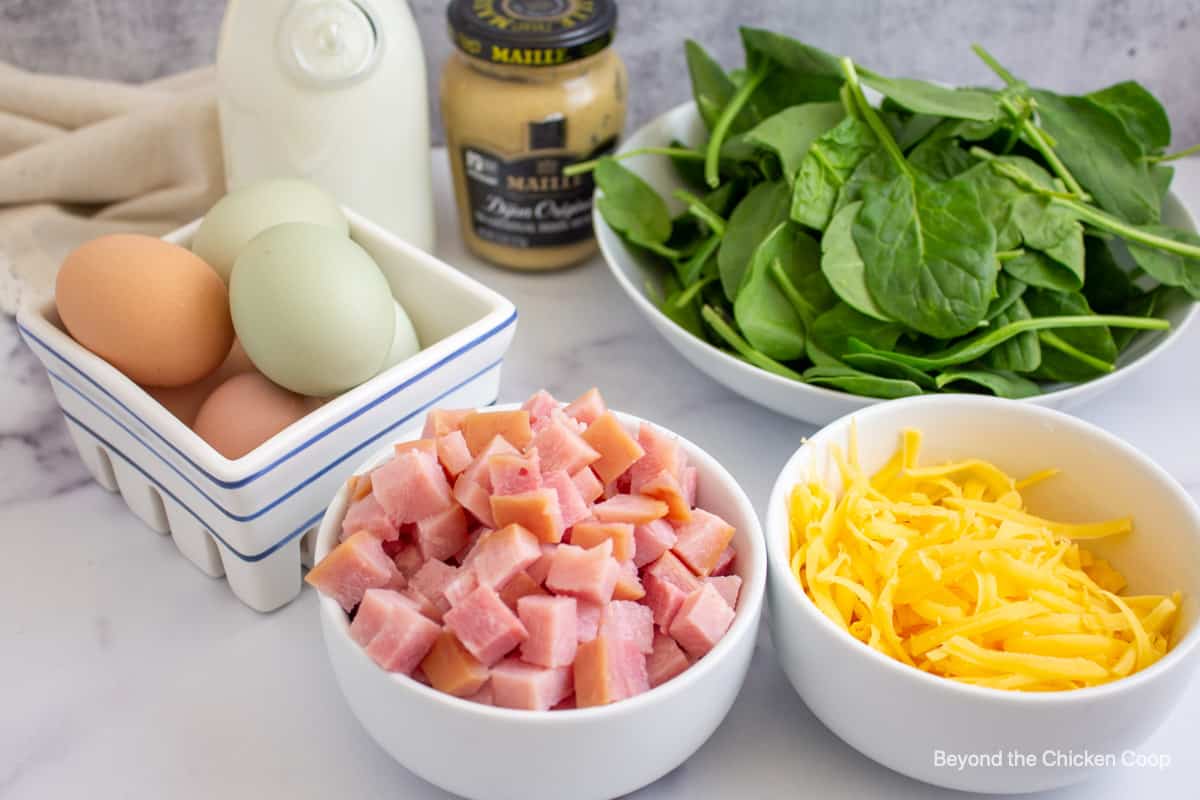 Pie crust - make your own or purchase a store bought crust. You'll need one to fit a deep dish pie.
Eggs - 6 whole eggs
Spinach - fresh baby spinach roughly chopped, although frozen can be used too
Ham - fully cooked and cut into small cubes. Leftover ham is perfect or buy from your deli.
Gouda cheese - feel free to substitute cheddar or monterey jack
Half and Half Cream - whole milk or heavy cream can also be used or use a mixture!
Dijon mustard
Step by step directions
Make your pie crust. I make a 10 inch pie crust to fit my deep dish pie plate. If using a store bought crust, you will probably need to roll it thinner in order to fill the pie plate.
Dock or prick the pie crust with a fork
Line pie crust with foil and fill with pie weights or dried beans. This helps prevent the pie crust from puffing up while baking. I've had my pie weights for more than 25 years. Ceramic pie weights are more popular now.
Bake pie crust for 15 minutes
Remove foil and pie weights and bake for an additional 5 minutes
Allow pie crust to cool. It can still be warm when adding filling, but you do not want it to be hot.
Whisk eggs together with dijon mustard and salt and pepper
Add half and half and whisk until well incorporated
Place ham in the pie crust
Add chopped spinach
Pour egg mixture over the top of spinach
Use a fork to press spinach down into the pie dish
Bake in a preheated 350 °F oven for 45-50 minutes
Remove from oven and allow quiche to cool for 15-20 minutes before serving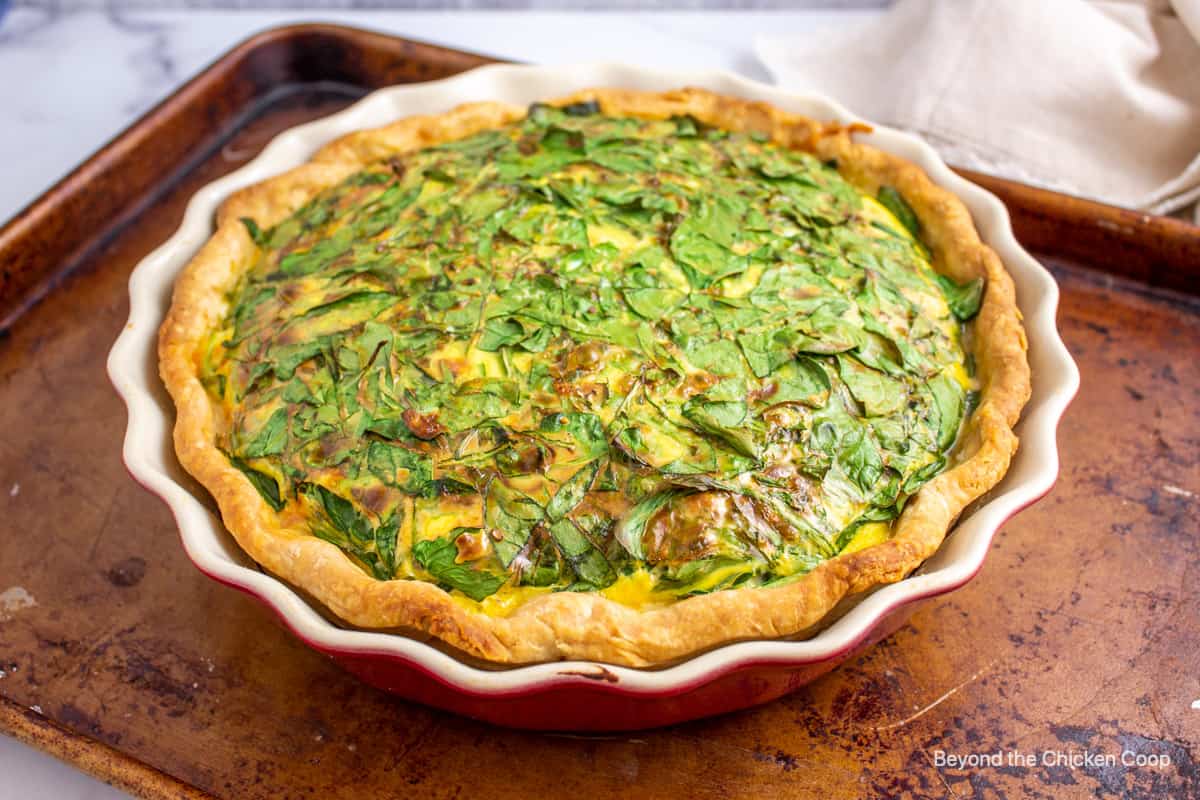 Recipe tips
Be certain to parbake pie crust
Use a deep dish pie plate that is 2 inches deep
If using frozen spinach, thaw and squeeze liquid out of spinach before using
You can change to order of your quiche - consider placing spinach on top of ham and then topping with cheese
Bake quiche on a baking sheet. This makes getting the quiche in and out of the oven easier and it will also catch and spills or overflows if the quiche is filled just a tad too high.
Allow quiche to cool for at least 15 minutes before serving. You can cool for longer and serve warm or at room temperature.
When you first cut into this quiche and remove the first piece, you may notice the quiche is a little weepy. This is from the moisture in the spinach and the ham. Just use a paper towel to absorb any excess moisture. The longer the quiche cools, the less moisture you'll notice.
Wrap leftover cool quiche and store in the refrigerator for 3-4 days
How to know if your quiche is done
Set a timer for the correct amount of time
Give the dish a little wiggle. If the center of the quiche is jiggly, it needs more time. If it's firm, remove the quiche from the oven and do a knife test.
Insert a butter knife into the center of the quiche and pull it out. If it's gooey with egg, it needs a few more minutes. Otherwise, it's done!
Allow quiche to cool for 15 minutes before cutting into it
Frequently asked questions
How long will quiche last in the refrigerator?

Cover and wrap cool quiche and store in the refrigerator for 3-4 days.
Can I freeze quiche?

Yes, this quiche can be frozen. Cook quiche and allow it to fully cool. Wrap quiche in plastic wrap and then with aluminum foil. Freeze for up to 3 months.

To use, allow quiche to fully thaw. Remove plastic wrap and cover quiche with foil. Heat in a 300°F oven for 20-30 minutes until warmed inside.
Variations
Use cooked turkey instead of ham
Pick your favorite type of cheese - gouda, cheddar, swiss or monterey all work well
Make crustless! Omit the crust, just be certain to spray your baking dish with a nonstick spray before adding ingredients.
Serving suggestions
Serving suggestions will vary, depending on when you are eating your quiche
Breakfast/Brunch
Lunch/Dinner
Party Buffet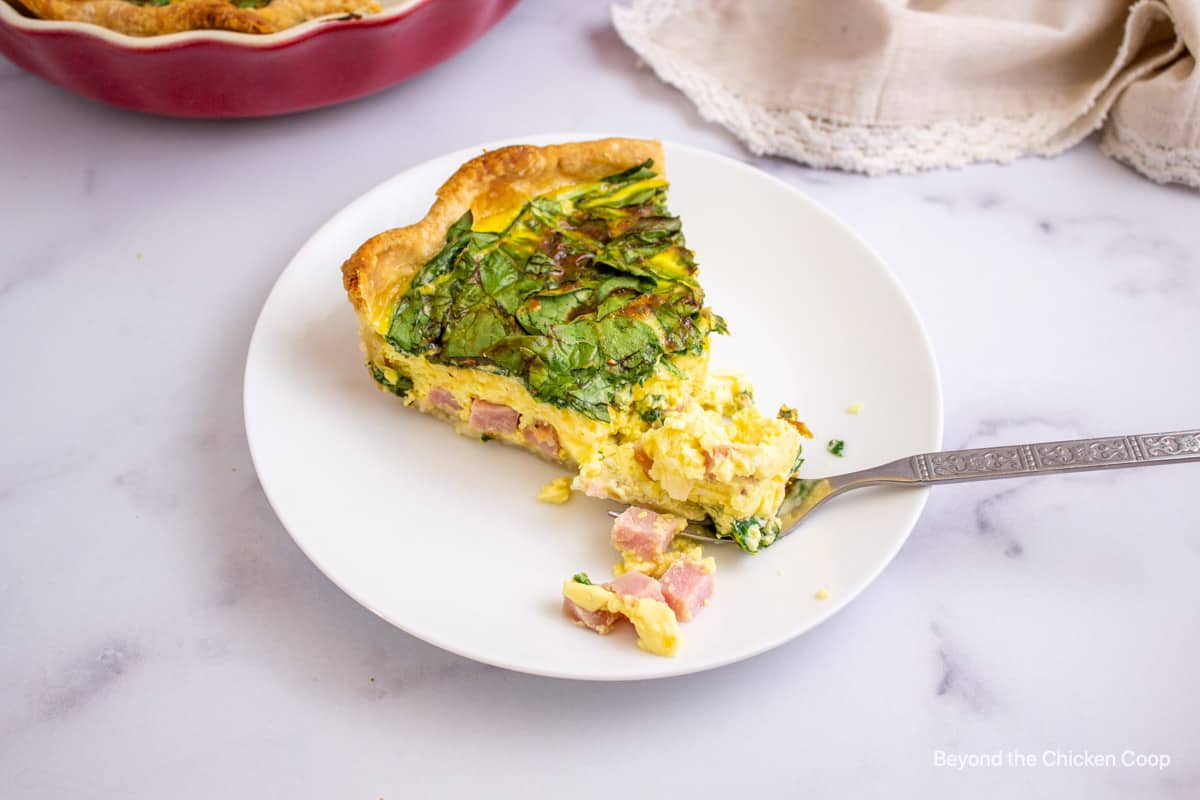 If you make this recipe, I'd love to hear about it! Leave a comment below and snap a picture and tag me on Instagram @beyondthechickencoop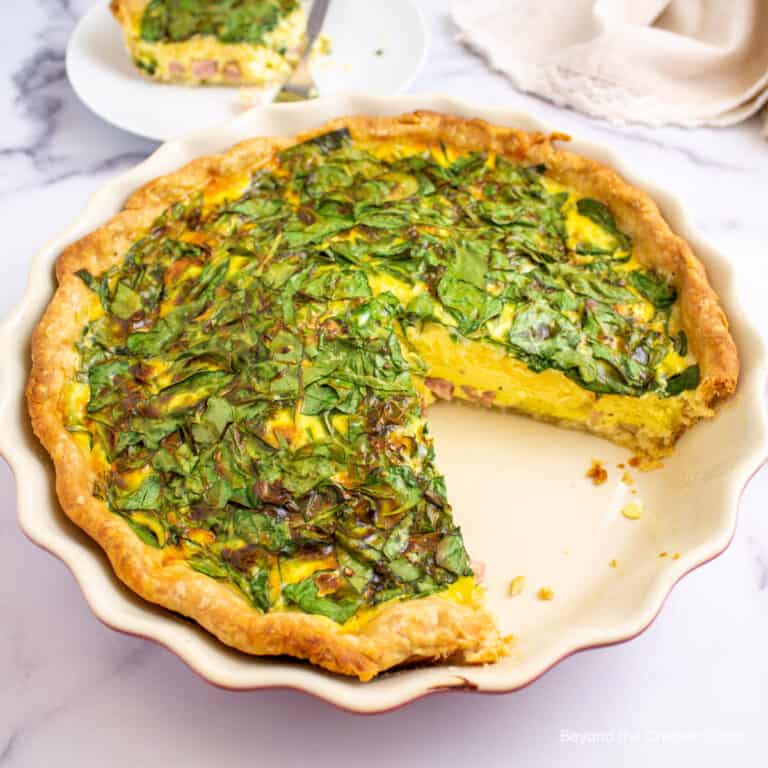 Ham and Spinach Quiche
A delicious creamy quiche with ham, spinach and cheese.
Ingredients
Crust
1

pie crust

(for a 10" pie or a deep dish pie)
Quiche
6

eggs

1

teaspoon

dijon mustard

½

teaspoon

salt

¼

teaspoon

pepper

1

pinch

ground nutmeg

1 ½

cups

half and half cream

(or heavy cream )

1 ½

cups

cooked ham

(diced)

1

cup

gouda cheese

(shredded)

1 ½

cups

baby spinach

(coarsely chopped)
Instructions
Pie Crust
Make your pie crust and roll out to fit your deep dish pan

Put into deep dish pie pan and crimp the edges

Dock or prick the pie crust with a fork

Line pie crust with foil and fill with pie weights or dried beans.

Blind bake the pie crust in a preheated 375° oven for 15 minutes. Remove foil and pie weights and continue cooking for an additional 5 minutes.

Remove crust from the oven and allow crust to cool. The crust can be warm when adding filling but should not be hot. The crust will not be fully baked.
Quiche
Reduce oven temperature to 350°F

Place eggs in a large bowl and whip with a whisk until well combined

Add dijon mustard, salt, pepper and nutmeg. Mix well.

1 teaspoon dijon mustard,

½ teaspoon salt,

¼ teaspoon pepper,

1 pinch ground nutmeg

Add half and half and mix well

1 ½ cups half and half cream

When the pie crust is warm, begin adding the quiche ingredients

Place ham in the pie crust and then top with cheese

1 ½ cups cooked ham,

1 cup gouda cheese

Place spinach on top and then pour egg mixture over spinach

Use a fork or a spoon and gently push spinach down so it is submerged

Place quiche on a baking sheet and place in the oven for 45-50 minutes until fully baked

Allow quiche to rest for at least 15 minutes before serving

Cut quiche into 8 pieces and serve from pie dish
Notes
Tips
Be certain to parbake pie crust
Use a deep dish pie plate that is 2 inches deep
If using frozen spinach, thaw and squeeze liquid out of spinach before using
You can change to order of your quiche - consider placing spinach on top of ham and then topping with cheese
Bake quiche on a baking sheet. This makes getting the quiche in and out of the oven easier and it will also catch and spills or overflows if the quiche is filled just a tad too high.
Allow quiche to cool for at least 15 minutes before serving. You can cool for longer and serve warm or at room temperature.
When you first cut into this quiche and remove the first piece, you may notice the quiche is a little weepy. This is from the moisture in the spinach and the ham. Just use a paper towel to absorb any excess moisture. The longer the quiche cools, the less moisture you'll notice.
Wrap leftover cool quiche and store in the refrigerator for 3-4 days
How to know if your quiche is done
Set a timer for the correct amount of time
Give the dish a little wiggle. If the center of the quiche is jiggly, it needs more time. If it's firm, remove the quiche from the oven and do a knife test.
Insert a butter knife into the center of the quiche and pull it out. If it's gooey with egg, it needs a few more minutes. Otherwise, it's done!
Allow quiche to cool for 15 minutes before cutting into it
Nutrition
Serving:
1
slice
Calories:
343
kcal
Carbohydrates:
14
g
Protein:
18
g
Fat:
24
g
Saturated Fat:
12
g
Polyunsaturated Fat:
2
g
Monounsaturated Fat:
8
g
Trans Fat:
1
g
Cholesterol:
189
mg
Sodium:
796
mg
Potassium:
254
mg
Fiber:
1
g
Sugar:
1
g
Vitamin A:
1034
IU
Vitamin C:
7
mg
Calcium:
285
mg
Iron:
2
mg