I've put together a collection of the best muffin recipes! I make a lot of muffins.
When the kids were younger I would make muffins every weekend. I still make a lot of muffins, but not quite as many as I used to.
We tend to eat muffins for breakfast and then snack on the remaining the rest of the day. We often have a few left to carry us through to the next day too.
A collection of amazing muffins
I don't know if I have a favorite muffin. A lot of the muffins are seasonal and are based on the fruit I have on hand or on what I have in the freezer.
My most popular muffin recipe is my oatmeal banana muffin. It's a delicious combination of banana bread and oats. It really is a delicious muffin.
Tips for making muffins
Read all directions before beginning
Preheat oven
Assemble all ingredients 
Measure ingredients carefully
Do not overmix batter
Use paper liners or spray muffin pan
Let muffins cool for 3-5 minutes in pan and then continue cooling on a baking rack
To make mini muffins
Mini muffins are fun to make and to eat. I will often make mini muffins when I need to share with a crowd.
Do not make any changes to muffin recipe
Use a mini muffin pan
Spray pan before using or line with mini muffin liners
Reduce baking time to 10-11 minutes
Fresh Fruit
Almost any fresh fruit can be used in a muffin. If substituting the fruit in a recipe, try to find a similar type of fruit. Think about the amount of juice in the fruit and the texture of the fruit.
Blueberries for huckleberries
Apples for pears
Raspberries for blackberries
Strawberries for raspberries or blackberries
How to Use Frozen Fruit
Don't thaw fruit
Use same amount of fruit called in
Increase cooking time 5-7 minutes
Paper liners or no paper liners?
I don't usually use paper liners for my muffins. It really is a personal preference. I like the smooth side from no liners. If you don't use liners, you need to grease your muffin pan.
If you are serving muffins on a buffet, liners are handy when placing the muffins on a platter. You can handle the muffins just by touching the paper liner and not the muffin itself.
Paper liners can also be fun to match a color or a theme. They can help add to a festive feeling.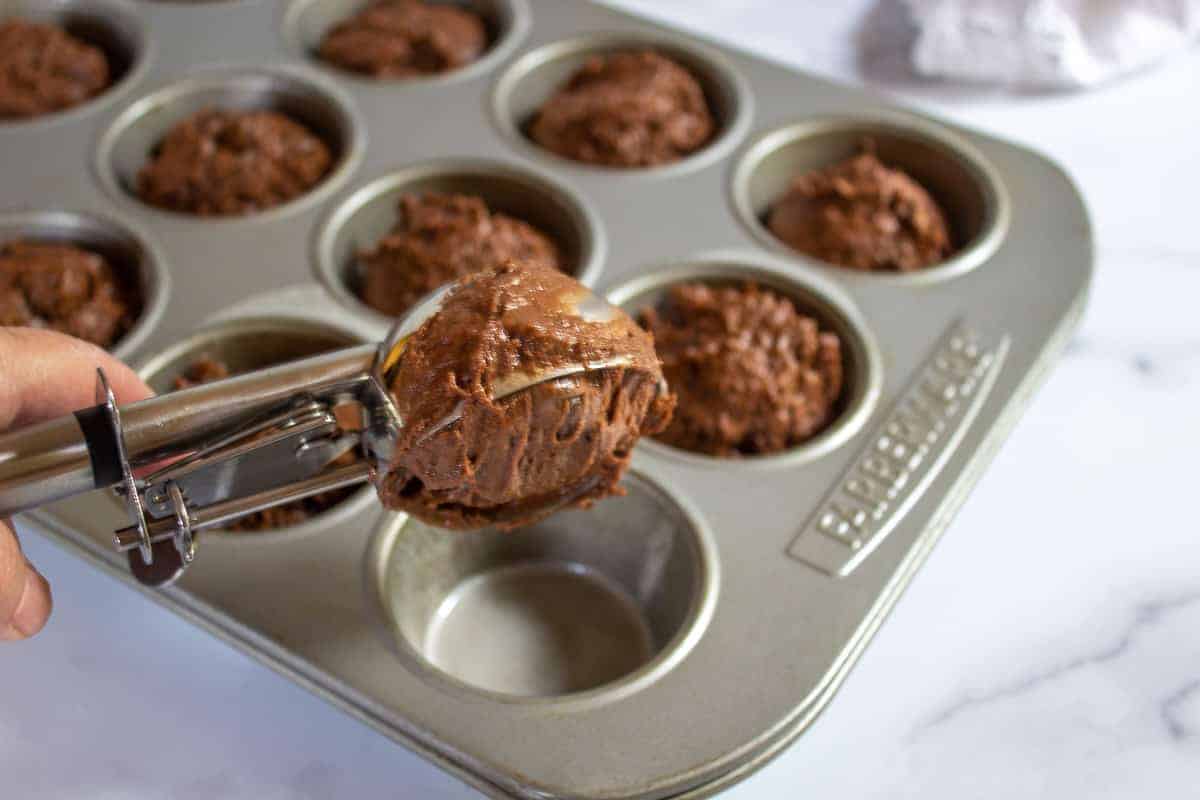 How to freeze muffins
I often freeze muffins and pull out a few at a time to eat.
Allow muffins to fully cool before freezing
Place in a single layer in a freezer container or a freezer safe zip top bag
Freeze for up to one month, for best results
To use, simply pull out the amount of muffins you'd like and thaw at room temperature
Banana Muffins
Ripe bananas and oatmeal are the stars of these muffins. They are topped with an oatmeal crumb topping which makes the muffins bakery quality!
Chocolate and bananas are a match made in heaven and are perfect in these muffins!
Another delicious banana muffin. This one has been paired with walnuts.
Classic Muffins
These bran muffins are from an old fashioned refrigerator muffin recipe. They've been revamped and made a touch healthier. Make up a batch and store the batter in the fridge. An easy way to have freshly baked muffins everyday!
A poppy seed muffin made with a white whole wheat flour.
Berry Muffins
Celebrate spring with fresh strawberry filled muffins.
A delicate muffin filled with raspberries and a touch of lemon.
Wild blackberries are added to this tasty muffin. Use fresh or frozen berries.
Can't decide which is your favorite berry? Use all three in these muffins made with strawberries, blueberries and raspberries.
A classic muffin made with fresh or frozen muffins.
Wild huckleberries are the star of these muffins.
Fruit Filled Muffins
Use fresh or frozen rhubarb in this delicate muffin topped with cinnamon and sugar.
Enjoy these muffins all year long. This recipe uses canned peaches and the flavor is amazing!
Made with fresh cherries, these muffins are a perfect summertime muffin.
A light muffin with fresh pears and a touch of cardamom seasoning.
Classic pairing of cranberry and orange makes a delicious combination.
You don't have to wait for fall for these tasty muffins. Made with fresh apples and pumpkin puree and lots of warm spices.
Chocolate Muffins
Three types of chocolate makes these muffins perfect for dessert, but don't let that stop you from having one for breakfast too!
You'll never be able to tell that there's zucchini in these muffins.
Savory Muffins
A cornbread muffin with a touch of heat and smokiness from chipotle peppers!