Huckleberry Muffins made with wild huckleberries! These delicious muffins can be made with fresh or frozen huckleberries.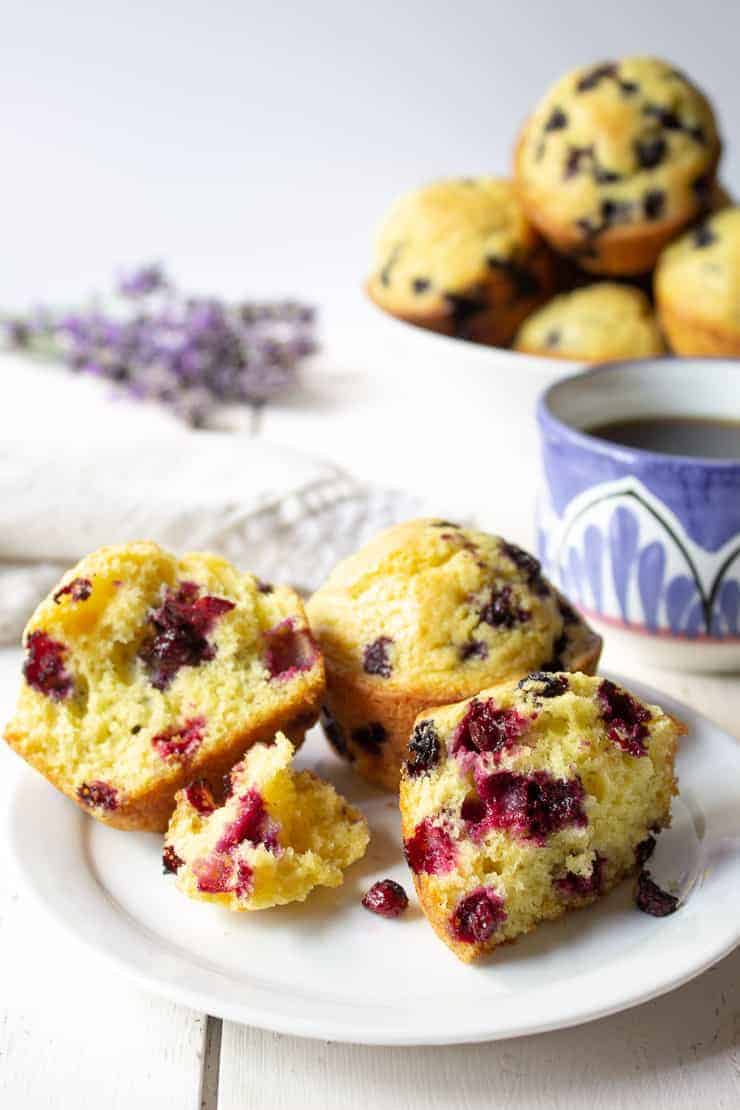 Muffins are probably one of the most consistent items I bake. I love baking them for breakfast or snacks and I will often use fresh or frozen fruit in my muffins. Huckleberry muffins are saved for special occasions because huckleberries are a savored treat!
What are huckleberries?
Huckleberries are a wild berry that grow in the Inland Northwest. These delicious berries are picked by hand in very remote locations.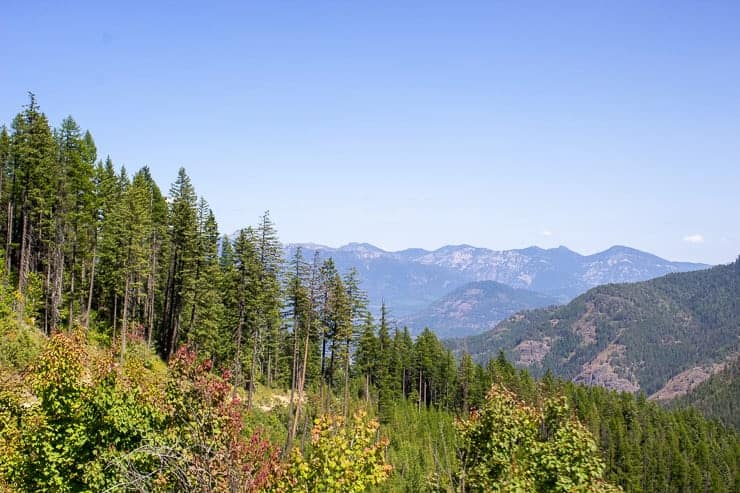 Huckleberries can be bought from local pickers at the side of the road but these berries sell between $40-50 a gallon. When I was a kid I always thought I was going to make a ton of money by selling huckleberries. It never happened though. I just never picked enough to make it worthwhile.
While some pickers can get 4-5 gallons a day, I count it a good day when I get a full gallon. If my family comes home with several gallons, it's a really great day! Even though I thought I could make it rich by selling the berries when I was younger, I never sold any! I've never bought any berries either.
Instead, we try to make several trips up into the mountains and pick what we can. We freeze the berries to last all year long. These huckleberry muffins get made a few times a year along with huckleberry crisp, huckleberry pancakes and huckleberry pie.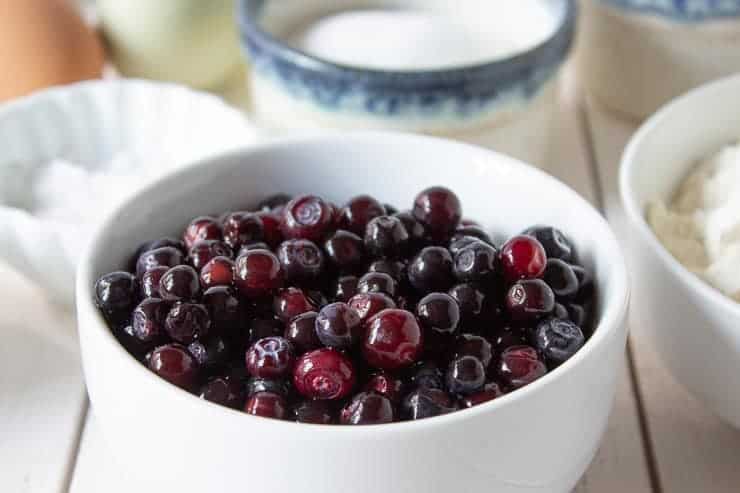 Huckleberries resemble blueberries, but only in looks. Hucks range in colors from purple, to dark blue to red. They also range in size usually being much smaller than a blueberry. The taste of a huckleberry is pure delicious! The only way to describe it is a tart and sweet juicy berry. Really, the only way to know is to taste one!
Do I use fresh or frozen huckleberries in these muffins?
You can use either fresh or frozen berries. If using frozen, add the berries while still frozen. Do not thaw them first. Increase baking time by 5-8 minutes.
What if I don't have any huckleberries?
You could substitute blueberries in place of the huckleberries.
How many huckleberries do I need to make huckleberry muffins?
I made these muffins with 1 ½ cups of huckleberries. If you are rationing your huckleberries, you could reduce that amount and just use one cup of berries. This is a great way to still get a yummy huckleberry muffin without using all your berries!
Can I make the batter ahead of time?
I love having fresh baked muffins first thing in the morning, but sometimes I don't have time to whip everything together. Sometimes I will make the batter the night before. Simply place the batter in muffin tins and cover with plastic wrap. In the morning, pull muffin tin out of fridge and preheat oven. Let muffin batter sit out at room temperature for 15-30 minutes. Bake muffins adding an extra 5 minutes to bake time. This saves tons of time in the mornings but still gives fresh baked muffins.
I have kept prepared muffin batter in the refrigerator for up to 2 days.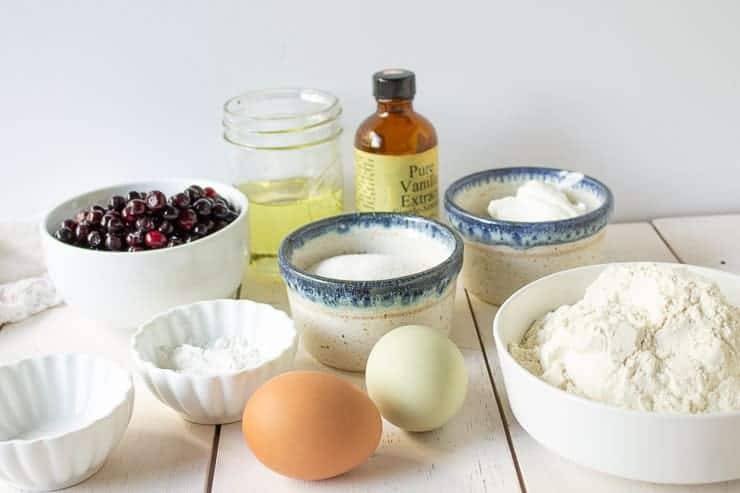 How do I make the muffins?
Combine flour, sugar, baking powder and salt in a bowl
In a separate bowl, combine sour cream, eggs, oil and vanilla
Add wet ingredients to dry ingredients.
Stir just until combined
Fold in huckleberries
Place in muffin tins
Bake
I do not use paper liners when I make muffins. I prefer to spray my muffin tin and just add the batter. You can use paper liners if you prefer.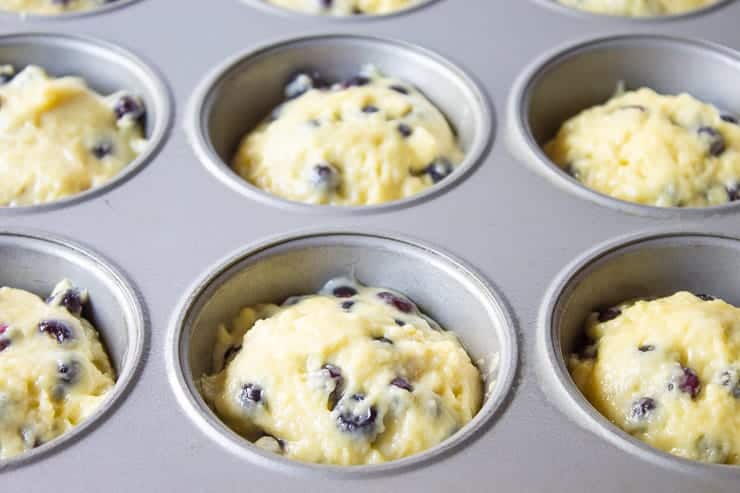 Tips for making muffins
Don't over mix the batter. Use a spoon or a spatula to combine your wet ingredients into your dry ingredients. Stop mixing as soon as your ingredients are combined. A few flour steaks are okay. You are going to be mixing a bit more when you fold in the berries.
Fold in the berries with a gentle folding motion. You don't want any squished berries here!
Always preheat your oven!
Use a good quality muffin tin. If your tins are thin and you tend to get burned bottoms on your muffins, place muffin tin on a baking sheet and bake on top of the baking sheet. This will provide an additional layer and will help the bottom of your muffins from becoming burned.
Use an ice cream scoop to get evenly sized muffins.
Allow muffins to cool 5-10 minutes in pan before removing from muffin tin.
Continue cooling muffins on a baking rack.
Store cooled muffins in a container for 2-3 days.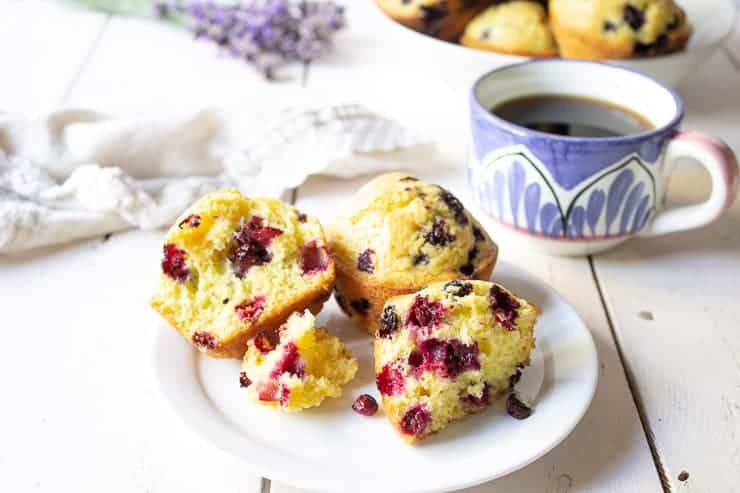 If you love these huckleberry muffins, you might also love Banana Muffins, Cherry Muffins, Rhubarb Muffins and Cranberry Muffins.
PIN for later!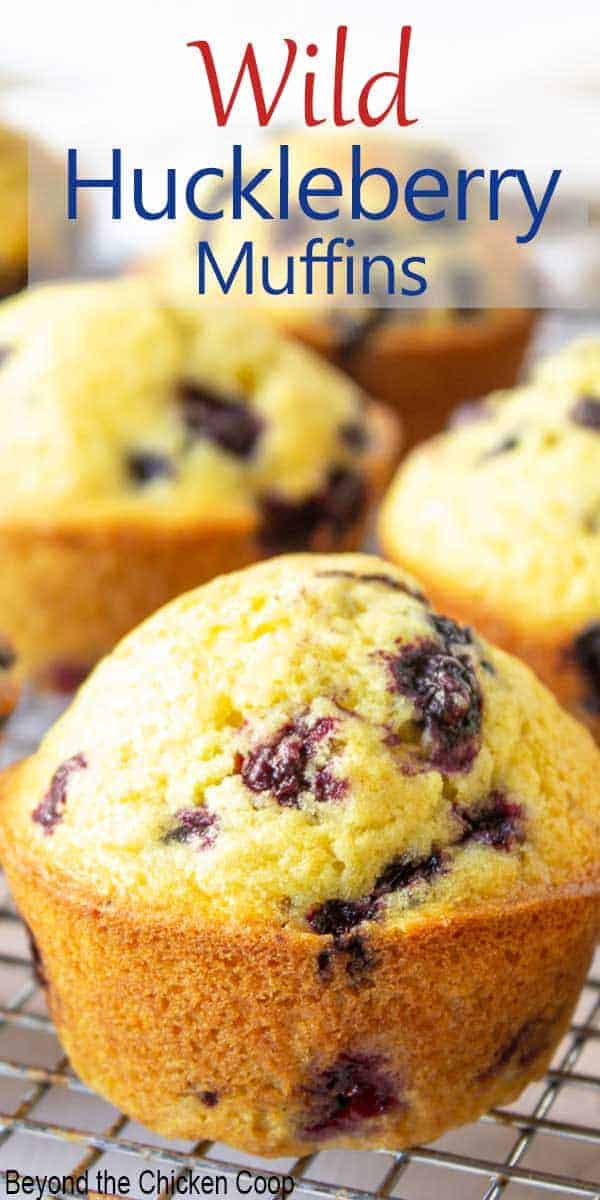 If you make this recipe, I'd love to hear about it! Leave a comment below and snap a picture and tag me on Instagram @beyondthechickencoop
Check out all my muffin recipes!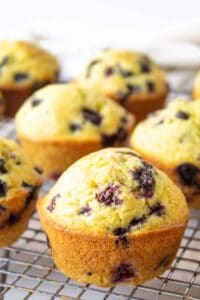 Huckleberry Muffins
Muffin made with wild huckleberries
Ingredients
1 ½

cups

flour

½

cup

sugar

1

Tablespoon

baking powder

¼

teaspoon

salt

2

eggs

½

cup

oil

½

cup

sour cream

1

teaspoon

vanilla

1 ½

cups

huckleberries
Instructions
Combine flour, sugar, baking powder and salt in a bowl

In a separate bowl, combine sour cream, eggs, oil and vanilla

Add wet ingredients to dry ingredients

Stir just until combined

Fold in huckleberries

Place in greased muffin tins

Bake in a preheated 400 degree oven for 15-18 minutes
Nutritional Disclaimer:
Nutritional information is provided as a courtesy and should only be construed as an estimate rather than a guarantee. To obtain the most precise nutritional information in a provided recipe, you should calculate the nutritional information with the exact ingredients you are using when preparing the recipe using your preferred nutrition calculator.
Nutrition
Calories:
213
kcal
Carbohydrates:
24
g
Protein:
3
g
Fat:
12
g
Saturated Fat:
2
g
Cholesterol:
32
mg
Sodium:
71
mg
Potassium:
141
mg
Fiber:
1
g
Sugar:
9
g
Vitamin A:
123
IU
Vitamin C:
1
mg
Calcium:
65
mg
Iron:
1
mg