This post may contain affiliate links, see my Privacy Policy.
Have you ever wondered how to can tomatoes? This post gives you all the information you need to know with step by step directions for how to preserve your homegrown tomatoes.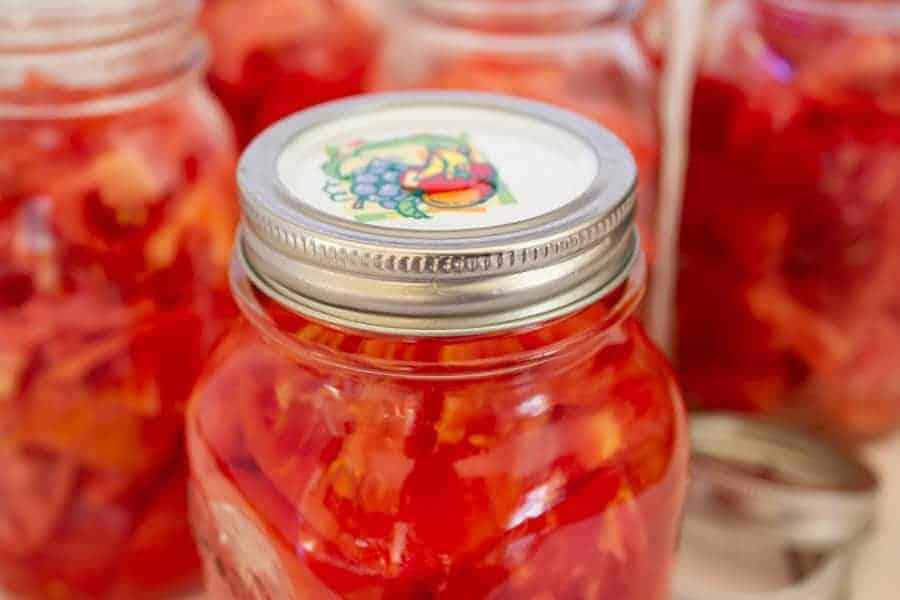 The past few weekends have been busy with canning tomatoes in our house. We ended up with a great tomato crop this year and were able to put up a lot of canned tomatoes to last us through the winter months. Friday night we had to pick the final tomatoes. An ultra early snow storm hit us this weekend. I don't think I've ever seen snow here in September before! We might be in for a long winter. It's a good thing I have my pantry filled with delicious canned goods.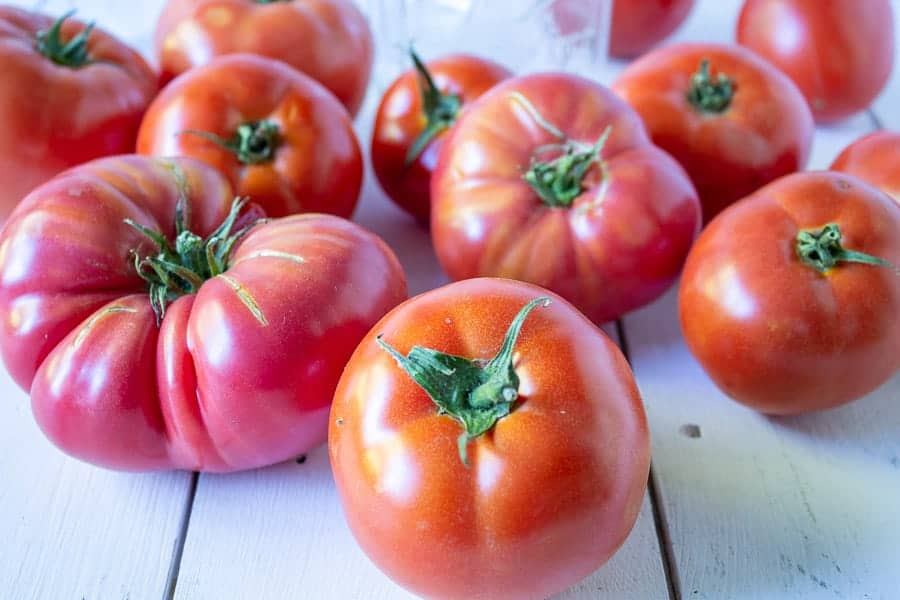 What type of tomatoes do I use?
You can use any variety of tomatoes. We grow a lot of different varieties and we use them all. I do avoid using our cherry tomatoes because you do need to peel these tomatoes and peeling cherry tomatoes is too time consuming. They are best just popping in your mouth!
How many tomatoes do I need?
The size of your tomatoes will vary. I used 2-3 tomatoes for each quart jar. I can process up to 10 quart jars at a time. There have been times that I have canned just a few jars of tomatoes. The process is the same for a small batch as it is for a large batch.
How do I can tomatoes?
Bring a large pot of water to a boil. Add a few tomatoes at a time
Remove tomatoes and add to ice water
Peel skins and chop tomatoes into large chunks. Remove stem. The size you cut your tomatoes is up to you. You could also leave tomatoes whole, as long as they fit into your canning jars.
Add lemon juice or citric acid to each canning jar. Add tomatoes
Boil another pot of water. Add boiling water to each jar. Slide a plastic knife around the inside of the jar to help remove trapped bubbles. You can also bang jars gently on surface of counter to help remove bubbles.
Wipe top of jars with a clean, wet cloth
Put lid on top of jar and screw on band
Place jar in a large pot half filled with water. When all jars are in pot, add enough water so jars are covered by 1 inch of water. Cover pot and bring to a boil.
Turn heat down so the pot maintains a boil and boil for 45 minutes for quarts and 40 minutes for pint sized jars. Adjust boil time to your elevation.
After full processing time, remove jars from pot and place on a baking rack. Let jars cool for 12 hours. Test each lid to to make certain each jar has sealed.
Remove bands and wash outside of jars in warm soapy water. Dry jars and label each jar with contents and date.
Store in a cool dark place.
What equipment do I need?
Frequently asked questions
Why do I need to use lemon juice or citric acid? The acidity level of tomatoes varies. In order to can foods safely with a hot water bath they need to be at a certain acidity level. The lemon juice or citric acid ensures the acidity level is correct. There is no noticeable taste when adding either one.
Do I add salt? Adding salt is optional. I do not add salt to my jars. I'd rather add salt to whatever final dish I'm making. If you choose to add salt, add 1/4 teaspoon to each quart jar.
Why do I have to adjust processing time based on where I live? Processing times vary because boiling time varies depending on your elevation.
Should I use a wide-mouth or regular sized canning jar? This is up to you depending on what jars you have available and what size tomatoes you want to can. If you are wanting to can whole tomatoes, you will want to use wide-mouth jars.
Why do you wash the outside of the jars after canning? During the canning process, some of the liquid from the jars is often forced out of the jar. The jars will have a bit of the residue on the jars and can be sticky. Washing the jars before storing helps keep the jars from growing any bacteria on the outside of the jar.
How do I know if my canned tomatoes are safe to eat? I always store my canning jars without the canning bands. If the contents have gone bad, the canning lid will often become unsealed. You can spot this easily when the jar does not have a band. If the contents become cloudy, bubbly or develop an off smell, discard all contents and do not eat.
How long will canned tomatoes last? Canned tomatoes are safe to eat for many years. However, the quality of the tomatoes are best eaten within one year of canning. Always check each jar when opening to make certain there isn't an off odor or any mold or bubbling of the tomatoes before eating.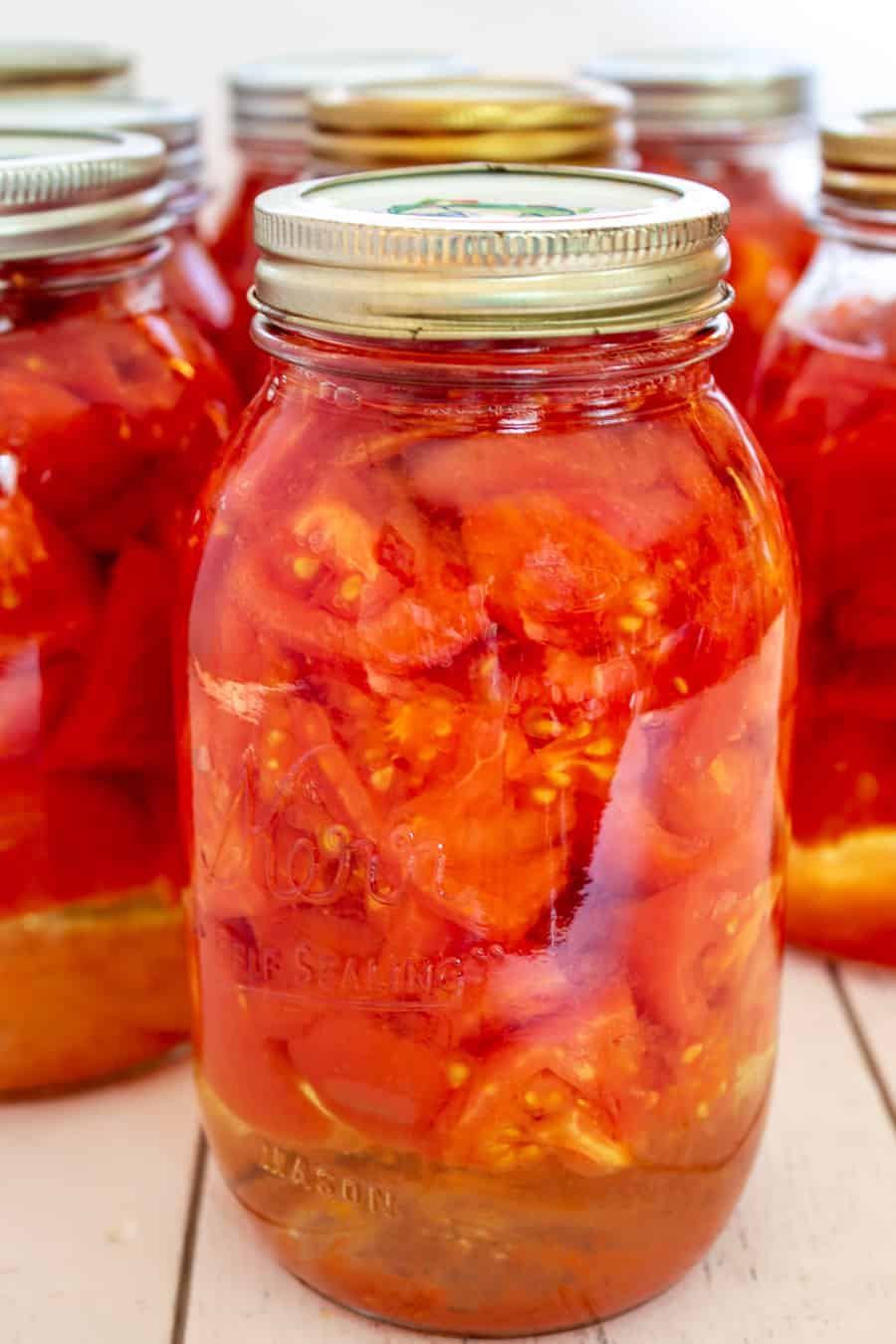 Canning Tips
Always wash and sterilize your jars before using. I wash my jars in my dishwasher before using, which sterilizes my jars.
Wash canning lids in warm soapy water. Place lids in a dish with plain hot water before using. You do not need to boil your lids before using.
Examine jars for any defects, especially along rim. Do not use for canning if you find any chips or cracks.
Use good quality tomatoes. Do not use if rotting or moldy.
How do I use canned tomatoes?
You can use these canned tomatoes in any recipe calling for diced tomatoes or crushed tomatoes. Depending on the recipe, you may need to first drain the tomatoes. I've used these tomatoes in my chicken pasta bake, enchilada soup, and in my shredded chicken recipe.
Other canning recipes
Don't forget to PIN for later!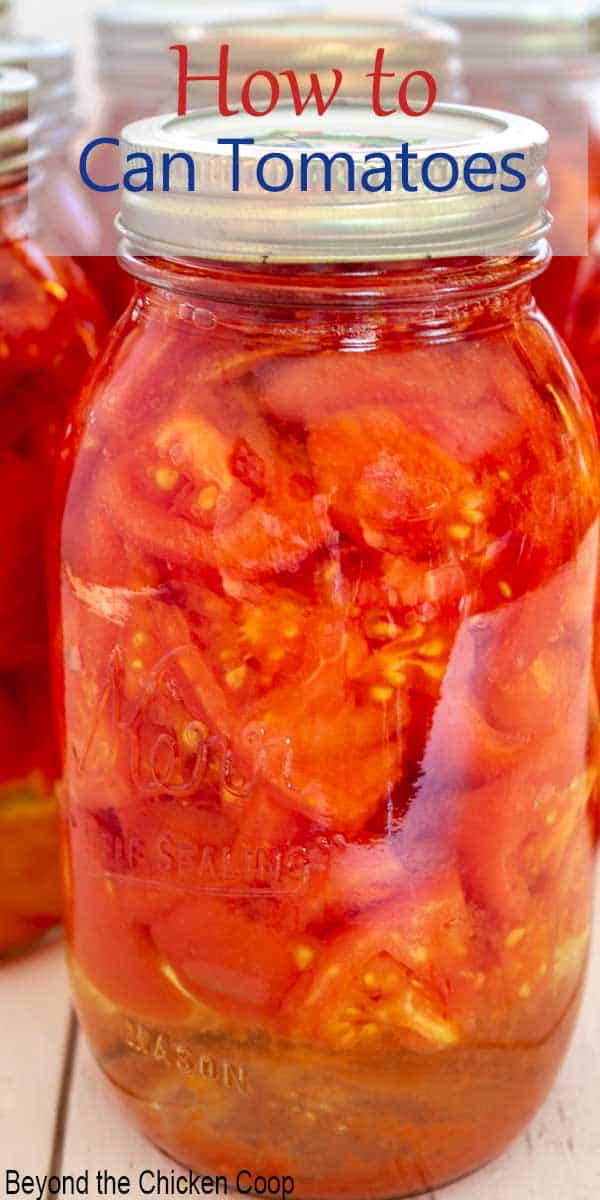 If you make this recipe, I'd love to hear about it! Leave a comment below and snap a picture and tag me on Instagram @beyondthechickencoop
Check out all my homesteading posts here!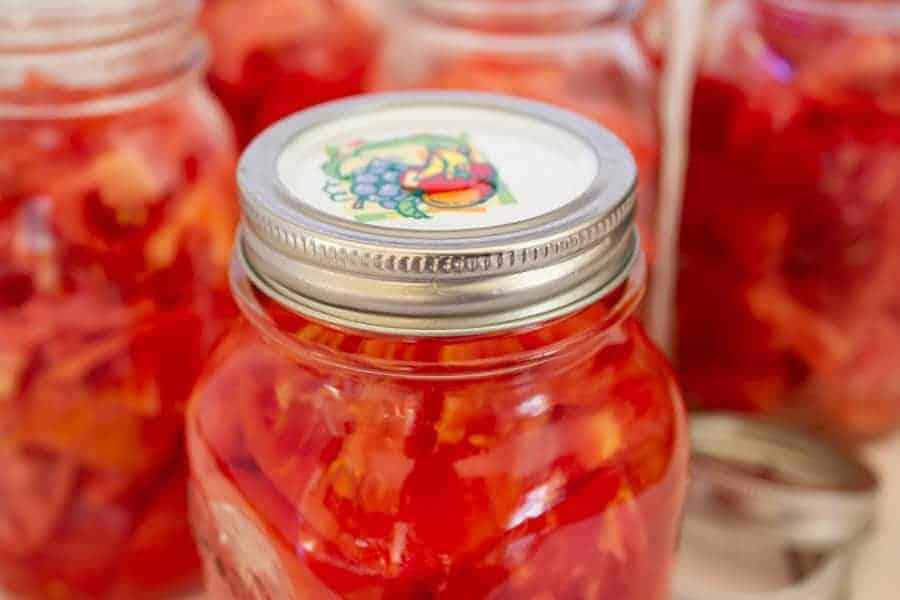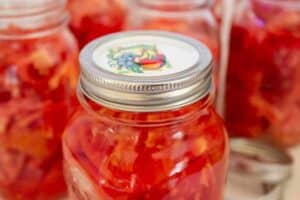 How to Can Tomatoes
Step by Step Directions on how to can tomatoes
Ingredients
2-3

pounds

tomatoes

(per quart)

2

Tablespoons

Lemon Juice

(per quart)

1/4

teaspoon

salt

(per quart, optional)
Instructions
Chop tomatoes into desired size

Add lemon juice or citric acid to each canning jar

Pour boiling water over tomatoes. Remove air bubbles by running a plastic knife around inside of jar and tapping bottom jar gently against counter.

Wipe rim of jars clean and add lid and band

Place jar in a water bath canning pot half filled with warm water. Add additional water level covers the top of the jars by 1-2 inches.

Cover pot and bring to a roiling boil. Once boiling, lower temperature so there is a gentle but steady boil. Boil quarts for 45 minutes and pints for 40 minutes. (Adjust time for altitude - see chart in post)

Remove jars from canner and place on a towel or a baking rack to cool. Do not touch jars or tighten lids until at least 12 hours.

After jars have cooled, check lids for a proper seal by pressing on the center of each lid. The lids should not have any give in the center. Remove bands wipe down jars to remove any residue. Label and store in a cool, dark place.
Notes
Can use 1/2 teaspoon citric acid in place of the lemon juice
If using pint jars add 1 Tablespoon lemon juice or 1/4 teaspoon citric acid
Adjust recipe based on amount of tomatoes you have available and on the size of your canning pot. 
Nutrition
Serving:
1
cup
Calories:
42
kcal
Carbohydrates:
9
g
Protein:
2
g
Fat:
1
g
Saturated Fat:
1
g
Sodium:
157
mg
Potassium:
538
mg
Fiber:
3
g
Sugar:
6
g
Vitamin A:
1889
IU
Vitamin C:
34
mg
Calcium:
23
mg
Iron:
1
mg