In this podcast episode, Kathy discusses different types of canning jars.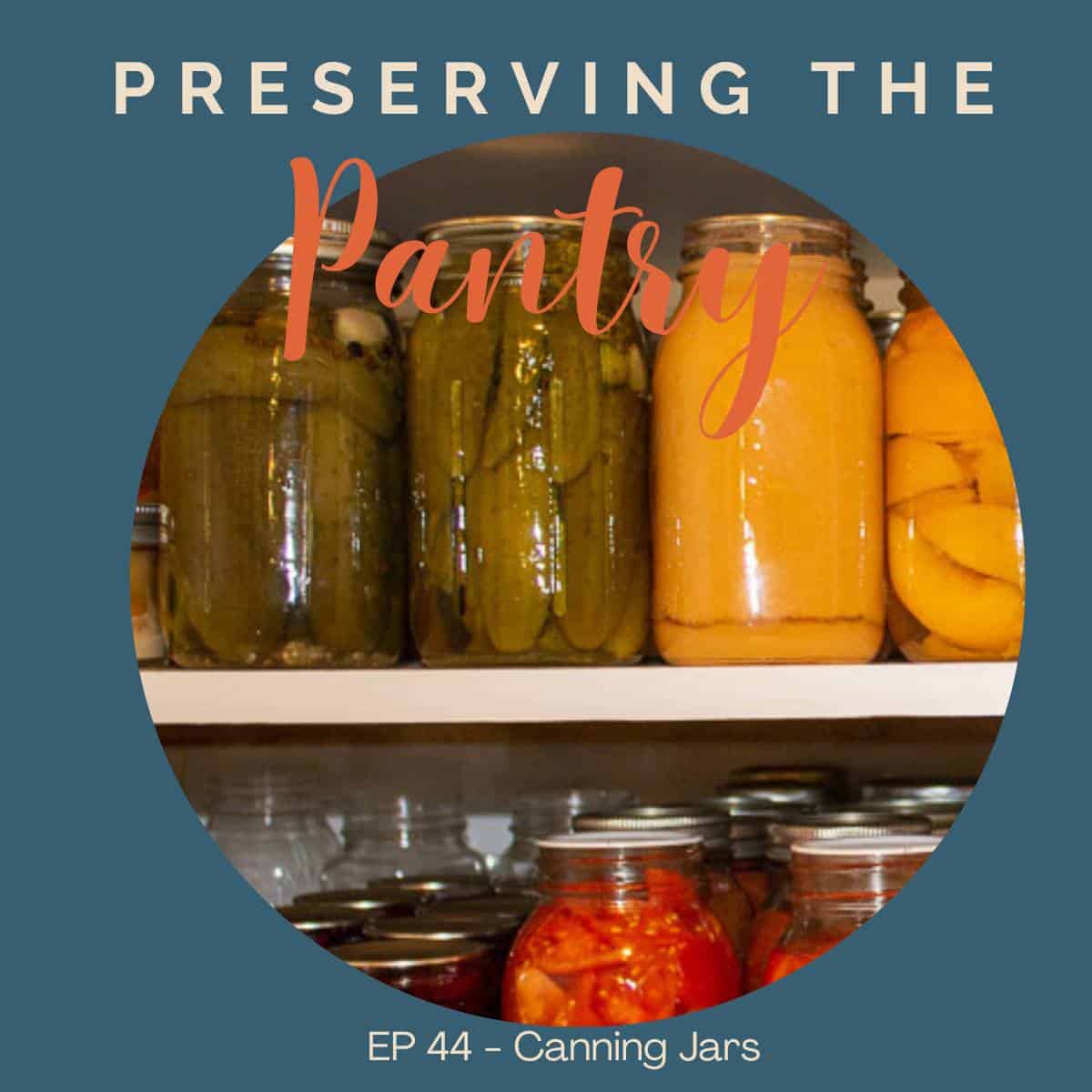 Play the episode
In this episode you'll learn:
What type of jars to use for canning
About ½ gallon canning jars
Reusing commercially canned jars
Sterilizing canning jars
Washing canning jars
Inspecting jars before using
Ways to repurpose old canning jars
Resources
Resources mentioned in this podcast:
Where to listen to the podcast
Listen to this episode on iTunes, Spotify, Amazon Podcast, or your favorite podcast player. Or scroll down to read a full transcript.
If you love this podcast, I'd love to hear about it! Leave a comment below and hop over and leave a comment on Instagram @preservingthepantry!
Transcript
Hello and welcome back to the Pantry. I am so glad you're here again. Today we are going to be continuing our discussion of what I call behind-the-scenes canning. This isn't an actual canning recipe, but it's things you need to know about canning before you begin canning. So last episode, we talked about headspace in canning, and today I want to talk about canning jars.
So you have to have canning jars if you're going to be canning. And many people have shelves full of canning jars that they have used for years. That is my situation as well. Or you can purchase new jars at the store. A few things about canning jars is you can get very small jars four ounce sized jars up to quart-size jars, and those are all very safe for canning.
Now, there are also some very large half-gallon size canning jars that are really nice jars out there, but we have to be really careful about using those for home canning. Currently, they are only approved for canning apple juice and grape juice, and only in specific recipes that actually are approved for that.
Decades ago there were recipes using half-gallon jars, but those aren't considered safe anymore. Only use those for dry storage. If you have them for like rice or beans or flour, that'd be great for that on your pantry shelves. And if you're going to use 'em for canning, it's only for apple or grape juices on approved recipes that specify that.
Canning jars come in two different types. There's a regular mouth jar and a wide mouth jar, and you can use either type of jar for your canning, just depending on what you're putting in there. Sometimes the wide-mouth jars are easier to fill and use than the regular-mouth jar. All canning jars have rings on them that will fit the two-piece lids and rings for the ceiling process.
So some questions come up, what about jars where I buy canned food from the store? Can I use those jars well? Oftentimes those two-piece lids will not fit on those jars, and so it would be unsafe to canon them. Another thing to consider is when you're canning, one of the worst things that can happen is that you open up your can when you're done and you have a jar that has cracked or exploded in the can, whether it be a water bath can or a pressure canner.
That product from that jar is gone. Everything is wasted in that. The other jars in the canner that didn't break are still fine, but it's a mess and what a waste and so sad after all the work you put into it. Most jars that came with store-bought food, whether it be spaghetti sauce, mayonnaise, or things like that.
They're not designed to be repurposed for home canning. They might not have the correct tempering to withstand high temperatures for a long processing time. Also, I talked about that lip size might be smaller or very, From the canning jars that are designed for home canning and co. Might cause seal failure and so you're, you might not get a good seal on that.
North Central Food Safety Extension Network has said that glass mayonnaise jars are. Acceptable for use in water bath canning processes, such as in fruit sauces or tomato sauce, or jam, but it's not safe for pressure. Canning mayonnaise-type jars generally are made from thinner glass, so you should expect more seal failures and jar breakage when reusing them.
So you have to ask yourself, is it worth it? I don't know. I've never used those types of jars myself. Another piece of recommendation comes is that older jars, as jars start to age, the failure rate of those jars might not be adequate. I reuse my jars all the time, but one thing I do is I really inspect those jars.
Before each use. I run my finger around the rim and make certain there are no little knicks. Or cracks at all. And then I inspect each jar. Some of my older jars are really old, I only use those for storage of dry goods. I like to put like my dried morel mushrooms out and put them on display or dried peppers.
Beans are great in there and I, I use 'em for more, uh, shelf purposes for just pan, for pantry purposes, just for my dried goods than for actual canning. The jars over time just start to wear out. So if you're buying jars at a yard sale or a, like a Goodwill or a thrift market, really inspect those jars and decide whether it's worth it, to use those jars or not.
A couple of things to talk about is if you're purchasing brand new jars, they always come with the rings and the lids on them, but are those jars clean and ready to use? Nope. They still need to be washed, so make certain that you fully wash those jars each time with hot, soapy water and rinse them really well.
You can put them through your dishwasher of course, as well. I always wash my jars after I've used them. I store 'em in the pantry without the lid on, and then I wash them again when I'm ready to use them. You do not need to sterilize your jars unless you are using a recipe that has less than 10 minutes.
So for most people, that would only jam in small jars, and you'd have to be at an elevation below a thousand feet. Otherwise, you're going to have processing times above 10 minutes. And so then you don't have to sterilize your jars. Just really wash those jars very well before you use them for your canning.
Next time we will talk about the actual lids and rings for canning. But hopefully, this gives you some good information. Get into your pantry now and check out those empty jars, see which ones are still good, and maybe it's time to get rid of a few of the older jars or put them to work in another capacity.
I'll see you next week in the pantry. Bye.
Thanks for listening. And be sure to tune in again next week for more episodes of Preserving the Pantry.