Delicious homemade orange marmalade made with just fresh oranges and sugar.
This old fashioned recipe uses simple techniques to remove all the bitterness sometimes found in orange peels. The end result is a delicious, sweet orange marmalade.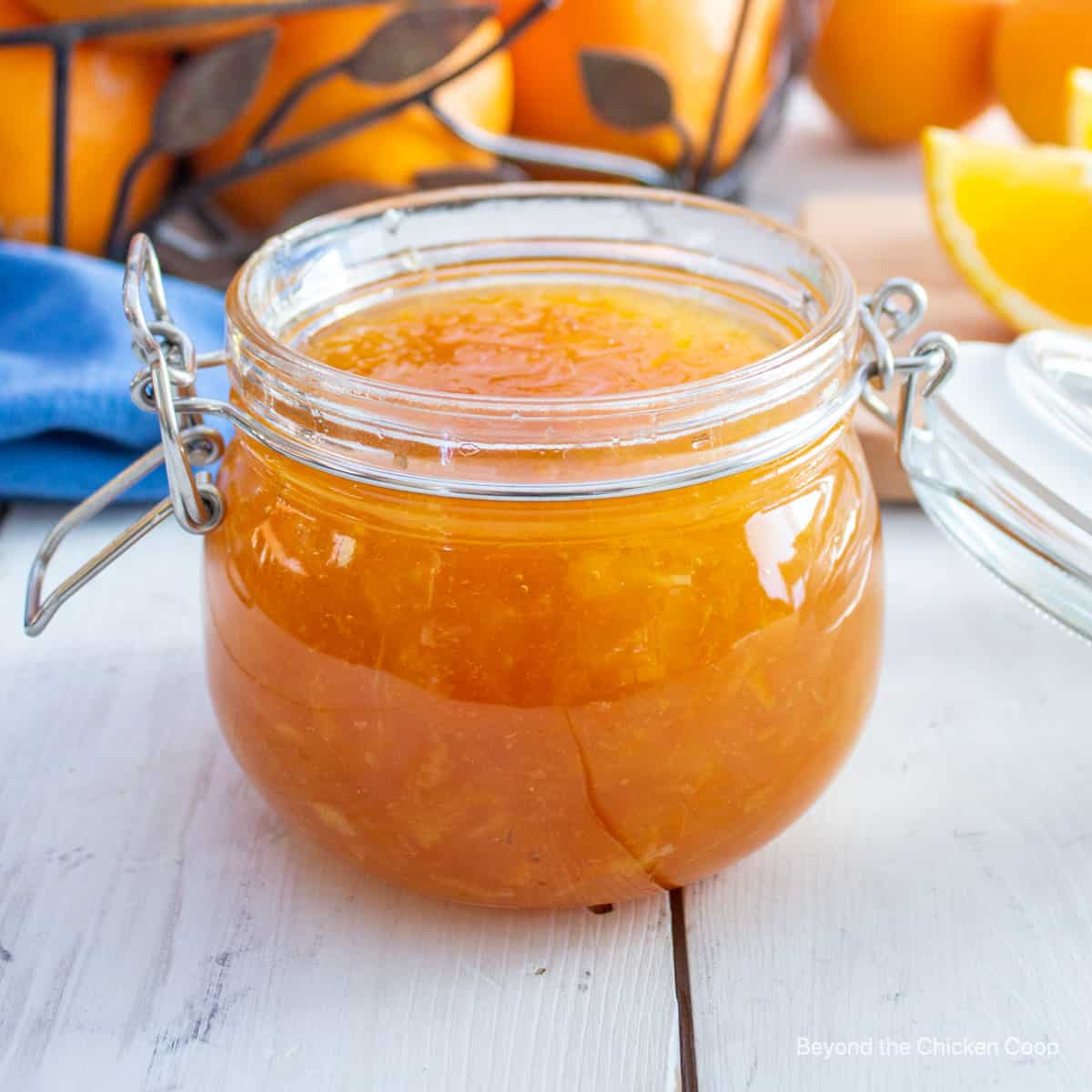 Why make this recipe
There's just something about orange marmalade that says sunshine to me! Maybe it's because of it's sunny color. Or maybe it's because I just returned from sunny Arizona where we picked loads of oranges!
We didn't just pick oranges. We also picked grapefruit and lemons! My parents have a few trees but for the real picking we head to my sister's house. Her neighborhood was built on an old citrus orchard. She has eight mature orange trees in her backyard.
All the residential streets around her are lined with citrus trees and since everyone there already has all the citrus they could possibly ever need growing in their own yards, those trees just don't get picked!
We did our fair share of picking! I always bring home as much as possible! There's nothing better than eating a fresh orange in the middle of a snowy day!
This recipe for orange marmalade uses several soaking steps that helps soften the orange peel and removes all the bitterness.
Once made you can freeze this marmalade or can it in canning jars and process in a hot water bath.
This is a delicious jam (or marmalade) that is perfect for capturing the very best flavor from fresh oranges.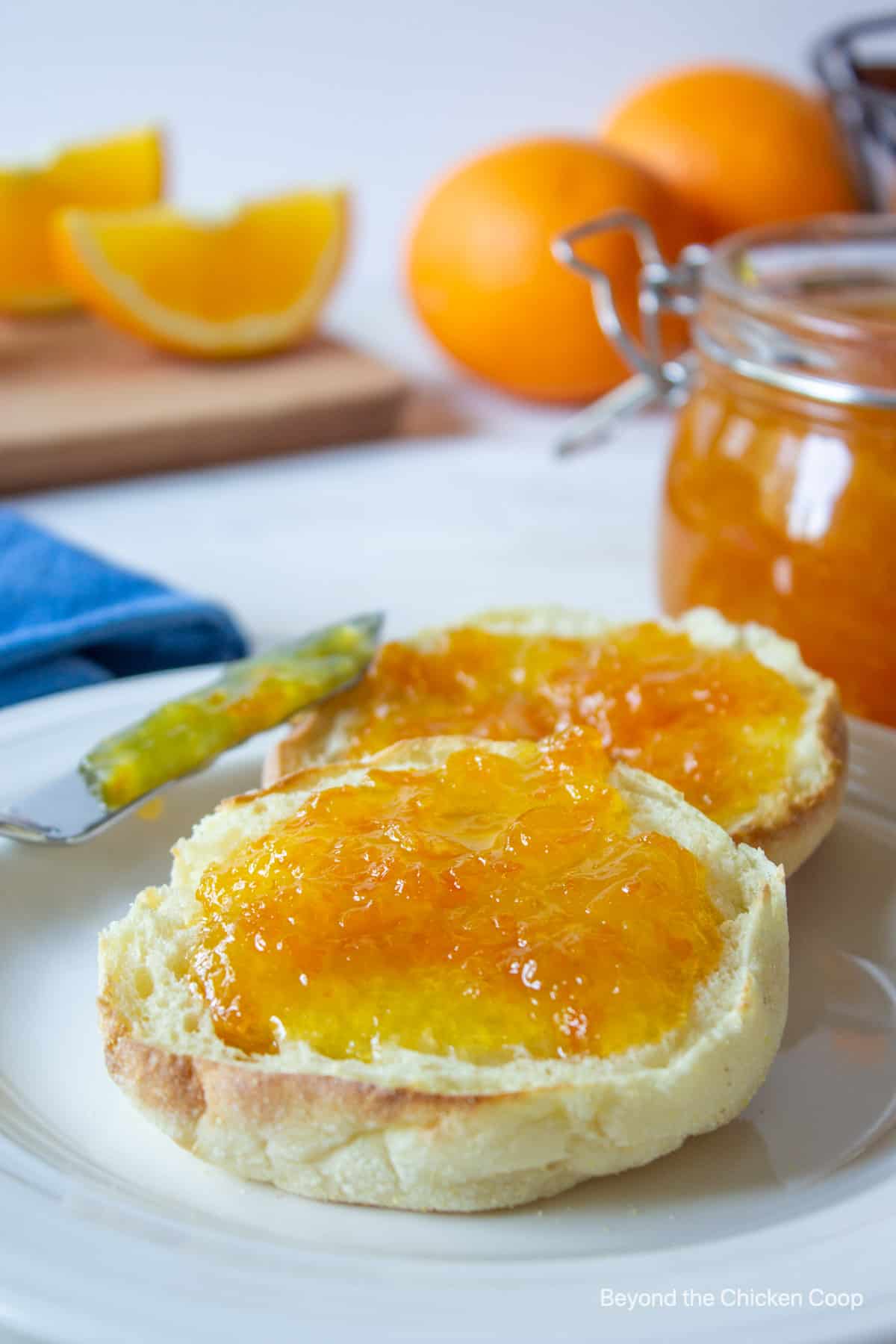 Jam, Jelly and Marmalade
Jam, jelly and marmalade all are very similar, but there are a few differences.
Jam is made with fruit like berries, and stone fruits and includes the pulp and juice of the fruit.
Jelly is made with just the juice without any seeds or pulp, and marmalades are usually made with citrus fruits and includes the pulp and the peel.
Ingredients
Just two ingredients is all you need!
Fresh oranges - I used navel oranges
Sugar - granulated sugar
Step by step directions
Remove peel from oranges and slice into small strips
Remove pith and chop oranges into small chunks. The oranges I used had a large amount of white pith so I removed it. This is optional.
Place peel in a saucepan along with 6 cups of water. Boil for 5 minutes.
Drain water and repeat: Boil for 5 minutes with 6 cups of water.
Drain water.
Add pulp and 6 cups water. Boil for 5 minutes. Do not Drain!
Remove from heat and let stand for 12-18 hours or overnight
Bring mixture back to a boil and simmer for 30-45 minutes until peel has softened.
Turn heat to low and add sugar one cup at a time, stirring while adding to help dissolve. 
Continue cooking over medium low heat, stirring often to avoid scorching, until mixture reaches the gelling point (30-45 minutes).

Jam can be tested on a plate - scoop out a tablespoonful of jam onto a plate. Allow for jam to cool for a minute and then run the back of a spoon through jam. If the jam stays separated, it is done. You don't want it too runny, but you also don't want it too thick. Check out this

Remove from heat and ladle hot marmalade into clean jars.
Recipe tips
You can slice the peel into smaller bits if you prefer smaller pieces in your marmalade
Watch the water level while you're boiling the jam. If it becomes too dry, add more water.
Make certain you use a large enough pot when you add the sugar. The mixture expands, especially while it's boiling.
Stir often to avoid scorching
Freeze jam or process in a hot water bath to make shelf stable
Uses for orange marmalade
Storage
I froze my marmalade after making. You can also make the marmalade self stable by processing the jars in a boiling water canner. Details on preserving jam can be found on my blackberry jam recipe. You'll follow the same steps for adding to canning jars, and the same processing times.
More jam recipes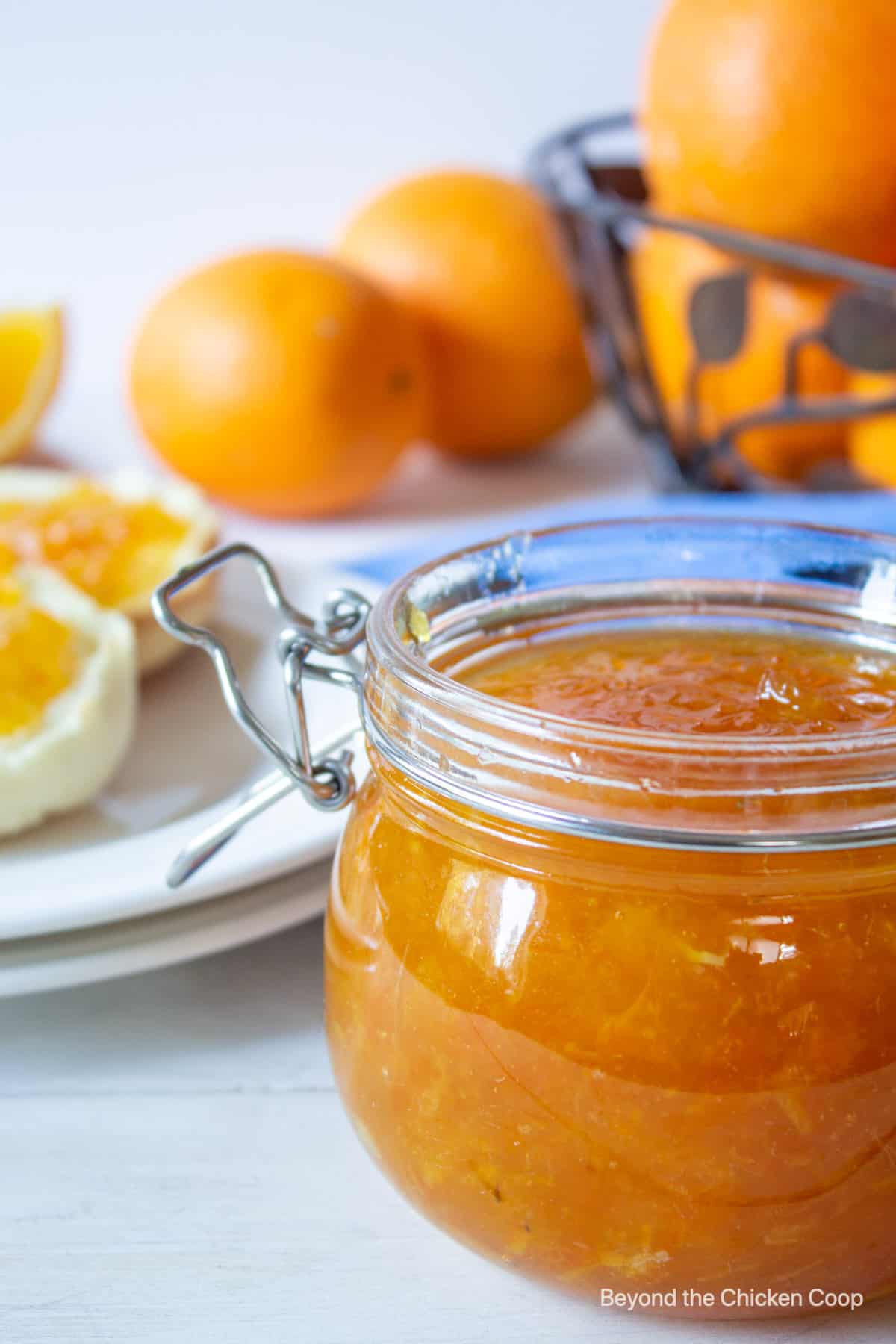 If you make this recipe, I'd love to hear about it! Leave a comment below and snap a picture and tag me on Instagram @beyondthechickencoop
Be certain to check out all my delicious jam recipes!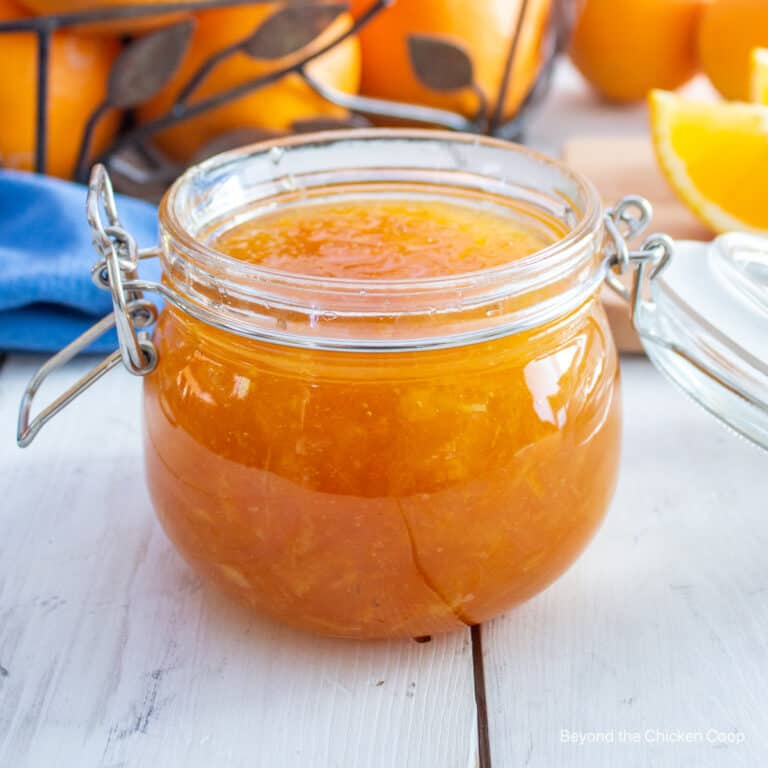 Orange Marmalade
Ingredients
2

cups

orange peel

(cut into thin strips)

4

cups

orange pulp

(chopped)

4

cups

sugar
Instructions
Place peel in a saucepan along with 6 cups of water. Boil for 5 minutes.

Drain water and repeat: Boil for 5 minutes with 6 cups of water.

Add pulp and 6 cups water. Boil for 5 minutes. Do not drain water.

Remove from heat. Cover and let stand at room temperature for 12-18 hours or overnight

Remove cover and bring mixture back to a boil and boil for 30-45 minutes until peel has softened.

Turn heat to low and add sugar one cup at a time, stirring while adding to help dissolve.

Continue cooking, stirring often to avoid scorching, until mixture reaches the gelling point (30-45 minutes)

Remove from heat and ladle hot marmalade into clean, sterilized half-pint jars.

Freeze jam until needed, or process jars in boiling water canner for 10 minutes (adjust for altitude.)
Notes
You can slice the peel into smaller bits if you prefer smaller pieces in your marmalade
Watch the water level while you're boiling the jam. If it becomes too dry, add more water.
Make certain you use a large enough pot when you add the sugar. The mixture expands, especially while it's boiling.
Stir often to avoid scorching
Freeze jam or process in a hot water bath to make shelf stable
Nutrition
Serving:
1
tablespoon
Calories:
57
kcal
Carbohydrates:
15
g
Protein:
1
g
Fat:
1
g
Saturated Fat:
1
g
Polyunsaturated Fat:
1
g
Monounsaturated Fat:
1
g
Sodium:
1
mg
Potassium:
27
mg
Fiber:
1
g
Sugar:
14
g
Vitamin A:
38
IU
Vitamin C:
10
mg
Calcium:
9
mg
Iron:
1
mg
Recipe adapted from Ball Blue Book