Harvesting Honey - A tutorial on how to extract honey from the frames.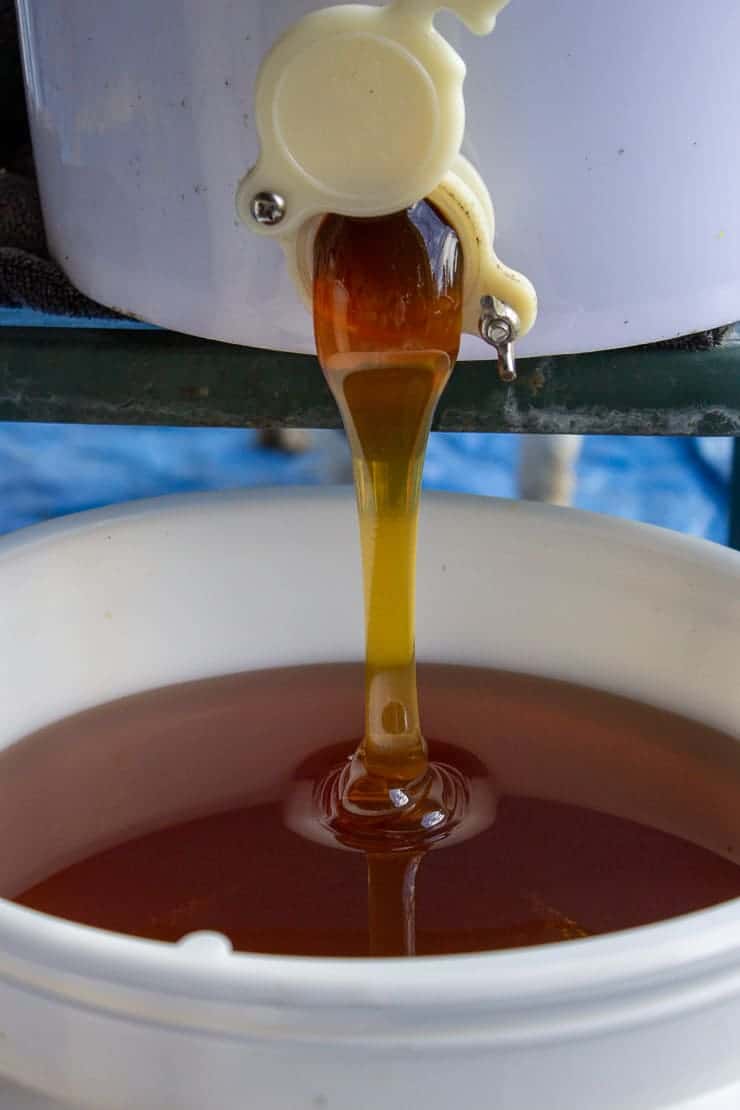 Harvesting honey, spinning honey, extracting honey are all phrases for getting delicious honey out of the bee hives.
I've been raising bees for about 4 years and have had some success and some loss, but I keep at it! I've lost bees that didn't make it through the winter, I've had bees swarm and leave the nest in the summer and the most tragic was when a bear came into my garden and destroyed my hive and stole the honey not just once or twice, but three times!
The bees finally had enough and left. I know we should have stopped that bear after the first time, but he kept coming in at nighttime and it was during the middle of the week. We just didn't have the time or the supplies to put up a better fence or an electric fence. I was heartbroken.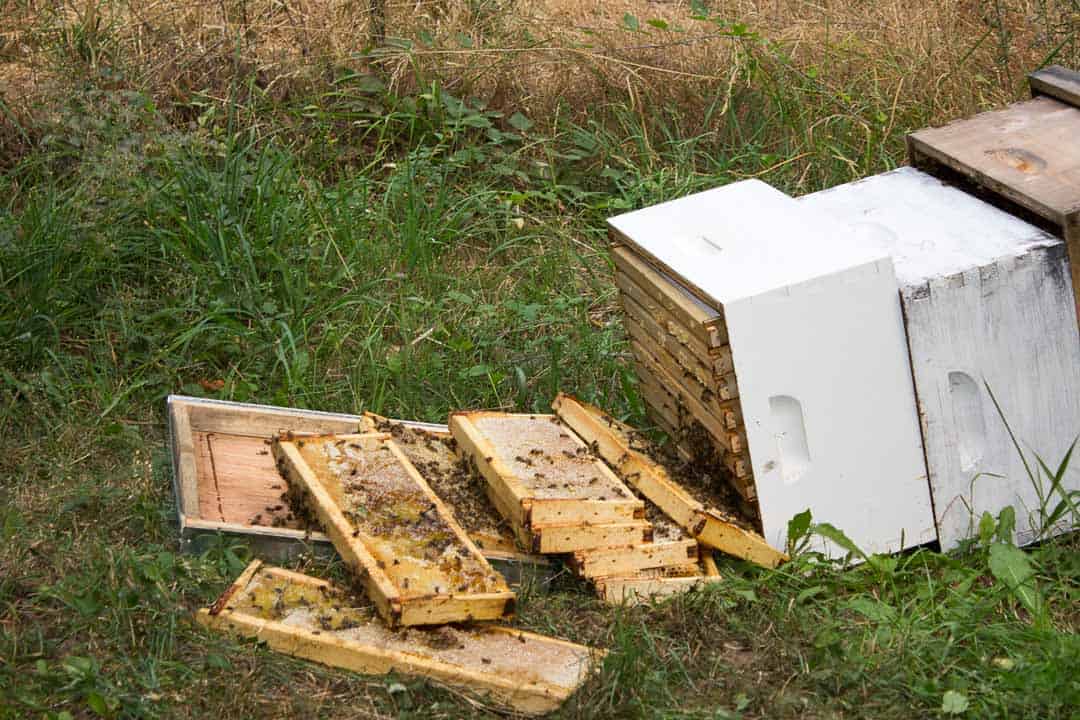 Luckily the bear didn't steal all the honey. I brought my empty hives into our shop for the winter and when the temperatures turned warmer in the spring, I harvested the honey that remained. There was more than 3 gallons of honey left in that hive!
This spring, I harvested honey again. This time with my in-laws; my two sister in-laws, my niece and my mother in-law. They are beekeepers too.  The springtime honey was from hives that didn't survive this past winter. We harvested more than 11 gallons of honey! We are in honey heaven!
Harvesting honey is a process and the more help you have the better. It's also a good idea to have your process planned out and everything ready before you begin.
Tips for harvesting honey
Choose a warm day so your honey will flow. If it's too cool, the honey cannot be extracted from the frames.
Choose a day that isn't windy if working outside.
Clean several large food grade buckets.
Have enough storage containers cleaned and ready. I use large canning jars - quart and gallon sized jars.
Have a wet towel handy for wiping hands.
What equipment do I need?
Additional buckets
Storage containers
What size honey extractor do I need?
We use a two frame honey extractor. That means you can fit two frames in at a time. We have decided if we really became successful with our bees we'd need to invest in a larger electric extractor. Right now our extractor is hand cranked which is fun, but does get tiring after a bit.
What if the temperature isn't warm enough outside?
We ran into this problem this past spring. To combat the cold temperatures, we set up a staging area in a small utility room in the basement.  We placed two space heaters in the room and then placed all the frames in plastic tubes in the room. They warmed up after a couple of hours and we were able to spin our honey.
Can I spin honey inside?
Yes, but I prefer to do it outside. Spinning honey is a messy job even when you're careful. If you do it inside just be prepared to clean up sticky honey.

Steps to harvesting honey
Step One:  Remove capping from honey. Bees seal the honey in the comb with a layer of wax. You need to remove that first. Use a long knife or a heated blade to remove the caps. Capture all the caps in a plastic or stainless steel tub. Later you will strain the caps for honey. These caps are also what you will use for processing beeswax.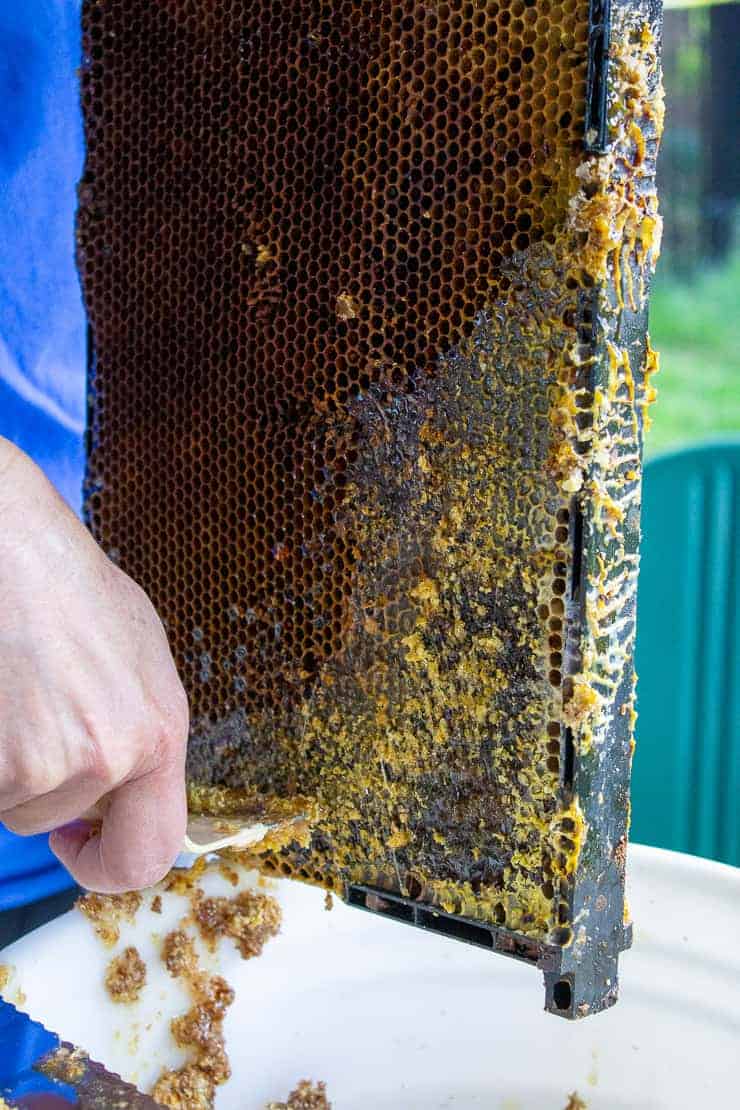 There are two sides to a frame. You will need to remove the caps from both sides.
Step Two:  Place uncapped frames in extractor. Our extractor holds two frames.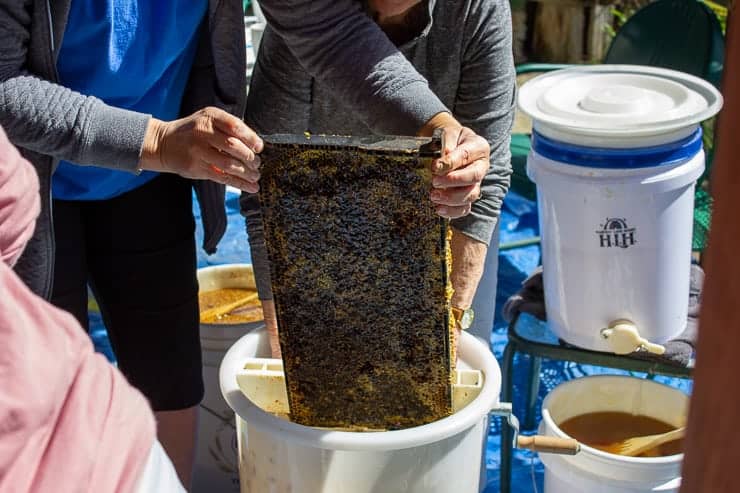 Step Three: Spin honey. Begin turning the handle of the extractor. The honey is extracted by centrifugal force. The process reminds me a bit of an old fashioned, hand churned ice cream maker - well just the cranking of the handle .
There's no magical number of turns you have to give the extractor. The amount of spins depends on the force of the spins, the outside temperature and the amount of the honey in a frame.
After a few minutes stop and pull out the frames. If most of the honey looks like it's been extracted from one side, turn the frames around and extract the other side.
Step Four:  Empty honey from extractor when honey reaches the bottom of the frames.  Most extractors have an opening at the bottom of the container. Transfer honey to another bucket covered with a strainer.
Step Five:  Continue straining honey by transferring honey to a new bucket lined with a finer strainer. Optimally you will want to strain honey three times using a finer strainer each time.
What do I do with the extracted frames?
Those frames are still good, unless the frame itself is damaged. There are two different things you can do with the frames.
Place extracted frames near the bee hives. The bees will continue to remove the honey left behind and will clean the comb.
Place frames inside a hive. The bees will fix any damaged comb, clean the comb and begin the process again.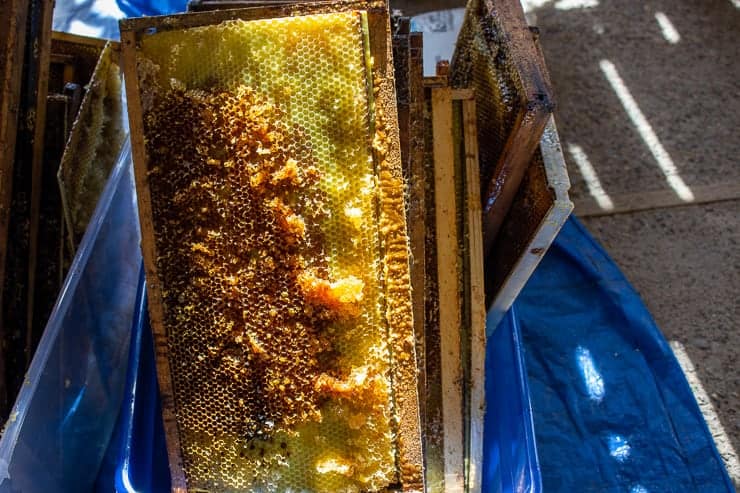 How do I use this honey?
Use this delicious honey in any way you normally use honey. We use it on toast, biscuits, and in some of my favorite recipes including honey butter, honey oat bread, raspberry fruit leather, honey glazed carrots,  baked goat cheese with honey and gingered beets.
What do I do with the wax capping?
You want to collect all the cappings and excess wax in a tub. Once all your honey is processed, place these wax scraps over a strainer. There's still honey inside those cappings. Leave the cappings on the strainer for 8-12 hours and keep the honey that slowly drips out.
Don't discard those cappings. This can now be processed for beeswax.
How do I store honey?
I store my honey in a dark pantry in glass jars. For everyday use, I place the honey in a small honey pot and refill it when needed.
What do I do if my honey crystallizes?
Not all honey will crystallize, but it is completely natural for raw honey to crystallize from time to time. Listen to my podcast episode about what I do when my honey crystallizes.
Crystallized honey is still edible, but some people don't care for the texture. If your honey becomes too thick with crystals, you can place the glass jar in a hot water bath to help warm the honey and dissolve the crystals.
The crystals may return when the honey cools. Do not store your honey in a refrigerator. This may increase the chance for crystallization.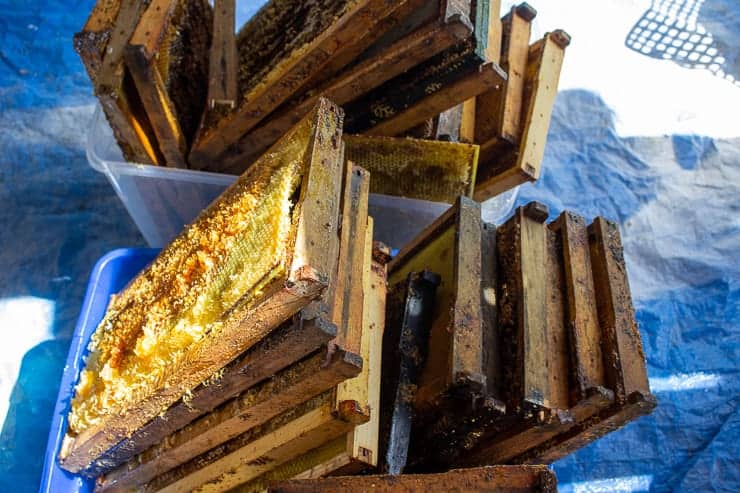 If you are looking for additional information on raising bees you will want to check out rendering wax, checking the hive, starting a hive, and honey bees.  You might also want to read how to make beeswax food wraps.
If you spin your own honey, I'd love to hear about it! Leave a comment below or snap a picture and tag me on Instagram @beyondthechickencoop
If you are looking for other great homesteading ideas, you'll want to check out my other posts in Homesteading.
Yield: Honey
Harvesting Honey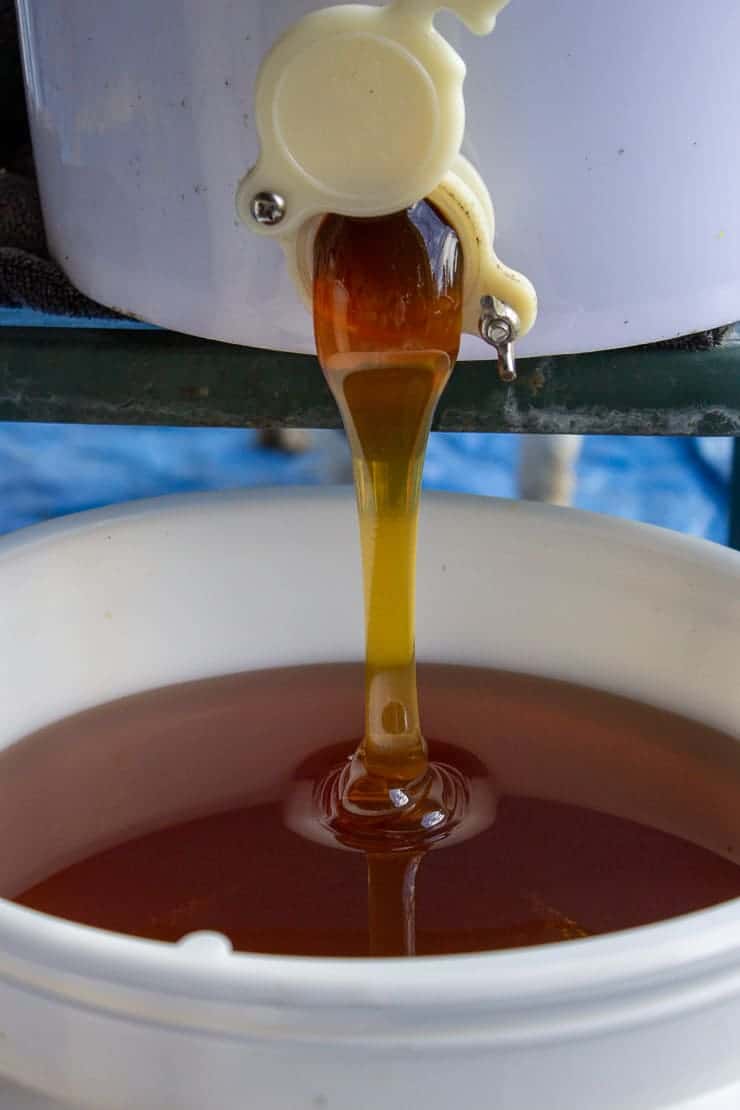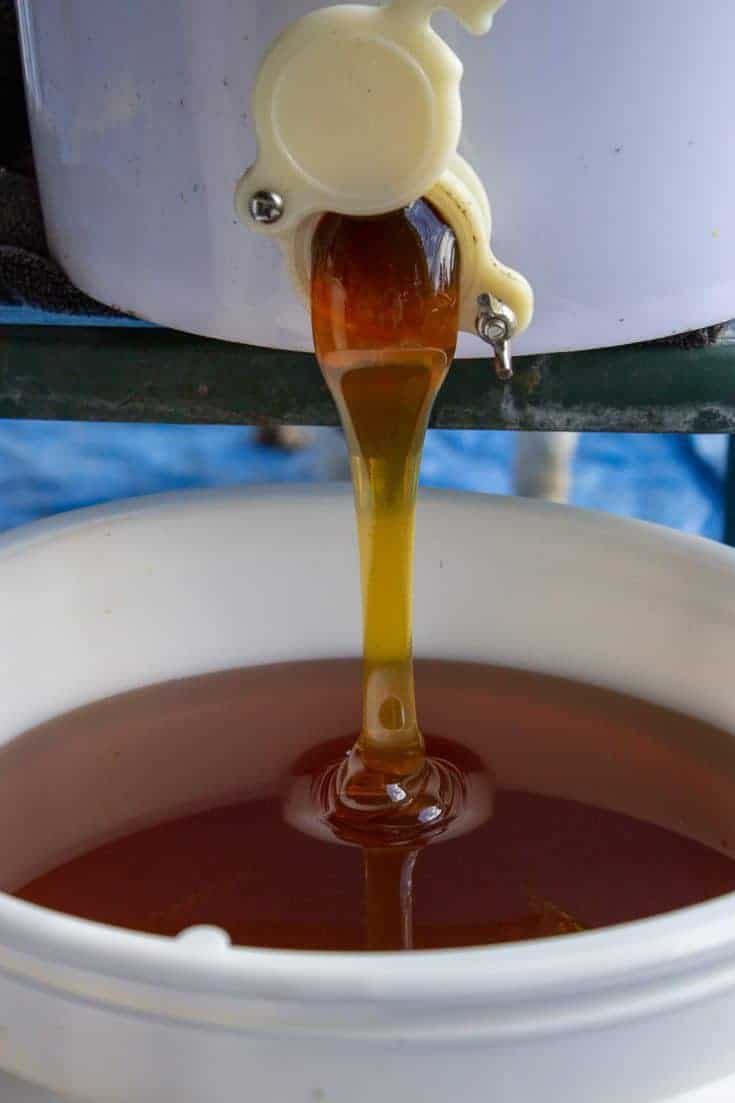 How to harvest honey from capped honey frames.
Materials
Frames of honey from bee hive
Tools
Honey Extractor
Strainer
Bucket with bottom spout
Electric uncapping knife or a long bladed knife
Uncapping fork
Instructions
Remove capping from honey.
Place uncapped frames in extractor.
Spin honey.
Empty honey from extractor when honey reaches the bottom of the frames.
Strain honey.
Store honey.