This no knead artisan bread is made with just 4 simple ingredients. It  is mixed and folded, but not kneaded, and then baked in a dutch oven.  The result is a flavorful bread with a crusty crust.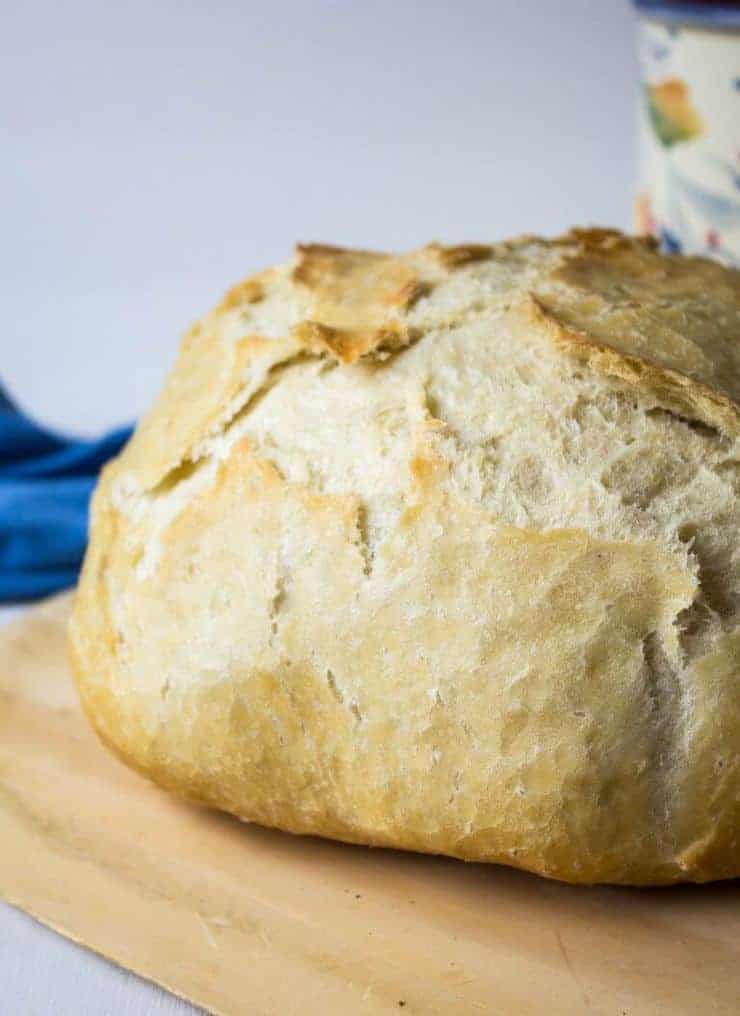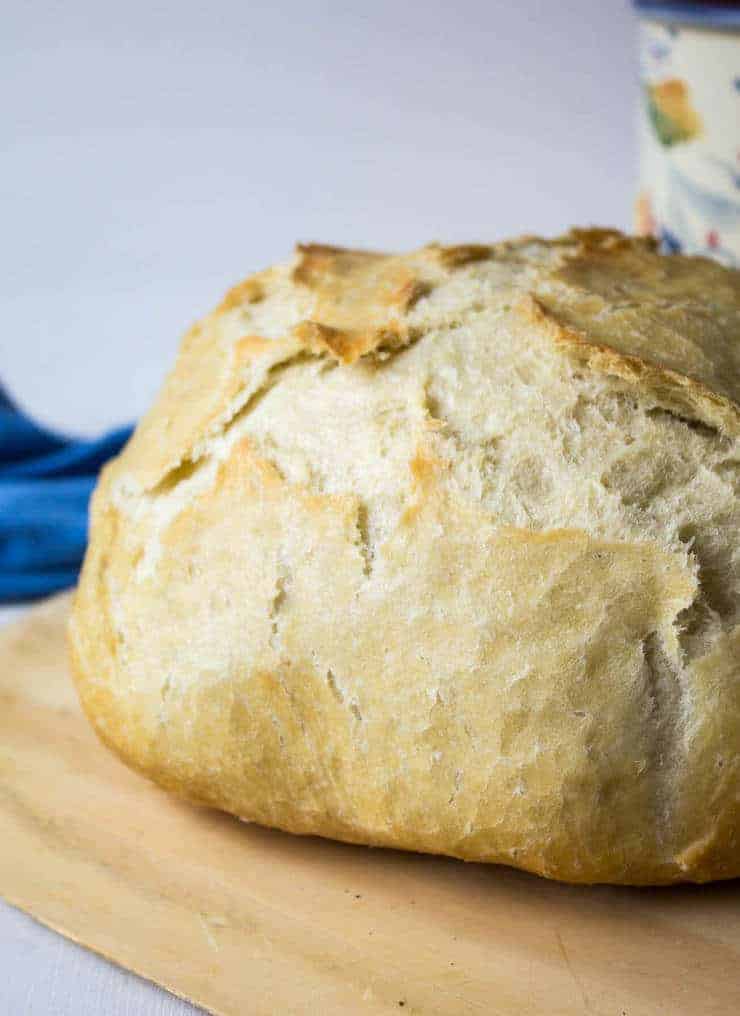 Thanksgiving is over and it's back to regular work and schedules.  I love holiday weekends, especially when they involve four days off and lots of food and family!
We are still feasting on leftovers. We had a massive turkey this year!  No really - you won't believe how big this baby was!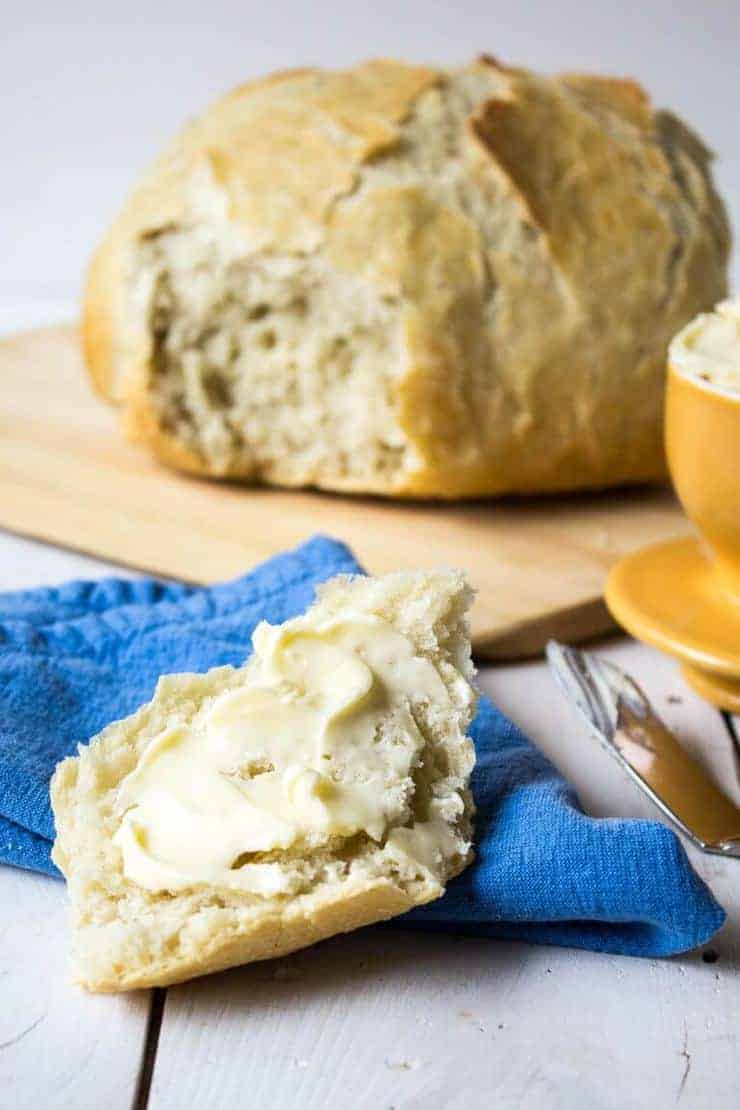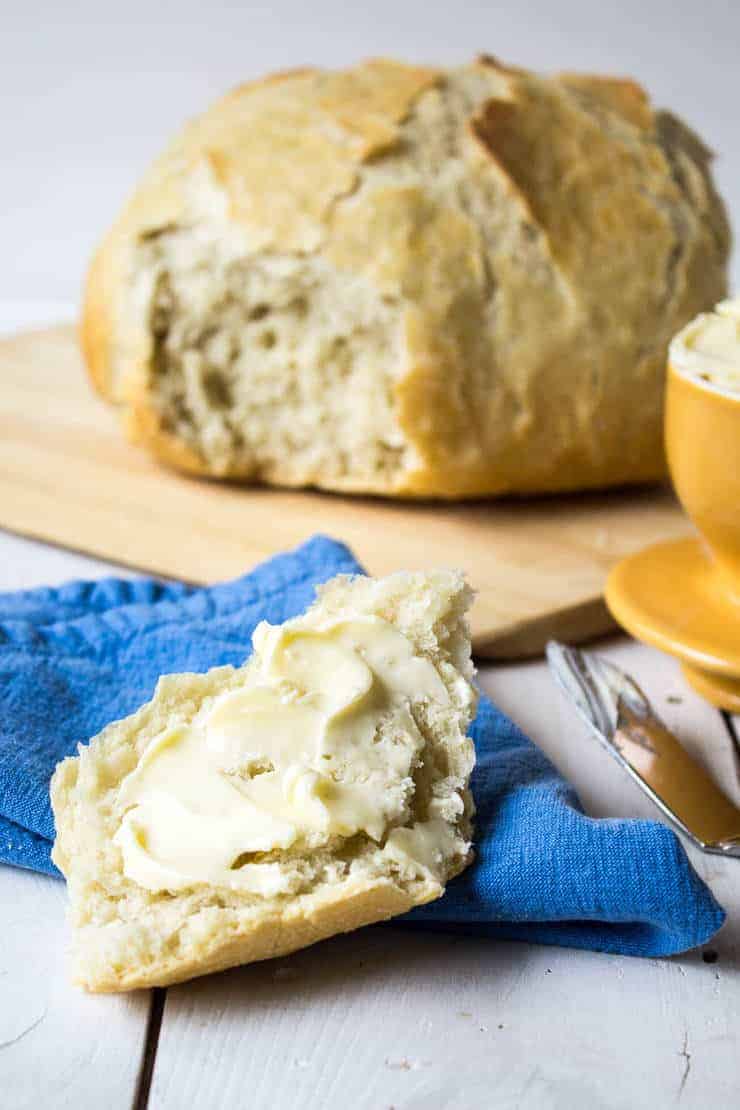 One of my favorite things about long weekends is all the extra baking I get done!  I made No Knead Artisan Bread this weekend!
This bread recipe has been floating around for quite a while, but if you haven't jumped on this wagon yet, it's time to get on board!  Some of my other favorite bread recipes are included in this collection of bread recipes.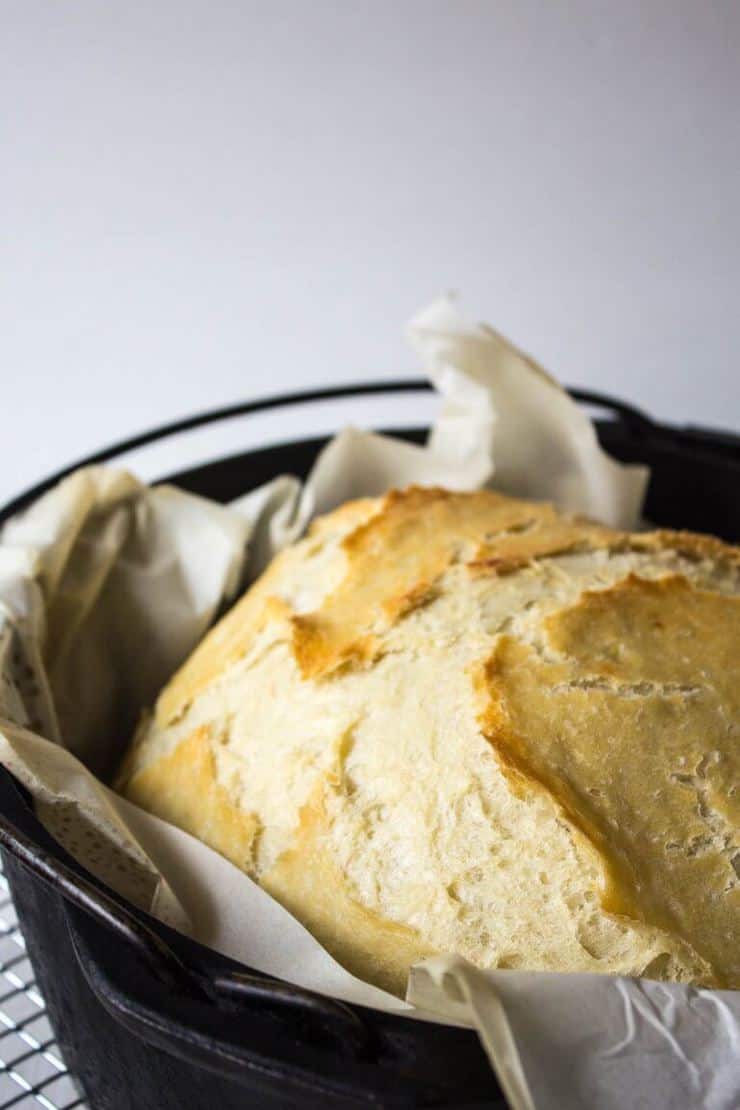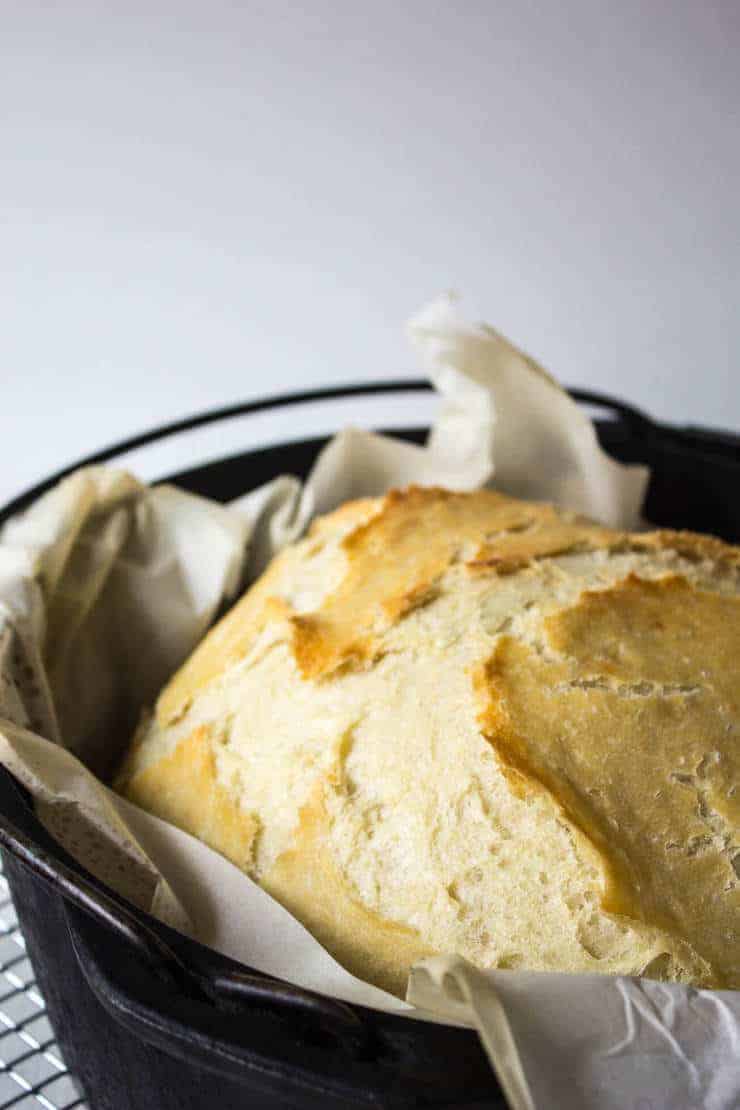 This bread is super easy to make.  The hardest part, you have to wait at least 8 hours after mixing the dough before you do anything else.
The best part...well eating it is the best part, but the other best part...if you aren't ready in 8 hours you can wait till the next day or the next!  Wait time is your friend here.  The longer it sits, the more sourdough like it becomes.  This is a good thing!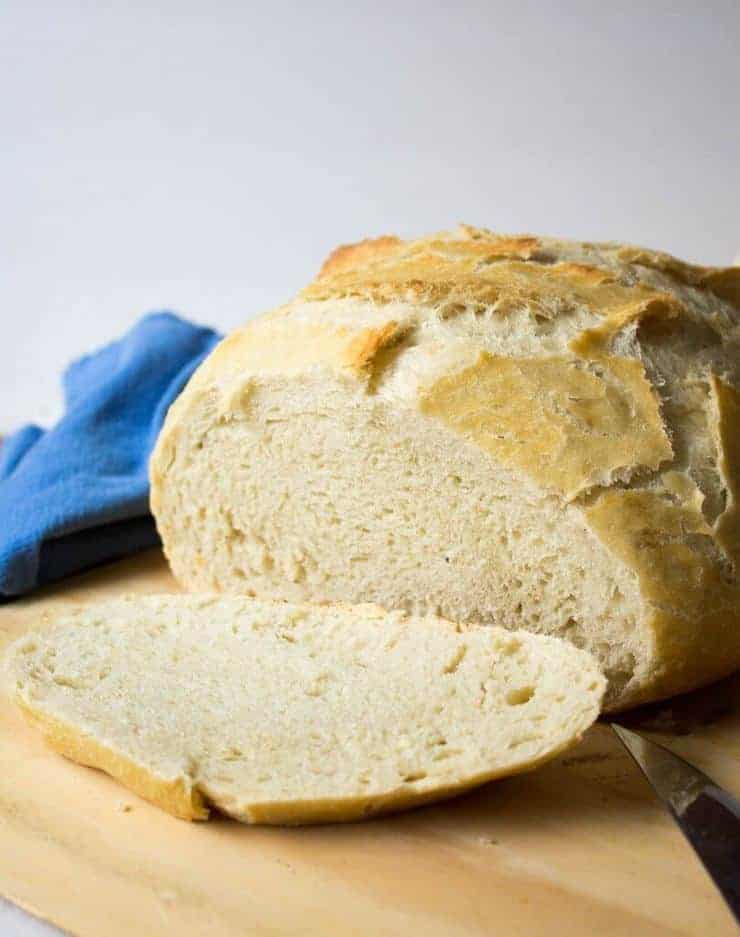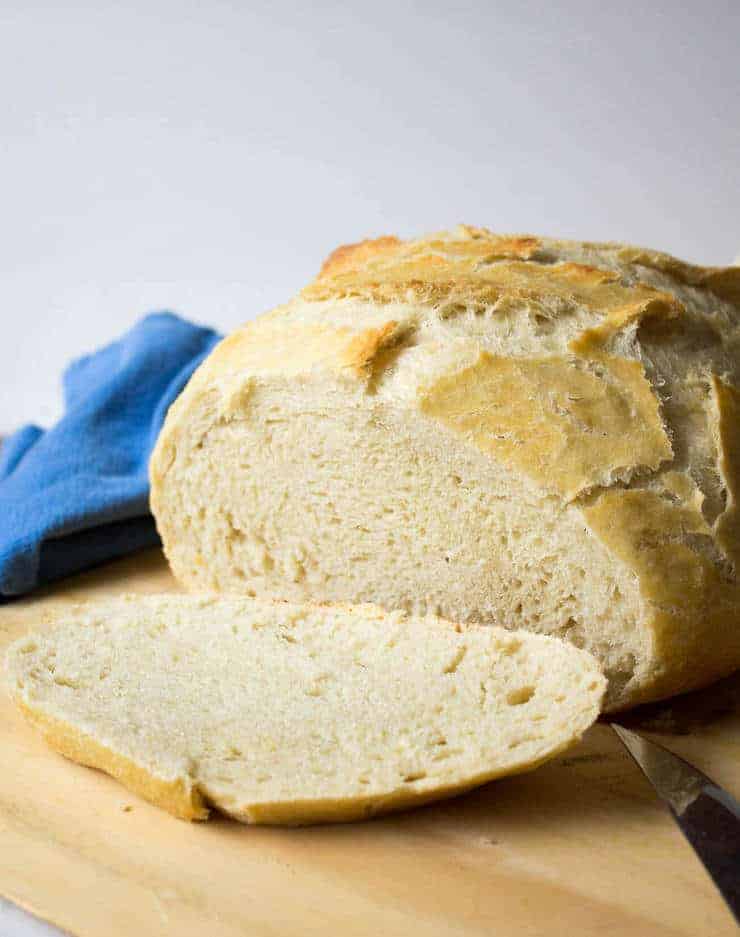 Do you see all those wonderful holes?  That's a sign of a great artisan bread.  That come from a very long rise.  This bread is cooked in a dutch oven.  I used our cast iron one that we use on camp fires.  Nothing fancy at all.
You can use your favorite dutch oven.  However, if you use an enameled dutch oven make certain the handle on the lid can withstand 450 degree temperatures.  You don't want a melted lid and they aren't all oven safe to that temp.
This bread was perfect for turkey sandwiches and perfect for dipping into turkey tortilla soup.  Did I tell you we raised turkeys this year?  Yep, we did.  Only I had heard that just because they look big doesn't mean they are big.  Sometimes you think your turkey is really big, but it ends up being this puny little thing when it's ready for the oven.
There are a lot of feathers on those big boys and they really puff up to look extra big.  So we waited, and waited and waited.  We ended up with a 43 pound turkey!  I'm not kidding!!! 43 POUNDS!!!  And that's 43 pounds of turkey plucked and free of all extra parts.  Oh my goodness, was all I could say. How the heck do you cook a 43 pound turkey?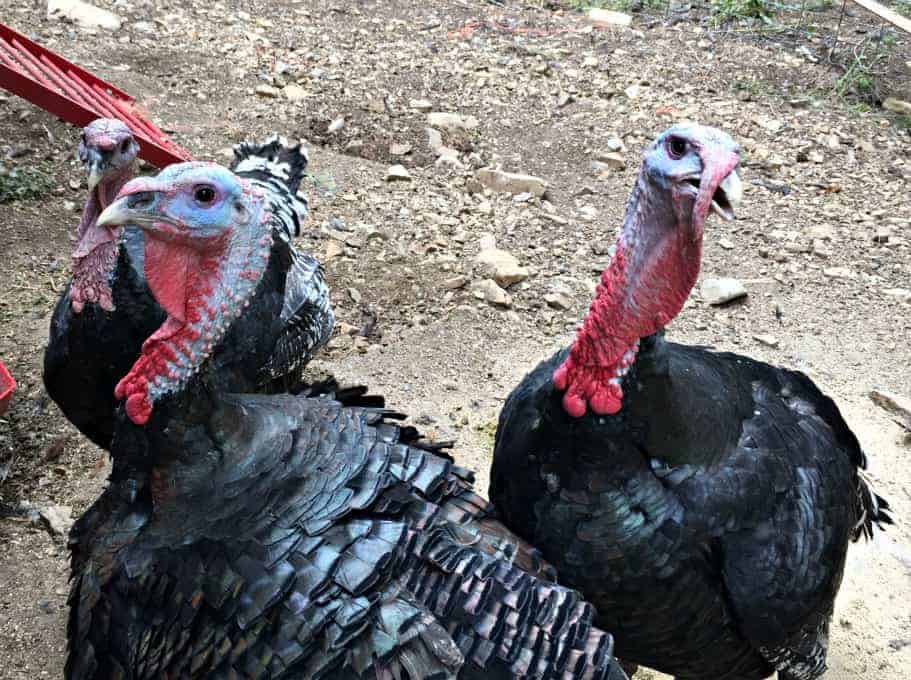 These turkeys really don't look all that big, but this picture was take August 3.  They were probably the perfect size 3 months ago!  Lesson learned.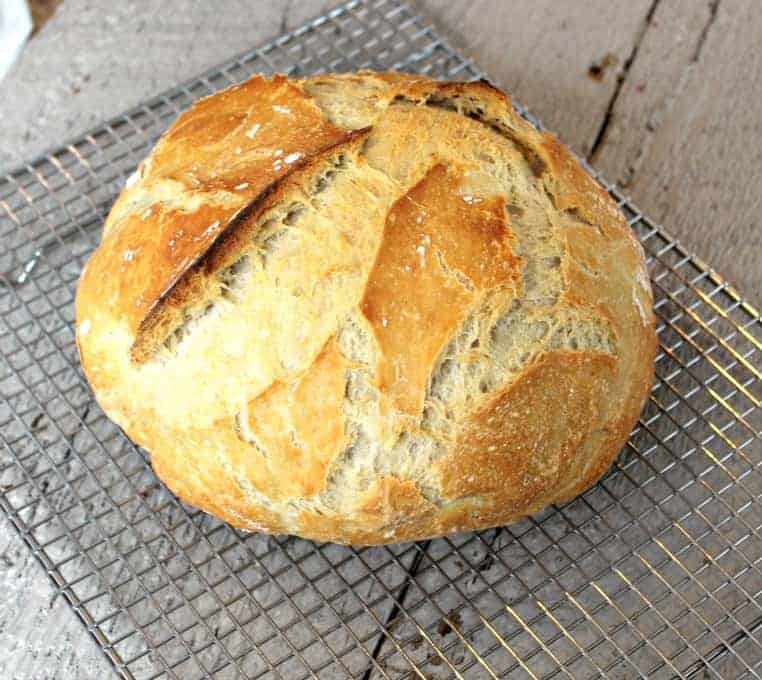 For this no knead artisan bread, I used the recipe from King Arthur Flour and the technique for folding and baking from Mel's Kitchen Cafe.  Mel has this technique perfected!
This bread can be cut once it is cooled.  It has a wonderful crusty crust!  If you have any extra bread, just store it in a plastic bag.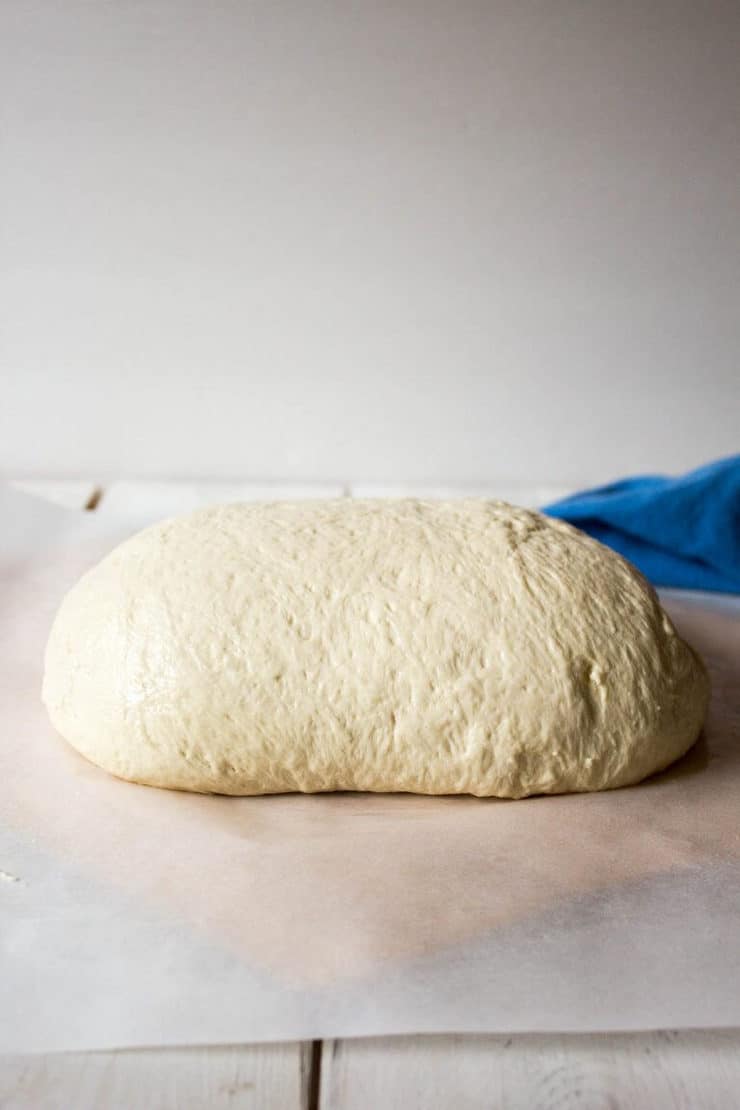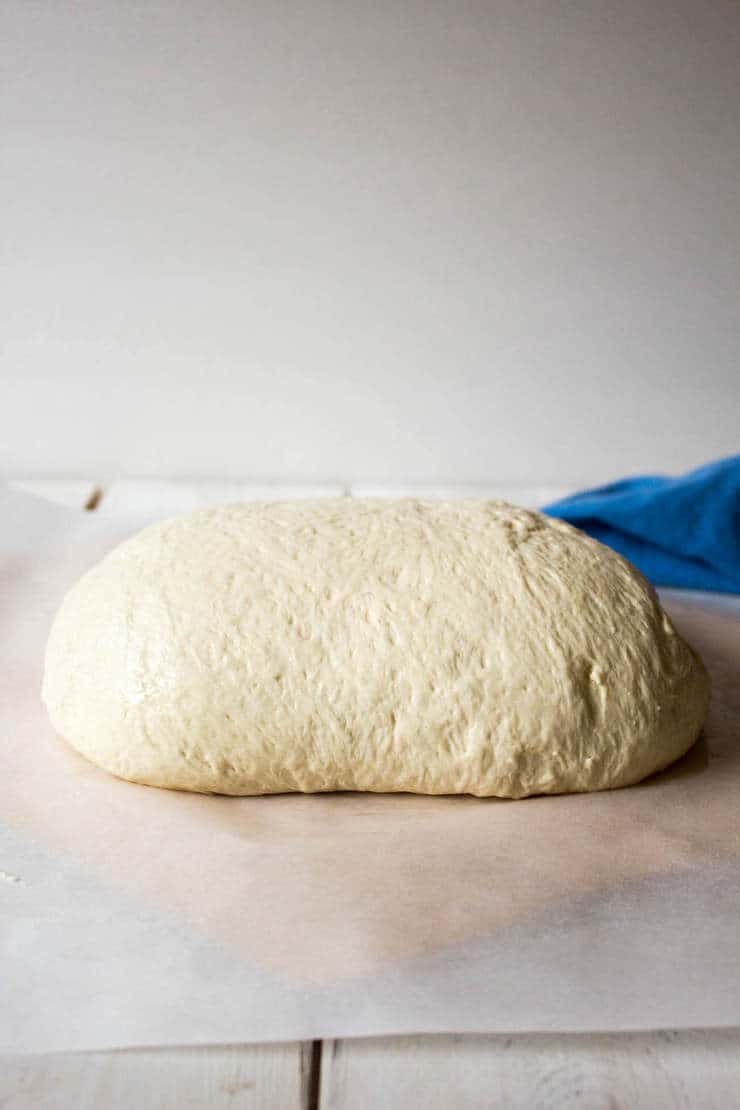 Other Great Bread Recipes Include:
If you make this recipe, I'd love to hear about it! Leave a comment below and snap a picture and tag me on Instagram @beyondthechickencoop
Check out all my bread recipes!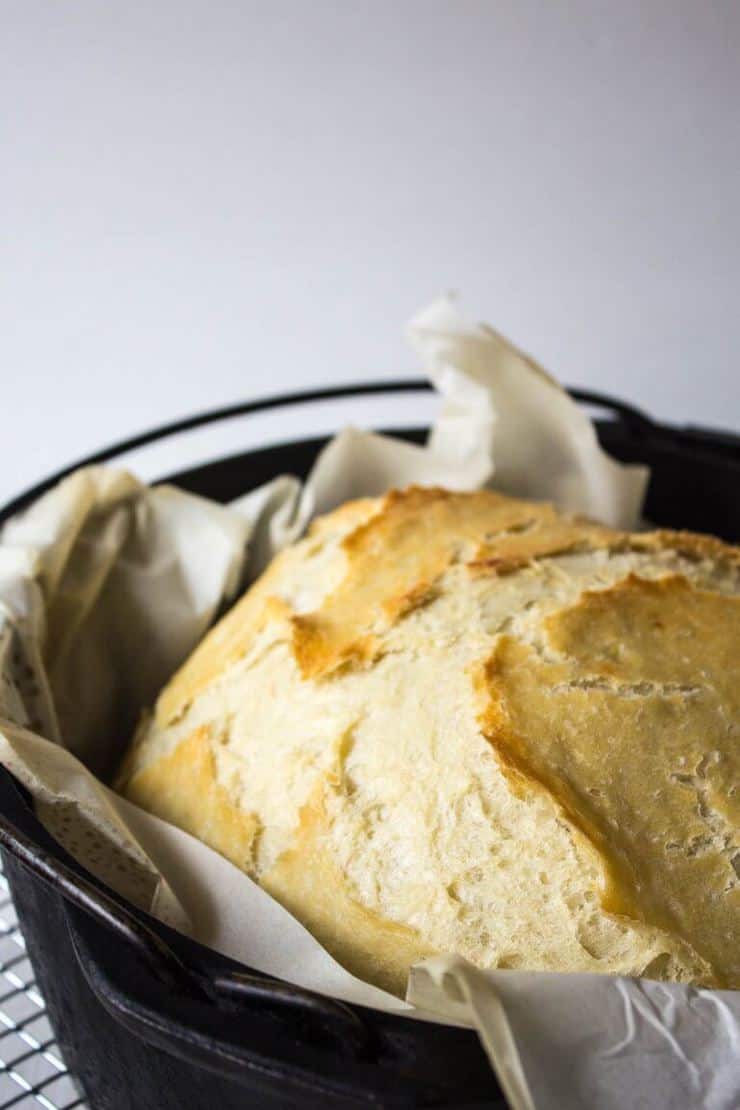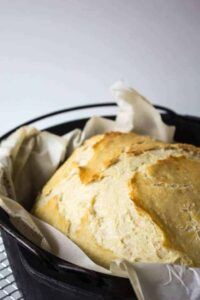 No Knead Artisan Bread
Homemade artisan bread cooked in a cast iron pot
Instructions
Add water to a large bowl of electric mixer.

Sprinkle yeast on top

With mixer running, slowly add flour and salt.

Mix until well combined. This will be a wet, sticky dough.

Transfer to a very large food safe container, cover with plastic wrap. This dough will more than double in size.

Place in a cool area overnight. You can use the dough after a few hours or let sit for several days.

When ready to use, place a large piece of parchment paper on the counter. Lightly spray parchment paper. Plop dough onto paper.

With wet hands, to prevent sticking, form into a rough rectangle. Gently fold one side over to the middle. Fold each side into the middle forming a package.

Carefully, but quickly, flip dough over so the seems are on the bottom.

Cover loosely with a lightly sprayed piece of plastic wrap.

Meanwhile, place a dutch oven with lid into the oven. Heat oven to 450 degrees. Heat dutch oven for at least 30 minutes in oven.

When dough has risen (about 30 minutes), open oven door, slide out oven rack and carefully open lid.

Grab all four corners of parchment paper and carry to the oven and place in dutch oven. Replace lid.

Cook for 40 minutes.

Remove lid and continue cooking for an additional 15 minutes.

Cool on a baking rack until completely cooled. Slice and enjoy!
Notes
This bread needs to rise in a very large container. It does tend to more than double in size. You will also find that the dough will rise and fall and rise again.
Plan for additional preparation time for the rise.
Nutritional Disclaimer:
Nutritional information is provided as a courtesy and should only be construed as an estimate rather than a guarantee. To obtain the most precise nutritional information in a provided recipe, you should calculate the nutritional information with the exact ingredients you are using when preparing the recipe using your preferred nutrition calculator.
Nutrition
Calories:
214
kcal
Carbohydrates:
44
g
Protein:
6
g
Sodium:
466
mg
Potassium:
70
mg
Fiber:
1
g
Calcium:
9
mg
Iron:
2.7
mg