This post may contain affiliate links, see my Privacy Policy.
Delicious homemade rhubarb jam is a delicious way to use up your spring rhubarb. All you need to make this jam is fresh rhubarb and sugar and a bit of fresh squeezed lemon juice! That's it – no added pectin or other ingredients.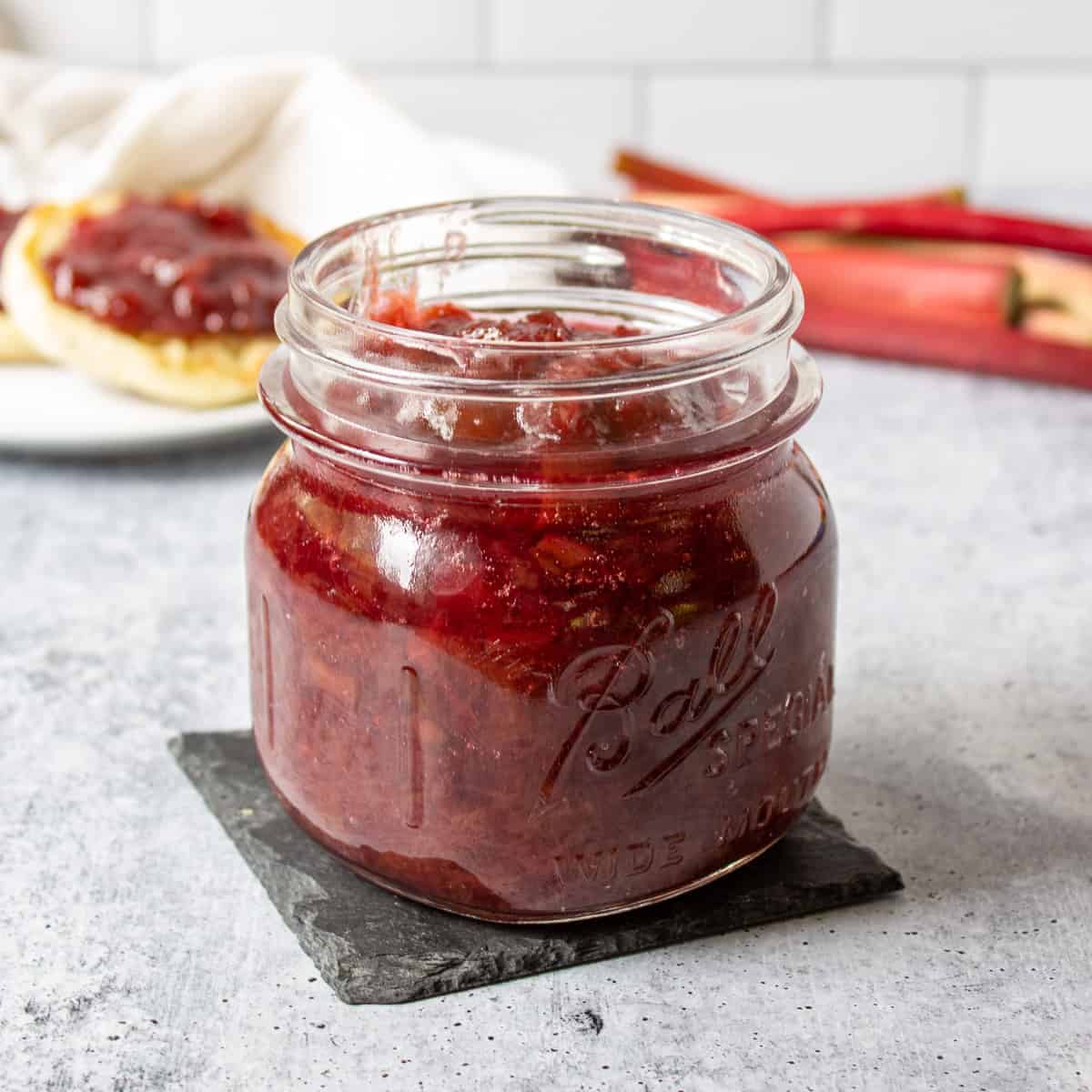 Rhubarb is in full season for us right now. I've been making lots of rhubarb recipes lately; rhubarb muffins, rhubarb bread, rhubarb crisp, rhubarb sauce and my latest is this rhubarb jam.
Rhubarb is tart and it lends itself to a variety of dishes. Rhubarb jam is a perfect jam with a bit of tart and a bit of sweet. This jam is delicious on toast, English muffins or on a peanut butter sandwich.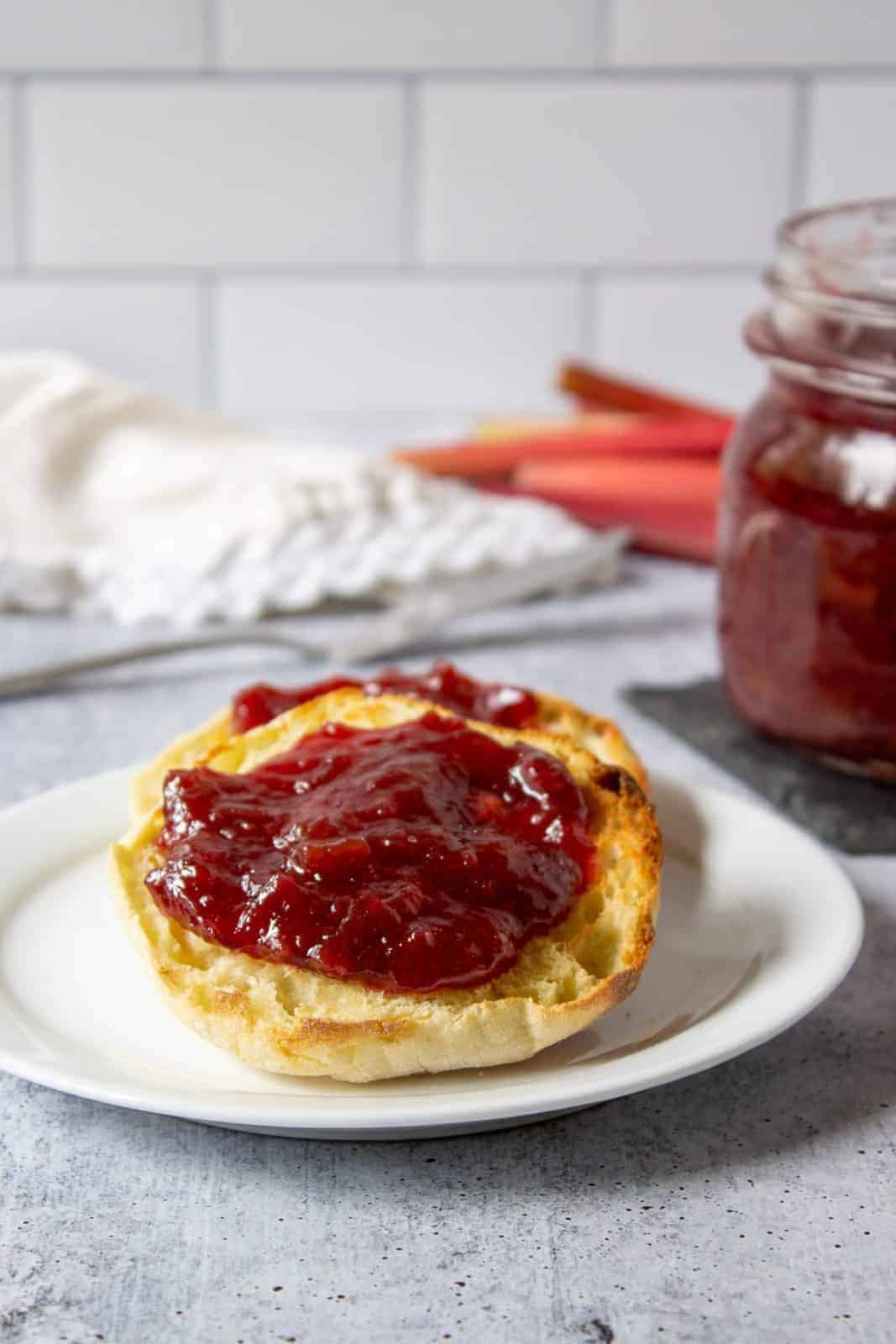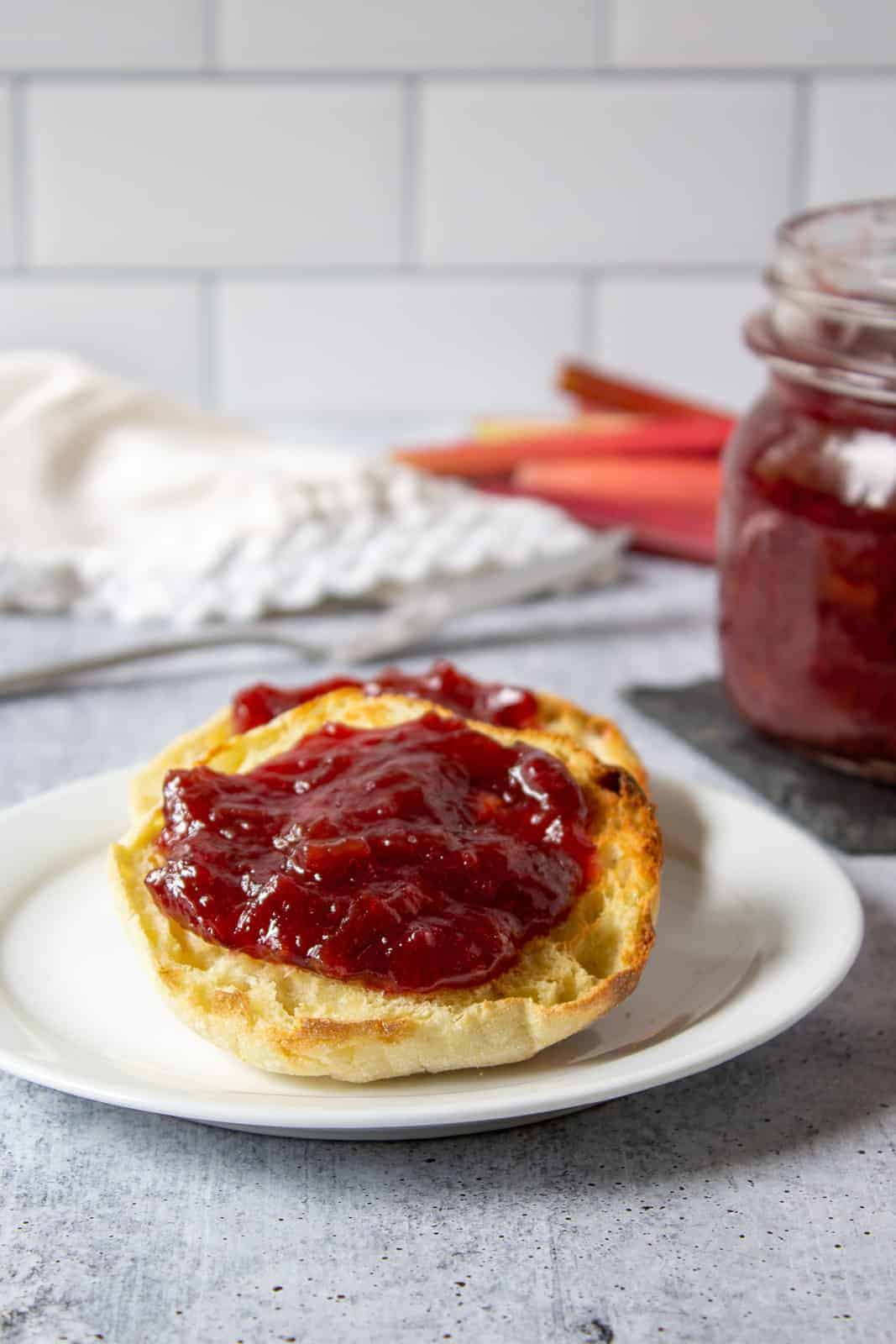 This jam is only made with fresh rhubarb and sugar and a bit of fresh lemon juice. That's it! There's no added pectin, water or other ingredients.
The trick to making this jam is macerating the rhubarb. Macerating is simply mixing the rhubarb with sugar and allowing the water to be extracted from the rhubarb.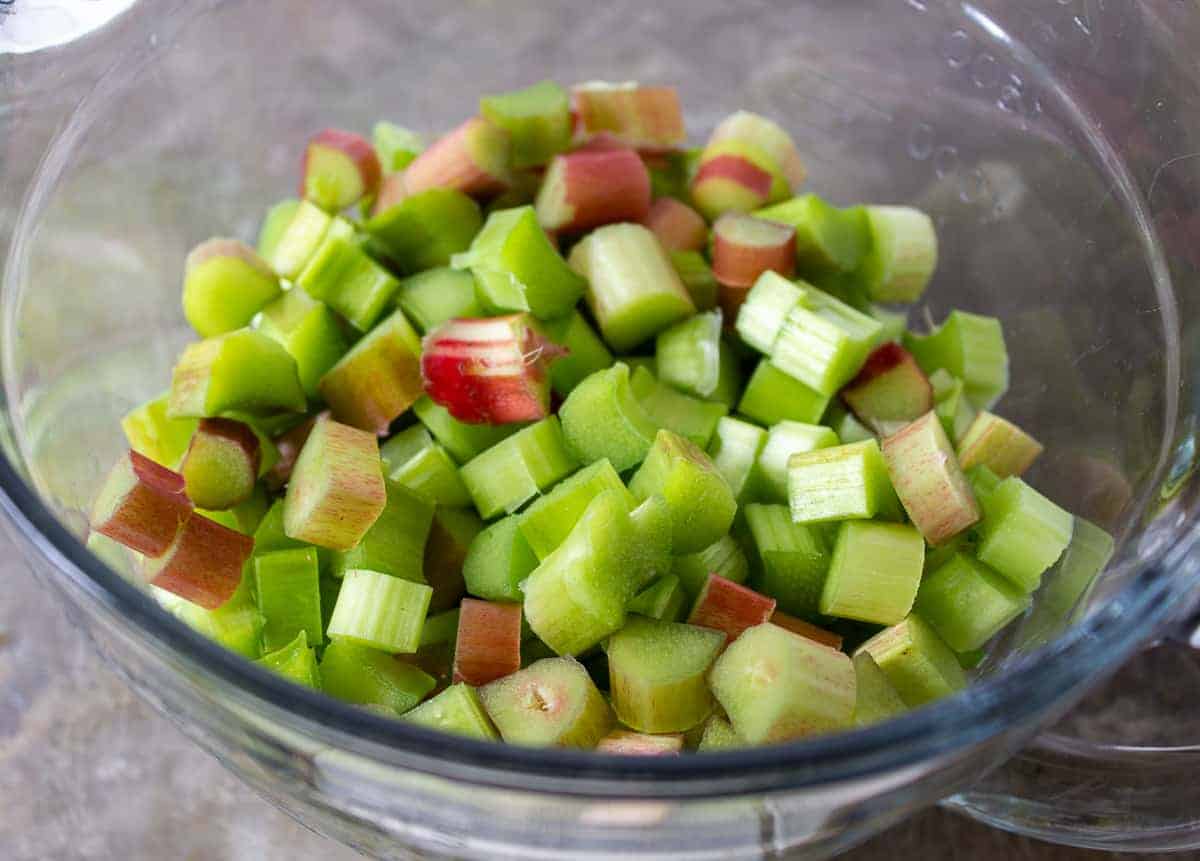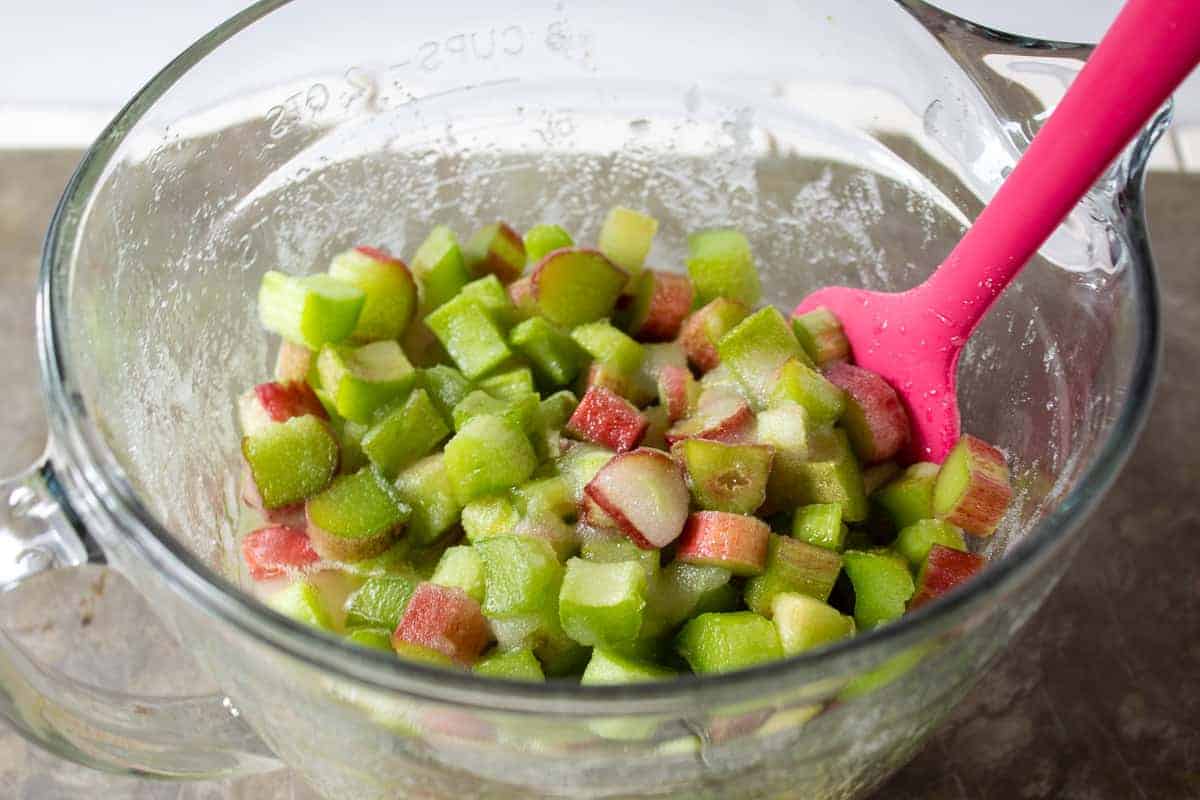 The color of rhubarb jam
The color of rhubarb jam varies, depending on your rhubarb. The rhubarb from my garden tends to be more green than red, but my mother in law's rhubarb is very, very red. When I use her rhubarb in this jam, my jam also turn out really red.
It can also a light color with a pinkish hue. Sometimes it even turns a drab greenish brown color. Adding a bit of fresh squeezed lemon juice helps keep the color bright. No matter the color, the taste is always the same. The color of rhubarb does not change the taste. Adding a bit of freshly squeezed lemon juice helps preserve the color.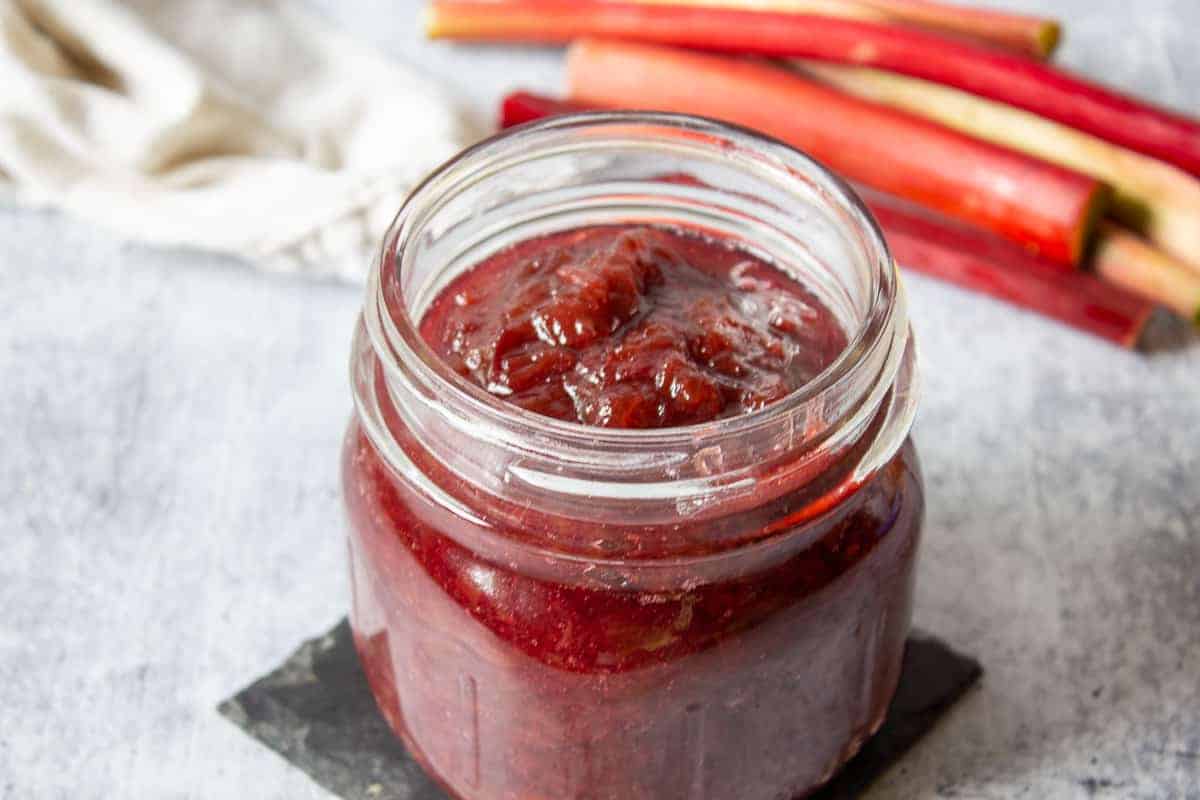 How long does it take to make this jam?
The actual cook time of this jam is about 30 minutes. However, the macerating of the rhubarb takes about 8 hours. I like to cut up the rhubarb in the evening, add the sugar, cover and then let sit overnight. I sometimes give it an occasional stir, if I'm thinking about it.
To make the jam
Cut up rhubarb into small pieces and place in a bowl
Add sugar and stir
Cover for at least 8 hours or overnight
Add fresh squeezed lemon juice
Place rhubarb and all juices into a large pot
Cook over medium high heat until the mixture begins to boil
Lower to medium low heat for about 20 minutes, stirring often
Continue cooking over low heat until mixture begins to thicken
Remove from heat and place in a glass container
How do I know if the jam is done?
There are a couple of ways to determine if your jam is done:
Cook until rhubarb is soft and most of the liquid has evaporated
Cook until temperature of jam reaches 210-215 degrees. This is a slightly lower temperature than most jams that are cooked to 220 degrees, but it is a perfect temperature for rhubarb jam
Test jam on a plate – scoop out a tablespoonful of jam onto a plate. Allow to cool for a minute and then run the back of a spoon through jam. If the jam stays separated, it is done.
Tilt the jam – the jam should only have a slight slide
How do I store this jam?
This batch of jam does not make a large amount. It yields approximately 2 cups of cooked jam. Since this doesn't make a large amount, I store the jam in the refrigerator. It will last for up to one month in the refrigerator.
If you are making a larger batch and need a way to store it for a longer period, you can freeze the jam or can it into jars and process in a hot water bath.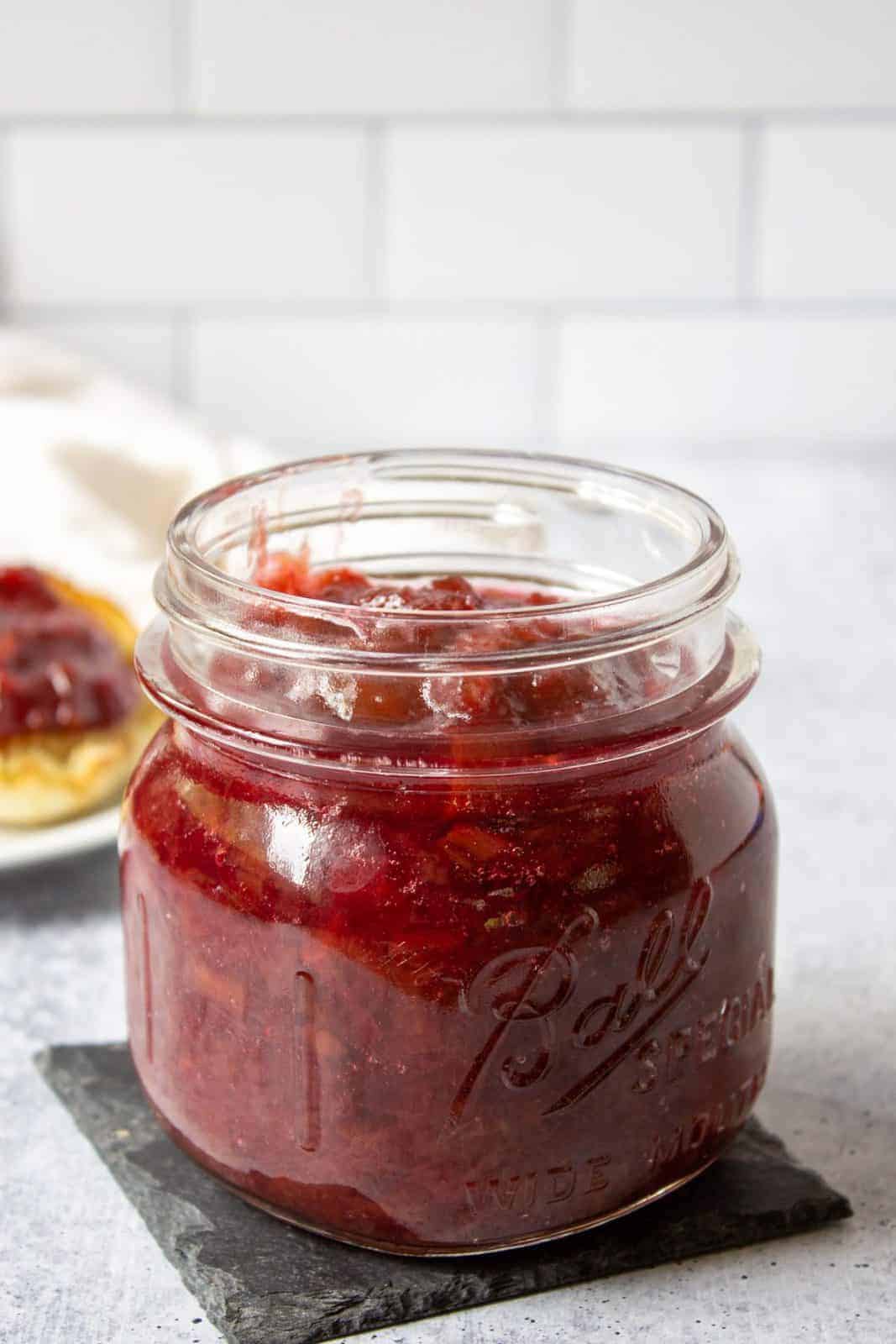 Other delicious homemade jam recipes
Don't forget to PIN for later!
If you make this recipe, I'd love to hear about it! Leave a comment below and snap a picture and tag me on Instagram @beyondthechickencoop
Be certain to check out all my delicious recipes!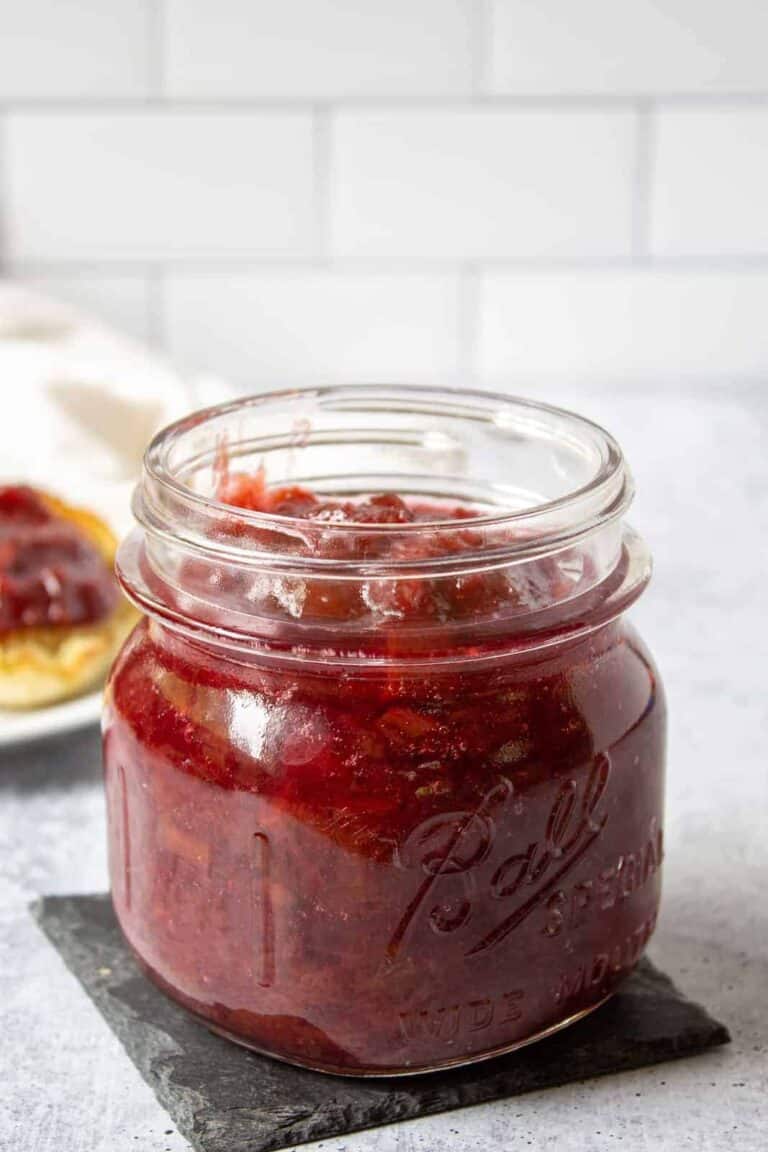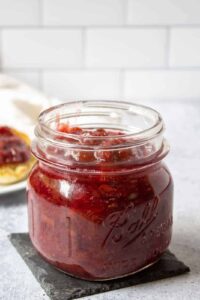 Rhubarb Jam
Delicious homemade rhubarb jam is perfect for spreading on toast or adding to a peanut butter sandwich.
Ingredients
6

cups

rhubarb

(chopped)

2

cups

sugar

1

Tablespoon

lemon juice

(fresh squeezed)
Instructions
Place the rhubarb in a large glass bowl. Add sugar and stir to distribute. Cover and let sit for at least 8 hours stirring once or twice to redistribute sugar.

The rhubarb will release a lot of liquid while sitting with sugar.

Place rhubarb and its juice into a nonreactive pot.

Cook over medium high heat until mixture comes to a simmer, about 20 minutes. Stir often.

Reduce heat to low and continue cooking for another 10 minutes. Stir often to avoid burning.

Test jam on a plate. Place a small spoonful on a plate and let cool for one minute. Draw a line down the center with the back of a spoon. The mixture should remain separated. Tilt plate slightly - the mixture should only run a small amount.

Remove jam from heat and allow it to cool for 10 minutes. Transfer jam to a glass canning jar or other storage container. Cover and refrigerate.
Notes
Color of jam will vary depending on the color of rhubarb.
Jam may be frozen or canned using water bath processing.
If jam becomes too thick while cooking, add 1/4 cup of water.
Nutrition
Serving:
1
Tablespoon
Calories:
43
kcal
Carbohydrates:
11
g
Protein:
1
g
Fat:
1
g
Saturated Fat:
1
g
Sodium:
1
mg
Potassium:
53
mg
Fiber:
1
g
Sugar:
10
g
Vitamin A:
19
IU
Vitamin C:
2
mg
Calcium:
16
mg
Iron:
1
mg