A delicious rhubarb bar with a tart rhubarb filling over a sweet shortbread crust and a crumb topping.
This is a perfect dessert to make when rhubarb is in season.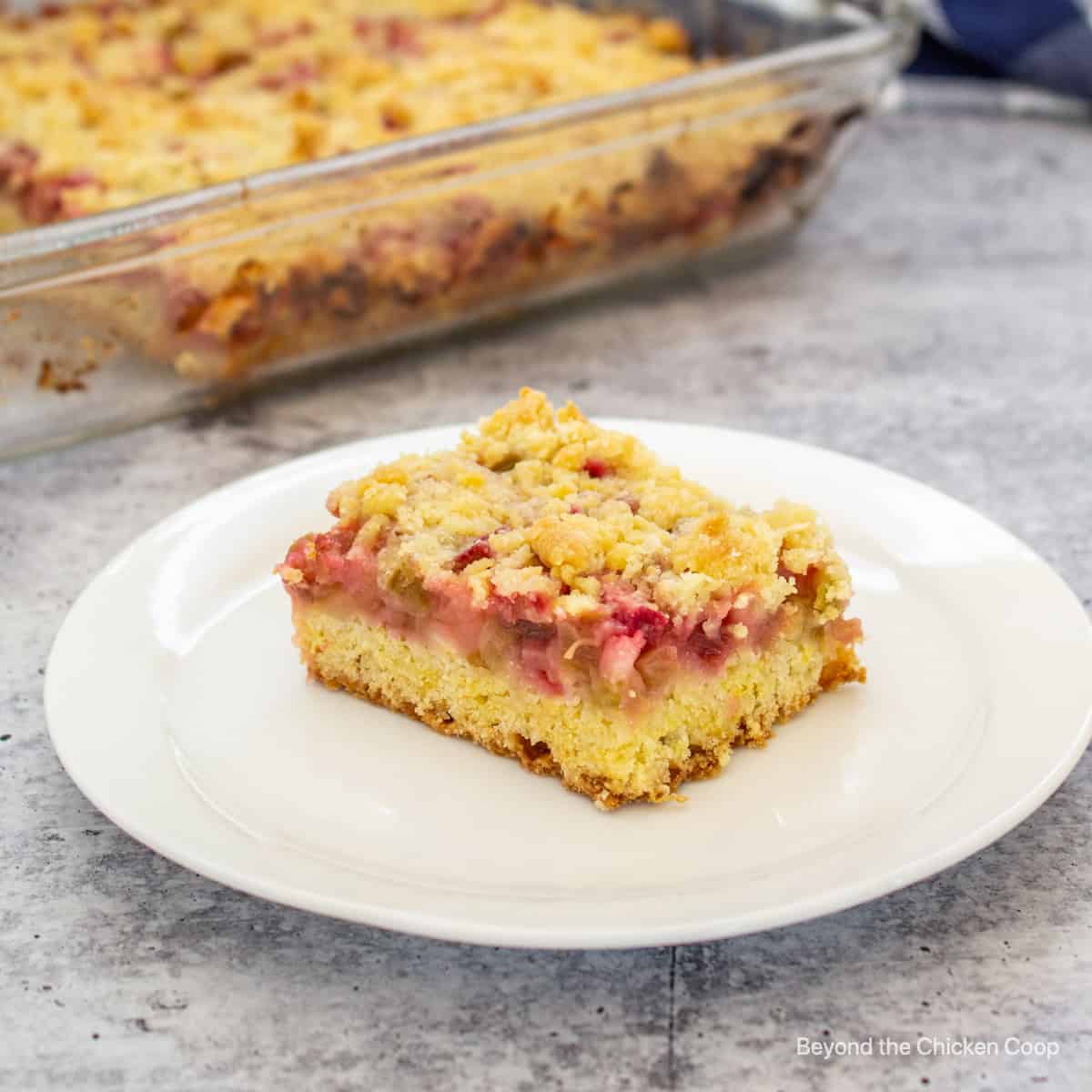 Why make this recipe
Rhubarb is one of the first plants to pop up as soon as the snow has melted. It can be harvested before any other crops are ready for picking. There's nothing better than utilizing freshly picked produce after a long winter.
The tart zing of rhubarb really shines through in these bars. This easy to make dessert is perfect for a family dessert or for sharing with friends.
Key ingredients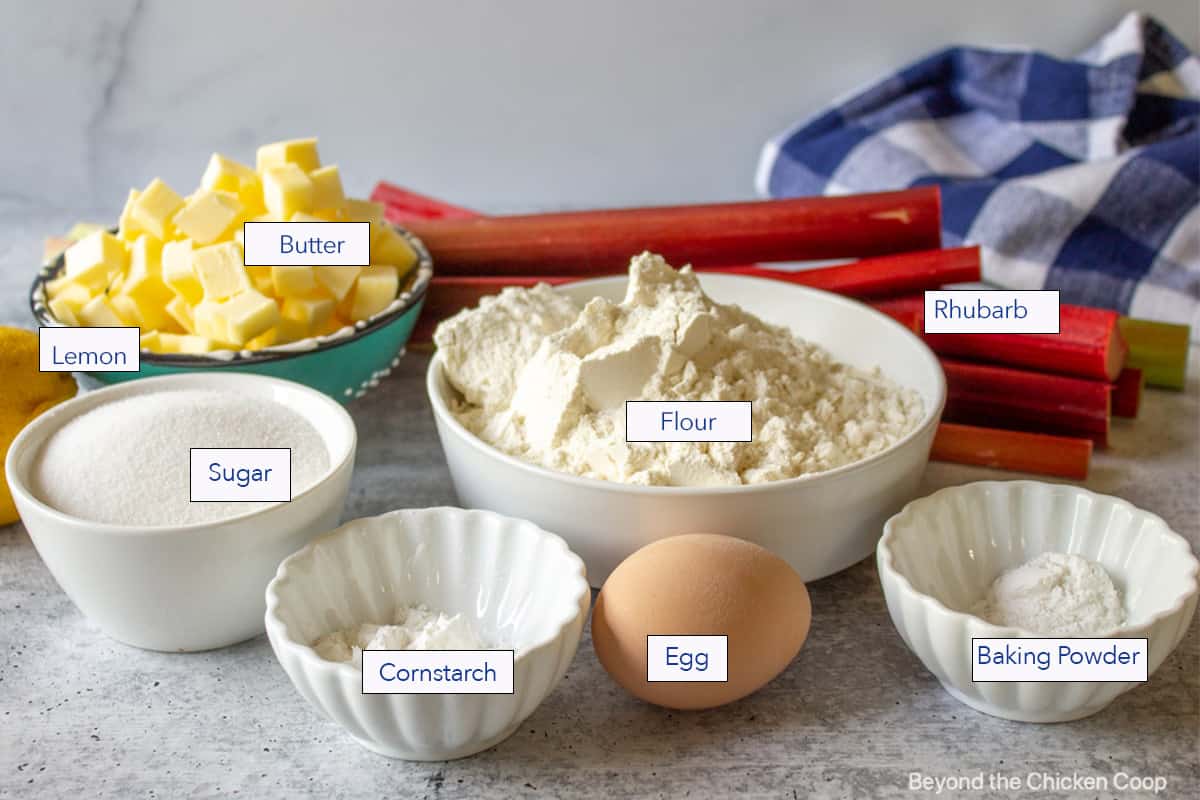 Rhubarb - fresh and cut into small cubes. Frozen rhubarb can be used. Do not thaw before adding
Butter - cold salted butter cut into cubes
Lemon - zest and juice
Step by step directions
Combine flour, sugar, baking powder and salt together
Add butter and incorporate into the flour mixture. Use your hands or use a pastry blender.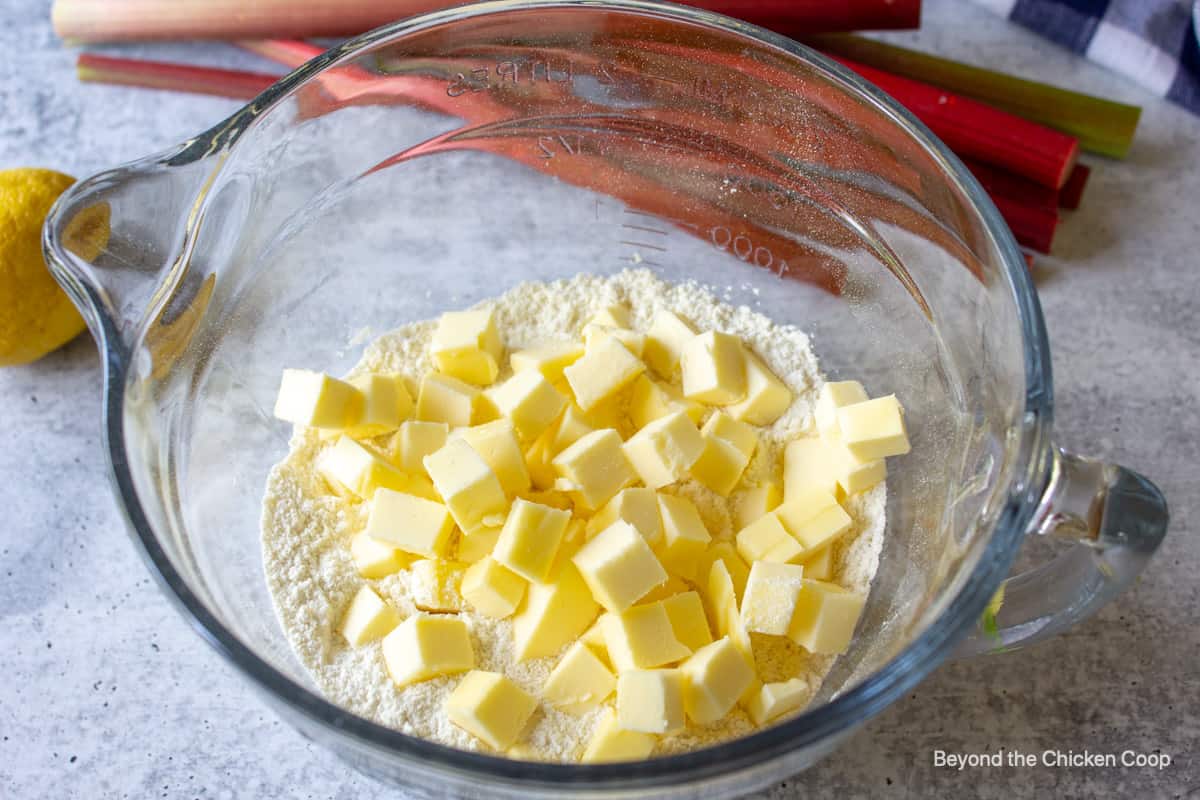 Add one beaten egg. Mix together with a fork. The mixture will be dry and crumbly.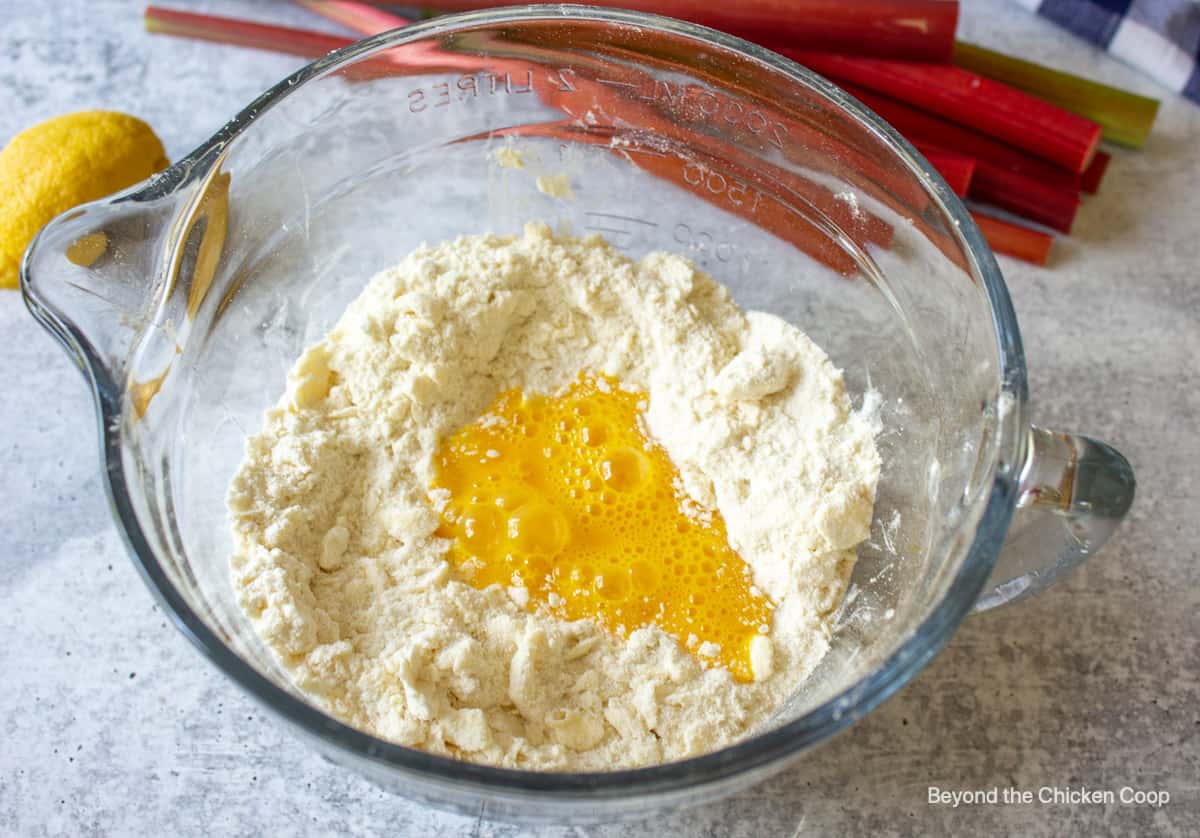 Reserve one cup of the crust and set aside for the topping
Add the remaining crust into a greased baking dish
Firmly pat crust down to form a smooth surface. Use your hands or the bottom of a flat measuring cup.
Use the same bowl the crust was made in - no need to rinse it out. Place diced rhubarb, sugar and cornstarch and mix to combine.
Add lemon zest and lemon juice
Pour rhubarb mixture over prepared unbaked crust
Crumble reserved crust over the top of the rhubarb
Bake in a preheated 375 oven for 45 minutes
Allow bars to fully cool before slicing and serving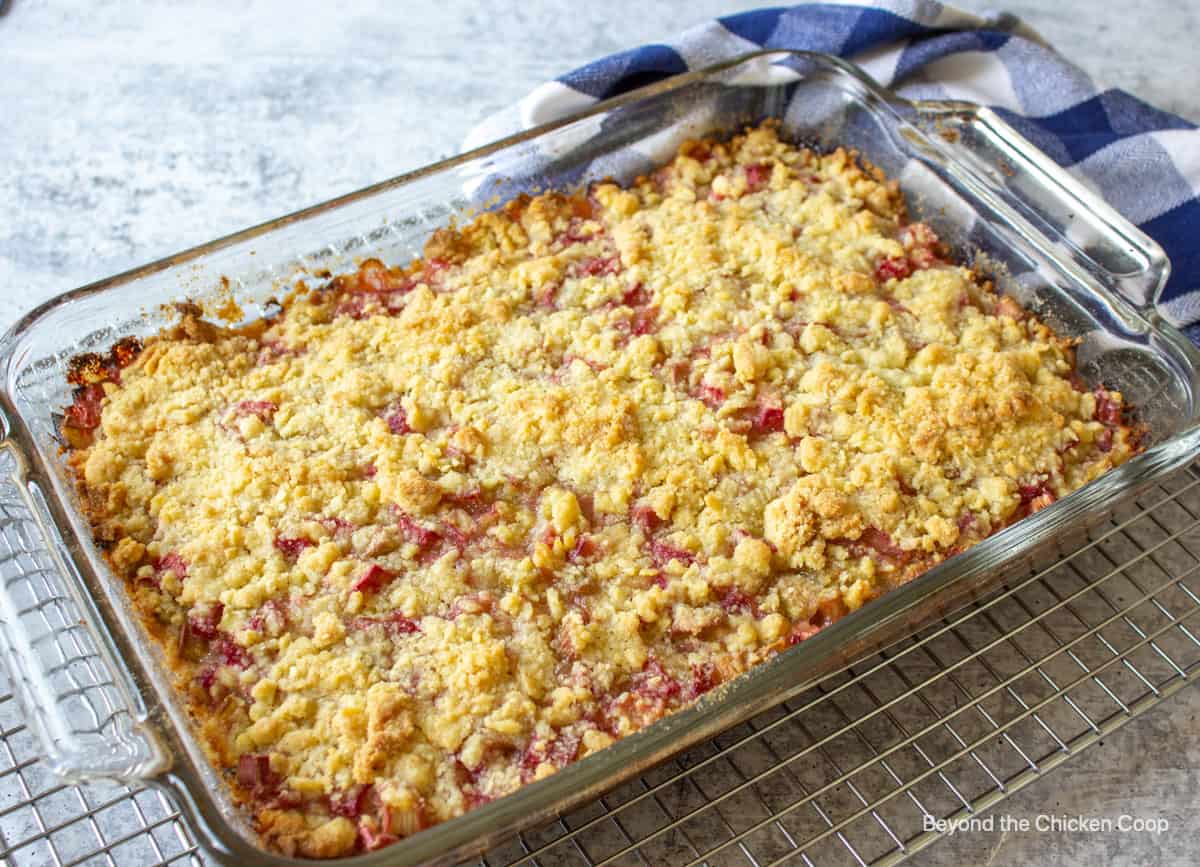 Recipe tips
Use cold butter that has been cut into small cubes
To incorporate the butter into the flour mixture, use a pastry blender or your hands. Smear the butter between your fingers mixing it into the flour. The mixture should be crumbly with no chunks of butter left.
Dice rhubarb into small ¼ inch cubes
If your rhubarb is stringy, just pull off any long strings that form
If using frozen rhubarb, do not thaw before using. Increase baking time by 10 minutes.
Be certain to scrape any juices that were formed from the rhubarb sugar mixture into the baking dish
An 11 x 8 baking dish was used to make this recipe, but a 9 x 13 dish will work as well. Reduce baking time by 5 minutes.
Allow dessert to fully cool before slicing and serving
Recipe Faqs
Are rhubarb leaves edible?
No, rhubarb leaves are not edible! They contain toxic levels of oxalic acid. The leaves should be fully cut from the stem and discarded.
What color is rhubarb?
Rhubarb varies in color from a deep, bright red to green. The color does not affect the taste and either colored stalks can be used in this recipe.
How long will the rhubarb bars last?
If stored in an airtight container at room temperature, the rhubarb bars will last for 3-4 days.
More rhubarb recipes
If you have a surplus of rhubarb, you might also want to try these recipes:
If you make this recipe, I'd love to hear about it! Leave a comment below and snap a picture and tag me on Instagram @beyondthechickencoop
Be certain to check out all my delicious dessert recipes!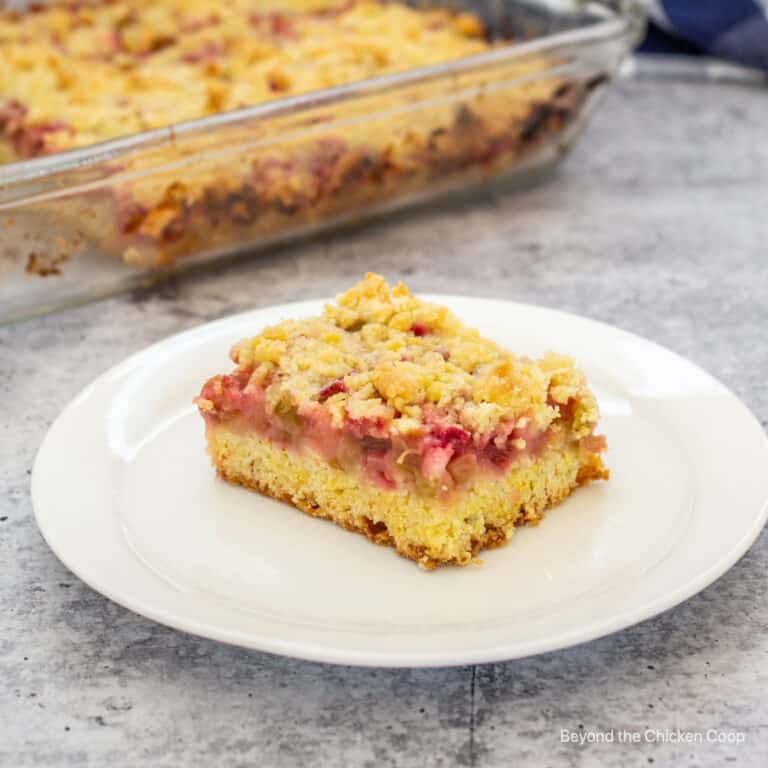 Rhubarb Bars
A tart rhubarb dessert with a sweet shortbread crust and a crumb topping.
Ingredients
Crust
2

cups

flour

½

cup

sugar

1

teaspoon

baking powder

¼

teaspoon

salt

¾

cup

butter

(cut into small cubes)

1

egg

(beaten)
Filling
4

cups

rhubarb

(diced)

½

cup

sugar

2

teaspoons

cornstarch

1

tablespoon

lemon zest

2

tablespoon

lemon juice
Instructions
Preheat oven to 375 degrees
Crust
Combine flour, sugar, baking powder and salt together

2 cups flour,

½ cup sugar,

1 teaspoon baking powder,

¼ teaspoon salt

Add butter and combine using a pastry cutter or your fingers. Gently smear the butter between your fingers into the flour mixture. The mixture should be crumbly with no chunks of butter left.

Add egg and combine with a fork. The mixture will remain dry and crumbly

Set one cup of crust aside to use for the topping

Place remaining crust mixture into a 11x7" baking dish that has been lightly sprayed with a nonstick spray.

Press crust down firmly with hands or the bottom of a flat measuring cup to form an even surface
Filling
Combine rhubarb, sugar and cornstarch together

4 cups rhubarb,

½ cup sugar,

2 teaspoons cornstarch

Add lemon zest and lemon juice

1 tablespoon lemon zest,

2 tablespoon lemon juice

Pour mixture over prepared crust

Sprinkle on reserved crust mixture

Bake in a preheated 375° oven for 45 minutes
Notes
Baking Tips
Use cold butter that has been cut into small cubes
To incorporate the butter into the flour mixture, use a pastry blender or your hands. Smear the butter between your fingers mixing it into the flour. The mixture should be crumbly with no chunks of butter left.
Dice rhubarb into small ¼ inch cubes
If your rhubarb is stringy, just pull off any long strings that form
If using frozen rhubarb, do not thaw before using. Increase baking time by 10 minutes.
Be certain to scrape any juices that were formed from the rhubarb sugar mixture into the baking dish
An 11 x 8 baking dish was used to make this recipe, but a 9 x 13 dish will work as well. Reduce baking time by 5 minutes.
Allow dessert to fully cool before slicing and serving
Nutrition
Serving:
1
Bar
Calories:
207
kcal
Carbohydrates:
28
g
Protein:
2
g
Fat:
10
g
Saturated Fat:
6
g
Trans Fat:
1
g
Cholesterol:
35
mg
Sodium:
126
mg
Potassium:
148
mg
Fiber:
1
g
Sugar:
14
g
Vitamin A:
333
IU
Vitamin C:
4
mg
Calcium:
47
mg
Iron:
1
mg