This homemade strawberry jam is quick, easy and only uses two ingredients!  Make your own small batch of jam with no added pectin needed. This recipe is perfectly spreadable and delicious and is a perfect recipe for first time jam makers. No need to can or freeze this jam - recipe makes just two cups of strawberry jam!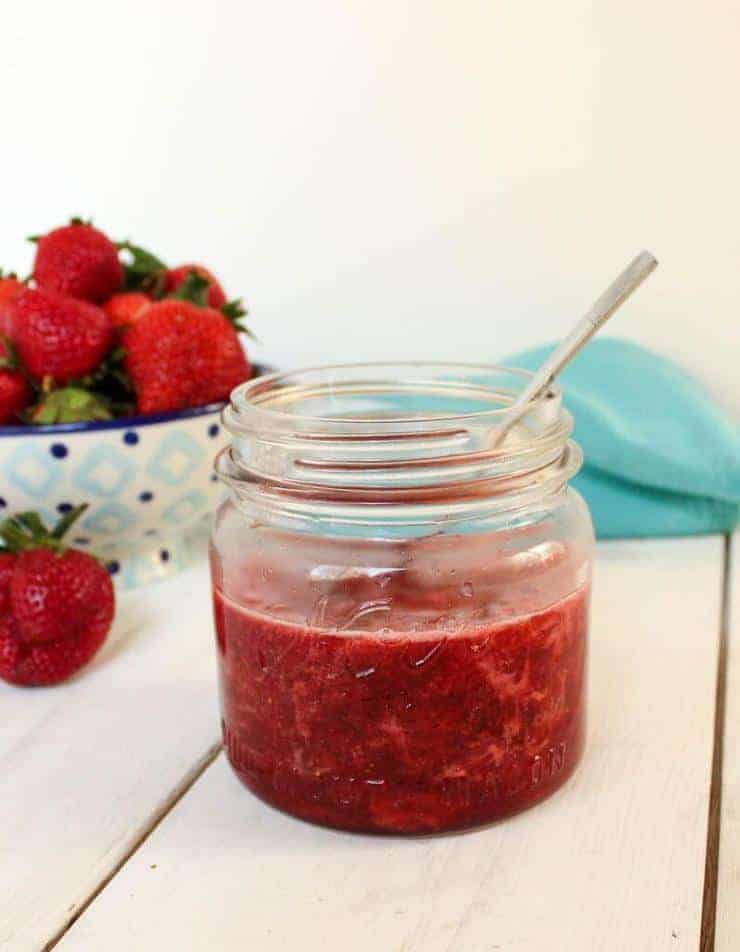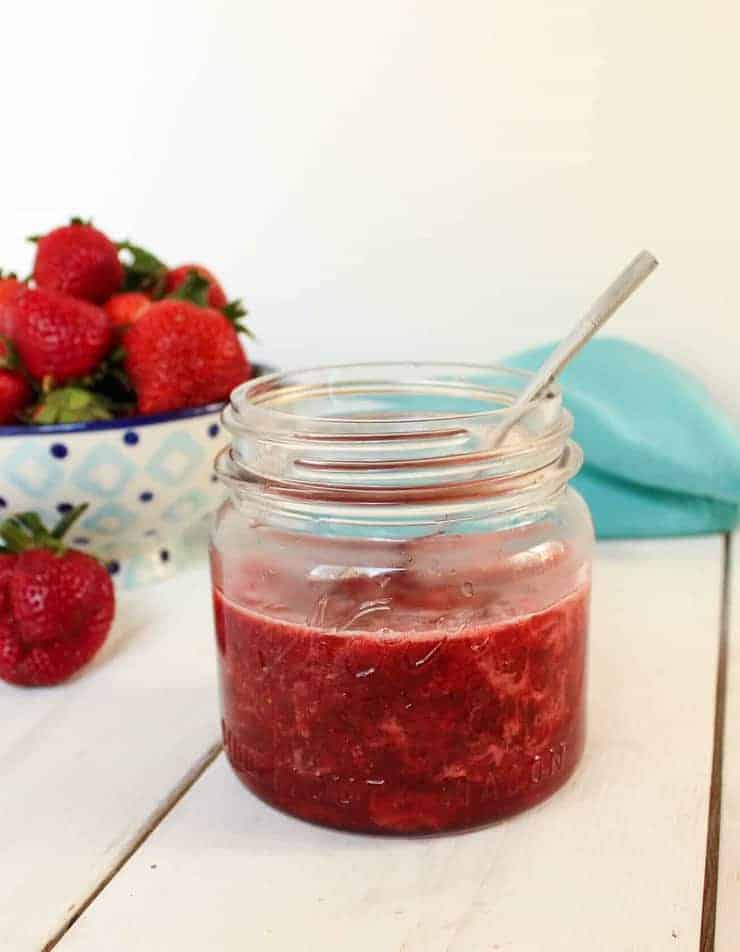 Fresh strawberries just scream Strawberry Jam!  There's nothing better than homemade strawberry jam.  Sometimes you just don't want to make a big batch of strawberry jam.  This is a small batch of  jam and there's no canning involved, no pectin added and no fuss involved.
This strawberry jam is cooked in just 15 minutes.  It only uses two ingredients: strawberries and sugar.  Super easy and super delicious.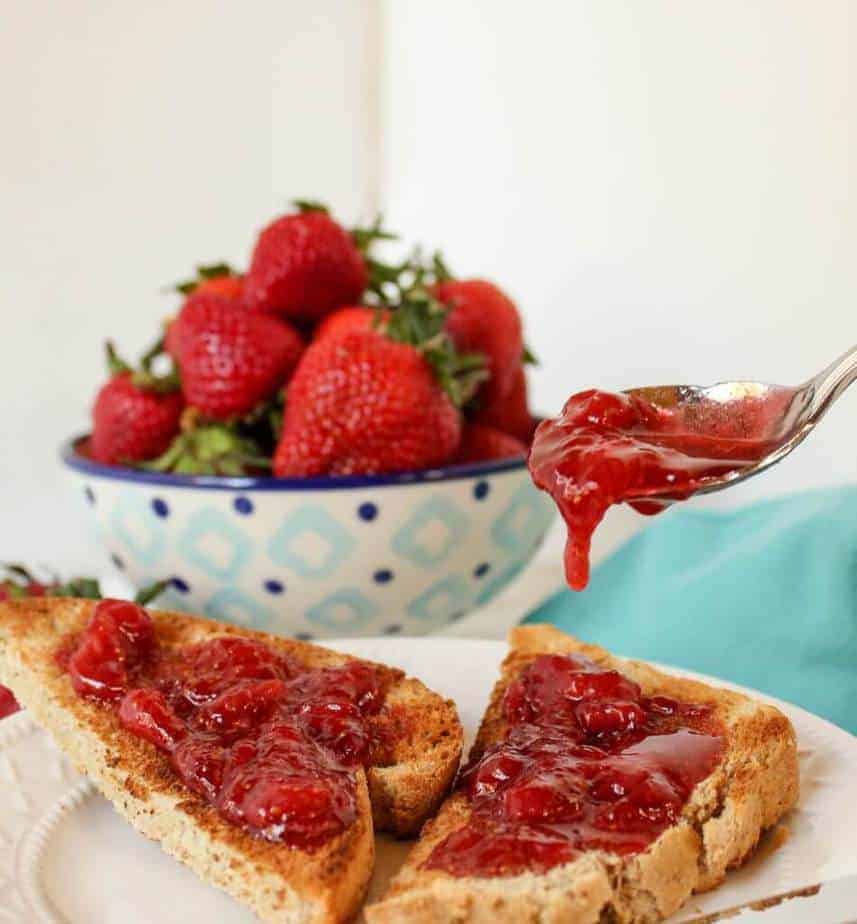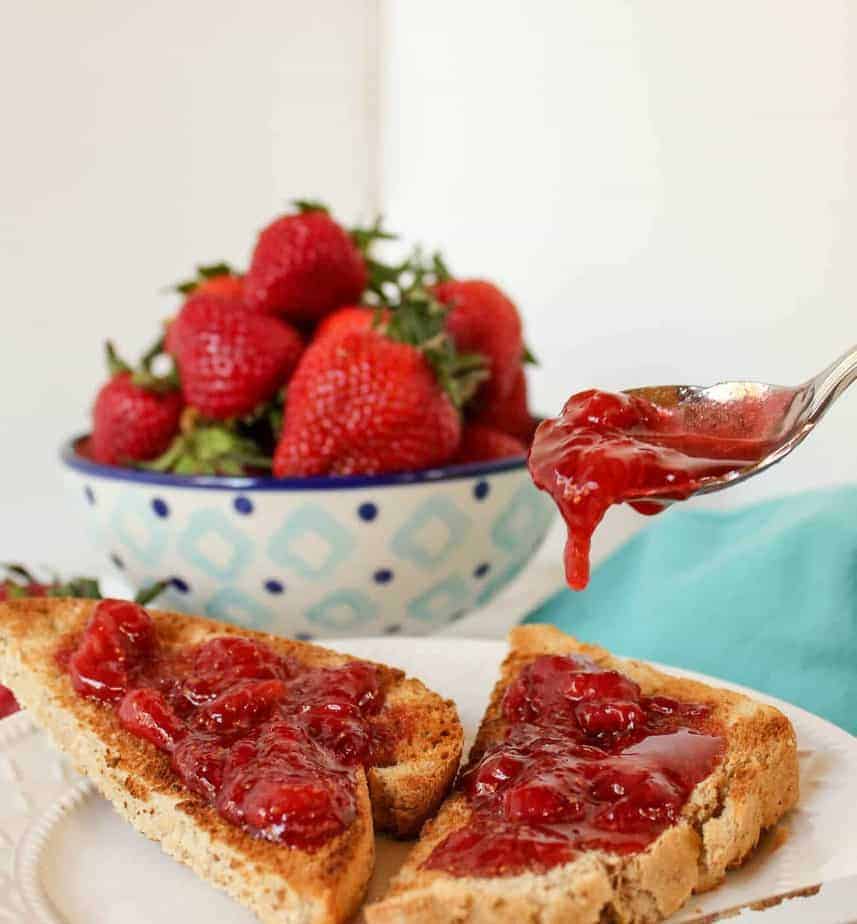 Your friends and family will be wowed when you serve them fresh strawberry jam.  I like my jam a bit chunky.
You can cut your strawberries into smaller pieces or even puree the strawberries if you don't like the chunks.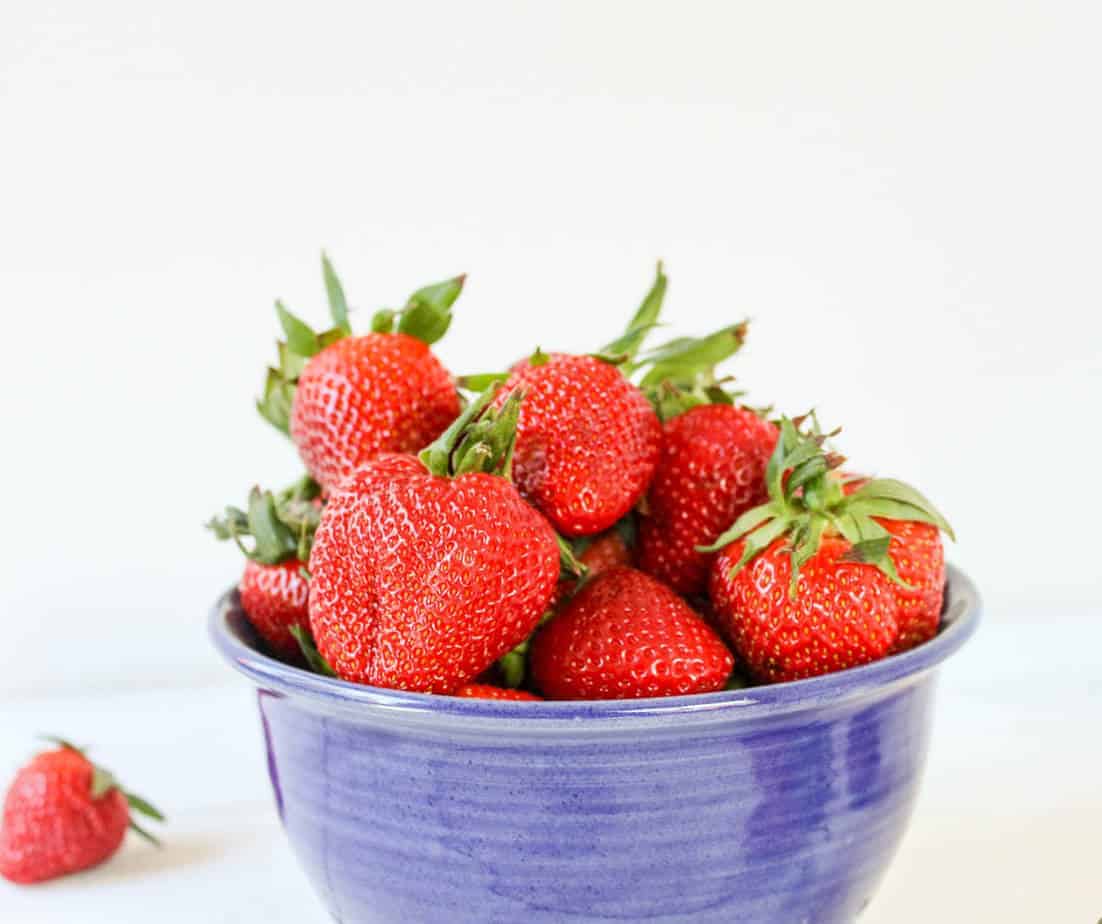 How do I make strawberry jam?
Pick beautifully ripe strawberries.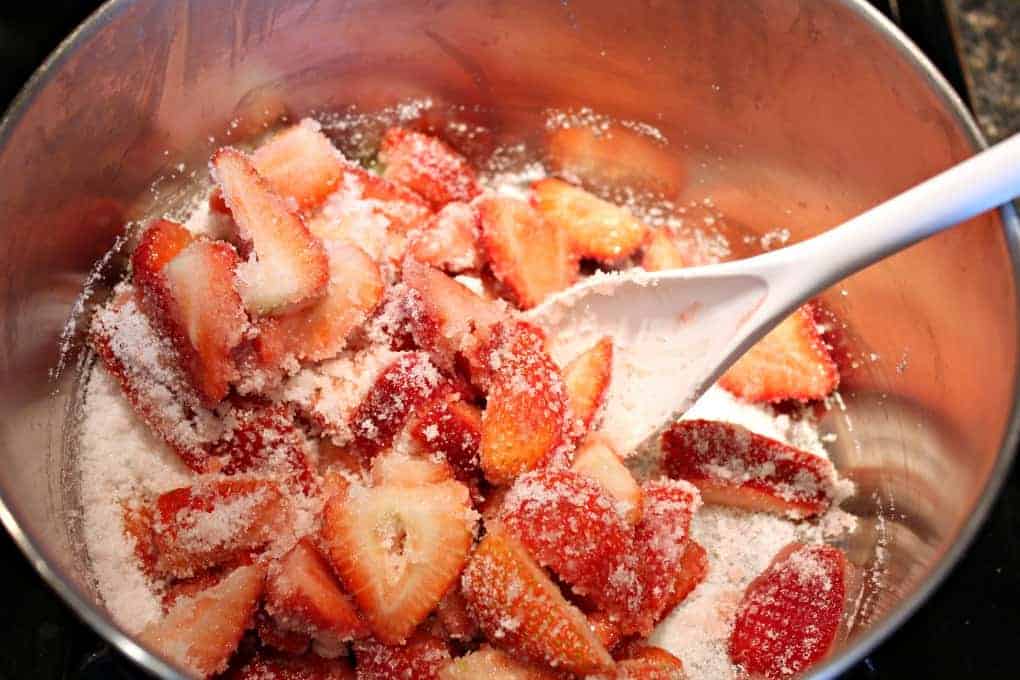 Start with the strawberries and sugar.  Place over medium heat.  You need to stir for the first few minutes until the sugar starts to melt and the strawberry juices begin to flow.  If you aren't careful, you can burn the sugar.  Just stir, stir, stir!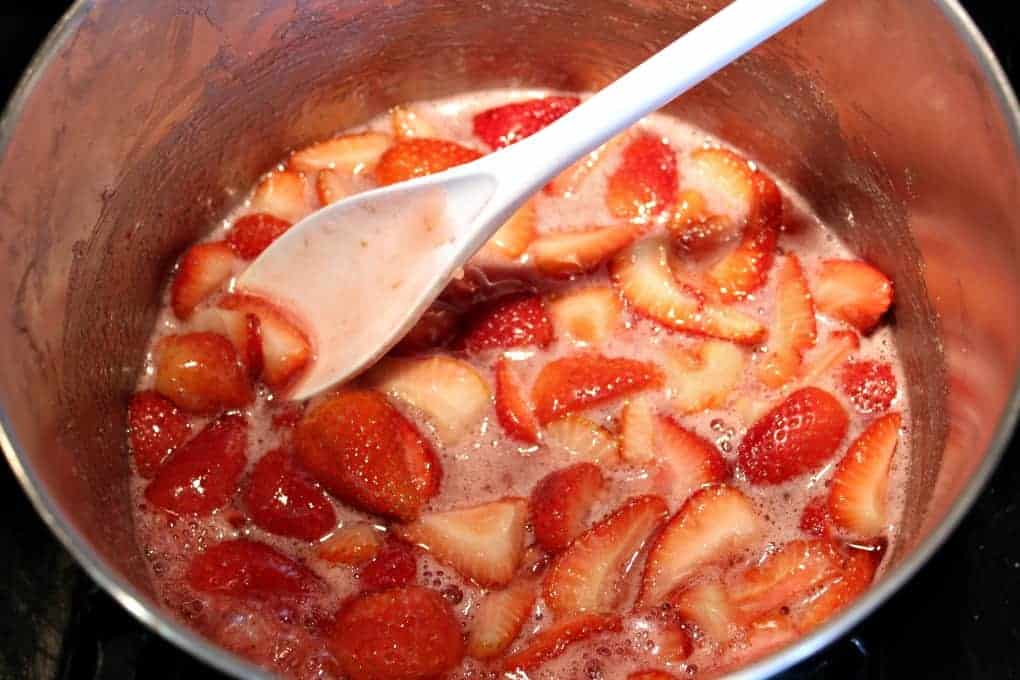 After five minutes of cooking you will see lots of juice and the smell will be heavenly.  Keep heat on medium and stir every few minutes.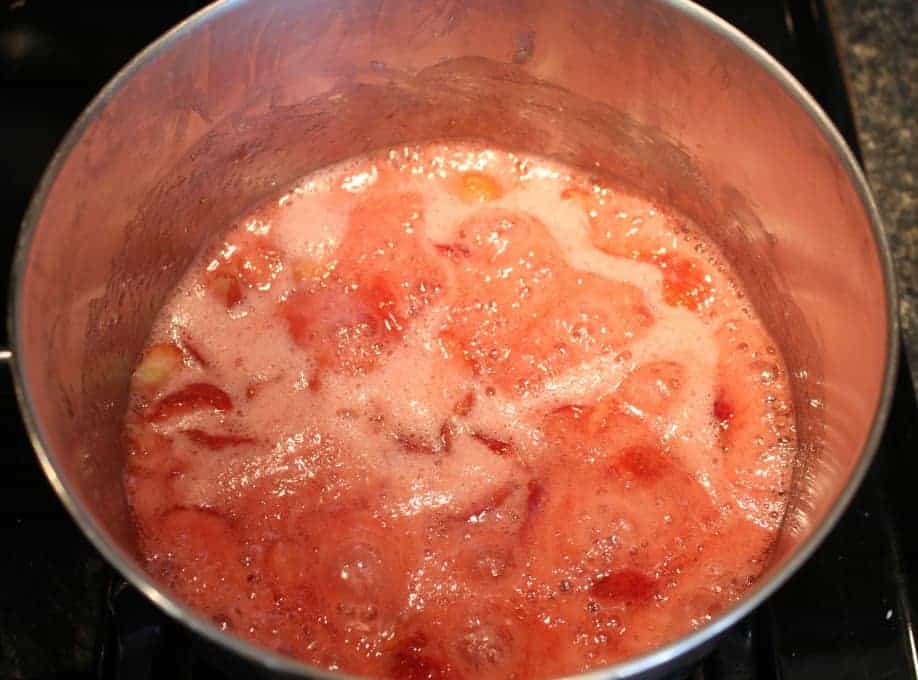 Bring the jam to a full boil and cook for 5 minutes, stirring often.
Remove from heat and pour into heat proof containers. Allow jam to cool.
This jam is just perfect for impressing your family or guests or for when your garden doesn't produce a bumper crop of strawberries.
Serve this homemade jam with homemade bread! A few of my favorite recipes include White Bread, Honey Oat Bread and Homemade Sourdough English Muffins.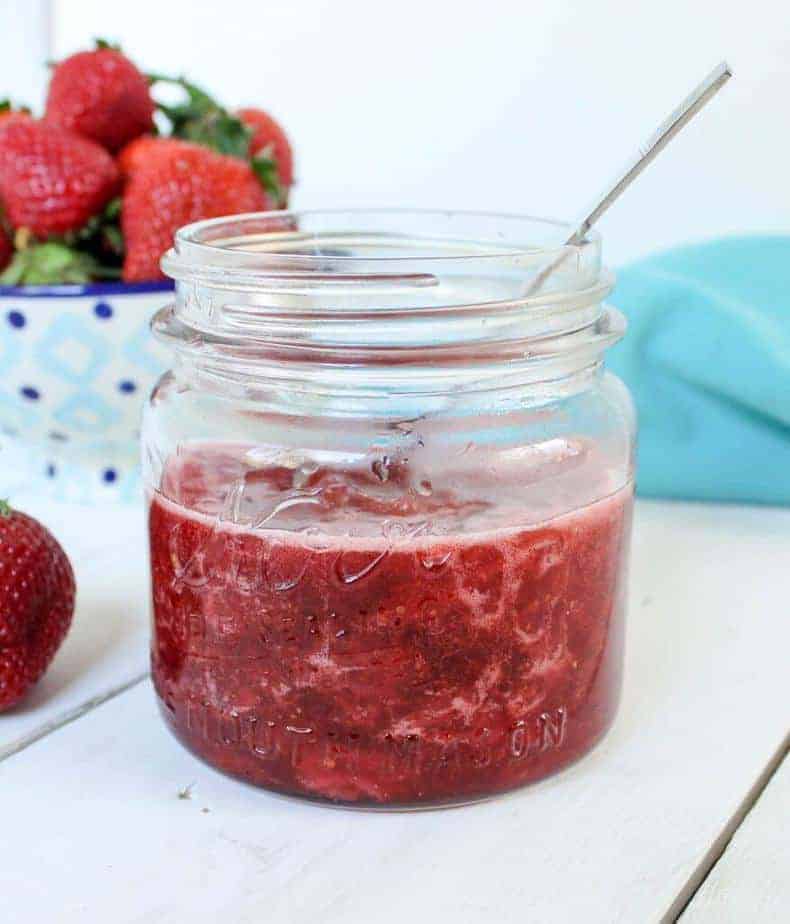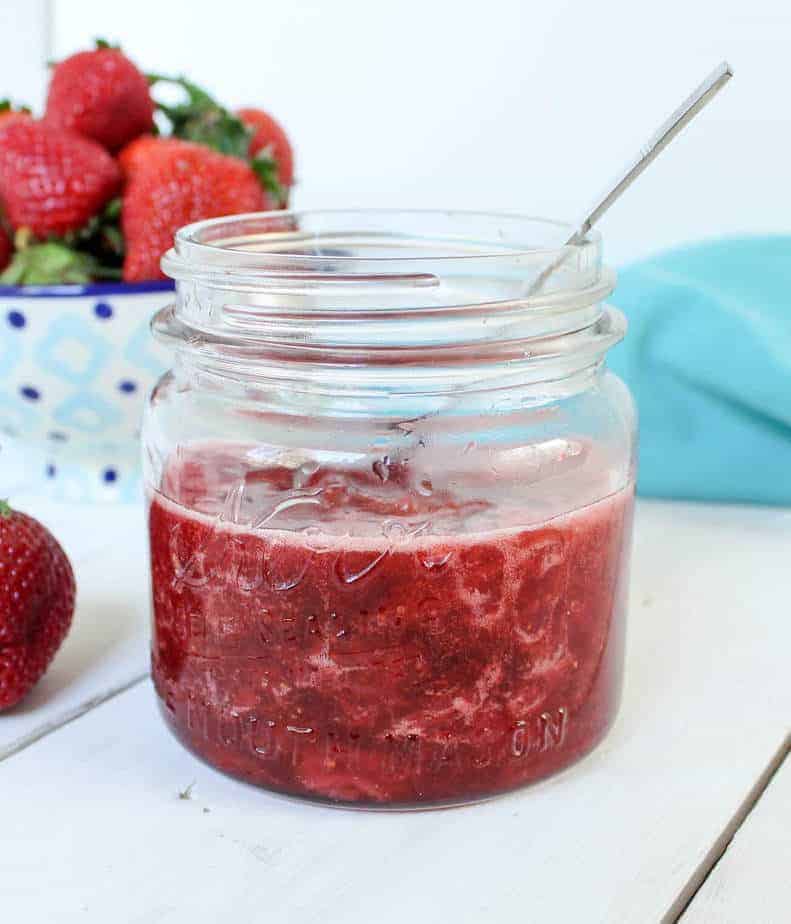 Other great homemade jams to make include Blackberry Jam, Rhubarb Jam, Apple Butter and Plum Jam.
Don't forget to PIN for later!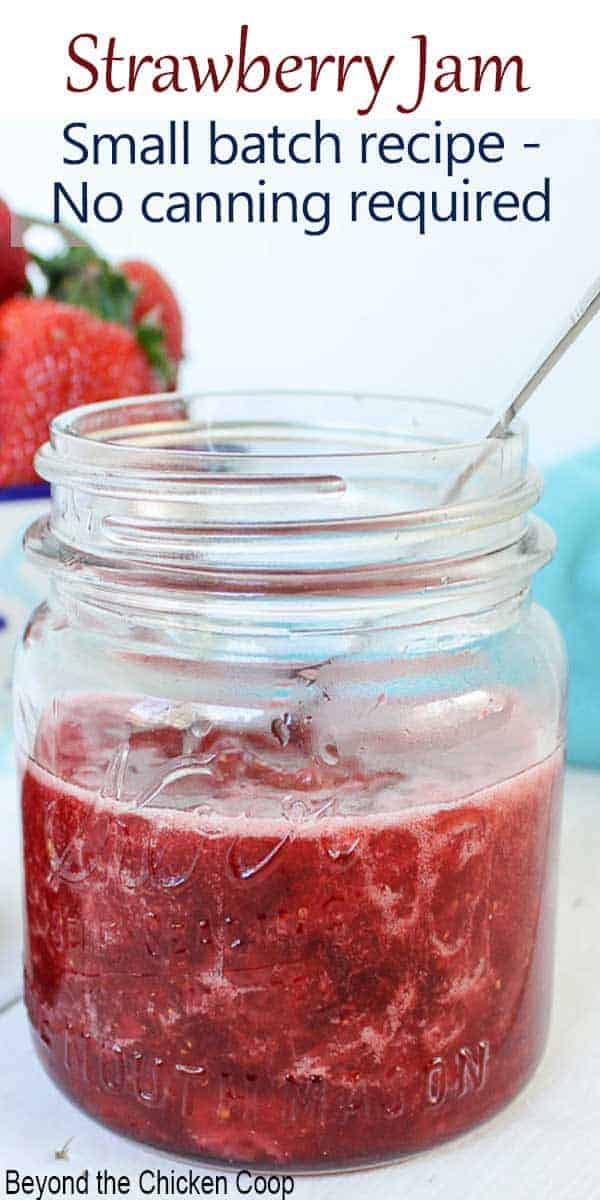 If you make this recipe, I'd love to hear about it! Leave a comment below and snap a picture and tag me on Instagram @beyondthechickencoop
Check out all my condiment recipes!
This post was originally published in March 2016. The post and recipe have been updated.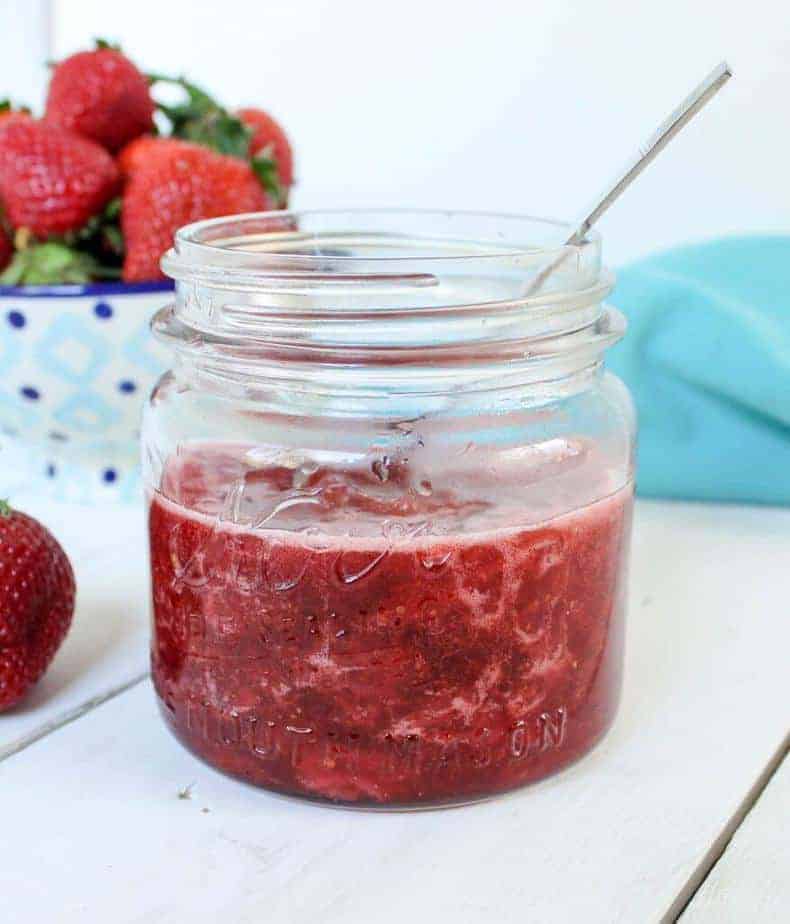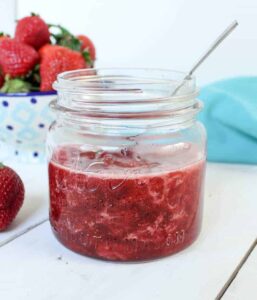 Strawberry Jam
Small batch of jam. Perfect when you just need a small batch of jam or only have a few strawberries ripe in the garden.
Ingredients
2

cups

fresh strawberries

(cleaned, hulled and chopped.)

1

cup

sugar
Instructions
Place strawberries and sugar in a saucepan over medium heat.

Stir until sugar is melted and berry juices start to release.

Continue to stir intermittently to avoid scorching.

Bring to a boil.

Continue to cook 5 minutes at a boil, stirring often.

Remove from heat. Pour into a heat proof container. Let cool and enjoy!
Notes
This takes 15 minutes total over a medium heat.
Cook time may vary slightly depending on heat from burner.
Nutrition
Calories:
27
kcal
Carbohydrates:
6
g
Potassium:
13
mg
Sugar:
6
g
Vitamin C:
5.3
mg
Calcium:
1
mg