Homemade Plum Jam made with just fresh plums and sugar.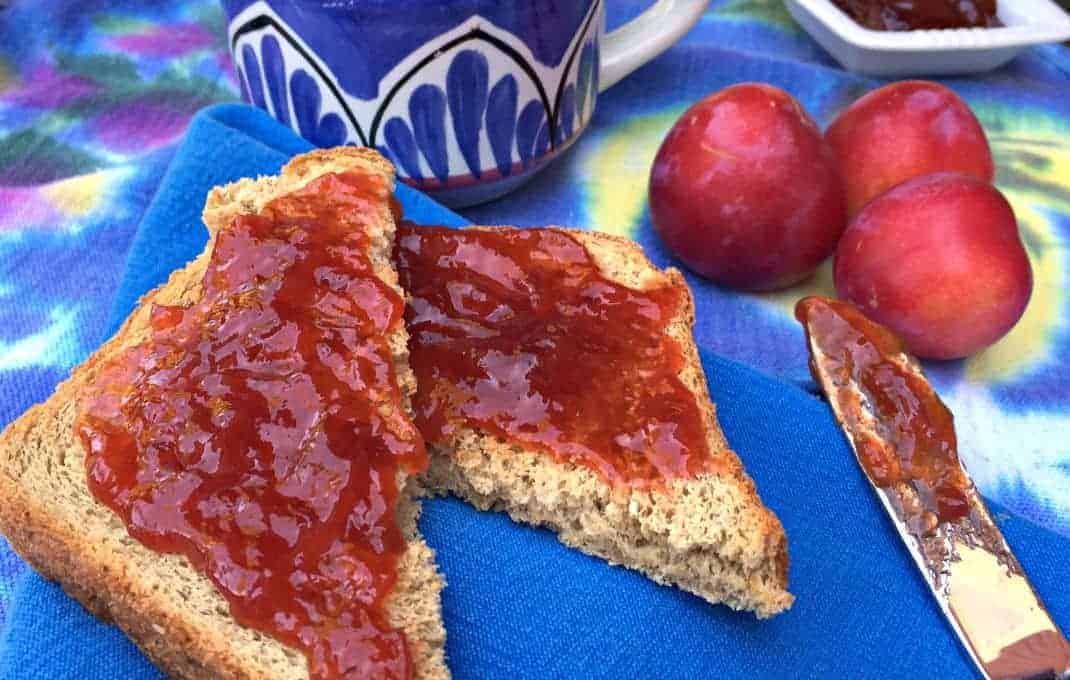 Summer time is so busy, and right now the garden is going crazy. We have this plum tree we planted 10 years ago and it produces the most amazing plums and it is loaded! The problem, all the plums seem to ripen in about a two week window.
So, we have been going bonkers with all these plums! Plum jam.... so delicious, easy to make, and can be used all year long!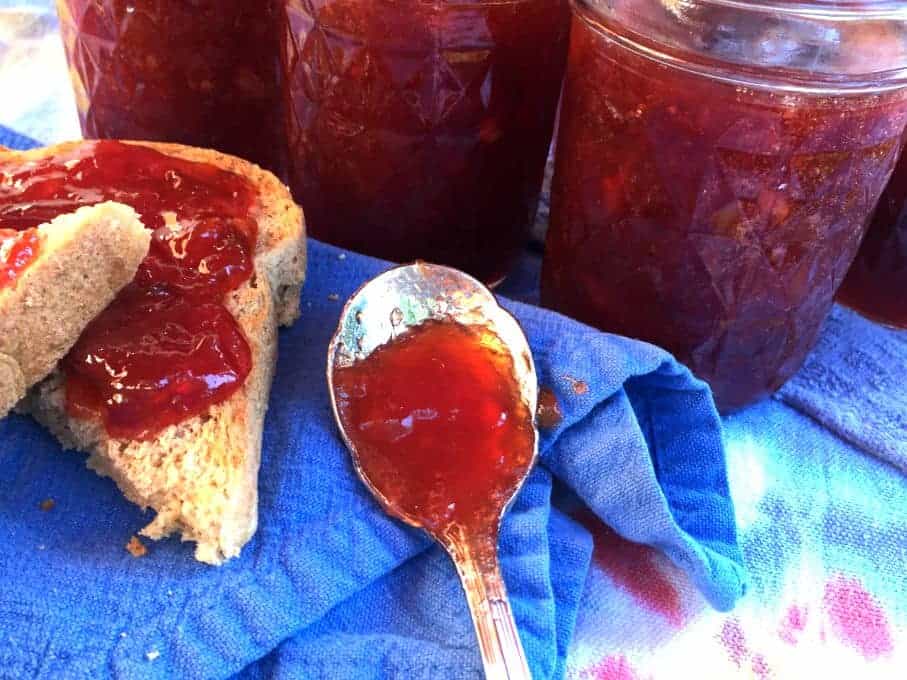 I love making homemade jams and jellies. This is the first time I've made plum jam though. I will definitely be making this again. Even if you don't have a plum tree, you can easily make this jam! I decided to not use packaged pectin in this recipe. Plums naturally have a lot of pectin and will thicken the jam on its own.
When you don't use a commercial pectin, you can use less sugar, but the cooking time takes longer...quite a bit longer.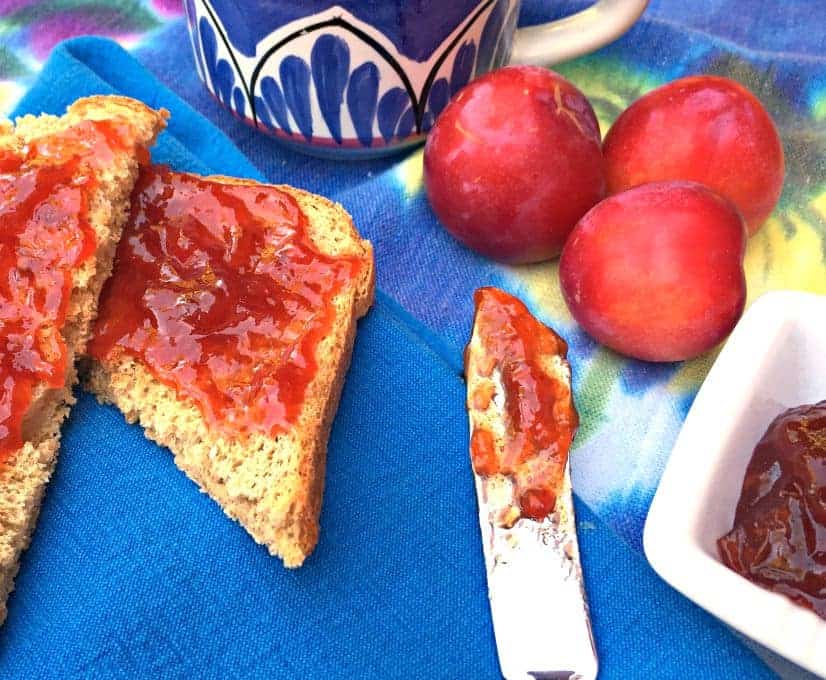 When you don't use a commercial pectin, you can use less sugar, but the cooking time takes longer...quite a bit longer.
The process also isn't as precise as when you use pectin. The jam needs to come to a complete rolling boil. Once this happens, I start using a spoon to test the thickness. Let it cool slightly on the spoon and check to see if it's thickening. I have under cooked jams and come up with a syrup instead, but even worse is over cooking. Another method to test is by using a thermometer and heating the jam to 220 degrees.
How do I cut the plums?
I cut the plums into small chunks and remove the seed.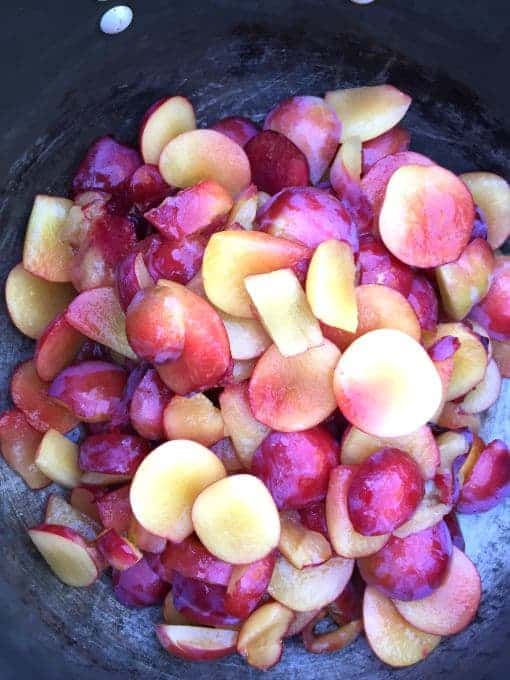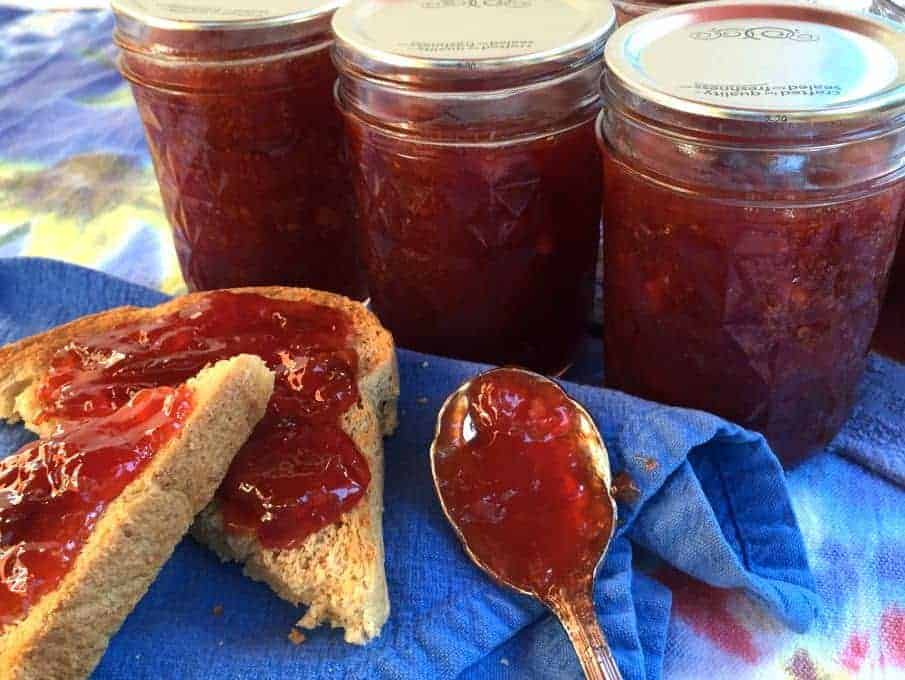 The National Center for Home Food Preservation has a great tutorial on testing jellies without added pectin. After the jam is complete, it does need to be processed in a hot water bath. The amount of time for processing depends on your altitude. You need to adjust hot water times in a recipe based on your elevation. Check out this link on how to hot water bath jams.
After jars have processed and cooled completely, remove rings and wash jars. This just helps remove any residue on jars. I don't store my jars with the rings on. If the lids were to become unsealed for some reasons, it is really easy to spot and discard the contents.
Once I open the jars, I like to use plastic lids to store in the fridge. They are super easy and you aren't fumbling around with a lid and a ring.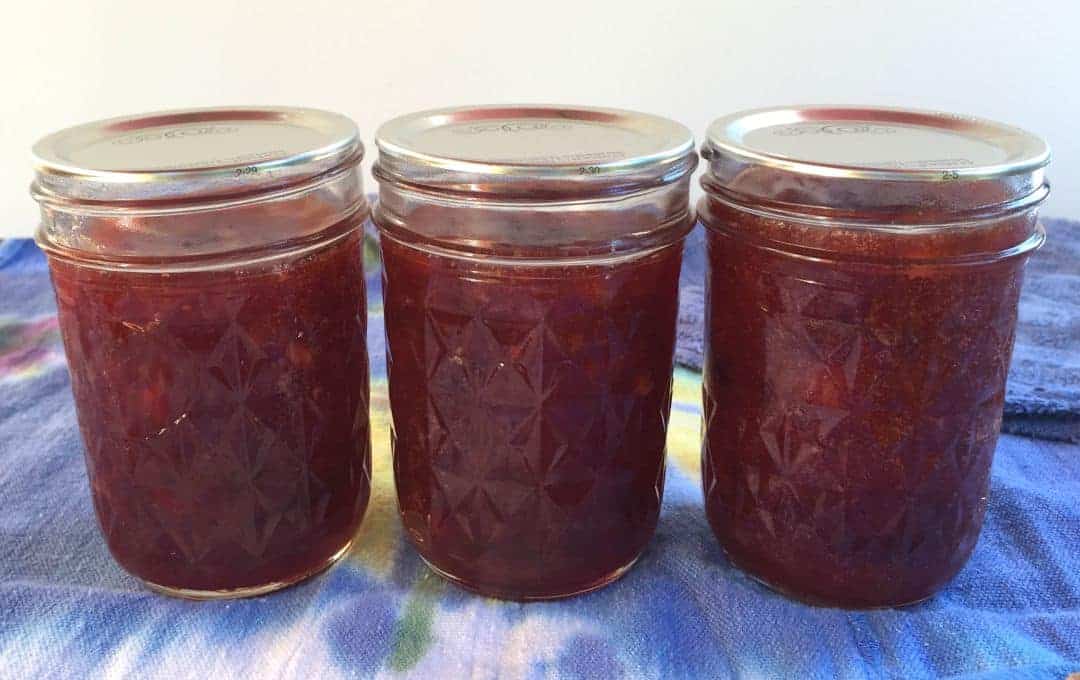 This is just one small section of this amazing tree....lots of plums! I pick and pick and pick and still haven't made a dent! Anyone need some plums?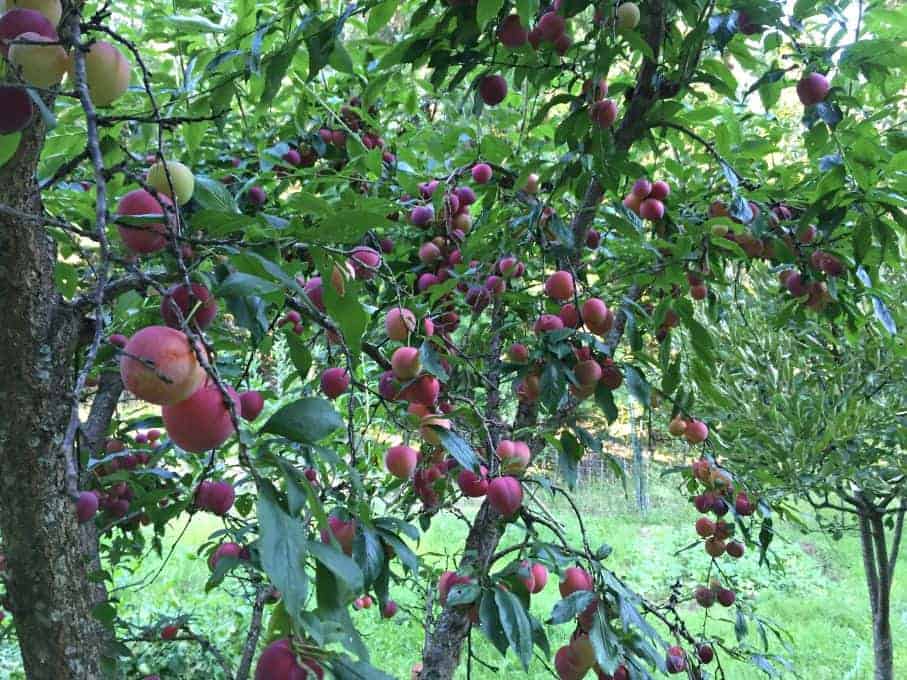 Other Great Recipes to Try:
Don't forget to PIN for later!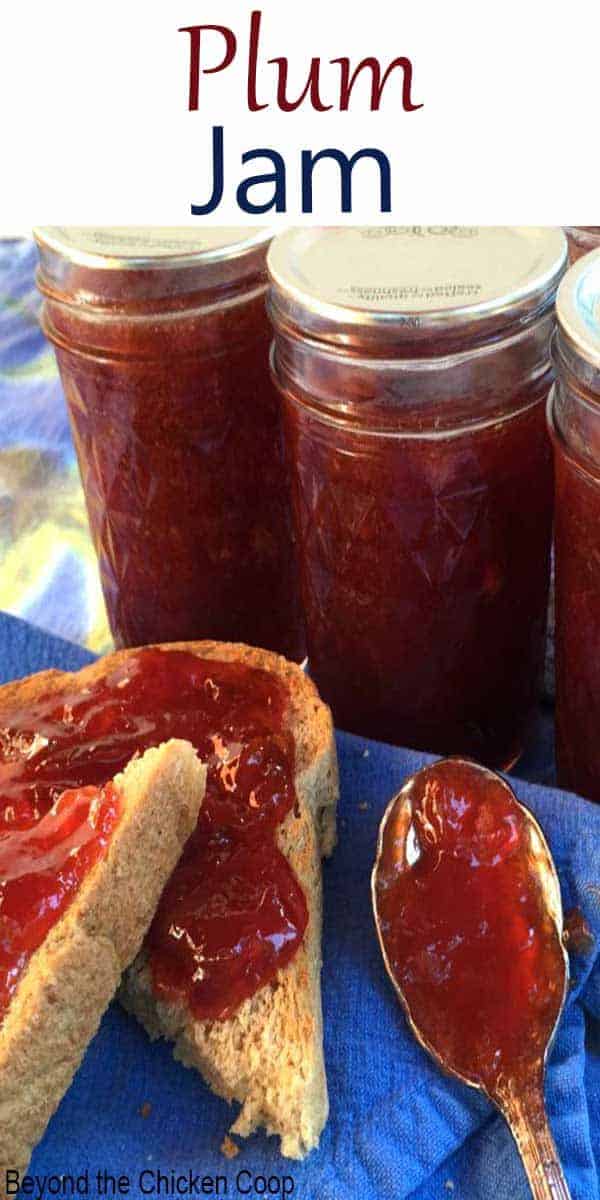 If you make this recipe, I'd love to hear about it! Leave a comment below and snap a picture and tag me on Instagram @beyondthechickencoop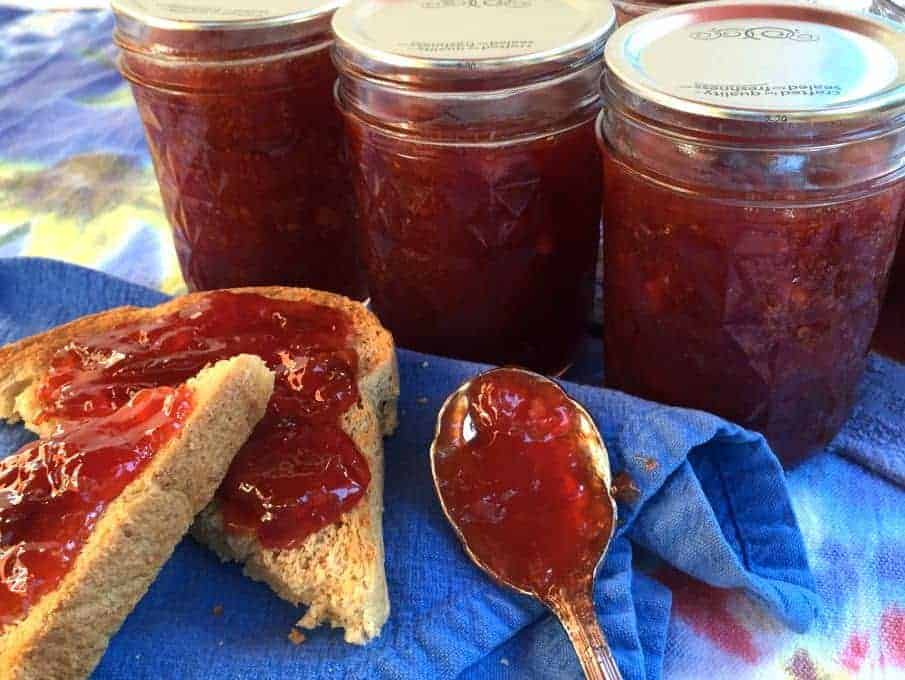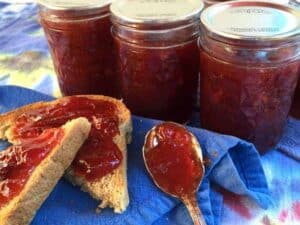 Plum Jam
Homemade Plum Jam
Ingredients
6

Cups

Plums

(cut into halves or quarters. Pits removed.)

4

Cups

Sugar
Instructions
Place plums and sugar in a large pot over medium heat.

Bring to a boil stirring often so mixture won't scorch.

Continue stirring while boiling until mixture begins to gel and thicken.

Place in sterilized jars and process in a hot water bath.

Half pints should be processed for 15 minutes. Adjust times according to your elevation. (See Notes in Post)
Nutrition
Calories:
44
kcal
Carbohydrates:
11
g
Potassium:
19
mg
Sugar:
11
g
Vitamin A:
45
IU
Vitamin C:
1.2
mg
Calcium:
1
mg