This post may contain affiliate links, see my Privacy Policy.
Homemade Bread made with white whole wheat flour.
I'm not one to formally make a New Year's Resolution. However, this year I have decided to reduce our intake of processed foods. We already make many items from scratch, but sandwich bread is one item I tend to buy at the grocery store and keep a few extra loaves in the freezer so I can easily pull out as needed throughout the week.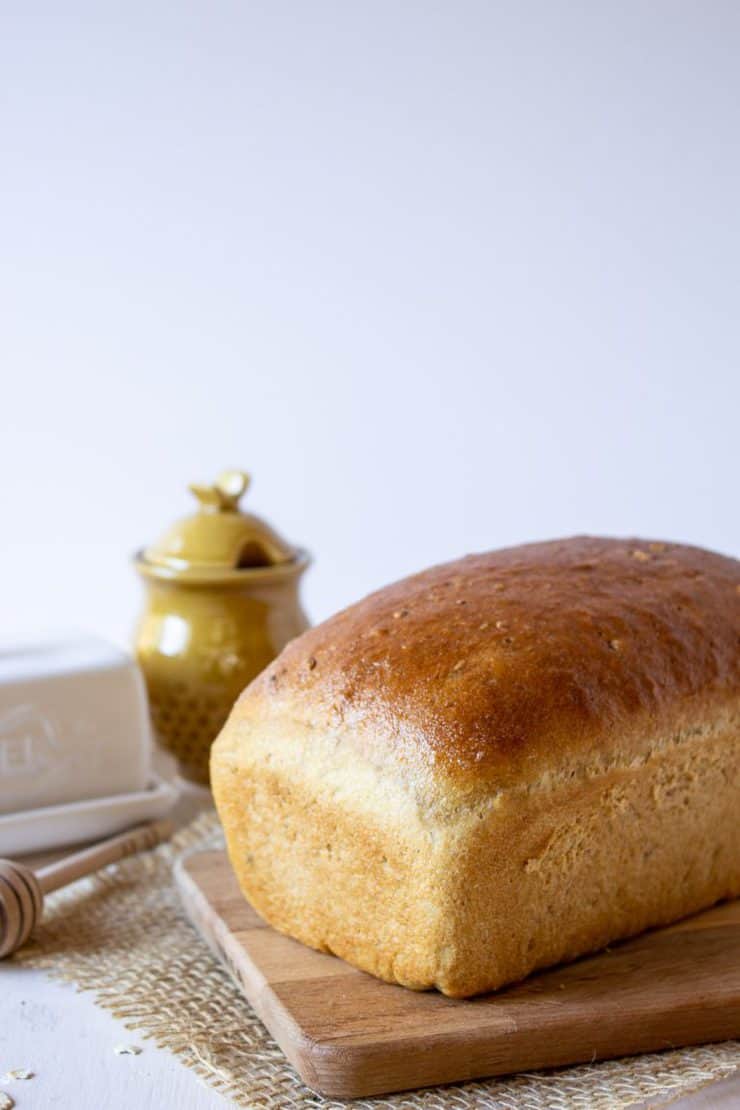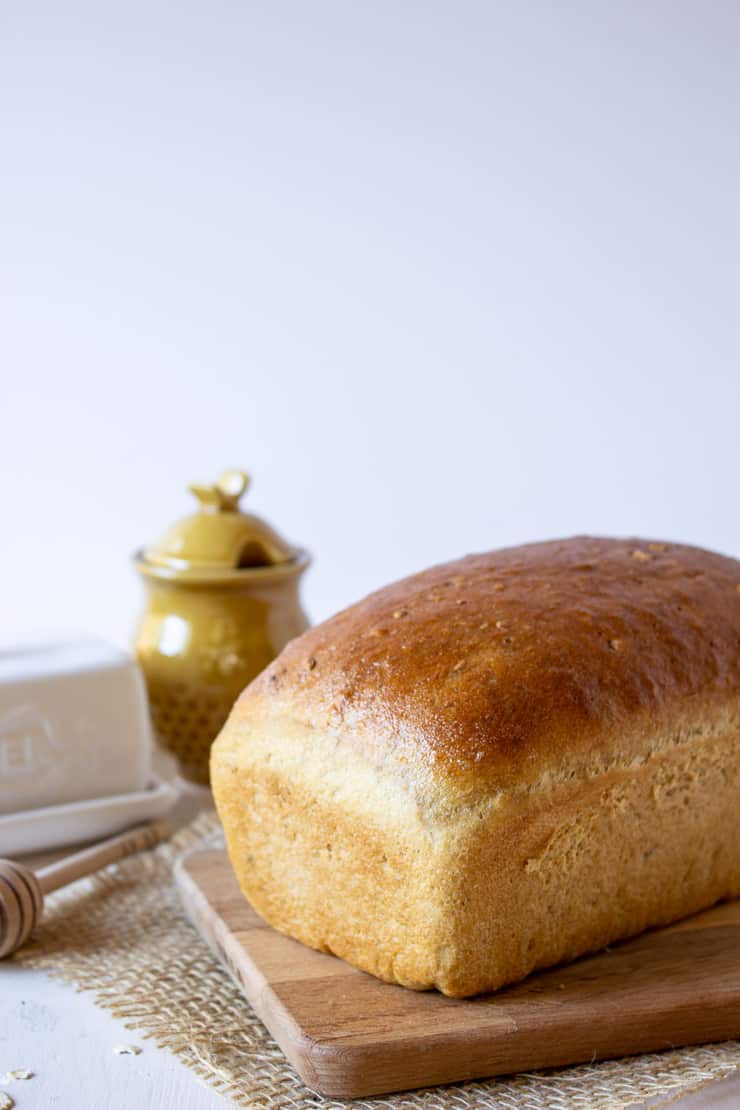 My goal – Make Homemade Bread for Everyday! I love making bread – I really do! But I usually save it for a long weekend or Snow Days when school is cancelled. It has been something I do for comfort, when I have the extra time.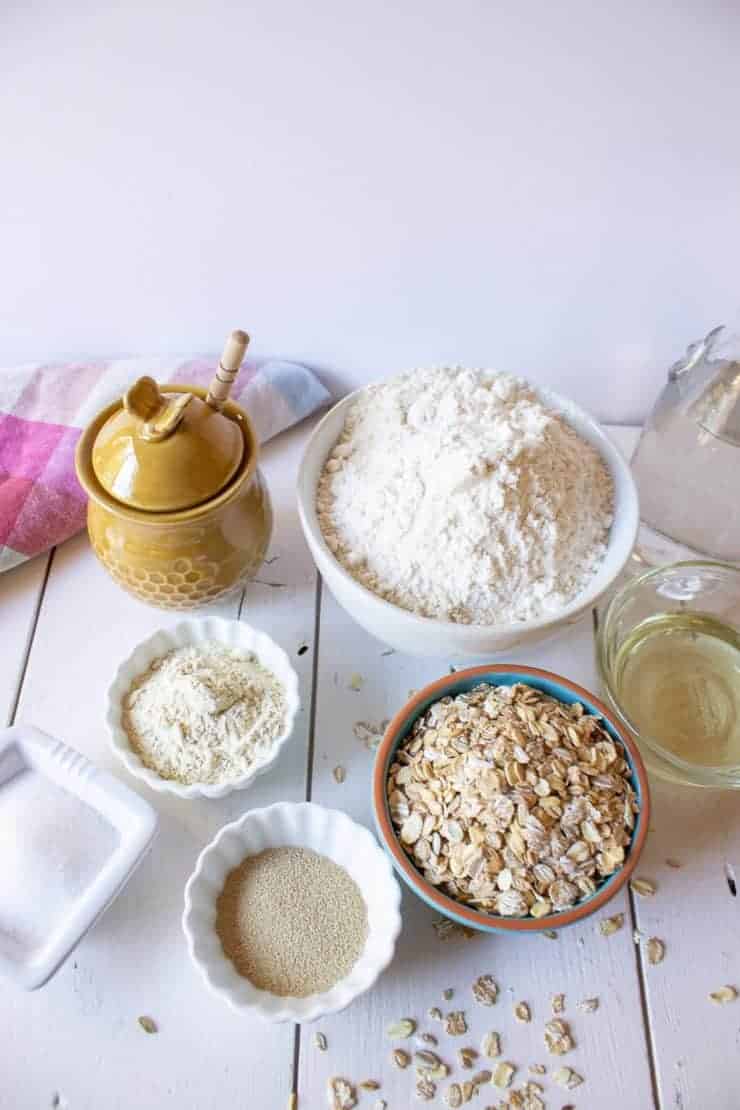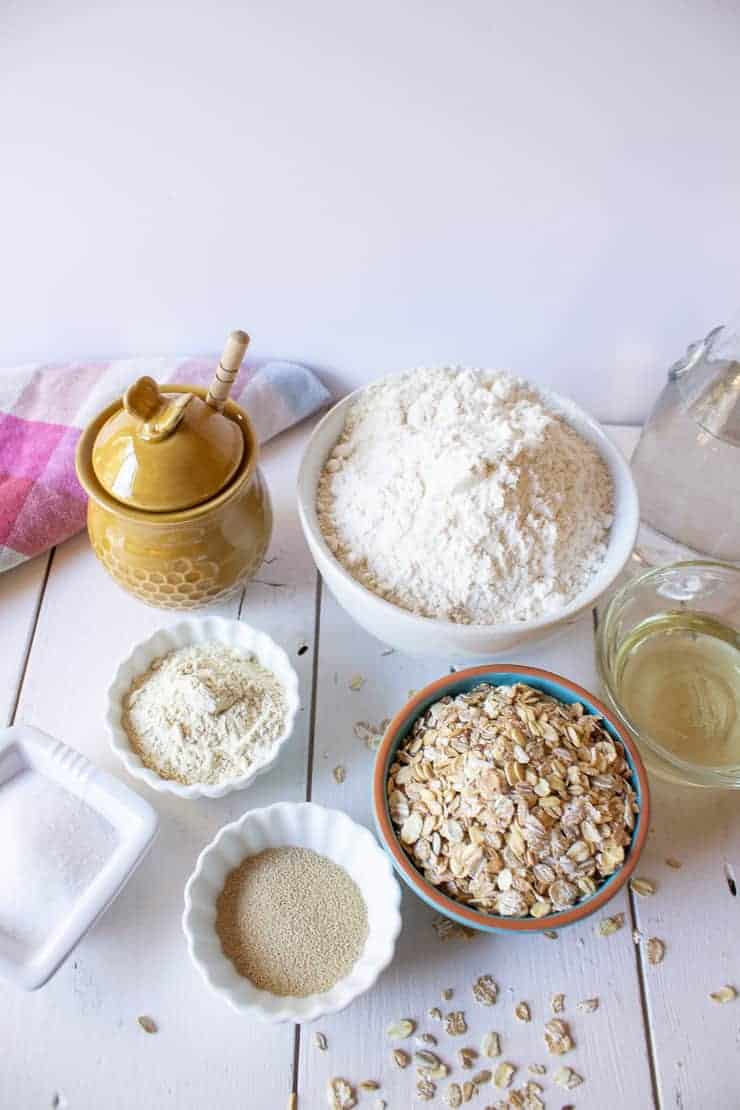 Bread making is funny. It really takes very little hands-on time. However, I do need to plan carefully to be on hand after each rise and allow enough time to bake the loaves. My kids have always loved homemade bread – but not for sandwiches….until this bread!
I have discovered two tricks for making whole wheat bread: 100% White Whole Wheat Flour and Vital Wheat Gluten. White whole wheat flour is made from hard white spring wheat rather than the more traditional red wheat.
White whole wheat is not only lighter in color, it's also lighter in flavor, but still has all the wonderful nutritional value that "regular" wheat flour has. Vital Wheat Gluten helps all wheat flour breads by creating a lighter rise and a better crumb.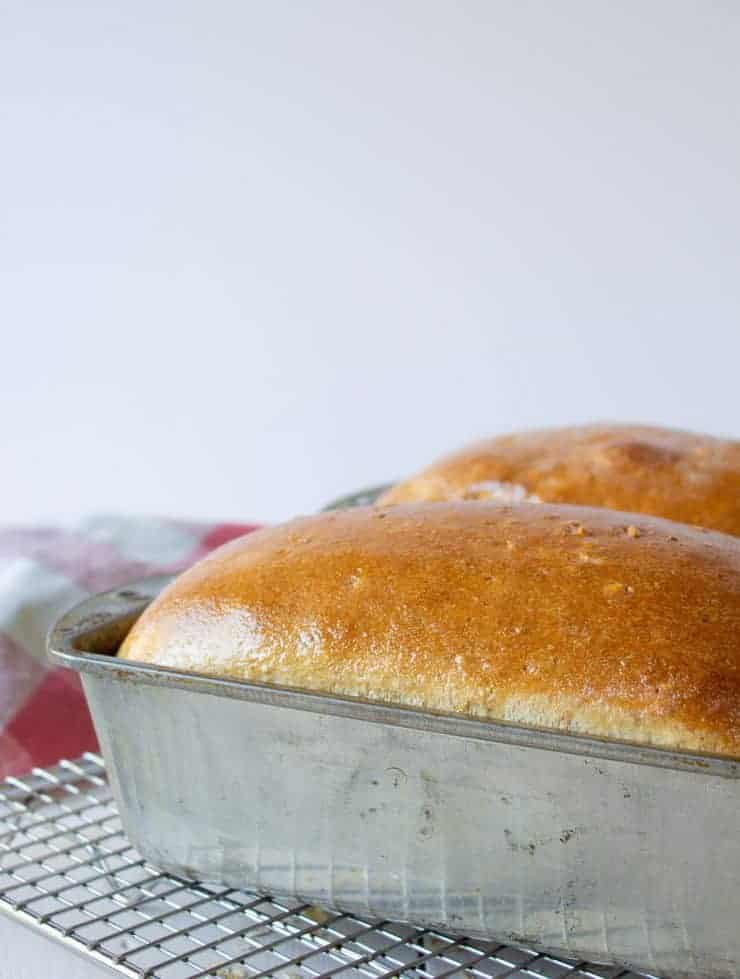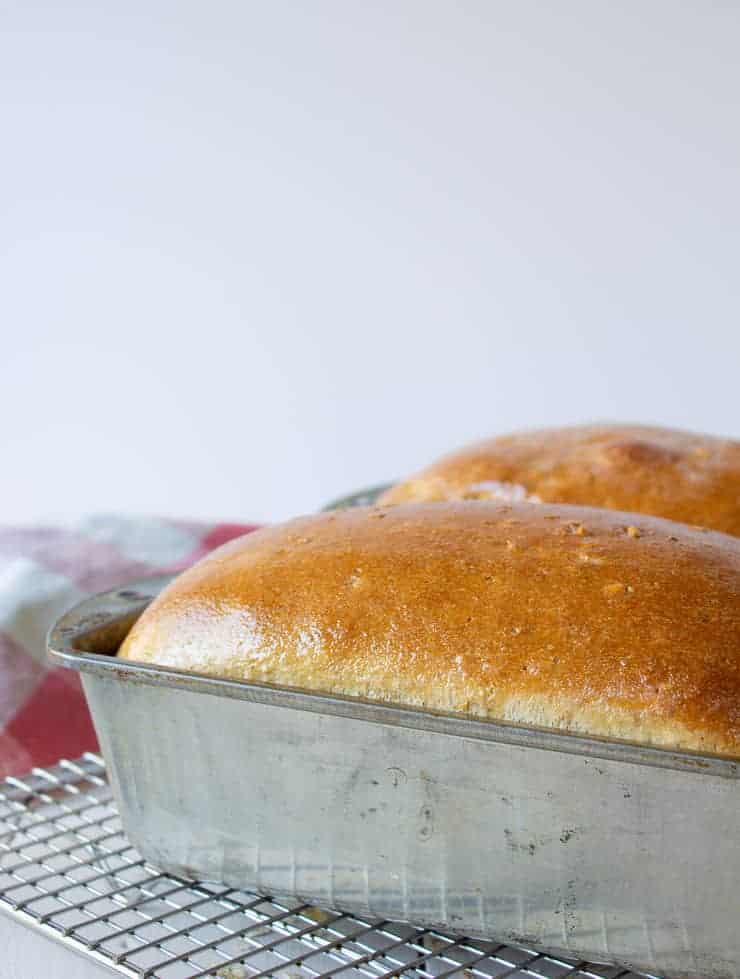 What is vital wheat gluten?
Vital wheat gluten is a natural protein found in wheat. It helps bread rise and not be too heavy when making wheat bread.
Very little vital wheat gluten is added, but it does help this bread feel more like "sandwich bread" to my kids. The final thing I have to ensure my kids will use this for sandwiches is a thin cut.
I can achieve this by waiting for the loaves to fully cool…which is not an easy task! We usually want to dive right into freshly baked bread. I have to patrol the kitchen to make certain nobody attacks it until it's completely cooled.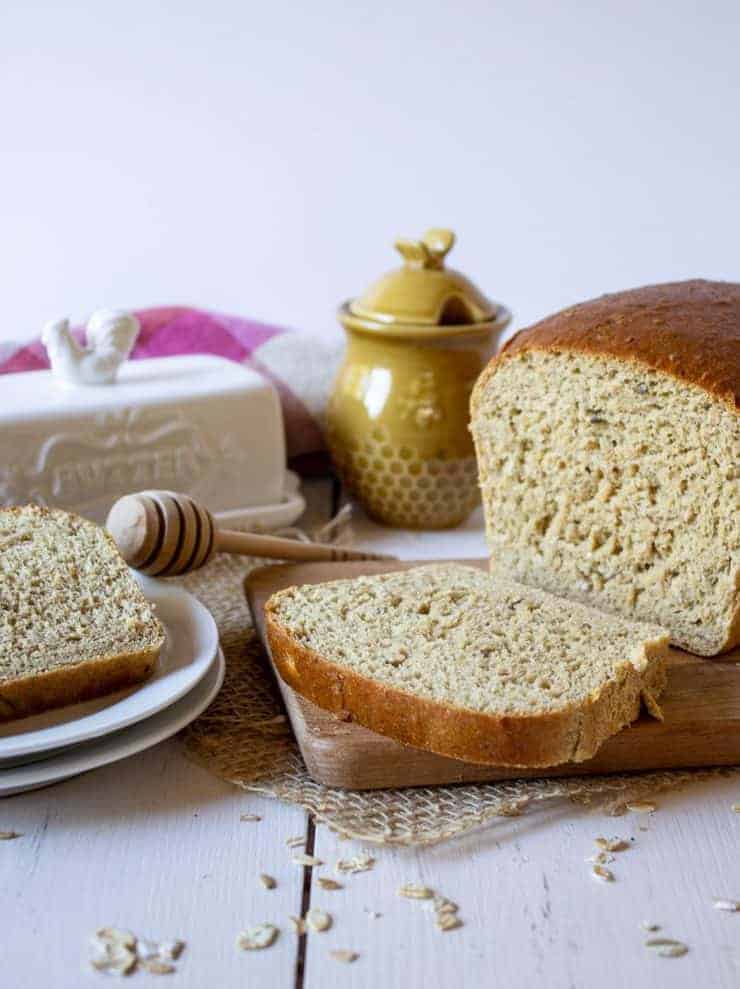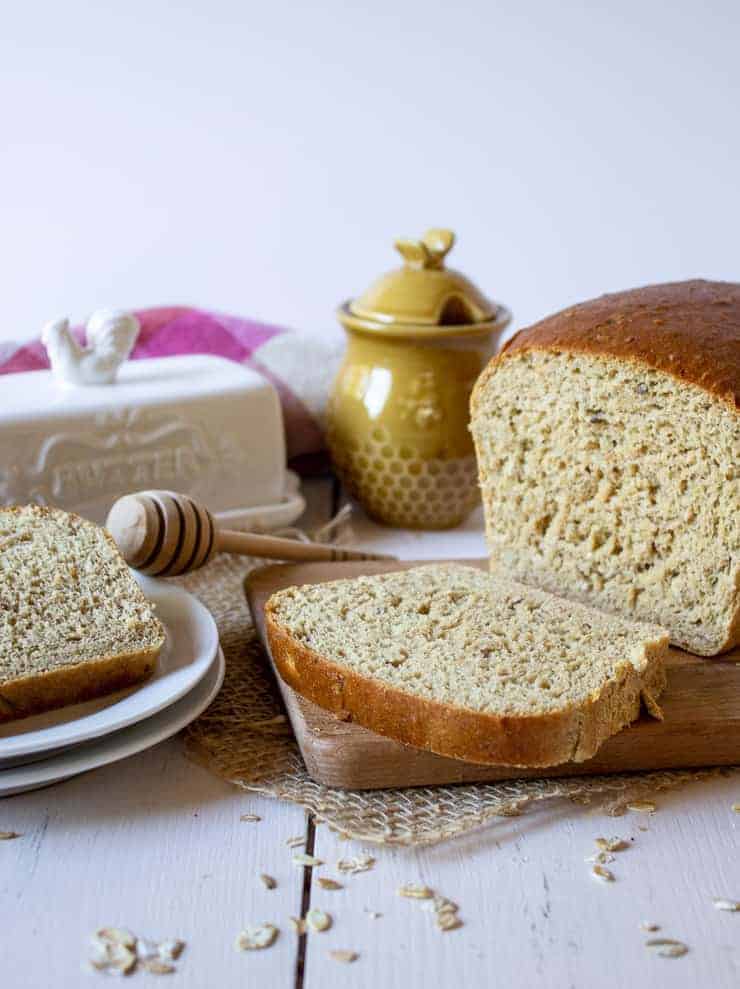 This whole wheat bread is perfect for sandwiches or toasted with bread and honey.
A few tips for making White Wheat Bread
I use active dry yeast (not instant). I buy yeast in bulk. If you don't bake bread often you can buy packages of yeast. 1 package = 2 1/4 teaspoons of yeast.
To activate the yeast use lukewarm water that's not too hot. The temperature should be between 105-110 degrees.
Amount of flour used varies depending on humidity, liquid measurements, and the flour itself. Add flour 1 cup at a time at the beginning. When dough begins to form, add flour 1/4 of a cup at a time until dough is holds together and isn't too sticky.
Let dough rise until doubled on the first rise. Time will vary depending on temperature of your kitchen.
Let bread cool completely before slicing.
To keep bread fresh, freeze bread that won't be eaten within two days.
Other Bread Recipes
Don't forget to PIN for later!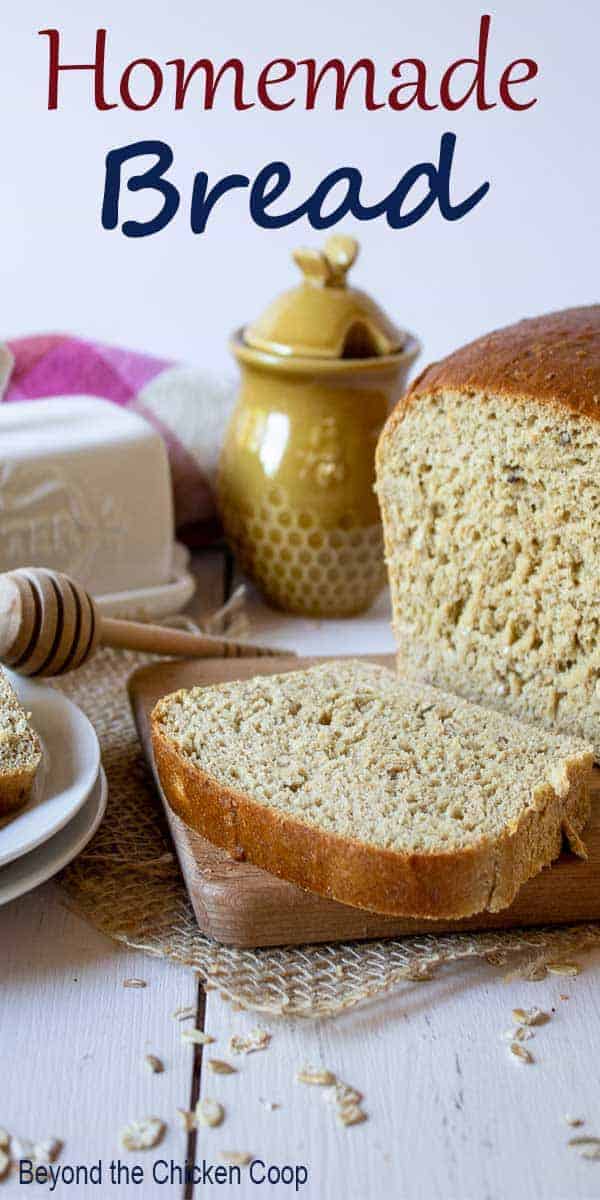 If you make this recipe, I'd love to hear about it! Leave a comment below and snap a picture and tag me on Instagram @beyondthechickencoop
Check out all my baking recipes!
This post was originally published in January of 2015. I have update the photos and made a few changes to the recipe. This recipe was the first recipe I posted to Beyond the Chicken Coop.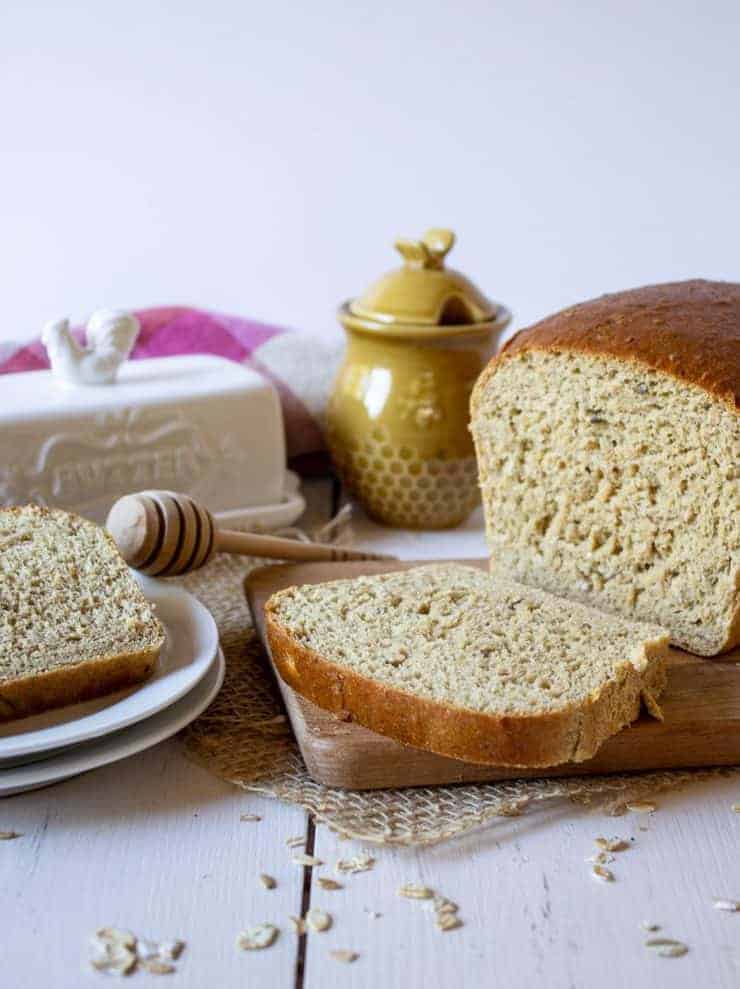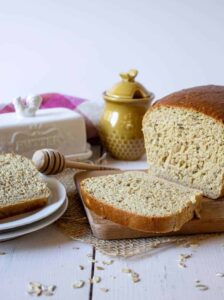 Homemade White Wheat Bread
Homemade White Wheat Bread is perfect for sandwiches or toast.

Instructions
In a large mixing bowl of a stand mixer, combine water, yeast and 1 cup of flour. Let set for 5 minutes until mixture is bubbly.

Stir in oatmeal, vital wheat gluten, oil, honey and salt.

Add flour one cup at a time until 4 cups of flour have been added. After all four has been incorporated, slowly add 1/4 of flour at a time up to an additional cup of flour as needed. Amount of flour added varies.

Knead flour in mixer for 10 minutes on low speed.

Place dough in a greased bowl and cover with a piece of plastic wrap sprayed with nonstick spray.

Let rise until double (60-90 minutes)

Punch down dough and divide into two pieces. Shape each piece into a loaf and place in a greased bread pan. Cover pans with plastic wrap and let rise again for 45-60 minutes.

Preheat oven to 375. Place loaves in oven and bake for 30 minutes.

Cool for 10 minutes on a baking rack. Remove from pan and continue cooling for 45 additional minutes until loaves are completely cooled. Once loaves are cooled, slice and store.
Notes
I use a 7 grain cereal to this recipe. I buy a premixed cereal that contains oats, red hard wheat, flax seed and others.  You can substitute oatmeal. The cereal is not cooked before added to mixture. 
Nutrition
Serving:
1
slice
Calories:
145
kcal
Carbohydrates:
24
g
Protein:
5
g
Fat:
3
g
Sodium:
117
mg
Potassium:
52
mg
Fiber:
3
g
Sugar:
3
g
Calcium:
21
mg
Iron:
0.8
mg