This post may contain affiliate links, see my Privacy Policy.
Baked Chicken Nuggets…perfectly crunchy and full of flavor. These chicken nuggets are baked in the oven in just 15 minutes.
There's just something about a chicken nugget that everyone loves. I have three teenage kids and on those rare times we go to a fast food restaurant, at least one of them will order nuggets. I don't know what it is….the small size, the fact you can dunk 'em, or the crunchy coating.
These baked chicken nuggets are 100 times better than those fast food kind. They are quick, easy, crunchy, and oh so yummy! And as I always say, there's nothing better than knowing what's in your food.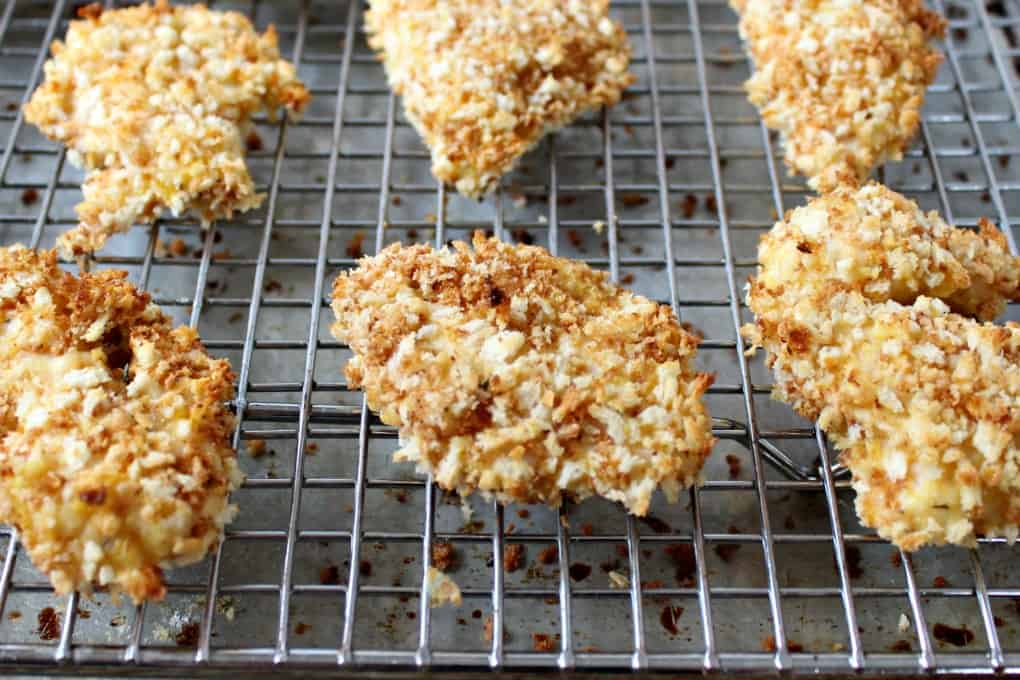 I used boneless chicken breasts for these nuggets. Boneless chicken thighs would also work. Consistent size, especially thickness really matters. If you have some really thin ones and some really thick ones, they will not cook at the same time. The thin ones will become overcooked and dry.
My goal when making these was to make them quick, tasty, healthy, and freezer friendly. I nailed the first three….but freezer friendly. Well, I just don't know. We never have any left, so they never make it into the freezer. On my first attempt, these were super tasty, but because they only bake for a few minutes, the crunchy crust had absolutely no color to it.
My kids took one look at them and asked, "Are these still raw?" They were fully cooked but they were pale as pale could be. Very unappetizing. As long as you ate with your eyes closed, they tasted great! Unfortunately we eat first with our eyes, so I needed to regroup and try again.
For the second attempt, I took the bread crumbs and toasted them first. I just used a saute pan and poured all the panko bread crumbs into the pan and dry toasted them over low heat. I kept the rest of the recipe the same! Success! This time they didn't still look raw when they came out of the oven, and the taste was still perfect!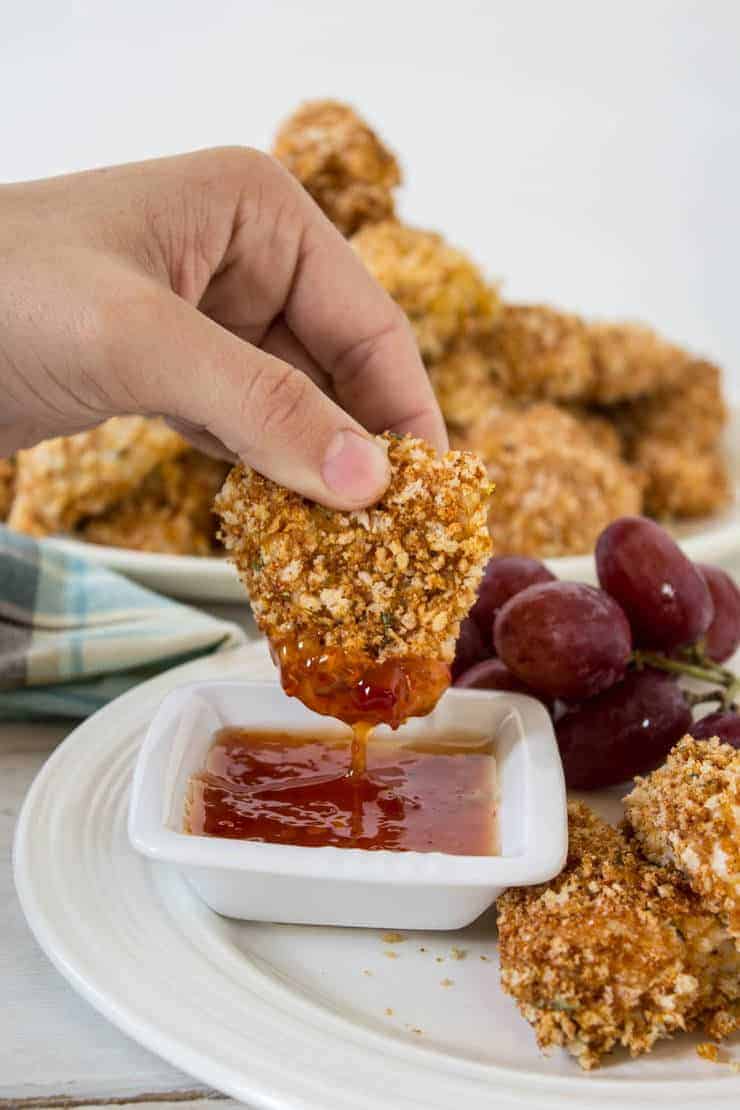 What ingredients are used for making baked chicken nuggets?
Chicken breasts
Panko bread crumbs
Salt and pepper
Onion powder
Dried parsley
Paprika
Flour
Eggs
Tips for making chicken nuggets
Brown bread crumbs first
Bake on a greased baking rack
Keep chicken pieces uniform in size
These baked chicken nuggets are definitely a winner in our house and this recipe will get well used! These are great dipped in barbecue sauce, a spicy red chili sauce or jalapeno apricot sauce.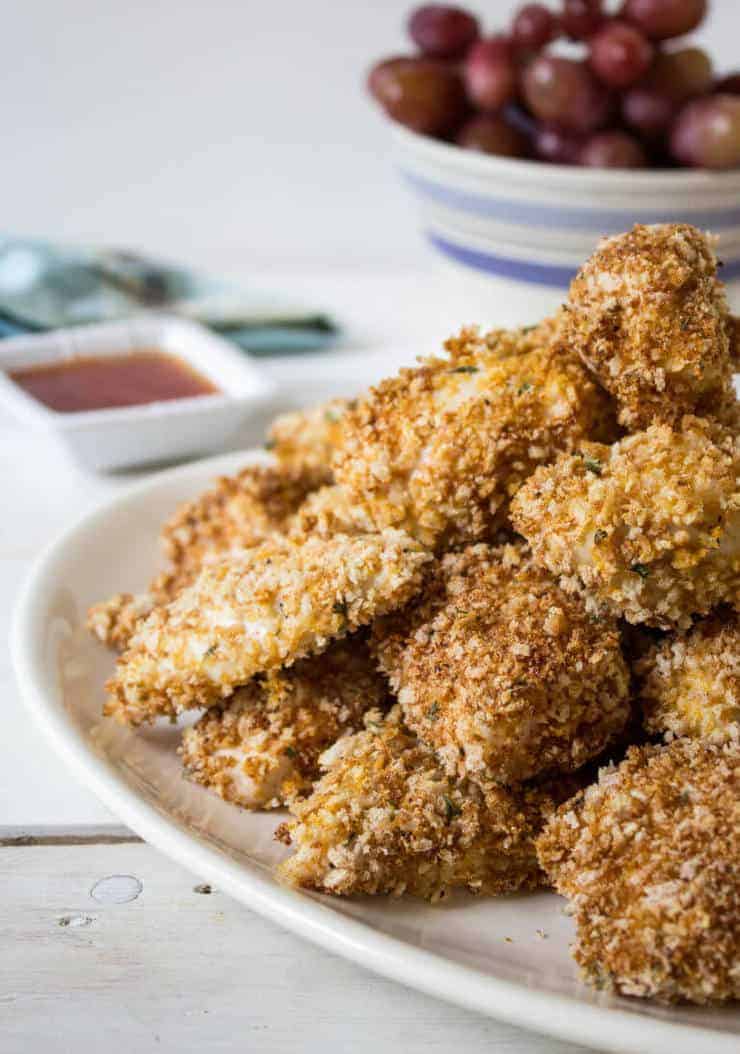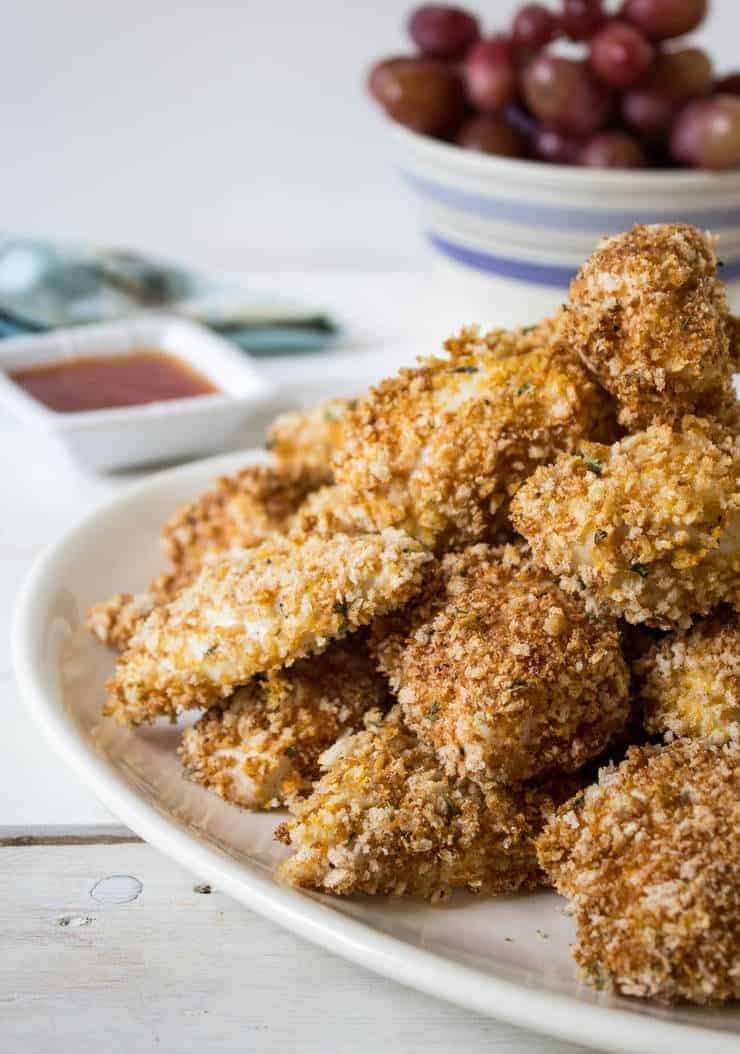 Other delicious Chicken Recipes:
Don't forget to PIN for later!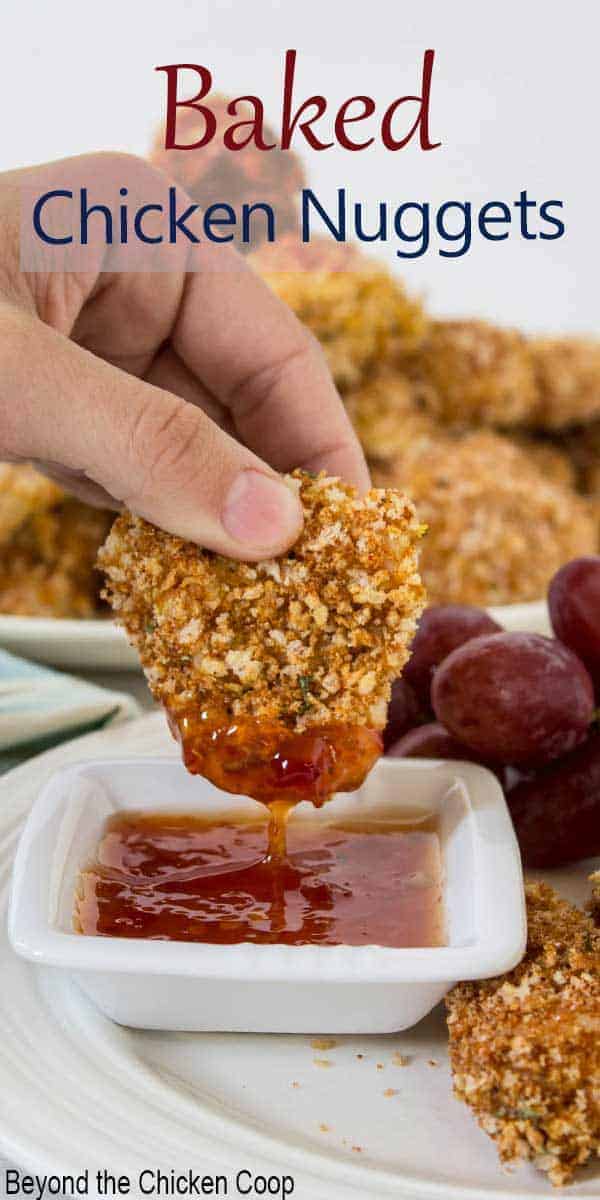 If you make this recipe, I'd love to hear about it! Leave a comment below and snap a picture and tag me on Instagram @beyondthechickencoop
Check out all my delicious recipes!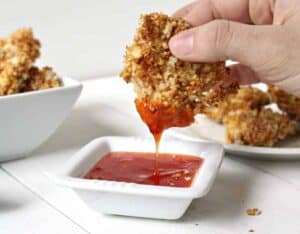 Baked Chicken Nuggets
Healthier Chicken Nuggets
Ingredients
2

Chicken breasts

(cut into bite sized pieces)

1/2

teaspoon

salt

1 1/2

Cups

Panko bread crumbs

1

teaspoon

salt

1/2

teaspoon

pepper

1/2

teaspoon

onion powder

1

Tablespoon

dried parsley

1/2

teaspoon

paprika

3/4

cup

flour

2

whole

eggs

(lightly beaten)
Instructions
Sprinkle chicken lightly with 1/2 teaspoon salt.

Toast panko bread crumbs in a nonstick skillet over low heat.

In a large, shallow dish mix panko,remaining salt, pepper, onion powder, parsley and paprika.

Put flour in another shallow dish.

Set up a a baking sheet with a baking rack on top. Lightly spray baking rack with a non-stick spray.

Working with each piece of chicken, one at a time, dredge chicken into flour, dip into egg, and then into panko mixture.

Place on baking rack.

Bake at 400 degrees for 12 minutes. Test one piece to ensure it is cooked through. If not fully cooked, place back in oven for 3- 5 additional minutes.

Do not overcook or the chicken will be dry.
Notes
You can use boneless chicken thighs instead of breasts.
Cut chicken into similar sized pieces.
Toast bread crumbs to achieve a golden color. Don't skip this step or your nuggets will look uncooked after the 10 minutes in the oven.
Serve with your favorite dipping sauce.
Nutrition
Calories:
307
kcal
Carbohydrates:
34
g
Protein:
29
g
Fat:
4
g
Cholesterol:
74
mg
Sodium:
1171
mg
Potassium:
500
mg
Fiber:
1
g
Sugar:
1
g
Vitamin A:
155
IU
Vitamin C:
2
mg
Calcium:
56
mg
Iron:
2.8
mg