Lately my family has become obsessed with orange chicken.  There's just something about that rich tangy sauce that is so delicious.  I finally decided I needed to find a way to create it at home…and it had to be quick in order for this meal to make it to our weeknight list!
For the good and the bad, we live 30 minutes from town.  The good:  Country living where we can get away from it all, raise farm animals and a huge garden.  The bad:  We work and go to school in town.  The kids are all involved in sports and other activities so we get stuck in town just about every day.  On weekdays we leave our house by 6:00 in the morning and often don't make it home until after 6:00 at night.  We  don't usually buzz home between activities because there just isn't enough time.  This makes dinner extra challenging!  We do try to eat dinner at home as much as possible.  On nights when we make it home much later, we have dinner in town.  This is where the orange chicken comes in.  We have a few take-out places that serve a fabulous orange chicken.  I decided it was time to make this dish at home, make it a bit healthier than take-out, and I've even found some time saving measures for those busy weeknights!
On soccer practice nights, the kids are starving and every minute counts.  I need to get the food on the table as quick as possible.  In order to avoid a lot of prepared foods, I often get meals ready on the weekends or even the night before.  My biggest time saving tip, of getting as much done ahead of time worked wonderfully for this dish!  The orange chicken didn't suffer a bit in flavor and this weeknight meal was on the table in 20 minutes!
Here are my make ahead steps:
Brown all the chicken, let cool and then cover and place in the fridge.
Mix sauce in a separate container and place in fridge.
 Just before dinner, get a pot of rice started.  Heat a large saute pan and add a thin coating of oil.
 When pan is hot, add chicken.  You are just giving the chicken a warming.
After 5-7 minutes, add sauce.
Bring to a boil.  Reduce heat and simmer stirring often.  The sauce will begin to thicken.
 Keep cooking until the chicken is warmed through and the sauce clings to the chicken.
 Serve over hot rice.
Garnish with sliced green onions and sesame seeds.
Keep in mind, if you aren't pressed for time, you can make everything at one time.  Just follow the steps in the recipe!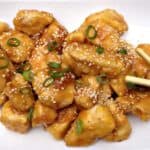 Orange Chicken
Ingredients
2

pounds

Chicken Breasts

1

Cup

Corn Starch

Zest from 1 Orange

Juice from 1 orange

Juice from 1 lemon

1/3

Cup

Rice Wine Vinegar

1 1/3

Cup

Chicken Broth

1/4

Cup

Sugar

1/4

Cup

Soy Sauce

I used low sodium

3

Cloves

Garlic

Crushed

1/2

teaspoon

grated fresh ginger

1

Tablespoon

sweet red chili sauce

2

Tablespoons

Corn Starch

Olive oil for cooking chicken
Instructions
Cut chicken into 2 inch pieces.

Place 1 cup corn starch in a large zipper top bag. Add chicken. Seal bag and shake so all pieces are coated in corn starch.

For Sauce:

Mix all ingredients into a large bowl.

Stir until sugar is dissolved.

In a large, hot saute pan, add 1- 2 tablespoons olive oil. Add just enough pieces to cover pan. You do not want the pan over crowded or the pieces won't brown properly.

Brown each side for just a few minutes.

Once all sides are browned, remove from pan. Chicken might not be fully cooked, it will finish cooking in sauce.

Continue browning all chicken pieces.

When all chicken is cooked, add sauce to pan. Simmer lightly.

When starting to thicken, add chicken back to pan.

Bring to a boil. Let boil until sauce thickens and chicken cooks through.

Serve hot over rice or quinoa.
Recipe Notes
Time saving tips:
Sauce can be made ahead of time. Chicken can be browned ahead of time and then kept in the fridge until ready to use.
Rewarm chicken first and then add sauce. Bring to a boil. When sauce is thickened and chicken is warmed and cooked through, serve.


Recipe adapted from: Lifemadesimpebakes.com
Recipe adapted from:  Lifemadesimplebakes