Bring back a childhood favorite with a delicious homemade version! These homemade pop tarts are perfect for breakfast or an afternoon snack.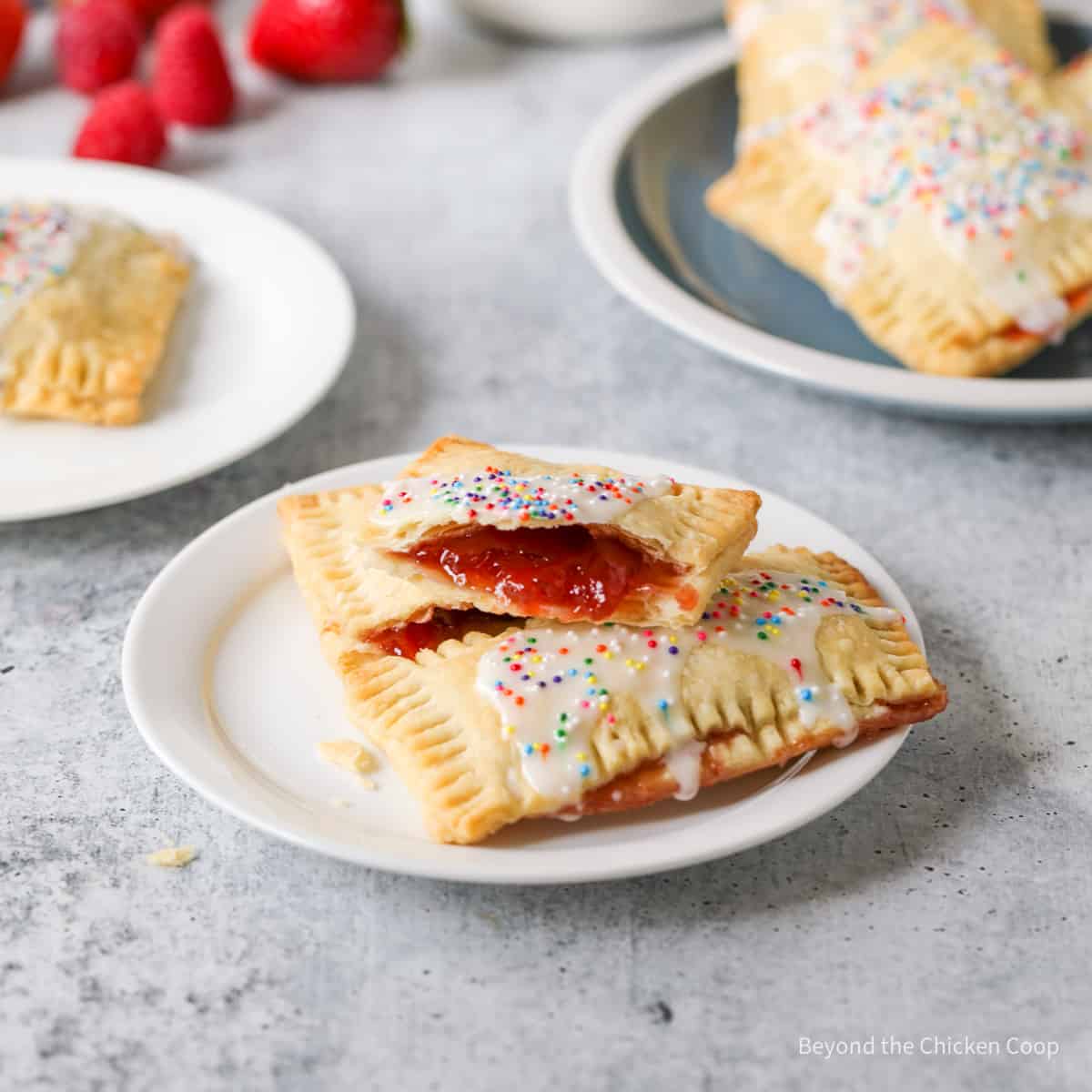 Fun breakfast pastry
We never had pop tarts when I was growing up. I remember thinking, Only if my parents would buy those! Sigh.... But truth be told, when I finally did have a pop tart, I didn't even care for it!
But these homemade pop tarts are a whole different story! I could eat these anytime of the day.
I'm not certain why these are considered a breakfast pastry. Pop tarts are basically pie crust filled with jam and topped with a sugary glaze.
I think pop tarts are more of a snack or dessert! But if eating them for breakfast is your sort of thing, then go for it!
I made two types of pop tarts, strawberry and raspberry. But you could add your favorite type of jam or jelly. I think apple butter would also be delicious as a filling.
Key ingredients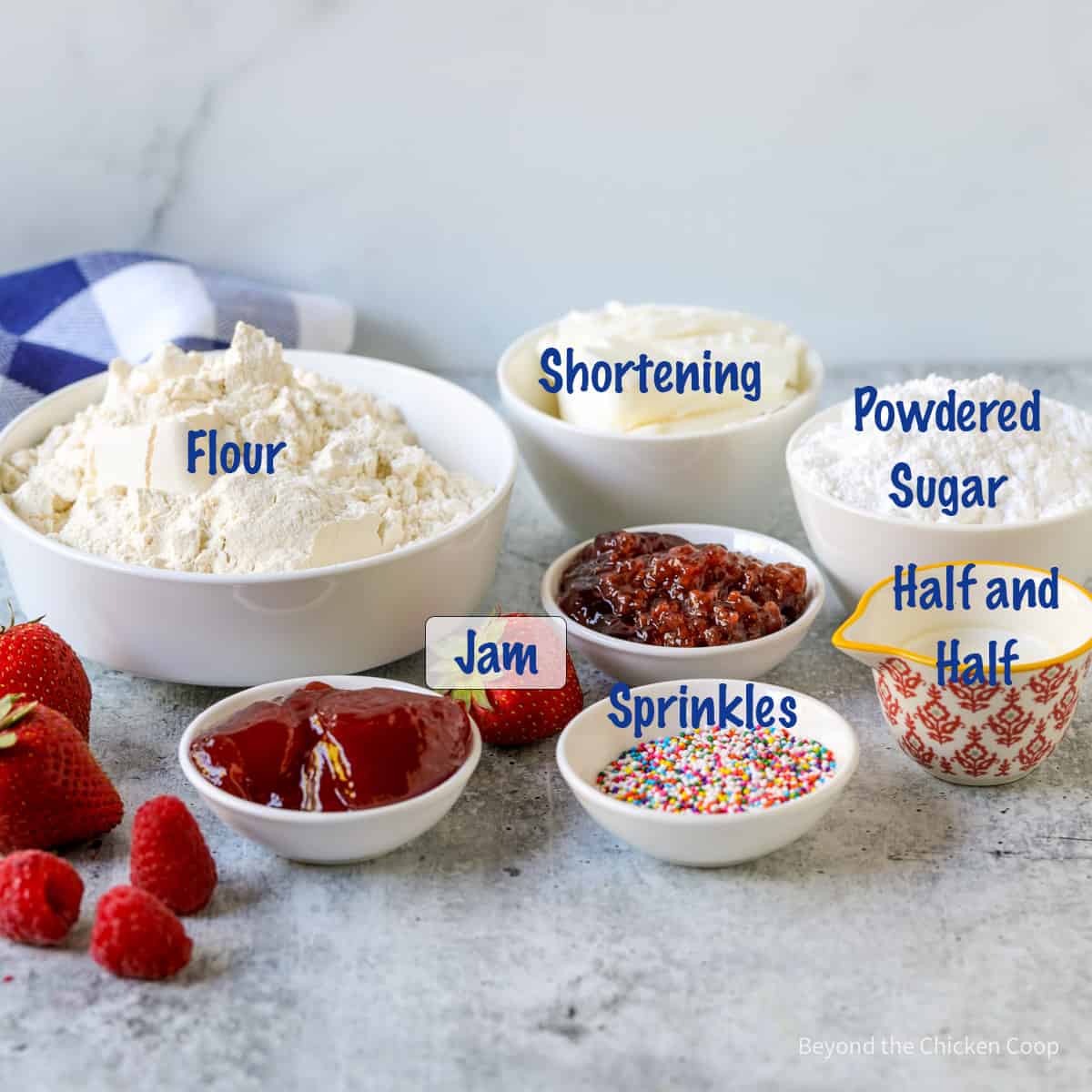 Crust - I make a homemade pie crust, but a store bought crust works too
Jam - Strawberry jam, raspberry jam or whatever you prefer
Powdered sugar - for the glaze
Half and half - You can also use milk or cream
Sprinkles - An absolute must have! They just really make these pop tarts look so fun!
Step by step directions
Make the crust
Combine flour, salt and shortening together until mixture resembles coarse crumbs
Add ice cold water and mix lightly until mixture comes together
Form into two balls
Roll out one into a rectangular shape, about 8 x 12 inches
Cut into smaller rectangles, about 3 x 4 inches
Place on a baking sheet lined with parchment paper
Roll out second crust and cut into small rectangles
Assemble pop tarts
Place a heaping tablespoon of jam in the center of each piece of dough
Put a top piece of dough over the jam
Crimp edges with a fork
Dock holes in top with a fork
Bake in preheated 415°F oven for 12-15 minutes
Cool on a baking rack
Add glaze
Once pop tarts are fully cool, you can add the glaze
Mix powdered sugar with 1 tablespoon of half and half
Add just a bit more to make the glaze a spoonable consistency
Place a spoonful on the center of the pop tart, allowing it to pool over the sides
Sprinkle colorful sprinkles over the top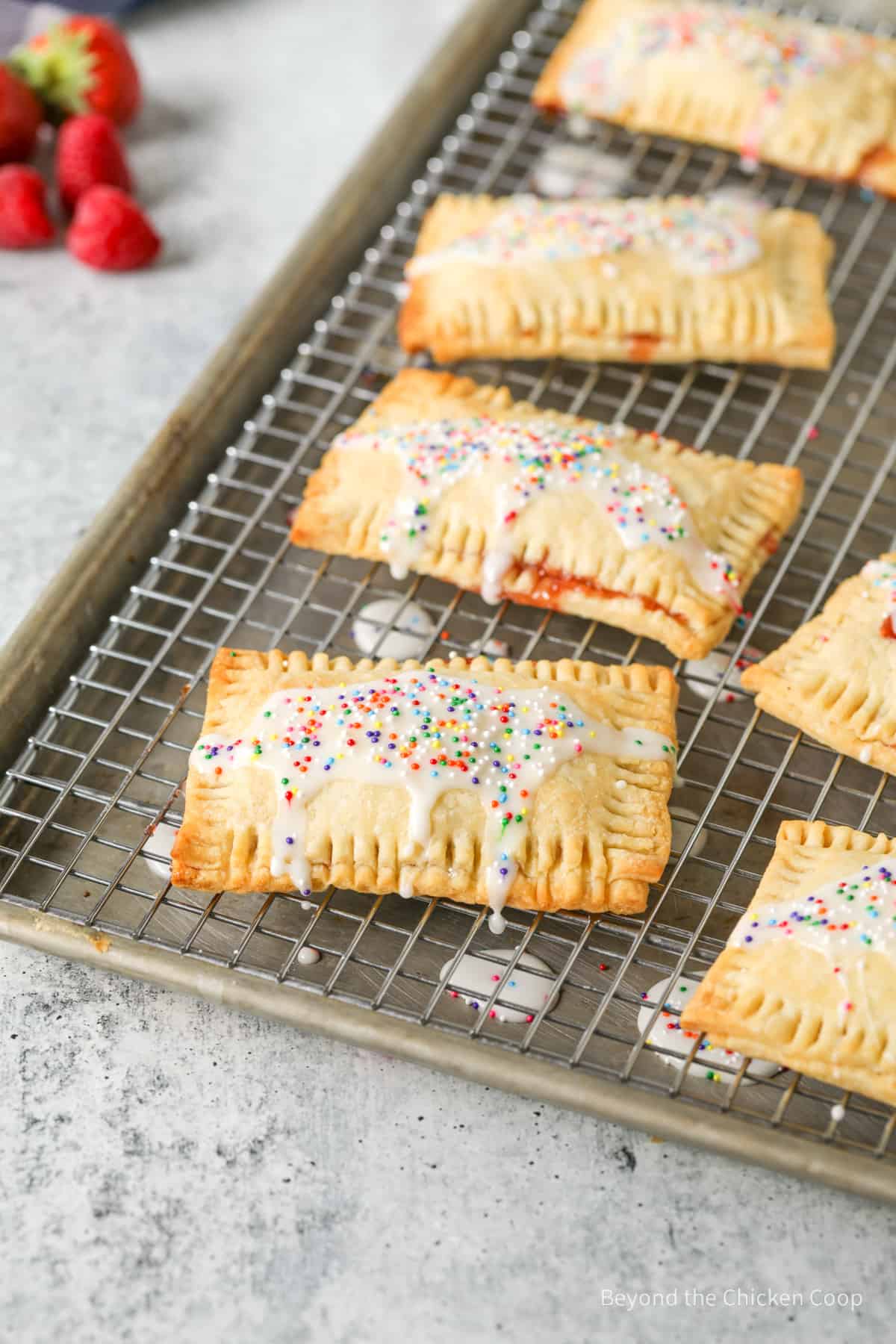 Recipe tips
It's okay if your pop tarts aren't perfectly sized. A rustic look works and tastes just as delicious!
Crimp the edges with a fork to seal in that jam. Make certain the crimp marks go through both layers.
Make certain oven is fully preheated before baking
If the glaze feels too thin, just add a bit more powdered sugar
Don't add glaze until pop tarts are cool
Store leftover pop tarts in an airtight container at room temperature for 3-4 days
Frequently asked questions
How long do homemade pop tarts last?
These homemade pop tarts will last for 3-4 days when stored in an airtight container at room temperature.
What type of filling can I add to a pop tart?
Use any type of jam or jelly that you prefer. Some options include, strawberry jam, raspberry jam, blackberry jam, apricot jam, grape jelly and orange marmalade.
More delicious baked goods to try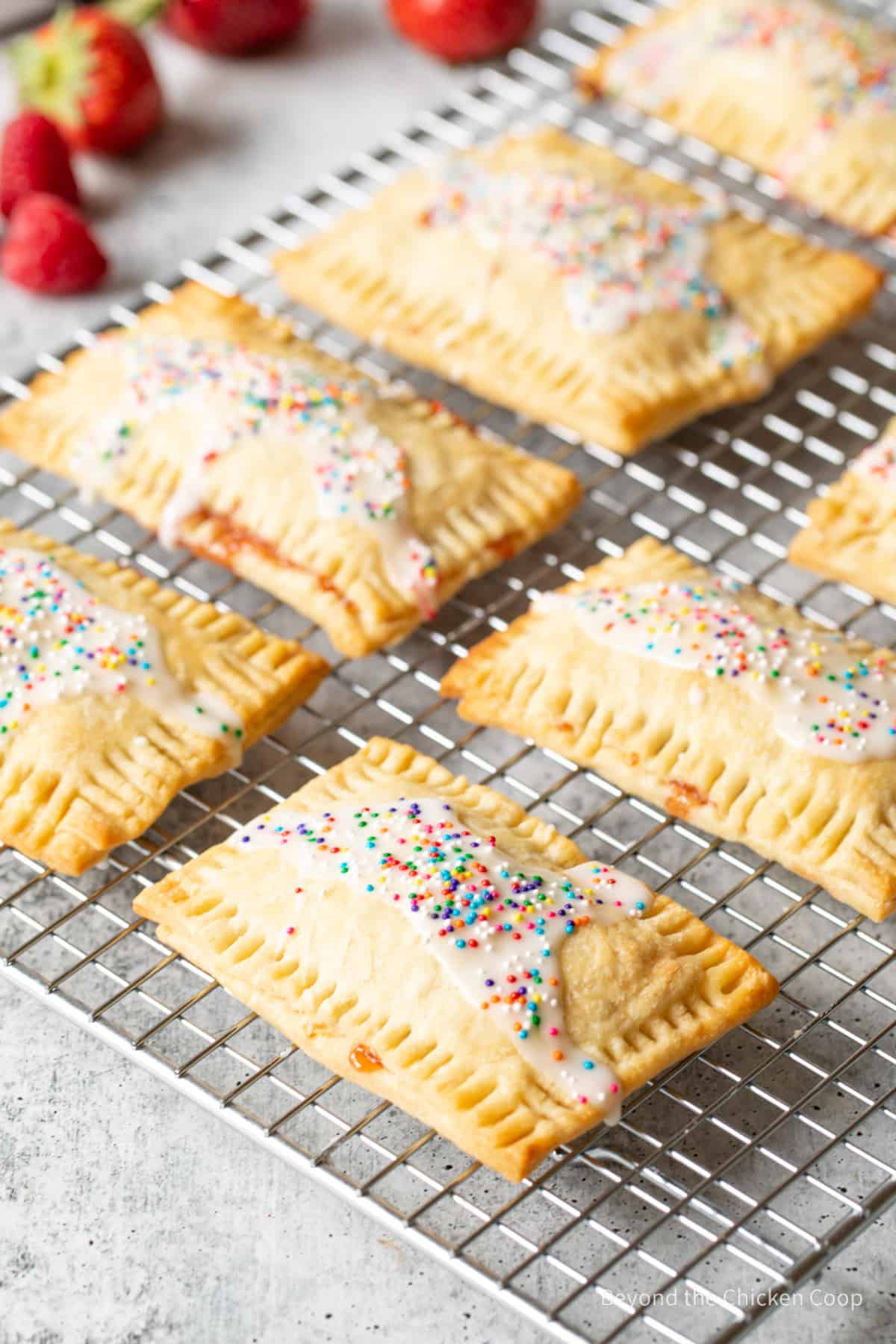 If you make this recipe, I'd love to hear about it! Leave a comment below and snap a picture and tag me on Instagram @beyondthechickencoop
Be certain to check out all my delicious baking recipes!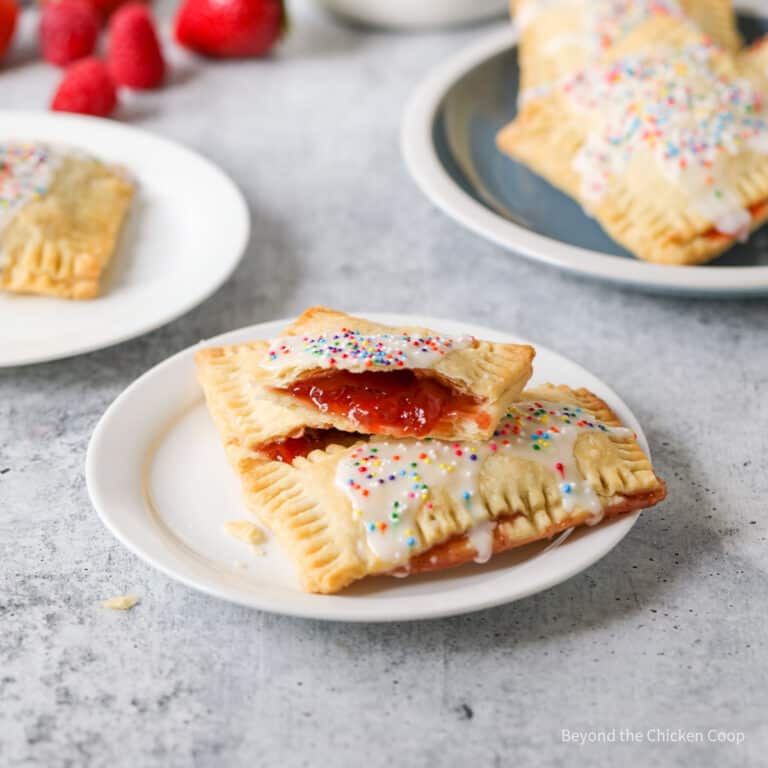 Homemade Pop Tarts
Fun mini tarts filled with jam and topped with a glaze with sprinkles.
Ingredients
Pop Tarts
½

cup

jam

(strawberry or raspberry)

½

cup

powdered sugar

1 - 2

tablespoon

half and half or milk

1

teaspoon

sprinkles
Instructions
Crust
Combine flour, salt and shortening together until mixture resembles coarse crumbs

2 cups flour,

1 teaspoon salt,

⅔ cup shortening

Add ice cold water and mix lightly until mixture comes together

6-7 tablespoons ice water

Form into two balls

Roll out one into a rectangular shape, about 8 x 12 inches

Cut into smaller rectangles, about 3 x 4 inches

Place on a baking sheet lined with parchment paper

Roll out second crust and cut into small rectangles
Pop Tarts
Place a tablespoon of jam in the center of each piece of dough

Put a top piece of dough over the jam. Crimp edges with a fork

Pock a few holes in top crust with a fork

Bake in preheated 415°F oven for 12-15 minutes. Cool on a baking rack

Once pop tarts are fully cool, you can add the glaze. Mix powdered sugar with 1 tablespoon of half and half.

½ cup powdered sugar,

1 - 2 tablespoon half and half or milk

Add just a bit more to make the glaze a spoonable consistency. Place a spoonful on the center of the pop tart, allowing it to pool over the sides. Sprinkle colorful sprinkles over the top

Sprinkle colorful sprinkles over the top
Notes
It's okay if your pop tarts aren't perfectly sized. A rustic look works and tastes just as delicious!
Crimp the edges with a fork to seal in that jam. Make certain the crimp marks go through both layers.
Make certain oven is fully preheated before baking
If the glaze feels too thin, just add a bit more powdered sugar
Don't add glaze until pop tarts are cool
Store leftover pop tarts in an airtight container at room temperature for 3-4 days
Nutrition
Serving:
1
pop tart
Calories:
359
kcal
Carbohydrates:
47
g
Protein:
3
g
Fat:
18
g
Saturated Fat:
4
g
Polyunsaturated Fat:
5
g
Monounsaturated Fat:
7
g
Trans Fat:
2
g
Cholesterol:
1
mg
Sodium:
302
mg
Potassium:
58
mg
Fiber:
1
g
Sugar:
19
g
Vitamin A:
9
IU
Vitamin C:
2
mg
Calcium:
17
mg
Iron:
2
mg