This post may contain affiliate links, see my Privacy Policy.
Banana Bread with added quinoa for extra protein, fiber and nutrients. This delicious banana bread is moist and full of flavor.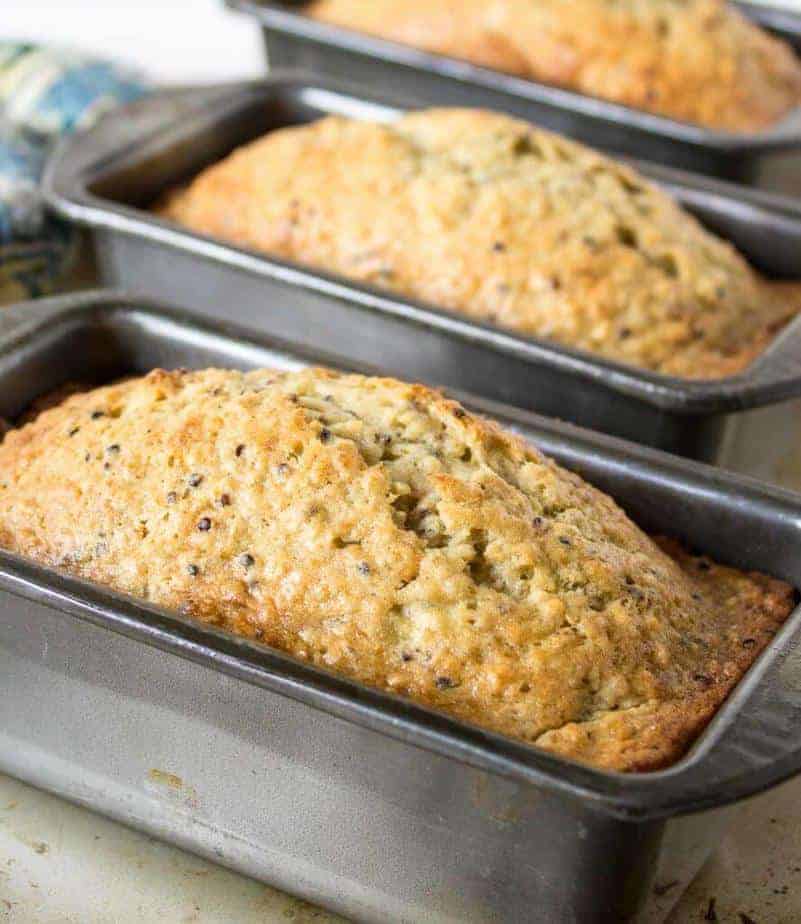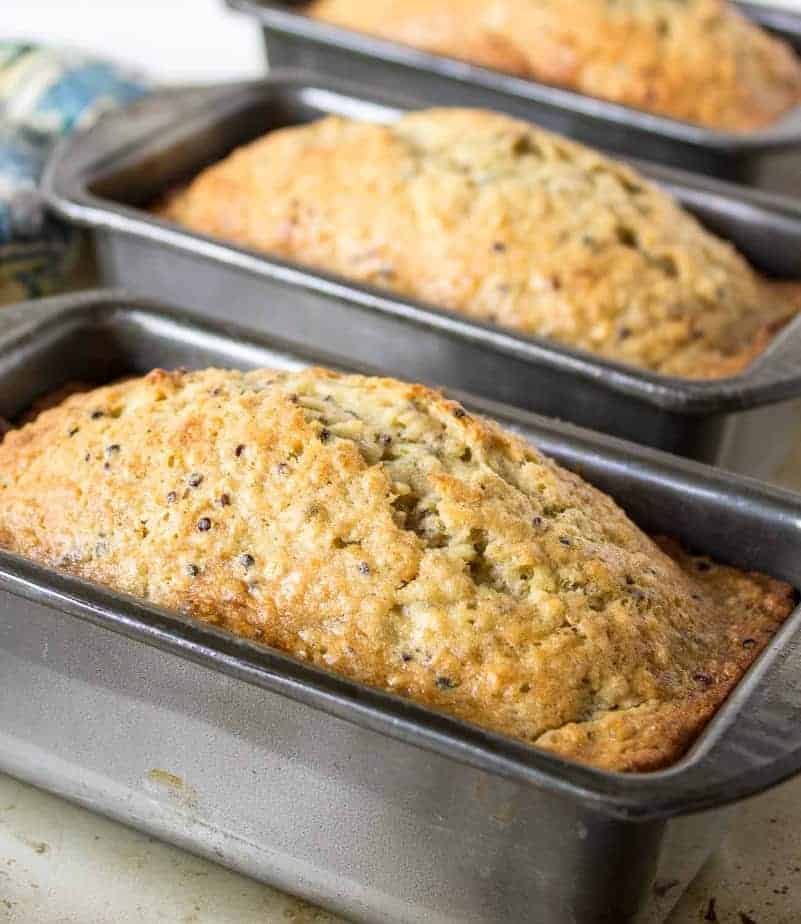 Thank goodness for banana bread! Otherwise I would have a whole lot of wasted bananas. For me, bananas have a perfect ripeness window of about two days max. Before then, they are too green.
After, they are too ripe. I end up making a lot of banana bread with all those ripe bananas. This time I decided to amp up my regular banana bread by adding quinoa!
Quinoa is a "super grain!" Actually, if you read about quinoa, it's not really a grain at all. But as far as cooking goes, it's just like a grain. It is high in protein and is high in many nutrients including iron, manganese, copper, phosphorus and magnesium.
Quinoa is also believed to have anti-inflammatory properties. Quinoa does not have gluten so it is a great alternative for people who are gluten intolerant.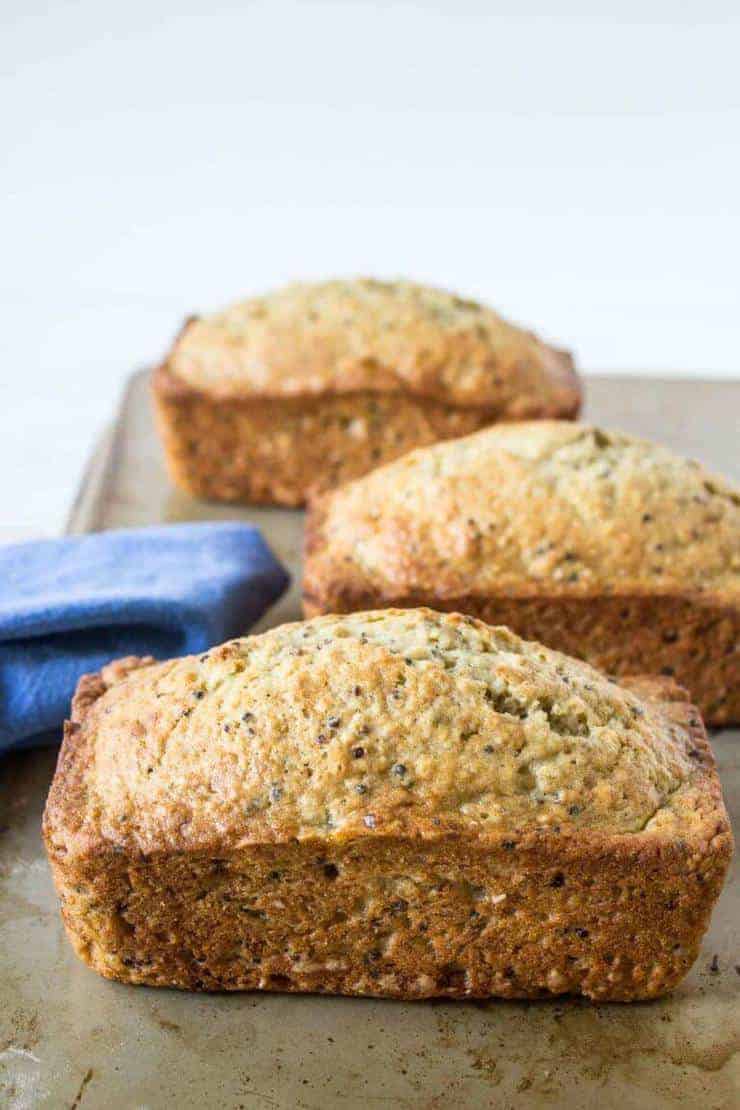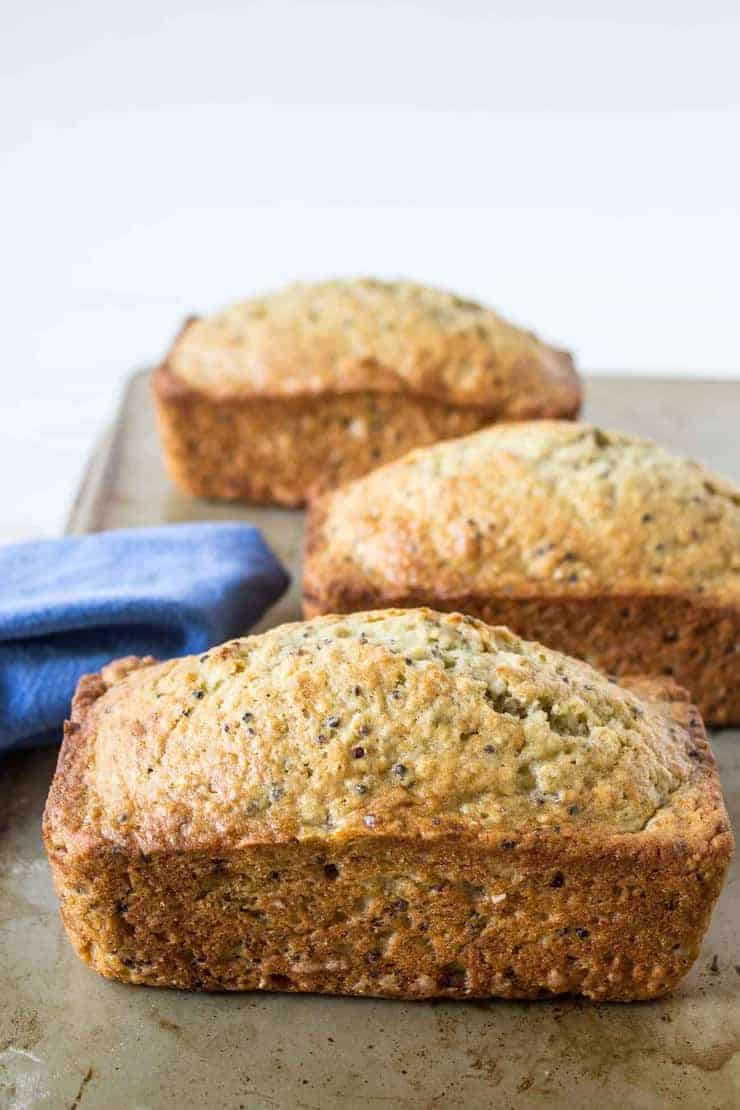 How to cook quinoa
When cooking quinoa, you want to first rinse it thoroughly in water. There is an outer coating that can taste bitter if you don't rinse it off first.
Measure desired amount of quinoa and pour it into a bowl. Fill the bowl with water and rub the grains with fingers. Then pour it into a fine sieve and rinse under the water again.
Follow directions for cooking on your package. Most usually have 1 cup of quinoa to 2 cups of water. Boil water, add quinoa, simmer with lid for 10-15 minutes until all water is absorbed. Quinoa can be eaten hot or cold and takes on the flavor of whatever dish it's in.
You can also check out this recipe on how to cook quinoa.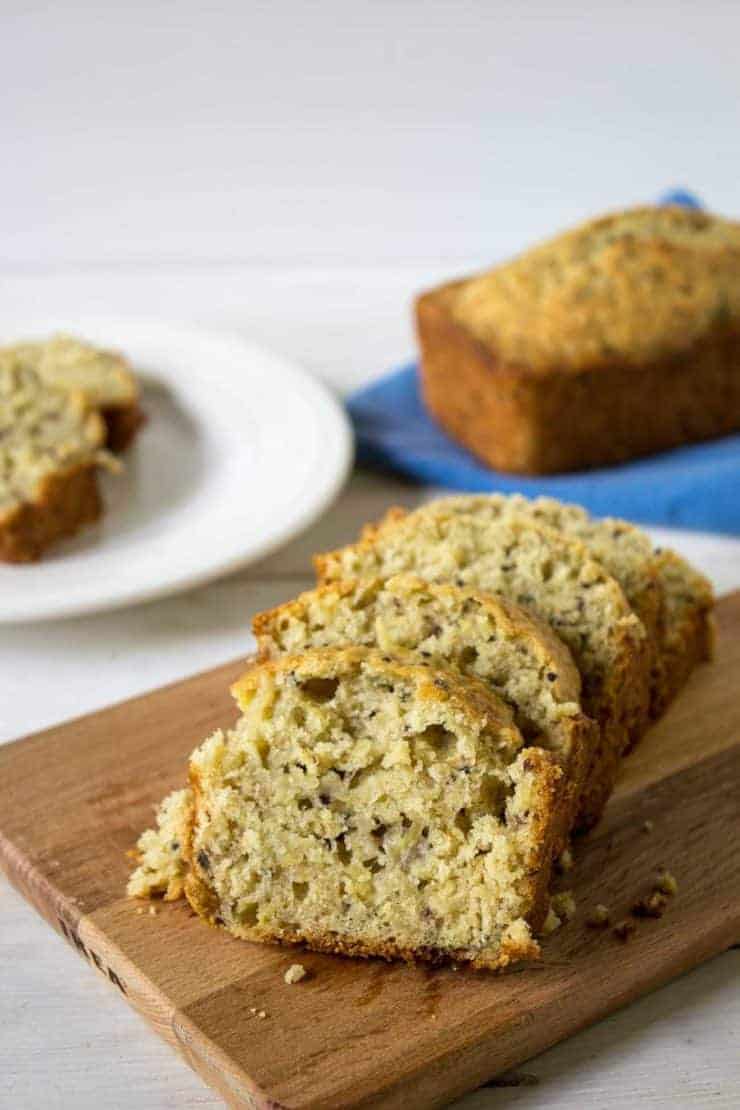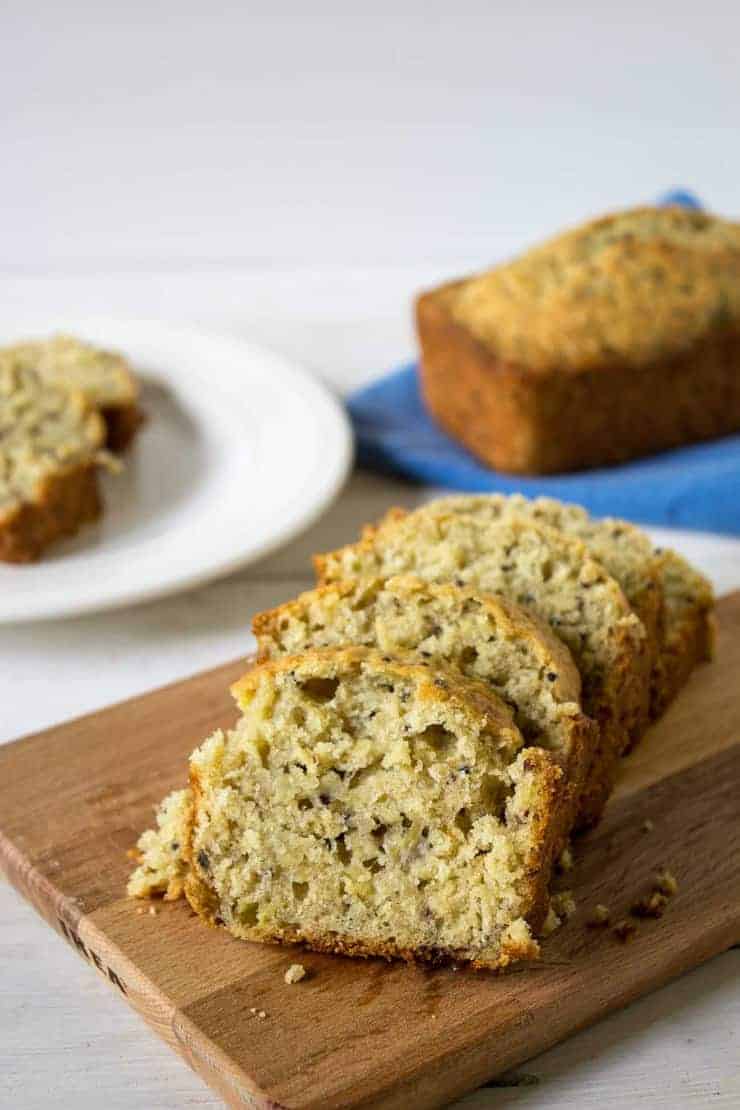 Can you taste the quinoa in this bread?
The quinoa is almost unrecognizable in this bread. You really can't taste it at all. It does add a bit of a crunch on the outer edges.
My husband says he doesn't like quinoa, so he didn't believe me when I told him it was in the banana bread! Nothing like sneaking extra nutrition into something everyone is going to eat anyway!
How to make banana bread
Use really ripe bananas – the browner the better
Mash bananas before adding to mixture
Mix dry ingredients together and set aside
Mix eggs, sugar and butter together
Fold in mashed bananas
Add dry ingredients
Fold in cooked quinoa
Bake
Do I make full sized or mini loaves?
I used mini loaf pans for this bread. I like the small size and the slices are just a perfect size!
To make mini loaves bake in 4 mini loaf pans for 45 minutes. To make full sized loaves use 2 full size loaf pans and bake for 55-60 minutes.
Other Great Recipes Using Quinoa: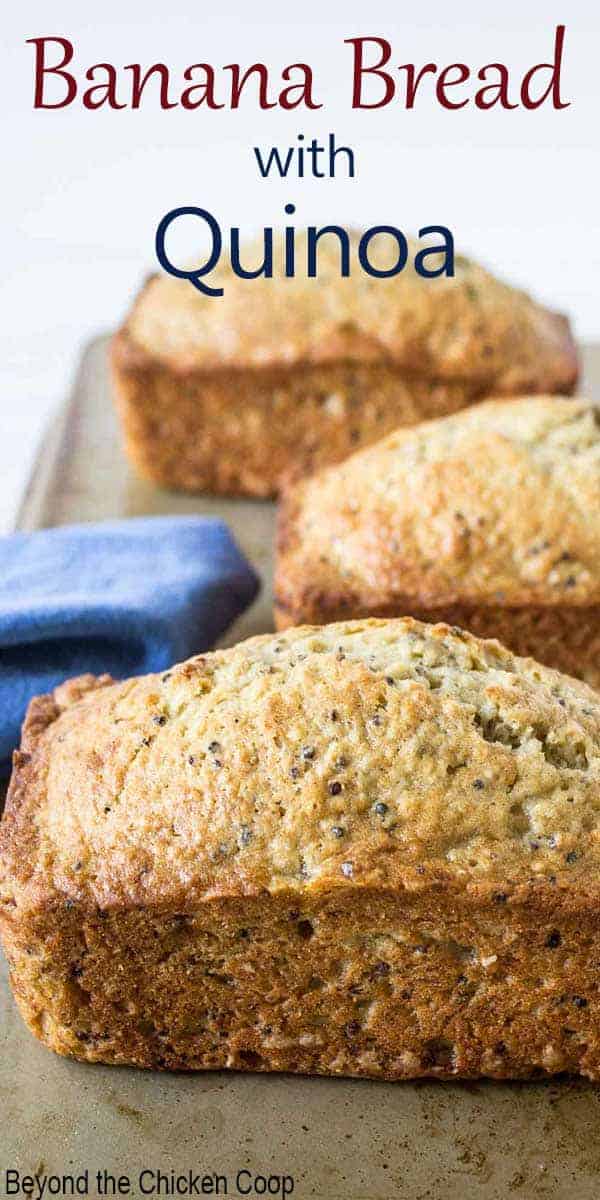 If you make this recipe, I'd love to hear about it! Leave a comment below and snap a picture and tag me on Instagram @beyondthechickencoop
Check out all my bread recipes!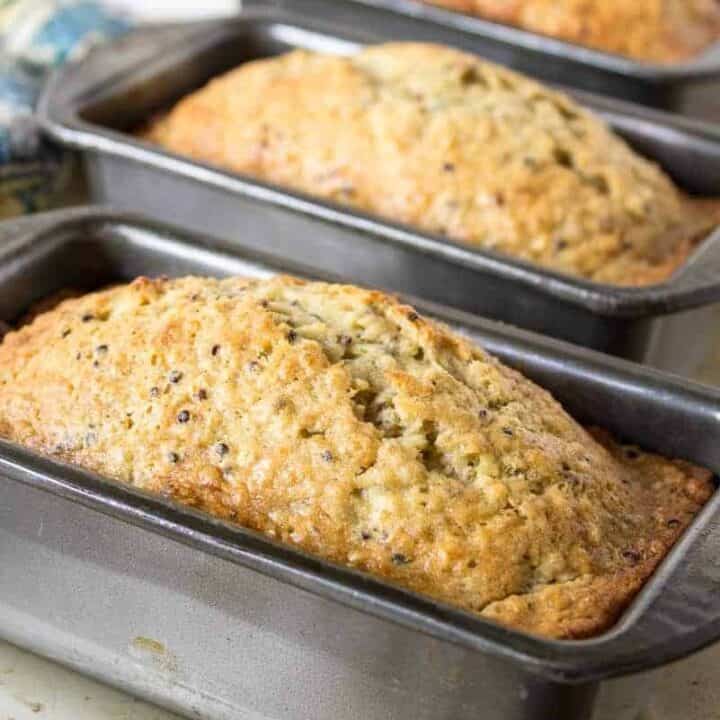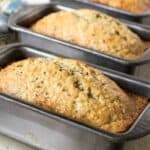 Quinoa Banana Bread
Banana bread made healthier with added quinoa.
Keyword:
banana bread, bread, quinoa banana bread recipe, quinoa recipes, quiona bread
Instructions
Measure dry ingredients into a bowl and mix together

In another bowl, mix eggs, sugar and butter together

Spray loaf pans and divide batter between 4 mini loaf pans

Bake at 350 degrees for 45-50 minutes.
Recipe Notes
I used four mini loaf pans. If using large pans increase baking time by 5-10 minutes. 
Cut each mini loaf into 8 slices. 
Test for doneness with a toothpick inserted into the middle of a loaf. If toothpick comes out clean, the bread is done. 
Nutrition Facts
Quinoa Banana Bread
Amount Per Serving (2 slices)
Calories 215
Calories from Fat 63
% Daily Value*
Fat 7g11%
Cholesterol 16mg5%
Sodium 155mg7%
Potassium 44mg1%
Carbohydrates 27g9%
Protein 3g6%
Vitamin A 191IU4%
Vitamin C 2mg2%
Calcium 10mg1%
Iron 1mg6%
* Percent Daily Values are based on a 2000 calorie diet.