Ripe Banana Recipes - Have you ever wondered what to do once your bananas become too ripe to eat? Look no further! I've got a collection of recipes that make using up those bananas no problem at all. From muffins to bread to desserts, I've got a variety of recipes using those very ripe bananas.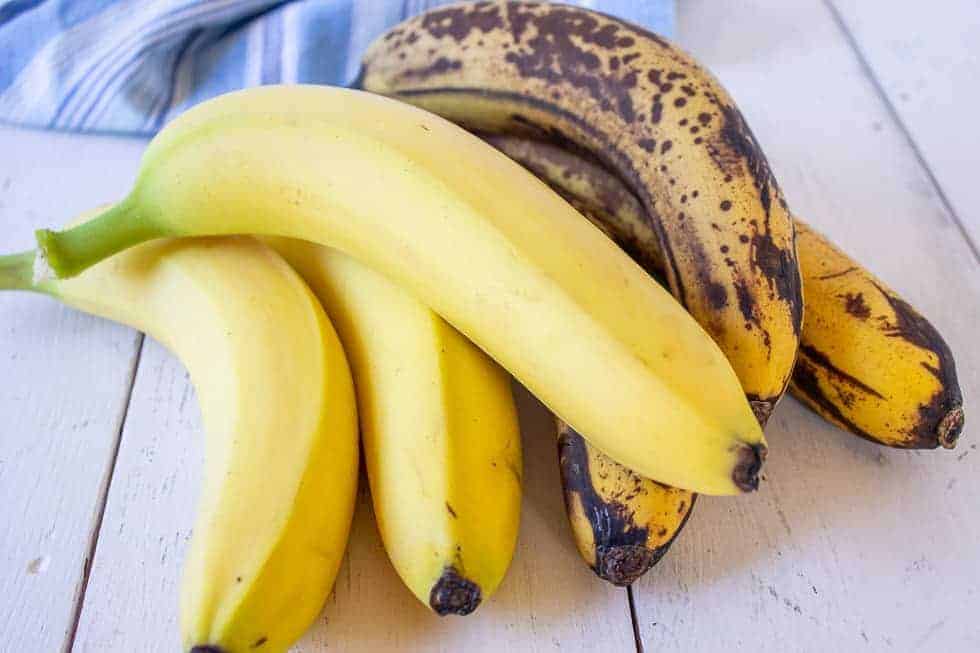 Bananas are a funny thing. Everyone has their ideal ripeness for eating a banana. I like mine really yellow with a touch of green still on the banana. I know many people consider the not ripe yet. One of my sisters loves her bananas much riper with lots of brown spots. My kids are somewhere in between.
The problem with bananas is they tend to ripen overnight and go from my perfect ripeness to overripe and ready to be used in recipes. Once bananas reach a really ripe stage, you've got to act quickly.
Can I freeze bananas?
Yes, I often freeze bananas. When they become overripe and I don't have time to bake, I will often throw the bananas into the freezer to use later. I just place the whole banana, peel and all right into the freezer. I don't place them in a bag or container.
When I'm ready to use them, I pull out the amount of bananas I need. The banana peels will be black. I just place them on the counter for about 30 minutes and then remove the peel. Once the banana has thawed, it's ready to use in your favorite recipe.
The best bananas for baking
The darker the banana, the better for baking. Really brown or even black bananas are sweeter and when mashed they are much softer. Don't be tempted to use a yellow or even slightly browned banana for baking. You just don't get the same results.
If you make one of these recipes, I'd love to hear about it! Leave a comment below and snap a picture and tag me on Instagram @beyondthechickencoop
Check out all my delicious recipes!
Don't Forget to PIN for later!