Prune your own apple trees. With a few tip to follow, it's not as hard as you think!
Pruning your apple trees in the spring helps yield a larger harvest of apples in the fall.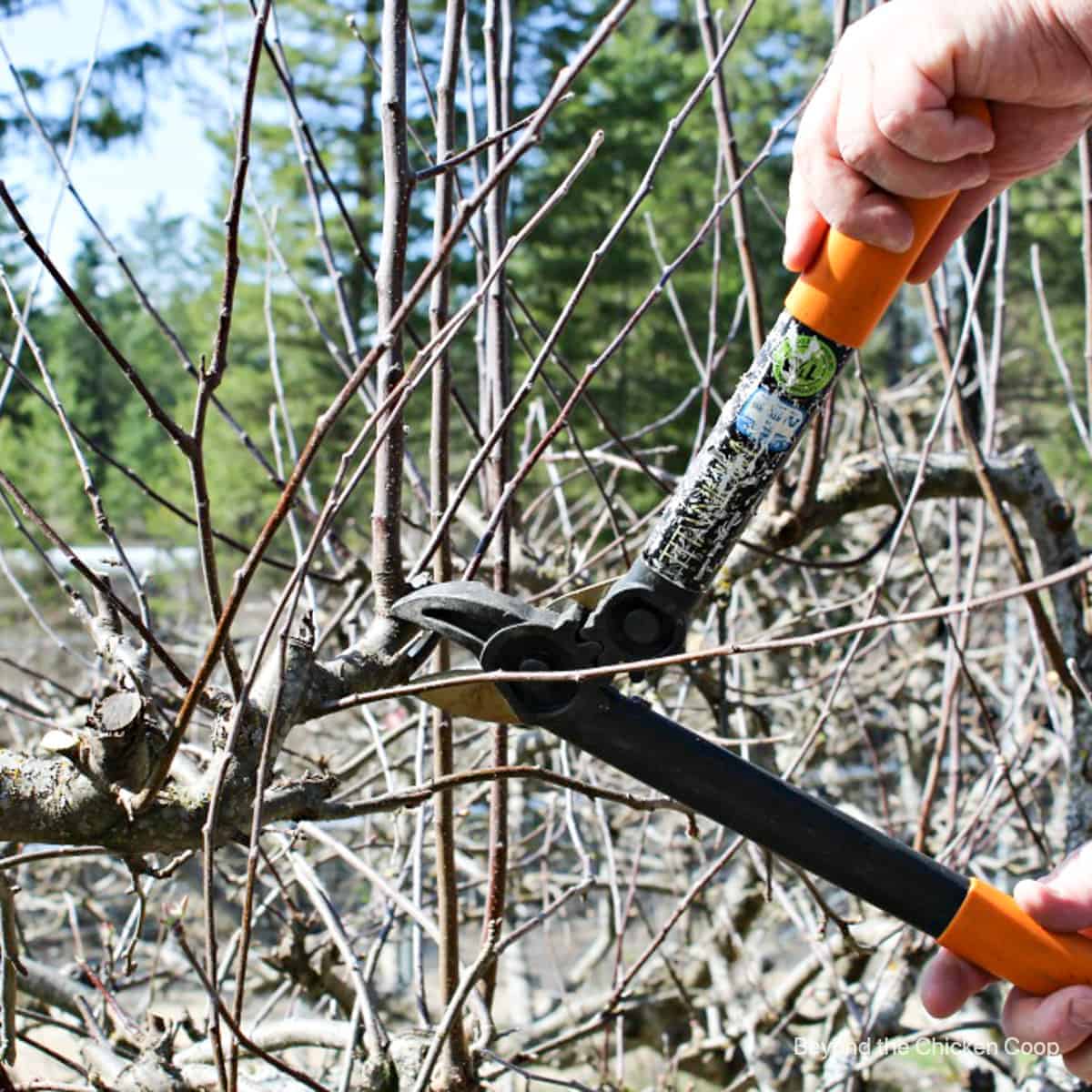 Do you have apple trees? Then they need to be pruned annually. Hiring someone to do this task just doesn't make sense, when you can do it yourself.
My husband, Rod does all our pruning and prunes several apple trees every spring. It's time to learn how to prune apple trees.
Full Disclosure: Rod is not an arborist and does not have any formal training when it comes to pruning. He just has years of experience and results that work - that means, the apple trees survive and thrive!
The apple trees are loaded year after year! These are his tips and what works for him! Rod's famous words of wisdom -
Don't worry too much about how it turns out... If you don't do it perfectly, it's okay.  It's like a bad haircut. It will grow back!
Just take it slow and step back to see how it's coming along! My advice, as a total novice - just don't take off too much! (I don't like bad haircuts!)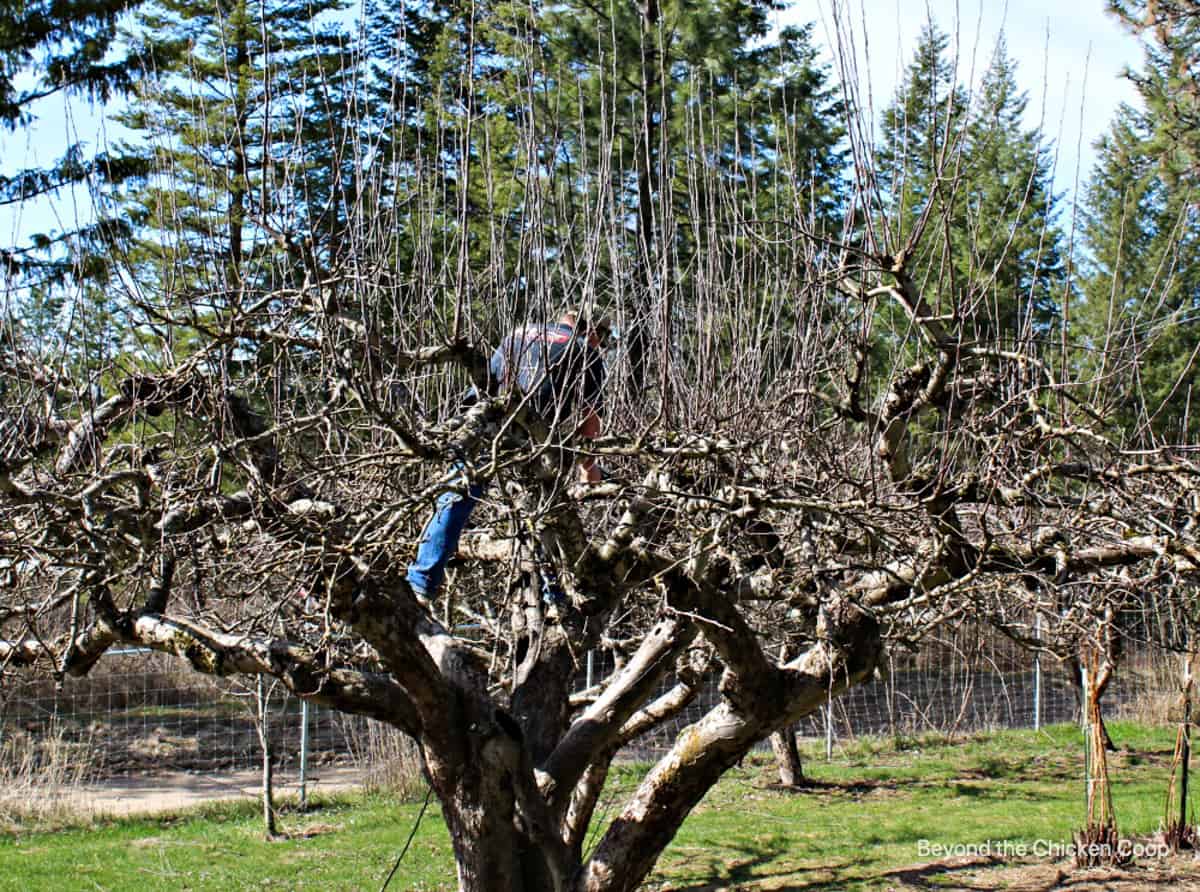 These trees are very mature apple trees. The "bones" of the tree are already there.
New trees still require pruning, but the process is just a bit different because you are forming the shape each year. Pruning on new trees is minimal. These tips are focusing on the mature tree.
Types of pruners to use
Rod uses two types of pruners - one long handled lopper and one small handheld bypass pruner. If you need to remove larger branches, you will need a handsaw.
Four things to keep in mind while pruning
Keep branches growing out, not up. Cut off all vertical shoots.
Cut off any damaged branches.
Try not to let tree get too wide. Stand back and look at the branches. If they are extending out too far, give them a trim.
Anticipate spacing for fruit and branches. Take a look at each cluster. If the cluster is too tight, remove one of the small branches.
Remove all shoots that are growing straight up.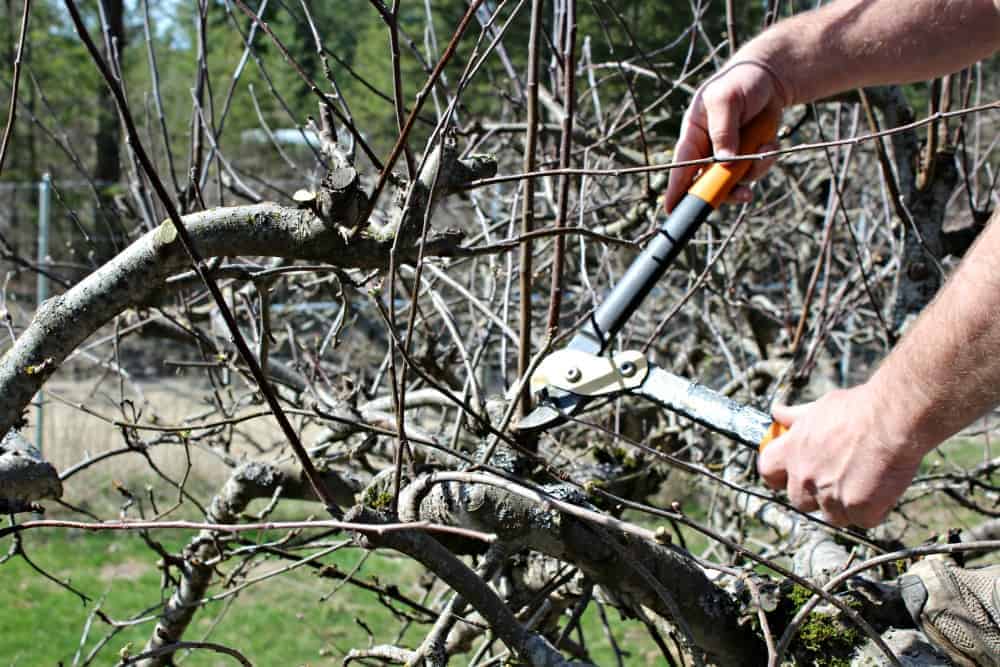 Trim branches near the base of the branch.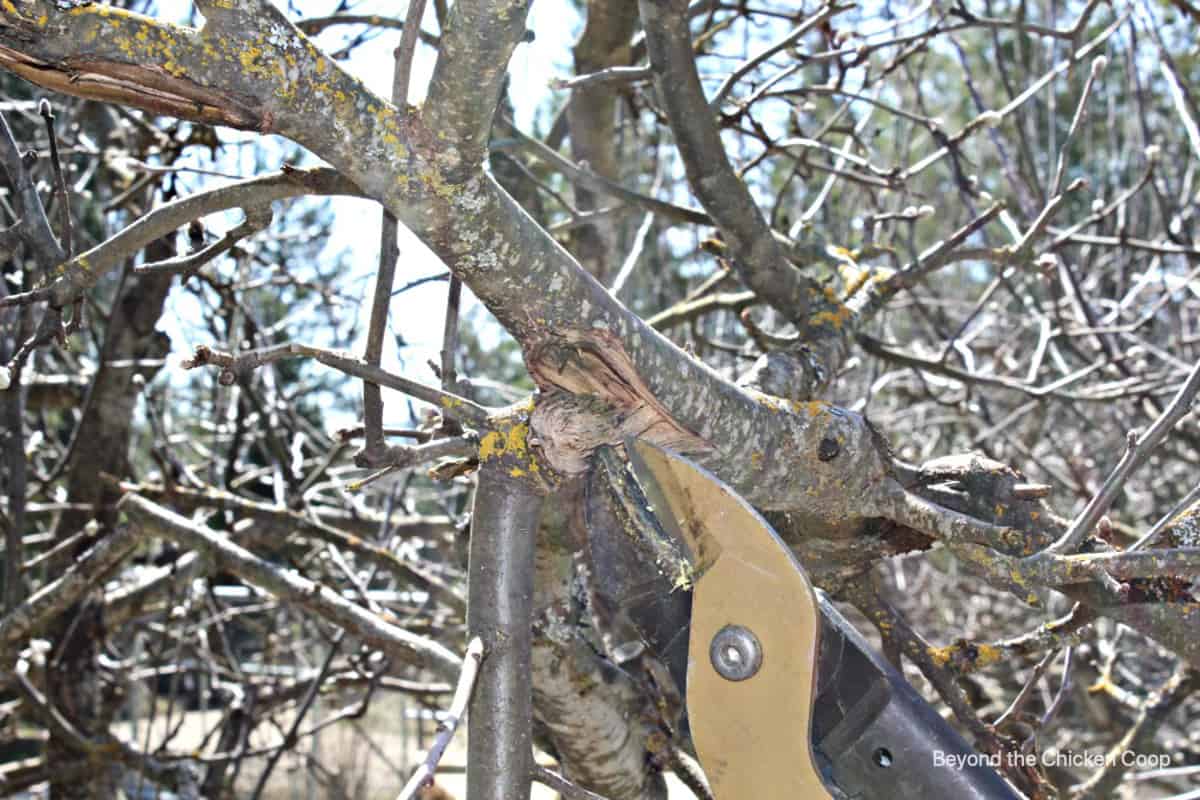 Remove any damaged branches. The branch above was snapped off during the winter time.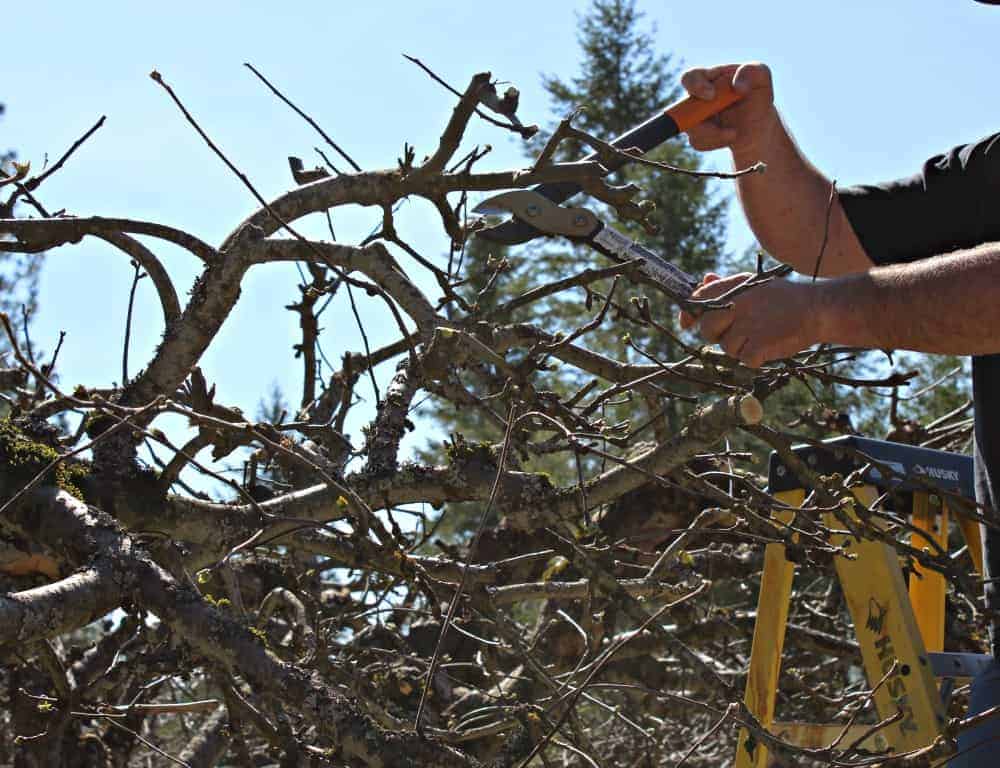 Remove any branches that will become too crowded or too wide. The picture below show a branch where the apples will be growing. It can have up to 3 or 4 apples. This branch has enough space for the apples - no need to prune here.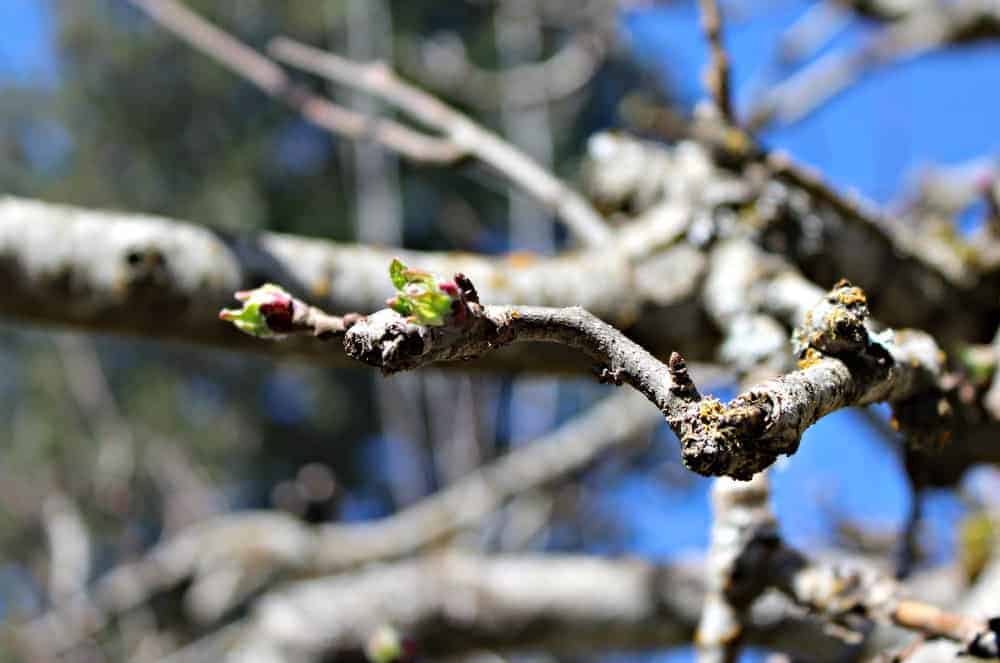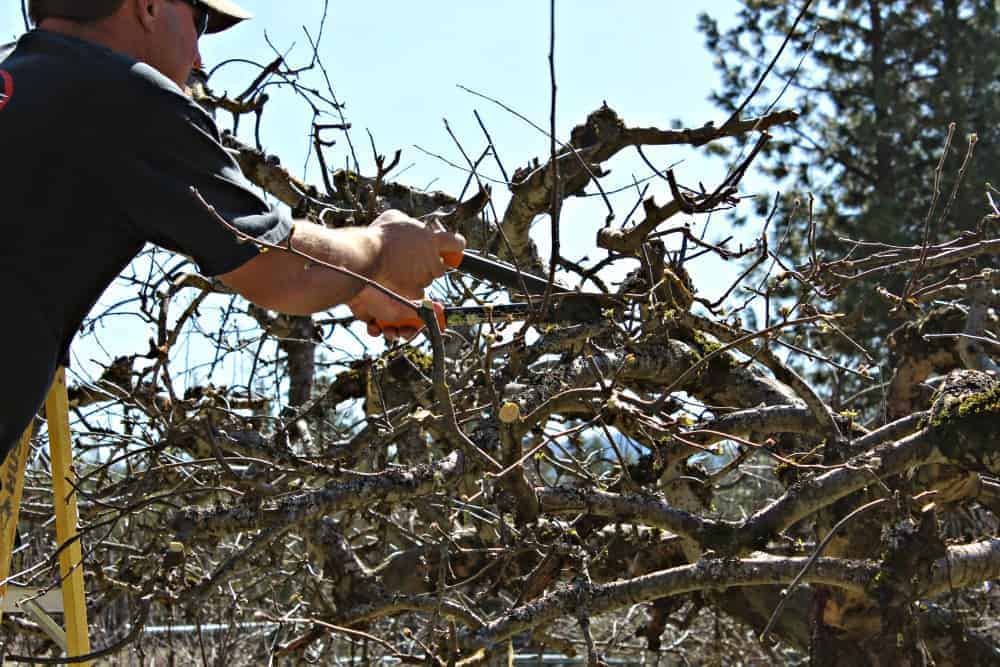 Safety first! A ladder is the safest way to prune the trees. Rod like to get up into the trees to prune, but always be safe.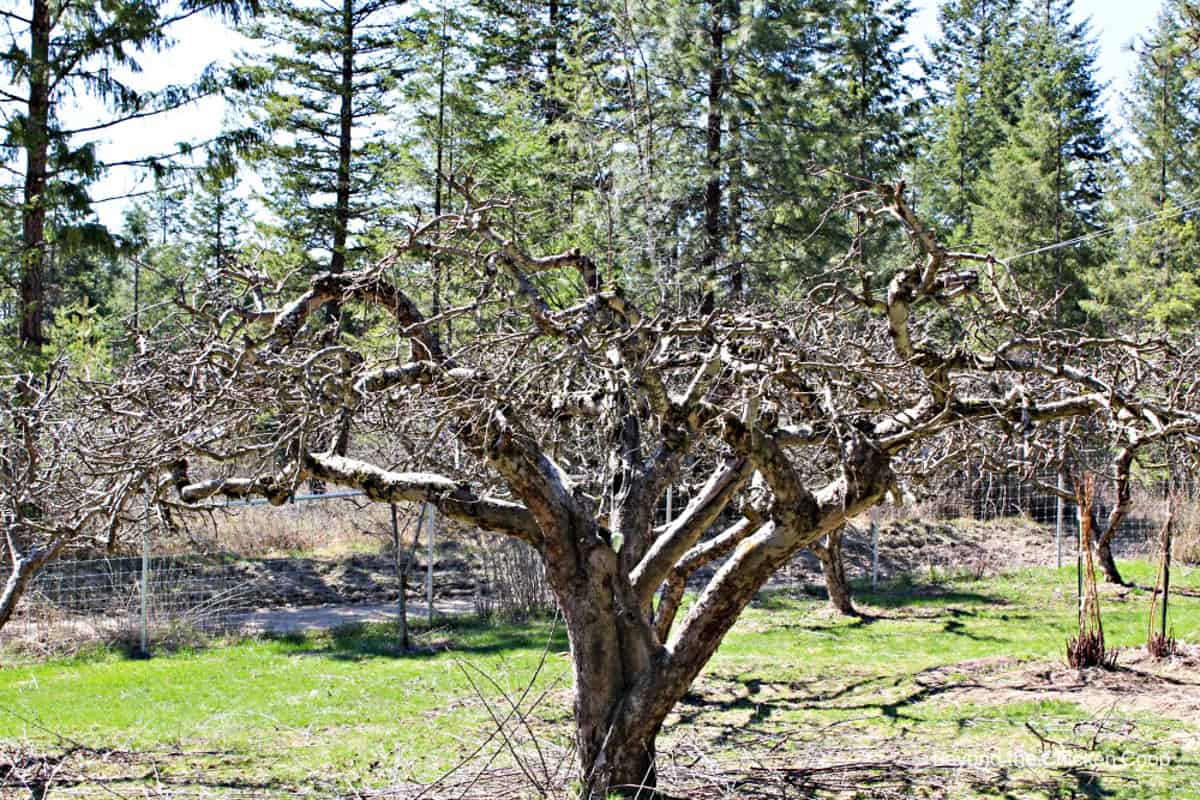 The finished trees are flatter on the top with the branches extending out to the side.
What to do with apples
We get a huge harvest of apples every year. Some recipes we make are Apple Pie Filling, Apple Butter, Cocoa Apple Cake, Apple Fritters and we also press the apples into Cider.
More homesteading info