There is nothing more fun than baby animals on the farm. Baby chicks are our newest addition! They are so cute and fun to hold and watch.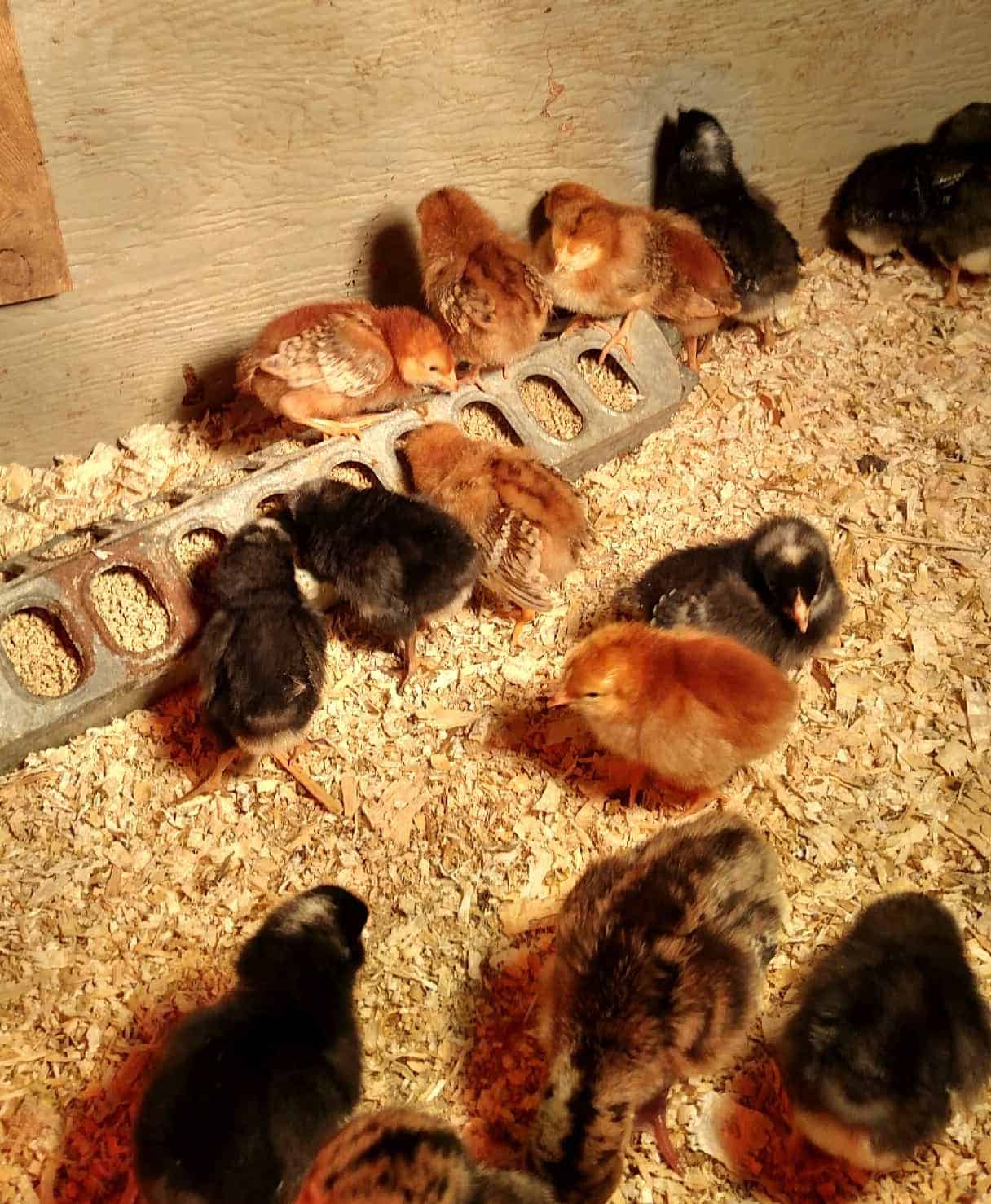 Where to get baby chicks
We've obtained baby chicks over the years several different ways. We buy baby chicks from our local feed store, we've bought from an on-line hatchery and had the chicks arrive in the mail, our hens hatch their own chicks from eggs they lay, and one of our local schools hatches a batch of our eggs so students can study the hatching of chicks.
Today, we bought baby chicks from our local store. Rod just can't seem to resist baby chicks when he walks into the feed store! He acts likes he's all rough and tough and then here he comes with baby chicks! He's really a softy at heart!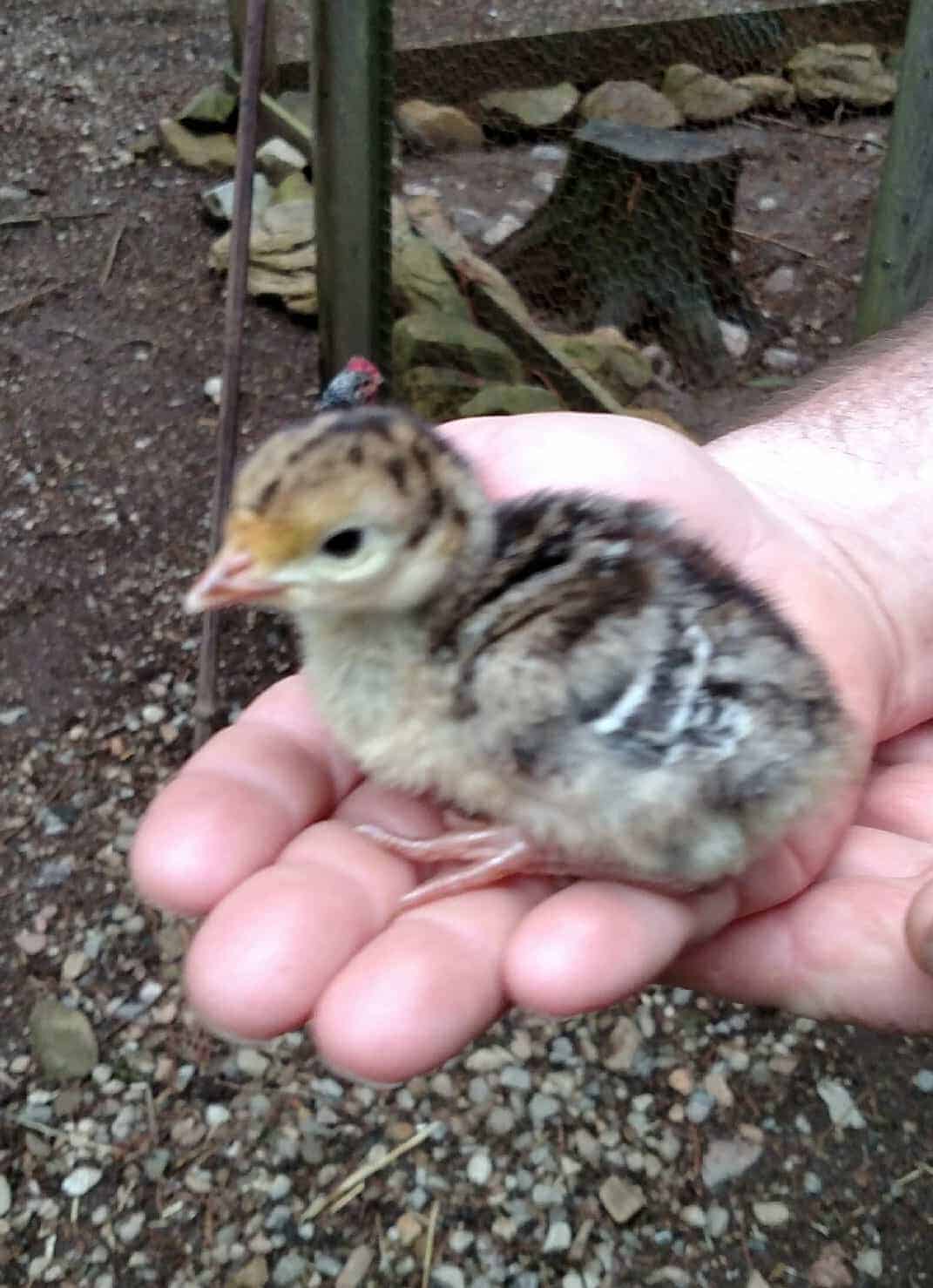 How to introduce new chickens
The easiest way to care for chicks is to have the mamma hen hatch and raise them.  The mamma is really protective, will teach the chicks how to get food, and will keep them warm.  
On a couple of occasions we have had a broody hen (a hen who tries to sit on her eggs to hatch them) decide to become the mama hen of store bought chicks, and we have successfully introduced her to a new batch of chicks.  
We have had success with her taking to the chicks like they are her own.  We have only been able to succeed with this method twice.  It doesn't always work, but it's wonderful if she thinks they are hers!
In order for this to work, first you need a broody hen. Then buy your chicks. It works best to go into the coop at night time and remove the broody hen from her nest and just add her to your "nursery", or brooder of baby chicks. By morning, you will know if she thinks they are her new babies. If she wants nothing to do with them, she will be squawking, and outside the brooder boundaries if possible.
Since this method isn't always possible, you need another method for the chicks to flourish, especially if this is your first go-round with chicks. First, you need space. It does not need to be very large, but large enough for the chicks to move around and get away from the heat when needed. It should be sheltered away from drafts. This is just a temporary place until they are strong enough to move to your coop.
The chicken coop
We start ours inside a shed which is just outside the regular coop where we store our food. We put up a plywood barrier that keeps the chicks contained. We usually put a thin layer of wood shavings on the floor.
Straw is also a good choice. Do not use cedar chips, they can be toxic. The size of the brooder really depends on how many chicks you have. The most important factor is having enough space so the chicks can get away from the heat of the heat lamp.
If they are too warm, they need to be able to move away from the heat. Chicks that are too warm can die.
You will need a heat lamp. We've had so many problems determining exactly how low to place our heat lamp. If it's too high and the chicks aren't warm enough they will huddle together and smother or crush each other.
There's nothing worse than coming out in the morning to check on the chicks and find several that didn't make it through the night. It always makes me sad. You do want the temperature below the lamp to be from 90-95 degrees for the first week.
You will want the bulb hanging about 12-18 inches above the chicks. We raise our light a couple of inches each week as the chicks grow.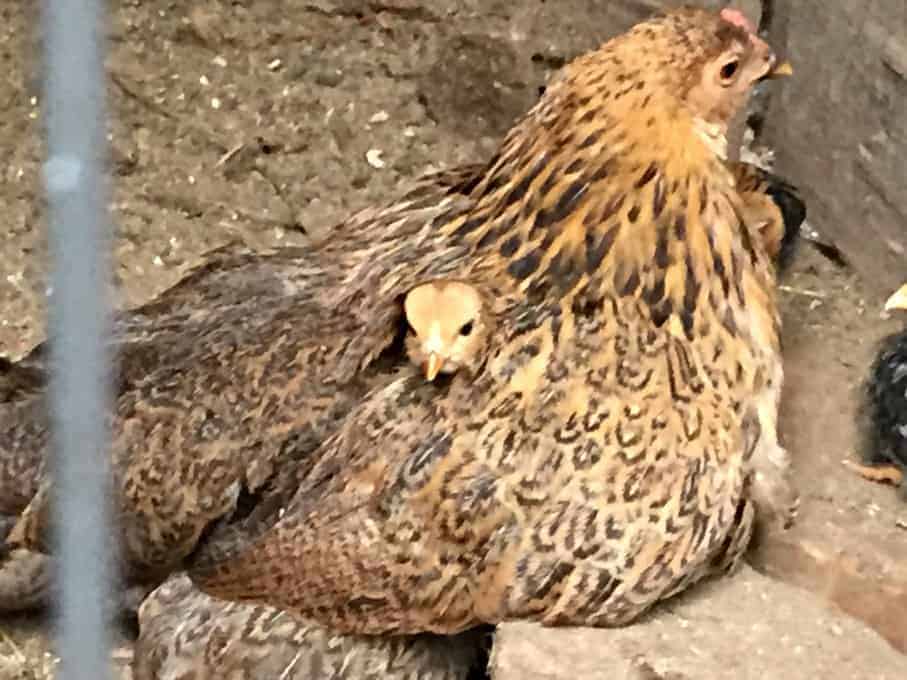 Water and feed
All chicks need water!  Make certain they always have fresh water available. We usually supplement their water with an electrolyte supplement.  This helps the chicks recover from transportation to their new home.  
When you move the chicks into their new home, watch carefully to see if they go straight for the water. Chicks that don't seem to find it on their own or that aren't running around need a little help. Gently move them to the water and dip their beaks into the water. You will see them throw their heads back and open and close their beaks. They are drinking!
Do this again, two to three times. Anytime a chick just seems wobbly I repeat dipping their beaks. The first few days are the most fragile days for the chicks. We keep the electrolyte supplement going just for the first few gallons of water. After that, they should be strong enough without the addition.
The waterer needs to hold enough water for the chicks for at least one day. You don't want to run out. Be really careful that a chick can't fall into the water. They are top heavy and will drown. A bowl is not a good idea. Chicks tend to hop and climb on everything. They will be in the water.
I have gone back and forth with what type of feed to give my chicks. You need something designed for chicks. I have tried to go non-medicated, but I have lost too many chicks. I now start them out on a medicated feed and when I run out, I switch to non-medicated.
You don't want to feed your chicks layena too early. Wait a few months until they look like an adult hen. Most hens won't lay until 4-5 months of age. They really don't need layena before that time.
If your chicks run with the hens, there's really no way to separate their food and they will be okay. A chick feeder is helpful for containing feed and keeping the chicks off the top. If they are able to sit on the top, you will have poop in your feed.
We live in the country and have lots of space for chickens. However, chickens are often possible in most neighborhoods. You might not want to have a rooster. The roosters really are the noisy ones. The hens make a gentle clucking noise and shouldn't bother your neighbors.
Do you raise your own chickens? If you are thinking about raising your own, let me know!