Salsa Salsa Salsa – Fresh Homemade salsa made with charred tomatoes!
Fresh homemade salsa is the best, even in the middle of the winter when there just aren't any garden fresh tomatoes,  freshly picked onions, or any cilantro blowing gently in my garden.  However, all the required ingredients can be bought from any local grocery store in the produce department.   This Homemade Salsa with Charred Tomatoes is amazing!
My brother's girlfriend, Tania taught me some tricks to make this out-of-season condiment extra delicious.
The key to taking this from good to great is using a flat, cast iron griddle. (any cast iron will do) You put all the veggies, except the scallions and cilantro on the griddle.  The goal is a char – but not a burn.  You are looking for some black. It adds interesting color and flavor.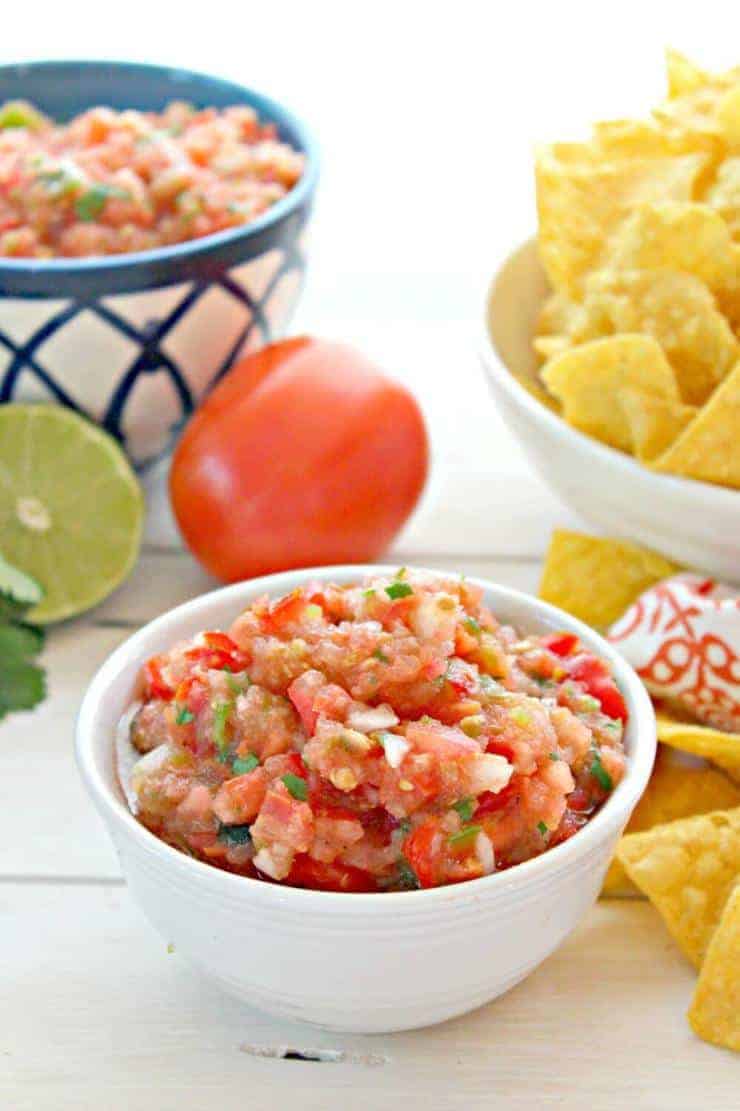 To char your tomatoes, onions, and peppers, use a cast iron grill.  Anything cast iron will work, and in a pinch, you can use a non-stick pan too. For the jalapeno, you can seed first then char, or char first then seed. Really it's up to you, but unless you like really spicy you will want to remove the seeds.
Because my family has a fairly mild mouth,I often add just a small amount of jalapeno, puree, taste and add more as needed. Keep in mind, the flavors will continue to develop as the salsa sits for a while, so the heat can intensify as well.
This salsa is perfect for chip dipping as well as added to breakfast burritos, tacos, or beans. Roma tomatoes are nice and meaty and are perfect for this salsa. If using other tomatoes, I often slice them after charring and remove most of the seeds and liquid pulp. This helps prevent a runny salsa.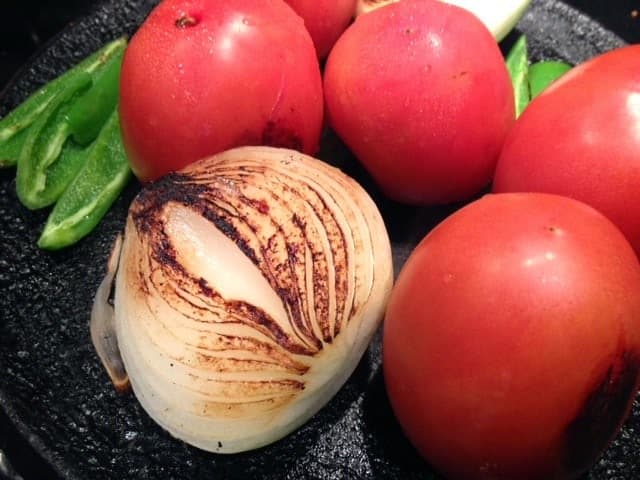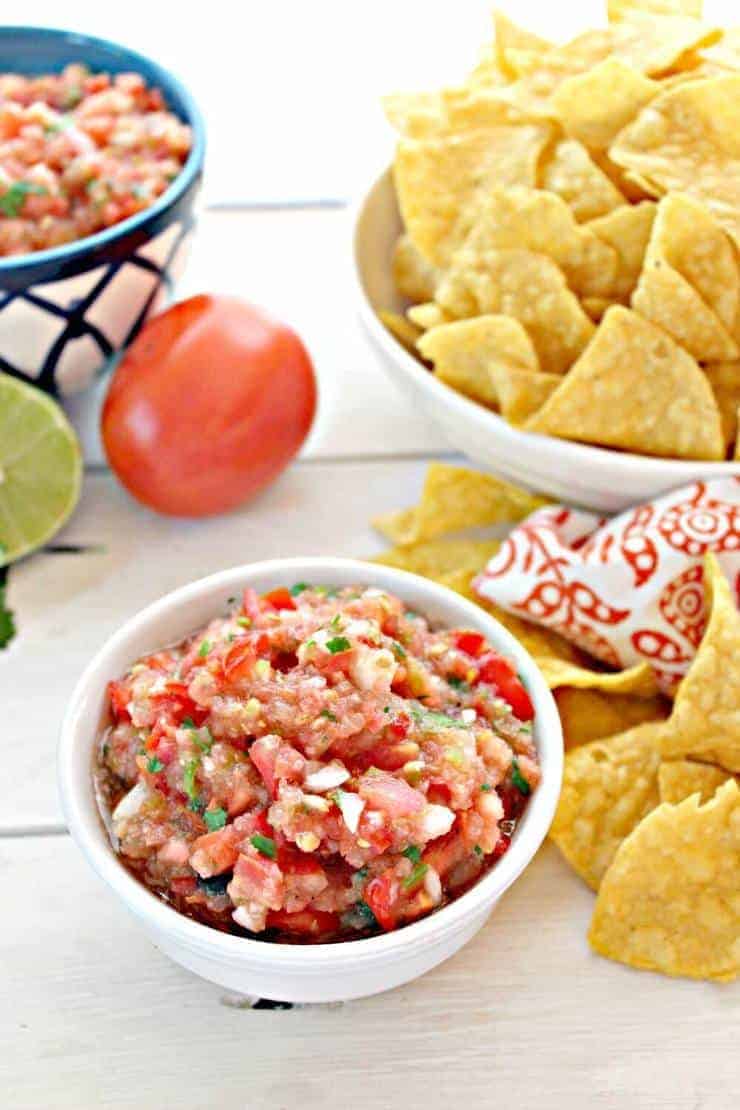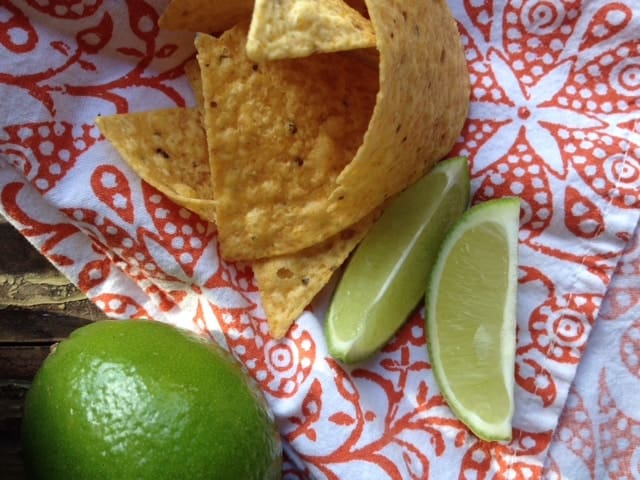 Some other favorite salsa recipes include: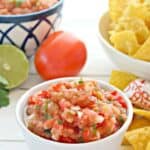 Salsa
Homemade Salsa with charred tomatoes.
Keyword:
restaurant style salsa, salsa with charred tomatoes, tomato salsa
Ingredients
5

whole

Roma Tomatoes

1 - 2

whole

Jalapeño Peppers - depending on size and your taste.

1/2

whole

Onion - Yellow or White

1/4

cup

Bunch Cilantro

Chopped

1/2

whole

Lime

1/2

teaspoon

Salt

5

whole

Green Scallions

Chopped
Instructions
Place tomatoes, jalapeños, and 1/2 onion on hot cast iron pan. Turn ingredients so you achieve a nice char on all sides.

When jalapeño is nicely blackened, place on a cutting board and cut off top and remove seeds.

Place charred items in the food processor. Puree everything until no large pieces remain.

Add cilantro. Pulse just until mixed.

Transfer to mixing bowl.

Stir in salt, juice of lime, and chopped green scallions.

Taste and add additional salt if needed.
Nutrition Facts
Salsa
Amount Per Serving
Calories 14
% Daily Value*
Sodium 197mg 8%
Potassium 135mg 4%
Total Carbohydrates 3g 1%
* Percent Daily Values are based on a 2000 calorie diet.
Other great recipes to try: