Salsa Salsa Salsa - Fresh homemade salsa made with charred tomatoes! Making this tasty salsa is easy and packed full of flavor. The tomatoes, onions and jalapenos are given a quick cook on a hot pan to give a bit of a smoky cooked flavor to the salsa.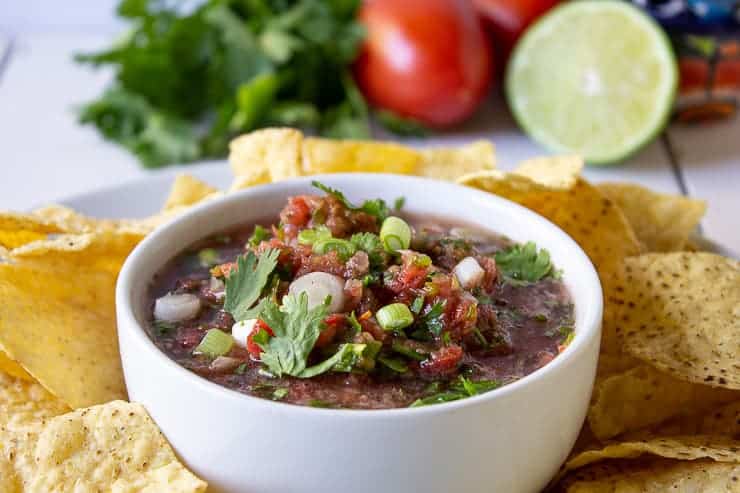 This recipe was originally published in February 2015. The pictures and recipe have been updated.
Fresh homemade salsa is the best no matter what the season. It's just as delicious in the summer as it is in the middle of the winter when you just can't find garden fresh tomatoes. However, all the required ingredients can be bought from any local grocery store in the produce department year round. This Homemade Salsa with Charred Tomatoes is amazing!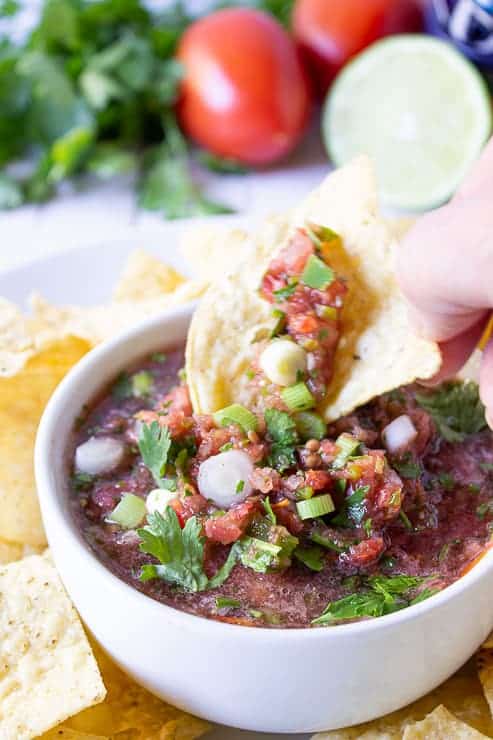 Why charred tomatoes in salsa?
Charring the tomatoes adds a delicious, slightly smoky flavor to the salsa. I also char the onions and jalapenos!
How do you char tomatoes?
To char your tomatoes, onions, and peppers, use a cast iron pan. Anything cast iron will work, and in a pinch, you can use a non-stick pan too. For the jalapeno, you can seed first then char, or char first then seed. Really it's up to you, but unless you like really spicy you will want to remove the seeds.
Place all ingredients on a hot ungreased pan. Allow veggies to become just slightly black, but not burned. Turn veggies until charred on all sides.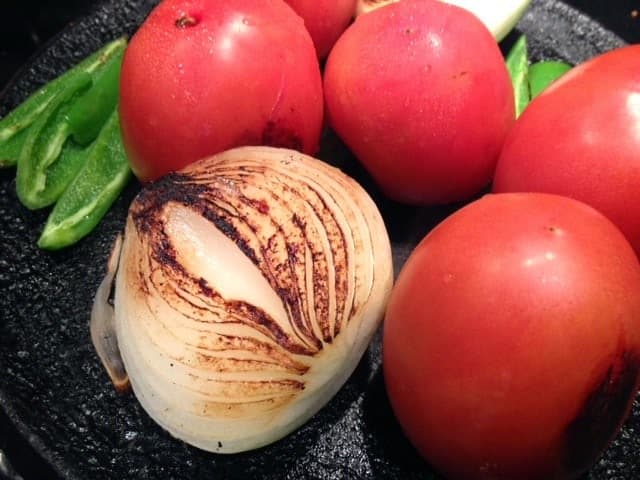 What type of tomatoes should I use?
Roma tomatoes are nice and meaty and are perfect for this salsa and are my first choice. When using other tomatoes besides Romas, I often slice them after charring and remove most of the seeds and liquid pulp. This helps prevent a runny salsa.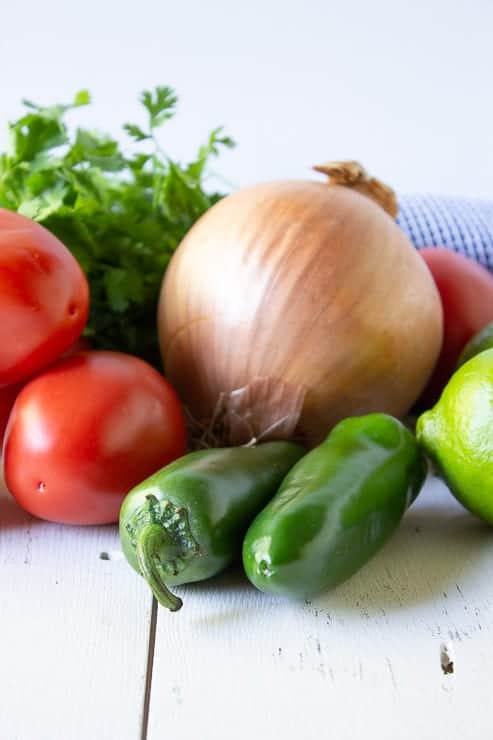 How do I make homemade salsa?
Char the tomatoes, onion and jalapeno on an ungreased cast iron pan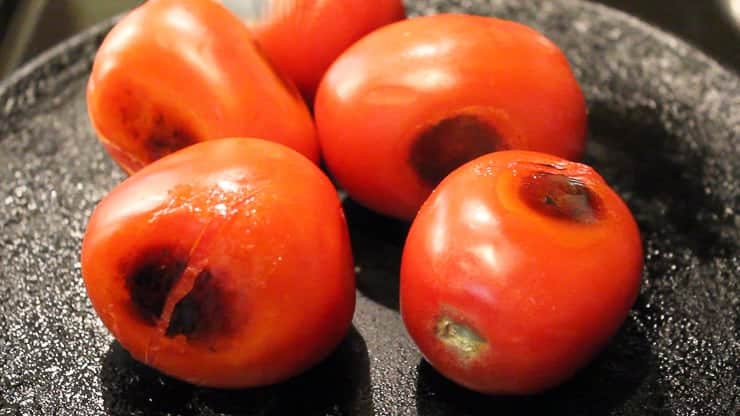 Slice tomatoes and onion into chunks
Add to food processor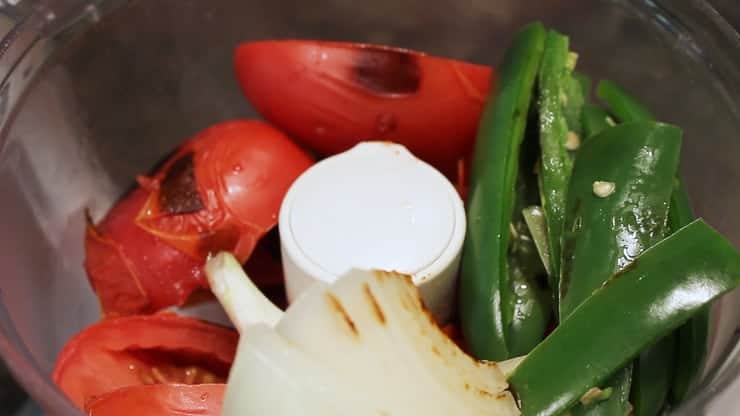 Pulse until coarse
Add salt and cilantro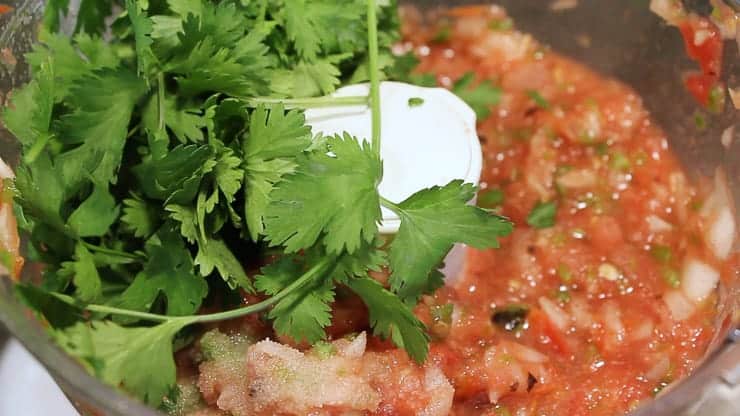 Pulse until combined
Put salsa into a bowl
Add chopped green onions and fresh squeezed lime juice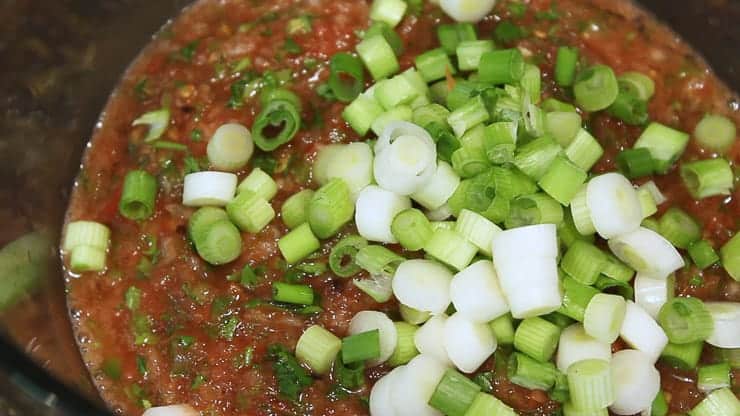 Garnish with additional cilantro and serve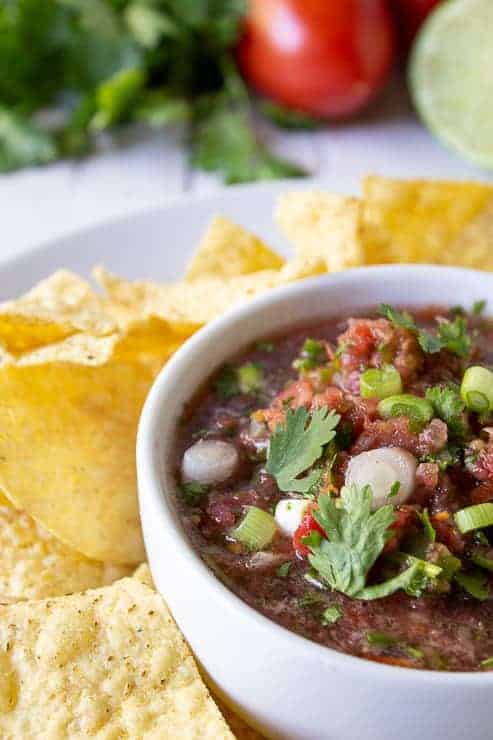 How spicy is this salsa?
The spiciness in any salsa is all up to you. I use jalapenos in this salsa. You could also use anaheim peppers which are a bit milder. When using any chili pepper, I remove the seeds and the inner membrane of the peppers. These two areas contain most of the heat.
To adjust the spiciness of the salsa you can also add just a small amount of the jalapeno, instead of a whole pepper. Keep in mind the heat will intensify the longer the salsa sits.
Do I need to add fresh lime juice?
Yes! Fresh lime juice is key to making this salsa extra delicious! Don't be tempted to use bottled lime juice. It's just not the same.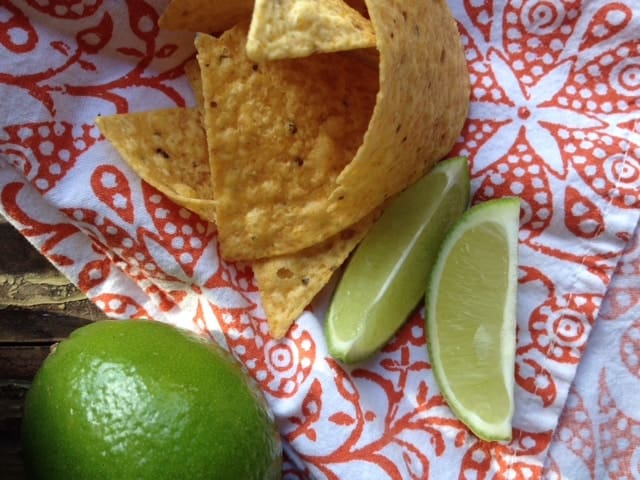 Can you make salsa without tomatoes?
Yes, you can make salsa without tomatoes. Check out my Peach Salsa and Pineapple Salsa and this salsa verde. These salsa are perfect for serving with chips or topped on grilled meats.
What if I don't like cilantro?
I love cilantro, but many people do not. They claim it has a soapy taste. If you don't like cilantro, don't use it in this salsa. Instead add extra green onions after you've pureed the salsa. Use the green parts of the green onions in addition to the white parts. The taste won't be the same, but if you don't like cilantro, you will like this better!
How long does homemade salsa last?
I like to eat homemade salsa within 3-5 days of making the salsa. Any longer and the salsa becomes too watery and soft.
What dishes go well with salsa?
Don't forget to PIN for later!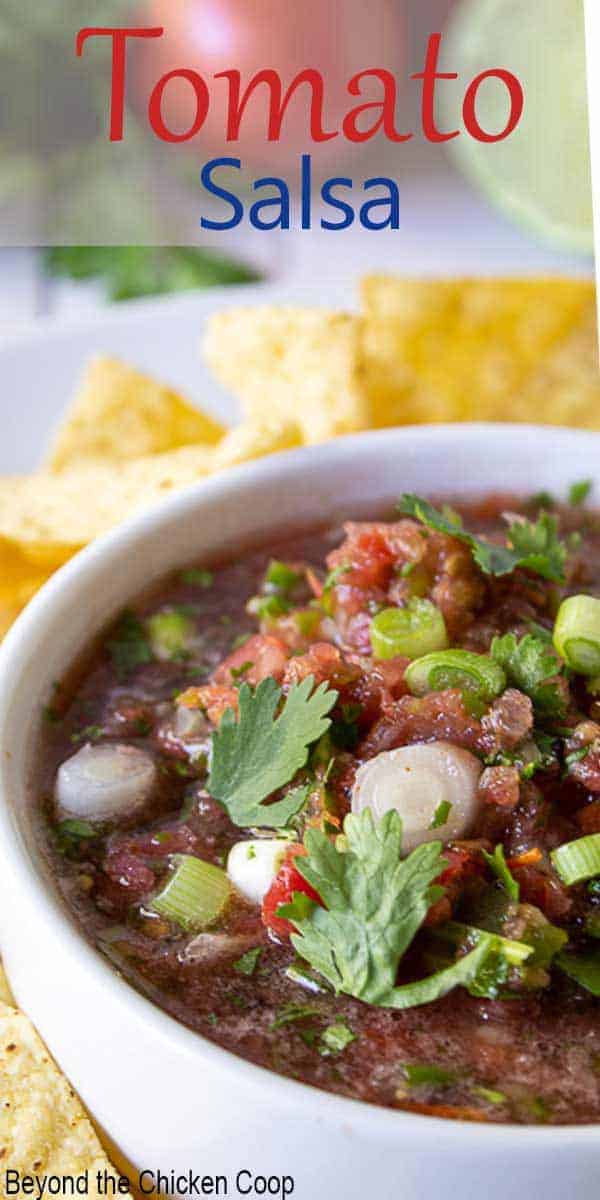 If you make this recipe, I'd love to hear about it! Leave a comment below or snap a picture and tag me on Instagram @beyondthechickencoop
Check out all my amazing recipes!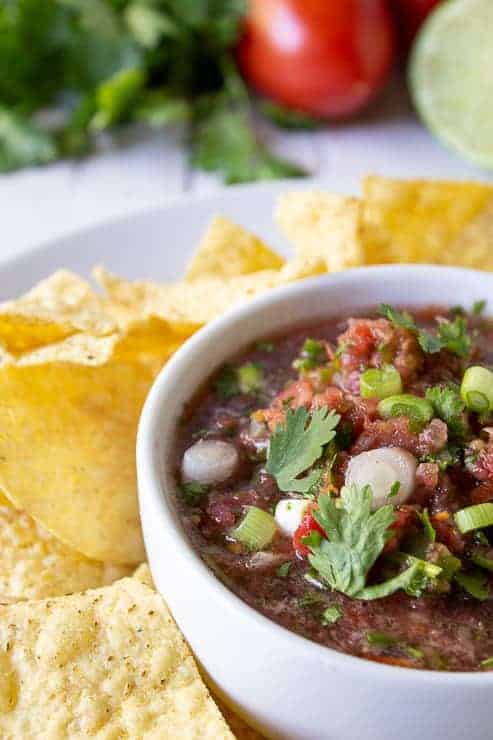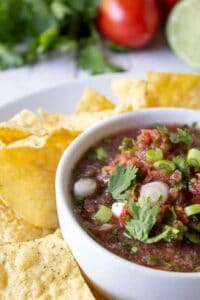 Homemade Salsa with charred tomatoes
Tomato salsa with an added flavor and smokiness of charred tomatoes.
Ingredients
5

whole

Roma Tomatoes

1 - 2

whole

Jalapeño Peppers - depending on size and your taste.

½

Onion - Yellow or White

¼

cup

Cilantro

(Chopped)

½

Lime

(Juiced)

½

teaspoon

Salt

5

Green Scallions

(Chopped)
Instructions
Place tomatoes, jalapeños, and ½ onion on hot cast iron pan. Turn ingredients so you achieve a nice char on all sides.

When jalapeño is nicely blackened, place on a cutting board and cut off top and remove seeds.

Place charred items in the food processor. Puree everything until no large pieces remain.

Add cilantro. Pulse just until mixed.

Transfer to mixing bowl.

Stir in salt, juice of lime, and chopped green scallions.

Taste and add additional salt if needed.
Nutrition
Serving:
0.25
cup
Calories:
4
kcal
Carbohydrates:
1
g
Protein:
1
g
Fat:
1
g
Saturated Fat:
1
g
Sodium:
98
mg
Potassium:
20
mg
Fiber:
1
g
Sugar:
1
g
Vitamin A:
70
IU
Vitamin C:
2.5
mg
Calcium:
6
mg
Iron:
0.1
mg