In episode 21, Kathy shares a recipe for Black Bean Chili with Pumpkin. This recipe can be made with ingredients purchased from the store, or by using your home canned and preserved foods.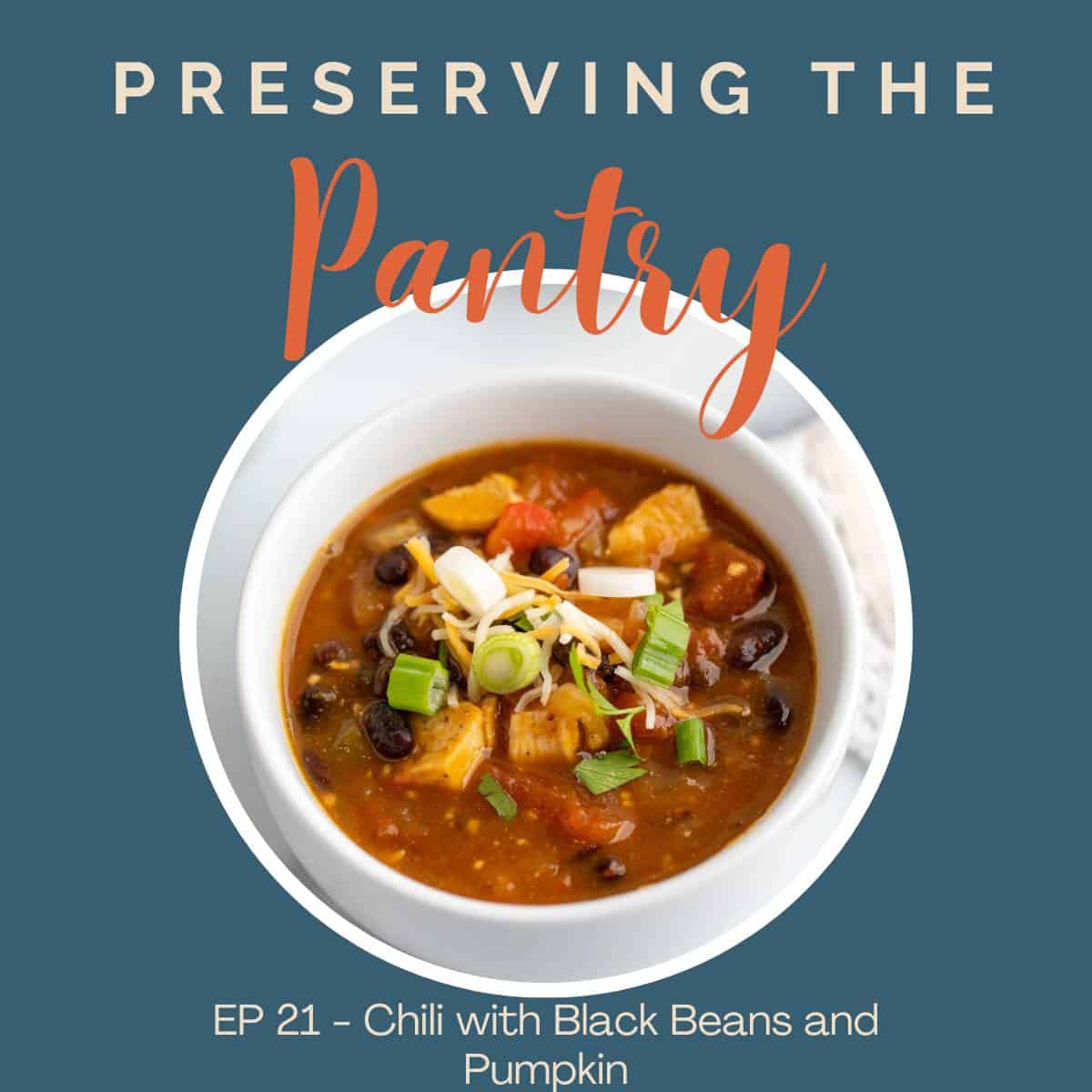 Play the episode
Recipes
Find the complete recipe for Black Bean and Pumpkin Chili
Recipes mentioned in this podcast:
In this episode you'll learn:
How to make a delicious pot of chili using black beans and pumpkin puree
Ways to use your home canned goods in a recipe
Toppings for chili
Where to listen to the podcast
Listen to this episode on iTunes, Spotify, Amazon Podcast, or your favorite podcast player. Or scroll down to read a full transcript.
If you love this podcast, I'd love to hear about it! Leave a comment below and hop over and leave a comment on Instagram @preservingthepantry!
Transcript
Hello everyone and welcome back to the Pantry. Last week I shared with you my method for making pumpkin puree, and I shared several recipes of how I use that puree.
But today I want to share another recipe. This is a new recipe to the blog, and it's for making black bean chili with pumpkin. It's really delicious.
Now, the pumpkin in there might sound a little strange to you. You don't even know it's in there. You use the pumpkin puree. It's added to the broth, and it really adds a depth of flavor and a creaminess to the broth. So you have this thick chili filled with black beans and all sorts of other ingredients, and it's just a delicious chili.
I'm going to share with you how to make this black bean and pumpkin chili, and you can also hop on over to the blog. I'll include a link to the recipe in the notes and hop over there, see how all of the ingredients that you need to have. Here's one thing that I think is really fun about this recipe. Now, it can be totally made with store bought canned ingredients of black beans, of chicken stock, pumpkin puree, tomatoes, All of those items you can buy at the store and make this chili.
But if you have a very full stocked pantry and freezer, there's a good chance you're going to have all of this or most of this, with all ingredients that you have preserved on your own. So I used my own home canned chicken stock, my own home canned black beans, my home pureed pumpkin, but I don't can that, but I do keep it in the freezer.
I also use my home diced tomatoes that are canned and out of my freezer I used my roasted chili peppers that I have roasted and froze, and I took those out and just took the peel off and then chopped those up.
And I guess the only thing that I really didn't use is I didn't have any chicken. I had cooked up a couple of extra chicken breasts, saved those, diced 'em up, and then added that to the chili.
You can use as much from your pantry and your freezer as you like, as what you have on hand, or it's just as delicious was store bought. But one of the things that I really love about preserving my own food is when I use it in a full recipe.
Here's the process for making this recipe. You're going to start with a diced onion and a diced either red, yellow or orange bell pepper.
You're going to saute those in a large stock pot with just a little bit of oil until they're nice and soft. Then add your minced garlic. And I let that go for just a couple quick seconds. I add my chili powder, my cumin, oregano and smoked paprika, and I just stir those in so that they're coating the veggies and they get just a teeny bit warm.
You don't want them to go too far or they become bitter. And then you stir in the chicken stock, you will also add your black beans.
You want these to be rinsed and drained, so you don't need that sauce from the black beans. Just the black beans. You'll stir in diced tomatoes along with the juice. I don't add all the juice from my home canned tomatoes because it tends to be quite a bit.
So I add the full amount of the tomatoes that I need, and then about a cup of the broth from the tomatoes. Just depends what I want to do. You stir in pumpkin puree, and you'll also add your diced roasted chilies. You let that whole mixture just simmer for about 45 minutes, and that allows all of those flavors to blend.
And then you're going to stir in your cooked chicken. And I also like to add just a little bit of brown sugar. I mean a teaspoon. No more than two teaspoons full. It just kind of mellows those flavors a little bit and brings it together, but it doesn't make it taste sweet at all.
Once everything is heated, your chili is ready to serve.
I like to top my chili with green onions, fresh cilantro, a little bit of sour cream and shredded cheese. We will usually set out little bowls so everybody can just add their own toppings to their bowl of.
So I want you to give this a try, and I want you to let me know what you think. Also let me know how many of the ingredients you had that you have preserved in your pantry.
If you enjoyed this episode, I'd really appreciate it if you'd leave me a rating and review on your favorite podcast player. That helps other people just like you find this podcast. And if you haven't done so already, be sure to subscribe so you won't miss a single episode. I'll see you next week in the pantry.
Thanks for listening, and be sure to tune in again next week for more episodes of Preserving the Pantry.