In this episode, you'll learn how to make seedless blackberry jam without adding commercial pectin.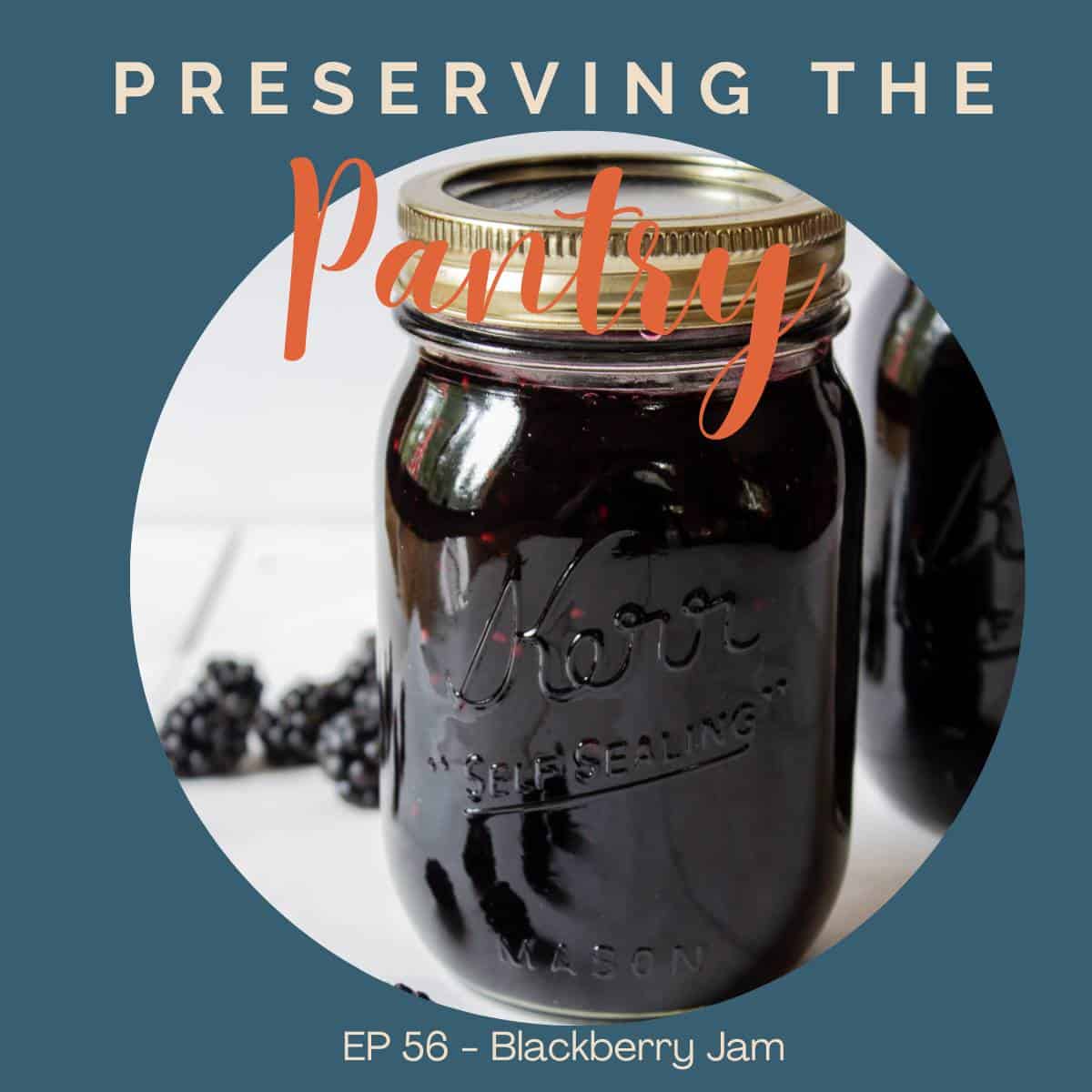 Play the episode
Recipe
Find the complete recipe for Blackberry Jam
Recipes mentioned in this podcast:
In this episode you'll learn:
What type of blackberries are needed
How to mash and remove the seeds from blackberries
How to make the jam
Three ways to test the jam to ensure it's at the gelling stage
How to water bath can the jam
Where to listen to the podcast
Listen to this episode on iTunes, Spotify, Amazon Podcast, or your favorite podcast player. Or scroll down to read a full transcript.
If you love this podcast, I'd love to hear about it! Leave a comment below and hop over and leave a comment on Instagram @preservingthepantry!
Transcript
Hello and welcome back to the pantry. Today we are going to be talking about how I make blackberry jam. It is a recipe for seedless blackberry jam. I find the seeds in blackberries are kind of big, and I just like removing them from the jam so that they're not in there. I also make this jam without any added commercial Pectin makes the jam a little bit challenging.
When you use commercial pectin, the variables are minimized and your chance of success are greatly improved. However, you can make great blackberry jam without commercial pectin. There are a lot of variables that you really have to pay attention to, but I love the challenge of making jam without commercial pectin.
I think that it takes me back to the Little House on the Prairie days, and I always think about Ma Ingalls, how she would have to make her jam, and I'm sure she didn't have commercial pectin available then. So it's just something that I like to do. It can be done.
I've had several readers that say, it turned out it doesn't work. This jam is possible if you really pay attention to all of the tips that I offer and really watch your jam. Chances are you're going to have a successful jam.
Now that being said, there are times that my jam just does not work out, and it turns out runny. I just turned that into syrup or like for putting on ice cream or even on pancakes, and I chalk it up to learning and I always think, what did I do differently this time? What happened that may have caused it.
If you are going to make this blackberry jam, I want you to go directly to the recipe that I'll include a link to, but beyond the recipe in the post itself, there is every bit of information that you're going to need about this jam.
I include all the different ways to test your jam. I have three different ways to test it to see if it's ready. I have everything that you need to know about the types of berries that you need in the jam, as well as if you're going to can the jam exactly what you need to know for safe canning practices. This jam can be canned to make it shelf stable. It can be stored in your refrigerator if you're going to use it up within a couple of months, or you can make it freezer jam and store it in your freezer.
So let's start with the berries. In late August, usually mid to late August, we have these wild blackberries that just start producing like crazy and they make a really delicious, juicy blackberry. However, picking them is a little bit of a horror story. These blackberry bushes vines grow on the hillsides and they're, they just kind of.
Fold over on the hillside and the berries seem to be tucked right back in the leaves. The thing that's the horror story is the thorns that are on these blackberry plants. It's almost like this challenge to get the blackberries without getting stuck in the blackberry bushes. I always wear long pants, long sleeves.
Sometimes I'll put one hand in a leather glove so that I can pull back the plant and then reach my fingers with the other hand and get off the berries. We do it every summer. It's always a challenge, but, it is quite rewarding as well. Now there are thornless, Blackberry vines, Blackberry vines that are out there that you can grow at home.
Of course, you can always buy your blackberries from the store. You'll need about 12 to 14 cups of blackberries to start with. What's going to happen is we're going to mash these berries and then strain off the seeds, and so at the end we want eight cups of the strained fruit. Before we get to that though, let's talk about a couple pieces of equipment that we're going to be needing.
I use what's called a chinois strainer. And a chinois strainer is, a sieve. It's usually made out of stainless steel and it's kind of an inverted pyramid with holes on the side, and it has a wooden pestle. And what you do is you put your blackberries or anything into that pest, the uh, sieve, the chinois, and then you take that wooden pestle and you push down and you rotate it around in a circular motion and it's pushing all of the fruit against the sides, and then it's pushed through those holes and it goes into a bowl that you put underneath that chinois.
It's great for getting the seeds out. It does take a little bit of work. I'm sure that there are other methods and things that are out there, but it's something that I really enjoy using. For the jam. Also, you want a fairly large pot, at least twice the size of the amount of jam that you're gonna be putting in there.
When the jam starts to boil or when the fruit starts to boil, it really rises up and just expands. And the last thing you want to have happen is that that just boils over. You'll lose all your goodness, but you'll also have a sticky. Yucky mess to clean up. So I always use a great big pot that I can get my wooden spoon in there easily to, to stir around, make certain that you have enough room.
One other tip you need to know about the blackberries is with the blackberries because we are not adding any commercial pectin. Blackberries do have a level of pectin of their own, but they're actually considered more on the medium level of pectin for fruits, which does make it a little bit more challenging for turning this into a jam.
But if you add a few unripe, blackberries. Into your mixture of really nice ripe berries. The redder blackberries have more pectin in them than just the really ripe blackberries. So I always make certain I have some red berries. It just needs to be a mixture of some red. To mostly black. I had one reader who said, you need at least half red and half black to make this work, and that is not true.
You just need a few red to put 'em in there. The other thing that I add to make certain that this sets really well is I add some lemon juice. And the lemon juice naturally has a lot of pectin in it, and that's also going to help. Okay, so we're gonna mash and strain the seeds from the blackberries using that chinois strainer.
And then you're going to measure out eight cups of strained fruit of the juice and the pulp that came through for the jam. You're gonna put the. Eight cups of the strained fruit, four cups of sugar and two tablespoons of lemon juice in a heavy stock pot over medium heat. Now, one note about the sugar, you can actually add less sugar if you prefer, or more sugar for you, like your jam a little bit sweeter.
When you're not using a commercial pectin, you have the flexibility to add as much or as little sugar as you'd like to. So again, we'll need eight cups of the strained blackberries, four cups of sugar, and two tablespoons of lemon juice. We put that in our pot and we start to bring it to a boil. We're gonna stir it every few minutes just to prevent it from scorching and keep everything moving and around.
I mentioned at the beginning, the hardest part is to know exactly when your jam. Is in the jam or the gelling stage. I do have three different ways that I use to determine if my jam is done, and I always use at least two different methods because I'm stirring the jam. I am looking at it as I'm stirring it.
The first method that I use is called the spoon. Test and what I do is I take my spoon and you just put the jam right from the pod into it, and you just let it drip right off at the beginning. It drips off just like water, just kind of whoosh done. As it starts to thicken, it comes off and drops. When it's at the gelling stage, it starts to slough off in a sheet and you'll see the difference.
Also when the jam is boiling, you'll start to hear the difference of the sound of the bubbles as they're popping. The more you make jam, just really pay attention to what's happening there. It's a good indicator that things are starting to change. The second method that I use is called the plate. Test.
That's probably my favorite way to test jam. I take a couple of small plates and I put them in the refrigerator. When I think my jam is about ready, I take one out. I put just a little tablespoon or a little bit less on that plate. I let it set for about a minute, 30 seconds to a minute, and then I run the back of my wooden spoon through the center of that, and I kind of tilt the plate.
If you see a lot of juice just spreading. It's not set. If it holds its shape and that line holds its shape, maybe just a little bit of spreading of the of the juice, your jam is done. The most reliable test is the temperature test. However, the exact temperature that you will be boiling your jam to actually varies depending on your altitude.
So at sea level jam sets at 220 degrees Fahrenheit. And then for every thousand feet above that, you deduct two degrees off. So I'm at about 2000 degrees, so I check my jam at about 216 to 218 degrees Fahrenheit. Again, you can use just one of these methods, or you can use a variety of these methods to determine your jam.
Once your jam is done, you're going to make sure you turn it off. If y you have a layer of foam on your jam, you can skim that off and discard it. I sometimes just stir it back in and it just settles right down. Some people don't care for that foam on there at all. It doesn't bother me, so I just use it.
If you're going to can your jam, you're going to put your hot jam into canning jars and you could use, there's a big variety of jelly jars that are out for canning. Some are super cute little jars that are four-ounce size, eight-ounce size. You'll put your hot jam into those canning jars. Leave a quarter inch of a headspace, and then wipe down the rims.
Add your lid and your rings. You're gonna process these in a water bath canner for 10 minutes. Don't forget, you do have to add additional time for your elevation. Again, I have all of this information in the post. You'll want to make certain, if you're going to make this jam that you read through the entire post and the entire recipe before you begin.
Have everything out that you're going to need, and then go for it. I wanna see how this jam turns out because I know that I'm not the only person that can be successful in making this. Blackberry Jam without commercial pectin. I wanna hear from you if you make this, and I wanna hear your success stories, but also if you have questions or difficulties along the way, let me know and I'll help you problem solve them.
I can't wait to hear how you did with your jam. I'll see you next week in the pantry. Bye.
Thanks for listening. And be sure to tune in again next week for more episodes of Preserving the Pantry.