This episode discusses how to make raspberry fruit leather.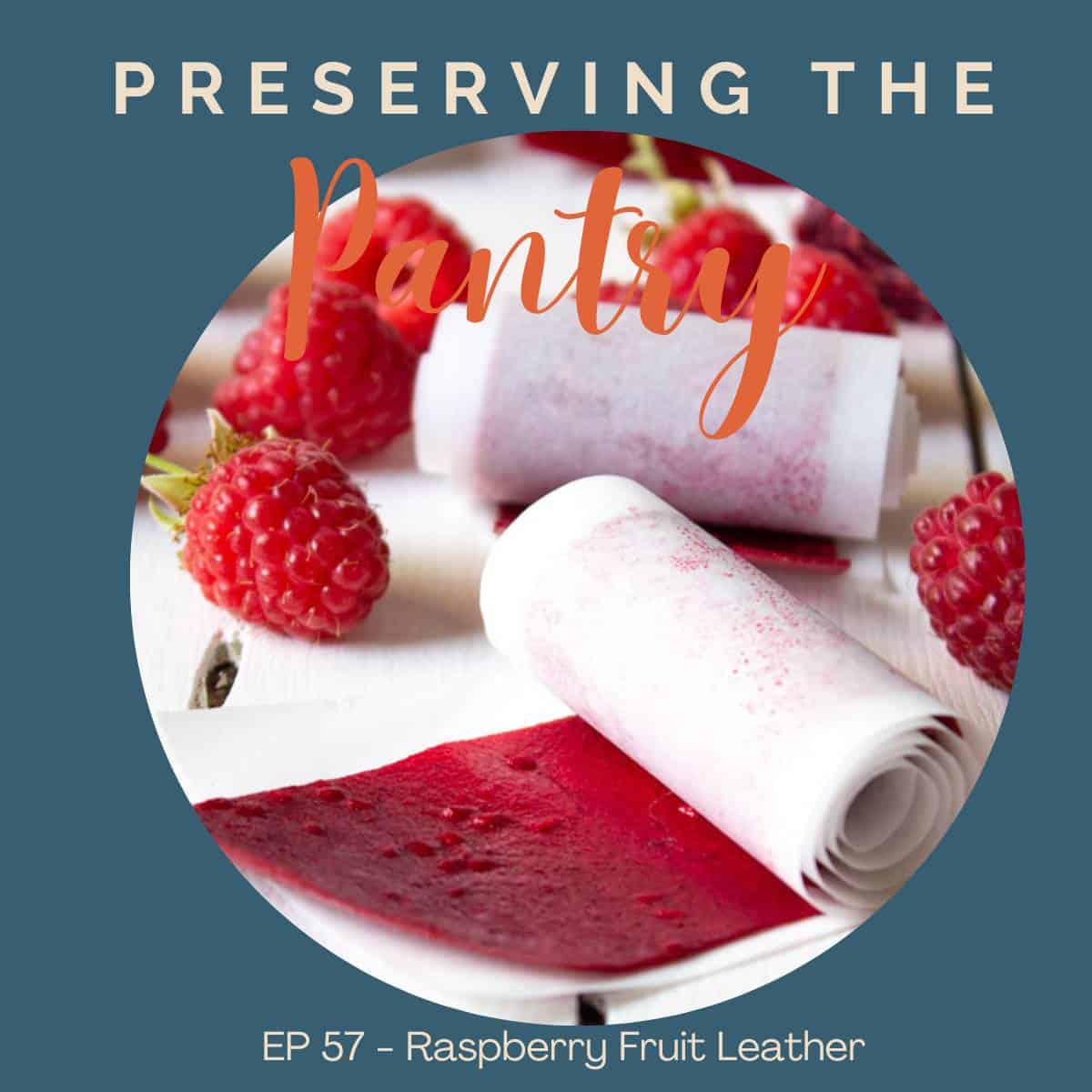 Play the episode
Recipes
Find the complete recipe for Raspberry Fruit Leather.
Equipment needed:
In this episode you'll learn:
How to make fruit leather
Where to listen to the podcast
Listen to this episode on iTunes, Spotify, Amazon Podcast, or your favorite podcast player. Or scroll down to read a full transcript.
If you love this podcast, I'd love to hear about it! Leave a comment below and hop over and leave a comment on Instagram @preservingthepantry!
Transcript
Hello and welcome back to Preserving the Pantry. Today I am going to be talking about raspberries. We grow quite a lot of raspberries, and depending on the year, we can pick gallons of raspberries during the summertime when they're producing. Every year's a little bit different, but we always get quite a few raspberries, and I do a lot with raspberries.
One of my favorite things to do when the kids were younger, But I still make them from time to time is making raspberry fruit roll-ups or raspberry leather. It's just fresh raspberries or frozen raspberries and a little bit of sweetener. I use honey, but you can use sugar or another sweetener if you prefer.
These raspberry fruit roll-ups are really simple to make. They do need a couple of pieces of equipment. You'll be using a blender or a food processor. You need a dehydrator, and then on the dehydrator, you'll use the regular trays that are lined with a plastic sleeve or a plastic liner that goes on top of the regular dehydrator trays that will hold your fruit leather on.
I have a couple of different links to a product that I use that you can go and check 'em out.
So to start with, we use two quarts of fresh raspberries. Now this recipe is flexible. You can use a little bit more or a little bit less, but this is a good starting place for what you're going to use. And with those two quarts of raspberries, I use two tablespoons of honey.
As much as I love fresh raspberries and I find them sweet when they are dried down, they're very tart tasting. So just that little bit of honey kind of balances out that tartness and adds just a touch of sweetness that makes 'em just perfect. So to start with, pick over your raspberries. Make sure that there aren't any leaves or that little center core left on the raspberries, and place them in a blender or food processor and then add your honey or your sugar to that and just process until it's really nice and smooth.
Now, you're still going to have seeds in there, and we're gonna try to remove as many of those seeds as possible. I don't mind the seeds on raspberries, but when the fruit is dried and the. Seeds are left in there. It feels like all you have is just a layer of seeds. So we're gonna pour this mixture into a fine-meshed sieve.
And then I place that over a bowl and most of the puree is going to come through. I do use the bottom of a soup ladle that I place in the bottom of the, that I place directly into the sieve. And I just do go around and around and circular motion, and it helps push out all of that puree Now. Some seeds are gonna slip through, and if you look at the pictures of my fruit leather, you will see some seeds in there.
That's okay. You're still going to be removing the majority of the seeds. Then all you do is pour this directly onto that plastic liner. I fill up the liner as full as it will go, so it's not gonna overflow, but you want a good amount on there if you put it too thin. And this was a mistake I made the first few times I make made these.
If you put it too thin, then when it dries, you almost have a translucent piece that's so thin that it just tears right apart. Remember, as this is drying that it's going to be compressing down and it's going to be getting thinner. I put those on there, Philip, as many as I can. Usually, it takes two or three of the liners, and then I turn my dehydrator on to 145 degrees Fahrenheit, and I just let that go until they're fully dry.
It takes anywhere between five to seven hours. This is going to vary depending on where you are, how thick you put that layer on your dehydrator trays, and how many trays you're actually drying. It's best to just get in there and check. You're looking for a nicely dried piece, but it's still pliable. You don't want any wet places on there because they will not dry out at all.
And then you let that cool. And once it's cool, fully cool, you carefully peel off your fruit leather off the liner and it just kind of comes off in one big sheet. Now what I do is I slice that right in half down the middle and I place each half on a piece of parchment paper and I roll 'em up and then I take a knife and I just slice right through the parchment paper roll.
And I get these nice, cute little, fruit leather or fruit rollup, just like you would buy in the store with those ones that are overly sweetened and really don't have any fruit in them, but it's a great little snack. These disappear quickly. I do have to tell you that. So keep making them and it's a snack that you'll feel good about your kids or you or your friends or whoever.
You'll feel good about them eating it. I hope you enjoy this recipe. I'll see you next week in the pantry. Bye.
Thanks for listening, and be sure to tune in again next week for more episodes of Preserving the Pantry.