In this episode, Kathy talks about fresh raspberries and shares a recipe for making a no-bake raspberry delight!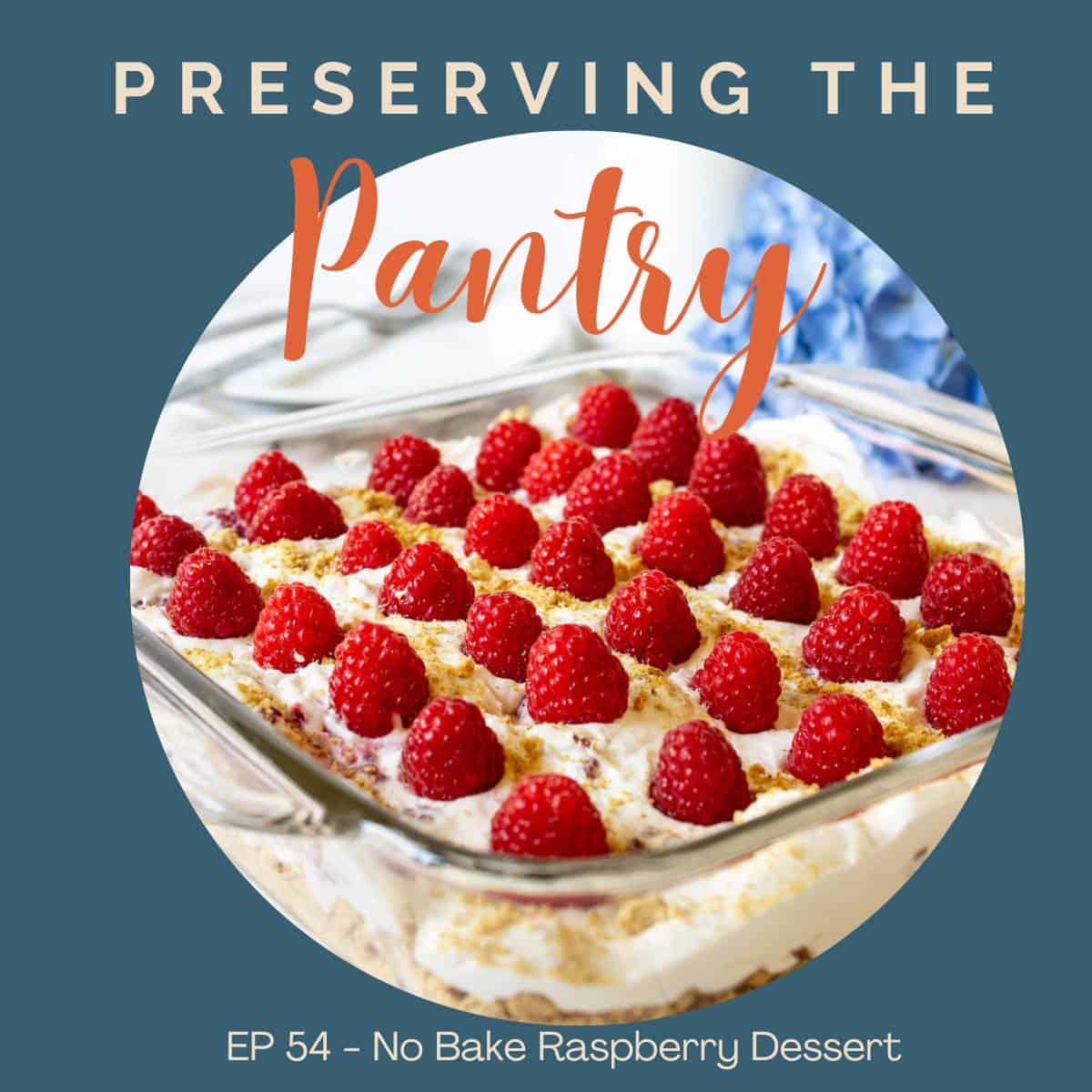 Play the episode
Recipes
Find the complete recipe for No-Bake Raspberry Dessert!
Recipes mentioned in this podcast:
In this episode you'll learn:
A simple way to serve fresh raspberries in a no-bake dessert
How to make raspberry delight
Where to listen to the podcast
Listen to this episode on iTunes, Spotify, Amazon Podcast, or your favorite podcast player. Or scroll down to read a full transcript.
If you love this podcast, I'd love to hear about it! Leave a comment below and hop over and leave a comment on Instagram @preservingthepantry!
Transcript
Hello everyone and welcome back. Today was an exciting morning for me. I walked out into the garden and I had red ready to pick raspberries on the vine for the first time this year.
I picked them and ate them right there. Whenever I have fruit that's ready, I just love to eat as much as I can right away. I do share with everybody else.
I try to eat it and use it while it's still fresh before I even start preserving or freezing anything. You know how much I love to freeze raspberries and make raspberry jam, but I'm not ready for that yet. These raspberries just came on and let me tell you. I'm going to be eating as many fresh raspberries as I can.
I also love using fresh raspberries in different recipes, and I've got the perfect recipe to share with you today for fresh raspberries. It's called Raspberry Delight, and it, it's a very simple, no-bake dessert that is filled with raspberries, fresh. Raspberries and it is perfect for summertime because you don't wanna be turning your oven on right now when it's hot, and it just captures the beauty of these fresh raspberries.
So here's what you're going to need. You're going to need some sort of a baking dish. Now. You're not baking, but you need something to hold this raspberry dessert. I use an eight by eight-inch casserole dish. Anything that you have that's about that same size, that's a couple of inches deep is okay to use.
For the ingredients you're going to need, six graham crackers, one cup of heavy whipping cream, a half teaspoon of vanilla, two tablespoons of granulated sugar, and five cups of fresh raspberries. That's it. Sounds decadent, doesn't it? It's so good.
You're going to start by placing the graham crackers in a zip-top bag and just crushing them up.
You want them so that they're nicely coarse and just crumbs. You could also do this in your food processor if that was easier. You are going to place the graham crackers on the bottom of an ungreased pan or your baking dish, but you save back about two tablespoons of those that are gonna be crumbled over the top at the end.
So you just layer those graham crackers on the bottom, not greased, pan, nothing else in those graham crackers. Then in a mixing bowl, you're gonna place your heavy whipping cream and you're gonna whip it until it soft peaks. Then I mix in the sugar and the vanilla. Now I only put two tablespoons of sugar in my whipping cream.
I like it kind of on the tart side, I guess you'd say. It's not super sweet, so taste it. If you need yours a little sweeter, just add a little bit more sugar. Then you're going to gently fold in your four cups of fresh raspberries. You're gonna save one cup of those raspberries for the top, fold it in just nice and gently, and then you place that whole mixture on top of the graham crackers, and then you.
Place your additional berries on top, and then sprinkle with the remaining gram crackers. So you just have this layer of graham crackers, the whipped cream with the raspberries folded into it. Then arrange the raspberries on top and a little bit more of the gram cracker on top. Cover it and refrigerate it for at least two hours.
It just lets everything set up and gets everything really nice and chilled. When you're ready to serve, you take it out. You just scoop it out and put it onto plates. It is so good and so refreshing, and so simple and easy to make. It's a really great recipe for this time of year, and I hope that you give it a try.
I'll see you next week in the pantry. Bye. Thanks for listening. And be sure to tune in again next week for more episodes of Preserving the Pantry.