Delicate baby potatoes cooked and then finished on the grill are a perfect side dish to your summer barbecues.
These grilled baby potatoes are flavored with olive oil, garlic and fresh rosemary.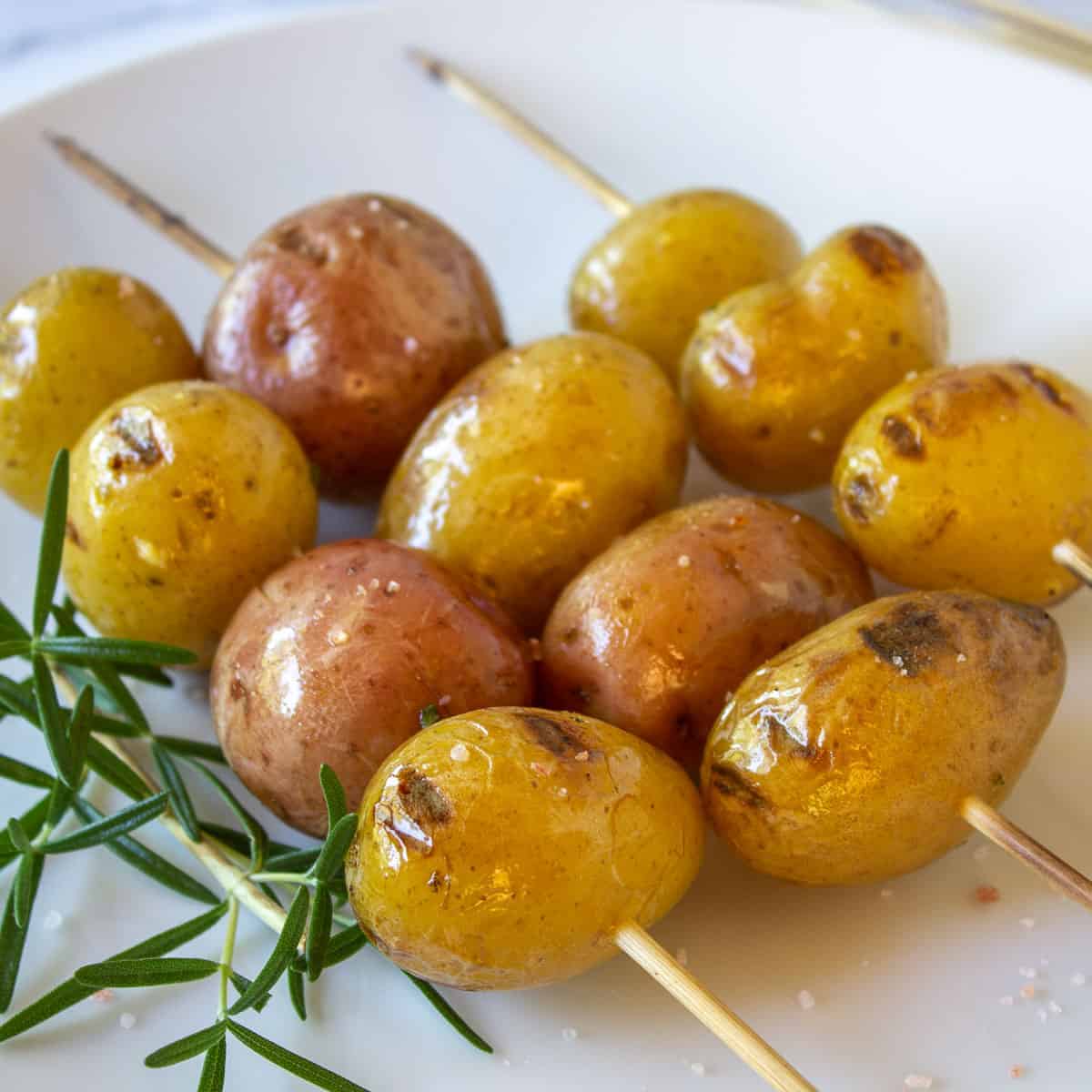 Baby Potatoes
Baby potatoes are simply small sized potatoes. They often vary in size from a grape to an egg. Any type of potato can be a baby potato, but most often you will find red and yellow varieties.
If you grow your own potatoes, these will often be the size of the first potatoes you dig up. My grandmother always called these new potatoes.
I like to use baby potatoes because of their size. They cook quickly and they make a great presentation.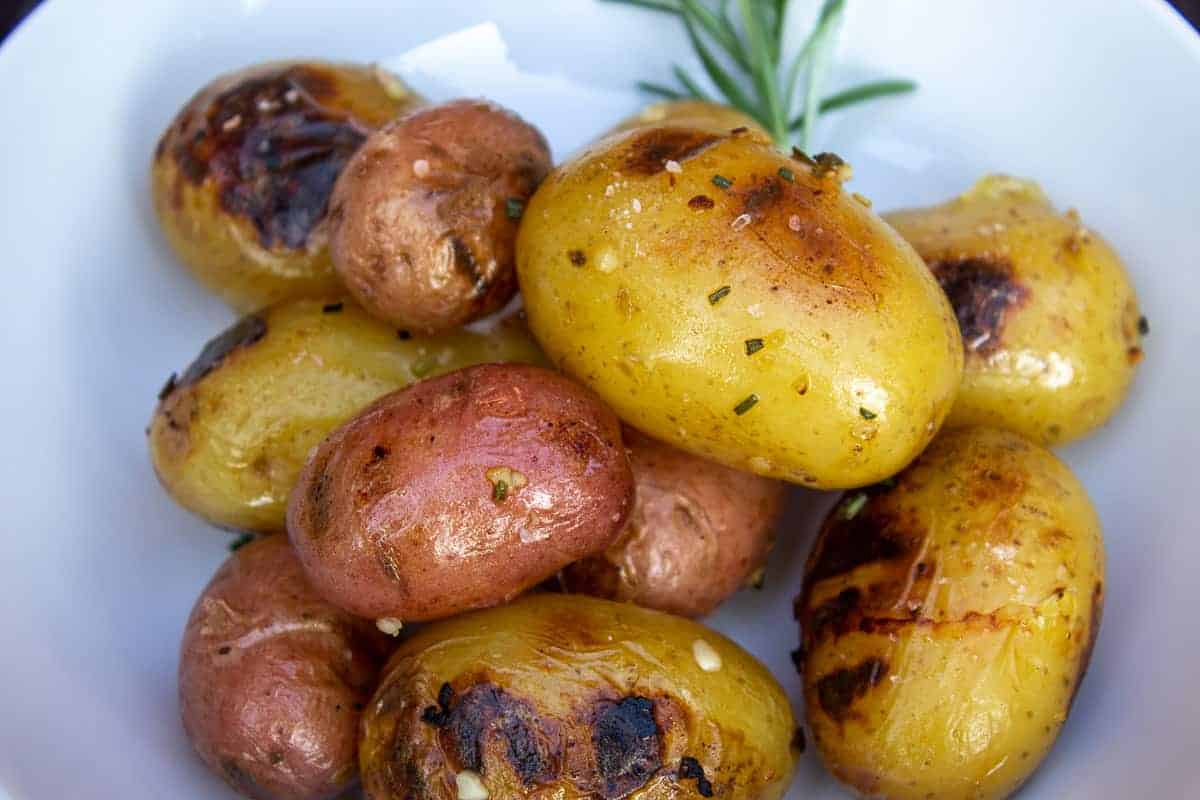 Grilling Potatoes
The key to grilling potatoes is cooking the potatoes first. These potatoes were boiled, cooled and then added to the grill. The precooking ensures the potatoes will be cooked all the way through and will have a creamy interior.
Seasoning
Baby potatoes have a lot of flavor all on their own. but adding seasoning can often enhance the flavor.
For these potatoes I've kept it pretty simple with olive oil, garlic and fresh rosemary. You could replace the rosemary with fresh thyme or parsley.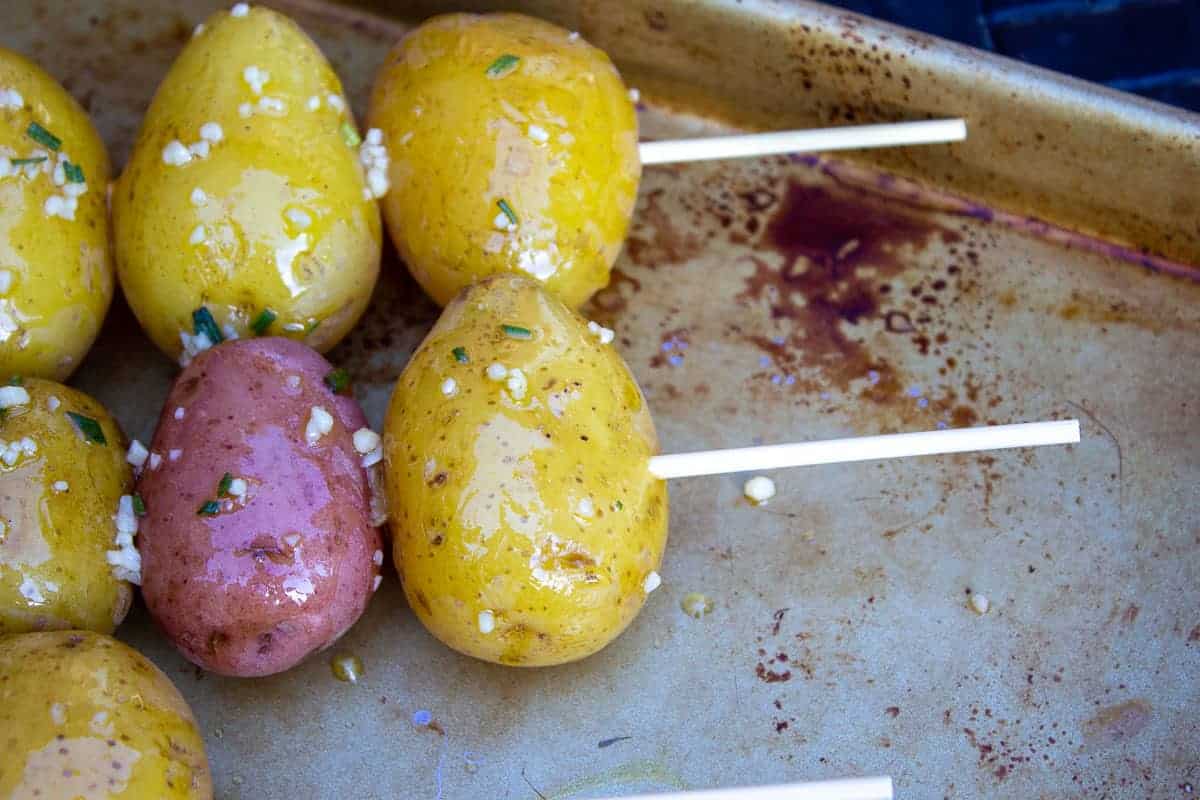 How to grill baby potatoes
Add potatoes to a pot filled with cool water. Bring to a boil and cook until potatoes are soft. You can check potatoes by gently inserting a wooden skewer through the center. If the skewer slides through easily, the potatoes are done.
Drain potatoes and cool enough to handle.
Thread cooked potatoes on a wooden skewer. Leave 2-3 inches at the base of the skewer so you can handle the skewer.
Brush potatoes with olive oil mixed with garlic and rosemary.
Place skewers on a hot grill.
Cook 2-3 minutes per side, rotating skewers with tongs.
Continue rotating potatoes until potatoes are nicely browned and are warmed all the way through.
Remove from grill and serve with a sprinkle of coarse sea salt.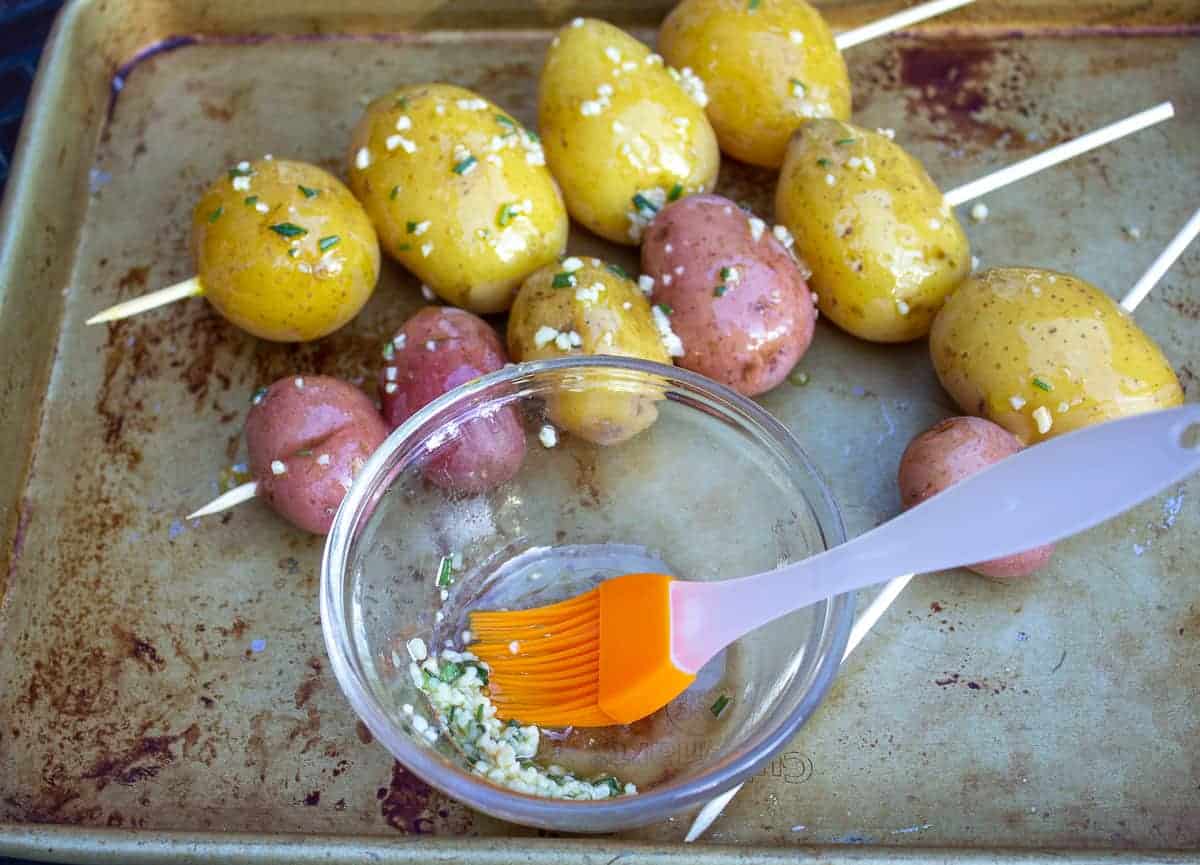 Tips
Actual cook time will vary depending on the size of your potatoes and your cooking equipment
Always test one potato to make certain it is cooked through
Potatoes can be cooked ahead of time, cooled and refrigerated before grilling. This will increase time on the grill.
For even cooking, try to select similar sized potatoes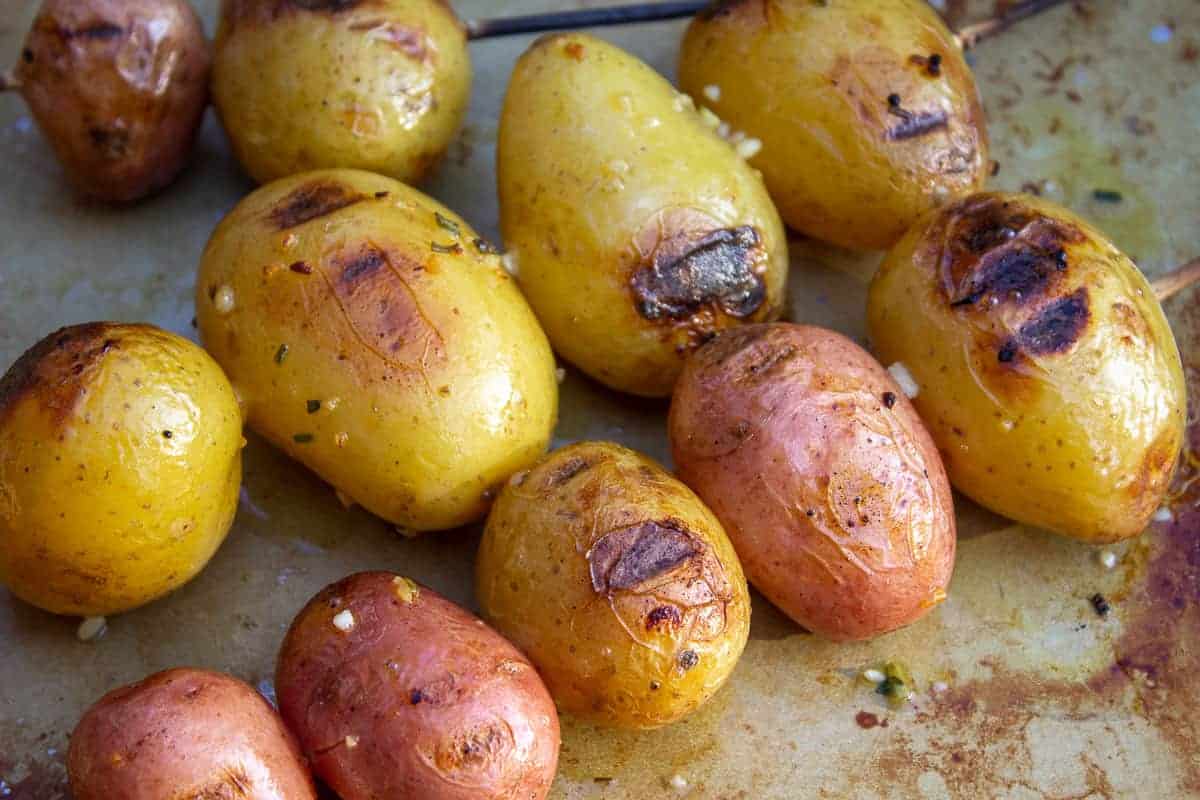 Serving suggestions
These potatoes would pair well with almost any grilled food. Some of my favorites include: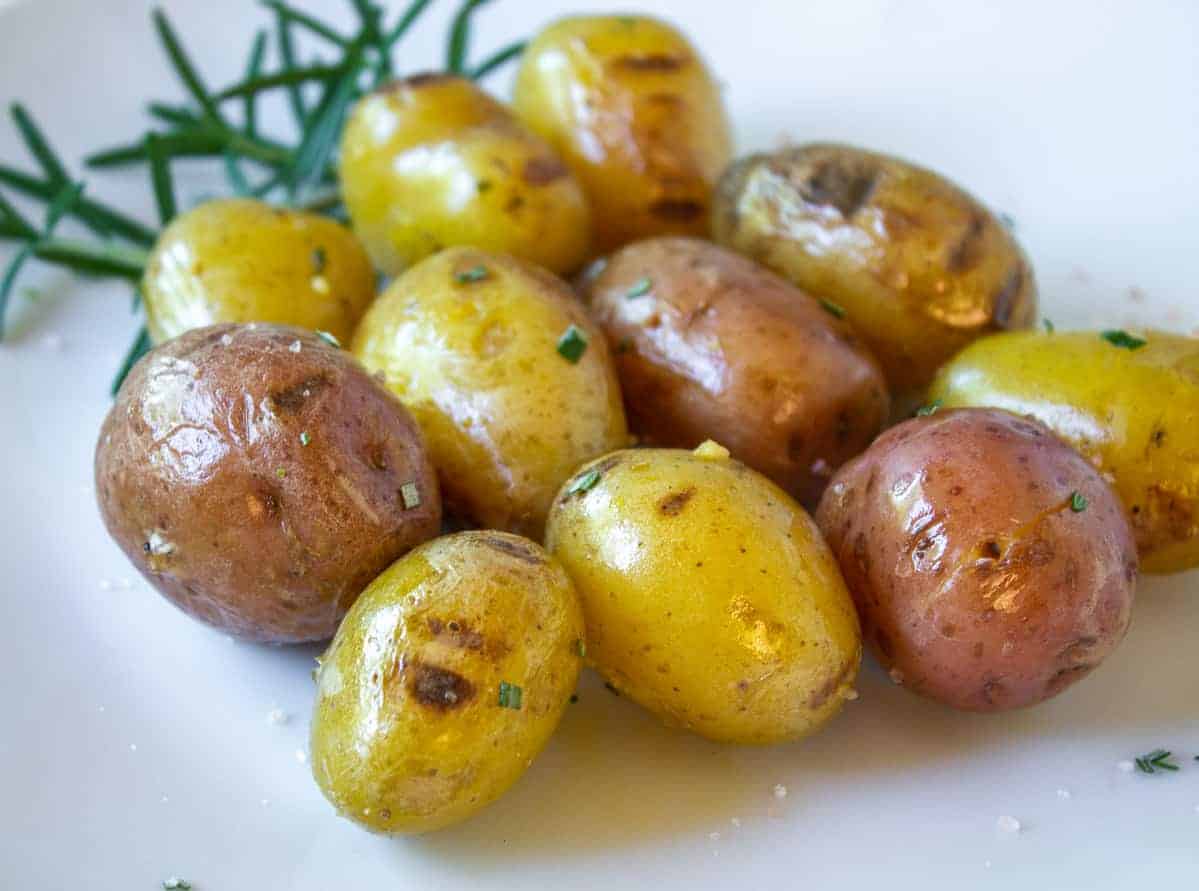 These potatoes would be perfect to take on a camping trip! Just boil the potatoes and cool. At camp, skewer potatoes and baste with olive oil and grill!
If you are looking to cook your potatoes in the oven instead of the grill, check out this recipe for oven roasted potatoes.
If you make this recipe, I'd love to hear about it! Leave a comment below and snap a picture and tag me on Instagram @beyondthechickencoop
Be certain to check out all my grilling recipes!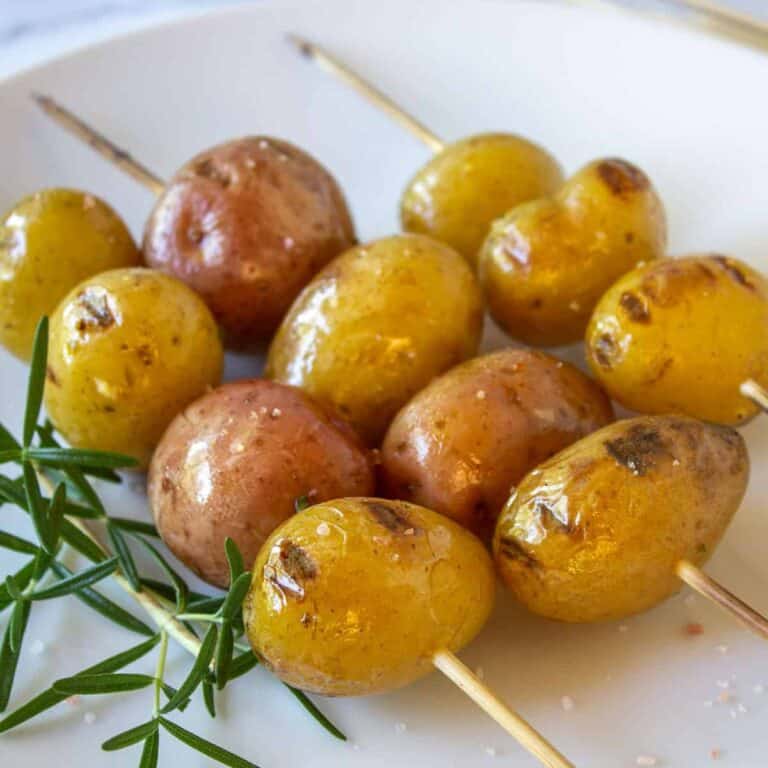 Grilled Baby Potatoes
Baby potatoes finished on the grill with garlic and rosemary
Ingredients
16

Baby Potatoes

2

Tablespoons

Olive Oil

1

clove

Garlic

(minced)

1

teaspoon

Fresh Rosemary

(chopped)

1

teaspoon

salt

coarse sea salt
Instructions
Place potatoes in a pot and cover with cold water. Add teaspoon of salt and place on high heat until potatoes come to a boil. Continue cooking for 10-15 minutes until potatoes are cooked through.

Drain potatoes and let rest until cool enough to handle.

Place olive oil, garlic and rosemary in a small bowl. Microwave for 15-20 seconds, just to until the garlic is fragrant.

Skewer 4 potatoes on a wooden skewer.

Brush all sides of potatoes with prepared olive oil.

Place skewers on a preheated grill. (I start my gas grill on high heat for approximately 10 minutes before grilling. Then turn to medium high heat when grilling.)

Turn potatoes with tongs every 2-3 minutes until the potatoes are heated through, approximately 6-12 minutes.

Sprinkle with coarse sea salt before serving
Notes
Actual cook time will vary depending on the size of your potatoes and your cooking equipment
Always test one potato to make certain it is cooked through
Potatoes can be cooked ahead of time, cooled and refrigerated before grilling. This will increase time on the grill.
For even cooking, try to select similar sized potatoes
Nutrition
Serving:
4
potatoes
Calories:
205
kcal
Carbohydrates:
39
g
Protein:
5
g
Fat:
4
g
Saturated Fat:
1
g
Sodium:
86
mg
Potassium:
943
mg
Fiber:
5
g
Sugar:
2
g
Vitamin C:
44
mg
Calcium:
27
mg
Iron:
2
mg