Italian Meatballs made with wild game meat. These meatballs are made using ground elk meat. They are light and full of flavor.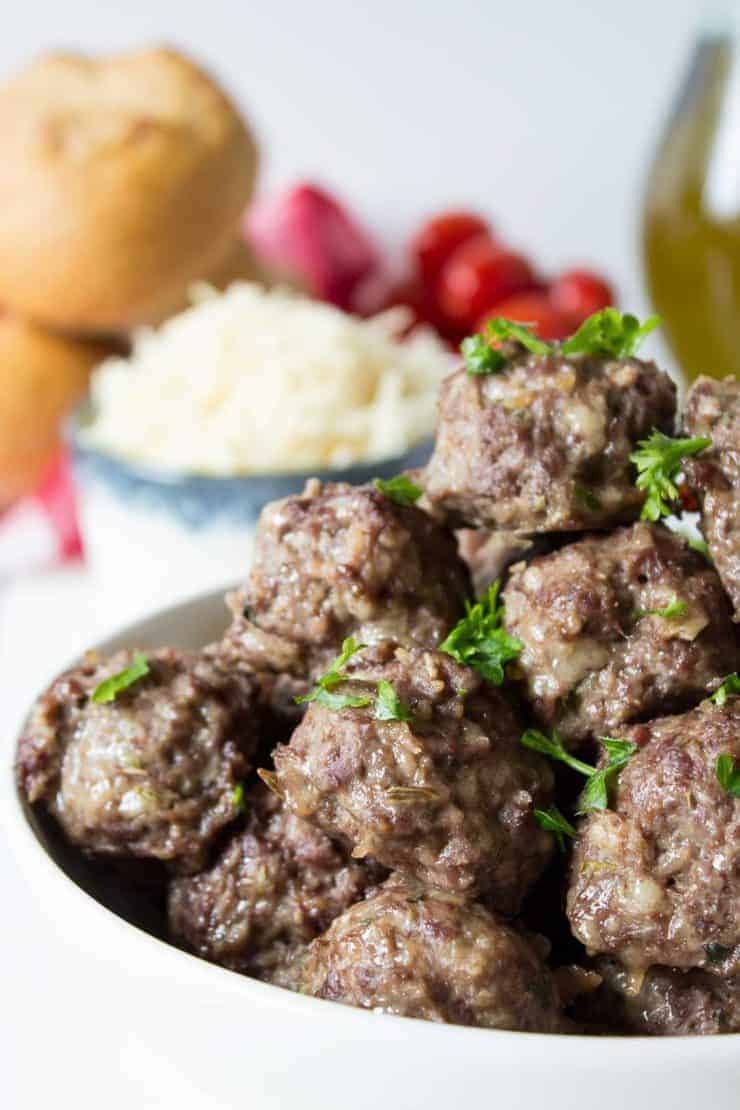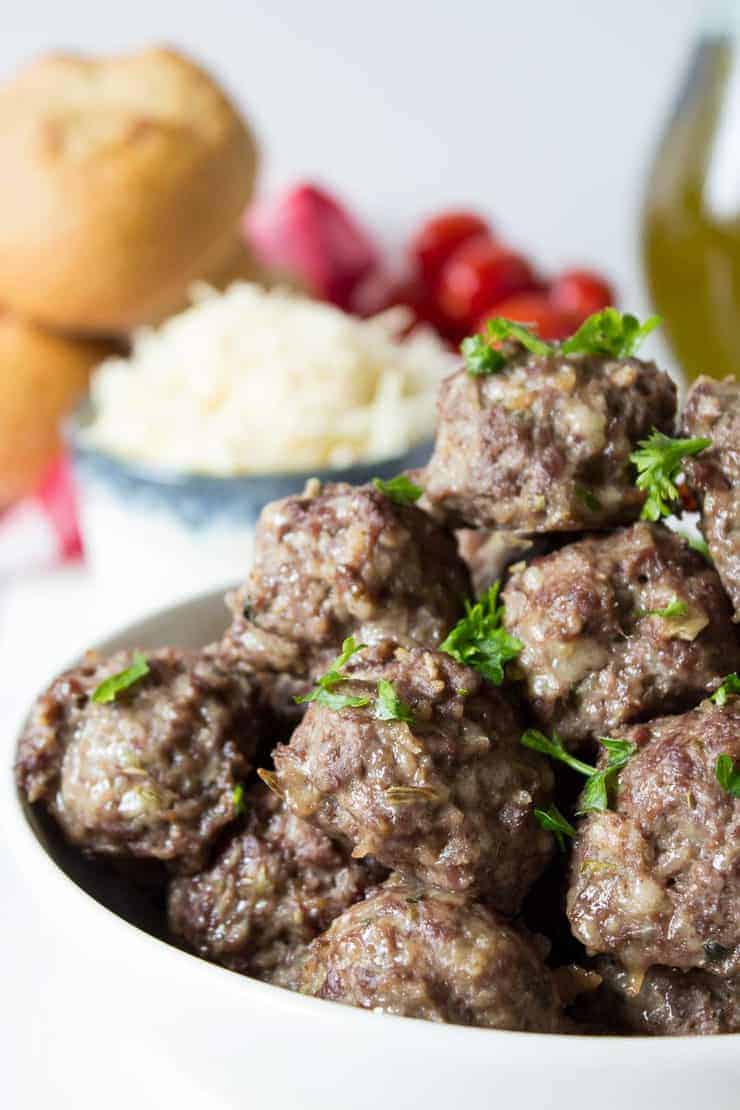 I have finally made the perfect Italian style meatballs. I've made them in the past, but they have always been way too dense to be called good. These meatballs were so light and tender...and the seasoning.....I think I nailed this one to perfection!
For these meatballs I used ground elk meat. It's what we have in the freezer and I use it in place of ground beef in just about every recipe. I also use e;l meat in this Mongolian Beef recipe.
I know not everyone has ground elk....not to worry! You can use ground beef. Or you can use an even mixture of ground beef and ground pork. Traditional Italian meatballs call for a combination of ground beef and pork.
For those of you with hunters in your family, you could also use ground venison.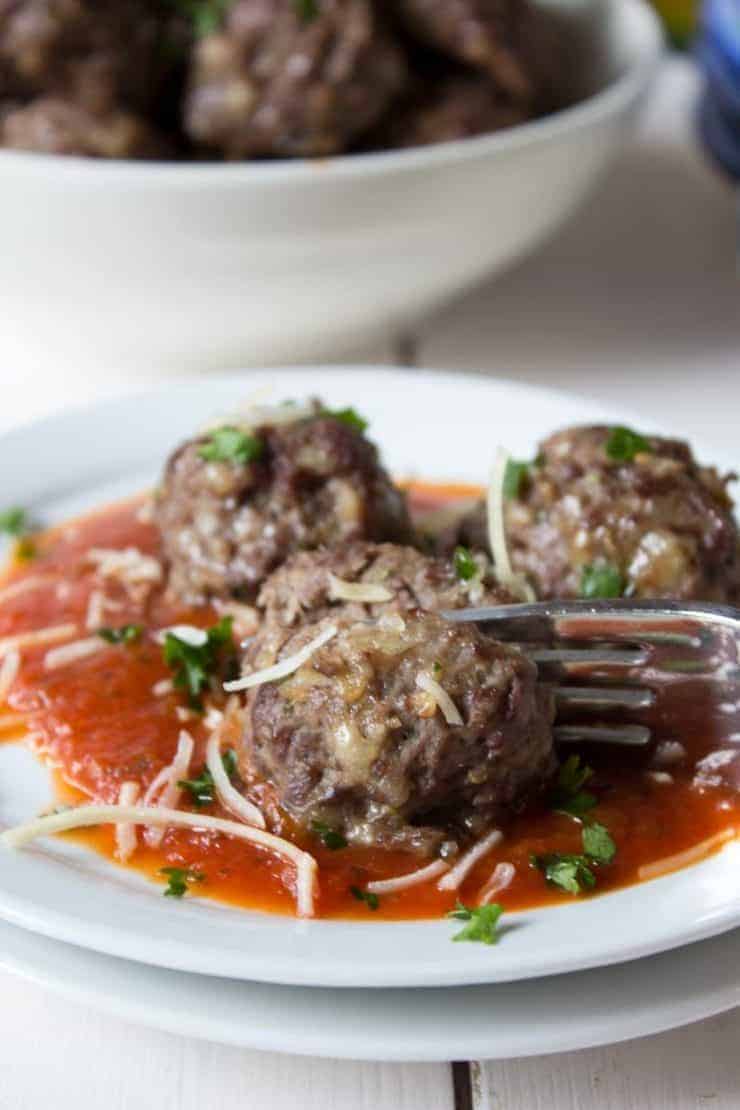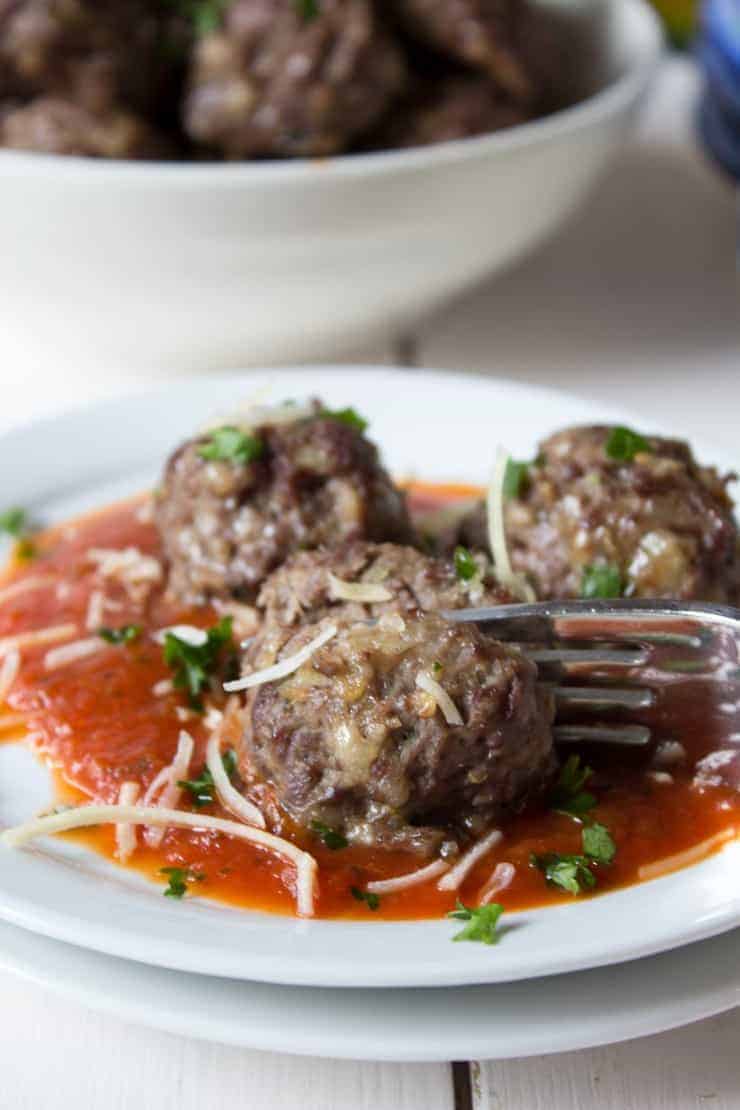 Wild game is very lean, so trying to keep these meatballs tender and moist is tricky. But I figured out a couple of techniques! These techniques work for whatever type of meat you use.
How to make meatballs
First I used very small fresh bread crumbs soaked in milk. Next, once the meat is added to the mixture, try not to over work the meat. Just mix it until the seasoning is well incorporated.
Then let it rest for a bit and give it one final mix before forming the meatballs.
For shaping the meatballs, I used a small scoop. It forms perfect, consistent sized meatballs.
Last, I baked at 400 degrees for exactly 15 minutes. I actually didn't think they were cooked through until I split one in half to check. Depending on the size of your meatballs, I would start at 15 minutes, check to see if they are done. If not, bake for 5 more minutes and check again. Over cooking will dry the meatballs out.
For the bread crumbs, you want fresh bread, not dried. I used some day old hamburger buns from my homemade buns. I love using up all the leftover food I have and I also love using food that I know what's in it.
You can use any kind of bread. Keep in mind that you might want to use something mild tasting. A heavy wheat or rye will be tasted in these meatballs. Also if you are using a crusty artisan bread, you might want to remove the crust. I think it would be difficult to soften the tough crust typical on an artisan bread.
What type of meat can I use when making meatballs?
I used ground elk meat. You can also use a lean ground beef or ground turkey.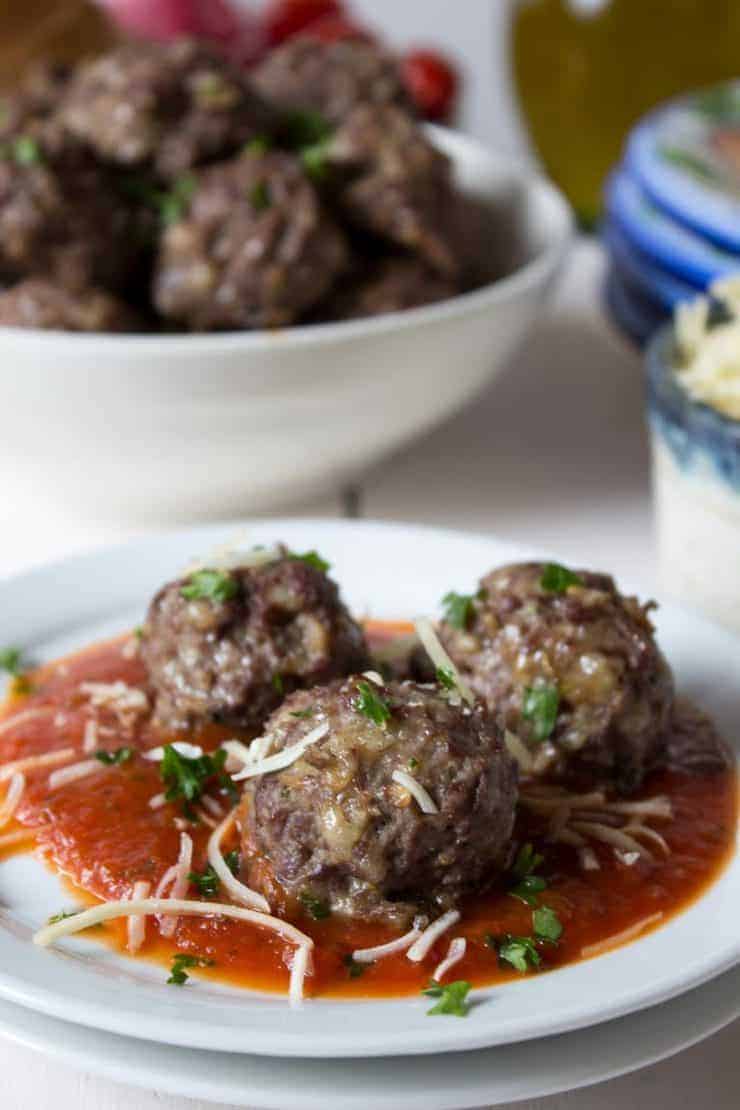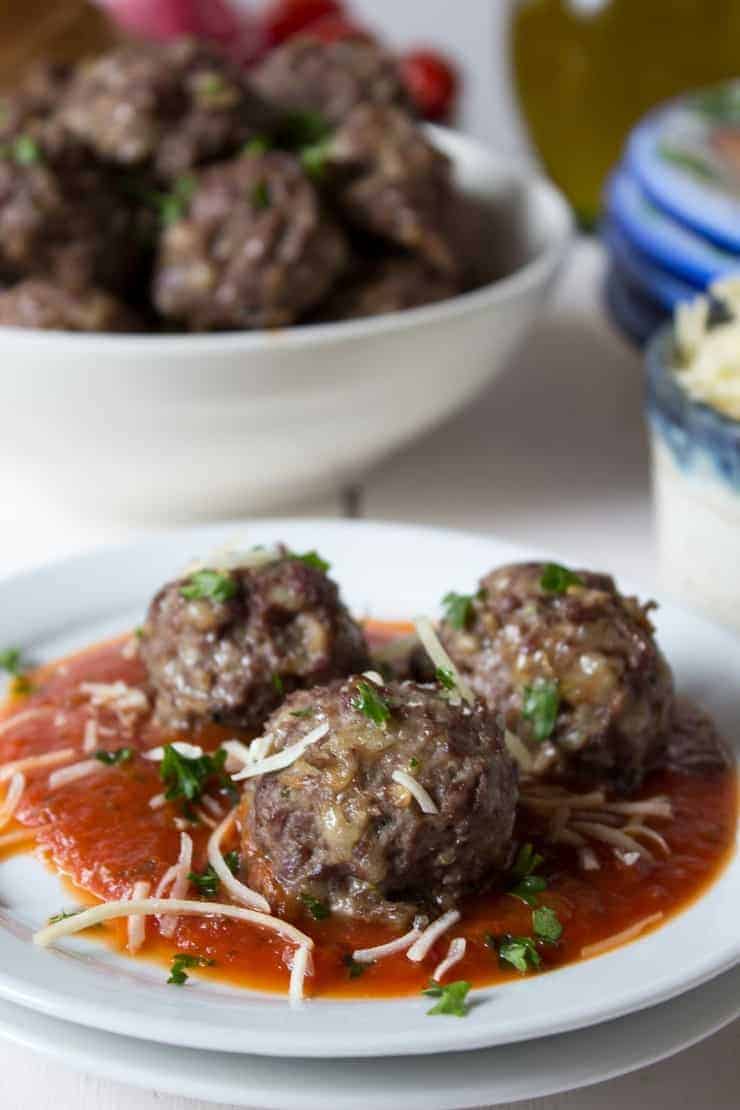 Cooked meatballs can be used for spaghetti in tomato sauce. I placed these in hot marinara sauce about 10 minutes before serving so the meatballs were heated through.
You don't want over cooked meatballs. Just enough time in the sauce to reheat them. These would also be awesome in meatball sandwiches!
Can I freeze meatballs?
Yes, these meatballs can be frozen. Once cooked and cooled, the meatballs can be placed in a single layer in a freezer bag and frozen for future use.
I often like to make a double batch and freeze several for later. There's nothing better than having ready made meatballs whenever you need them.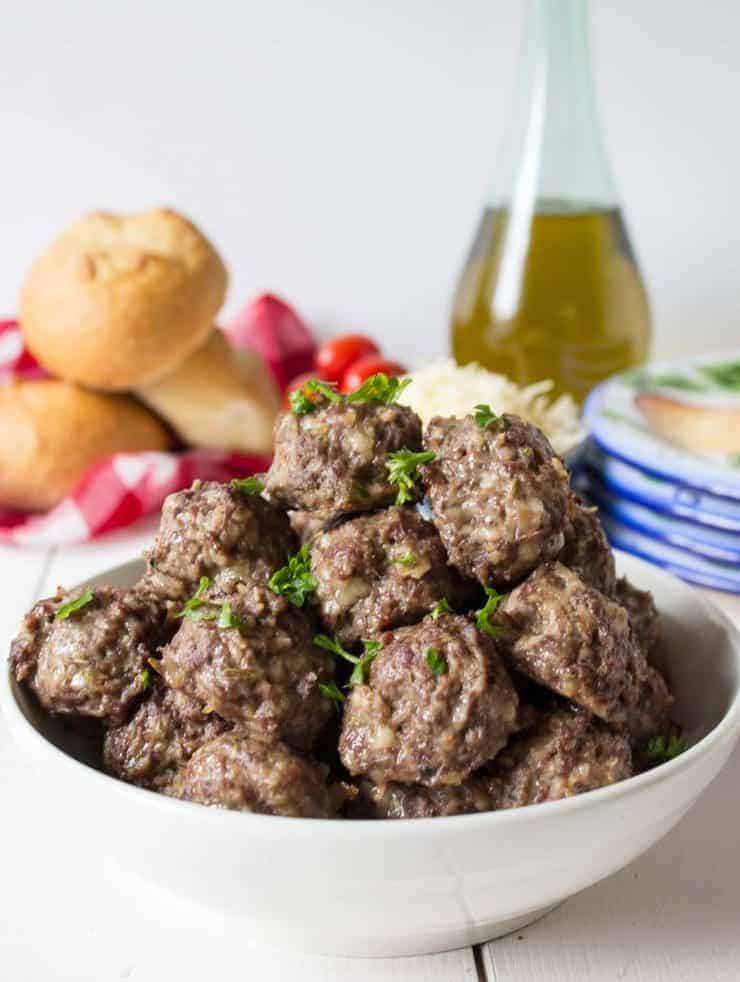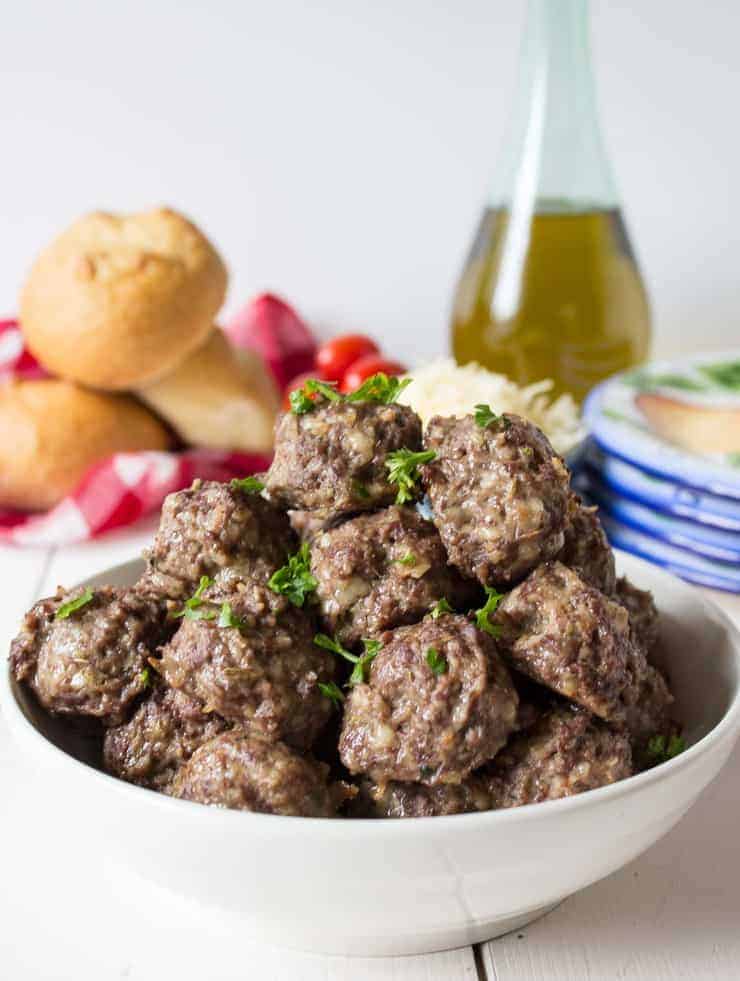 Another meatball I also make is cocktail meatballs! These are perfect for serving as an appetizer!
More recipes using wild game
Don't forget to PIN for later!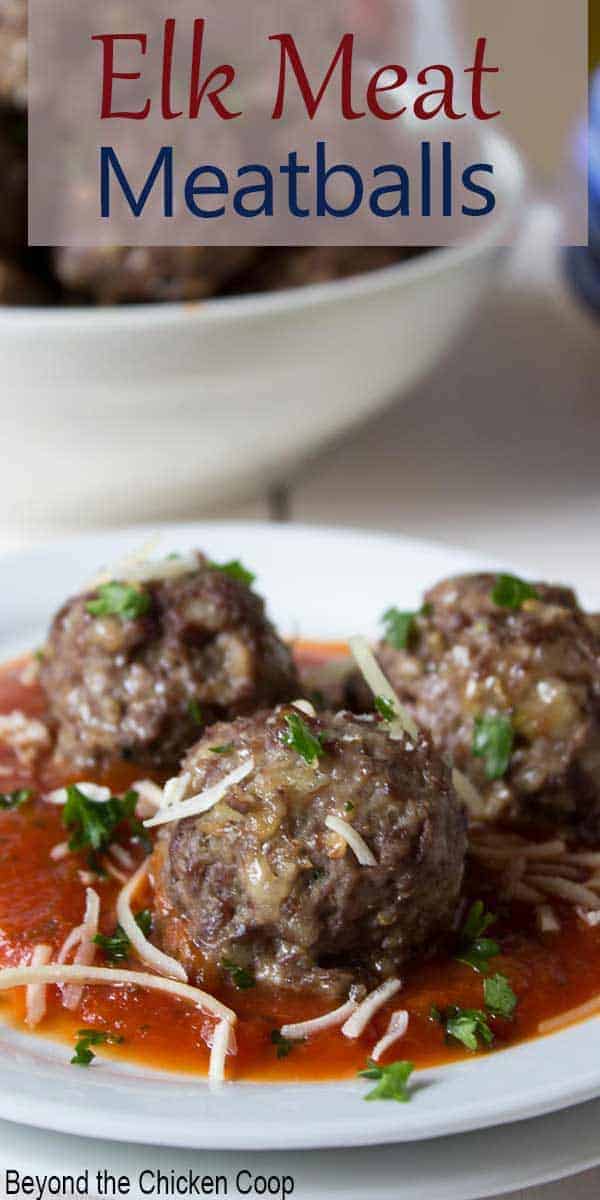 If you make this recipe, I'd love to hear about it! Leave a comment below and snap a picture and tag me on Instagram @beyondthechickencoop
Check out all my wild game recipes.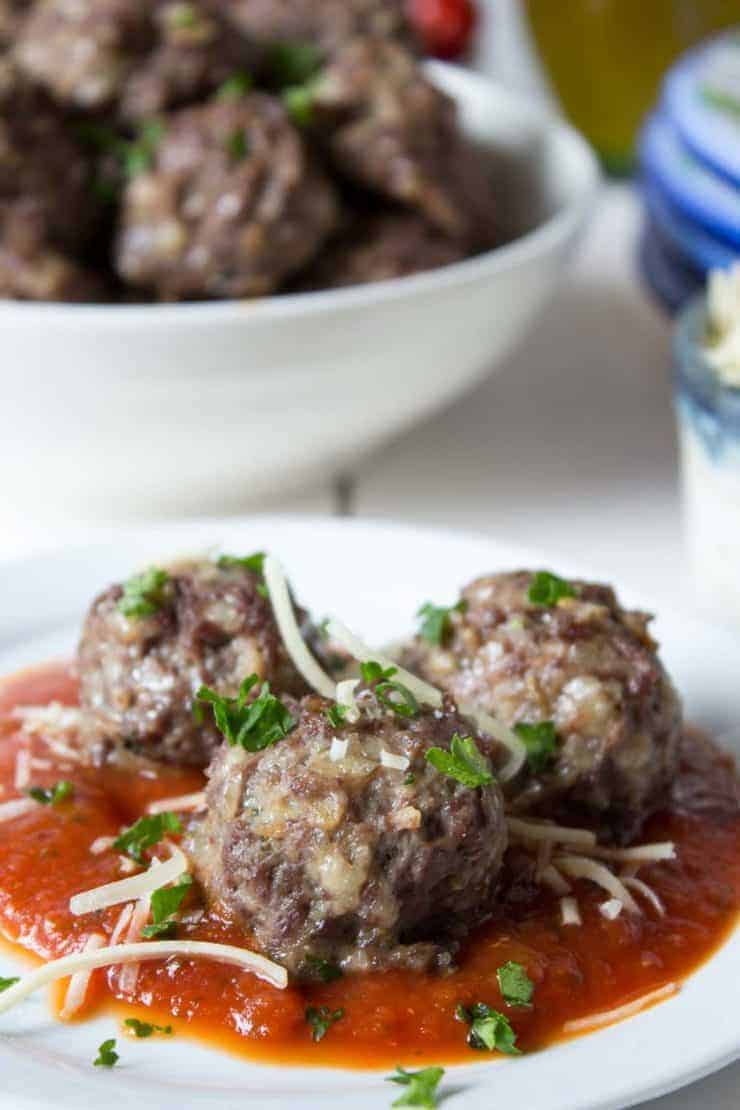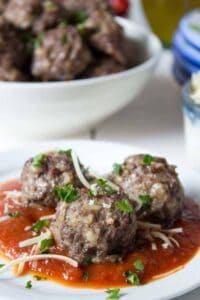 Italian Meatballs
Italian Style Meatballs
Ingredients
4

cups

fresh bread

(cut into small pieces)

2

cups

milk

4

pounds

ground elk meat

4

cloves

crushed garlic

1

Tablespoon

dried oregano

1

Tablespoon

fennel seeds

1

Tablespoon

dried basil

2

teaspoons

onion powder

1

Tablespoons

salt

1

Tablespoon

white pepper

1 ½

Cups

grated Parmesan cheese
Instructions
Put bread crumbs into a large bowl Pour milk over top and let sit until fully absorbed. If bread is still dry, add a bit more milk.

Add garlic through white pepper. Mix

Add in ground meat, mix lightly.

Add Parmesan cheese and mix lightly

Use small scoop to form meatballs. Place on a lightly sprayed tray.

Bake at 400 degrees for 15 minutes. Check to make certain they are cooked through.
Notes
May substitute ground elk for ground venison or ground beef.
Meatballs may be frozen after baked and cooled.  
Nutrition
Calories:
66
kcal
Carbohydrates:
4
g
Protein:
5
g
Fat:
2
g
Saturated Fat:
1
g
Cholesterol:
15
mg
Sodium:
192
mg
Potassium:
90
mg
Vitamin A:
35
IU
Vitamin C:
0.2
mg
Calcium:
40
mg
Iron:
0.9
mg