Wild game meat brined, cured, smoked and steamed is turned into a delicious lunch meat. This venison pastrami or elk pastrami is a perfect way to use your wild game in a unique way.
Step by step directions for making homemade pastrami.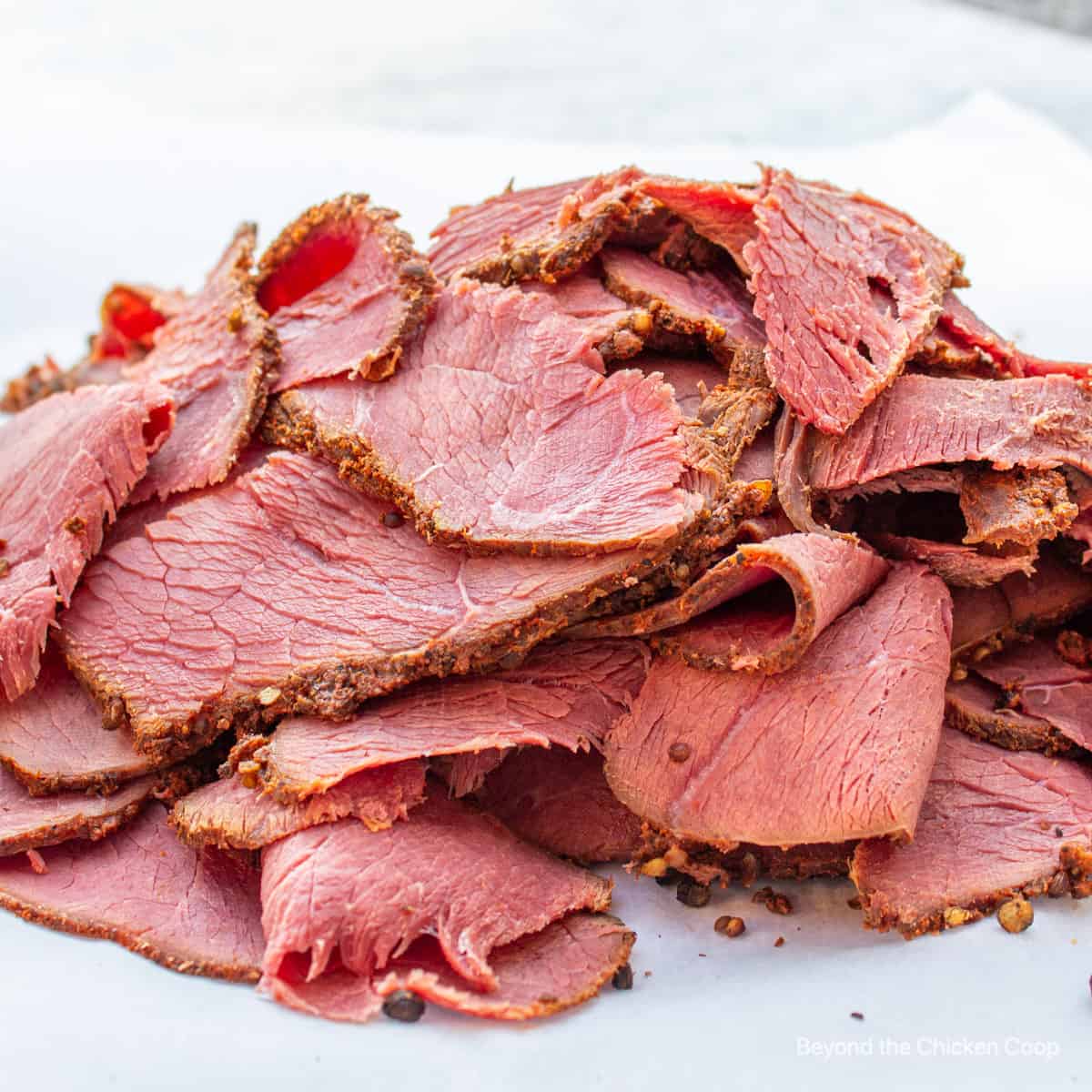 Why make your own pastrami
We have freezers full of wild game meat in our house and I'm always looking for more ways to use it. This homemade pastrami is so tasty and is a perfect way to turn game meat into something a bit different.
Use this homemade pastrami as a lunch meat in sandwiches or on a meat and cheese platter at a party. We often package up the slice meat in freezer bags and then give as gifts for the holidays.
Making your own pastrami means you know exactly what goes into your food. It's fun to transform an ordinary cut of meat into extraordinary cured food.
Homemade pastrami takes several days for the meat to cure and then it's smoked and finally steamed in the oven. Because this process takes so long, we often do several small roasts all at once.
We store the pastrami in the freezer and pull out small packages whenever we like.
Key ingredients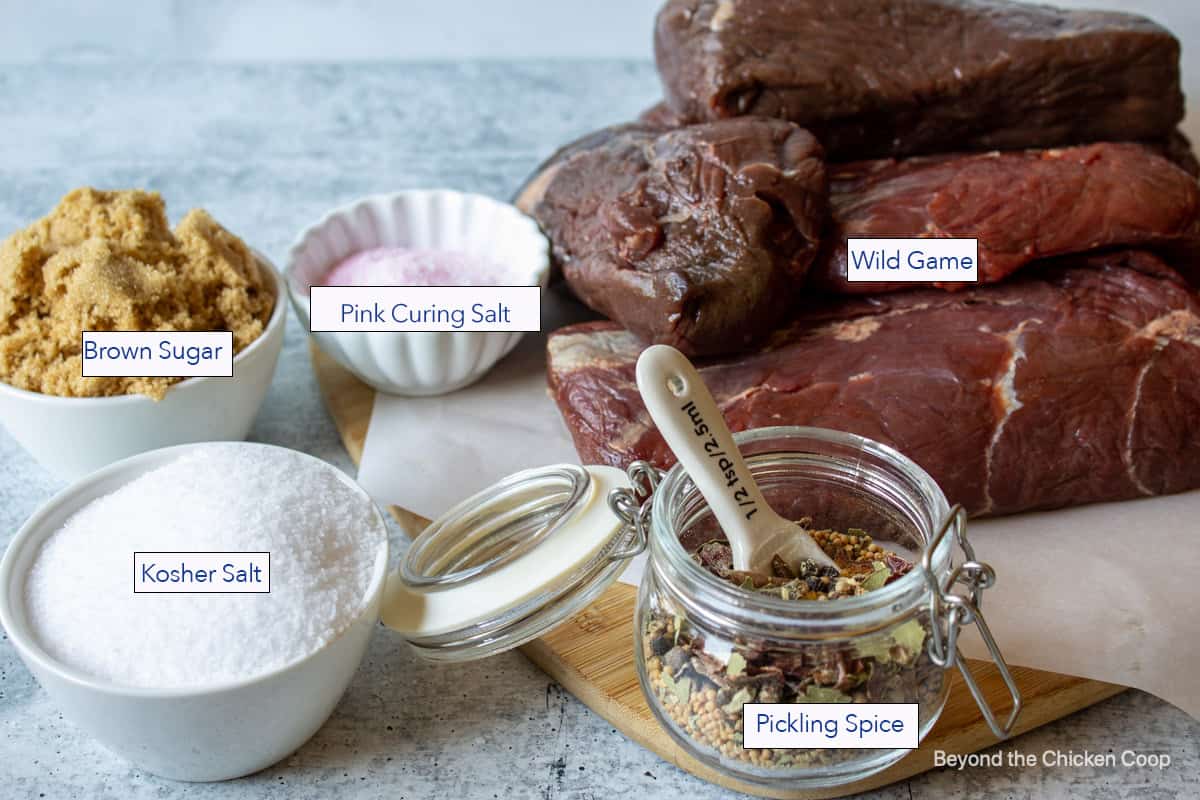 Meat
Venison or elk roasts - you can also use beef if you prefer.
Brine
Pickling spice - use your favorite mixture, homemade or store bought.
Kosher salt - you can also use canning salt
Pink curing salt - also called Prague #1 powder. Curing salt is table salt with sodium nitrite used for preserving meats. The curing salt also helps with coloring of the meat.
Brown sugar
Water
Rub
Coriander seeds
Mustard seeds
Black peppercorn
Smoked paprika
Garlic powder
Step by step directions
There are four basic parts to making pastrami - brine, rub, smoke and steam. Each step is outlined below.
Brine
Mix pickling spice, kosher salt, pink curing salt, brown sugar and water in a large container.
Stir until brown sugar and salts have completely dissolved.
Place meat in a container and pour brine over the meat so it is fully covered. Discard any remaining brine.
Cover and refrigerate for 5-7 days. The number of days is up to you and gives you a bit of flexibility.
Turn meat halfway through brining day on day 3 or 4.
Remove meat from brine and discard brine.
Rinse meat, removing all seasonings from the brine and then soak in a tub of water for 2-3 minutes. Discard water.
Place meat on a baking sheet. Pat meat dry on all surfaces.
Rub
Create rub mixture by combining coriander seed, mustard seed and black peppercorn in a spice mixer or a food processor.
Pulse just until some of the spices break apart
Add smoked paprika and garlic powder
Rub spice mixture onto meat, covering all sides
Smoke
Place meat on a grill in a smoker. Insert a thermometer in the center of the largest piece of meat.
Set smoker temperature to 160° and add one pan of wood chips. We used alder wood chips.
After smoke dissipates, add another pan of wood chips.
Leave meat in smoker until internal temperature of meat reaches 145°. This will take between 4-6 hours, depending on your smoker and the size of your venison roasts.
Once meat reaches 145°, remove from smoker and place on a baking rack
Steam
Place rack on top of a baking sheet
Preheat oven to 275°
Carefully pour hot tap water onto the baking sheet. Fill pan about halfway up.
Cover fully with tinfoil. Wrap the meat tightly so the steam that is created won't escape.
Carefully place in oven and bake for one hour.
Remove from oven and let rest for 10-15 minutes. Remove foil, being careful of the steam.
Once meat has cooled, slice and eat!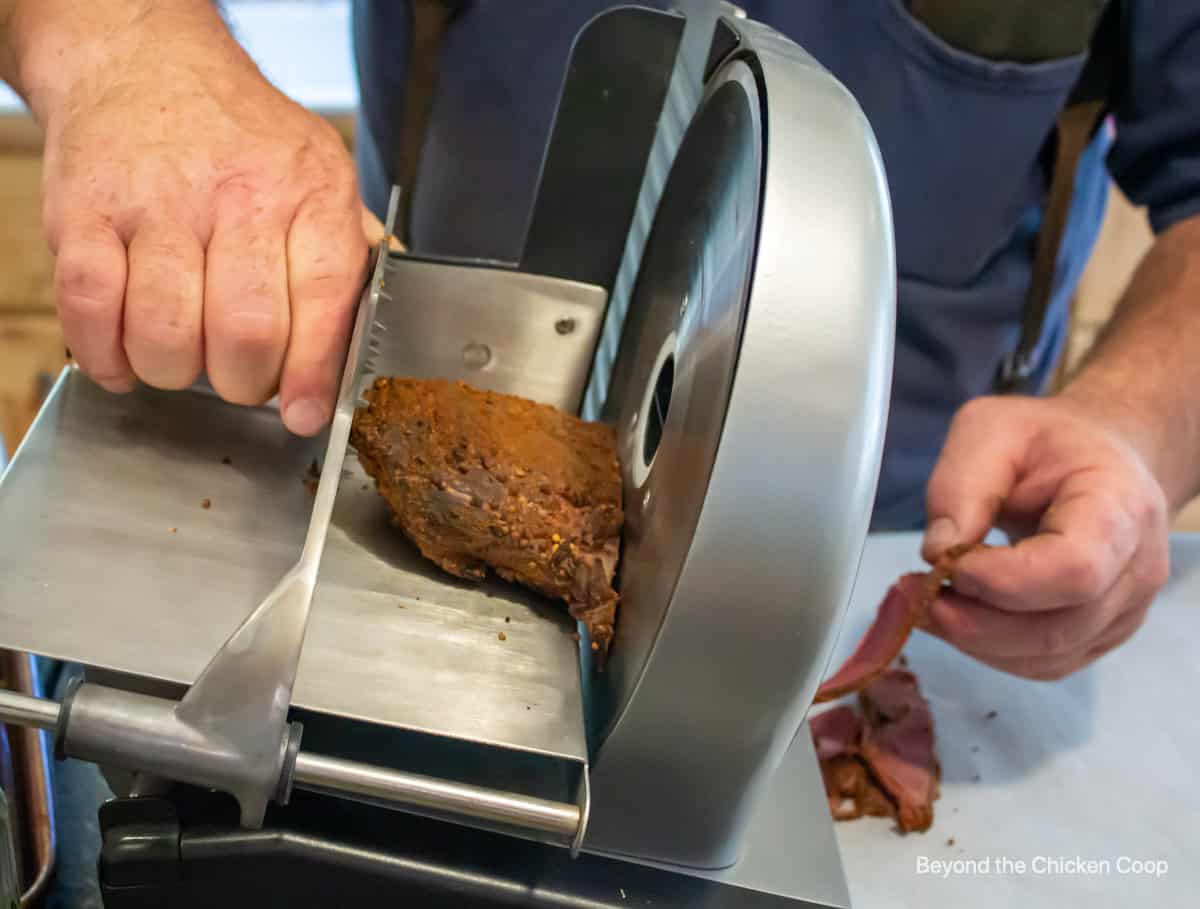 Recipe tips
There are a lot of steps to this recipe. Be certain to read through the entire recipe prior to starting.
We often prepare 4-6 small venison or elk roasts all at the same time. The amount of brine does not change.
Plan ahead for the size of brining container you'll need and the amount of fridge space needed.
It may take a bit of time for the salt and sugar to fully dissolve in the brine. Once you stir it well, let rest for 5 minutes and then stir again.
Brine for at least 5 days, but no longer than 7 days. This gives you a bit of flexibility on which day to smoke and steam.
The actual smoking time will vary depending on your smoker and the size of your roasts.
Use only 2 pans of smoke for the pastrami. We've experimented with 3 pans, but the smoke flavor was a bit too strong.
When slicing meat, slice across the grain
Equipment
This is what we've used to create the pastrami. There are many different items you can use instead. Try to use what you already have on hand, if possible.
Recipe Faqs
How long will homemade pastrami last?
Plan on consuming homemade pastrami stored in the refrigerator within 10 days.

Pastrami can also be stored in a deep freeze at 0° F will maintain its quality for 2-3 months. However, the meat will not go bad if properly stored for longer. It may lose some moisture if stored longer than 3 months.
What other types of meat can I use to make pastrami?
Traditional pastrami is made with beef brisket. You can also use roasts from venison, elk, moose, antelope or bison.
Serving suggestions
Once sliced, this homemade pastrami is perfect eaten anyway you'd eat any lunch meat.
Add to a meat and cheese tray
Use on a breakfast sandwich
Nibble with cheese and crackers
Turn into a fabulous grilled sandwich with sauerkraut and swiss cheese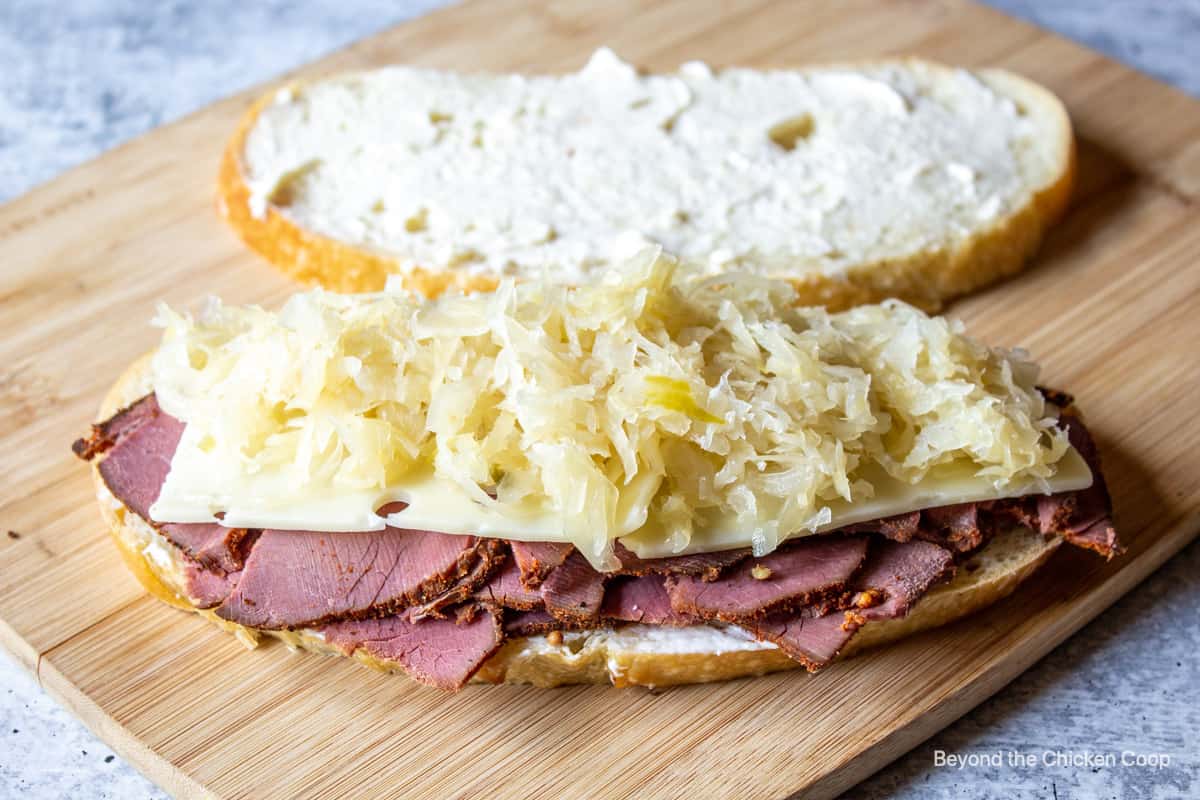 More smoked recipes
If you like to smoke your own meats, you'll also want to check out these fabulous recipes!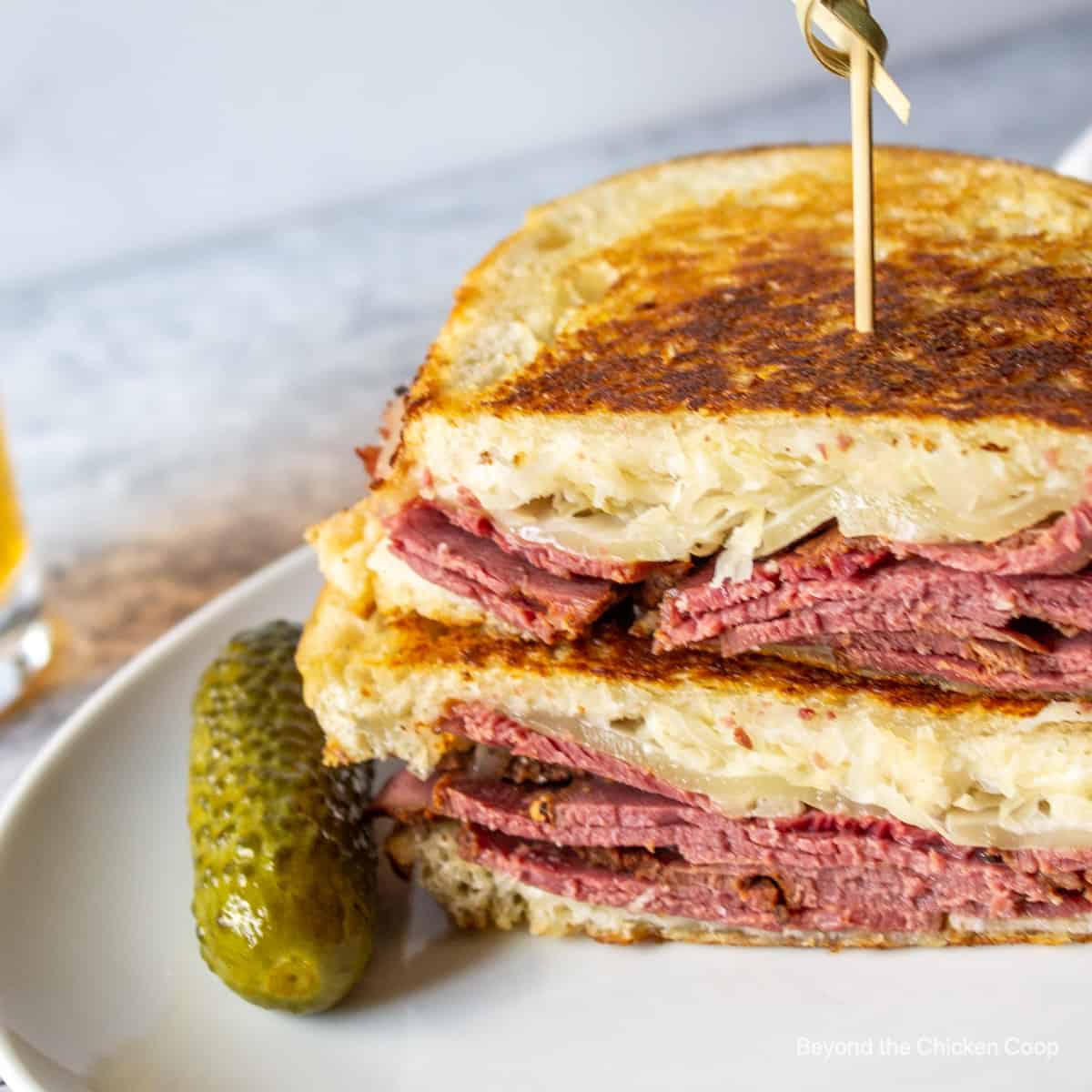 If you make this recipe, I'd love to hear about it! Leave a comment below and snap a picture and tag me on Instagram @beyondthechickencoop
Be certain to check out all my wild game recipes!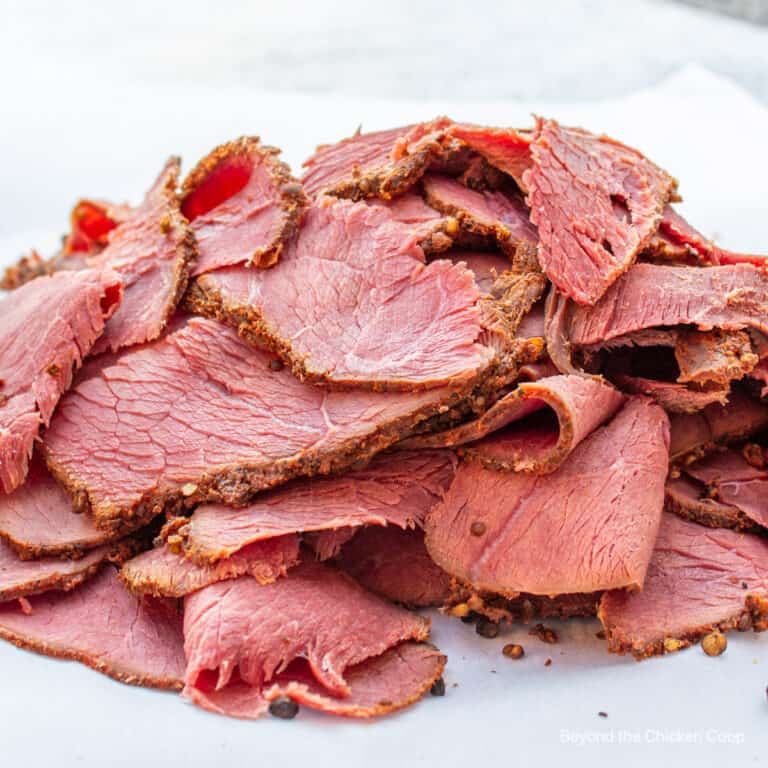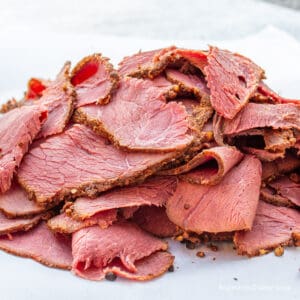 Venison Pastrami
Cured lunch meat made with wild game - venison or elk meat.
Ingredients
Meat
4-5

pounds

venison roasts

(can also use elk roasts, we use small several smaller 1 pound roasts)
Brine
1

gallon

water

1

cup

kosher salt

¾

cup

brown sugar

3

tablespoons

pickling spice

2

tablespoons

pink cure salt

(also called Prague #1 powder)
Rub
2

tablespoons

black peppercorns

1

tablespoon

coriander seeds

1

tablespoon

mustard seed

1

tablespoon

garlic powder

1

tablespoon

smoked paprika
Instructions
Brine
Combine water, kosher salt, brown sugar, pickling spice and pink cure salt in a large container. Stir until dissolved.

1 gallon water,

1 cup kosher salt,

¾ cup brown sugar,

3 tablespoons pickling spice,

2 tablespoons pink cure salt

Place roasts in a separate container and pour brine over the top so all meat is well covered.

4-5 pounds venison roasts

Cover and refrigerate for 5-7 days, turning roasts at least once on day 3 or day 4.

Remove meat from brine and discard brine. Rinse meat removing all spices.

Soak meat in fresh cold water for 2-3 minutes

Place meat on a baking rack and let the water drain off. Pat meat dry with paper towels.
Rub
Place peppercorns, coriander seeds and mustard seeds in a spice blender or food processor. Blend just until spices are broken up.

2 tablespoons black peppercorns,

1 tablespoon coriander seeds,

1 tablespoon mustard seed

Mix in garlic powder and smoked paprika

1 tablespoon garlic powder,

1 tablespoon smoked paprika

Rub mixed spices all over meat
Smoke
Place meat on racks in smoker. Set smoker temperature to 160°.

Place one pan of wood chips in smoker

When wood chips stop smoking (approximately 1 hour) add a 2nd pan of wood chips

Continue cooking in smoker until meat reaches 145°. This may take 4-6 hours.

Remove meat from smoker and place on a baking rack over a cookie sheet
Steaming
Pour hot tap water into cookie sheet, filling pan about half full. This will become your steam tray.

Wrap meat and pan with foil so that no steam will escape during cooking

Carefully move pan to oven

Bake in preheated 275° oven for 1 hour

Remove from oven and allow to sit covered for 10-15 minutes. Carefully remove foil.

Slice when meat is cooled
Notes
There are a lot of steps to this recipe. Be certain to read through the entire recipe prior to starting.
We often prepare 4-6 small venison or elk roasts all at the same time. The amount of brine does not change.
Plan ahead for the size of brining container you'll need and the amount of fridge space needed.
It may take a bit of time for the salt and sugar to fully dissolve in the brine. Once you stir it well, let rest for 5 minutes and then stir again.
Brine for at least 5 days, but no longer than 7 days. This gives you a bit of flexibility on which day to smoke and steam.
The actual smoking time will vary depending on your smoker and the size of your roasts.
Use only 2 pans of smoke for the pastrami. We've experimented with 3 pans, but the smoke flavor was a bit too strong.
When slicing meat, slice across the grain
Nutrition
Serving:
1
slice/ounce
Calories:
41
kcal
Resources: The Meat Eater