In this episode, Kathy shares three different ways to dry rosemary.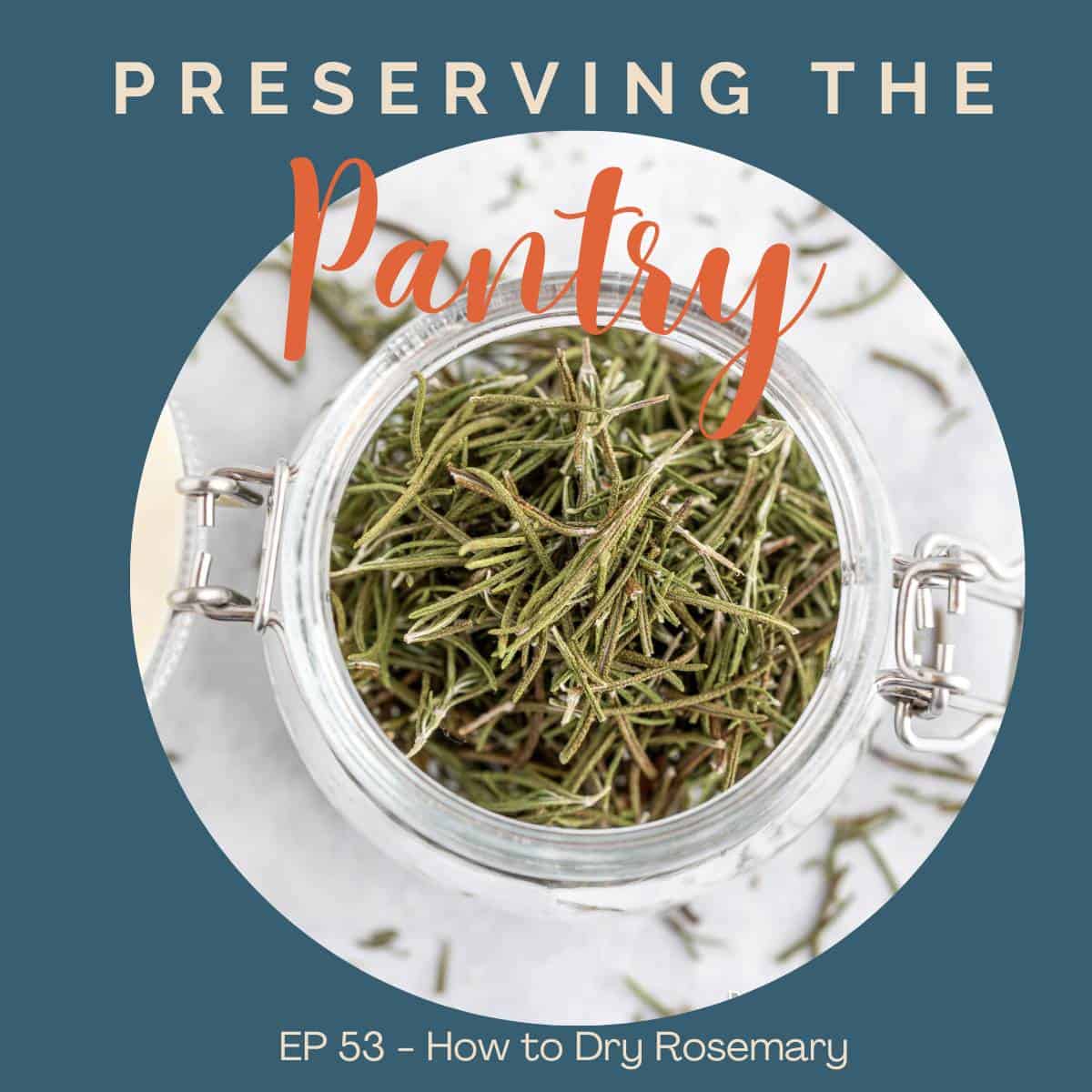 Play the episode
Recipes
Find the complete recipe for Drying Rosemary
Recipes using dried rosemary:
In this episode you'll learn:
Three different ways to dry rosemary
How to determine when rosemary is dried
How to store rosemary
Ways to use rosemary
How to substitute dry rosemary for fresh rosemary in recipes
How long dried rosemary lasts
Where to listen to the podcast
Listen to this episode on iTunes, Spotify, Amazon Podcast, or your favorite podcast player. Or scroll down to read a full transcript.
If you love this podcast, I'd love to hear about it! Leave a comment below and hop over and leave a comment on Instagram @preservingthepantry!
Transcript
Hello. Welcome back to Preserving the Pantry. I have been busy in the garden. It feels like we have been waiting for summer to get here for so long, and all of a sudden, boom, we're harvesting. So exciting.
Last night we actually harvested broccoli, zucchini, some really small little yellow crook neck squash, a few green beans, and we've got a couple of cucumbers on and ready, but they're just little teeny ones.
And so I'm gonna let them go for another day or two before I pick those. I love when my garden starts to produce. I love harvesting and eating all of those fresh veggies and all the fresh fruit that we grow. But one of my favorite things to do is also then preserve whatever we grow as much as possible so that I can use it during the winter.
Today I'm going to be talking about how I dry my rosemary so that I can use it all winter long. I live in an area where rosemary does not survive the winters, so I keep my rosemary in a large pot, and I do bring it in once the weather turns really cold. Sometimes my rosemary does okay. In the house, it does get really leggy, a little stringy.
It starts to lose some of its leaves, it's not as pretty. But then in the summer, I put it back outside, nurse it back up, and I've got great rosemary. I do love using fresh rosemary and so many different dishes, like marinating chicken or adding it to roasted potatoes, adding it to soups or stews. But the same things that you use fresh rosemary for, you can use dried rosemary for.
You can just substitute those out. You do usually want to reduce the amount of dried rosemary that you're using in a recipe. It's much more potent than concentrated in flavor because it is dried. So usually like if a recipe calls for a tablespoon of fresh, you're going to use a teaspoon of dried. Just adjust that around.
You don't want it to be too strong if you're using the dried. All right, onto the dried rosemary. I actually have three different methods because there's not always one way that works for everybody. So I have an oven drying method, a dehydrator method, or the one that I use most often is air drying. Now, as far as the air drying goes, it really is gonna matter where you live.
If you live in a very highly humid area, the air drying method might not work. All right, let's get started. Let's start with the oven-drying, rosemary. So the first thing you're gonna do for any of these is you're going to pick your rosemary. I just go out with scissors and I cut near the base of the plant and cut nice long sprigs of rosemary.
You do wanna be careful when you're harvesting rosemary or any herbs that you're not taking too much. You want to leave enough on the plant so that it can rejuvenate itself and continue to thrive. I usually take maybe, well just as much as I need, or no more than a quarter of the plant, so I cut off those sprigs, and bring them into the house.
I give them a good rinse, and then pat them dry. For the oven roasting, I turn my oven to the very lowest setting. My oven goes down to 200 degrees Fahrenheit. I heat that up, and then I turn the oven off. I don't want my rosemary cooking while it's in there, but I want it nice and warm, and I want it really dry in that oven.
So just turning it on, getting it. Warmed up is what I'm going to need to start with. I placed the rinsed and dried rosemary on a baking rack and then set that on top of a baking sheet. Just give some space underneath it, which helps dry that Rosemary. I put that in the oven and I let it sit there with the oven off for one to two hours.
I go back and I check it. What we're looking for in dried rosemary is the leaves are gonna be really dry and very brittle If it needs more time, turn that oven back on, back to that lowest setting. Let it heat back up, and then turn it off and let it sit there again. Go back and check it in half hour. Hour, hour and a half until it's done.
The drying time is really going to vary depending on how much rosemary you're drying, how big your rosemary is, the temperature of your kitchen, the humidity in your kitchen, all of those things. Once your rosemary's done, you'll take it out of the oven and just make sure that it comes back to room temperature.
The second method that I have is using your dehydrator, so we'll start out the same way, rinse and. Do your rosemary and pad it dry, and then place the rosemary sprigs on the dehydrator tray with both of these methods, with the drying in the oven and the dehydrator. Leave a little space between your rosemary.
You don't want it so crowded on there. Otherwise, your rosemary's not going to dry appropriately. Once you have your rosemary on there, and oh by the way, one thing about this, you can do as much or as little rosemary as you have, so you can do just two sprigs, five sprigs, 10 sprigs, whatever you have. Just make sure you have enough space for it all to dry.
So get your rosemary on your dehydrator trays. Turn your dehydrator down to its lowest setting, about 95 degrees Fahrenheit. So you see there's a big difference between using the dehydrator and the oven. Right now, just in the temperature, the oven will dry quicker, but sometimes you actually start to roast it if you're not careful.
That's why I turn the oven off with a dehydrator, set it to your lowest setting, and then let it dry. Again, the drying time is really going to vary and a lot of that is up to your dehydrator and wherever you're placing that dehydrator. When I'm drying things, sometimes I set my Dr. Dehydrator outside because the smells get very intense as it's drying.
Also, it creates extra heat in my kitchen, even though it's not a lot on a hot summer day, I don't eat any extra heat in there, and I just let that go. It can take. Oh, anywhere from 6, 8, 10 hours, just depending on, again, your kitchen and the amount of rosemary that you have in there. Check it. The leaves will be dry and brittle, and that's when you know when it's dry.
As I mentioned before, my favorite way of drying rosemary is air drying, and one of the reasons is, It's super duper easy, so I will cut off a few sprigs of rosemary and then tie the ends together, just kind of clump 'em together and then tie 'em together with a rubber band or twist that rubber band around there.
I use a rubber band because as herbs begin to dry, they shrink down a little bit and Rosemary has a pretty woody stem. That doesn't change too much, but when I do this with other herbs, they. It can actually if you just use a string, it can actually just slip right through that. So I always use a, a rubber band, super easy to attach on there.
Then I flip it upside down and I hang the rosemary from something that I'm able to connect it to. You can use like a coat rack or in your kitchen if you have knobs on your kitchen doors, you can hang it off of that. I actually usually hang mine in my dining room area. I have a large hutch with a little knob on it that's perfect for hanging the rosemary.
It's not in direct sunlight there. It doesn't get bumped easily, which. Can happen sometimes, and then as it's drying or if it's dry, it will crumble and make a mess so it's not in a super high-traffic area. So it's an ideal place for me. The drying time really varies here, so that is going to be affected by your temperature, your humidity, and the amount of rosemary you have.
I just leave it there until it's dry and sometimes I forget about it and all of a sudden I'll look and I'm like, oh yeah, I've got Rosemary hanging there, and I'll go and check it. Sure enough, it's dry. Take it off and then I will put that away to use all year. I. One thing about air drying is don't make your bunches too big because the rosemary in the center might not dry if you have too big of a clump or a bunch, and it could actually turn mildewy or moldy.
So you don't want that to happen. If you have a bunch of rosemary, you need to dry, put it into a couple of smaller bunches. Once your rosemary is fully dry with any of these methods, you can leave it right on the stems or you can take it off the stems, which is what I usually do because it's easier to store in my cupboard.
So I either put down a large piece of parchment paper or a cookie sheet because this actually gets just a little bit messy. The rosemary tends to kind of go ping, ping, ping, and bounces all over the place. I start with one sprig of rosemary at a time, and I take it from the top end and I just kind of take my fingers and rub it down the stem and the little leaves will pop right off.
I discard all of those woody stems. I gather up the dried rosemary, and I put that into a little glass. Crock, or even sometimes just a zip-top bag, and I store that in my pantry. So dried herbs, really, last forever. They're not going to go bad unless there's moisture in them and they don't, they're not fully dry.
However, they may lose some of their potency, flavor, and fragrance, and not be as strong the older they get. I try to use mine up within a year. I love drying rosemary and other herbs. It's such a great way to use what you have right now and save it for later, and I'll see you next week in the pantry. Bye.
Thanks for listening, and be sure to tune in again next week for more episodes of Preserving the Pantry.