In this episode, Kathy shares how to make homemade tomato sauce and how to preserve it using a water bath canner.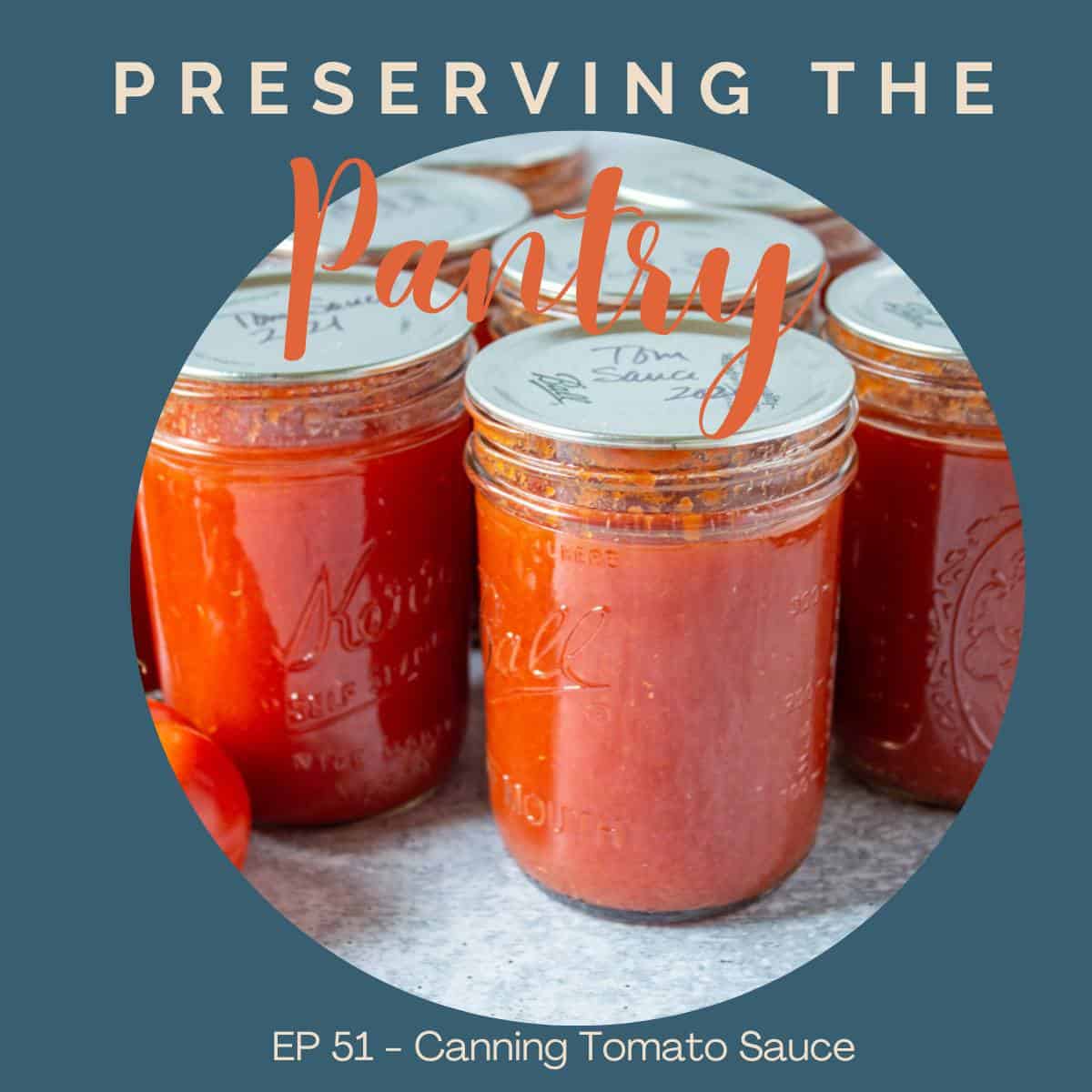 Play the episode
Recipes
Find the complete recipe for Canning Tomato Sauce
Recipes mentioned in this podcast:
In this episode you'll learn:
How to make tomato sauce
Methods for straining the tomatoes to remove the skin and the seeds
How long to simmer the sauce
Why you need to add bottled lemon juice
How long to water bath can the sauce
An option for freezing your sauce instead of canning it
Where to listen to the podcast
Listen to this episode on iTunes, Spotify, Amazon Podcast, or your favorite podcast player. Or scroll down to read a full transcript.
If you love this podcast, I'd love to hear about it! Leave a comment below and hop over and leave a comment on Instagram @preservingthepantry!
Transcript
Hello. Welcome back to Preserving the Pantry. We are going to be canning again today, and today we're going to be talking about how to make and can tomato sauce. Canning tomatoes for me is still a couple of months away. Right now we're in the middle of June, but I know many of you are starting to have your tomatoes on.
They're ripe and you're ready to start canning. Where I live, we're on the later end of things, so it's usually mid-August, late August, sometimes even September before I have tomatoes ready to can, but, I also like to plan ahead, so I always like to know, hmm, what am I gonna be canning this year and how much am I gonna be canning, hopefully, based on the yield of our tomatoes.
But if you're ready to start canning, here's a great recipe for you. As always, I will include links to the full recipe that has everything that you need to know how to can the tomato sauce. Back in our very first episode of Preserving the Pantry, episode one, I talked about how to can tomatoes. So that's another great option for you.
And if you are new to canning or need a refresher, go back and listen to episode nine, which talks all about water, bath, canning, and pressure canning, but just gives you a good refresher about what you need to know in order to be safe when you're canning and make sure that your products turn out well.
So for canning tomato sauce, for this recipe, I use about 30 pounds of tomatoes. You can use any variety that you like. I usually have a mixture just because that's what we grow is a variety of different tomatoes, and you're gonna need bottled lemon juice. So tomatoes vary in acidity and in order to make them safe for water bath canning, you have to add lemon juice.
And in this recipe and in canning recipes, we add bottled lemon juice because acidity levels vary in lemons as well. Bottled lemon juice has a very consistent acidity level so you can be assured that your tomato sauce is going to be safe for water bath canning. That's the only two ingredients that I add when I'm making my tomato sauce.
You could also add salt if you prefer. I don't like to add it until I'm actually using the tomato sauce and adding it to whatever I'm making, and that's when I add my sauce. So you're gonna start by washing your tomatoes, removing the core, and then cording your quartering, your tomatoes. Now, if they're really large tomatoes, like those great big, huge Helene tomatoes, just cut 'em up into smaller chunks.
You're going to add those into a large stockpot and you're gonna cook it over. Medium heat until the tomatoes have softened and broken down. You're just looking for everything to kind of sink down for those tomatoes and the juices to start flowing. Then you're going to remove the tomatoes from there and you're gonna be straining them.
You're going to get rid of the peel and the seeds from the tomatoes and have the sauce that's left. There are a variety of different things that you can use to strain your tomatoes. Some people use a food meal. They're pretty quick and efficient. I use a Chinois strainer, which is a very fine mesh sieve and it sits in a stand and I put my sauce into there, and then there's a wooden pestle that you rotate around and it pushes all of the juice and the pulp out and the seeds are left behind.
I use that because that's what I already have, and I use it for making a lot of my jams, like my seedless blackberry jam, and I don't wanna buy another piece of equipment for this. Use what you have. The only disadvantage of this is the Chinois strainer is, it does take a little bit longer. You have to do it in smaller batches.
You have to physically move that pestle around to get that through and then strain everything off. It works for me though, so just know that there are options. There's not just one way how you can strain that. You might even have another way to do it. Once everything's strained, you're gonna return that sauce back to your pot, and then you cook it until it's reduced to a thick consistency.
This could take. Between six and eight hours, depending on your tomatoes, depending on your stove, depending on what temperature you're actually putting it on, you're gonna stir that every once in a while just to prevent it from scorching because it will, if we're not careful, and you just reduce it down as much as you want.
I usually put it on and just let it go all day. Tomatoes have a lot of water in them, so what you're doing is you're reducing that water and making your sauce thicker. So go as long as you need to. Once your sauce is reduced, you are going to have your canning jars already washed and rinsed. Really well.
Have your lids already washed and your rings ready to go, and your water bath can about half full with water. You're gonna start by putting a tablespoon of lemon juice in each pint-size jar. Or if you're doing quart jars, you're going to put two tablespoons of the lemon juice in there. Then you add the sauce to the jars and you leave a half-inch head space.
That's the distance from the top of the jar to the top of your sauce. Wipe off your rims, place the lid on, and then your rings, and you just finger-tighten. You're not going to go too tight. You are just tightening with your fingers, not adding any extra strength. Then you put your jars in the hot simmering water, and once all of your jars are in your pot, you need at least one inch of water over the top of your jars.
So if it's not up there yet, add additional hot water until it's at least one inch over there. Put the lid on your canning pot, and increase the heat to high. Once that water comes to a full rolling boil, then you set your timer for your processing time. Pints need 35 minutes and quarts need 40 minutes, but you need to add additional time depending on your elevation.
Remember, we've talked about this in the past, depending on what your elevation is, you have to increase your time so that you are boiling for a little bit longer. Okay, I have a full chart for that, right in the recipe. When your time is finished, you turn off the heat. I let them sit. The jars sit in the hot water bath for an additional five minutes.
This helps prevent siphoning the liquid. So siphoning is when you take your jars out and that temperature changes from hot water to room temperature. Air can cause the contents of the jars to be forced out and you lose some of that liquid. You also sometimes risk your jars not sealing when that happens.
So I let them sit in there for five minutes, then take 'em out with a jar lifter and set 'em on a cooling rack, and you let 'em sit there for about 12 hours. You don't touch the lid during that time and you don't tighten the ring. You just let them sit there once that 12 hours or longer. Is up. Then you remove the rings, you check your lid to make certain that it's sealed, and then I will wash my jars because there's actually residue that comes from the water bath can that's on your jars, and I don't want any of that on there when it's being stored for long term.
After my jars are washed, I put the date on my jars and label it with tomato sauce, and then I store it in my pantry. Just keep in mind that the amount of time that it takes to cook your sauce will vary. So plan enough time. This isn't something that you wanna do in a limited amount of time because it changes every time I do it, depending on how many tomatoes I put in there, and depending on what temperature I'm actually cooking it at.
If you don't have 30 pounds of tomatoes, that's okay. You can do less or you can do more. Just remember that everything is going to really cook down. If you don't want a water bath, can your tomato sauce. You can also freeze this tomato sauce. Just make certain that you are freezing it in a freezer-safe container.
So one way to freeze it is I'll, we'll sometimes put it in plastic containers in one cup measurement. And I will freeze those and then once they're frozen, I'll take them out and put them in a Ziploc bag or in a vacuum seal bag so that I can take out just one or two of those and I have the exact amount that I need for a recipe.
So you can do that. Either way, you can have it, water bath can, which makes it shelf stable or you can freeze it. This tomato sauce is great for adding to so many recipes. Anything at all that calls for adding tomato sauce. So it works really well and I hope that you give it a try. I hope your tomato yield is amazing this year so that you may can as much as you want, so you can use it all year long.
I'll see you next week in the pantry. Bye. Thanks for listening. And be sure to tune in again next week for more episodes of Preserving the Pantry.